The War Years: 1939-46
With the outbreak of war, football was suspended as a ban on the assembly of crowds was imposed and the contracts of all players were suspended. Many players were liable for conscription under the National Service Bill which enabled the call up of men between the ages of 18 and 41. The Players Union gave permission for players to participate in games should the FA decide to re-introduce them. Friendlies were played and gradually Regional Leagues were set up.
The War Office had commandeered Elland Road and with their permission games were allowed to take place, even though it was only for two hours each Saturday.
George Swindin of Arsenal fame, served as a policeman in Bradford and as Leeds regular goalkeepers Jim Twomey and Noel Wharton were on war duty, he duly turned out for United. Several United regulars were available. Tom Holley, Gordon Hodgson, Gerry Henry, Les Goldberg, Jim Makinson, Aubrey Powell, Ken Gadsby and Davie Cochrane all figured prominently as United came fifth in a ten team competition. Davie Cochrane led the goal-scorers with 7, followed by Gerry Henry and Gordon Hodgson on 6.
The Cup was played on an aggregate score home and away basis. Beating Sheffield Wednesday at home 6-3 while losing 3-2 at Hillsborough brought a meeting with Sunderland who triumphed by scoring the only goal at Elland Road after being held 0-0 at Roker Park.
1940/41 was more of a hotchpotch as the players availability became a lottery. United's average points of 1.148 gave them 15th place in a 36 club competition. Several United regulars remained available if only spasmodically, and were aided by the availability of former United International Stars Eric Stephenson and Wilf Copping.
Guest player Len Townsend from Brentford, led the scorers with 11 followed by Jack Hargreaves and John Short, both netting 7 times, while Gordon Hodgson managed 6.
In the Cup, played on the same basis as the previous season, a Len Townsend hat-trick saw United triumph 3-2 at the Shay against Halifax Town and a 2-2 home draw was sufficient to see them through. Unfortunately a similar Elland Road result against Middlesbrough was not good enough, as the 'Boro had already triumphed 2-0 at Ayresome Park.
In 1941/42, it was back to regional meetings with the season split in two parts pre and post Christmas. United finished 26th of 38 clubs in the first and did not finish in the first 22 teams in the second, due mainly to unfulfilled fixtures. Gerry Henry was top-scorer in each segment. He scored 15 in the first and 13 in the second.
There was no Cup competition that season.
In 1942/43 again there was a two part season, and United faired badly finishing 43rd and 47th respectively in a 48 team competition.
Albert Wakefield was signed up and showed his promise by topping the scorers in the first segment with 7 while Aubrey Powell continue his good form with 10 to finish the highest scorer in the second.
Once again there was no Cup competition.
1943/44 saw United perform a little better, finishing 27th and 35th in a 50 team league.
Gerry Henry continued his good form to head the scorers in the first segment with 12, while Stoke City's George Antonio headed the second segment with 5.
Again there was no Cup competition.
Although he had not played for a couple of seasons, Willis Edwards finally hung up his boots, but still remained to coach the players and served the club in several capacities for many years to come. He played 417 League Games and a further 27 in the Cup, excluding War-time appearances. He was joined by Gordon Hodgson in coaching the players. The prolific goal-scorer was also an outstanding cricketer being a fast bowler with Lancashire. In the League he scored 51 times in 82 appearances and scored twice in his four FA Cup appearances, excluding War-time games.
Once again United were not among the front runners, finishing 22 of 54 and 32 of 60 respectively.
Tom Hindle blossomed and led the scorers in both segments with 11 and 15 respectively, with George Ainsley contributing 10 in the first part and Gerry Henry 13 in the second.
Again there was no Cup competition.
With the cessation of War, chaos still prevailed on the football scene and, while the season was run more on normal league lines, with each team playing each other on a home and away basis, there was still no official Football Leagues and Leeds showed signs of things to come when they finish bottom of the Northern Section which featured a 22 team league. George Ainsley was the top scorer with 20 goals in 28 appearances.
After a seven-year lay-off, the FA Cup was staged on an home and away basis and saw a glut of goals as United went under on aggregate to Middlesbrough in the Third Round by 11-6. Elland Road witnessed the sharing of eight goals, while Ayresome Park saw one more, with the home team scoring seven.
During the War Period, apart from pre-war Leeds United players, United were able to field guests of the calibre of George Swindon (Arsenal), Reg Attwell (then of West Ham United and later of Burnley), Bill Jones and Ray Lambert (Liverpool), George Antonio (Stoke City), Clarrie Jordan (Doncaster Rovers), Freddie Steele (Stoke City), Tim Ward (Derby County), Arthur Glover (Barnsley), Frank Westlake (Sheffield Wednesday) and Sam Weaver (Chelsea). Interestingly, Maurice Lindley (Everton), later to assist Don Revie and fill in for short periods as temporary United manager, and Eddie Burbanks (Sunderland), later to sign for and become the oldest player on debut under Raich Carter, both also figured.
The War also unfortunately claimed its casualties. England International Eric Stephenson was killed in action in Burma in 1944 at the age of 30. In the same year, over Denmark, England Schoolboy International Leslie Thompson lost his life at the age of 22. Irishman Robert Montgomery was killed over Germany in 1944 and former United forward Alan Fowler was killed in France in 1944. Earlier a Leeds junior player, Vernon Allen of Harehills, lost his life when his plane was shot down over Germany in July 1943 at the age of 20. Then Ingram Road boy, Maurice Lawn, who had just made his first team debut was killed when, after being injured by machine-gun fire in the invasion of France, the hospital ship that was repatriating him was sunk off Normandy in August 1944. He was only 20 when he died. Several players, including Jim Milburn received injuries and others, including the Stephens twins and Lord Harewood were P.O.W. Guest players Tom Farrage and Harry Goslin were also killed in action.
Photographs of the era:
Teams:
1944-45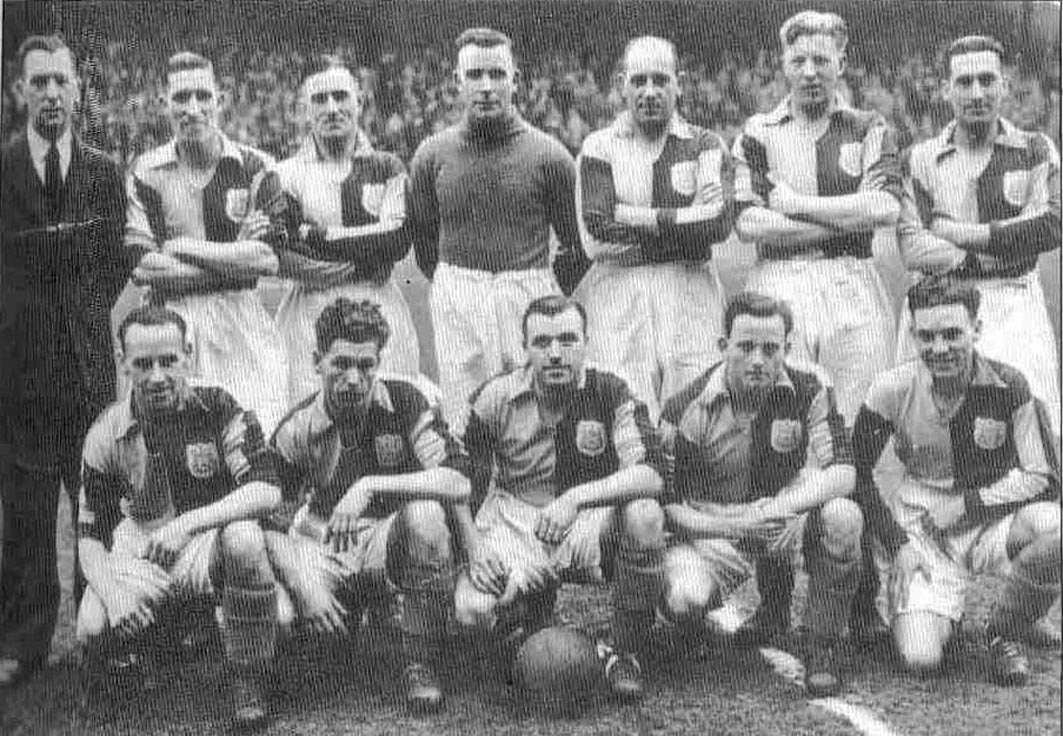 Back Row: Bob Roxburgh (Trainer), Frank Butterworth, Bob Shotton (Barnsley), Jim Twomey, Jack Milburn, Robson Campbell (Charlton Athletic), Sam Weaver (Chelsea).
Front Row: Eddie Burbanks (Sunderland), Cyril Coyne, Gerry Henry, Tom Hindle, John Paton (Celtic).
1944-45(Courtesy of Paul Gregson)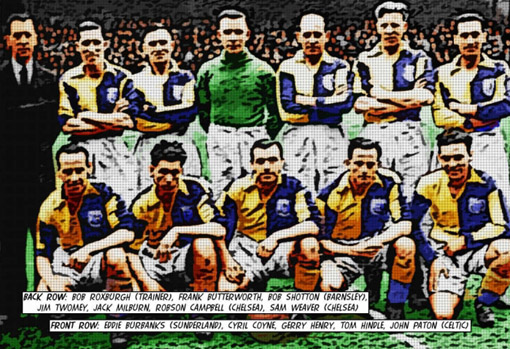 Back Row: Bob Roxburgh (Trainer), Frank Butterworth, Bob Shotton (Barnsley), Jim Twomey, Jack Milburn, Robson Campbell (Charlton Athletic), Sam Weaver (Chelsea).
Front Row: Eddie Burbanks (Sunderland), Cyril Coyne, Gerry Henry, Tom Hindle, John Paton (Celtic).
1945-46: Leeds United v Preston North End 20th October 1945(Courtesy of Malcolm Rogers)
Back Row: John Hodgson, Ken Gadsby, Ted Alberry, Cyril Coyne, Sid Jones (Arsenal), John Dutchman, Robert Duffy (Celtic).
Front Row: John Moule, Gerry Henry, Dennis Grainger, Jackie Chew (Burnley).
Players/Managers:
Billy Hampson (Manager), George Ainsley , George Antonio (Stoke City), Reg Attwell (West Ham United), Bob Batey , Bobby Browne , Arthur Buckley , Eddie Burbanks (Sunderland), Frank Butterworth , Jackie Chew (Burnley), Davie Cochrane , Wilf Copping , Cyril Coyne , Jack Daniels , Len Dunderdale , Jack Duthoit , Willis Edwards , Harry Eastham (Liverpool), Harry Fearnley , Ken Gadsby , Les Goldberg , Dennis Grainger , Jack Hargreaves , Billy Heaton , Gerry Henry , Tom Hindle , Gordon Hodgson , John Hodgson , Tom Holley , Bill Jones (Liverpool), Dennis Kirby , George Laking (Middlesbrough), Reg Limbert, Jack Mahon , James Makinson , George Milburn , Jack Milburn , Jim Milburn , Aubrey Powell , Arthur Price , George Scaife , John Short , Freddie Steele (Stoke City), Alec Stacey , Eric Stephenson , Harry Sutherland , George Swindin (Arsenal), Jim Twomey , Albert Wakefield , Tim Ward (Derby County), Sam Weaver (Chelsea), Frank Westlake (Sheffield Wednesday).