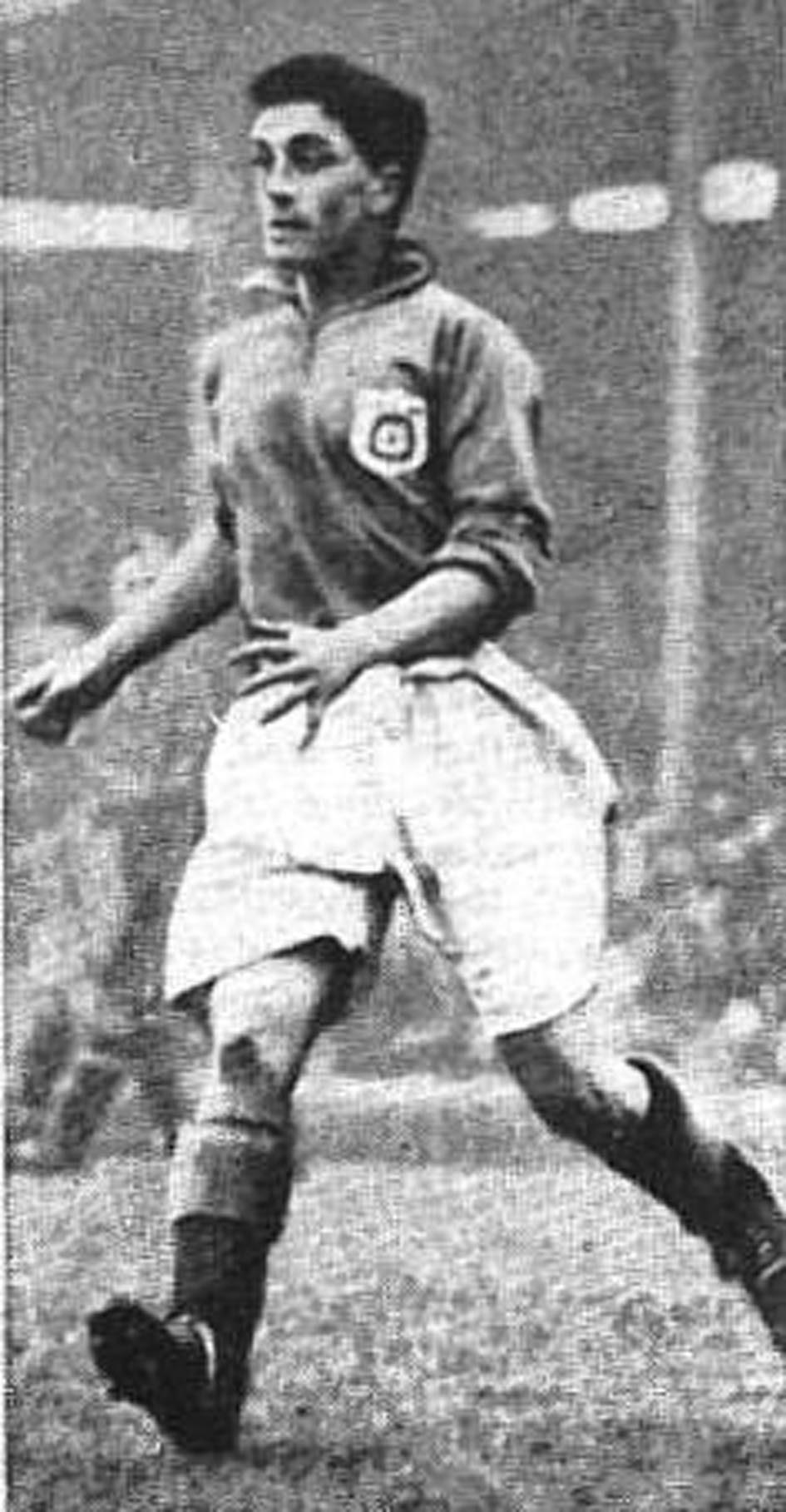 Stephenson: Joseph Eric (Eric)
1933-1944 (Player Details) (Leeds United War-time Guest Player Details)
Inside Left
Born: Bexleyheath, Kent: 04-09-1914
Debut v Portsmouth (h): 02-03-1935
5'6 1/2" 10st 2lb (1938)
Like all sons who bear the same christian name as their father, he was known, not by his father's name of Joseph, but rather by his second christian name of Eric. He was an outstanding prospect at Tom Hood School in Leytonstone before moving to Leeds with his parents, after his father had obtained employment there. Whilst in London he had already shown his football prowess by leading his school team to victory in the Lipton Cup. He represented Leytonstone Schoolboys, and was one of four boys from Tom Hood School that were chosen to represent London Schoolboys in the annual London v Glasgow Schoolboys match that was played at Hampden Park in January 1930. The London team won. Now sixteen, Stephenson became an apprentice in a dry cleaning business and joined Oakwood Old Boys as an amateur in the local League. Unfortunately, the club had difficulty in finding players and had to drop out of the League. Fortunately, his talents had not gone unnoticed and he was one of a group of amateurs who went to Harrogate and by co-incidence the Leeds United third team also used the ground for training. This resulted in him coming to the attention of Leeds United who invited him to join the groundstaff at Elland Road. In January 1933 he signed amateur forms, and was happy to continue in that vein until his father was made redundant in the recession. This meant that Eric now had to help with the family budget and he signed professional forms with Leeds in September 1934 on his twentieth birthday. It wasn't long before he was knocking on the door for selection in the first team and, after United had tried several replacements for the injured Billy Furness at inside-left he was given his chance and he made his first team debut, which Leeds won 3-1, filling in for a month before the England International returned. He soon showed his goalscoring prowess with two goals in his second appearance in a 4-4 draw with Everton at Goodison Park. He remained understudy to Furness in the 1935-36 season when he scored once in eleven games. It seemed as though he had cemented his spot in the team when Billy Furness moved to Inside-Right and Stephenson took over Billy Furness' Inside Left role in the second game of the 1936-37 season. He held the number ten jersey for the next seventeen matches, and scored four goals. United had a quick but light-weight forward line and when George Ainsley was signed from Bolton Wanderers to rectify this it was Stephenson that gave way as Furness assumed his former position to make way for the new signing. It wasn't until late in March 1937 that he displaced Furness to finish the season with six goals in twenty-two appearances and Stephenson became the regular choice for the 1937-38 season. This saw the former English International moved to Norwich City at the end of the 1936-37 season. Stephenson forged a strong partnership with Gordon Hodgson as they and David Cochrane became United's danger men as Stephenson missed only four of the forty-two League and two F.A. Cup ties that Leeds were involved in that season. It was a stellar season for Stephenson and Leeds as the club was involved in the title race into February, before a run of seven games without a win saw them slip from contention. Stephenson had risen so rapidly through the ranks and became such an established star that, on 9th April 1938 he was forced to miss United's vital home game with Arsenal when he won the first of his two England caps. He had been chosen at Inside Left against Scotland at Wembley, and teammate Bert Sproston was at right back, but none of the Englishmen shone that day as Tommy Walker scored the only goal of the game, in the sixth minute, to give Scotland victory. On the same day Leeds had to face high-flyers Arsenal without their two England stars, as Stephenson missed his fourth game of the season. But to be fair the Gunners also provided Captain Eddie Hapgood, Ex-Leeds Iron-man Wilf Copping and star forward Cliff Bastin to the England team, but Leeds held the League leaders until four minutes from time when a young Scottish Outside Right, named Bremner, got the winner for the Gunners. That year Leeds finished ninth in the League just nine points behind Arsenal, who took the Championship Trophy by one point from Wolverhampton Wanderers. It was a pivotal game, leaving only six games to play. Leeds then won three straight to put them back in contention but two heavy away defeats in their final games against relegation threatened teams stopped them reaching the potential third spot which had seemed possible. United and Stephenson started the 1938-39 season in sparkling form, winning the first two games and seemed to be looking to improve on their League position of the previous season. Unfortunately Stephenson picked up a nasty injury in their 1-0 win at Huddersfield Town on 17th September 1938. A broken toe was diagnosed and this sidelined him until he made his return on 29th October in the home game with Portsmouth. Not only did he miss five games for Leeds but he also missed the start of the International season, with England playing Wales and the Rest of Europe and the Football League playing the Scottish League. He starred in a 3-2 win over Arsenal at Highbury in his second game back on 5th November 1938, scoring twice. The England Selectors were at the game and it saw him recalled to the England team at Inside Left against Northern Ireland on 16th November 1938, in a 7-0 slaughter in which Willie Hall of Tottenham Hotspur scored five. He missed a further three games over the Easter holidays, after injuring an ankle at Old Trafford in a 0-0 draw with Manchester United, and finished the season with four goals in thirty-four League games and two F.A. Cup ties. Leeds still relied on the scheming of Stephenson, the shooting power of Gordon Hodgson, the emerging skills of young Irish Outside Right, David Cochrane and the return from severe injury of Welsh inside forward Aubrey Powell, but they were never really in contention in the League and finished a disappointing thirteenth. He was selected for the England squad for the European tour of Italy, Yugoslavia and Romania but did not play in any of the three games. However, the Second World War curtailed his International and League career. He played in all three games of the aborted 1939-40 Football League season and when the Football League games had been suspended he had played in one hundred and eleven League games in which he had scored twenty-one goals of which one had come from the penalty spot and had also scored once in four F.A. Cup ties. He played for Leeds for a couple of seasons during the wartime seasons, scoring seven times in thirty-two League appearances and playing a further seven times in the War-time Cup without scoring. He was at Inside Left in the 1939-40 Regional League North-East Division playing his first Wartime game in a 0-0 draw with Huddersfield Town at Elland Road on 2nd December 1939. He played a further four games in that campaign, scoring from the spot in his third game in a 3-2 win over Darlington on 9th March 1940 and also played three of the four War Cup games that season. He was a regular at Inside Left in the 1940-41 North Regional League playing the first fourteen games before finishing up with five goals and only missed seven of the thirty match season and played all four War Cup games. He only played four of the games in the 1941-42 Football League Northern Section (First Championship) and played his final game for Leeds on 1st November 1941 in a 2-2 draw with Chesterfield at Elland Road. The start of the war had seen Stephenson enlist and, like many professional footballers, he became a P. T. I. at Aldershot. In 1939-40 he made four appearances for Aldershot and two more in 1940-41. He was stationed at Malton with the Manchester Regiment and this enabled him to play for Leeds and other clubs in that region. He played once each for Bradford City, Hull City and Mansfield Town in the 1939-40 season. He played in representative games for the Army, the F.A. and was reserve for England against Scotland at Newcastle on 8th February 1941. On a moonless night of 9th February 1940, the Army sent a representative team to play France. It was composed of Reg Allen (QPR), Arthur Riley, Matt Busby and Willie Fagan (Liverpool) Andy Beattie (Preston) Bert Sproston (Man City) Harry Goslin and Albert Geldard (Bolton) Stan Cullis (Wolves) Joe Mercer Tommy Lawton and Billy Cook (Everton) Maurice Edelsten (Reading) Don Welsh (Charlton) Denis Compton (Arsenal) Wilf Copping and Eric Stephenson (Leeds United) Arthur Cunliffe (Hull City). This team played the hosts two days later at Stade Olympique de Colombes in Paris and in front of 35,000. The Army fielded eight Internationals in a 1-1 draw, with Edelsten scoring the goal for the Army. In the second fixture, in Lille, Stephenson scored the only goal in a 1-0 win before a crowd of 13,000. In their third game, in Reims they won 2-1 in front of 15,000 with Stephenson and Joe Mercer scoring. His last games of football were played with Reading where he played twice and scored once in the 1941-42 season. He had enrolled at nearby Royal Military Academy at Sandhurst and, after taking an Officer Cadet Training Unit course, had gained a commission and was sent to India in 1942 where he joined the Second King Edward VII Own Gurka Rifles. They were to become part of a group known as the Chindits that were formed and trained by Major General Orde Wingate, with the prime purpose of operating behind enemy lines. Stephenson went on to become a Major in the Ghurka Rifles in Burma, and was part of the Chindits that advanced three hundred and fifty miles into Japanese-held Burma. It was extremely dangerous jungle warfare and ultimately it claimed his life. He was killed in action on 8th September 1944, just four days after his thirtieth birthday. He was not the only serving Leeds United player to have been killed in the Second World War. Maurice Hubert Lawn, Vernon Allen, Leslie Thompson, Robert Montgomery, all young men just making their way in life and football, were also killed. In Eric Stephenson's case it was a great loss to Leeds and English football as he had already promised to be one of the big stars of the English game. During 1946-47, Leeds played Celtic in a benefit game for Stephenson's widow and a memorial stained glass window now sits in a Leeds church. During the 1930s he had been a lieutenant in the 30th Leeds Company of the Boys' Brigade.
| | |
| --- | --- |
| League 111 | 21 |
| FA Cup 4 | 1 |
| War-time: | |
| League 32 | 7 |
| Cup 7 | 0 |
TRIBUTES & OBITUARIES
A Wonderful Portrait of a Leeds United Legend
By Mr. H. Wainwright : 10th May 2014
Eric Stephenson was one of Leeds United's greatest players of the 1930's. He played over 100 times for the Whites and was capped twice for England. His eldest daughter has painted a portrait of a major figure in the history of the club which is both honest and affectionate, and which draws heavily on personal memories and correspondence, as well as contemporary reports of his career as one of the great inside-left forwards of his day.
The second part of the book looks at his military career as an officer in the Second Gurkha Rifles, where the leadership he demonstrated on the sporting theatre was echoed when fighting in very hostile conditions in Burma. Eric comes across as a man who remained unstintingly positive in all kinds of adversity, leading by example and showing great commitment to those men in his care.
His death in action in September 1944 deprived Leeds of both a great player and a man who could have been a great ambassador for the club after his retirement from the game. After finishing the book, I felt a sense of great sadness at his loss.
The book is well referenced. The many pictures of Eric as a family man, soldier and player amplify the written text. The story of his life flows seamlessly, with stories and events linking well together, and you particularly get a strong sense of who he was as a man when reading his letters home from from the front line.
Eric's daughter has written a book which is essential reading for any Leeds United supporters with an interest in the history of the club. It is rare for such a personal and well described book to be written about a player who was in his prime so long ago. I would urge Leeds United fans to get hold of a copy and get to know one of their great undiscovered heroes.
Tony Hill (Ozwhite)
I have read and thoroughly recommend the book of Eric Stephenson's life, football career and war service written by his daughter Jan Rippin (nee Stephenson) who says: "In this book about his life, Eric Stephenson's story is told as much as possible in his own words and those of his contemporaries, using letters, original photographs, press reports, recollections of friends and regimental records. In his short life Eric travelled from a working class home in East London to the war-torn jungles and mountains of Burma. As a young man he played for Leeds United FC, achieving national success in his beloved football, and eventually playing for England."
It may be obtained by contacting Jan (jan.steph14@gmail.com) or The Oldfield Park Bookshop (harry@oldfieldbooks.fsnet.co.uk).