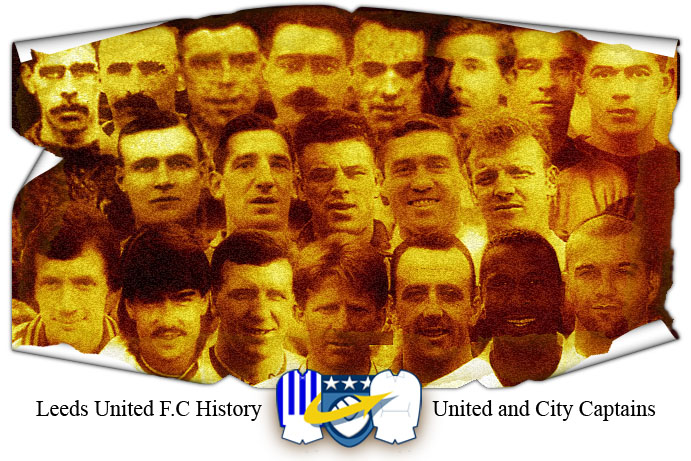 Leeds United and Leeds City Captains' Statistics:
This statistics section is designed to give an indepth look into the full match details of both Leeds United and Leeds City Captains. It gives full match details of all Competions recognised by the Football League, European Competition and Wartime fixtures and details of the Leeds Captain that led the team which took part in those games.
The Players' statistics cover all Captains who have led Leeds in those recognised competitive game for Leeds United/City, including those who may have taken over from the original Captain when he was forced from the field by injury or being sent off, and in later years, after the introduction of substitutes, any changes so caused to the captaincy. It is not always possible to precisely identify the captain and in those cases the captain will be marked as "Unknown" until they can be precisely identified.
There are several players who have been replacement captain, due to the original captain having left the field for a variety of reasons. While these players have been noted in the season details section, the have not been included in the player details section, which has been reserved for starting captains only.
In compiling the data, it has been assumed that the hierarchial system was in force in the selection of the captains and their deputies, but there were several instances when players were given the honour of captaining the team for the special game, such as when a player was playing against a former club, or to mark his last appearance for the club. No doubt there are other similar occasions which have escaped my attention!
The amount of scrutiny of the factual correctness, has tended to vary, although in the case of Leeds City newspapers have proved to be a good source of verification, with Dave Tomlinson and Neil Roche well to the fore in that capacity.
Unfortunately, after Jim Baker the available records have not, to date, been perfect, but no doubt, with time that will be rectified. For the present, we have had contemporaneous proof from newspapers of the majority of the time until WW2 and this is covered in the History below. From WW2 onwards the scrutiny has progressively improved to the availability of match reports, programmes and other items of reference, through the Revie era and the availability of videos and DVDs. With the advent of the "Captain's Armband" from the very early 1990s, even closer scrutiny became available, but if it was not possible to absolutely identify the captain of each game, then, in that period, I have placed them as being "unknown" rather than the almost certain captain of the game. With time, and a little help, I am sure those 99% certanties will become totally accepted.
A chronological History of the Captains of both Leeds City and Leeds United will be found below, when the project is complete. It will trace the players who have lead the team into the fray, long before armbands were thought of, just over twenty years ago. Generally speaking most have been natural leaders of men, who gave their all for the club.
I would like to thank Paul Gregson for his excellent graphics and WAFLL and Dave Tomlinson of The Mighty Mighty Whites for their assistance in the project.
I would also like to make special mention to Mark Ledgard, Alan Hepworth, Neil Roche and Richard Weise. Mark has been a fountain of information for match reports and team and match details, while Alan has contributed much in the checking of the detail, which was essential to the finished product. Neil has put countless hours into researching the details of the older information and Richard had the original idea back at the turn of the last century and has been a constant help ever since and his persistance has finally paid off!
Finally, I would like to acknowledge the help given by Andrew Dalton in the final twenty or so years (1990-2013) which enabled several "unknowns" to become certainties and to a lesser extent in the mid to end of the 1980s. It resulted in the "unknowns" being reduced from dozens to nil in that period. Much appreciated Andrew!
The project is almost complete. However, if anyone has any contributions, requests, suggestions or corrections please contact me on HistoryofLeedsUnited@hotmail.com
Leeds City Captains Season Match Details
Leeds City Captains by Season Details
Leeds City Captains by Player Details
Leeds United Captains Season Match Details
Leeds United Captains by Season Details
Leeds United Captains by Player Details

Captains of Leeds City: A History
The club's first season, 1904-05, was spent in the West Yorkshire League, in which they played Twenty-three fixtures, and sixteen Friendlies against strong opposition, one FA Cup tie, one West Yorkshire Cup tie and three Leeds Hospital Cup ties. No records were kept of the composition of teams, other than the FA Cup tie, and consequently no captains have been found for that season.
City's first Captain was Manager Gilbert Gillies' choice, Dick Ray, who later went on to become United's second Manager when he took over from Arthur Fairclough at the start of the 1927-28 season. Already almost thirty-three, Dick Ray barely saw out two seasons. His continued absence caused City to turn to goalkeeper Harry Bromage, in the first season, then John George and increasingly to Scottish full-back David Murray, particularly in 1906-07.
The arrival of Tom Hynds in the following season saw him given the captaincy and he brought stability to the team in leadership and defence. unfortunately Hynds returned to his native Scotland to join Heart of Midlothian at the end of the 1907-08 season. City turned to another Scot, this time in the big frame of full-back Jock Watson, who had arrived at the start of the 1908-09 season from Brentford. The big man led City for two seasons, but was gradually superceded by midfielder Stan Cubberley, who took over when Watson could not be assured of a place in the second half of the 1909-10 season. Cubberly continued as captain through the 1910-11 until he gave way to Tom Morris, who had arrived from Manager Frank Scott-Walford's former club, Brighton and Hove Albion in February 1909. Morris was a cultured Centre-Half and he led the club until the arrival of England International Evelyn Lintott from Bradford City as Morris's replacement both as Centre-Half and Captain at the start of the 1912-13 season.
Scottish International Jimmy Spiers also arrived from Bradford City at Christmas 1912 and after Lintott had been an ever-present in the 1912-13 season, he was absent for many games in 1913-14 and it was Speirs who took over the Captain's mantle in his absence. Speirs remained the United captain until he joined the Army in 1915. George Law, who had been his deputy, became Captain in 1915-16 until he was succeeded, in February 1916, by John Hampson, who had formerly deputised on the rare occasions that Law or Speirs had been unavailable.
John (Jack) Hampson remained captain until the demise of the club, with Bob Hewison as his deputy and failing that it is assumed it would have been Billy Hampson.
It is a sad fact that four of those leaders of men paid the ultimate sacrifice, in the service of their country. David Murray, aged 28, at Loos, France on 10th December 1915. Evelyn Lintott, aged 32, at the Somme, France, on 1st July 1916. Jimmy Speirs, aged 31, at Ypres, Belgium, on 20th August 1917. Tom Morris, aged 33, at Pozieres, France, on 24th March 1918.
Captains of Leeds United: A History
1920/21-1924/25: Jim Baker (DOB: 15-11-1891) was undisputably the Leeds Captain until his final game against Sheffield United on 14th March 1925. He had a long and distinguished career as the first United Captain. "T'owd War Hoss" as he was affectionately dubbed set the standards by which others would be judged as he led by example. There is the matter of who took over for the rest of the 1924-25 season. It could have been any of the "Senior professionals" such as Bert Duffield (03-03-1894) (aged,31), Bill Menzies (10-07-1901) (23), Joe Harris (05-11-1891)(33) or Percy Whipp (28-06-1893) (31), or Ernie Hart (03-01-1902)(23) who was young in years, as was "new boy" Willis Edwards (28-04-1903) (22), who had just joined the club alongside Russell Wainscoat (28-07-1898) (26). My leaning would be towards Bert Duffield but it is totally unsubstantiated. Leeds, like most clubs of the day, employed the hierarchial system and that system carried on, with rare exceptions, throughout the club's history. One thing that is known is that Ernie Hart (DOB 03-01-1902) was the Captain in the the two F.A. Cup ties in the 1920-21 season which clashed with the United League fixtures and they had to field the Reserve team when the games were concurrent.
1925/26-1929/30: Tom Townsley (28-04-1898) was twenty-seven when he made his debut on 26th December 1925 and had already played for Scotland. It is acknowledged that he Captained United, of that there is no doubt, it is stated many times in several books. The question is from when to when! Wiki state Jimmy Potts (22-01-1904) was the Captain of Leeds from 1926 to 1933. It is obviously wrong, as while he debuted on 27th February 1926 and played his final game on 4th March 1933, it is hard to believe that a goalkeeper from non-League football in Geordie land would be made captain of a club, at the age of twenty-two, from his debut, particularly with so many experienced professionals well ahead of him in the pecking order. I have never seen Jimmy Potts mentioned as being the Leeds captain in any book at any time. It is a possibility that he may have captained Leeds at least once in his seven year career, but London to a brick, it was Tom Townsley that was captain for much of that time. In the early part of the 1925-26 season, Bert Duffield and Joe Harris played their final games, but the young players, Menzies, Hart and Edwards, together with Russell Wainscoat, who missed half the season with injuries, and newcomers Bobby Turnbull (17-12-1895) and Tom Jennings (08-03-1902), all ahead of Potts in the pecking order, the Captain would have been one of them with, more than likely, Tom Townsley taking over on debut. Tom Townsley had a fine record at Leeds, hardly missing a game, and he would have remained captain until he lost his regular place at the end of the 1928/29 season. Willis Edwards, who was the captain of England at the time, is pictured as Leeds captain and there are several references to the fact that he led the club to their best season pre-Revie in 1929/30.
1930/31-WW2: According to the London edition of the Daily Express in the report on the first game of the season v Portsmouth on 30th August 1930, Russell Wainscoat (28-07-1898) was elected captain. I have used this fact to substantiate him as the captain in 1930-31. He was almost ever-present (as were Willis Edwards, Ernie Hart and Jimmy Potts). He missed nine games that season and either Edwards or Hart would have deputised. Wilf Copping (17-08-09) had emerged as a regular from his debut on 30-8-30, but would have still been working his way up the pecking order, as would Jack Milburn (18-03-08) who had been a regular since early in the 1929-30 season.
Both Townsley and Wainscoat had left the club, in the case of Wainscoat he did play the first three games, in the 1931-32 season and could still have been the captain. Of the remaining senior professionals, Edwards missed 14 games and it is quite likely that Ernie Hart, who missed only 4, may have been made captain, but I have no proof that Hart was captain, other than I do have several references to him as being captain in the latter part of 1932-33 and the whole of 1933-34 and team photos of the 1931-32 & 1932-33 seem to indicate Hart as captain (although Edwards does not appear on them and Hart may have been the "Stand-in captain"), However, 1933-34 photos clearly indicate Hart as captain.(Wiki have Wilf Copping as Captain in 1933-34. Again I have never seen any reference to Copping ever being the Captain at LUFC. Again, however, if he did Captain LUFC once that qualifies him as being a "Captain of Leeds"). Hart and Edwards were sometimes both absent, which would leave an avenue for others.
In the 1933-34 season Hart was suspended for the first five games. George Milburn captained the team in the second of those at Home to Middlesbrough on 28th August 1933 and in the third game at home to Newcastle United on 2nd September 1933 his brother Jack returned to the team and took over the captaincy. Willis Edwards did not play in either of those games and it seems safe to assume the pecking order had been established as Hart, Edwards, Jack Milburn and then George Milburn, which prevailed for that season. On that basis, Willis Edwards would have led the team in the first game at Blackburn Rovers on 26th August 1933, while Jack Milburn would have led them in the fourth and fifth games at Huddersfield Town on 9th September and at Derby County on the 16th. Similarly, in the later matches which saw Hart absent, on Boxing Day 1933 at Arsenal, Jack Milburn would have been skipper as well as at home to Huddersfield on 20th January 1934 and Derby on 31st January, while Willis Edwards would have been in charge for the game at Stoke City on 14th April 1934.
Hart continued as Captain until injured at Chelsea on 3rd November 1934. There is no firm evidence of who took over as captain for the next two games at Wolves and at home to Sunderland, but my best guess would be Jack Milburn, in the absence of Hart and Edwards. Jock McDougall (21-9-01) joined the club in November 1934. He was a vastly experienced player and captain of Sunderland, the club he was bought from. He made his debut on 24-11-34, but only played 11 games due to injury. He was mentioned several times as being captain in 1934-35, so Jock McDougall took over the captaincy in his debut at Leicester on 24th November 1934. He missed the game at Villa Park on 8th December and Willis Edwards took on the captaincy. With McDougall remaining injured Edwards was also captain for the next two games at home to Preston and at Spurs, but McDougall resumed as captain for the next four League and one Cup games until the return of Ernie Hart at Arsenal on 19th January 1935. Hart was captain in the away clash with Norwich in the F.A. Cup, but missed the replay and McDougall took over. Hart then continued until he missed the game at home to Grimsby on 9th March 1935, when McDougall took charge. From that point Hart missed the game at Sunderland and at home to Leicester and Aston Villa and McDougall deputised as captain. There is reference to Edwards as Captain at Tottenham, on 22nd December 1934, in a game that neither Hart nor McDougall played, so with Hart being on team photos as captain (as was McDougall), it appears that Hart started as captain, McDougall took over and Edwards was always there if the other two were not!
McDougall continued as captain in 1935-36, possibly in Hart's absence, and there are a few references, but he missed 13 games, with Edwards being captain in his absence or Jack Milburn, at West Bromwich Albion on 19th February 1936, where he appeared in a team photo as captain. Hart only played four games in the 1935-36 season; in the opening game at Stoke, the third game at home to Blackburn, at home to Grimsby on 1st February 1936, none of which McDougall played in, and at Derby on 11th April 1936. So Hart more than likely would have been captain in the first three of those games, but probably McDougall would have been captain for the game at Derby, unless Hart was still recognised as club captain. McDougall was described as LUFC Captain in the lead up to the Wolves away Cup Tie. McDougall looks to have been Captain for the season and apart from the four games mentioned, as he is referred to as Leeds Captain on several occasions. He missed the three games subsequent to Grimsby, at Huddersfield, West Brom and at home to Middlesbrough. More than likely, Willis Edwards would have been captain in those three, in the absence of McDougall and Hart, but he also missed the game at West Bromwich Albion on 19th February 1936. Jack Milburn is pictured as captaining the team in that game in the absence of Hart, McDougall and Edwards. McDougall also missed four games from 21st March 1936 at home to Portsmouth, at Bolton, at home to Wolves and at Man City, with a head injury and presumably Willis Edwards would have deputised. He also missed the home games with Manchester City and Everton and the away game with Preston North End. Willis Edwards is noted as being the Captain in the home game with Manchester City City, and presumably he would have continued in the home game against Everton and more than likely at Preston.
Hart's contract with the club ran out at the end of the 1935-36 season and McDougall would have become Captain for 1936-37. While Jock McDougall started the 1936-37 season as captain he was injured in the second game at Manchester City and Bob Kane replaced him as centre half for seven games. He came back to reclaim his spot and held it until 19th December when he played his final game for Leeds United. Willis Edwards is noted as the captain on 12th September 1936 at home to Charlton Athletic. McDougall appears to have been the club captain and would have remained so until finally losing his place to Bob Kane after the game on 19th December 1936, which was his final game for Leeds. He was mentioned as being "the captain" before the game at Sunderland on that day. There is little doubt that Willis Edwards was the captain in McDougall's absence and in both their absence Jack Milburn would have been captain. McDougall played twelve League games (excluding the abandoned game with Wolverhampton Wanderers on 12th December 1936). Of the remaining thirty, Edwards missed the home game on 9th September with Manchester City, the home game with Middlesbrough on Xmas Day and away game at Chelsea on Boxing Day, the away game at Charlton Athletic on 9th January 1937, the away game at West Bromwich Albion on 29th March 1937 and the final two games of the season at home to Sunderland on 24th April and Portsmouth on 1st May 1937. He also played the only Cup game at Chelsea on 16th January 1937. So he would have been captain on twenty-three League and one Cup game. Of the games which McDougall and Edwards missed, Jack Milburn played in six of those games but not at Charlton Athletic on 9th January when it is likely that George Milburn would have taken over.
With McDougall gone and Edwards restricted to just three games, United had to have a new captain for 1937-38. I have Tom Holley (15-11-13) being mentioned as "a future Leeds skipper in January 1939, so Wiki's claim of 1937-49 for him as captain appears to be uncorroborated. Gordon Hodgson (16-4-04) was a vastly experienced player and made his debut on 3-3-37. There is no reference to the Captain, for the 1937-38 season, in the Yorkshire Post until 5th February 1938. It then states that Gordon Hodgson was the Leeds Captain and that the Liverpool, South African-born goalkeeper, Arthur Riley, was made captain for the day to record that he and Hodgson had both joined Liverpool and were the first two South Africans to join an English League club. If team photos are taken as a guide Hodgson was in the "captain's" position (with the ball in front of him in the middle of the front row). It could be that Jack Milburn was initially the Captain at the start of the season, but I feel that it was probably Gordon Hodgson. Milburn played every game that season and Gordon Hodgson only missed six. They were 2nd October 1937 at West Bromwich Albion, 9th October 1937 at home to Birmingham, 16th October at Everton and 23rd October 1937 at home to Wolverhampton Wanderers, when Milburn would have taken over and that would also have been the case for the games at Middlesbrough on 27th December 1937 and at home to Leicester City on 12th March 1938, a game that he missed as his wife had died. In the away game at Stoke City on Easter Monday 1938, 18-04-1938, Milburn was described as Leeds Captain by the Yorkshire Post in the match report the following day, so it is quite possible he could have been the captain for the whole season, with the exception of the special game at Liverpool in which Hodgson and the Liverpool keeper Riley were each captain in tribute to their being the first South Africans to play for Liverpool. In the return game with Stoke on the next day, Easter Tuesday, 19-04-1938, the following was included in the Match Report of the YP 20-04-1938: "Before the match J. Milburn, Leeds United captain, who had qualified, for a second benefit, was presented by the chairman of the club, Mr. Ernest Pullan, with a cheque for £650, the maximum amount permitted by the League-"a hundred per cent benefit to a hundred per cent man" was Mr Pullan's phrase in a brief broadcast address." It is not conclusive evidence that Milburn was club captain for the season, but it was not unusual for the centre forward to assume the captain's position with the ball, John Charles did it on occasions when Tom Burden was captain! He is certainly photoed with the ball on several team photos of the two seasons prior to WW2. However, Jack Milburn was also photoed in December 1938 as "captain" in a team photo in a team that contained Edwards, Holley and Hodgson. It is a hard call as apart from the foregoing there is little hard evidence in support of anyone. I went for Jack Milburn in 1937-38 and 1938-39. Milburn was ever-present in the 1937-38 season but missed twenty games in the second half of the 1938-39 season.
In the Yorkshire Post Report on the United v Chelsea game on 26th December 1938. It states that Edwards took over the captaincy from Milburn. "The veteran half-back, who was acting captain in the absence of Milburn, injured," and in a preview of the home game with Charlton Athletic on 31st December 1938 Milburn is described as the Leeds Captain. These comments seem to confirm that Jack Milburn was the usual Leeds captain and that Edwards, when available, was his deputy. It is not conclusive proof of that as Gordon Hodgson was rested from that Chelsea game. The return game with Chelsea at Stamford Bridge on 27th December 1938 is a bit of a mystery as Milburn and Edwards were both absent and either Gordon Hodgson or Tom Holley could have been called on, as there were no others of leadership quality. In the Yorkshire Post Match Report of the Cup-tie with Bournemouth on 11th January 1939 it was reported "Leeds welcomed the return of their captain, Jack Milburn", so there can be little doubt that he was the club captain. There is a reference to Tom Holley being the captain in the 1-0 win at Brentford on 18th March 1939. It is quite possible that Jack Milburn was captain until he left for Norwich City. He left for Norwich on 24th February 1939 and was described as being the captain of Leeds for many years. Milburn played the first twenty games until 24th December 1938 at Preston North End. After that he only played two further League games and both Cup games. The League games were at Bolton Wanderers on 14th January 1939 and at home to Middlesbrough on 11th February 1939. Tom Holley only missed three League games after 24th December 1938, 11th February 1939 at home to Middlesbrough, 18th February 1939 at Wolverhampton Wanderers and 25th February 1939 at home to Everton. So possibly Jack Milburn was captain until the game at Preston North End, and also at Bolton Wanderers and at home to Middlesbrough, with Holley the captain for the rest, except at Wolverhampton Wanderers and at home to Everton. In the game at home to Everton the Yorkshire Post mentions that Eric Stephenson was again Captain, which could mean he was also captain at Wolverhampton Wanderers.
1939-40 could have been Tom Holley, who played two of the three games, and Hodgson, who played only once, in the game that Holley missed or Copping who played all three. Tom Holley was noted as captain for the home game with Charlton Athletic on 30th August 1939.
WW2: WW2: No concrete evidence but Holley when available or Gerry Henry (5-10-20) (Pictured as "Captain" in the only LUFC WW2 team photos) when not, with other senior players, such as Willis Edwards, Gordon Hodgson, Frank Butterworth and Aubrey Powell, as backup for the few games both players missed. There is also reference to Frank Butterworth (DOB 00-00-15) as being "A great stalwart and captain for a long time" and it would seem like he could have been third or even second in the pecking order. There was a report that John Short was the captain in the home game with Newcastle United on 20th March 1943.
1946/47-1948/49: Tom Holley was captain until ousted from the team by John Charles! Holley missed nineteen games in 1947/48 (Ken Willingham, high profile ex-England International, would probably have been senior professional and deputised for all but one of those games. He is noted in Playfair Annual as the captain of the team at West Bromwich Albion on 4th October 1947). Jim McCabe (DOB 17-09-18) is noted in a programme just before the end of 1948 as being "The present Captain" and with Willingham having retired after the 1947-48 season, he became the deputy to Holley as Captain. In the absence of those two players, Jim Milburn (DOB 21-09-19), was stand in Captain and is known to have done so in the game at Luton Town on New Year's Day 1949.
1949/50-1954/55: After the end of Tom Holley's reign Jim McCabe started the 1949-50 campaign as Captain but after the fifth game, and with just three points earned, he was one of several players to lose their place in the team. Jim Milburn took over the captaincy, but just six games later he was carried from the field concussed on 1st October 1949 in the closing minutes of a 0-1 away loss to Luton Town. Tom Burden filled in as left back and took on the responsibility of Captain for those few minutes. He was made Captain of the team for the ensuing home game with Cardiff City on 8th October 1949 and remain the Leeds skipper until he left the club. Tom Burden (21-02-1924) had made his debut on 11th September 1948 and had become an integral part of the team, both as a fine attacking wing-half, and as a goal-scoring inside forward. He took over as undisputed captain after Holley and was United's inspirational captain, now firmly entrenched in the left-half position, until he had problems with Raich Carter, who had abused Jack Scott for mistakes in the 3-5 defeat at Bury on 4th September 1954, and left to captain Bristol City to the Third South title. Before his taking on the captaincy, Leeds had gained just six points from eleven games, but, leading by example, he became the Leeds Captain who guided United from a lack-lustre outfit in the early post-WW2 years, when they were derisively known locally as "The Mugs", to respectability with their exploits in the 1949/50 season. It was the prelude to the start of a long unbeaten run which saw them hold the mighty Arsenal to 0-1 at Highbury in the F.A. Cup quarter- finals and narrowly missed promotion to the First Division. After that United were recognised as one of the best teams in each season in the Second Division, but narrowly failed to achieve promotion.
1954/55: After Tom Burden left, Manager Raich Carter appointed his best player, John Charles (27-12-1931) as his captain, with another stalwart in the Tom Burden mould, Eric Kerfoot (31-07-1924), taking on the task on the two occasions that Charles was not available.
1955/56-1956/57: By today's standards, John Charles, could only have been described as a World Class Superstar of the highest echelon. It was inevitable that he became the Leeds Captain and in his first season in the role he led the club to promotion and also continued as he rewrote the record books in the first year back in Division 1 in 1956/57, but, unfortunately, at the end of it he left for Juventus.
1957/58-1976-77: The ever-reliable Eric Kerfoot took over from John Charles and was captain for the 1957/58 season but when Wilbur Cush (10-06-1928) took over from him at left-half at the start of the 1958/59 season the Irishman also took over the Captaincy. However in January 1959 he felt the responsibility was affecting his game and he handed it over to Don Revie (10-07-1927). Revie thought he was an unlucky skipper and handed over the role to Freddie Goodwin (28-06-1933), before the League Cup tie at home to Blackpool on 28th September 1960 in the 1960-61 season. Goodwin was to remain skipper until he broke his leg in the Cup-tie with Cardiff City on 04-01-64. On that day Billy Bremner temporarily took over the captaincy in his absence, but while Goodwin remained club captain until his departure midway through the 1964-65 season, there were several team captains, who either tookover in his absence during several periods of injury, or in the case of Grenville Hair (16-11-31) and Bobby Collins (16-02-1931) when they were appointed team captain. Cliff Mason (27-11-29) and Jack Charlton (08-05-1935) also were Captain in some games in the 1962-63 season. The pecking order for 1962-63 saw Grenville Hair as team Captain, followed by club Captain Freddie Goodwin and then Bobby Collins and Jack Charlton, in their absence. As Hair lost his regular spot and Goodwin was not available, Bobby Collins took over the captaincy and led Leeds to the Second Division Championship by which time he was both Club and Team Captain. Johnny Giles (6-4-40) was allowed to be Captain for the day at OT on 05-12-64, but apart from absence due to injury, when Jack Charlton, took over in 1964/65, Jim Storrie (31-03-40) against West Bromwich Albion in the League Cup in 1965/66, Billy Bremner (09-12-1942) at Sunderland in the same season, and Johnny Giles, in three consecutive away games, and Alan Peacock (29-10-37), in a depleted team at home to Sheffield Wednesday, at the end of the following season, Bobby Collins remained Captain of Leeds United until after the first two games of the 1966/67 season. But, after Collins had broken his thigh in the away leg at Torino in the Fairs Cup on 6th October 1965, Jack Charlton had taken over as Captain in his absence. Charlton had the superstition that he should be the last player to take the field and was quite happy to relinquish the captain's job when Collins recovered. However, after Collins had suffered ligament damage after just two games in the 1966/67 season, he agreed to take on the captaincy once more. Eventually he gave way to Billy Bremner, when Revie wanted to give him more responsibility, in late 1966 at Newcastle United, he gave him the captaincy. In the second game of the season Collins had to be replaced when injured and as Charlton was not playing Bremner could have taken the role. Bremner was then Captain until he left Leeds in September 1977. After Charlton had vacated the captaincy arena, there was a pecking order as Bremner's deputy. It was: Giles, Hunter (24-10-1943), Reaney (22-10-1944),but Jimmy Lumsden (07-11-1947) was a one-off captain on 30th March 1970 at Derby County as was Peter Lorimer (14-12-1946) at Birmingham City on 30th April 1973 and Terry Yorath (27-03-1950) at home to Ipswich Town on 23rd August 1975. It was the golden era of the club, the Revie era, led in the main by two inspirational leaders. First Bobby Collins and then his protege, Billy Bremner, who eventually led United, by example, when the club won almost all of their trophies.
1976/77-1982/83: Bremner played his last game on 18th September 1976 and Trevor Cherry (23-02-1948) took on the Captain's role continuing also for the 1977/78, 1978/79 seasons. However, in the latter season Tony Currie (01-01-1950) took on the captaincy, with Cherry as his replacement if unavailable. Cherry resumed as Captain in the 1979/80 season, and continued in 1980/81, 1981/82. However, on 17th October 1981, Kenny Burns (23-09-1953) arrived and took over the captaincy, with Cherry as his deputy. Frank Gray (27-10-1954) was captain in April 82. In 1982-83 Cherry left for Bradford City in December 1982, when Kenny Burns was made captain once more. Then from 14th March 1983 Paul Hart (04-05-1953) was officially appointed captain until the end of the season.
1983/84-1995/96: David Harvey (07-02-1948) was appointed captain for the 1983/84 season, and continued until the end of December 1984. Frank Gray took over and then Peter Lorimer, but the exact dates and the games each were captain are unknown until Lorimer was noted as "Captain" in the programme of 9th February 1985. He lost the captaincy and never played for Leeds again after Billy Bremner replaced Eddie Gray as Manager in October 1985. Ian Snodin (15-08-1963) took over as captain until January 1987. John Sheridan (01-10-1964) twice deputised for him in November 1985. Brendan Ormsby (01-10-1960) then became captain, until the end of the 1986/87 season when he was injured in the Play-off final on 29th May 1987. With Ormsby out injured, Mark Aizlewood (01-10-1959) was appointed captain at the start of the 1987/88 season. He played the first seven League games but was injured in the seventh at home to Hull City and was replaced, with Jack Ashurst (12-10-1954) becoming the captain. Ashurst continued as captain until Aizlewood returned on 23rd February 1988 at Stoke City. He did not start in any of the final three games of the season when Micky Adams (08-11-1961) took over. Brendan Ormsby was the official captain for the season 1988/89, but only played the final fixture of the season. Mark Aizlewood was the captain and in the games he missed he was replaced by Micky Adams and Noel Blake (11-01-1962) as captain. After an incident in the game against Walsall on 1st May 1989 Aizlewood was no longer captain and missed the final two games. Gordon Strachan (09-02-1957) had joined United, making his debut against Portsmouth on 25th March 1989, but was not initially made captain. He was a ready-made captain and took over at the start of the 1989-90 season. In his first two seasons he rarely missed a game but if he did Chris Fairclough (12-04-1964)and John McClelland (07-12-1955) were his deputies. 1991/92 continued in similar vein, with either Fairclough or David Batty (02-12-1968) filling in. 1992/93 was thought to be a bridge too far for Strachan and while still "Club Captain", Gary McAllister (25-12-1964) was "Team Captain" on the pitch. In 1993/94 Strachan and McAllister played the same roles. 1994/95 saw McAllister still leading on the pitch with Strachan not playing many games. 1995/96 saw McAllister as Club and Team Captain. Gary Speed (08-09-1969) took over at Notts County on 3rd October 1995 when McAllister was substituted. McAllister left in the Summer of 1996.
1996/97-2003/04: Ian Rush (20-10-61) was appointed captain for the 1996/97 season and Carlton Palmer (05-12-1965) was his deputy on at least one occasion. New boss George Graham had purged the "big money earners and so Rush was gone and new signing David Hopkin (21-08-1970) was appointed club captain. He remained as the Leeds Captain for the rest of the season when he was available. David Wetherall (14-03-1971) deputised several times when Hopkin was not available, while Radebe, Kelly and Halle were others that may have also stood in. Lucas Radebe (12-04-1969) became the Leeds Captain in 1998/99. Wetherall and Hopkin, both were his deputies when he was not available. Radebe was still captain at the start of the 2000/01 season, but injuries and international calls were beginning to take their toll on his availability. David Batty (02-12-1968), Gary Kelly (09-07-1974) and later Rio Ferdinand (08-11-1978) were deputising when necessary, but officially Radebe was the club captain until the end of 2000/01. While Radebe remained club captain it was Rio Ferdinand who became team captain for the whole of the 2001/02 season as Radebe was unable to play one game due to injury. When Ferdinand had been unavailable Kelly and also Olivier Dacourt (25-09-1974) and Dominic Matteo (28-04-1974) had led the team. Ferdinand was sold to Manchester United and Dominic Matteo took on the role of team Captain as O'Leary left and Venables arrived. Danny Mills (18-05-1977), Kelly and Radebe were stand-in captain when Matteo was not available. Matteo remained team captain for the 2003/04 season. Kelly and Radebe were deputies when needed and Alan Smith (28-10-1980) was captain for the day on 8th May 2004 in the final home fixture against Charlton Athletic.
2004/05-2009/10: After relegation the majority of the old guard left and Paul Butler (02-11-1972) took on the Captaincy. He maintained the role in 2005/06 and Kelly and Sean Gregan (29-03-1974) were his deputies in those two seasons. 2006/07 was a season to forget as Butler retained the captaincy while Kevin Blackwell was Manager. The arrival of Dennis Wise saw him ostracised. Under Wise, Kevin Nicholls (02-01-1979) was appointed Club Captain on 26th October 2006, with Shaun Derry (06-11-1977) appointed Vice-Captain. But, as Nicholls was injured/suspended/unavailable frequently he did not captain the team very often before finally being stripped of the captaincy on 5th March 2007, when Jonathan Douglas (22-11-1981) was next in line as captain. David Healy (05-08-1979) was also appointed captain in the final games of the season. 2007/08 saw Alan Thompson (22-12-1973) start the season as the latest United Captain, with Jonathan Douglas his vice-captain, but it was always going to be a temporary role, given his proneness to injury. Andy Hughes (02-12-1978) became acting captain with the arrival of Gary McAllister, followed by Rui Marques (03-09-1977), before Jonathan Douglas recovered from injury to take up the captain's role. Thompson's captaincy lasted for twenty-nine League games of which he started nine. With Thompson no longer a prospective captain and Douglas unlikely to be fit for a few months, McAllister made Andy Hughes the acting captain, and he led them for three games until he was injured and Rui Marques took over. But Hughes was again injured/suspended and Marques was acting captain until Douglas returned to fitness on 1st April 2007 and Captained Leeds against Doncaster Rovers and in six of the final seven games and three Play-off finals. For the 2008/09 season Gary McAllister appointed Frazer Richardson (29-10-1982) as captain. Richard Naylor (28-02-1977) was made captain for the home game with Peterborough United on 24th January 2009 and he remained as captain for the rest of the season. Jonathan Howson (21-5-1988) was announced as the Captain for the season of 2009/10, in the absence of the injured Richard Naylor. He had played all nine League and three League Cup games before Richard Naylor returned from injury on 29th December 2009 at home to Carlisle United. Naylor was captain for the next six League and two Johnstone's Trophy games before Howson took over the Captaincy once more on 21st November 2009 for the game at Brighton. Howson was captain for five League and two F.A. Cup ties before Naylor resumed the captaincy on 15th December 2009 at home to Accrington Stanley in the Johnstone's Paint Trophy. He remained captain until the visit to Spurs in the F.A. Cup on 23rd January 2010, when he did not play, and Howson once more took over. Naylor was back for the replay against Spurs at Elland Road on 3rd February 2010, Howson having led the team in one F.A. Cup and one League game at Swindon Town. Naylor led the team again before Howson took over against Brentford on 6th March 2010 for just that game before Naylor returned to lead on 9th March 2010 at Tranmere Rovers as captain before missing the final game against Bristol Rovers on 8th April 2010 due to injury. Jermaine Beckford (09-12-1983) took the captaincy as Howson remained on the bench before coming on in the fifty-fourth minute but Beckford still had the armband on when he scored almost ten minutes later. Naylor played twenty-nine League, two F.A. Cup and five Johnstone's Paint Trophy games. Howson started as Captain in sixteen League, four F.A. Cup and three League Cup games. Beckford started as Captain just the once.
2010/11-2013/14: 2010/11 saw Richard Naylor start as captain, but in the second game against Lincoln City in the League Cup, Naylor was rested and Howson took over. Naylor resumed for the away trip to Nottingham Forest on 15th August 2010. But after just two League games Naylor dropped to the bench and was unused in the home game with Leicester City in the League Cup when Howson took over. Naylor was back as captain for the trip to Watford on 28th August 2010, but after three League games he was rested for the trip to Doncaster on 17th September 2010 and Howson took over. After three League games Naylor returned for the away game at Ipswich Town on 2nd October 2010. He played just three League games before he was injured and Howson took over for the home game with Cardiff on 25th October 2010. It was not until two F.A. Cup and thirty League games later that Naylor returned as Captain for the home game with Reading on 22nd April 2011. He was captain for the remaining four League games. Andy Hughes (02-12-1978) was a deputy Captain several times in the season, when others were substituted or unavailable. In 2011-12 Jonathan Howson was given the captain's armband for the season, but was sent off in the second League game of the season with Middlesbrough and missed the game against Hull City. Patrick Kisnorbo (24-03-1981) was the captain for the home game with Hull City on 16th August 2011, while Howson served his suspension and returned as captain at West Ham United on 21st August 2011. Howson remained captain until he was injured against Millwall on 3rd December 2011, his final game for Leeds, before later being transferred. He played a further three League Cup and seventeen League games, in that time. Patrick Kisnorbo took over as captain at Watford on 10th December 2011 and led the team for five games until he was injured in the home game with Burnley on 2nd January 2012. Andy Lonergan (19-10-83) took over as Captain for the F.A. Cup tie at Arsenal and the following seven League games, until Robert Snodgrass (07-09-1987) was chosen by Neil Warnock to be his captain from his first game at Portsmouth on 25th February 2012. He was captain for the final fourteen games. He left for Norwich and Lee Peltier (28-09-1982) became the Captain for the 2012/13 season. David Norris (22-02-1981) was the Captain for the first game of the season at home to Shrewsbury Town in the League Cup. Lee Peltier was appointed club captain and led the team in the opening League fixture at home to Wolverhampton Wanderers. He led the side until he was rested for the League Cup game with Oxford United, when his Vice-Captain, Jason Pearce (06-12-1987), took over. He resumed as Captain for the home game with Blackburn Rovers and continued until he was rested for the League Cup tie with Everton, when once again Jason Pearce took over. He resumed for the away game at Bristol City but then allowed El-Hadji Diouf (15-01-1981) to be "Captain for the day" against his former team, at Bolton Wanderers. Peltier was then Captain at home to Barnsley and against Sheffield Wednesday at Hillsborough, where he was injured. As he missed the next game against Charlton Athletic at Elland Road, once more Jason Pearce deputized. He recommenced as Captain in the home game with Birmingham City and continued until he was injured at Middlesbrough. Paul Green (10-04-1983) was made "Captain for the day" against his old club, at Derby County and Michael Brown (25-01-1977) was allowed the same privilege at Nottingham Forest. His deputy, Jason Pearce took over in his absence at Hull City. Peltier was Captain for the home clash with Bolton Wanderers but missed the home F.A. Cup-tie with Birmingham City with Jason Pearce taking over. Peltier was back for the game with Barnsley at Oakwell and apart from allowing Michael Brown to have the armband against his former side, Tottenham Hotspur, in the F.A. Cup, he continued until injured at Charlton Athletic, when Stephen Warnock (12-12-1981) became Captain for three games until Peltier resumed for the final two games of the season. Lee Peltier remained Captain for the first game of the new season at home to Brighton and Hove Albion on 3rd August 2013, but as Peltier was rested for the home League Cup-tie with Chesterfield four days later, Paul Green deputised. Rodolph Austin (01-06-1985) had been appointed Captain and after serving a two match suspension he started his duties on 11th August 2013 in the home match with Leicester City. He remained captain for the next twenty-seven games which comprised Twenty-four League, Two League Cup and One F.A . Cup games, terminating after the 6-0 by Sheffield Wednesday at Hillsborough on 11th January 2014. Ross McCormack (18-08-1986) took over for the rest of the season leading the team into Twenty-one League fixtures from the away game with Leicester City to the final home game with Derby County.
2014/15-2017/18: With the exit of McCormack, Jason Pearce was appointed captain for the 2014-15 season. He was the captain for the first fifteen League games and two League Cup games. His run came to an end when he was forced to miss the 2-2 draw at Charlton Athletic on 4th November 2014 and the reliable Stephen Warnock took on the task. However, Pearce's tenure was to be short-lived as, after leading the Whites for two matches, at home to Blackpool and at Blackburn Rovers, he lost his place in the starting eleven and Stephen Warnock assumed the role of captain. He added six more games to his list before being injured in the eighth minute of the game at Derby County on 30th December 2014, when Giuseppe Bellusci (21-08-1989) took over as captain for the rest of the game. Warnock had also come off the field in the final minute of the home game with Fulham on 13th December 2014. Liam Cooper (30-08-1991) took over as Captain for the F. A. Cup clash with Sunderland on 4th January 2015, and was subsequently appointed the Leeds captain for the rest of the season. He was not always available due to injury or loss of form and initially he played five League games before illness forced him out of the game at Reading on 10th February 2015 and Souleymane Bamba (31-01-1985) took over, for that and later games. Initially he deputised for two further games, with Cooper taking over as soon as he came on as a final minute substitute at Middlesbrough on 21st February 2015, before leading the team for the next three games at Brighton, and at home to Watford and Brighton & Hove Albion, before losing his place, due to injury, for the game at Wigan Athletic on 7th March 2015. Bamba deputised for four more games, before Cooper returned to the starting line up, but Bamba handed Cooper the armband in the sixty-sixth minute of the home game with Blackburn Rovers on 4th April 2015, after he had come on as a substitute for Gaetano Berardi. Then Cooper retained his place and captaincy for the visit to Wolverhampton Wanderers on 6th April 2015, but sat unused on the bench for the home game with Cardiff City on 11th April 2015 as Bamba took the leader's role, but Cooper was back as captain for the final four games of the season. Bamba was appointed the new Leeds United Captain for the 2015-16 season. He and Cooper were the only players to captain Leeds in that season. Being Captain did not always ensure Bamba a place in the starting eleven, and Cooper had spells out through injury, but one was always available for the captain's role. It was Bamba that started the opening game on 8th August 2015 with Burnley at Elland Road with the armband but, as he was an unused substitute in the second game at Doncaster Rovers, in the League Cup five days later it was passed on to Cooper. Bamba was the captain for the next thirteen League games, from the visit to Reading on 16th August 2015 until the home game with Blackburn Rovers on 29th October 2015. Cooper took over from 3rd November 2015, from the home game with Cardiff City, and although Bamba did replace him in the 18th minute at Huddersfield Town on 7th November 2015, Cooper had the armband for the next nine League games until the visit to Nottingham Forest on 29th December 2015. Bamba was recalled to the team and was captain for two games at home to Derby County, on 29th December 2015 and M.K. Dons on 2nd January 2016. Bamba did not start the next five games, one in the F.A. Cup at home to Rotherham United on 9th January 2016 and four in the League culminating with the away game at Brentford on 26th January 2016. In the Cup-tie at Rotherham United, Bamba had replaced Giuseppe Bellusci, in the seventy-ninth minute, but Cooper retained the armband. Bamba was recalled to the team for the F.A. Cup game at Bolton Wanderers on 30th January 2016 but then was relegated to the bench for the two home League games with Nottingham Forest, on 6th February 2016 and Middlesbrough on 15th February 2016. Bamba was recalled for the F.A. Cup tie at Watford on 20th February and the two League games at home to Fulham, three days later and at Brighton and Hove Albion on 29th February 2016. Cooper took the armband for the home League game with Bolton Wanderers on 5th March 2016, as Bamba sat on the bench, but he passed it on to Bamba when the latter replaced him, after he had been injured in making a goal line saving block just on half-time. This caused Cooper to miss two games and he sat on the bench on two more as Bamba led the team for the four League games from the away game at Cardiff City on 8th March 2016 to the game at Rotherham United on 2nd April 2016. Bamba was again relegated to the bench for the home game with Queens Park Rangers three days later and Cooper took the armband. Bamba was back to lead the team in the two away games at Burnley on 9th April 2016 and Birmingham City, three days later. Bamba missed the home game with Reading, on 16th April 2016 and Cooper took over as captain. However, Bamba was back to lead the team in the four final League games starting with home game with Wolverhampton Wanderers on 19th April 20106 and finishing at Deepdale for the away game with Preston North End on 7th May 2016. In that time Cooper had taken the armband at Hull City on 23rd April 2016, when Lewie Coyle replaced Bamba in the seventy-fifth minute. In the season Bamba had started games as captain twice in the F.A. Cup and twenty-eight in the League, while Cooper had started one League Cup and one F.A. Cup tie and eighteen in the League. There was a similar situation in the 2016-17 season which saw Bamba relinquish the captaincy in favour of Liam Bridcutt (08-05-1989), but the new captain was sidelined for the start of the season and Bamba retained his captaincy in his absence. But Bamba was unable to maintain his place in the team and Vice Captain Liam Cooper took on the role. Cooper was also unable to keep a regular spot due to injury and Kyle Bartley (22-05-1991) was captain for a long spell until Liam Bircutt came back on a regular basis and it remained that way for the rest of the season with Liam Bridcutt the Captain, Liam Cooper the Vice Captain and Kyle Bartley third choice when the Captain and his deputy were unavailable. There was one exception when, for a few minutes towards the end of the F.A. Cup debacle at Sutton United, Lewie Coyle (15-10-1995) took the captain's armband after Liam Cooper had been sent off. Bridcutt started twenty-one League games as captain, Bartley twenty League games and one League Cup, while Cooper started three League Cup and two F.A. Cup ties and three League games and Bamba one League Cup and two League games. Once more in the 2016-17 season, there was a quick change to the Club Captain. As in the 2015-16 season, the incumbent captain, this time Liam Bridcutt was unavailable due to injury for the start of the new season, and therefore, his Vice-Captain, Liam Cooper, took on the role of Captain for the opening fixture at Bolton Wanderers on 6th August 2017. However, for the second fixture, the League Cup-tie home tie with Port Vale, on 9th August 2017, Cooper was rested and Bridcutt was selected on the bench, which meant Luke Ayling (25-08-1991) led the team. However, he was replaced by Madger Gomes in the seventieth minute, but had previous handed the armband to Liam Bridcutt, who had replaced Mateusz Klich twelve minutes earlier. Liam Cooper was now the Club captain, and led the side into their first home fixture, at home to Preston North End and remained so for the rest of the season, with Luke Ayling his Vice Captain and Liam Bridcutt moved to Nottingham Forest on 22nd August 2017. Unfortunately, Luke Ayling was injured on 1st January, in a tackle from Liam Bridcutt at home to Nottingham Forest and missed the rest of the season. Pablo Hernandez (11/04/1985) captained Leeds for the first time in the visit to Leicester City in the League Cup on 24th October 2017, while Gaetano Berardi (21/09/1988) was given the captaincy as recognition of his one hundredth game for Leeds, at Birmingham City on 30th December 2017, while the club turned to Eunan O'Kane (10/07/1990) as the captain on 18th October 2018 at home to Bristol City, when none of the other contenders for the captaincy were available. Liam Cooper led the team on to the pitch in twenty-nine League games, Luke Ayling in three League Cup ties and four League games, Pablo Hernandez in one League Cup and six League games, while Gaetano Berardi led them in one F.A. Cup and six League games and Eunan O'Kane led them in just the one League game.