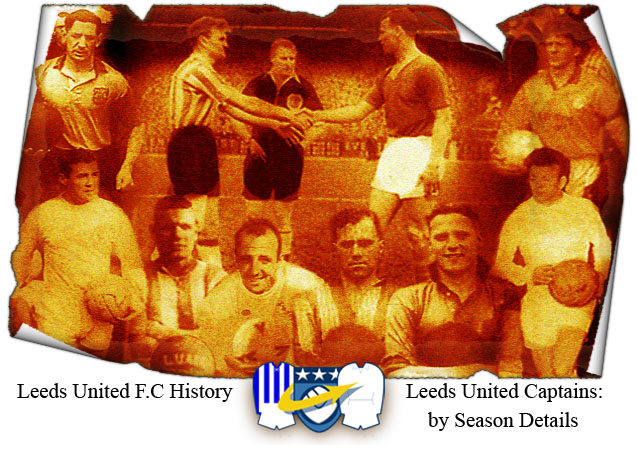 Leeds United Captains by season:
This statistics section is designed to give an indepth look into the full team details of Leeds United. It gives full Leeds United Captains details of all Competions recognised by the Football League and Wartime fixtures and details of the Leeds United teams which took part in thosegames. It also contains notes of captains, who for any reason may have left a game or been replaced in a game in the seasons that it occured.
I would like to thank Paul Gregson for his excellent graphics and WAFLL and Dave Tomlinson of The Mighty Mighty Whites for their assistance in the project.
This project has now been finalised but if anyone has any contributions, requests, suggestions or corrections please contact me on HistoryofLeedsUnited@hotmail.com
Leeds United Captains by season 1920-21
Leeds United Captains by season 1921-22
Leeds United Captains by season 1922-23
Leeds United Captains by season 1923-24
Leeds United Captains by season 1924-25
Leeds United Captains by season 1925-26
Leeds United Captains by season 1926-27
Leeds United Captains by season 1927-28
Leeds United Captains by season 1928-29
Leeds United Captains by season 1929-30
Leeds United Captains by season 1930-31
Leeds United Captains by season 1931-32
Leeds United Captains by season 1932-33
Leeds United Captains by season 1933-34
Leeds United Captains by season 1934-35
Leeds United Captains by season 1935-36
Leeds United Captains by season 1936-37
Leeds United Captains by season 1937-38
Leeds United Captains by season 1938-39
Leeds United Captains by season 1939-40
Leeds United Captains by season 1939-40 (War)
Leeds United Captains by season 1940-41 (War)
Leeds United Captains by season 1941-42 (War)
Leeds United Captains by season 1942-43 (War)
Leeds United Captains by season 1943-44 (War)
Leeds United Captains by season 1944-45 (War)
Leeds United Captains by season 1945-46 (War)
Leeds United Captains by season 1946-47
Leeds United Captains by season 1947-48
Leeds United Captains by season 1948-49
Leeds United Captains by season 1949-50
Leeds United Captains by season 1950-51
Leeds United Captains by season 1951-52
Leeds United Captains by season 1952-53
Leeds United Captains by season 1953-54
Leeds United Captains by season 1954-55
Leeds United Captains by season 1955-56
Leeds United Captains by season 1956-57
Leeds United Captains by season 1957-58
Leeds United Captains by season 1958-59
Leeds United Captains by season 1959-60
Leeds United Captains by season 1960-61
Leeds United Captains by season 1961-62
Leeds United Captains by season 1962-63
Leeds United Captains by season 1963-64
Leeds United Captains by season 1964-65
Leeds United Captains by season 1965-66
Leeds United Captains by season 1966-67
Leeds United Captains by season 1967-68
Leeds United Captains by season 1968-69
Leeds United Captains by season 1969-70
Leeds United Captains by season 1970-71
Leeds United Captains by season 1971-72
Leeds United Captains by season 1972-73
Leeds United Captains by season 1973-74
Leeds United Captains by season 1974-75
Leeds United Captains by season 1975-76
Leeds United Captains by season 1976-77
Leeds United Captains by season 1977-78
Leeds United Captains by season 1978-79
Leeds United Captains by season 1979-80
Leeds United Captains by season 1980-81
Leeds United Captains by season 1981-82
Leeds United Captains by season 1982-83
Leeds United Captains by season 1983-84
Leeds United Captains by season 1984-85
Leeds United Captains by season 1985-86
Leeds United Captains by season 1986-87
Leeds United Captains by season 1987-88
Leeds United Captains by season 1988-89
Leeds United Captains by season 1989-90
Leeds United Captains by season 1990-91
Leeds United Captains by season 1991-92
Leeds United Captains by season 1992-93
Leeds United Captains by season 1993-94
Leeds United Captains by season 1994-95
Leeds United Captains by season 1995-96
Leeds United Captains by season 1996-97
Leeds United Captains by season 1997-98
Leeds United Captains by season 1998-99
Leeds United Captains by season 1999-2000
Leeds United Captains by season 2000-01
Leeds United Captains by season 2001-02
Leeds United Captains by season 2002-03
Leeds United Captains by season 2003-04
Leeds United Captains by season 2004-05
Leeds United Captains by season 2005-06
Leeds United Captains by season 2006-07
Leeds United Captains by season 2007-08
Leeds United Captains by season 2008-09
Leeds United Captains by season 2009-10
Leeds United Captains by season 2010-11
Leeds United Captains by season 2011-12
Leeds United Captains by season 2012-13
Leeds United Captains by season 2013-14
Leeds United Captains by season 2014-15
Leeds United Captains by season 2015-16
Leeds United Captains by season 2016-17
Leeds United Captains by season 2017-18