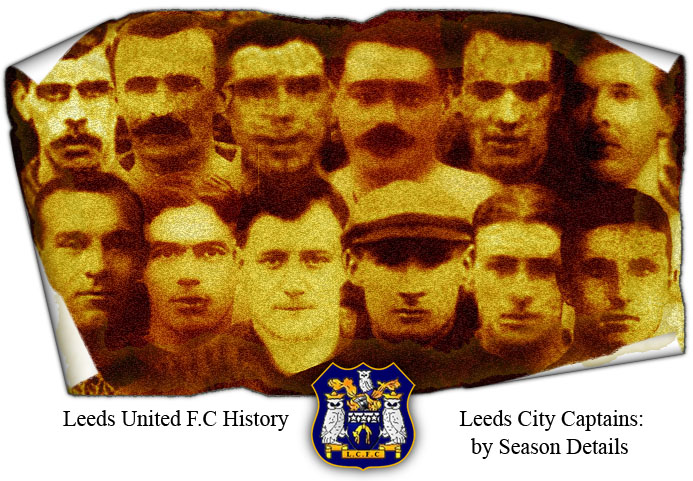 Leeds City Captains by season:
This statistics section is designed to give an indepth look into the full team details of Leeds City. It gives full Leeds City Captains details of all Competions recognised by the Football League and Wartime fixtures and details of the Leeds City teams which took part in those games.
I would like to thank Paul Gregson for his excellent graphics and WAFLL and Dave Tomlinson of The Mighty Mighty Whites for their assistance in the project.
This project has now been finalised but if anyone has any contributions, requests, suggestions or corrections please contact me on HistoryofLeedsUnited@hotmail.com
Leeds City Captains by season 1905-06
Leeds City Captains by season 1906-07
Leeds City Captains by season 1907-08
Leeds City Captains by season 1908-09
Leeds City Captains by season 1909-10
Leeds City Captains by season 1910-11
Leeds City Captains by season 1911-12
Leeds City Captains by season 1912-13
Leeds City Captains by season 1913-14
Leeds City Captains by season 1914-15
Leeds City Captains by season 1915-16
Leeds City Captains by season 1916-17
Leeds City Captains by season 1917-18
Leeds City Captains by season 1918-19
Leeds City Captains by season 1919-20