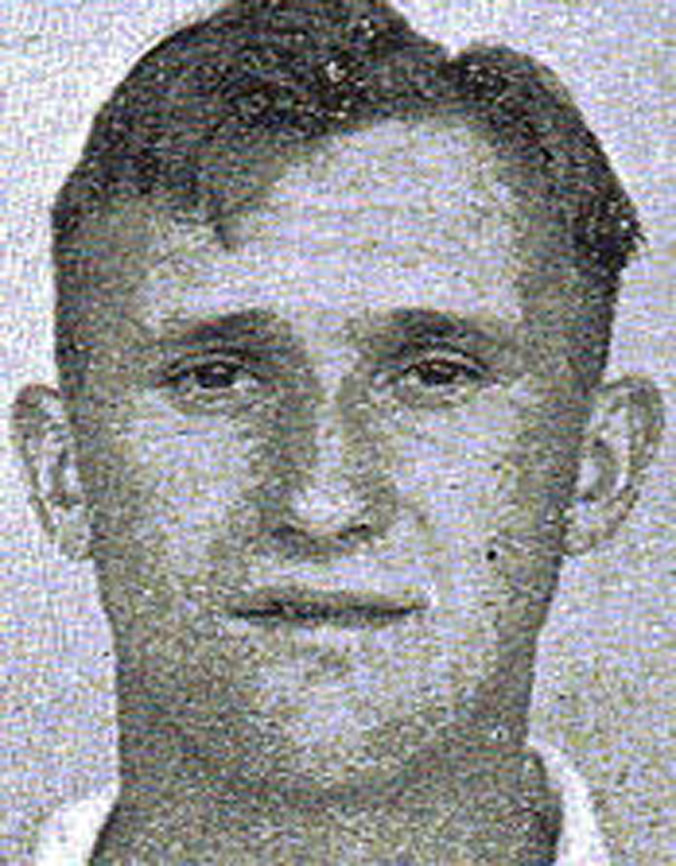 Courtesy Jeff Trice http://www.margatefchistory.com/)

Dunderdale: William Leonard (Len)

1939-1946 (Player Details) (Leeds United War-time Guest Player Details)

Centre Forward

Born: Willingham-by-Stow, Nr Gainsborough: 06-02-1915

Debut v Blackpool (h): 25-03-1939

6'1" 13st 6lb (1938)

Dunderdale was one of many players whose careers were ruined by World War Two. He began with Goole Town before joining Sheffield Wednesday in 1934, but never made the first team. He then joined Walsall in March 1936 and once hit seven goals in a Reserve game. After scoring nineteen goals in just thirty-two appearances, he left Walsall in May 1938 and joined Watford for £1,000. Again he maintained his prolific scoring record with another nineteen goals in just thirty League games, together with two more in three F.A. Cup ties and Watford set a club record when they sold him to Leeds for £3,750 in March 1939. Leeds, however, got little return for their investment as he failed to score in the three appearances he made before football was suspended by the outbreak of World War Two. He played only a few wartime games for them and guested with Watford, Lincoln City, Mansfield Town and Grimsby Town. The games he did play for Leeds were restricted to the 1944-45 Football League Northern Section (Second Championship) and all his games were at Centre Forward. His first game was on 13th January 1945 in a 0-5 defeat by Barnsley at Oakwell. It was the first of three consecutive games he played, the other two being against York City in a 5-0 win at Bootham Crescent when he scored twice and a 4-3 win at Elland Road. His fourth and final game was on 9th April 1945 in a 0-3 away defeat to Grimsby Town, giving him a total of two goals in four appearances. Apart from Leeds United his wartime record showed that he played for Lincoln City, where made his debut on 18th November 1939 in a 1-2 home loss to Sheffield United, and in the 1939-40 season he scored twenty goals in just seventeen games and in the following season of 1940-41 he managed nine goals in twenty games. He returned to Sincil Bank for two games without scoring in the 1942-43 season, playing his final game for the Imps on 9th January 1943, in a 0-2 home defeat to Notts County. He also scored once in two games for Mansfield Town in the 1942-43 season. Grimsby Town were the next club that he guested for, scoring six times in twelve games in 1943-44 and eight times in fifteen games in 1944-45. Finally it was back to Watford in the 1945-46 season when he scored five goals in eight games. He rejoined Watford in April 1946 for £1,000 and played for them until June 1948, scoring fifteen goals in forty-four League appearances and two goals in four F.A. Cup games. In total at Vicarage Road he scored thirty-four League goals in seventy-four appearances and scored four goals in seven F.A. Cup ties. He left for Margate in August 1948, initially on a month's trial, and scored twice on debut, in a 6-1 Kent League win over Snowdown on 25th August 1948. He scored the first from a penalty and the second with a shot from twenty yards. He scored five goals in just seven games before he had to leave Margate in October 1948. He had to leave as Watford asked a fee of £1,000 plus fifty per cent of any future transfer fee if he was sold to a Football League club. He did return toKent in early 1949 and played with Sittingbourne, scoring a hat-trick on debut. A Watford scout, Dunderdale was later coach at Berkhamsted Town, leader of Berkhamsted YMCA and coach to local club Sun Sports. He retired to live in Sturton-by-Stow and died in Saxilby, Lincolnshire, on 11th January 1989.