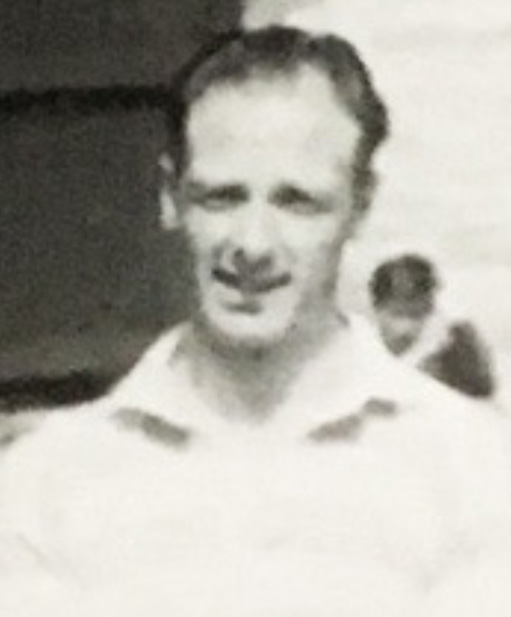 (Photo Courtesy of Paul Farley and Will Barrett of http://grecianarchive.exeter.ac.uk/items/show/727)

Sutherland: Harry Ross (Harry)

1938-1947 (Player Details) (Leeds United War-time Guest Player Details)

Centre Forward

Born: Salford: 30-07-1915

Debut v Wolverhampton Wanderers (a): 18-02-1939

5ft 10ins: 12st 7lb

The Salford born striker was educated at Grecian Elementary and started his football career with Hope AFC, before moving to Bacup Borough in the Lancashire Combination League. He next moved to Sedgeley Park, another Manchester Club, before again moving to Mossley of the Cheshire County League towards the very end of the 1937-38 season. He played just three games for them, Two were in the Cheshire County League, his debut on 26th April 1937, when he scored the only goal of the game at home to Northwich Victoria and then he went even better, scoring twice in in a 3-1 home win over Altrincham on 7th May 1937 in the final League game of the season, which saw Mossley cement seventh spot in the League. His third game for Mossley came a week later, on 14th May 1938, in the Manchester Shield Final, when he opened the scoring for Mossley, in a game that saw them lift the Shield with a 2-1 victory over Ashton National at Hurst Cross. He made three appearances for Mossley and scored four goals. He was now earning a goalscoring reputation for himself. Southport showed interest in him but he accepted an invitation for a trial at Leeds United in July 1938 and was soon signed on professional terms. Leeds had George Ainsley, Gordon Hodgson, Eric Stephenson and John Thomson, ahead of him in the pecking order for the two strikers' roles, not to mention the up and coming Stephens brothers, Irish youngster Robert Montgomery, James McGraw, Aubrey Powell and later Len Dunderdale. He buckled down to the daunting task and was soon making a name for himself in the Leeds Reserves. He scored his first Leeds goal on 3rd September 1938 in a 1-4 home defeat by Sheffield United, then just four days later he bagged a brace in a 3-3 draw with Birmingham at Elland Road. He drew a blank in a 3-1 home win over Huddersfield Town a 2-2 home draw with Liverpool and a 1-1 draw at Newcastle United, but was soon on the goal trail once more on 8th October 1938 when there was another brace in a 3-2 win at home to West Bromwich Albion. He was then out for a couple of games, but returned on 5th November 1938 to score in the 1-2 home defeat to Aston Villa. He then failed to find the net in a 0-4 defeat by Manchester City at Maine Road. He then missed a couple of games but came back with a bang with another brace, on 3rd December 1938, this time in a 3-1 home win over Blackpool. He did not find the net in thext game, a 1-3 at Hillsborough against Sheffield Wednesday, but then came a rich vein as he scored in, a 4-0 home win at home to Bury a 4-1 home win over Stoke City, a 2-0 win at Bramall Lane over Sheffield United, a 3-0 win at Huddersfield Town, another 3-0 win this time over Liverpool at Anfield and in the very next game at home to Newcastle United there was a brace. His record for the Reserves was sixteen goals in twenty appearances. This forced him into the First Division team and he made his debut at Centre Forward on 18th February 1939 in a 1-4 defeat at the hands of Wolverhampton Wanderers at Molineux and as usual, it was a scoring debut. According to the Yorkshire Post he had a good game "Sutherland dashing straight away from the centre kick and scoring for Leeds. Only Sutherland and Stephenson touched the ball between the kick off and the score. A few minutes later a penalty was awarded to Leeds for a foul on Sutherland by Taylor, but Hargreaves, who took the kick, shot straight at the goalkeeper." So he played a big part in trying to keep Leeds in his debut game. He played in three consecutive First Division games, the second being in a 1-2 home defeat by Everton on 25th February 1939 and the third a 1-2 defeat at Fratton Park by Portsmouth on 8th March 1939 in which he could not add any further goals. His future looked bright, and he seemed to have the makings of a good goalscoring footballer, but like so many other footballers of his era the second world war robbed him of his best years. He remained on the books of Leeds United, but his games in the 1938-39 season proved to be his only games at Elland Road. He joined the RAF and he was, like most of his teammates, not always available for selection. He turned out for Leeds, scoring three times in five games in the Wartime fixtures. He played in the first two games of the 1940-41 North Regional League as Leeds drew 2-2 with Bradford City at Elland Road and Sutherland scored the second Leeds goal on his Wartime debut on 31st August 1940 and then there was a 0-1 loss to Newcastle United at St James' Park in the second game. He did not play for Leeds again until the 1944-45 Football League Northern Section First Championship, when he played his final three games as a Leeds player in the first three games of the campaign. The first two games were at Centre Forward in a 3-4 loss at Bradford Park Avenue and a 3-3 draw at Elland Road in the reverse fixture and on both occasions Sutherland scored the third Leeds goal. His final game came on 9th September 1944 in a 0-1 defeat by Sunderland at Elland Road. He also guested for Accrington Stanley, Rochdale, Doncaster Rovers and York City in war-time before resuming his career at Elland Road. He scored once in two appearances in 1939-40 with Accrington Stanley. In 1940-41 he played once for Rochdale, without scoring. 1942-43 saw him score three times in 5 appearances for Doncaster Rovers and finally scored once in two appearances with York City. He failed to make the Leeds first team and only played about half-a-dozen for the reserves, without scoring, in his post-war spell and in May 1947 he was transferred to Exeter City. He had scored three goals in fourteen appearances but then went to Bournemouth in July 1948 and failed to get into their first team. He was given a free transfer in May 1949. He then played at Non-League level with Barnstable in 1949 and then Ilfracombe Town the following season before becoming Manager until he left for Australia in 1956. He did play and then coached Hakoah in Melbourne. He played a big part in Hakoah winning the Dockerty Cup in 1955. He was at left half when Hakoah defeated University 5-2 at Campbell Reserve, Coburg in the second round. He was at inside left as Hakoah disposed of Brighton 2-1 at Elsternwick Park, Elwood on 6th August 1955. He did find the net in a 4-2 win over Juventus at the Showgrounds, Ascot Vale in front of 6,000 spectators on 15th October 1955. In the final at the same venue, Sutherland equalised in the fifty-seventh minute of a 1-1 draw (after extra-time) with Polonia in front of a crowd of 7,000 on 22nd October 1955. The replay took place on 5th November 1955 at the same venue with an attendance of 6,000. Sutherland was again at inside-left in a 2-0 win. He later became a coach with Altona City in Melbourne, Australia.