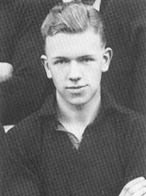 Eastham: Henry (Harry)

WW2 Guest: 1942-1943 (Leeds United War-time Guest Player Details)

Inside Forward

Born: Blackpool: 30-06-1917

Debut: v Doncaster Rovers (h): 14-03-1942

Height & Weight: Unknown

Eastham, a right-winger or inside-forward, was a younger brother of George R. Eastham, an England international, whose son George E. Eastham also played for England. Like his brother, Harry started his career with Blackpool who he joined as an amateur in September 1933, signing as a professional the following June. Though young, he failed to win a first team place at Blackpool and joined Liverpool in February 1936. He made his Liverpool debut, at Inside Right, in a 2-1 win over Arsenal at Anfield on 31st October 1936. He got his first goal for Liverpool when he scored the second goal in a 5-2 win over Manchester United at Old Trafford on 21st November 1936. He had figured in twenty-one First Division matches by the end of his initial 1936-37 season, and scored twice. He was held his place at the start of the following season, playing the first twelve games, but lost his place to Phil Taylor and only played another three League matches that season. As well as occasionally playing for Liverpool, for whom he scored once in eleven games, during the War years, he guested for several other clubs. In 1939-40 he played twice for New Brighton and once for Southport. He played several seasons with Brighton and Hove Albion with three games in 1940-41, eight in 1941-42, three goals in twenty appearancesin 1942-43 and scored once in eighteen games in 1943-44. In 1941-42 he played twice for Bolton Wanderers and once for Newcastle United. He also guested for Leeds United, where he played on six occasions without scoring. He played three consecutive games at Inside Left in the 1941-42 Football League Northern Section (Second Championship) in March 1942 and then played at Inside Left in the first two games of the 1942-43 Football League Northern Section (First Championship) and then in his third and final game he was at Outside Right. He sparingly turning out for Liverpool, once in each of 1941-42 and 1942-43 and then scored once in six appearances in 1944-45 and three games in 1945-46. He also played for his former club, Blackpool, where he scored twice in fifteen appearances in 1944-45. Throughout his career he was noted for his skill on the ball and his ability to create chances for others and he was never a prolific goal-scorer. When League football recommenced afterthe war, Eastham returned to Liverpool and qualified for a League championship medal in the first season after appearing in nineteen of the games that Liverpool played in 1946-47 to win their fifth First Division title. He did not make the first team in the following season and was transferred to Tranmere Rovers in May 1948. At Liverpool he played sixty-three League games, scoring three goals, either side of the war. He also scored one goal in six F.A. Cup appearances. At Tranmere Rovers he served them for five seasons and scored thirteen goals in one hundred and fifty-four League games and also played in five F.A. Cup ties. He joined Accrington Stanley in July 1953 and, although in the veteran stage of his career, he did an excellent job in two seasons at Peel Park. In the 1953/54 season, he ran the midfield for the first team and the following season he guided the reserves to a Lancashire Combination League and Cup double. He scored three times in forty-two League games for Stanley and added one more goal in three F.A. Cup appearances. He left Accrington Stanley in July 1955, and played non-League for Netherfield and Rolls Royce (Lancashire Combination) and after retiring from soccer, he became a licensee in the Bolton area. He died in Middlesbrough in September 1998.
| | |
| --- | --- |
| War-time: | |
| League 6 | 0 |