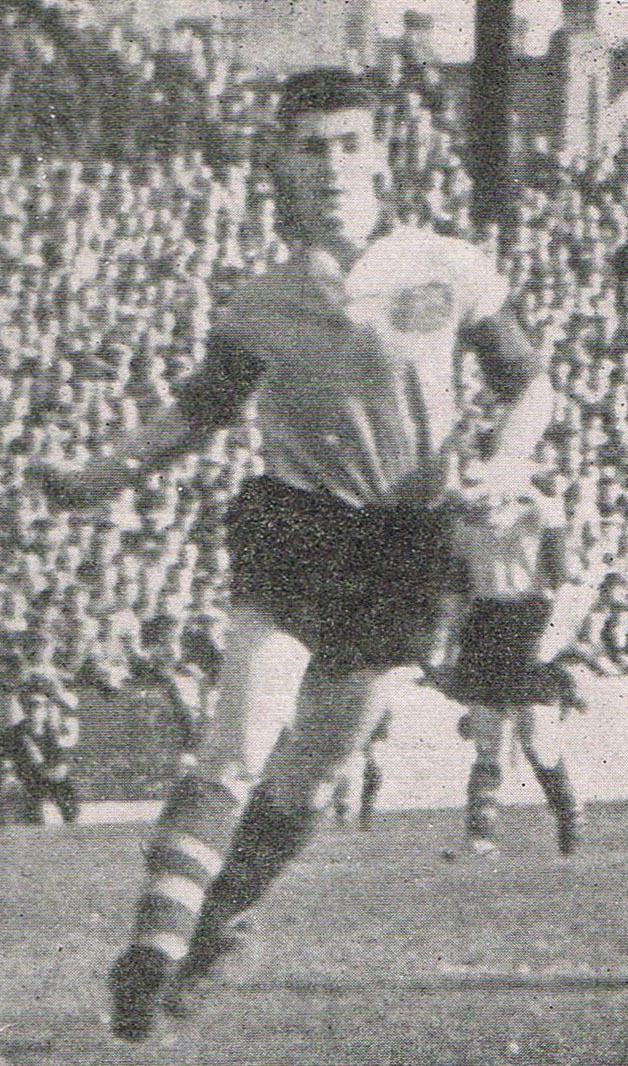 (Photo Courtesy Mark Ledgard)

Ripley: Stanley Keith (Keith)

1952-1958 (Player Details)

Wing Half

Born: Normanton Nr Wakefield: 29-03-1935

Debut: Stoke City (h): 08-09-1954

6'1" 11st 2lb (1957)

Leeds had to beat off stiff opposition from Blackpool and West Bromwich Albion before capturing Ripley. He starred as a centre-half at Normanton Secondary School, but it was as a wing-half that he joined Leeds from Altofts YMCA at the age of seventeen in April 1952. After Tommy Burden had parted company with United in September 1954, Ripley was given his chance to establish himself at right-half as Eric Kerfoot switched to left-half to replace the departed skipper. He had a long stint in that position before Archie Gibson came in and he then made a couple of appearances at inside-right. It was hard for the young Ripley to juggle with his football career and his stint of conscription. An elegant and stylish passer of a ball with sweeping pinpoint accuracy, he also possessed a dynamic shot that he was not afraid to use if the chance presented itself, he did his National Service in the Royal Signals and gained recognition at representative level when he was selected for the Army against a Scotland XI at Ibrox Park in 1955. He was also selected against an Irish XI at Highbury in December 1954, but the match was called off. On demob he returned to Leeds. In United's promotion season with Gibson and Kerfoot the regular half-backs, Ripley bided his time and after Gibson was injured he joined the team in the vital run-in as United reeled off four famous victories with Ripley at right-half. Gibson was back for the First Division campaign but Ripley was always there as deputy as well as acquitting himself well at inside forward. In 1957-58 he started at inside forward but with the signing of Irishmen Wilbur Cush and Noel Peyton he found his appearances were getting rarer and he took the option of moving to Norwich City in August 1958. Norwich, a Third Division club at the time were about to embark on a long F.A. Cup run which saw them progress from Round One until being finally eliminated in a Semi-Final Replay by the only goal of the game on 18th March 1959 by Luton Town at St Andrew's, Birmingham. Ripley was brought in to lead the line while main striker Terry Bly was injured. This he did impressively, with six goals in twelve League starts, but with Bly's recovery from injury, he resumed his role and was a leading light in the Canaries Cup run. For Ripley his time at Carrow Road was soon ended and he moved to Mansfield Town for a fee of £4,000 at the start of November 1958 and could only watch his former club's Cup exploits from afar. He did not stay long at Field Mill either, scoring five goals in thirty-one League games before joining Peterborough United in July 1960. Making his debut in a 2-0 win over Crystal Palace, the eventual runners-up, at Selhurst Park on 7th September 1960, he soon established himself there and won a Fourth Division Championship medal in his first season. He netted twelve goals in eighty-two League appearances and one in eleven F.A. Cup ties and also played once in the League Cup, in a successful two year stint at London Road with the Posh. In August 1962 he was transferred to Doncaster Rovers and played one hundred and twenty-three full League matches and another five games from the bench, scoring seven times there before retiring in 1966. Doncaster had suffered the indignity of having to seek re-election to the Football League at the end of the 1961-62 season and Ripley was one of the players chosen by new manager Oscar Hold to rebuild the club's fortunes. He made his debut in a 0-2 home defeat by Brentford on 18th August 1962. He was used in a central defensive role and became the regular choice for the next two seasons. He still liked to join the attack and on 25th January 1964 he scored one of the goals in the historic 10-0 win over Darlington. The arrival of Bill Leivers as player-manager, in July 1964, saw him lose his first team spot, but he did play in the semi-final of the Sheffield County Cup on 29th April 1965 against Rotherham United and was pushed forward and he responded by scoring a hat-trick. Ripley was also involved in a bit of Doncaster Rovers history as their first ever substitute. He sat unused on the bench for the first two games of the 1965-66 season, before being called upon to be Rovers' first used substitute on 4th September 1965 at Southport when he replaced Lawrie Sheffield in the second half. He was restored to the Rovers' team when Bill Leivers left the club in February 1966 to help Rovers win the Division Four Championship at the end of the season. Now in his thirties Ripley retired at the end of that season. He scored seven goals in starting one hundred and twenty-three League games and adding another five as a substitute. He also started fourteen F.A. Cup and ten League Cup games without scoring. His son, also named Keith, was a full back with Gainsborough Trinity, Huddersfield Town and Doncaster Rovers for a short time. The Normanton-born Ripley passed away on 5th November 2012 at 10.00am after a long illness associated with a rare disease Myasthenia Gravis.