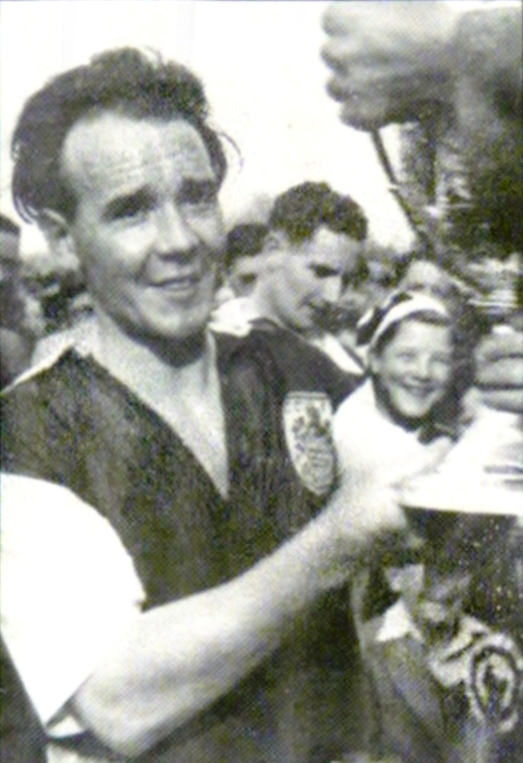 (Courtesy of David Selby)

Parry: William (Bill)

1937-1939 (Player Details)

Left Half

Born: Denaby Nr Doncaster: 1917

Debut: v Chelsea (h): 26-12-1938

5'9" 12st 0lb (1939)

Parry played in the Midland League as a sixteen year old with Mexborough, where he spent three season before the club disbanded. After the club's demise he joined another Midland League side in his native town, Denaby United, in the summer of 1936, moving to a further Midland League team in Frickley Colliery the following summer. The Yorkshire Post reported that after representatives had watched Frickley Colliery's Midland League match with Bradford City on 23rd October 1937, Leeds had signed the Frickley left half-back, William Parry on 28th October 1937. They added that he was twenty-one and was five foot eight and a half inches tall and weighed eleven and a half stone. He performed well in the Leeds Central League team and was brought into the senior side for the Boxing Day 1938 encounter with Chelsea. Reports of the game gave plenty of appreciation of his debut performance. However, his early promise was not maintained and he only made a handful of appearances. He was released by United just before World War Two, when they had a surplus of good defenders, following the return of Wilf Copping, and with Bobby Browne and Fred Mills already in contention for the left half spot. Reading showed interest in him but he signed for Southern League Chelmsford City in June 1939."The Chelmsford Chronicle announced his signing in their 16th June 1939 edition, saying "The Capture of Parry is an important one. His home is at Denaby Main, near Doncaster. Aged Twenty-Two, he is five foot nine inches in height and weighs twelve stone. Commencing his career with Frickley Colliery, the Midland League club, he went to Leeds United two seasons ago. He played nine consecutive games for Leeds United's first team since last Christmas at left half. At the end of last season Parry was placed on the transfer list because Leeds had so many excellent half backs on their books. Reading were very keen to get his services but Mr. Warren got there first." Parry did not play in any of the four league games prior to the outbreak of war and made his debut in a 7-1 win over Norwich City Reserves in the war time Southern League. This game was played on Saturday 25th November 1939. He went on to play a total of one hundred and two games for City, but never scored a goal, making his final appearance on Saturday 31st January 1953. His previous appearance had been in April 1948. Parry was at the time the Club's trainer and he was forced to play, at thirty-eight years of age, when Fred Newby missed the train to Wales. City lost 7-1 at Merthyr Tydfil. He was therefore on the winning side, 7-1, on his debut and the losing side, 1-7, in his final game! He continued playing for the Chelmsford City Reserves in the Chelmsford and Mid Essex League Division 2 and took on the coaching of that team in the 1948-49 season. At the end of that season he became Essex and Suffolk Border League First Division side, Halstead Town, where he stayed for two seasons from 1949 until 1951, making thirty-nine appearances in the 1949-50 season and thirty-six appearances in the following season, making a total of seventy-five appearances in all, but he did not score. The only games he missed during those two seasons were cup games, F.A. Amateur Cup and Essex Senior Cup and one local cup game. Presumably as an ex-professional player, playing as a permit player, he was ineligible for these games. Halstead Town won the Essex and Suffolk Border League First Division championship and were also Division One Cup winners in 1949–50. After returning from playing with Halstead Town in 1951 he became trainer to the Chelmsford City Reserves stepping up to take the same role with the first team in 1953. He retired from this role in 1962 due to ill health and sadly died two years later aged just forty-eight." (I would like to thank Mr David Selby: Publisher of the Chelmsford City Historian Magazine, for his excellent quoted contribution and also the above photo of Bill Parry. His excellent blog of Chelmsford City history can be found at http://www.thechelmsfordcityhistorian.blogspot.com and his magazine is published on a regular basis). During the period of the Second World War, Chelmsford City ceased to play after the outbreak of war and their ground at New Writtle Street was used by Southend United as a wartime measure. Parry played thirty-two games for Southend United in the 1940-41 season before they too ceased to play for the next four seasons. In the 1944-45 season he scored twice in thirty-two games as a guest for Clapton Orient, before returning to Chelmsford City for their glorious 1945-46 season. The Southern League recommenced organised post-war football one year before the Football League and Parry was a member of the Chelmsford City team that did the Southern League double that season and he missed just one game as they won the Southern League by a clear margin from Hereford United and then defeated Worcester City in the League Cup Final to complete the double.