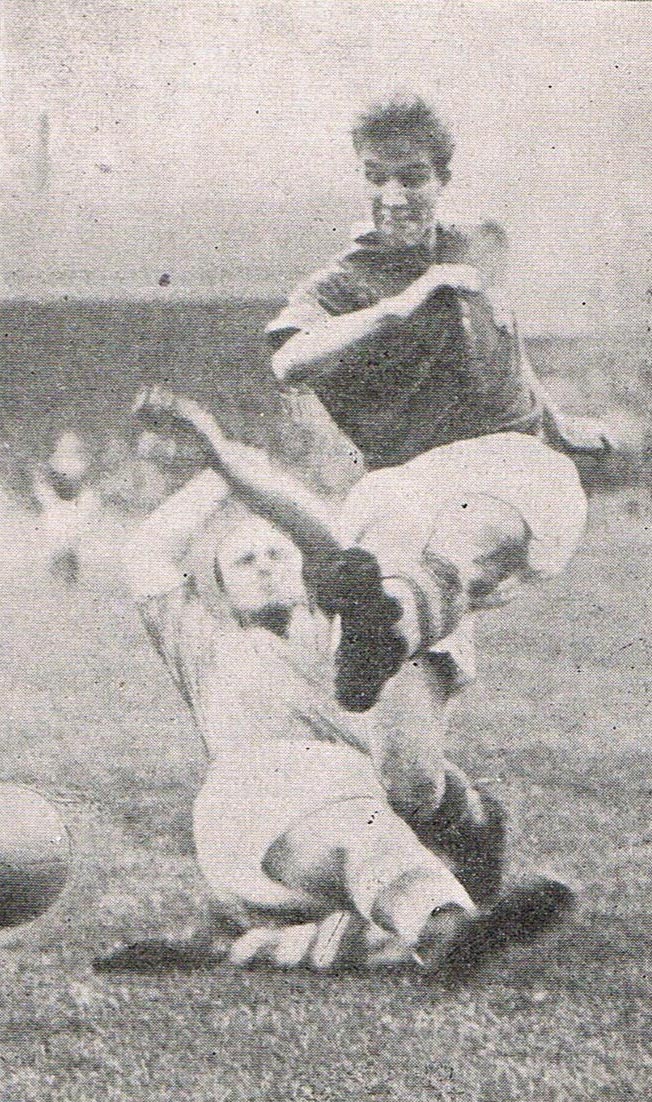 (Photo Courtesy Mark Ledgard)

Overfield: Jack (Jackie)

1953-1960 (Player Details)

Outside Left

Born: Leeds: 14-05-1932

Debut: v Nottingham Forest (h): 08-10-1955

5í10Ē 10st 12lb (1957)

Overfield attended Victoria Road School, Leeds, and played for Ashley Road Methodists. He was rejected by Sheffield United and Bolton Wanderers before making his mark in League Football with Leeds. After the double rejection he appeared in the Yorkshire League with Yorkshire Amateurs before becoming a Leeds United player in May 1953. During his National Service he played in several important representative matches for the RAF and on demob he soon established himself in Unitedís 1955-56 promotion side, scoring six times in thirty games but also making penetrating runs and accurate crosses for the head of John Charles and the willing boots of Harold Brook and Albert Nightingale. He celebrated Unitedís return to Division One with a goal against Everton after only two minutes on the opening day of the season, scoring the first goal by any player in that season in Leedsí 5-1 triumph, but failed to score again that season despite being ever-present. He coped with the First Division extremely well and was just as dangerous as he had been in the lower Division as he and George Meek built a reputation for being the best wingers in the League and John Charles took advantage of their crosses and there was talk of Overfield being on the fringe of the England team. Throughout the next two seasons he maintained his good form even though the team struggled after the departure of the Gentle Giant. With the departure of Raich Carter things changed as Overfield and several Leeds players did not like the tactics or man management of new Manager Bill Lambton and towards the end of the season he was one of the players to request a transfer. He was transferred to Second Division Sunderland in August 1960, for £11,500. Once more he soon became a crowd favourite scoring once in twenty-four League games in his first season of 1960-61 and following that with four goals in forty games in 1961-62, but he had only played one game in a 2-2 away draw at Charlton Athletic on 28th August 1962 when he was sold to Third Division Peterborough United in February 1963 for £5,000. While at Roker he scored five goals in sixty-five League appearances, and made five FA Cup and four League Cup appearances. His appearances at London Road were very sparse, playing only one League game. A 1-3 home defeat by Wrexham on 16th February 1963. He did play in a 1-3 home defeat by Burnley in a friendly ten days later and this was followed by three games for the Reserves at spasmodic intervals before the end of the season. He started for the Reserves in a pre-season friendly on 12th August 1963, but was replaced and this was followed on 2nd September by an appearance as an half-time substitute in a 4-0 win over Hapoel Tel Aviv in a friendly at home but those were his only known appearances that season. He left for Bradford City in July 1964, where he started eleven League games without scoring, and was released at the end of the season.
| | |
| --- | --- |
| League 159 | 20 |
| F.A. Cup 4 | 0 |
| | |
| | |