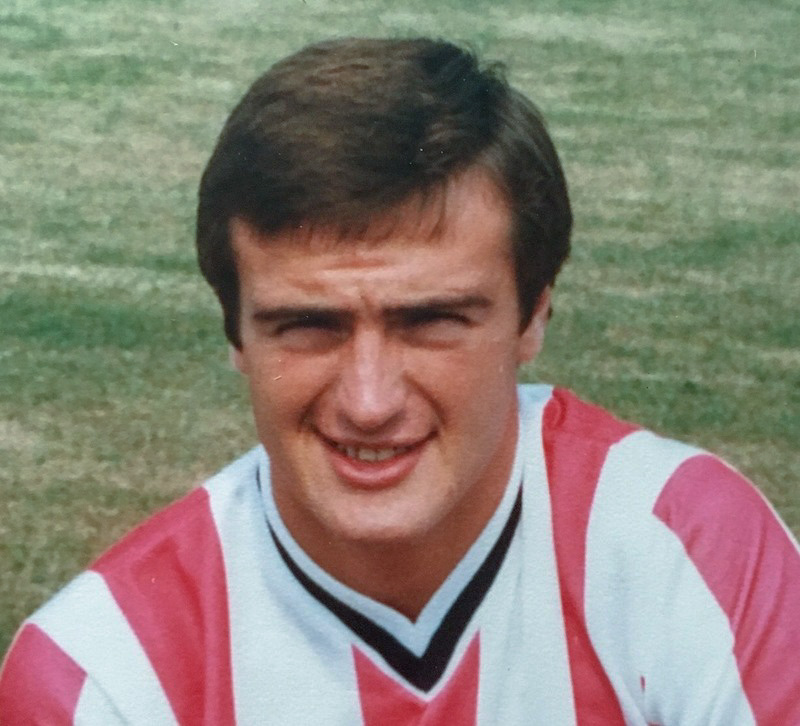 (Photo Courtesy of Paul Farley and Will Barrett of http://grecianarchive.exeter.ac.uk/items/show/2497)

Harle: David

1985-1986 (Player Details)

Midfield

Born: Denaby Nr Doncaster: 15-08-1963

Debut: v Oldham Athletic (h): 01-01-1986

5'9" 10st 7lb (1986)

An England Youth International, he joined Doncaster Rovers in November 1980, after serving his apprenticeship. He had made his debut for Rovers in a 0-3 away defeat at Port Vale on 3rd May 1980, but after playing sixty-one times in the League, thirteen of which were as a substitute, and scoring three goals, and starting one F.A.Cup tie and coming off the bench in another, as well as starting four League Cup ties, he was given a free-transfer to Exeter City in July 1982. Harle was twice signed and then released by Billy Bremner. It was Bremner who re-signed Harle for Doncaster in September 1983, after he had scored six times in forty-three matches, one of which was as a substitute, for Exeter and, when Bremner became Leeds United's Manager, he signed Harle again, this time for £5,000, just before Christmas 1985. He had scored seventeen times in eighty-three appearances, three of which had been from the bench, and also found the net once in five starts in the F.A. Cup and started three games in the League Cup in his second spell with Rovers. However, he could not break into the Leeds team and within three months, the player began a loan spell with Bristol City, in March 1986, before joining them permanently in June 1986, for £10,000. He scored twice in twenty-three League starts for Bristol but in November 1986, he joined Scunthorpe United, his fourth club within a year. He was able to establish himself with the Iron and scored ten times in his eighty- nine games for them, one of which was as a substitute. The enigmatic midfielder was sent off in only his fourth game for United, but scored his first goal in his next outing. Voted 'Player of the Season' for 1987-88, he kept a regular place until January 1989 when he reportedly fell out with manager Buxton after being substituted. Then, in March '89, he literally walked off the pitch during a Reserve game against Grimsby, seemingly frustrated with things not going the team's way. By the end of the month he had moved on to Peterborough. Harle joined "Posh" for £15,000 in March 1989. He made his debut at London Road on 27th March 1989 in a 3-0 home win over Colchester United. His first goal came on 7th October 1989 when Peterborough beat his former club Exeter City 4-3 at London Road. He scored twice in his twenty-two League starts for " the Posh" and once in three Football Trophy matches in his one year stay and then joined Doncaster Rovers for a third time, this time at a cost of £13,000 in March 1990. In his final stay at Belle Vue, he scored three times in forty-five League games, six of which were off the bench, he also started four F.A. Cup and one League Cup tie without scoring. In 1991-92 he joined Stafford Rangers on loan, but was released by Doncaster in June 1992. He then had a spell with Goole Town before playing two games for Mossley in 1992-93. After his football career came to an end he subsequently worked for the Council in Doncaster.