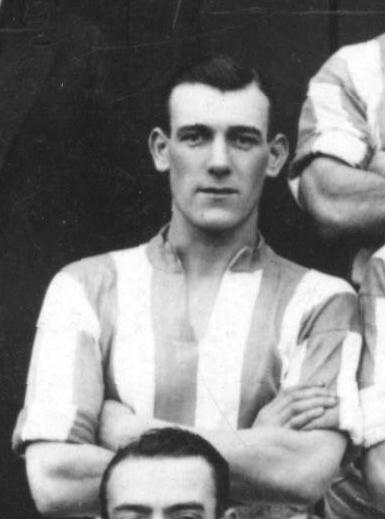 Coates: Walter Albert (Walter)
1921-1925 (Player Details)
Outside Right
Born: Burnhope, Nr Annfield Plains, Co Durham: 01-04-1895.
Debut v Clapham Orient (h): 24-09-1921
5'8" 11st 6lb (1921)
Starting in his hometown team Burnhope and then Craighead United, he starred in War Time Football during the First World War with the Army and Sacriston United before joining Fulham in August 1919. After two League appearances, Fulham allowed him to drift back into Non-League football with Leadgate Park in the North Eastern League in July 1920. Leeds monitored his progress and gave him his second chance in 1921. Coates scored the goal which beat Nelson in the penultimate game of 1923-24 to give Leeds the Second Division title. It was a rare moment of glory for the popular Winger, who was in and out of the first team during his four year stay at Elland Road. The championship season was undoubtedly his best but he found himself out of his depth in the First Division. He was transferred to Newport County in July 1925 scoring seven times in twenty-six League appearances before leaving them for Linfield in the Irish League in 1926. He return the the North-East and moved to Hartlepool United in August 1928. He made his debut for the Monkey-hangers on 5th September 1928 in a 2-0 home win over Darlington and played his second and final game on the 8th September 1928 in a 1-1 home draw with Rotherham United. A knee injury brought an end to his professional career after those two League appearances. He then drifted into Non-League football with Chester-le-Street, Newport (Isle of Wight), Burnhope Institute and Consett.