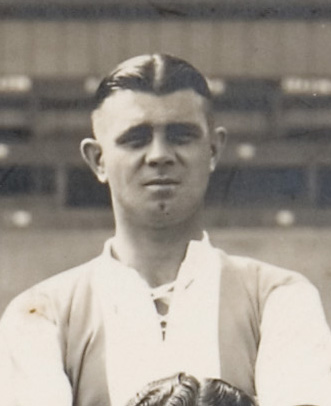 (Photo courtesy of Jim Brown Historian of Coventry City)

Brown: Victor Charles (Vic)

1928-1933 (Player Details)

Right Back

Born: Bedford: 26-07-1903

Debut v Leicester City (h): 18-02-1931

5'11" 12st (1928)

Signed from Bedford Town in August 1929, due to the remarkable consistency of Jack and George Milburn, he never had a chance to prove his worth at Elland Road. After almost four years of Reserve football he left for Coventry City in June 1933. His talents finally emerged and he became a regular with Coventry in the 1933-34 season, and in 1934-35 when the club went close to promotion. He continued to be a regular but missed the clebrations through injury as Coventry won the the Third Division South Championship in 1935-36. He only played two games in the Second Division as he lost his place in the team to Jack Astley and, after he had played exactly one hundred League games at Highfield Road, and, after rejecting terms for a seventh season, he joined Chester City in June 1939, after approaches from Bristol Rovers, Northampton Town, Walsall, Lincoln City and Accrington Stanley. He never played a League game for Chester City as the Second World War stopped any Football League games. He did, however, play for Chester in the first three seasons of War-time football, making twenty-two appearances in 1939-40, twelve in 1940-41 and one in 1941-42, without scoring. He also had one game for Wrexham in 1939-40 and one game for New Brighton in 1940-41, without scoring. He had a spell with Haarlem Holland before rejoining Coventry City's coaching staff in July 1952. He died in 1971.