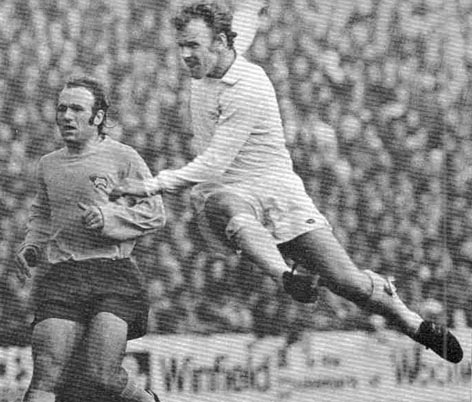 Bremner: William John (Billy)
1959-1976 (Player Details)
Right Half
Born: Stirling: 09-12-1942
Debut: v Chelsea (a): 23-01-1960
5'51/2" 9st 13lb (1974)
#1 in 100 Greatest LUFC Players Ever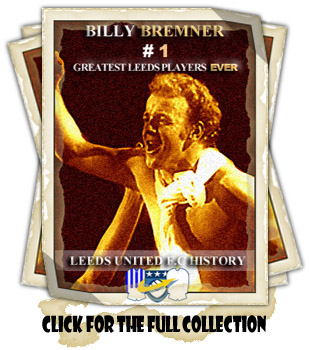 Right Half in Greatest LUFC Team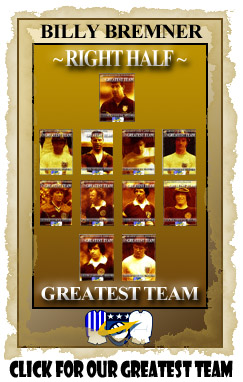 The core of Don Revie's great Leeds sides was the midfield blend of Billy Bremner's commitment and Johnny Giles' skill. The diminutive Bremner though, was also skilful and his passing, leadership, never-say die attitude and eye for goal made him one of the games's greatest midfielders. Raised in the Raploch area of Stirling, where he attended the St Mary's Junior Catholic School, he played for St. Modan's High School and Gowanhill Juniors. After being rejected by Arsenal and Chelsea for being 'too small', he joined Leeds in December 1959. In his early days he often brushed with football's authorities but gradually matured and collected many honours. He won the first of fifty-four Scottish caps in May 1965, adding to Schoolboy and Under-Twenty-Three honours, where he scored once, against Wales at Kilmarnock on 2nd December 1964, in three games from 24th May 1964 to 24th February 1965 and was, for decades, United's most capped player. He was the most successful skipper in the club's history, leading United to two League championships, an F.A. Cup win, a League Cup Trophy and two Inter-Cities Fairs Cup triumphs. He won the 1970 Footballer of the Year award as United narrowly missed a unique treble of League, F.A. Cup and European Cup.
After progressing through the Leeds Juniors, within a year, he made his first-team debut on 23rd January 1960 at Chelsea, at outside-right, under the careful guardianship of his captain and initial mentor, Don Revie, who played at inside-right. He became a permanent fixture on the Leeds team sheet for more than sixteen years, unless injured or suspended. Bremner quickly established himself as an uncompromising player, tough in the tackle and often going beyond the rules to get the better of a skilled opponent. But that was not the true story, he also became an extremely skilfull midfielder and had the stamina to cover every inch of the pitch for the full ninety minutes and could pass with precision and timing. He also scored more than his fair share of goals, and had the extraordinary ability of scoring crucial goals in the biggest games, scoring winners in four major semi-finals.
Bremner was at the vanguard of Leeds' march to success in the early to mid 1960s. They won the Second Division title in the 1963-64 season and then the following year came tantalisingly close to a "double" of League championship and FA Cup. They lost the League title to Manchester United on goal average, and the F.A. Cup to Liverpool by 1-2 after extra-time at Wembley. But Bremner had his moment, scoring the equaliser with a crisp half-volley, from a Jack Charlton head down, which left the Liverpool goalkeeper Tommy Lawrence staring in amazement as the rocket flew into the net. Since his arrival in March 1962, Bobby Collins had always been the United Captain, setting the standards and leading the fight, but in United's second Inter Cities Fairs game at Torino on 6th October 1965, he had his thigh broken by a vicious tackle and, after Jack Charlton had taken the mantle for a while, Billy Bremner was given the Captaincy which he kept until he left the club in September 1976. Then came the unprecedented success as the Trophies and general acclaim started to come. From then until the end of the 1960s, they won the League Cup and Fairs Cup in 1968 and the "Holy Grail" of the League Championship in 1968-69 as United only lost two games and broke all kinds of records in achieving it.
It was not all plain sailing. There were the seasons when United failed to achieve what they deserved, as fatigue set in after chasing too many trophies and there was the lack of appreciation from the football world, particularly the Southern Press, who questioned United's methods and labelled them "Dirty Leeds", a sentiment echoed by Brian Clough and other football players, managers and pundits. However, in 1970, with Leeds chasing the historic "treble" of League championship, FA Cup and European Cup, which had never been achieved before and Leeds were the first team ever to have had a realistic chance of achieving it. In the end Leeds ended up with nothing. Losing the League title to Everton, the FA Cup final after an extremely violent replay against Chelsea, after playing Chelsea off the park in the original game at Wembley, and never being behind until well into extra time in the replay, and the European Cup Semi-Final to Celtic. It was in this time that Leeds had a reputation for being dirty, with Bremner leading the way, ably backed up by Johnny Giles alongside equally uncompromising players such as Norman Hunter. The notion was epitomised by one of football's most famous photographs taken on 20th August 1966, showing a young Bremner pleading his innocence after Tottenham Hotspur's burly Scots "Hardman", Dave Mackay, grabbed him by the shirt and hauled him up following a late tackle by Bremner.
People say that Leeds under-achieved. Leeds won two League titles, in 1968-69 and 1973-74, but missed out on further championships in dramatic last-game climaxes in at least three other years. Bremner played in four FA Cup finals, but only won one. They reached a European Cup Winners Cup final in 1973, but lost. Finally, before the team aged and broke up, it reached a European Cup final two years later but lost controversially to Bayern Munich. In the 1970's Leeds dominated every competition they entered, although in some years under the Manager's instructions or team selection it was apparent that they had their priorities set on one or more goal at the expense of others. There were exceptions, and those were their classic under-achievements. In June 1971 Bremner lifted the Fairs Cup for the second time, as they beat Juventus on the away goal rule but in February 1971 they had gone down to Colchester United in the Fifth Round of the F.A. Cup, although Bremner had missed that game. Then after beating Arsenal 1-0 in their penultimate League game they watched helplessly as the Gunners, with Leeds only needing Spurs to get a score draw or win, won 1-0 and to rub it in won the F.A. Cup too to become only the second team to achieve "The Double" in modern times. 1971-72 saw United win the F.A. Cup for the first time, beating arch-rivals Arsenal 1-0 at Wembley, and giving Bremner both domestic cup medals. Mick Jones was injured in the win and two days later they were forced to play Wolves at Molineux, needing only to draw to complete "The Double". Bremner scored, but it was little consolation as Leeds went down 1-2 and had to concede the title to chief detractor, Brian Clough and his Derby County team. 1972-73 saw Leeds never in the race for the title as Liverpool were too good, but fell to Second Division Sunderland, when odds-on favourites to retain the F.A. Cup and were "robbed" in Salonika, by a referee who was banned by FIFA, for his biased running of the European Cup Winners Cup Final, which United lost 1-0 to AC Milan. Two more runners-up medals for Bremner! In 1973-74 Bremner played magnificently as Leeds finally put six seasons of near-misses aside and won the League championship, for the second time, with ease, setting a record of twenty-nine unbeaten games from the start the season. A record which stood until beaten in 2004 by Arsenal. When looking back years later, in August 1995, for the Match of the Seventies TV programme, Bremner considered the 1973–74 Leeds team as tough as any British team since the Second World War. As champions, Leeds contested the 1974 Charity Shield against FA Cup winners Liverpool at Wembley. Bremner was sent off for a clash with Kevin Keegan, which also saw the Liverpool striker dismissed. He received an eleven game suspension, which severely impacted on the Leeds 1974-75 League campaign, and would not have helped Brian Clough, who was without Bremner's services for the rest of his term as Manager. So, with Leeds out of contention for domestic honours, they were able to concentrate on the European Cup. They reached the Final, which they lost in controversial circumstances to Bayern Munich. Leeds were denied what seemed a certain penalty, when Beckenbauer clearly brought down Allan Clarke in the penalty box. Then they had a goal disallowed, when, after being pressured by Beckenbauer, the referee decided that Bremner was offside, after it appeared that Peter Lorimer had given Leeds the lead with one of his specials. Finally, Bremner was denied when Sepp Maier produced an astonishing point-blank save from just six yards.
Bremner finally left Leeds and moved to Hull City in September 1976 for £35,000. He had played 772 games for Leeds, including one as a substitute, putting him marginally second behind Jack Charlton in the club's all-time list. While his one hundred and fifteen goals placed him in fifth spot on the all-time goalscorers chart, behind only Peter Lorimer, John Charles, Allan Clarke and Tom Jennings. With the Tigers he made sixty-one appearances and scoring six goals. In November 1978, Bremner effectively ended his brilliant playing career when he left Hull City to take over as Manager of Doncaster Rovers, becoming their seventeenth boss since World War Two. Bremner retained his playing registration and turned out for Rovers in emergencies. He started twice and came on three times as substitute and finally retired at the age of thirty-nine. With very little cash at his disposal, Bremner built his teams on the basis of hard-working players rather than expensive talent. Rovers had been languishing in Division Four for many years but, within two years of his appointment, Bremner took them to promotion when they finished third behind Southend and Lincoln. Bad luck and crippling injuries saw Doncaster relegated in 1983 but they bounced back the following season as Division Four runners-up. Bremner had several good young players in his ranks, including Ian Snodin, a midfielder whom he sold to Leeds for £200,000 in May 1985. Within months, the pair linked up again when Bremner was appointed manager at Elland Road, succeeding the loyal Eddie Gray.
On the field, Bremner had led Leeds to their greatest triumphs and now he aimed to do the same from the dug-out. United took time to adjust to the demands of his preferred style of play. He used a five man defence in front of goalkeeper Mervyn Day, but a series of disappointing displays saw them slip briefly into the relegation zone before playing their way out of trouble. The following season Bremner steered his beloved United to the brink of double glory. They came within twenty minutes of reaching the 1987 F.A.Cup Final and ten minutes of gaining promotion to Division One. A late surge took Leeds into the promotion Play-offs but they fell at the final hurdle in a replay against battling Charlton on an emotion charged night at St.Andrew's, Birmingham, going down 2-1 to two late extra-time goals. United's F.A.Cup run was an unexpected bonus, but again they came a cropper when glory beckoned, losing 3-2 to Coventry City after extra-time in one of the most thrilling semi-finals Hillsborough had ever staged. Bremner's reward was an extended contract but in 1987-88 Leeds appeared to go backwards and failed to live up to their billing as promotion favourites. Poor results at the start of the next season saw Leeds lingering near the foot of the table and Bremner was axed in late September 1988. Coach Peter Gunby was put in charge until United found a replacement for Bremner, whose devotion to the club he served so well could not be doubted.
In July 1989, Bremner returned to Doncaster as Manager, a job he held until he was dismissed in November 1991. He then earned a living on the after-dinner speech circuit.
On 3rd February 1982, Bremner won £100,000 libel damages, along with legal costs, after he sued the Sunday People Newspaper for publishing an article in September 1977 that alleged he tried to fix football matches, including the May 1972 game at Wolves, which was two days after Leeds United had won the FA Cup. Leeds lost the game 2–1 and Derby County became champions for the first time in their history. Danny Hegan, Frank Munro and Gary Sprake each claimed that Bremner was guilty of bribery. Jack Charlton, Allan Clarke, Johnny Giles and Wolves player Derek Dougan all spoke up for Bremner and said the claims were nonsense.
As an international, Bremner was at the forefront of Scottish football's rise in the 1970s after years in the wilderness. After playing in an unofficial for Scotland against the Scottish League on 24th February 1964 at Ibrox Park, he made his Scotland debut in 1965 against Spain, then played in the famous 3–2 victory against world champions England at Wembley in 1967 and captained his country at the World Cup in West Germany in 1974. The Scottish squad contained five Leeds players, Peter Lorimer, Joe Jordan, Gordon McQueen, David Harvey and Captain Billy Bremner. His last cap came against Denmark in September 1975. An incident in Copenhagen after the game led to a lifetime ban from international football along with four other players, Willie Young, Joe Harper, Pat McCluskey and Arthur Graham. The five allegedly were ejected from a night-club for rowdy behaviour. This was after breaking a 1 a.m. curfew to indulge in a bout of heavy drinking. Then, an SFA official was none too pleased when he entered the room of Bremner and McCluskey to find them turning a bed upside down in a drunken prank. Ronald McKenzie, the Scottish team trainer, resigned his post as he admitted to being involved as well. it was a shattering and premature end to a magnificent International career than had spanned ten yearsThe ban was lifted in 1976 but Bremner never played international football again. He won fifty-four caps in total, scoring three goals and Captained his country on thirty-nine occasions. Probably the biggest tribute paid by the football fraternity to Bremner and Leeds United came on 28th July 1969, when Bremner, Jack Charlton and Terry Cooper were selected in the Rest of the United Kingdom team to take on Wales at Ninian Park, in a celebration game for the investiture of the Prince of Wales.
He died of an heart attack on Dec 7th 1997. He has since been voted Leeds United's greatest player of all time and is honoured by a commemorative statue outside the South East corner of Elland Road and by "Billy's Bar" in the South Stand. He was inducted into the English Hall of Fame in 2004. He has also been included in the Football League One Hundred Legends. Bremner was also voted into the Scottish Football Hall of Fame, as one of its first inductees, in 2004, and is on the Scotland national football team roll of honour for having won more than fifty caps for Scotland.
TRIBUTES & OBITUARIES

The Hall of Fame:

Profile by Robert Galvin, the author of Football's Greatest Heroes, the official book of the National Football Museum Hall of Fame:

Nailed to the wall in the Leeds United dressing-room at Elland Road during the 1960s was a sign. It read: Keep Fighting.

'It hangs above my peg, appropriately, for I am the captain,' Billy Bremner said at the time. 'I am supposed to set an example to the rest of the lads.' Over a period of 16 years, this '10 stone of barbed wire', as The Sunday Times described him, did just that, inspiring the most consistently successful team in England between 1964 and 1974.

Bremner was a vital cog in the Leeds machine. When Don Revie, the manager, heard that the Scotsman might be sold, he gave the board an ultimatum: 'If he goes, I go.' Bremner and Revie stayed put.

'Billy played more with his heart than his head,' Eddie Gray, the Leeds winger, said. 'He had a heart the size of Elland Road. As a midfield player, he was a free spirit who worked on instinct.'

The 'Keep Fighting' motto was followed literally on several occasions, particularly during the mid-60s when the club was establishing itself in the First Division. 'We were so determined that none of the elite clubs were going to get in our way,' Bremner recalled. 'We weren't star-gazers.' A Scotland schoolboy international and a right-winger in his early days at Elland Road, Bremner was later switched to the centre of midfield, where he formed a lasting and productive partnership with Johnny Giles.

In later years, Revie would occasionally withdraw Bremner into a deeper role, particularly for difficult away games. 'Billy was an outstanding sweeper,' said fellow defender Norman Hunter. 'His versatility was another of his great attributes.' Above all, though, he was an instinctive attacking player, and he developed a knack of scoring late winning goals in vital matches. None stirred as much feeling as his late header against Manchester United in 1965 which took Leeds through to the club's first ever FA Cup Final. At Wembley they lost to Liverpool.

Mentally, too, they fought on despite the disappointment of missing out narrowly on major honours three seasons in succession. The indefatigable and relentlessly ambitious Bremner set the tone for the team, and their remarkable resilience was finally rewarded with victory in the League Cup final in 1968. 'Now that we've won some silver at last, we'll go on to collect other trophies,' Bremner said, and he was right. Bremner and Leeds won two championship titles, one FA Cup and two Fairs Cups.

There would be one last, great disappointment, however: in 1975 Leeds United were unfortunate to lose against Bayern Munich in the final of the European Cup. It was the swansong for Bremner, now at the veteran stage, and the Leeds side built by Revie in terms of major honours. A riot by Leeds fans in Paris added disgrace to despair.

'Above all Leeds have Bremner, the best footballer in the four countries,' John Arlott wrote in The Guardian in 1970. 'If every manager in Britain were given his choice of any one player to add to his team some, no doubt, would toy with the idea of George Best; but the realists, to a man, would have Bremner.'

Tributes to flow in for Bremner the lionheart:

By Ben Rumsby : Thursday, 6 December 2007

Tomorrow, 10 years have gone by since Billy Bremner died, two days short of his 55th birthday.

Bremner represented Scotland 54 times and played 771 games for Leeds in a 17-year career that began in 1959. And he was the driving force behind Don Revie's side who collected six major trophies at home and abroad, and were runners-up 12 times, between 1965 and 1975.

Tributes to the man who passed away on 7 December, 1997, will pour in from Bremner's former team-mates and thousands of fans will pay their respects at Saturday's Yorkshire derby against Huddersfield. Yet it is not only Bremner's Elland Road contemporaries who will be recounting memories of the man who also played 61 games for Hull and was the Leeds manager from 1985 to 1989.

Ron Yeats led Liverpool to two Championships and an FA Cup victory over Leeds in the 1960s and he recalled: "I'll never forget a picture of the two of us tossing up before a big game at Anfield. I was 6ft 3in and Billy was about 5ft 3in. We looked like Little and Large. But although he was only a wee man, he was a heavyweight player. He had the heart of a lion and he was a tremendous leader. He never gave up. He was an inspiration and he led by example. He expected the whole team to follow and they did. "We only played together once for Scotland, against Italy in Naples in December 1965. On the morning of the match, we were sitting together at the team talk. Jock Stein, who had taken over from Ian McColl as manager on a part-time basis, turned to us and said: 'Right, I'm expecting miracles from you two today'. And Billy looked at me and whispered: 'So he's not asking a lot then'. We lost 3-0!"

Jimmy Armfield took over as Bremner's manager at Leeds in October 1974. "The team were struggling," remembered Armfield, the former England captain who is now a member of the Radio Five Live commentary team. "They had lost Don Revie in the summer and had gone through a traumatic 44 days with his successor, Brian Clough. When I arrived, Billy was injured and the team was near the bottom with six points from nine matches. One day I was chatting to Bob English, our kit man, and he said: 'Don't worry, you'll see a difference when Billy's back. When Billy plays, they all play'. And he was right. We never looked back when once Billy was fit again. He was a real firebrand but people forget what a gifted player he was. Good touch on the ball, very clever, with just about the best reverse pass I ever saw. He was a great competitor, too, with a tremendous amount of pride. He wanted the job after Clough left and I suspect there was a bit of resentment when I arrived. I didn't go out of my way to win him over. I just treated him with the respect he deserved and we became close."

Peter Swan, who made more than 500 appearances for Leeds, Hull, Port Vale, Plymouth, Burnley, Bury and York, was given his league debut by Bremner in 1986. Swan, a match summariser for BBC Radio Humberside, will always remember the influence of Bremner. "Billy was never the kind of manager who locked himself away in his office. He loved being around his players. I can still see him now, sitting in the dressing-room with one elbow on his knee, listening to all the banter. He was absolutely passionate about Leeds United. He lived for the club and was always destined to go back as manager. And he transmitted that passion to his players. We all went out wanting to win, for Leeds and for Billy Bremner."

From BBC: Profile: Billy Bremner

Billy Bremner (9 December 1942 - 7 December 1997)

Leeds career: Player 1960-1976, Manager 1985-1988

Rating: Legend

Games: 772 (and 1 as a sub)

Goals: 115

Legacy: Billy Bremner statue in front of stadium

International career: Scotland (54 caps, 3 goals)

Facts:

Only Jack Charlton played more games for Leeds than Bremner and he is the fourth highest goal scorer of all time for the club. Just 5' 5" tall, Billy Bremner was rejected by Arsenal and Chelsea for being too short before being signed for Leeds at the age of 17. Bremner left Leeds for Hull City in 1976, then played for Doncaster Rovers from 1979 until his retirement three years later. As manager of Doncaster he led the club to promotion from the lowest division (and then did the same again when after failed to stay up the following year). He was voted footballer of the year in 1970. In the official Leeds United website's 100 Greatest Leeds Players list Billy Bremner holds the top spot at number one.

From LUFC Programme v Bolton Wanderers, 20th December 1997, came the following tributes:

Chairman's tribute by Peter Ridsdale: As someone who has been in awe of Billy Bremner since watching him for the first time in my schooldays, I feel honoured and proud to pay tribute to a man whose popularity spanned the generations.It speaks volumes for Billy's personality that young and old alike turned up in their droves at his funeral service in the small village of Edlington, near Doncaster, to pay their last respects. So many people wanted to be there that the service had to be relayed over loud speakers to the throng outside, while those fortunate enough to join Billy's family inside St Mary's Church came from so many elements of football. David Batty had played for Newcastle the night before, but he was there, along with others who played under Billy's management like Brendan Ormsby, the Snodin brothers, john Stiles, ]ohn Sheridan and Bobby Davison. Of course, Billy's playing colleagues and some who turned out against him were there in force, mingling with the fans to which the wee man's memory also meant so much. I remember him in the very early days when he was often playing on the right wing. He was fiery and a bit niggly but he stood out even then for his pace and small stature. He seemed to have no weight on him at all, yet his energy and speed were remarkable. Then he went on to become one of the best midfield players in the world, for United and his beloved Scotland, playing over 700 games for his club and winning 54 international caps. Billy had the knack of scoring crucial goals on the big occasion and it was one of those goals that caused me to run on to a football pitch for the first and only time. It happened at the FA Cup semi-final, second replay, against Manchester United at Burnden Park, Bolton, in 1970. Billy scored the only goal of the match in front of 56,000 people. I ran on to the pitch afterwards and took a piece of turf home with me as a souvenir. That was just one of so many wonderful memories. One of them was the winning goal in the 1965 FA Cup semi-final, again against Manchester United, but this time at Nottingham. It took us through to Wembley for the first time and I just couldn't believe it. I first met Billy when he and the rest of the United team attended an open day at Leeds Grammar School. I was about ten years old and was in complete awe of him, even though he looked just like a schoolboy himself. All those years later I looked around St Mary's Church at the players from Billy's era that turned up to pay their last respects, and they are still my heroes. Once again I was in awe of being in their company, proud to have known Billy, to have watched him play and to have been in the privileged position to say goodbye to one of the greatest characters the game has known.

Programme editor, John Wray, spent many years on the staff of Bradford's evening newspaper, the Telegraph & Argus, where he covered Leeds United for the T&A and its sister paper the Yorkshire Sports. It was while carrying out his reporting duties for the two titles that he got to know Billy Bremner the player and Billy Bremner the manager. This is his tribute to the great man:

"Billy Bremner was simply the greatest captain in Leeds United's history. Greater than those renowned fellow Scottish internationals Bobby Collins and Gordon Strachan, and unquestionably one of the most inspiring skippers world football has produced." During the club's glory years in the 'sixties and early 'seventies, when Billy led Leeds on the battlefields of Britain and Europe, the names of Billy Bremner, Don Revie and Leeds United were as one. Revie, the most successful manager in United's history, died of motor neurone disease in May, 1989, aged 61. Sadly, Bremner passed away even younger, after suffering a heart attack. How tragically ironic, that two men whose physical fitness and exceptional footballing talent earned them the Footballer of the Year accolade in different eras, should die so comparatively young.

I started covering United's affairs in the summer of 1970, six years before Billy left Leeds for Hull City, and I got to know him well as I accompanied United at home and abroad on their trailblazing quests for silverware. Yet it was during his three years as United's manager, from 1985 to 1988, that I formed a daily working relationship with the man I had always respected as a player for his unstinting courage, passion, leadership and ability to score goals on the really big occasions. I am proud to say we developed a friendship that lasted long after he quit the game to spend more time with his family and enjoy his other sporting passion, golf. He also became an accomplished radio summariser and after-dinner speaker, recounting with relish his treasured footballing memories. Small in stature, he was a giant among footballers, while under his management; United reached an FA Cup semi-final and reached the Second Division promotion play-off final in 1987. His relationship with the local press was so close that he was a member of our card school on away trips, exhibiting the dread of losing he had always shown on the football pitch. Woe betide a playing partner who played a wrong card. Billy's wrath would be swift and frightening! He simply hated losing, whether the game was football or carpet bowls. He would regularly invite our small group into the manager's office on our return to Elland Road from those away games, and we would discuss the match until the nightwatchman threatened to throw us out. Billy wasn't the most popular man among opponents and rival crowds, of course. He wore that hatred of losing like an irremovable tattoo. It got him into trouble with referees and there was the memorable occasion when Billy and Kevin Keegan were sent off at Wembley for fighting during the 1974 FA Charity Shield and then took off their shirts in protest. Yet you would struggle to find any player, manager or supporter who would not have had the ginger-haired midfield dynamo in their team. Bremner won 54 Scotland caps and a place in his country's Hall of Fame. He turned out for United in over 700 competitive games and never lost his deep love for the club. Whenever I met him at matches after his retirement or called him on the phone he always offered a cheery greeting and had an insatiable appetite for up to the minute news of his beloved United. When practical jokes were being played you could be sure Billy was heavily involved, but it was all in good fun and United's team spirit was unrivalled. Countless tributes have flowed in since Billy's death, but a verse from Ronnie Hilton's song 'Glory, Glory Leeds United' perhaps best sums up what the great man was all about.

Don Warters, Soccer Correspondent of the Yorkshire Evening Post, who knew Billy Bremner both as a footballer and a friend for nearly 30 years, pays his tribute to the Scottish legend.

"When the news of Billy Bremner's death was broken to me on the morning of Sunday 7th December, I Just could not believe it. Truth is, I didn't want to believe it. But when the reality - and finality of the situation eventually sank in it left me deeply saddened and with an empty feeling inside.To say I felt his death deeply as did all who knew him either as a friend and a great footballer or merely as a footballer gracing the football grounds of Britain and Europe as captain of Leeds United, is an understatement."

Maybe it is because I always regarded him as indestructible. Small of frame he may have been but he was a footballing giant as he led United in such indefatigable style as they cut a swath through top football in Britain and abroad. I find it difficult to say we will see his like again because I doubt very much that we ever will. The chant was that there was only one Billy Bremner and so there was. I will remember him as one of the great footballers of all time. I first knew the little Scot in a professional sense, me as sports journalist he as a Leeds United player, but over the years I got to know him as a friend and our friendship lasted beyond his playing days and was still in force up to his untimely death. My last meeting with him was four weeks before his death, when he was the guest speaker at the Leeds Rhinos monthly luncheon club and though the organisation was chiefly one involving the oval ball, Billy made no excuses for sticking to stories about soccer, centred mainly on the lighter side of his experiences playing for United. Funny they were too. Since his playing days ended and after he had finished with soccer management, Billy took up after dinner speaking and had made quite a success of it. He was in great demand, so much in fact that it was said he did not have a Friday night free for quite a number of months ahead. Just as he made a success of his footballing career, so, too, did he master the art of public speaking. He had a fund of rib-tickling anecdotes which he rattled off but, unlike most speakers, he had no sue for notes - which was strange really because he had not been blessed with the best of memories. In fact in his playing days he often forgot things - dates, presentations and the like. At one stage, while Billy was still a player, the Yorkshire Evening Post ran a monthly presentation scheme whereby people who had served local sport well were nominated for the award and each month the newspaper arranged for a sporting personality to do the honours. When it came to selecting a Leeds United player to make the presentation for one particular month, Billy, as captain of the club and of Scotland, was the obvious choice, I asked Billy if he would do it, he readily agreed and I told him the date, place and time of the ceremony. It was a week away and I reminded him a couple of days before but when I rang him on the morning of the presentation he said: "What presentation is that?" After I had made him aware of the details again he asked me how to get there but to be on the safe side, I said the least I could do was pick him up in my car and take him there. This agreed I rang off but when I got to his house that night he was sat in the chair watching television and obviously not ready. "Oh, sorry, I forgot all about it," he said and then quickly got changed. But the grin on his face told its own story. The joke that night was on me. We got to the presentation in time. My friendship with the fiery little midfield man grew when I made weekly visits to his semi-detached home in Templenewsam where we constructed his column for the Yorkshire Evening Post's 'Green Post' sports paper. I enjoyed those weekly chats immensely and it was a pleasure and an entertainment to write his column because he was so passionate about the game and forthright in his views. And with United being at the forefront of soccer both in this country and abroad at that time there was plenty to discuss and write about. Although he had an aggressive side to his nature on the football field, there was a caring side to him as well and I benefited for that when I was driving to his house shortly before midnight on a very cold winter night. I was going to collect my wife, who had spent the evening with Billy's wife, Vicki. A couple of miles from his house my car ran out of petrol and I rang to say I would be later than expected getting there. "Sit tight and I'll get you some petrol," he said. And in no time at all he had driven out to where I was stranded and produced a can of petrol to get me moving again. The competitiveness of Billy's nature spilled over into virtually everything he tackled and playing cards was no different. On long trips, during his management of United, I often travelled with the team but every moment of spare time was taken up playing cards. Directors, coaching staff we were all dragged in. Billy was a good card player and he took money off all of us. And then he'd tell you how to play the game properly! These are just some of the memories I have of Billy Bremner. He was a great footballer blessed with all round ability. He was a good tackler, he could pass the ball with precision, he scored a lot of goals and he had great passion and vision. What more could any player ask for? Thanks for the memories, Billy.

Words of Wisdom:

Billy Bremner played the game his way. He never flinched from a tackle and never knowingly let a teammate down. Over the years he spoke and wrote many times of the way he felt the game should be played and how he played it. Now, at this sad time, we reflect on those passionately held views and list some of them here:

There's a motto in the Leeds United dressing room which reads: 'Keep Fighting!' It hangs above my peg appropriately, for I'm the skipper, and I'm supposed to set an example to the rest of the lads. In fact every player on the staff knows that motto and acts accordingly. Leeds DO keep on fighting. They never give up until the referee has blown the final cheep on his whistle.

I have hit the headlines often enough since making my debut for Leeds United and not always in a manner which I would wish. For I am blessed (or should it be 'cursed') with a temperament which matches my red thatch. Despite my size I'm a robust player by nature. It's something born and bred in me, and I cannot change it. I doubt if I would, even if it were possible, because then I feel sure I would lose the spark which has helped me to make such a success of professional football.

I hate to see an opponent get the ball. It is my job to see that this doesn't happen, if possible. I go in hard, but fairly, but the temperament sometimes erupts in the heat of the moment.

I've taken a bit of stick in my time from opponents and their supporters, but there's one thing I would like to get clear right now. I do not go out looking for trouble. In fact the way some folk describe me you would think I was a regular fire-eater. The plain fact is that I set out to do a job as a footballer. It's as simple as that."

I make no apology for saying that I'm a Don Revie fan. To my mind, what this fellow has done for Leeds United since he took over as manager is little short of miraculous. I have known the Boss ever since he took over at Elland Road, in his first managerial job, and I think along exactly the same lines as he does when it comes to soccer planning and tactics.

They say that I have become indoctrinated with the Leeds brand of soccer, and that's true. I have been with the club since I left school in Stirling and I have known United in the bad days as well as the good ones. After emerging from the second division and establishing ourselves in the top flight we have gone on to make a positive contribution to entertaining football.

Team spirit is a big factor for any successful team and we have it here. Most of us were brought up together on the ground staff and that is an important factor in our success. Football is not all about the skill factor. It is about whether you are determined enough and have a greater desire to win games than the opposition.

In his testimonial brochure in May, 1974, Billy wrote:

There has been so much more enjoyment for me in my football this season and when we hardened professionals start to enjoy this game, it's only a matter of time before the fans notice the difference. I never thought that the rather unfortunate image we had of back-chatting referees and refusing to accept decisions had an effect on my game. But it must have done. Once you show dissatisfaction and start to argue you're obviously not concentrating your whole attention on the game. You may as well be sitting in the dressing room. Looking back I was fiery because if I saw someone kick my own players I got a bit upset about it. Some teams had vendettas against us. They disliked us intensely because we were the team to beat in that era, so they always tried harder against us. It is rather fashionable these days to take a swipe at British football, but if there are things wrong with football, then it's these people, these onlookers with a death wish. There are, of course, things I would like to see altered, but a change in attitudes is the quality I would most like to see. I look round the game now and see that, technically and in fitness, it has never been more advanced. But I ask you, what's happened to those players who used to thrill millions with their skills? Where are football's answer to the Pied Piper - men whose hypnotic skills will magnetise and enthral thousands of fans?

The Real Billy Bremner by Don Revie:

Billy Bremner is one of the world's top footballers - possibly one of the greatest players ever. That makes it very difficult to know where to start in paying tribute to him."It is one thing in football to have that star quality which makes you stand out from the crowd. It is quite another thing to have star personal quality and leadership qualities so strong you would follow him to the ends of the earth. But that is Billy Bremner. No manager could wish for a greater leader or a greater player. If I was in the trenches at the front line, the man I would want on my right side is Billy Bremner."

A classic performance

"There were those who said we would be crushed when we were forced to field a weakened side in our UEFA Cup tie at Hibernian in the autumn of 1973. Billy wanted to make them eat their words, and he did. His performance at Easter Road that night in November was the finest I have ever seen from any individual in all my years in the game. It was a classic exhibition of reading the game, controlling the game of passing, of incredible confidence, Billy, playing in a new role for him of sweeper, was a revelation. Even the furiously partisan Edinburgh crowd had to rise to their feet to cheer this miniature gladiator off the field at the end. When Billy stopped the ball on the goal line and stood with one foot on it and his hands on his hips, the crowd froze. Two on-rushing Hibernian forwards slithered to a halt in amazement. It was the cheekiest thing I have ever seen in football. What Billy means to Leeds United and to football has been typified by his displays on the pitch. When we played Newcastle at Elland Road during our lean spell, Billy defended, attacked, chased, had innumerable goalworthy shots, tackled and inspired everyone for 80 minutes. He could run no more in the last ten minutes and this is the hallmark of a great player with equally great character. I have never seen a captain drive and set such an example as Billy did that day."

Exciting moments:

"He has turned out for Leeds United with so many bad injuries that I've often wondered how he's even managed to get on to the pitch, let alone play. We sometimes wonder if he has eyes in the back of his head he sees so much and assesses so much so quickly. He has also provided me with some of the most exciting moments I have lived through in this game. His equalizer, against Liverpool in the 1965 FA Cup Final, a marvellous volley ten minutes from time; his back-headed winner against Manchester United at Nottingham which put us through to the final that season; his fantastic goal from 18 yards against Manchester United in 1970 which put us through to the final again."

Worker for charities

"Off the field, Billy is not the easiest person to get to know because he values his friendship greatly. But once you have Billy Bremner for a friend you need no-one else. He would give you his last 50 pence if he thought your need was greater than his. He is a great and tireless worker for charities and puts himself out to visit youngsters in hospital to try and cheer them up. He does some sterling work for handicapped children that no-one ever gets to hear about because Billy is not the type to shout it from the rooftops. You can't put things like that inside a person - they are natural and priceless qualities. No-one can thank Billy enough for his contributions to Leeds United, to Scotland, to the city of Leeds and to the game in general."

What the Press had to say:

Billy Bremner would have been proud and perhaps a shade embarrassed by the many thousands of words penned in tribute to his career by Britain's Press after his untimely death. It was one of football's ironies that when Leeds United were bestriding the football fields of Europe in Don Revie's era, the London based national Press rarely gave Billy and his multi-talented teammates the credit they unguestionably deserved.The Press, it seems have finally accepted that Billy Bremner and his troops were extra special.

JEFF POWELL, of the DAILY MAIL, wrote: The title of Bremner's autobiography was his declaration of football priorities: You Get Nowt for Coming Second. The gritty burr of Yorkshire pragmatism had been grafted on to the natural-born Scottish warrior - his home town of Stirling borders the battlefield of Bannockburn - from the winter's day in 1959 when he signed professional forms with Leeds. From that moment hence, Bremner carried the standard for his club and country with passion and a deep seated sense of family. Bremner not only loved his wife Vicky, his son Billy Jnr and his daughters Donna and Amanda, but embraced a lifetime's devotion to them which could never be threatened by his celebrity. Even so, he felt just as married to Leeds and just as closely related to his blood brothers in the team. Bonds as powerful as these are forged in the heart and the soul, not the ego and the pocket.

PETER FITTON wrote in The Sun: Wee Billy they all called him - and you could never mistake football's ultimate warrior. Not even when those flaming curls had long turned snow-white and he was bouncing grandson Chad to the latest Leeds United anthem. You only needed a glance into the eyes of Billy Bremner. And they still lived for football, filled with the very fire of it, long after the boots had been slung in a cupboard.

MIKE WALTERS in the MIRROR: Billy Bremner was a fighter, a winner and a legend. A firebrand whose shock of red hair was like a torch that lit Leeds United's route march to domestic supremacy under Don Revie's management. His death...at Doncaster Royal Infirmary, did more damage than leaving grown men crying in the streets of Yorkshire, It was as if the lights had been turned out on a famous chapter of soccer history.

JOHNNY GILES the DAILY EXPRESS, wrote: Billy Bremner lived his life as he played his football, with vast restless energy. Now that he has gone at the age of 54 it is shocking to think I will never again hear him break into his favourite song San Francisco. After a few pints he would always sing that he left his heart high on a hill. He did it when a few old Leeds players gathered earlier this year but we knew better. Billy left much of his heart at Elland Road, not so much when he lost his job there as manager, but when he stopped playing, when his life was no longer filled with the challenge of producing the hair-trigger reflexes which made him such a unique force in the game.

BARRY FOSTER, who covered United for the YORKSH1RE POST during the Revie era, recalled: "Billy Bremner was in many ways as integral to the spirit of the club as Don Revie himself. His thirst to win for Leeds, was so intense, his commitment so passionate. Many times he played when he should not have done so, but Revie knew how important the wee man was to a side which for more than a decade was feared and respected, not just in England but in far flung grounds the length and breadth of Europe.

JOHN MORGAN told EVENING POST readers: Revie rated Bremner as a world class player with the ability, speed and stamina to win any game with one lightning strike of football magic. But Bremner's gift for forgetting dates, engagements, his passport on overseas trips, plus cheque-book and cash, were always a source of amusement and often frustration for those who enjoyed his friendship. Billy was under no illusions about his soccer skill. He covered every blade of grass during a match and he packed oceans of talent and courageous heart into his trim and tidy torso.

King Billy will never be forgotten:

The deluge of tributes that cascaded into Elland Road when news broke of Billy Bremner's death was testimony to the sky-high esteem in which the pocket dynamo was held throughout football.Billy's death at the tragically young age of 54 stunned a generation of fans to whom the former United and Scotland skipper was synonymous with the club's glory years. Team-mates from his playing days were reduced to tears when they learned of Billy's death and admirers rapidly transformed Elland Road's main gates into a shrine. It was the most moving outpouring of grief at the club since Don Revie's death from motor neurone disease in May, 1989, aged 61. Billy was taken ill at his home in Conisborough, near Rotherham, on Thursday, December 4, and died in hospital three days later, just two days short of his 55th birthday. Born in Stirling, he joined United in 1959 after being rejected by Arsenal and Chelsea for being too small. He made his debut against Chelsea at Stamford Bridge in January, 1960, and won the first of his 54 Scotland caps in 1965. He helped the Scots defeat England at Wembley in 1967, won two League Championships, League Cup and FA Cup winners medals as well as savouring glory in Europe. The Footballer of the Year accolade came along in 1970 and by the time he moved to Hull City in 1976 he had clocked up 772 senior appearances for United. As United's manager between 1985 and 1988 he took the club to an FA Cup semi-final and into the promotion play-off final, but paid the price for narrowly failing to bring first division football back to Elland Road.

EDDIE GRAY, a team mate of Bremner's and now United's reserve team cooch, said: "Billy was an exceptional player and an inspirational captain. He was a smashing fellow and a close friend. He never knew when he was beaten, scored some vital goals on the big occasion and was blessed with tremendous ability. He was a fierce competitor and I was proud to play in the same team as him."

Former United goal poacher ALLAN ClARKE, who was Bremner's regular partner on the golf course, said: "The biggest compliment I can pay Billy is to say he was one of the all-time greats. Billy enjoyed life to the full. The news of his death knocked me for six. I used to speak to him nearly every day. He was not just a team mate to me, he was like a brother. His wife Vicky told me he had gone into hospital and I said I wanted to see him, but he sent a message back saying he didn't want me or any of the lads to see him like he was."

Hot-shot PETER LORIMER added his tribute: "Billy was so full of energy and fire. It is hard to come to terms with the fact that he has gone at such a young age. Leeds fans will always remember how he gave 100 per cent commitment to the cause and that is how he was in life. He was our leader on the pitch, captain of the side that put Leeds on the world soccer map.

NORMAN HUNTER, a member of the famous half back line that read Bremner, Charlton, Hunter, said: "King Billy is a good description of the wee man. He was so difficult to mark and loved to play football. There was a special bond between Billy and Don Revie - the kind you don't often get between a captain and his manager. Billy had this tremendous desire to win. You don't become captain of a team like we had at Leeds and of Scotland without that."

TERRY COOPER, scorer of the goal that gave United their first major trophy in 1968 when they won the League Cup, said: "Billy was a tremendous guy. I had troubles two years ago and he was the first one on the phone to ask if I was all right. If I was in the trenches or in trouble I would want him right behind me."

LESLIE SILVER, chairman of United when Bremner was monager, said: "He was a great character at a time when football was full of characters. He was a very kind person and always ready to help any of his old colleagues who might be having a difficult time. We got to know each other very well. He was a lovely bloke and easy to work with."

Billy's midfield partnership with JOHNNY GILES was a magical mixture of tenacity, skill, mental ond physical dexterity: "Billy could go out there, do the unexpected and win games for you. In a group of people he was the one cracking the jokes and getting everyone going. Billy should be remembered as much for his skill as his famous aggression."

BOBBY COLLINS, Billy's predecessor as United's captain, said: "He was a smashing all-rounder. He could win the ball, pass it and he was a brilliant finisher. He was just a terrific player who did a marvellous job as captain when he took over from me."

DENIS LAW, Billy's Scotlond team mate, said: "I can't really take it in that he has gone. I loved to be in his company, both on and off the field. For such a small guy he was such a tough man and an excellent captain. I can't ever remember him having a bad match in Scotland colours. He played with such a passion and enthusiasm it was great to be on his side."

DAVE MACKAY, another fiercely competitive Scot, said of Bremner: "We have lost one of the greatest Scottish players ever, a little red-headed man who had courage in abundance." Recalling the confrontation that provided photographers with one of the most well known pictures in football history, with Mackay aggressively clutching Billy's shirt, "I was basically scared because I was just back after an 18 month lay-off with a leg break, and I was bluffing my way out of the situation, but it didn't work. He was like a terrier and kept niggling me for the rest of the match. We went straight to the nearest bar after the game, had a good drink together and remained friends ever since. We have lost a legend."

DAVID BATTY: "I think Billy saw something of himself in me and I always took it as an honour when people made comparisons between us. I am too young to remember his great playing days, but as a manager I thought he was tremendous. He encouraged me and taught me so much about the game. In fact we were so close some of the other players teased us we were like father and son. He was an extra special person and an extra special footballer."

JOHN CHARLES, one of the biggest names in United's history, said: "I loved to watch him play because he hated to lose and was the driving force on the pitch during the club's glory years. He would have done anything for Leeds United and the fans loved him."

PAUL REANEY the right back whose clearances off the line had United fans likening him to a third gool post, said: "I learned so much from Billy. He was a truly great character who led by example. There was a special togetherness about the team in those days. On the field we were as one. If someone took a knock everyone felt it. We took our cue from Billy and we all looked up to him."

TREVOR CHERRY, who won England honours with United, said: "When I came to Leeds from Huddersfield Town, Billy took me under his wing and I will never forget his inspirational qualities as a captain. They made it easy for me to play in that team."

ALEX FERGUSON, manager of Manchester United said: "Billy had a fiery temperament but always showed great enthusiasm. As a player he had a big heart and as a person he was a really genuine character."

Bremner Factfile

1942: Born Stirling, December 9. joined Leeds from school.

1959: Turns professional with Leeds.

1960: Makes League debut against Chelsea at Stamford Bridge.

1965: Made Scotland debut against Spain at Hampden Park.

1967: Helps Scotland to Wembley victory over world champions England.

1968: Named Scotland captain. Wins League Cup and Fairs Cup with Leeds.

1969: Captains Leeds to their first ever League championship.

1970: Voted Footballer of the Year.

1971: Wins Fairs Cup again, beating Juventus on away goals in the final.

1972: Picks up FA Cup winners' medal with Leeds.

1974: Wins another League title.

1975: Given 54th and last Scotland cap against Denmark in Copenhagen, having totalled three international goals.

1976: Leaves Leeds after 586(1) League appearances and 90 goals. Joins Hull for £35,000, scoring on debut in 1-0 win over Nottingham Forest.

1978: Appointed Doncaster player-manager.

1985: Resigns at Doncaster after leading them into the old Third Division. Appointed Leeds manager.

1987: Guides Leeds to FA Cup semi-final.

1988: Sacked by Leeds after failing to secure promotion back to the top flight.

1989: Returns to Doncaster.

1992: Leaves Doncaster when bottom of Division Four. Starts successful after-dinner speaking tour with old Leeds team-mate Norman Hunter.

1997: Dies in hospital, aged 54, December 7.

Career Record

Played:1959-76

Appearances: League 586/1 FAC 69 FLC 38 FM/Europe 77

Goals: League 9 FAC 6 FLC 3 FM/Europe 16

International career - 54 Scottish Caps

Bremner, W.J. (Leeds United), 1965 v Spain; 1966 v England, Poland, Portugal, Brazil, Italy (2); 1967 v Wales, Northern Ireland, England; 1968 v Wales, England; 1969 v Wales, England, Northern Ireland, Denmark, Austria, West Germany, Cyprus (2); 1970 v Republic of Ireland, West Germany, Austria; 1971 v Wales, England; 1972 v Portugal, Belgium, Holland, Northern Ireland, Wales, England, Yugoslavia, Czechoslovakia, Brazil; 1973 v Denmark (2), England (2), Northern Ireland (sub), Switzerland, Brazil; 1974 v Czechoslovakia, West Germany, Northern Ireland, Wales, England, Belgium, Norway, Zaire, Brazil, Yugoslavia; 1975 v Spain (2); 1976 v Denmark.