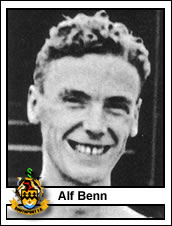 (Courtesy The Sandgrounders: The Complete League History of Southport F. C., by Michael Braham and Geoff Wilde (Palatine Books, 1995). ISBN 978-1-874181-14-9 and (Port on Line, Unofficial Online History of Southport Football Club)

Benn: Alfred (Alf)

WW2 Guest: 1944-1945 (Leeds United War-time Guest Player Details)

Right Half

Born: Knostrop, Leeds: 26-01-1926

Debut: v Barnsley (a): 21-04-1945

Height & Weight: 6' 0" 12st. (1948)

Benn started his career with East Leeds and joined his home town team, Leeds United, on 18th April 1945. He spent two seasons there, as an amateur, before turning professional on 8th January 1947. He only played one game for Leeds and that was during the Second World War, when he played Right Half in the game with Barnsley in a 3-1 win at Oakwell on 21st April 1945. He played mainly with the Leeds Reserve teams after making his debut. He joined Southport on 12th July 1948, just before the start of the 1948-49 season, and made his debut for them in the first game of that season, in a 0-0 draw in the away game against Stockport County. He did not play again until February 1949, when he played two games as a replacement for the injured Bob Hacking. He played just the three games for Southport. On 1st September 1949, he went to Halifax Town, where he had a two months' trial before returning without making any League appearances at the Shay. He later joined Frickley Colliery, where he played in the 1949-50 season. Benn then joined Yorkshire League side Selby Town in 1950 and was a member of the team that reached the First Round of the F.A. Cup on 21st November 1953, before going down 0-2 at home to Bradford Park Avenue. He had an electrical shop in Leeds for many years.