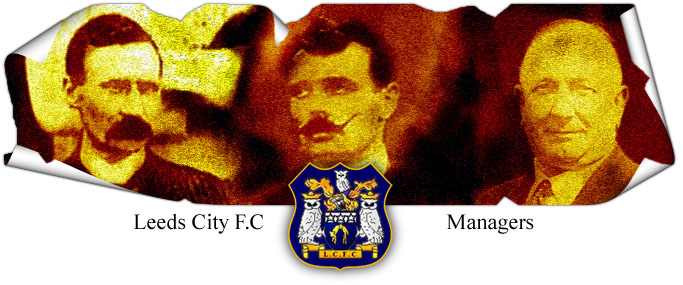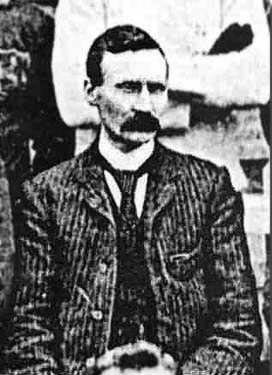 Gillies: Gilbert
1905-1908
Gillies, who was born in the Parish of Glassary, Argyllshire, on 15th September 1869 was a dour Scot, who in 1901 was employed as a printer's compositor, but he had spent most of his working life as a Football Club Manager and Football League referee, but had also worked as a journalist.
His appearance was typical of a Secretary-Manager, with a huge moustache and sober three piece suit with high stiff collar, and he considered his job as being in charge of the administration of the club and the day to day playing matters, even though it was the Director's responsibilities to find the money to run the club and usually comprised the majority of the Selection Committee.
Gillies became connected with the Chesterfield club in 1894, while they were still in the Sheffield League and was appointed Secretary-Manager in the summer of 1895. He had instigated their election to the Midland League in 1896 and the push to join the Football League which they achieved by being elected to the Second Division in 1899. The club was on a sound financial footing and they were able to finish seventh in a League of eighteen clubs in their first year. Gillies stepped down from his position at the ends of 1900 and by the end of the season Chesterfield had slumped to fourteenth position. The club had to seek re-election at the end of the 1901-02 season and Gillies was brought back by the Directors to assist with their re-election campaign, in which they were successful. With his object achieved Gillies stood down and continued with his career as a journalist.
On 13th February 1905, Leeds City advertised for a new Manager and from many applicants Gillies was appointed on 7th March 1905. His status and references had persuaded the Leeds City sub-committee to offer him the post, and he accepted a three-year contract worth £156 per annum. Leeds City were duly elected to the Second Division of the Football League for the 1905-06 season and George Swift was appointed as the Trainer. Swift had represented the Football League and seen good service with Wolverhampton Wanderers and Loughborough Town as a left back before retiring in 1902. The two worked together and quickly assembled a squad from many different clubs for the new season and Gillies returned to his former club and signed full-back Dick Ray, to become Captain and add experience and reliability to the team. Understandable the collection of strangers kicked off their League career on 2nd September 1905 with a 1-0 defeat at Bradford City's Valley Parade. However the team began to gel and finished a creditable sixth at the end of the first season. Prospects had looked good when City bolstered their attack by signing David 'Soldier' Wilson for £120 from Hull City and despite bad luck with injuries had scored thirteen goals in fifteen games.
Tragedy struck the club on 27th October 1906 with 'Soldier' Wilson's untimely death in the home game against Burnley. Gillies replaced him by signing Billy McLeod who turned out to be City's finest player, but the club slipped to tenth by the end of the second season and questions were being asked about Gillies' Management skills and comparisons were made to the successful Managers of neighbours Bradford City and Hull City. There were others who wanted Fred Spiksley, the English International who had played a few games for Leeds prior to their Football League days and was well respected for his Coaching abilities.
Gillies strengthened the side for the 1907-08 season, bringing in Tom Hynds from Woolwich Arsenal as Captain and another fine player and servant of the club in Fred Croot. His team responded by winning three and drawing one of their first four games and led the Division, but it was short-lived and they slipped rapidly down the ladder. He brought in goalkeeper Tom Naisby from Sunderland and former Sunderland stalwart Jimmy Gemmell from Stoke but they failed to stop the rot. With failure inevitable and suspecting that the Directors would not be renewing his contract, Gillies resigned in February 1908. His unpredictable team gave him a rousing send off by turning on their best display of the season to beat top-of-the-table Derby County 5-1 at Elland Road on 15th February 1908, but although they had a spirited finish to the season, could do no better than finish twelfth.
Gillies did not have to wait long for a new employer, as in less than three months he was appointed Secretary-Manager of Bradford Park Avenue. Although they failed in an application to join the Second Division of the Football League in May 1907, they were, with the help of Gillies, successful the following year. In his first season with Park Avenue in the Second Division, the club limped into sixteenth spot, just two points clear of Gillies' old club Chesterfield who were relegated to the Midland League and Leeds City again struggled to finish once more twelfth.
Park Avenue finished tenth in the following season of 1909-10, seven places above Leeds City, who almost had to apply for re-election. In 1910-11 Park Avenue were twelfth, just behind Leeds City on goal average, but Gillies had left the club in February 1911. He left football and ran a Hotel in Matlock.
Gilbert Gillies was a man of exceptional organisational and administrative abilities, who was never reluctant to ring the changes, but he never achieved the success he sought with any of the clubs he managed. He did have the knowledge and contacts, as he proved with Chesterfield, Leeds City and Bradford Park Avenue, to have the answer to securing Football League status. His presence at the helm was a key factor in getting Leeds City's life off to a good start and he did manage to attract a host of good players to Elland Road, even though he was unable to blend them into a successful team.