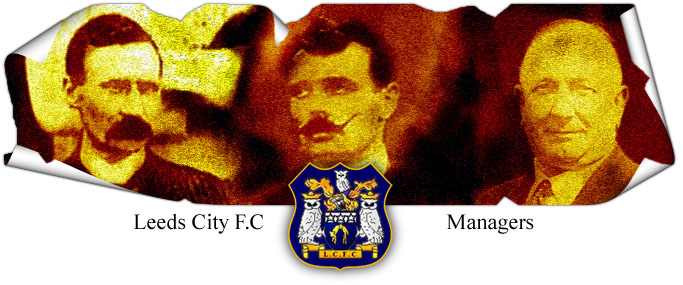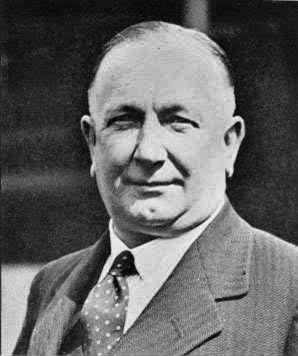 Chapman: Herbert
1912-1919
The son of a coal-miner from Kiveton Park Sheffield, Chapman was born on 19th January 1878. He went to a local state school but won a place at Sheffield Technical College, where he studied engineering. He was a nomadic Inside Forward who played for Kiveton Park, Ashton North End, Stalybridge, Rochdale, Grimsby Town in 1898, where he scored four goals in ten games, before joining Swindon Town, Sheppey United and Worksop between 1897 and 1901 as he followed his career as a mining engineer. Chapman did turn professional with Northampton, as a part-timer, in 1901. The following year he joined Sheffield United in the First Division and scored two goals in twenty-one games in the 1902-03 season. Chapman continued to study and he eventually got his diploma from the Institute of Mining Engineers. He was still determined to make it as a professional footballer and in 1903 Chapman signed for Notts County for £300. He then moved to Tottenham Hotspur for a fee of £70. He scored eleven goals in their 1905-06 season but after a bright start he seemed to have lost the ability to score goals. Chapman remained a part-time professional and continued with his engineering career. However, now aged 27, he seemed past his best. It was in his second spell at Northampton Town, after the club had dropped to the bottom of the Southern League, that their Directors recognised his tactical appreciation for the game and made him Player-Manager in 1907. He agreed to do the job on a temporary basis as he still wanted to work full-time as a mining engineer. Chapman's tactical strategies were highly successful and that season Northampton Town managed to avoid relegation. The following season they won the Southern League championship with a record twenty-five wins from forty games, a record fifty-five points, and a record ninety goals.
The Directors of Leeds City in the Second Division became aware of Chapman's achievements and in May 1912 he was persuaded to become Secretary-Manager of the club. He successfully canvassed for City's re-election and came within two points of clinching promotion in his first season in charge. Receipts and profits were up and the Directors were impressed with Chapman's ability to instill team spirit by getting players to speak their minds in team talks. Soon after becoming Manager Chapman purchased Jimmy Speirs and Evelyn Lintott from Bradford City. Both men had been members of the Bradford side that had won the F.A. Cup Final against Newcastle United the previous season. Leeds City had finished in nineteenth place in the 1911-12 season. Under Chapman's guidance they finished sixth. Jimmy Speirs had developed a fine partnership with Billy McLeod and that season the club scored seventy goals.
Early performances proved inconsistent but Chapman had the team play with a style and dynamism which attracted relatively big crowds to Elland Road, enabling the club to make a profit. In the 1913-14 season Chapman improved his squad by buying John Jackson from Clyde, Fred Blackman from Huddersfield Town, Ivan Sharpe from Derby County and Harry Peart from Bradford City. Promotion nearly came when City finished fourth, their highest finish to date. No doubt this step in the right direction was down to Chapman's style of management. His team talks and discussions with the team on tactics were ahead of its time. Hopes were high in 1914-15 that that would be the year that City finally achieved promotion, but City finished poorly in fifteenth spot. The outbreak of the First World War brought an end to Chapman's team-building plans. Jimmy Speirs and Evelyn Lintott both joined the British Army and were sent to the Western Front. Lintott was killed on the first day of the Somme on 1st July 1916 and Speirs lost his life at Passchendaele on 20th August 1917. Because of WW1 the regular football league was cancelled the following season. In 1916 Chapman became a Manager of a munitions factory at Barnbow, near Leeds, as part of the war-effort. The factory made shells and Chapman, with his knowledge of engineering, was appointed its manager-in-chief, with some thirty sub-managers under him. Just as in football he knew how to get the most out of his resources, so in the factory he used his skills to obtain maximum production. By the end of the war the factory had produced more shells than any other of its size, and at 25 per cent less cost, while the output of ammunition boxes had more than quadrupled.
Chapman returned to the club in 1916, but he was suspended pending investigations into illegal payments to wartime players. Chapman quit on 16th December 1919, claiming he had been harshly dealt with by the F.A. Commission because he was not in office when the payments were allegedly made. He became Manager of an Oil and Coke Company in Selby and only after his appeal was upheld did he move back into Management.
He joined Huddersfield Town in September 1921 and won the 1922 F.A. Cup and the Division One Championship in 1924 and 1925. Had Herbert Chapman remained with Leeds after the illegal payments scandal that led to City's expulsion from the Football League, the club could have gone on to great things. This theory is based on the staggering success he had later at Huddersfield Town and Arsenal, setting both clubs on the road to a hat-trick of League Championships.
Chapman accepted the post of Assistant Manager to Ambrose Langley at Huddersfield Town in September 1920. Huddersfield had just been promoted to the First Division for the first-time. Chapman became full-time Manager the following March when Langley decided to run a public house in Sheffield. Soon after taking office Chapman told the Huddersfield Directors, "You have talented, mostly young, players but they need a general to lead them. I know the man and I think we can get him." Chapman was thinking of Clem Stephenson, who played for Aston Villa. In March 1921 the thirty-one-year-old Stephenson was signed for £4,000. Villa had been in dispute with Stephenson because of his residency in his native Newcastle, but there was also a feeling that he was past his best. Chapman had first met Stephenson, when he guested for Leeds City during the First World War. He felt that this ex-miner had the qualities needed to lead the club on the field. Chapman also brought in Jack Foster to manage the Reserves and Walter Balmer was put in charge of the third team. Foster and Balmer also became part of a team of scouts looking for the best young talent in Britain.
Huddersfield made a good start to the 1921-22 season. An important feature of Chapman's tactics was to play Tom Wilson, the centre-half, as a member of a three-man back-line. At the time, because of the offside-law, the centre-half usually played in the midfield. Wilson was one of the first stopper Centre Halves. He also selected full-backs like Sam Wadsworth who could make accurate long passes. Chapman's team had a good run in the F.A. Cup beating Burnley 3-2 at Leeds Road in a replay after being held after being held 2-2 at Turf Moor, Brighton & Hove Albion 2-0 at Leeds Road in another replay after being held 0-0 away, Blackburn Rovers 5-0 at Leeds Road in yet another replay after being held 2-2 at Ewood Park, Millwall 3-0 at Leeds Road, and Notts County 3-1 in the Semi-Final at Turf Moor, Burnley to reach the final against Preston North End at Stamford Bridge, which they won by the only goal of the game which gave Clem Stephenson his third F.A. Cup winners' medal.
Chapman used his scouting team to discover future football stars. However, he always insisted on seeing the man play several times before buying him. In 1921 he signed the seventeen-year-old coalminer, George Brown and another inspired signing was Charles Wilson from Tottenham Hotspur.
The 1923-24 season began badly when Huddersfield Town took part in a bad tempered game against Notts County. Ernie Islip, the club's inside-left, got involved in a dispute with Albert Iremonger, the opposition goalkeeper. Islip was sent off and so was County player Billy Flint. The F.A. were asked to carry out an investigation into the match by Chapman. As a result Ernie Islip was suspended for a month. Islip, who had been described as being one of the most hot-headed players in the Football League, was immediately sold by Chapman to Birmingham City, as a sign to the other Huddersfield players that he would not accept such behaviour on the pitch. Town maintained their challenge for the League and with one game to go, they were just one point behind Cardiff City. Town beat Nottingham Forest whereas Cardiff only drew against Birmingham City, and so Town became the first club to win the title on goal average. As well as winning the First Division, the Reserves finished in second place in the Central League, beaten on goal average, and the third team won the Yorkshire Midweek League for the second year running.
Before the start of the new season Chapman signed outside-right, Joey Williams, from Rotherham County for just under £2,000. He also acquired a new goalkeeper, Billy Mercer from Hull City. Huddersfield soon took the lead in the First Division. In October 1924 they beat Arsenal 4-0. It included a goal scored by Billy Smith direct from a corner kick. It was the first goal scored this way as the law governing corners had been amended earlier that year. Town lost the leadership of the First Division in October 1924 but regained it in February 1925 and held on to beat West Bromwich Albion by two points. The Reserves won the Central League and so Huddersfield became the first club to win both titles. Chapman was congratulated for the exciting football the club played. The stars of the team included Clem Stephenson, Billy Smith, Charles Wilson, Tom Wilson, Sam Wadsworth, Joey Williams and George Brown. Chapman continued his campaign to improve the behaviour of the crowd. He said he wanted men to bring their wives and girlfriends to games as it would "raise the tone of supporters generally". Chapman added: "Bad language, gambling and barracking are the chief evils of the game. Professional players, like artists, are highly strung and affected by ill-considered criticism from the crowd". With the team that Chapman had assembled Huddersfield completed a third consecutive First Division Championship in 1925-26.
Arsenal lured him to London in June 1925 and he repeated his success, guiding the Gunners to the League Championship in 1931 and 1933 and the F.A. Cup in 1930.
At the time, Arsenal was one of the wealthiest clubs in the First Division. Its owner was Harry Norris, a highly successful property developer in London. He had recently spent £80,000 to build Highbury Stadium and was now determined to have a League winning team to play in these plush surroundings. In May 1925 Norris offered Chapman a salary of £2,000 a year if he agreed to manage Arsenal. When one considers that football stars were only paid £300 a year, this was an attractive proposition. However, Norris had a reputation for dictatorial behaviour and Leslie Knighton, Arsenal's current manager, was just a figurehead and Norris took all the major decisions. He told Knighton he could not spend more than £1,000 on any one player. Nor was he allowed to sign anyone under five foot eight inches or eleven stone. After lengthy negotiations, Norris agreed that Chapman would be allowed complete control over the team that had only just narrowly avoided relegation, and that money would be made available to buy some new players. Chapman's first concern was to buy a "general" like Clem Stephenson, who had played such a vital role in the success of Huddersfield Town. His choice was Charlie Buchan, who had scored two hundred and nine goals in three hundred and eighty games for Sunderland. In the end there was a complex arrangement to the deal, whereby Arsenal paid Sunderland £2,000 cash up front, and then agreed to pay £100 every goal Buchan scored during his first season at Arsenal.
In October 1925 Arsenal lost 7-0 to Newcastle United. As with his previous clubs, Chapman had a weekly meeting with his players. As a result of this discussion, Chapman changed the way the side played. At that time most teams played in the 2-3-5 formation. This system dominated football until 1925 when the F.A. decided to change the offside rule. The change reduced the number of opposition players that an attacker needed between himself and the goal-line from three to two. This had a profound impact on the way football was played. In the season before the introduction of this new offside law, 4,700 goals were scored in the Football League. During the next season the number went to 6,373.
At one meeting Charlie Buchan suggested to Chapman that the team should exploit this change in the law to create a new playing formation. He suggested that there should be a defensive centre-half, or third full-back, to block the gap down the middle. At that time the centre-half played a much more attacking role. Buchan argued that the club should now have a more defence-minded player in that position and that he, rather than the two full-backs, should take responsibility for the offside trap. Chapman agreed with this idea and in fact he had already experimented with this idea at Huddersfield Town before the rule change. Tom Wilson, the centre-half, played as a member of a three-man back-line. It was decided that the full-backs should play just in front of the centre-half whereas one of the inside-forwards should act as a link between attack and defence. The formation was therefore changed from 2-3-5 to 3-3-4. It was also known as the "WM" formation. Jack Butler was initially selected to play the centre-half role. However, he was soon replaced by Herbert Roberts, who was the Reserve wing-half at the time. Roberts became known as the "stopper" or the "policeman" and rarely moved upfield. Charlie Buchan wanted to play the roving inside-forward role. However, Herbert Chapman disagreed and selected veteran Andy Neil to become the link man in the system. At the time Neil was playing in the third-team. Chapman argued that Neil was "as slow as a funeral but has ball control" and could pass the ball accurately. Later this role went to Jimmy Ramsey and Billy Blyth.
One of Herbert Chapman's first signings was Bill Harper, who cost £4,000 from Hibernian. He replaced Dan Lewis as Arsenal's first-choice goalkeeper. In the 1925-26 season Arsenal finished in second-place to Chapman's old club, Huddersfield Town. Top scorer was Jimmy Brain who established a new club record with thirty-three goals. This included four hat-tricks against Everton (twice), Cardiff City and Bury. Brain's partner, Charlie Buchan, scored twenty-one goals that season which brought the amount paid by Arsenal to Sunderland to £4,100.
Bill Harper played in the first twenty games of the 1926-27 season until Tottenham Hotspur beat them 4-2 at Highbury. Dan Lewis then returned to the first-team. His form was so good that he won the first of his three caps for Wales that season. In February 1926 Herbert Chapman purchased Joe Hulme from Blackburn Rovers for a fee of £3,500. Hulme was considered the fastest winger in England. Henry Norris refused to allow Herbert Chapman to spend too much money to strengthen his team and in the 1926-27 season Arsenal finished in eleventh position. However, they did enjoy a good run in the F.A. Cup. They beat Sheffield United 5-2 at Bramall Lane, Port Vale 1-0 at Highbury after a 2-2 draw away, Liverpool 2-0 at Highbury, Wolverhampton Wanderers 2-1 at Highbury, and Southampton 2-1 at Stamford Bridge to reach the final at Wembley against Cardiff City. With seventeen minutes to go, Hughie Ferguson hit a shot at the Arsenal goal that struck Tom Parker and the ball slowly rolled towards Dan Lewis, the goalkeeper. Lewis later explained, "I got down to it and stopped it. I can usually pick up a ball with one hand, but as I was lying over the ball. I had to use both hands to pick it up, and already a Cardiff forward was rushing down on me. The ball was very greasy. When it touched Parker it had evidently acquired a tremendous spin, and for a second it must have been spinning beneath me. At my first touch it shot away over my arm." Ernie Curtis, Cardiff's left-winger, later commented: "I was in line with the edge of the penalty area on the right when Hughie Ferguson hit the shot which Arsenal's goalie had crouched down for a little early. The ball spun as it travelled towards him, having taken a slight deflection so he was now slightly out of line with it. Len Davies was following the shot in and I think Dan must have had one eye on him. The result was that he didn't take it cleanly and it squirmed under him and over the line. Len jumped over him and into the net, but never actually touched it." In the words of Charlie Buchan: "He (Lewis) gathered the ball in his arms. As he rose, his knee hit the ball and sent it out of his grasp. In trying to retrieve it, Lewis only knocked it further towards the goal. The ball, with Len Davies following up, trickled slowly but inexorably over the goal-line with hardly enough strength to reach the net." Soon afterwards, Arsenal had a great chance to draw level. Charlie Buchan later explained, "Outside-left Sid Hoar sent across a long, high centre. Tom Farquharson, Cardiff goalkeeper, rushed out to meet the danger. The ball dropped just beside the penalty spot and bounced high above his outstretched fingers. Jimmy Brain and I rushed forward together to head the ball into the empty goal. At the last moment Jimmy left it to me. I unfortunately left it to him. Between us, we missed the golden opportunity of the game." Arsenal had no more chances after that and therefore Cardiff City won the game 1-0. After the game, Dan Lewis was so upset that his mistake had cost Arsenal the F.A. Cup, that he threw away his loser's medal. It was retrieved by Bob John who suggested that the team would win him a winning medal the following season. Herbert Chapman believed that Lewis was the best goalkeeper at the club and he retained his place in the team the following season.
In October 1927, Herbert Chapman signed Eddie Hapgood, a nineteen-year-old milkman, who was playing for Non-League Kettering Town for a fee of £750. In his autobiography Hapgood described his first meeting with Chapman, "Well, young man, do you smoke or drink?" Rather startled, I said, "No, sir." "Good," he answered. "Would you like to sign for Arsenal." Eddie Hapgood only weighed nine stones six pounds at the time and as Tom Whittaker, the Arsenal Trainer, pointed out, "Hapgood used to cause a lot of worry by frequently being knocked out when heading the ball." Whittaker later recalled, "All sorts of reasons were propounded as to why this should happen, but eventually I spotted the cause. Eddie was too light, and we had to build him up. At that time he was a vegetarian, but I decided he should eat meat." Bob Wall wrote in his autobiography. "He (Hapgood) played his football in a calm, authoritative way and he would analyse a game in the same quiet, clear-cut manner. Eddie set Arsenal players the highest possible example in technical skill and personal behaviour." Hapgood made his debut against Birmingham City on 19th November 1927. It was not long before he was the club's regular left-back.
In 1927 the Daily Mail reported that Henry Norris had made under-the-counter payments to Sunderland's Charlie Buchan as an incentive for him to join Arsenal in 1925. The F.A. began an investigation of Norris and discovered that he had used Arsenal's expense accounts for personal use, and had obtained the proceeds of £125 from the sale of the team bus. Norris sued the newspaper and the FA for libel, but in February 1929 he lost his case. The FA now banned Norris from football for life.
In August 1928 the Arsenal team wore numbers on their backs. Herbert Chapman believed that these numbers would speed up moves by helping players identify each other more quickly. The Football League disagreed with this innovation and immediately banned the club from doing this again. Chapman had to content himself by placing numbers on the back of his Reserve team. Chapman became frustrated by the conservatism of the F.A. and the Football League. In an article in the Sunday Express he stated: "I appeal to the authorities to release the brake which they seem to delight in jamming on new ideas, as if wisdom is only to be found in the council chamber, I am impatient and intolerant of much that seems to me to be merely negative, if not actually destructive, legislation." Chapman added: "We owe it to the public that our games should be controlled with all the exactness that is possible." He therefore suggested the introduction of goal judges. He was also in favour of playing games at night. Chapman arranged for floodlights to be built into the West Stand but the Football Association refused permission for the club to use them for official matches. Bob Wall later wrote: "Chapman thought deeply about an infinite variety of subjects associated with the game. He possessed the gift of seeing ahead of his time. He was able to visualize how soccer could benefit from adopting ideas which, in their infancy, seemed to most other people to be merely the outpourings of an eccentric mind." Chapman was also in favour of bonding sessions with the players. He was probably the first Manager to take his players on a golfing holiday.
Samuel Hill-Wood became the new chairman of Arsenal. He had made his fortune from the cotton industry in Derbyshire and had previously owned Glossop North End. Freed from the restraints placed on him by the former Chairman, Herbert Chapman began to buy the best players available. In May 1928, he paid a four-figure sum for Charlie Jones, who had developed a great reputation playing for Wales. In October, 1928, he decided to pay a fee of over £10,000 for David Jack. Sir Charles Clegg, president of the F.A., immediately issued a statement claiming that no player in the world was worth that amount of money. Others thought that at twenty-nine-years-old, Jack was past his best. However, Chapman later commented that the buying of Jack was "one of the best bargains I ever made".
In May 1929 Herbert Chapman signed the seventeen-year-old Cliff Bastin from Exeter City for £2,000. This was considered to be a huge sum to pay for a teenager who had only played in seventeen League games. Chapman had spotted Bastin in a game against Watford. Bastin did not initially want to leave Devon but was persuaded by Chapman's manner: "There was an aura of greatness about Chapman. I was impressed with him straight away. He possessed a cheery self-confidence, which communicated itself to those around him. This power of inspiration and the remarkable gift of foresight, which never seemed to desert him, were his greatest attributes." The following month Chapman purchased Alex James from Preston North End for a fee of £8,750. At the time, the Football League operated a maximum wage of £8 a week. However, other clubs like Arsenal had found ways around this problem. Chapman arranged for James to obtain a £250-a-year "sports demonstrator" job at Selfridges. It was also agreed that James would be paid for a weekly "ghosted" article for a London evening newspaper. Alex James had been a goal-scoring inside-forward at Preston North End. However, Chapman wanted him to plat the role of link man in his system. James found it difficult to adapt to this role and Arsenal started the 1929-30 season badly. In a Cup-tie against Chelsea Chapman dropped James from the team. Arsenal won the game and James was not recalled until he had convinced Chapman that he was willing to play the link man role.
Chapman's team-talk took place on Friday morning. His administrative assistant Bob Wall remarked that he always told players: "Never mind what the other team does - this is what you are going to do." Chapman had a magnetic table marked out as a football field, with little toy players that could be moved around on it. Every player was encouraged to give his own views on the game taking place the following day. By the end of the meeting every player was fully aware of the role they were to play in the match. As the Daily Mail pointed out at the time, "Breaking down old traditions, he was the first club Manager who set out methodically to organize the winning of matches." He gradually adapted the "WM" formation that he had introduced when he first came to the club. Herbert Roberts was the centre-half who stayed in the penalty area to break down opposing attacks. Chapman used his full-backs, Eddie Hapgood and Tom Parker, to mark the wingers. This job had previously been done by the wing-halves, who now concentrated on looking after the inside-forwards. Bob John and Alf Baker were the men he used in these positions. Dan Lewis was the goalkeeper in what became known as "defence-in-depth". The young George Male was often used if any of the full-backs or wing-halves were injured. Pulling the centre-half back left a gap in midfield and so Chapman needed a link man to pick up the ball from defence and to pass it on quickly to the attackers. This was the job of Alex James, who had the ability to make accurate long low passes to goal-scoring forwards like David Jack, Jimmy Brain, Joe Hulme, Charlie Jones, Cliff Bastin and Jack Lambert. Chapman told the other forwards to go fast, like "flying columns" and if possible to make for goal direct. He pointed out: "Although I do not sugges that the Arsenal team go on the defensive even for tactical purposes, I think it may be said that some of their best scoring chances have come when they have been driven back and then have broken away to strike suddenly and swiftly." He added "the quicker you get to your opponent's goal the less obstacles you find".
Chapman also rarely made changes to the team. Even when individual players were in poor form he was reluctant to drop them. According to Chapman it was a matter of confidence and he saw it as his job to build up self-belief in his players. That is why he always criticised supporters if they barracked one of his players. "When they (team changes) are necessary I try to arrange that they cause as little disturbance as possible." Drastic changes only unsettled the players and if the side was not playing well, "the moderate course is always the best". Jack Lambert was one of the players who was often barracked by the Highbury crowd. Herbert Chapman was furious and proposed that barrackers should be thrown out of the ground if they did not respond to an appeal for fairness over the loud-speaker." Chapman later admitted that Arsenal crowd destroyed the confidence of one young player. The twenty- year-old player told Chapman: "I'm no use to anyone in football and I had better get out. The crowd are always getting at me. I hope I shall never kick a ball again." Chapman eventually allowed the young man to leave the club "though it meant sacrificing a player who, I was convinced, had exceptional possibilities of development".
Success was not immediate and Arsenal finished in fourteenth place in the 1929-30 season. They did much better in the F.A. Cup. Arsenal beat Chelsea at Highbury 2-0, Birmingham City were defeated 1-0 at St Andrews in a replay after a 2-2 draw at Highbury, Middlesbrough were beaten 2-0 at Ayresome Park, West Ham United 3-0 at Upton Park, and Hull City 1-0 in a replay at Villa Park after a 2-2 draw at Elland Road, to reach the final against Chapman's old club, Huddersfield Town. Dan Lewis had played in six of the seven ties on the way to the final. However, Herbert Chapman took the controversial decision of dropping Lewis, the man who had cost Arsenal victory in the 1927 FA Cup Final, from the team. At the age of eighteen years and forty-three days, Cliff Bastin was the youngest player to appear in an F.A. Cup Final. Arsenal won the game 2-0 with goals from Alex James and Jack Lambert. Dan Lewis was devastated by Chapman's decision and asked for a transfer. He was sold to Gillingham and Chapman resigned Bill Harper, who had been playing in the United States for three years.
Arsenal won their first five matches in the 1930-31 season and did not lose until the tenth game. Aston Villa took a narrow lead but in November, 1930, Arsenal beat them 5-2 at Highbury with Cliff Bastin and David Jack scoring twice and Jack Lambert once. Sheffield Wednesday now went on a good run and for a while had a narrow lead over Arsenal. However, a 2-0 win over Wednesday in March took them to the top of the League. This was followed by victories over Grimsby Town by 9-1 and Leicester City by 7-2. When Arsenal beat Liverpool 3-1 at Highbury they became the first southern club to win the First Division title. The Gunners won twenty-eight games and lost only four and obtained sixty-six points, six more than the previous best total and seven more than their nearest rivals, Aston Villa. Jack Lambert was top-scorer with thirty-eight goals. This included seven hat-tricks against Middlesbrough (home and away), Grimsby Town, Birmingham City, Bolton Wanderers, Leicester City and Sunderland. The veteran David Jack scored thirty-one goals in thirty-five games. Other important players in the team included Alex James, Cliff Bastin, Joe Hulme, Eddie Hapgood, Bob John, Jimmy Brain, Tom Parker, Bill Harper, Herbert Roberts, Charlie Jones, Alf Baker and George Male. Cliff Bastin later recalled: "This Arsenal team of 1930-31 was the finest eleven I ever played in. And, without hesitation, I include in that generalization international teams as well. Never before had there been such a team put out by any club." Chapman was always preparing for the future. A lot of energy went into producing a good Reserve side. As Bernard Joy pointed out, "Chapman had intended to set up a strong second string when he came to Highbury and more convincing proof that he had succeeded when was the Reserves came into the senior team." In the 1930-31 season the Arsenal Reserve side won the Combination league title for the fifth year running.
Frank Moss was playing in the Reserves of Second Division side, Oldham Athletic, when Chapman, saw his potential and bought him for £3,000. He made his debut against Chelsea on 21st November 1931. He remained the first-team goalkeeper for the rest of the season. Arsenal began the season badly. West Bromwich Albion won at Highbury in the opening game and victory did not come until the fifth match, at home to Sunderland. Arsenal's main problem was a lack of goals from Jack Lambert who was suffering from an ankle injury. However, Lambert recovered his goal-scoring touch and Arsenal went on a good run and gradually began to catch the leaders, Everton. Arsenal also did well in the F.A. Cup. They romped past Darwen by 11-1 at Highbury, and beat Plymouth Argyle 4-2 at Highbury, Portsmouth 2-0 at Fratton Park, Huddersfield Town 1-0 at Leeds Road, and Manchester City 1-0 at Villa Park to reach the Final. Arsenal's League form was also good and after the FA semi-final they were only three points behind Everton, with a game in hand. This was followed by victories over Newcastle United and Derby County and it seemed that Arsenal might win the Cup and League double. The next game was against West Ham United at Upton Park. After two minutes Jim Barrett went for a loose ball with Alex James. James chased after it, both went awkwardly into the tackle and as James slipped, down came the full weight of Barrett's fifteen stone on to his outstretched leg. James had suffered serious ligament damage and was unable to play for the rest of the season. Arsenal missed their playmaker and won only one more league game and Everton won the title by two points. Arsenal played Newcastle United at Wembley in the F.A. Cup Final on 23rd April 1932. The Arsenal team that day was: Frank Moss, Tom Parker, Eddie Hapgood, Charlie Jones, Herbert Roberts, George Male, Joe Hulme, David Jack, Jack Lambert, Cliff Bastin and Bob John. Arsenal scored first, eleven minutes after the start, when John headed in a centre by Hulme. Just before half-time Jimmy Richardson chased what appeared to be a lost cause, when David Davidson sent a long ball up the right wing. When the ball appeared to bounce over the line, the Arsenal defence instinctively relaxed. Richardson managed to hook the ball into the middle and Jack Allen was able to head home. Despite the protests, the referee W. P. Harper, awarded the goal. David Jack missed an easy chance midway through the second-half and soon afterwards Allen scored again to win the game for Newcastle United 2-1.
At the beginning of the 1932-33 season Chapman changed Arsenal's kit. He replaced the lace-up jersey with a shirt with buttons at the neck and a turn-over collar. He also decided that the sleeves should now be white instead of red. The colour of the socks was altered to a more distinctive blue and white so that the players could recognize their colleagues more easily without looking up. Arsenal were in great form in the 1932-33 season. They only lost two matches against West Bromwich Albion and Aston Villa in their first eighteen games. A 9-2 win over Sheffield United gave the club a six-point lead at Christmas. Arsenal played Walsall of the Third Division North in the F.A. Cup on 14th January 1933. Injuries and illness robbed Arsenal of several key players including Eddie Hapgood, Joe Hulme, Jack Lambert and Bob John. Four inexperienced Reserves were drafted into the side. They all performed badly and so did the regular members, with David Jack missing several opportunities to score. The tackling of the Walsall players, especially on Alex James and Cliff Bastin, also caused the team serious problems. Bernard Joy pointed out, "They (Walsall) were aided by the narrow ground which was made more cramped by the encroachment of spectators up to the touchlines." Fifteen minutes after the interval, Gilbert Allsop headed in from a corner. Soon afterwards, Tommy Black, who was deputising for Eddie Hapgood, gave away a penalty with a blatant foul on Bill Sheppard. Walsall scored from the spot and managed to hold out for a 2-0 win. It was the greatest giant-killing result in F.A. Cup history. Chapman was furious with Tommy Black because he had made several bad tackles on Bill Sheppard before giving away the penalty. Chapman set high standards of behaviour on the field and Black's behaviour was unforgivable. He was banned from Highbury and soon afterwards he was transferred to Plymouth Argyle. Arsenal recovered quickly from the defeat in the F.A. Cup. They were unbeaten in the League until March. This included an 8-0 win over Blackburn Rovers. By the end of the season Arsenal was four points in front of Aston Villa and they lifted the League Championship for the second time.
Cliff Bastin, the team's left-winger, was top scorer with thirty-three goals. This was the highest total ever scored by a winger in a league season. Joe Hulme, the outside right, contributed twenty goals. This illustrates the effectiveness of Chapman's counter-attacking strategy. In 1932-33 Bastin and Hulme scored fifty-three goals between them, perfect evidence that Arsenal did play the game very differently from their contemporaries, who tended to continue to rely on the wingers making goals for the centre-forward, rather than scoring themselves. By playing the wingers this way, Chapman was able to have one more man in midfield, and thus control the supply of the ball, primarily through Alex James. The reason that Bastin was so deadly was that unlike any other winger, he stood at least ten yards in from the touch line so that his alert football brain could thrive on the brilliance of James threading through defence splitting passes with his lethal finishing completing the job. Matt Busby was playing for Manchester City at the time. He later recalled: "Alex James was the great creator from the middle. From an Arsenal rearguard action the ball would, seemingly inevitably, reach Alex. He would feint and leave two or three opponents sprawling or plodding in his wake before he released the ball, unerringly, to either the flying Joe Hulme, who would not even have to pause in his flight, or the absolutely devastating Cliff Bastin, who would take a couple of strides and whip the ball into the net. The number of goals created from rearguard beginnings by Alex James, were the most significant factor in Arsenal's greatness."
In March 1933, Herbert Chapman paid £4,500 for Ray Bowden. He was brought in to replace David Jack who was nearing the end of his career. The 1934-35 season started well with an 8-1 crushing of Liverpool. The first four home games produced twenty-one goals. The away form was poor but Arsenal built up an early lead in the First Division. On 1st January 1934 Herbert Chapman went to watch Notts County play Bury as he was interested on one of their young players. The following day he attended the game between Sheffield Wednesday and Birmingham City. Wednesday were the visitors at Highbury on the following Saturday and Chapman considered them to be Arsenal's main rivals for the League championship. He developed a cold but insisted on watching Arsenal's third team play on the Wednesday. The following day he was forced to take to his bed and died of pneumonia on Saturday morning, on 6th January 1934, twelve days short of his sixty-fifth birthday. Chapman was buried at St Mary's in Hendon on 10th January 1934. David Jack, Eddie Hapgood, Joe Hulme, Jack Lambert, Cliff Bastin, and Alex James were the six pallbearers.
Herbert Chapman had been accused of buying success at Arsenal and they became known as the "Bank of England" club. However, between 1925 and 1934 Chapman had spent £101,000 in fees and received £40,000 for those he sold. A yearly average cost of £7,000. This was easily made up for in increased revenue from gate receipts. For example, in his final year as Manager, the club made a profit of £35,000. With the team he had assembled and laid down the tactics, Arsenal went on to win the First Division Championship in 1933-34 and 1934-35.