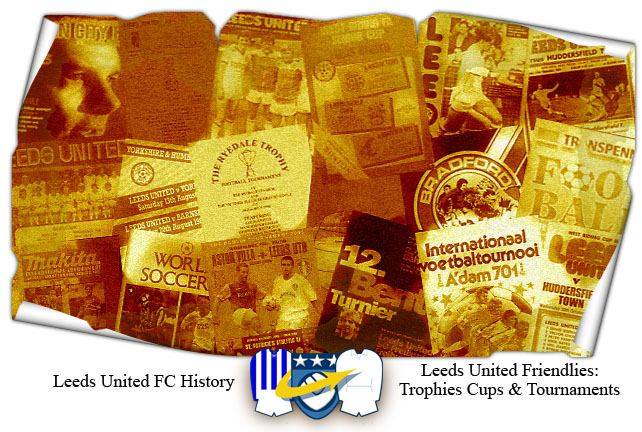 Leeds United Trophies Cups and Tournament Friendlies: Leeds United Match Details:
This statistics section is designed to give an indepth look into the full team details of Leeds United's Trophies, Cups and Tournament Friendlies. It gives full teamsheet and match details of all Competions played by Leeds United, wherever possible, with details of the Leeds United teams which took part in thosegames and, wherever possible, the opposition and other details.
I would like to thank Paul Gregson for his excellent graphics and WAFLL and Dave Tomlinson of The Mighty Mighty Whites for their assistance in the project.
Mark Ledgard, who initiated the original idea and even his incredible amount of information on the subject was well supplemented by Neil Roche with even more previously unknown facts. Mark has been a fountain of information for match reports and team and match details, while Neil added his own knowledge, which was vast and essential to the finished product.
The project is now complete, and will be subject to annual review, but if anyone has any contributions, requests, suggestions or corrections please contact me on HistoryofLeedsUnited@hotmail.com
Leeds United First Team Trophies, Cups and Tournaments Friendly fixtures Details