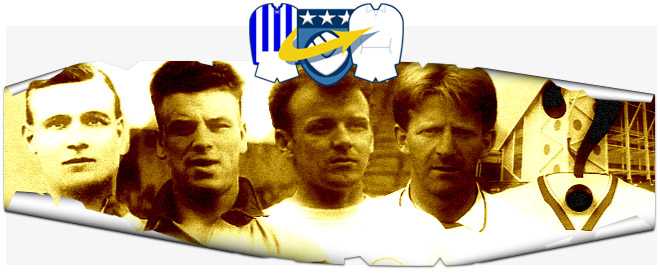 Leeds United F.C. History: Foreword
In compiling this reasonably extensive but by no means comprehensive History of Leeds United from 1919 to present day (and subsequently a section on the History of Leeds City) much use has been made of personal memorabilia and first hand experiences, but in general the accepted facts have been strictly adhered to and several well known reference books have been used.
However, acknowledgement is made to the following:
Jabba: For his comprehensive statistics and in particular, the details of each season results, appearances and goal-scorers, which have been hyperlinked to the relevant season. Unfortunately Jabba ceased to maintain his site and the information was no longer available. Therefore I and others created a Statistics section which now provides every result, team and player statistics. It was a long project and thankfully it is now complete, and has now replaced and updated the information formerly provided by Jabba. Whereas Jabba provided a database system, this does not. Subsequent to my commencing this arduous task Jabba's site reappeared and may now be found at http://www.leeds-fans.org.uk/leeds/history/index.html so my thanks once more to Jabba for providing it for such a long time and resurrecting it!
Paul Felton and RSSSF: For the use of the league tables for all the Football Leagues. These have been hyperlinked to each season to give a broader outline on just where Leeds United and others figured in the pecking order of that particular season.
Thanks also to http://www.soccerbase.com for the use of their player statistics in the player profile section and to http://soccernet.espn.go.com and http://www.statto.com for their season statistics in recent years.
Mr Colin S. Jeffrey: For his '12 Years at the Top' The Story in words and pictures of Leeds United's Great Years 1963-1975, which IMHO could not be improved on!
Mike Beckmann and Paul Winning for their invaluable advice and assistance and without whom this site would not have been possible.
Paul Gregson for his excellent graphics and assistance.
Neil Roche for his incredibly detailed research together with Bernard Longstaff and Mark Ledgard who have made outstanding contributions on special projects.
Just a personal opinion, for those who wish to have a further in depth view of the History of Leeds United, I thoroughly recommend http://www.mightyleeds.co.uk/index.htm and http://www.wafll.com/leeds-united.html, while for more nostalgia of LUFC, John Charles, Harold Williams, Jack Scott and also the City of Leeds, Thirkers provides that on http://www.thirkersleeds.co.uk/page10/page10.html!
For LUFC Songs, Poems and Chants "Laughing Leeds Fan" has it all on his website http://www.electronickop.com and for all historical kits of LUFC or any British Club http://www.historicalkits.co.uk/Leeds_United/Leeds_United.htm and thanks for the use of them particularly in the "Greatest Games" section.

Over the years Michael Hewitt has provided me with the most proficient and prompt supply of Leeds United home programmes, while Kenny Sharpe has provided access to his fine collection of Leeds United programmes. For a comprehensive display of all Leeds United programmes may I suggest to check with Michael Hewitt at hewittprog@aol.com or visit Kenny Sharpe's website at http://www.leedsunitedprogrammeguide.co.uk/Index.html

It is my intention to upgrade and improve the site on a regular basis by replacing photos where they can be improved on and including others to keep the site up to date and more comprehensive. Should anyone have any old team or player photos or LUFC data to improve the site, please do not hesitate to contact me at historyofleedsunited@hotmail.com

Cheers

Tony Hill (Oz White)