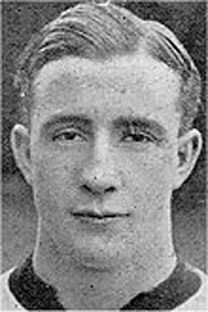 (William E. James)

James: F.

1916-1916 (Leeds City War-time Guest Player Details)

Outside Left

Born: Unknown: Unknown

Debut: v Nottingham Forest (h): 11-11-1916

Height & Weight: Unknown

Not much is known about F. James and he only played one game for City. It was at Outside Left in the 3-1 defeat at Elland Road of Nottingham Forest in November 1916. He was known to have played for Portsmouth. It was thought that he may have been Billy James.

William E. (Billy) James was born at Stockton-on-Tees in 1892 and was a Winger. He started with Eston United and joined First Division Middlesbrough in 1910. At Ayresome Park he played twenty-four League games and scored eight goals, including one from the penalty spot and added one goal in three F.A. Cup appearances during his three seasons there. After World War One he re-emerged with Third Division Portsmouth and scored three goals in twenty-two League games and also played in one F.A. Cup match. He moved on to Second Division West Ham United in 1920 and he stayed there for two seasons scoring seven goals in fifty-four League games and also played in three F.A. Cup matches. He died in 1960.
| | |
| --- | --- |
| | |
| Principal Tournament 1 | 0 |
| Subsidiary Tournament 0 | 0 |
| | |
| Total 1 | 0 |