<![if !vml]>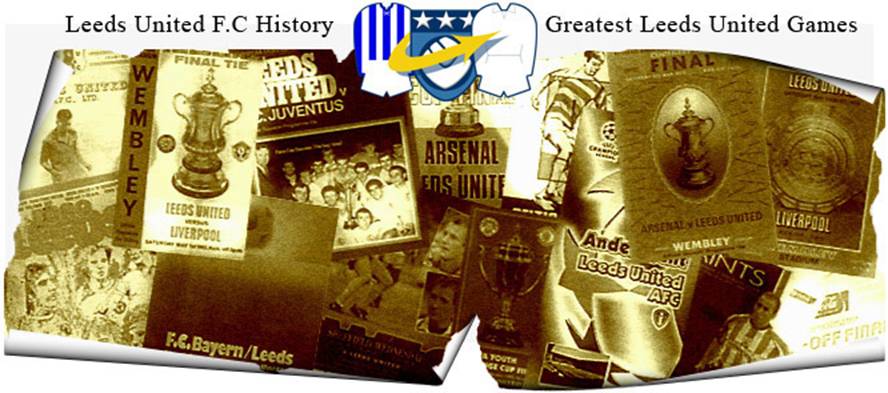 <![endif]>
Date: Saturday, 31st December 1983.
Venue: Elland Road, Leeds.
Competition: Second Division.
Score: Leeds United 4 Middlesbrough 1.
Scorers: Leeds United: Sellars, McCluskey (2), Wright. Middlesbrough: Currie.
Attendance: 14,215.
Teams:
<![if !vml]>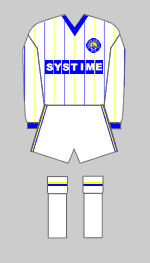 <![endif]><![if !vml]>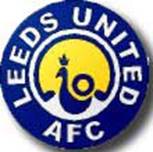 <![endif]>
Leeds United: Harvey; McGoldrick, F. Gray; Hamson, Aspin, Dickinson; Wright, McCluskey, Ritchie, Donnelly (Lorimer), Sellars.
<![if !vml]>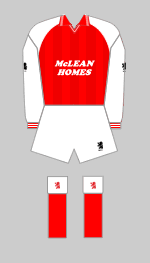 <![endif]><![if !vml]>

<![endif]>
Middlesbrough: O'Hanlon; Wood, Mowbray (Bell); Otto, Baxter, Nattrass; Ward, Hamilton, MacDonald, Sugrue, Currie.
Referee: K. Walmsley (Blackpool)
Eddie Gray's period of management at Elland Road in the early 1980's was a particularly testing time. He had taken over the managerial reins after United had been relegated to the Second Division. He steadied the ship and began to rebuild, placing the emphasis on youth, but he and his young side were in need of a boost, and got it when they took on Middlesbrough at Elland Road on New Year's Eve 1983.
United had gone eleven games without a win and had actually lost their last four games in the run up to the match against Boro. A crowd of only 14,200, doubtless an indication of United's recent form, watched the game. So for Gray's side to record a 4-1 victory was a major surprise, though a very welcome one. United even played for the last forty minutes with only ten men after defender Martin Dickinson was sent off.
The game itself was a triumph for seventeen year-old Scottish striker Tommy Wright, who set up United's opening goal for eighteen year-old Scott Sellars after twenty-two minutes and he sealed a Man-of-the-Match performance by scoring United's third after seventy minutes. Scottish striker George McCluskey scored twice, his first from an acute angle in the fifty-first minute, his second after seventy-six minutes. It was all over bar the cheering and there was plenty of that when thirty-seven year-old Peter Lorimer, having just rejoined his old club after a spell in Canada, came on in the seventy-ninth minute as substitute for the injured John Donnelly.
Lorimer was the youngest player to make his debut for United at fifteen years and two hundred and eighty-nine days in September 1962 and his appearance against Boro made him the oldest player to have made a comeback for the club. David Currie netted an eighty-second minute consolation goal for Boro but that failed to take the gloss off United's overall display.
The victory had come at a time when there was media speculation about Gray's future. In the wake of the victory over Boro and the press speculation, United skipper David Harvey saw fit, on behalf of most of the first team squad, to speak out publicly in support of Gray. "We had a chat amongst ourselves and the feeling was that Eddie Gray is the man to lead the club to better things," Harvey said. "We decided that we ought to show our support for the manager and his assistant Jimmy Lumsden. They have been very loyal to the players at a time when our results have been bad. In a similar situation many managers would have let the team take the stick. Eddie Gray never took that way out. He shielded us from criticism, when perhaps it would have been justified. He never let his personal feelings show even though it must have upset him seeing folk speculating about his future. Only time will tell whether our victory over Middlesbrough will be a turning point, but I can assure supporters that Eddie Gray's youth policy is the best one for this club in our present situation," he added.
Money was extremely tight and in that difficult situation the only way forward was for United to develop their own players wherever possible. Gray had also been given the backing of the board prior to the game against Boro after seventy-nine-year-old Manny Cousins had handed over the chairmanship to fifty-nine-year-old Leslie Silver, who had been vice-chairman for the previous two years. "The change will have no effect on the manager's position. I am a personal supporter of Eddie Gray," said the new chairman. "Eddie himself is upset at the current plight of the team and has a difficult task but he has the full support of the board," he added. Over the years managers have come to regard a vote of confidence from the board with the utmost suspicion and though, sadly, the axe did fall on Gray, it was not until another eighteen months after that vote of confidence.
Alternate report by YEP (Courtesy Mark Ledgard)
The chirpy confidence of seventeen-year-old Scottish Youth International Tommy Wright pointed a beacon of hope in Leeds United's fight to avoid the Third Division. For after scoring in both Christmas defeats, and missing chances that might have produced vital points, Wright finally earned his reward by playing a key role in the first four-goal performance by Leeds in the League since they won 4-1 at Aston Villa in April 1982. His speed and control troubled the Boro defence as early as the fifth minute when a crisp shot was saved by Kelham O'Hanlon. There was a fine cross-shot just wide, a clever chip narrowly over before Wright and his nine team-mates were suddenly thrust into a cauldron after Martin Dickinson had been sent off seven minutes after the break.
A 2-0 lead seemed perilous to defend with thirty-eight long minutes ahead but it only spurred Wright's game up a gear. Here, there and everywhere at times he needed two or three defenders to check him, thus balancing the numbers elsewhere. Almost immediately Gary Hamson put him through on his own, but as he swept round Kelham O'Hanlon, the ball bobbled and his shot was deflected for a corner. In the seventieth minute it seemed certain he had settled the match for after having a clear chance blocked John Donnelly and George McCluskey set him up again. This time he crashed his shot past O'Hanlon, the ball appearing to rebound from the net stanchion, down over the line and out again. Mr Walmsley looked anxiously at his linesman before waving play on, a view shared by Leeds Manager Eddie Gray, who said the ball had struck the underside of the bar.
The combination of missed chances and misfortune would have pole-axed the confidence of most youngsters, but not Wright. After seventy minutes David Harvey's long clearance was headed on and Wright was clear on the left. He left Mick Baxter trailing and with two team-mates in the middle screaming for the ball he had the temerity to race on and crash his angled cross shot across O'Hanlon and into the net off the far post. The Leeds victory was assured and Wright the hero of a remarkable team performance of total commitment. "For a seventeen-year-old he has a lot of composure," said Gray. "Regardless of the number of chances missed, he has the confidence in his ability to try again." If Wright had special reason to celebrate Hogmanay, so did many of his team-mates. First there was the eighteen year old Scott Sellars, who got through a tremendous amount of work in midfield and was rewarded for being in the right place at the right time, when he scored his first League goal with a simple tap in after O'Hanlon had fumbled John McGoldrick's low centre in the twenty-second minute.
Then there was George McCluskey, who put on a second half exhibition of the sharpness which he has not shown often enough. In the fifty-first and seventy-sixth minute he produced the deadly finish the situation required. First he beat two defenders on the outside after receiving the ball with his back to goal after a Martin Dickinson free-kick, controversially awarded for a foul on Frank Gray as a linesman waved for offside. The shot was clinically accurate as was his second when the harassed Irving Nattrass gave the ball away for John Donnelly to create the opening. Gary Hamson and Neil Aspin were outstanding in defence, Andy Ritchie seemed happier than in recent weeks, while John McGoldrick overlapped effectively, his speed in beating three defenders to set up the first goal, being outstanding. Frank Gray shone in midfield and David Harvey made a crucial save when he was quickly out to smother Gary MacDonald's shot at point-blank range. The only blot was Martin Dickinson's dismissal after the defender appeared to elbow Paul Sugrue in the face yet it only served to redouble the Leeds determination with the 14,1245 crowd suddenly sounding more like 40,000.
"I didn't see what happened, but I will be having a chat with Martin later," said Gray. "He was silly with the referee only ten yards away," said Malcolm Allison, the Middlesbrough Manager. Boro, forced to reshuffle their midfield in the absence of suspended Mick Kennedy, looked a pale shadow of the side that had demolished leaders Sheffield Wednesday at Hillsborough on the Tuesday. "We were sluggish, as if we had celebrated Christmas on Friday," said Allison. "We missed a good chance early on and their first two goals came from goalkeeping mistakes. But I don't want to make ant excuses." Boro's goal came from David Currie's penalty eight minutes from the end, after a foul by Frank Gray. By then it was as irrelevant as most New Year's resolutions made at on Saturday.
<![if !vml]>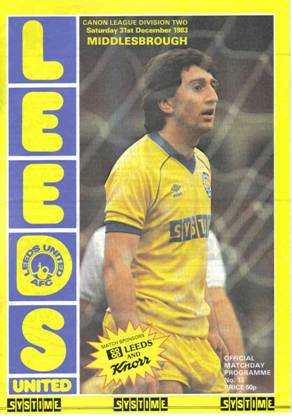 <![endif]>
Match Action:
<![if !vml]>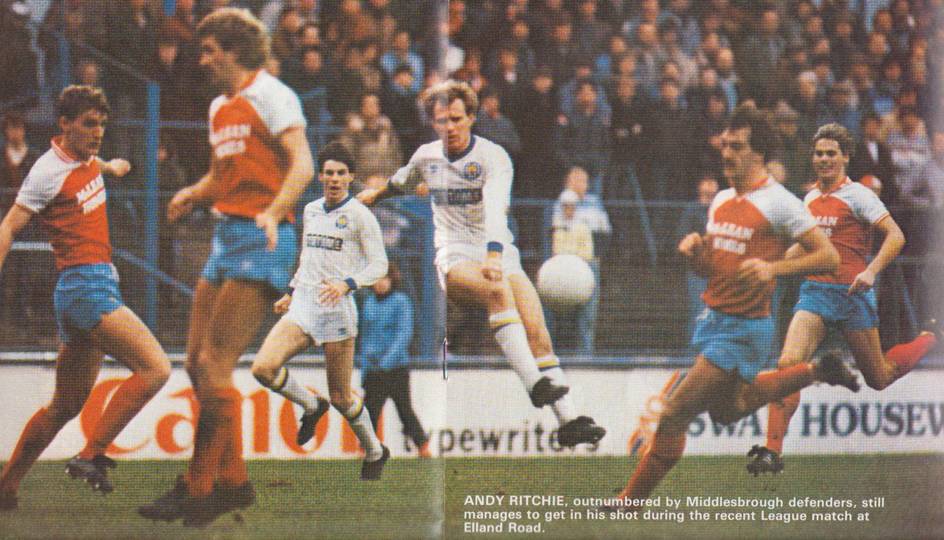 <![endif]>
(Match Action below Courtesy Mark Ledgard)
<![if !vml]>
<![endif]>
Scott Sellars beats Middlesbrough defender Darren Wood and keeper Kelham O'Hanlon to open the scoring for Leeds
<![if !vml]>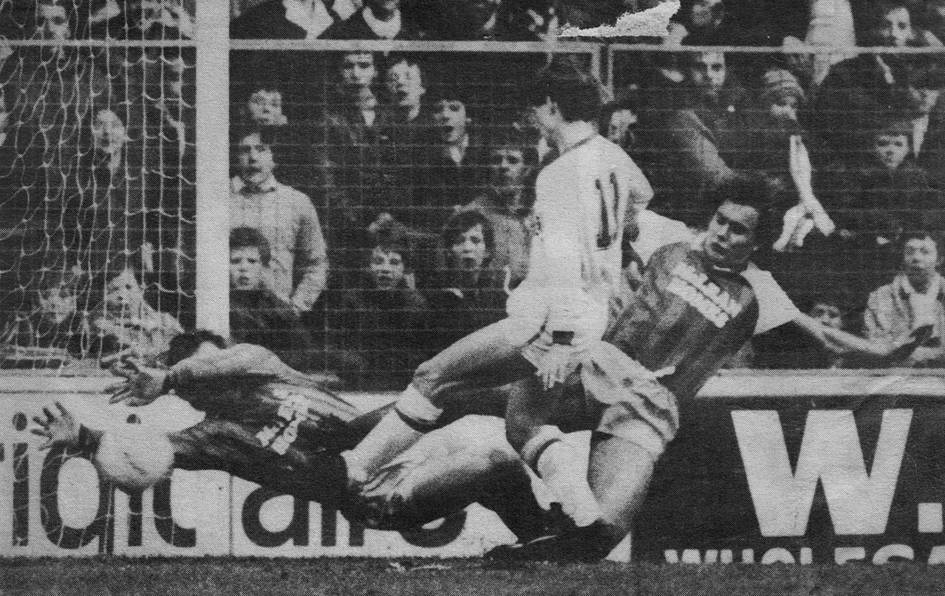 <![endif]>
Another angle of Scott Sellars scoring United's opening goal, his first in the League
<![if !vml]>
<![endif]>
Scott Sellars celebrates scoring his first league goal and Leeds' first goal against Middlesbrough
<![if !vml]>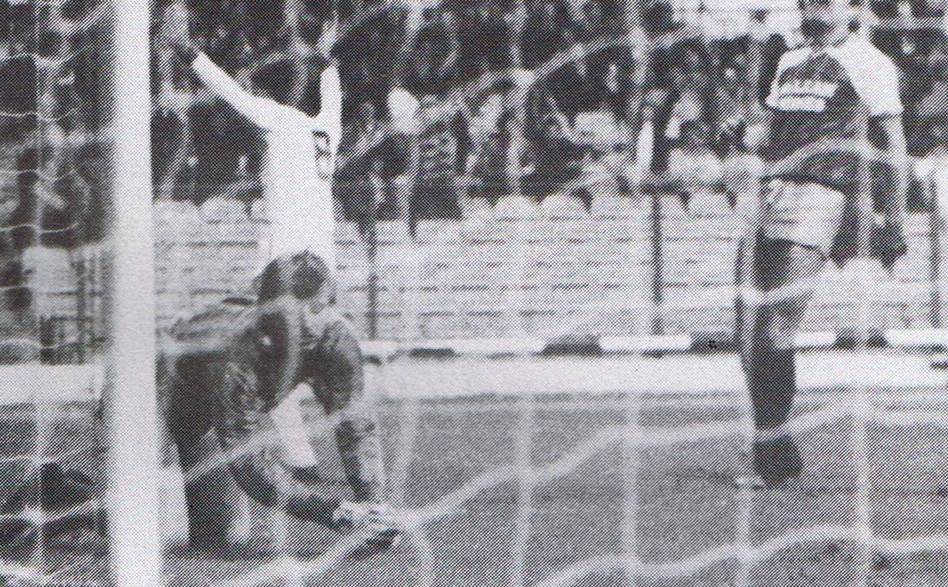 <![endif]>
George McCluskey wheels away in delight to celebrate his first goal and United's second, while Middlesbrough keeper
Kelham O'Hanlon looks on despondent
<![if !vml]>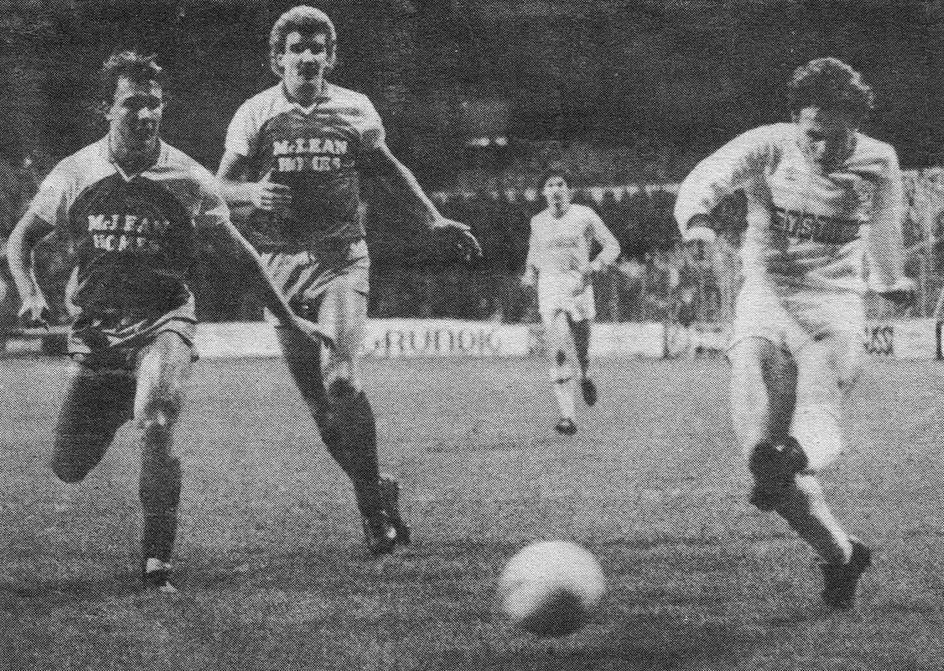 <![endif]>
Tommy Wright scores the Leeds third goal against Middlesbrough
<![if !vml]>
<![endif]>
<![if !vml]>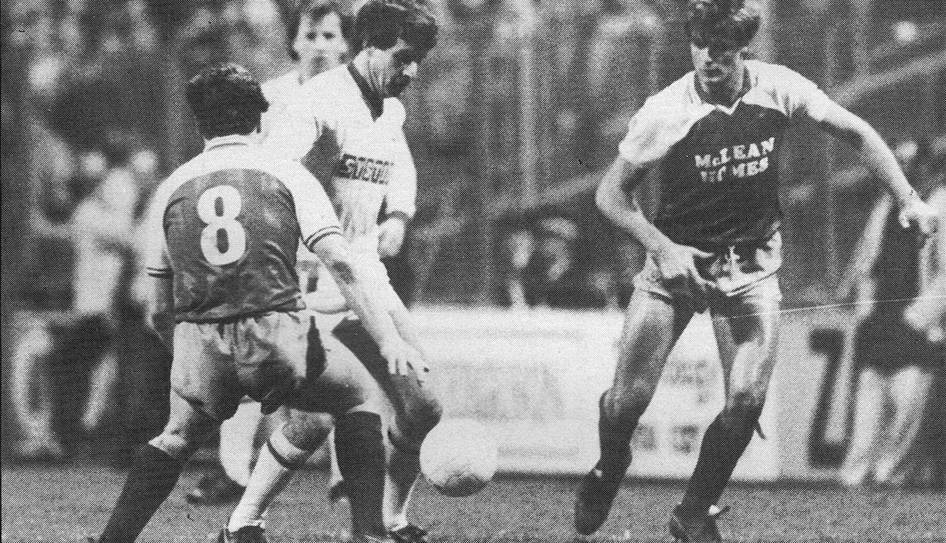 <![endif]>
The returning Peter Lorimer looks to beat two Middlesbrough players in midfield after coming on as substitute
Teams:
<![if !vml]>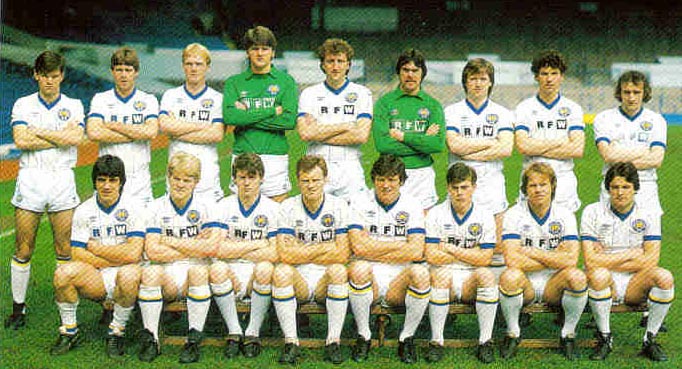 <![endif]>
Leeds United 1983-84:
Back Row: Mark Gavin, Martin Dickinson, Neil Aspin, John Lukic, Paul Hart, David Harvey,
Gary Hamson, John Donnelly, Kevin Hird.
Front Row: Gwyn Thomas, Aidan Butterworth, John Sheridan, Andy Ritchie, Eddie Gray
(Player-Manager), Tommy Wright, Arthur Graham, Frank Gray.
<![if !vml]>
<![endif]>
Players:
<![if !vml]>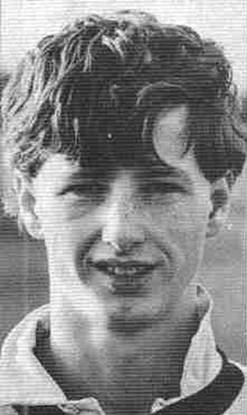 <![endif]>  <![if !vml]>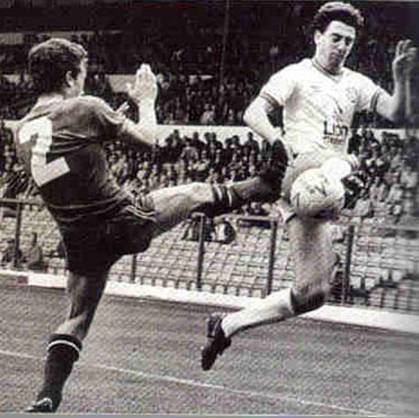 <![endif]>  <![if !vml]>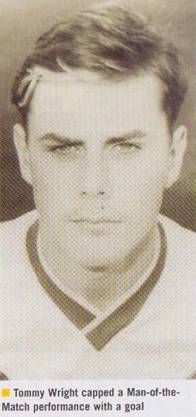 <![endif]>  
                                     Scott Sellars, George McCluskey (2) and Tommy Wright scored for Leeds
<![if !vml]>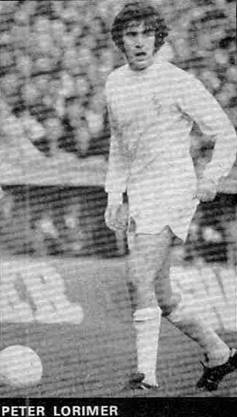 <![endif]>      <![if !vml]>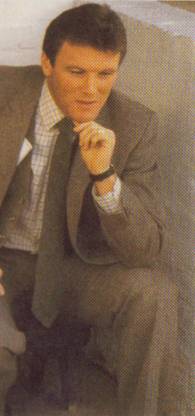 <![endif]> <![if !vml]>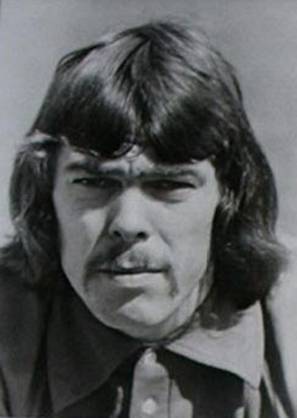 <![endif]> 
Peter Lorimer was the substitute           Eddie Gray was under pressure but David Harvey gave him backing
<![if !vml]>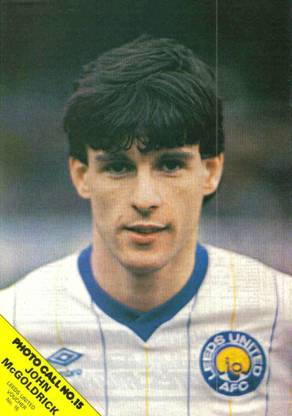 <![endif]> <![if !vml]>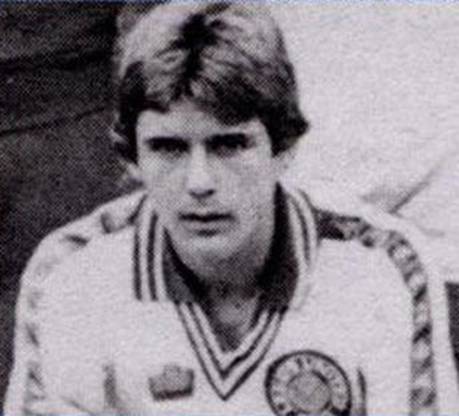 <![endif]>
John McGoldrick played at right-back           Martin Dickinson was sent off