<![if !vml]>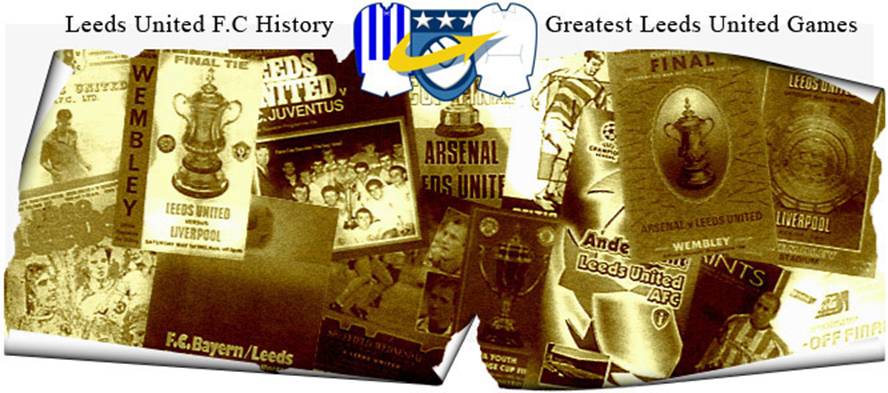 <![endif]>
Date: Thursday, 31st October 2002.
Venue: Elland Road, Leeds.
Competition: UEFA Cup, Second Round, First Leg.
Score: Leeds United 1 Hapoel Tel-Aviv 0.
Scorers: Leeds United: Kewell. Hapoel Tel-Aviv: Nil.
Attendance: 31,867.
Teams:
<![if !vml]>
<![endif]><![if !vml]>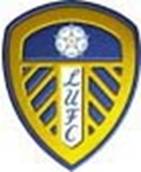 <![endif]>
Leeds United: Robinson; Kelly, Woodgate, Radebe, Harte; Bakke, Dacourt (McPhail), Barmby (Bridges); Smith, Viduka (Mills), Kewell. Unused Subs: Duberry, McMaster, Singh, Martyn.
<![if !vml]>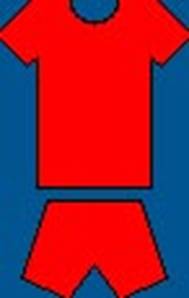 <![endif]><![if !vml]>

<![endif]>
Hapoel Tel-Aviv: Elimelech; Antebi, Gershon, Domb, Halis; Tuama, Halmai (Abutbul), Abukasis, Afek; Balili (Udi), Welton (Cleschenko). Unused Subs: Halon, Zion, Luz, Saban, Salemi.
Referee: Jack Van Hulten (Holland).
There was an improved display in the UEFA Cup home tie with Hapoel Tel-Aviv. With Alan Smith a livewire and Mark Viduka and Harry Kewell in top form, it was needed as Hapoel did not come to defend and were never frightened to break quickly at the least opportunity. For long periods it still looked like it wouldn't quite happen for Leeds, though, and they were tested to the full early doors before finishing in some style. Paul Robinson was called upon to show his class with several fine saves, but Lucas Radebe shone in defence with Jonathan Woodgate again outstanding at the back and Leeds got better as the contest wore on. There were signs of weakness again in the opening forty-five minutes, they gave the ball away too much and left Hapoel with plenty of space, but things finally clicked after the break. It looked like it could be an all-too familiar story for the hard-working midfield but, as on the previous Saturday at Middlesbrough, Venables re-organised at the break and Leeds looked different class.
Nick Barmby had one of his best games, and his driving runs were a problem, before a nagging hamstring injury forced him to leave the field early. Hapoel had given United many tense moments in the first half, but in the second half United gradually got on top and Mark Viduka was taking on the role of provider rather than executioner. Harry Kewell who looked confident and willing to take on the defence down the left flank and it was he who finally ended United's frustrations when he gave United the lead with eight minutes to go when his shot was deflected past the keeper. It was greeted with a collective sigh of relief around Elland Road as United claimed their first win in seven attempts. The 1-0 victory was no less than the Whites deserved from a contest in which they bossed the second period after the visitors' early enthusiasm appeared to dampen. The win should have also given Terry Venables' side the lift they badly needed ahead of a month that would almost certainly shape their season. It also put them in firm command for the return leg in Florence and Leeds should be able to look forward to a third round slot, providing they weather another potential onslaught. The Manager had said his side must start turning performances into results and, after what had been a lengthy wait, Harry Kewell's strike finally gave the United boss something to smile about. It wasn't the greatest United performance, but their confidence was visibly boosted by a strong display which saw them create plenty of chances. Creativity had been sparse in the recent weeks, but that wasn't the case against the gallant Israelis who were worn down by a determined display.

Harry Kewell also enjoyed some good opportunities before his decisive strike, and the Aussie was looking sharper by the game. Ironically, though, United looked at their best when they reverted to a 4-4-2 formation in the closing stages with Kewell willing to take men on down the left flank. It didn't always work for him, but he was a menace and his drifting runs into centre field also caused confusion among the visitor's defenders. Up front, Alan Smith worked his socks off despite some serious provocation from a defence who were keen to test the striker's so-called suspect temperament. Smith was kicked, pushed and elbowed yet, unsurprisingly, still managed to find his way into the referee's notebook when challenging for a fifty-fifty ball in the final minute. Mark Viduka's influence was also notable and he frequently took on the role of creator as United laid siege to the Hapoel goal in the second half.
<![if !supportLineBreakNewLine]>
<![endif]>
The visitors deserved plenty of credit for the way they approached the game, but they were unable to keep up the frenetic pace they started at and were merely clinging on by the end. Hapoel's best opportunities all came in the first half where the passing of Josef Abukasis and the pace of Pini Balili caused United plenty of early problems. The pair linked up well early on and Pini Balili was guilty of wasting a couple of opportunities when he hurried his finish rather than waiting. Terry Venables' pre-match assessment that Hapoel would come to attack was proved right as the visitors broke quickly and incisively, but they frequently wasted their openings with needless shots from distance.
It wouldn't be unfair to say that Hapoel had the better of the opening period, yet United hit the woodwork twice and could easily have been two goals to the good. A delightful overhead kick from Nick Barmby rattled the upright while Mark Viduka's sweetly struck free-kick clipped the bar. It did look like Lady Luck was deserting United yet again, but Terry Venables' astute changes to the system at half-time saw Leeds show more penetration in the middle of the park and they took control. Even then it looked like the elusive goal, their first at Elland Road since the 4-1 reverse at the hands of Arsenal the previous month, would never come. United kept forcing the openings, but their frustration grew as time wore on. Hapoel even managed a couple of breakaway raids and Paul Robinson, who had been a spectator for much of the half, showed his class when he parried a stinging effort from Salim Tuama.
<![if !supportLineBreakNewLine]>
<![endif]>
The decisive moment came when Mark Viduka and Alan Smith combined well and Harry Kewell's well driven shot was deflected out of the reach of the helpless Shavit Elimelech. The goal was no more than Leeds deserved and the relief was evident all around.  Asaf Domb almost put Leeds further ahead when he headed over his own bar, but it was the visitors who came storming back with two good chances of their own. Leeds held firm, though, and Manager Terry Venables would be hoping that this success would prove to be a turning point for his gallant troops. There was no disguising the fact that Leeds desperately needed the win, but with such a complete second half performance, Venables was able to leave Elland Road contemplating a double bonus of victory and a display to match. His after the match comment was, "I don't think you are going to get many big leads in this competition because the teams are very, very close- and there are still the ones to come in from the Champions League."
<![if !vml]>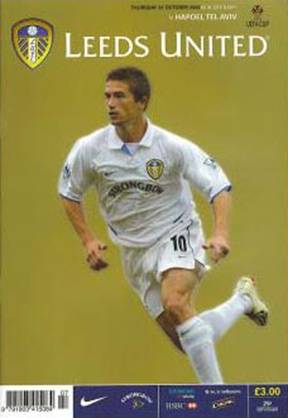 <![endif]> <![if !vml]>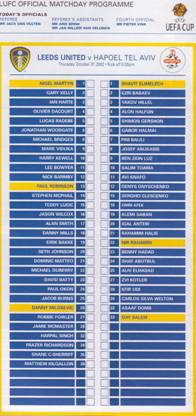 <![endif]> <![if !vml]>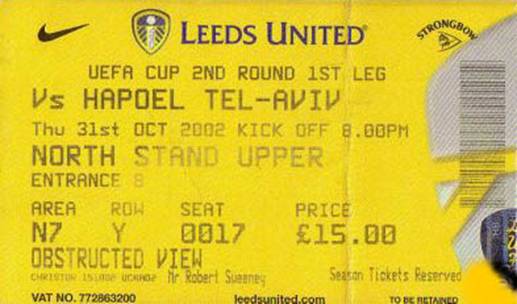 <![endif]>
Match Action:
<![if !vml]>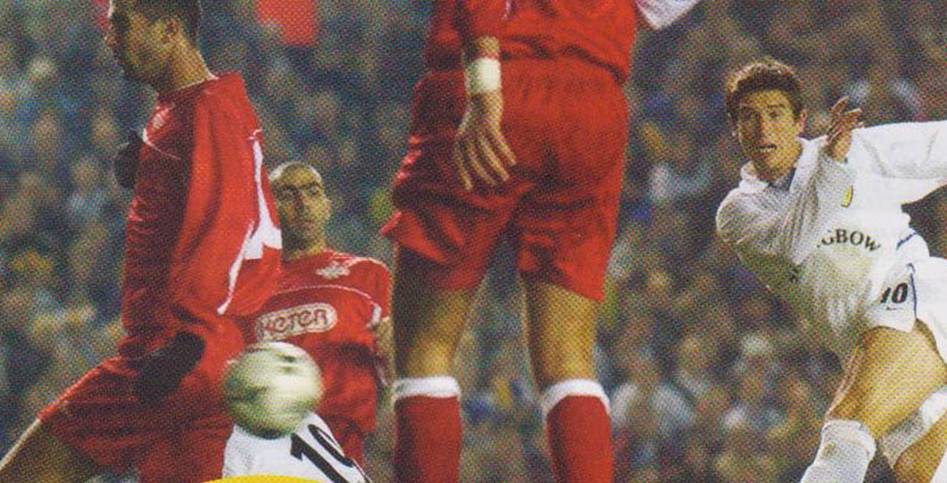 <![endif]> 
Harry Kewell scores the winner
<![if !vml]>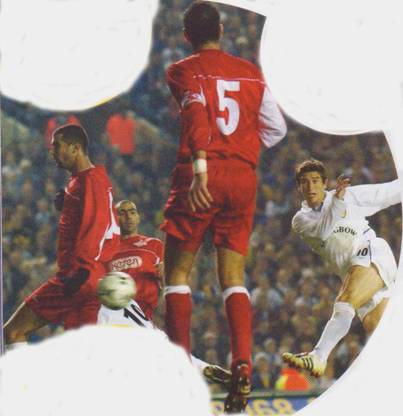 <![endif]>  <![if !vml]>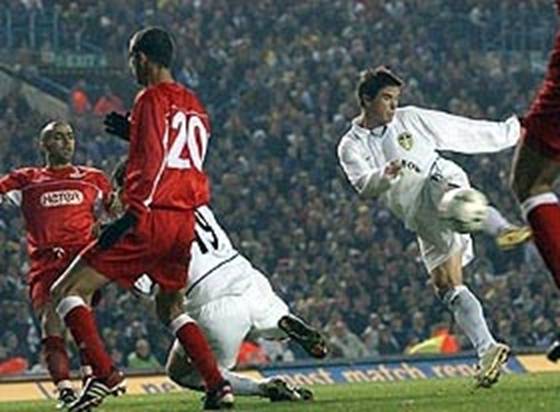 <![endif]> 
                                      Eirik Bakke ducks for cover as Harry Kewell volleys the winner
<![if !vml]>
<![endif]>  <![if !vml]>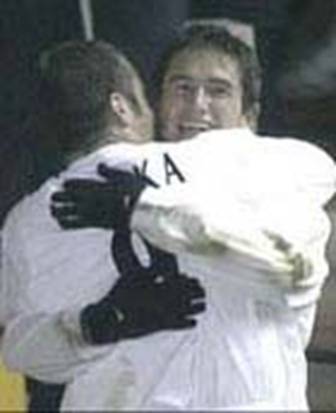 <![endif]> <![if !vml]>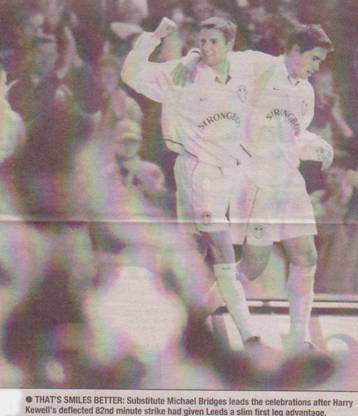 <![endif]> 
                                                                    Mark Viduka congratulates Harry Kewell
<![if !vml]>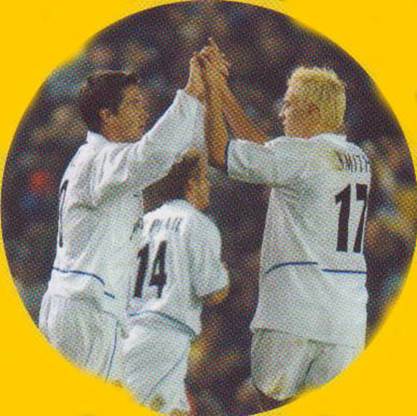 <![endif]>  <![if !vml]>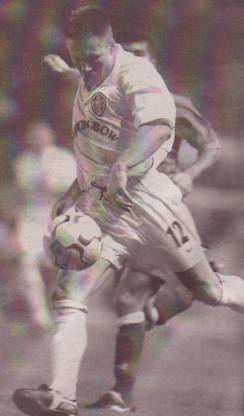 <![endif]> <![if !vml]>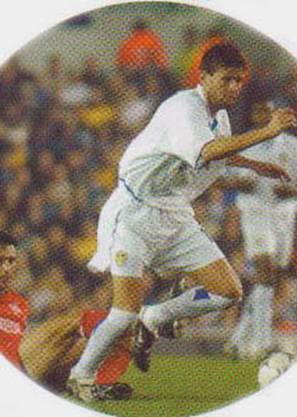 <![endif]>
Alan Smith congratulates Harry Kewell                                           Nick Barmby and Eirik Bakke plough through the midfield
<![if !vml]>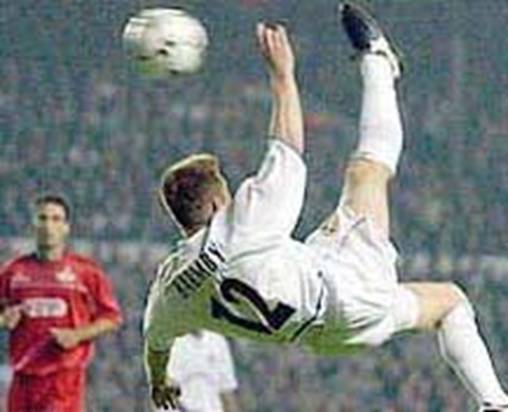 <![endif]> <![if !vml]>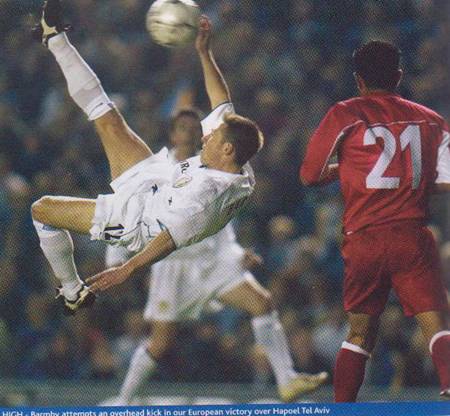 <![endif]>
Nick Barmby gets in a spectacular overhead shot
<![if !vml]>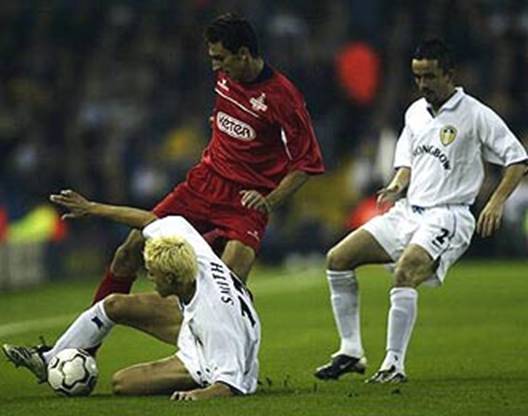 <![endif]> <![if !vml]>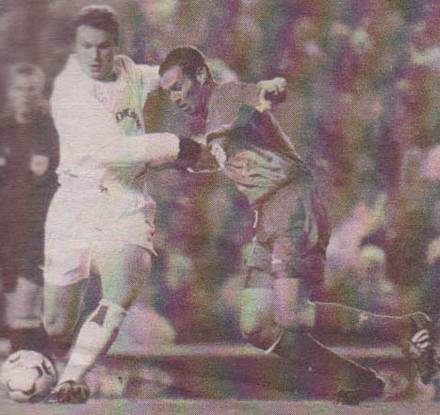 <![endif]>
Alan Smith slides into tackle as Gary Kelly watches                                               Mark Viduka holds off Asaf Domb
<![if !vml]>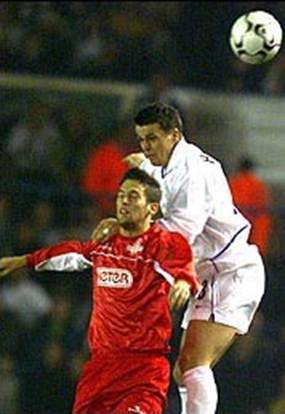 <![endif]> <![if !vml]>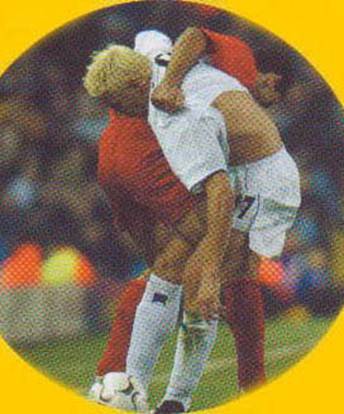 <![endif]> <![if !vml]>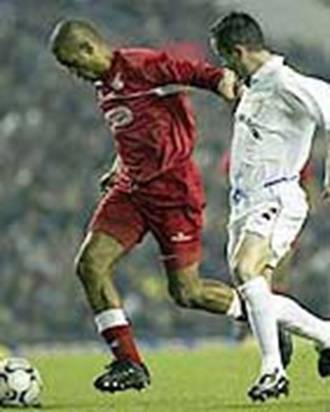 <![endif]>
Ian Harte gets up high to win a header         Gabor Halmai tries to swap shirts with                        Gary Kelly watches the dangerous Carlos Welton
                                                                         Alan Smith prematurely
<![if !vml]>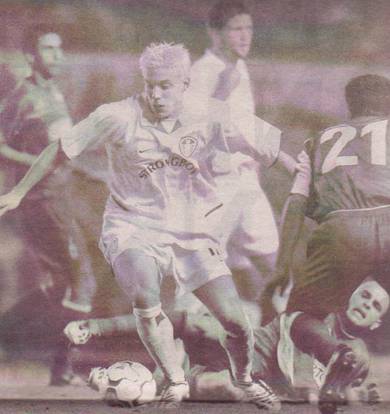 <![endif]> <![if !vml]>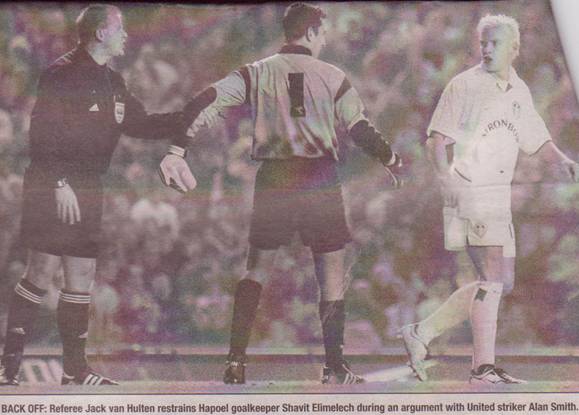 <![endif]> 
Alan Smith tries to get past Rahamin Halis
<![if !vml]>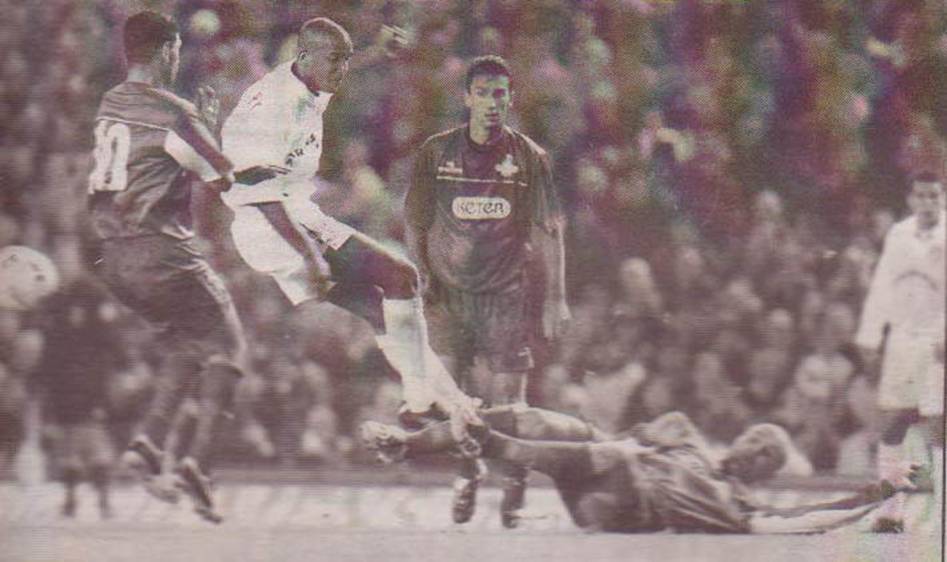 <![endif]>
Olivier Dacourt tries to get in a shot
<![if !vml]>
<![endif]>  <![if !vml]>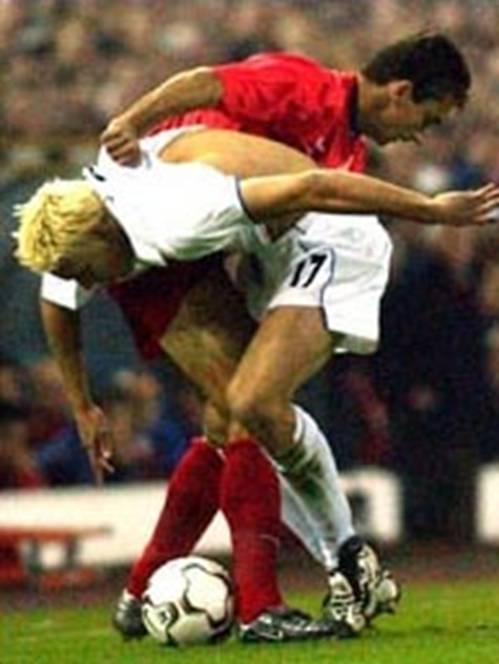 <![endif]>
Josef Abukasis throws himself to the floor after losing the ball to Alan Smith         Alan Smith in a tangle with Gabor Halmai                                      
Players:
<![if !vml]>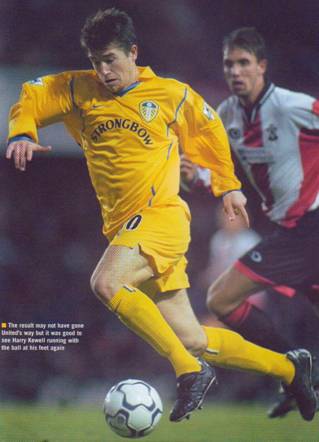 <![endif]>   <![if !vml]>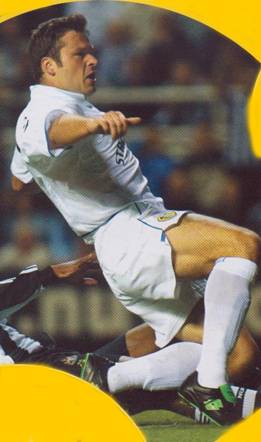 <![endif]>   <![if !vml]>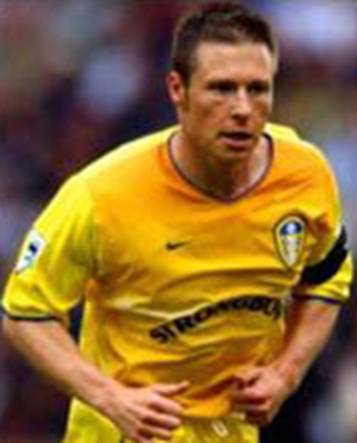 <![endif]>
Harry Kewell scored the only goal of the game      Mark Viduka was in top form                    Nick Barmby was enterprising until injured
<![if !vml]>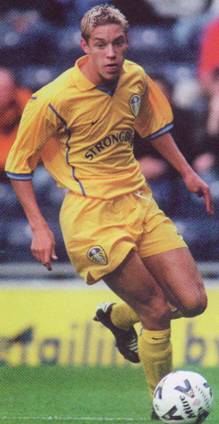 <![endif]>   <![if !vml]>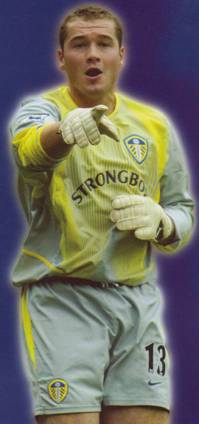 <![endif]>     <![if !vml]>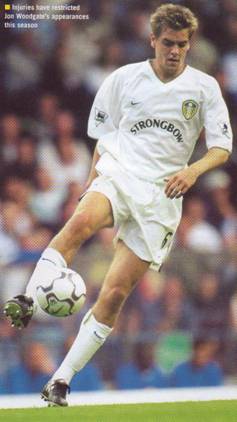 <![endif]>     <![if !vml]>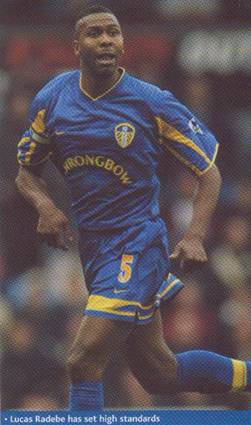 <![endif]> 
Alan Smith was a livewire               Paul Robinson made fine saves   Jonathan Woodgate was outstanding    Lucas Radebe shone in defence
<![if !vml]>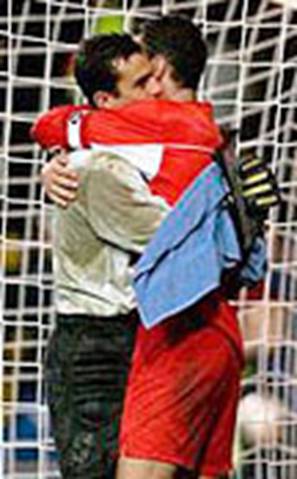 <![endif]>            <![if !vml]>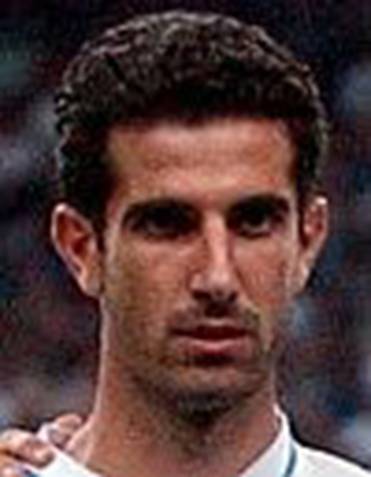 <![endif]>  <![if !vml]>

<![endif]> 
     Shavit Elimelech was in goal                                   Ygal Antebi and Rahamin Halis were the full-backs
<![if !vml]>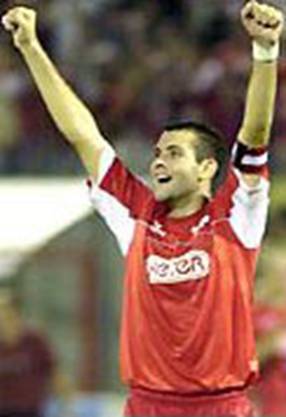 <![endif]> <![if !vml]>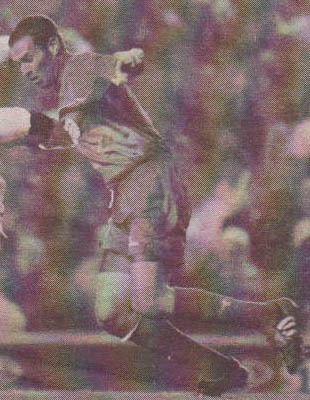 <![endif]>   <![if !vml]>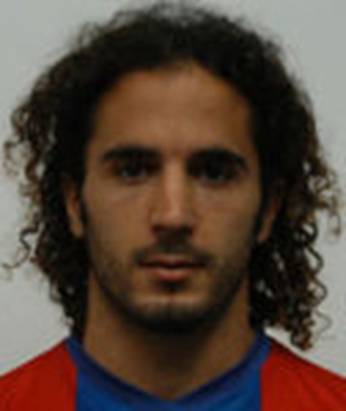 <![endif]>
                    Shimon Gershon, Asaf Domb and were the Tel-Aviv central defence                        Rahamin Saban was an unused substitute
<![if !vml]>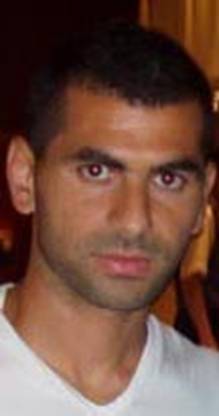 <![endif]> <![if !vml]>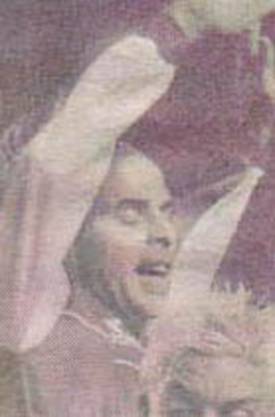 <![endif]> <![if !vml]>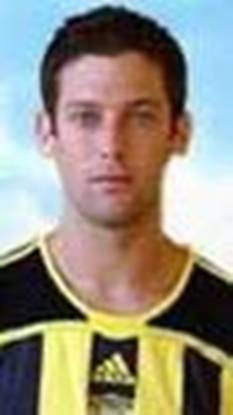 <![endif]> <![if !vml]>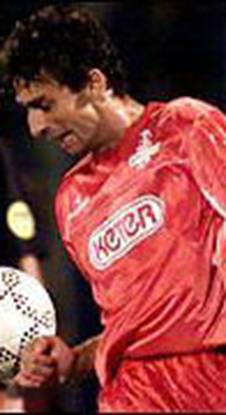 <![endif]>
Salim Tuama, Josef Abukasis, Omri Afek and Gabor Halmai formed the Tel-Aviv midfield
<![if !vml]>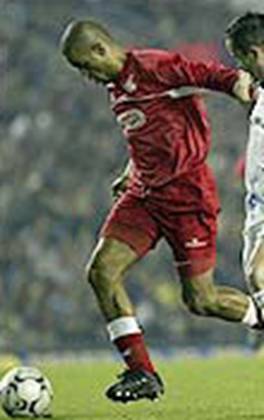 <![endif]> <![if !vml]>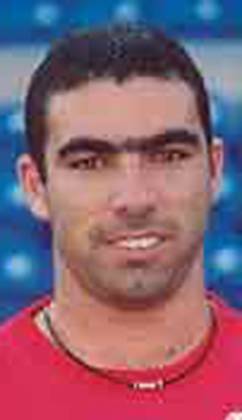 <![endif]>   <![if !vml]>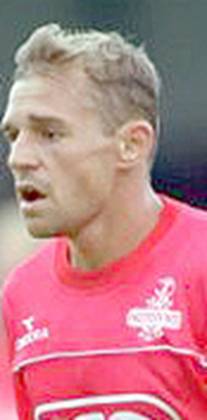 <![endif]>  <![if !vml]>
<![endif]>
Carlos Silva Welton and Pini Balili were the Hapoel strikers                                  Sergei Clescenko and Kfir Udi were two of the substitutes used