<![if !vml]>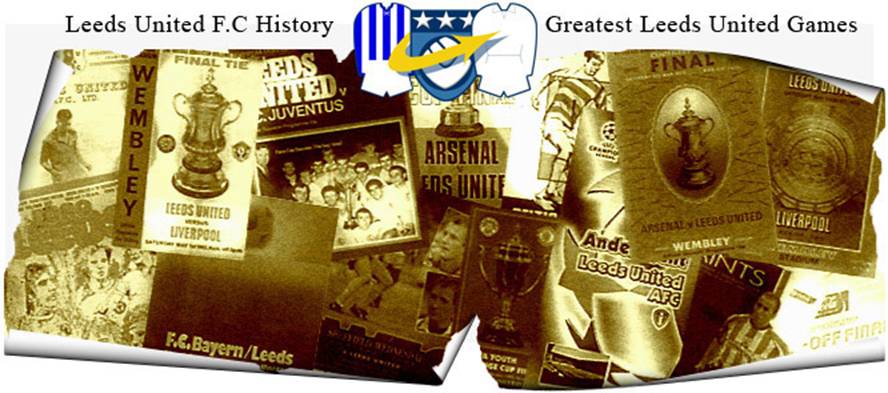 <![endif]>
Date: Tuesday, 31st October 1995.
Venue: Philips Stadion, Eindhoven, Holland.
Competition: UEFA Cup, Second Round Second Leg.
Score: PSV Eindhoven 3 Leeds United 0
Scorers: PSV Eindhoven: Cocu (2), Pemberton (o.g.). Leeds United: Nil.
Attendance: 25,570.
Teams:
<![if !vml]>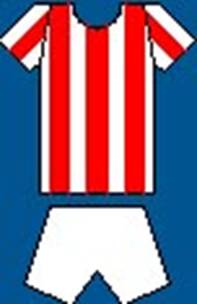 <![endif]><![if !vml]>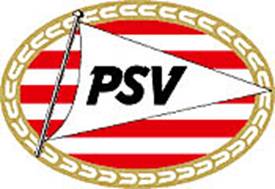 <![endif]>
PSV Eindhoven: Waterreus; Prommayon, Faber, Valckx, Numan; Linskens (Hoekstra), Vink (Pahlplatz), Jonk; Ronaldo, Nilis, Cocu (Van Der Leegte). Subs not used: Menzo, Eijkelkamp.
<![if !vml]>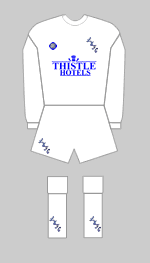 <![endif]><![if !vml]>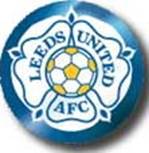 <![endif]>
Leeds United: Lukic; Kelly, Wetherall, Pemberton, Beesley (Ford); Bowman, McAllister, Palmer, Speed (Sharp); Whelan (White), Yeboah. Subs not used: Deane, Beeney.
Referee: Marc Batt (France).
Brazilian superstar Ronaldo had missed PSV's five-star display at Leeds but was back in the firing line at the Phillips Stadion, having shaken off an ankle injury he returned to help the Dutch side cruise to an easy victory. In truth he wasn't needed as Leeds United crashed to their biggest ever European defeat, as PSV left them battered and bruised as they strolled to a comfortable 3-0 success on the night and to an aggregate 8-3 victory. United's previous worst defeat had been an aggregate 4-0 loss to Universiatea Craiova of Romania in the Second Round of the UEFA Cup in the 1979-80 season.
Two goals from Philip Cocu did the damage in Holland but some of the team's wounds were self-inflicted. It took just thirteen minutes for the Dutch side to take the lead on the night. United had already lived dangerously and were lucky not to have conceded a penalty in the third minute. Howard Wilkinson had given Rob Bowman his first game of the season and the nineteen-year-old, who had been given the job of man-marking the architect of PSV's win at Elland Road, appeared to trip the dangerous Luc Nilis when Marciano Vink had played the ball to him, but the referee took no notice of the Dutchmen's appeal. Leeds were not so lucky in the thirteenth minute when Paul Beesley gave away a free-kick just outside the penalty area. Making his first senior appearance in three years, Bowman struggled to contain the wily Luc Nilis and had lost contact as Wim Jonk's free-kick was flicked on by Luc Nilis and Philip Cocu made no mistake.
United battled bravely and both Tony Yeboah and Carlton Palmer missed a couple of half-chances to get United back into the match, if not the tie. PSV stepped up the pace after that and Brazilian striker Ronaldo fired the ball just wide of the post after Carlton Palmer had lost possession to Luc Nilis. United suffered another body blow in bizarre circumstances two minutes before half-time. John Lukic came out to try and thwart Luc Nilis but John Pemberton was first to the ball and lofted it past his own keeper as he came out off his line. United nearly conceded a third seven minutes after the break when Marciano Vink was narrowly off target after being released by Wim Jonk, and PSV could not believe the amount of space they were given to manoeuvre.
It was one-way traffic in the second half as Howard Wilkinson gave youngsters Kevin Sharp, thirty-five minutes, and Mark Ford, fifteen minutes, to gain vital experience with PSV in total command, as they replaced Gary Speed and Paul Beesley respectively. He did, however, chose to replace Noel Whelan by David White in the fifty-ninth minute.
John Lukic pulled off a splendid save to deny Ronaldo after Philip Cocu had split the United defence. Ronaldo showed some neat skills to trick the United defence but a night of misery for United was completed in the seventy-fourth minute when Philip Cocu crowned a fine display as he rounded John Lukic for his second goal after Luc Nilis had created the opening. Tony Yeboah, who hardly had a kick in the match, had gone seven games without scoring and his form and fitness looked suspect. United could really have done with one of his specials early in the game, but as it was it was Philip Cocu and PSV Eindhoven who were celebrating as they moved easily into the Third Round.
<![if !vml]>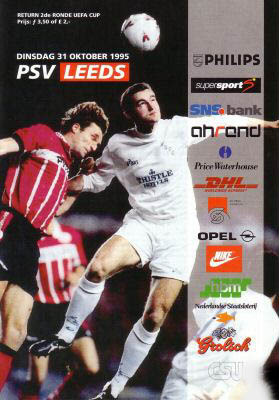 <![endif]> <![if !vml]>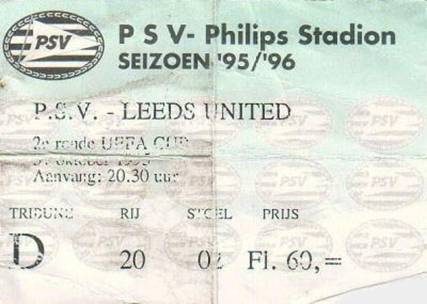 <![endif]>
Match Action:
<![if !vml]>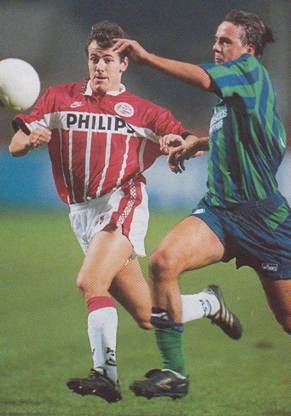 <![endif]> <![if !vml]>
<![endif]> <![if !vml]>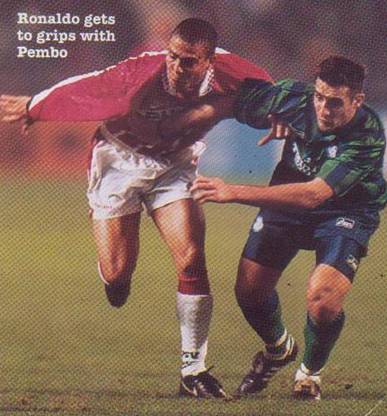 <![endif]>
Rob Bowman takes on Boudewijn Pahlplatz
<![if !vml]>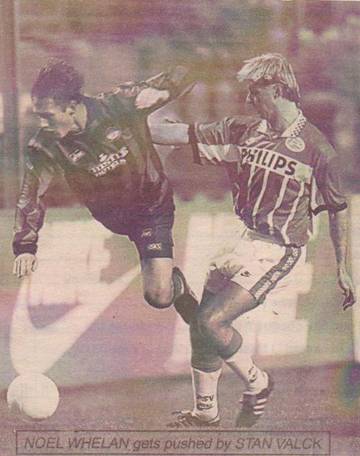 <![endif]> <![if !vml]>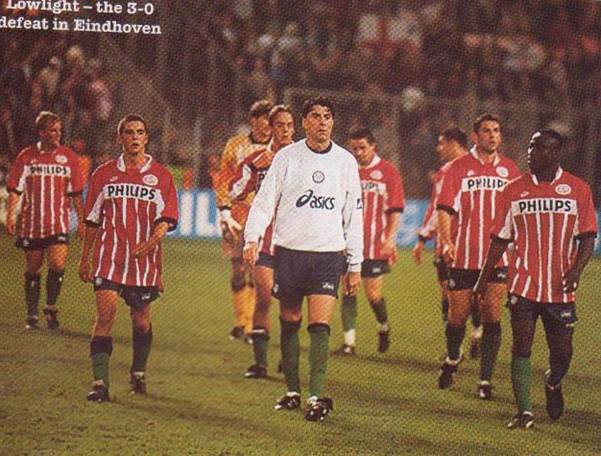 <![endif]>
<![if !vml]>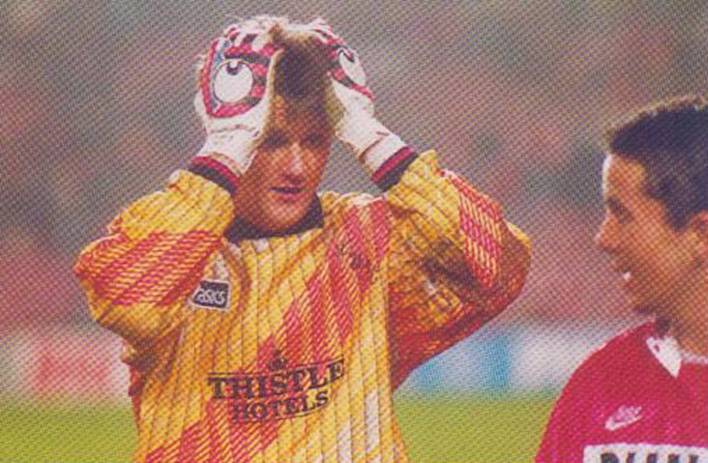 <![endif]> <![if !vml]>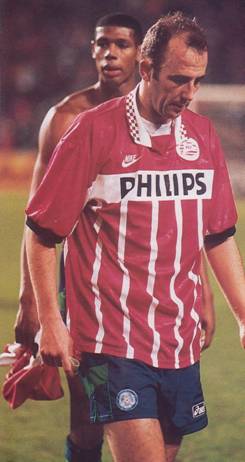 <![endif]>
John Lukic and Gary Kelly in disbelief after the game, while Captain Gary McAllister hangs his head and Carlton Palmer looks vacant
<![if !vml]>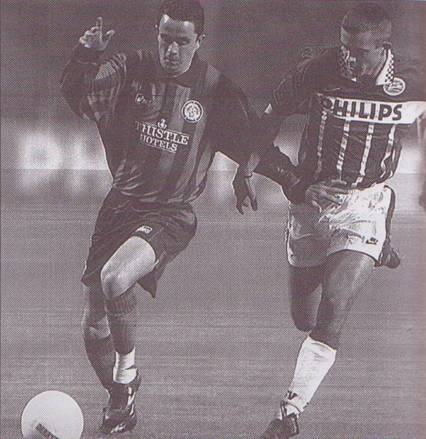 <![endif]>
Gary Kelly pulls away from 'Man of the Match' Philip Cocu
Players:
<![if !vml]>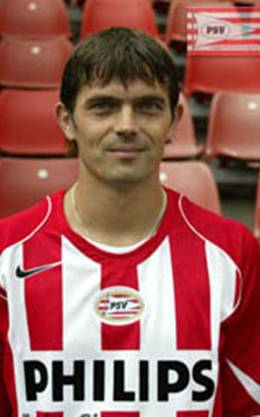 <![endif]> <![if !vml]>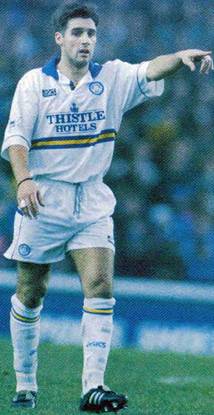 <![endif]> <![if !vml]>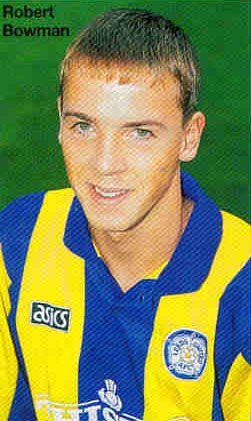 <![endif]> <![if !vml]>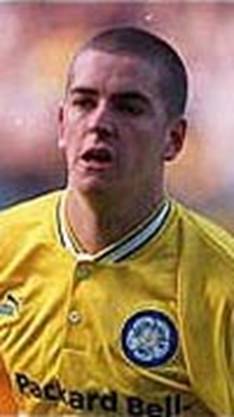 <![endif]>
Philip Cocu (2) and a John Pemberton own goal were the PSV scorers       United gave the youngsters a              Mark Ford came on as
                                                                                                                          run with Rob Bowman starting            a substitute
<![if !vml]>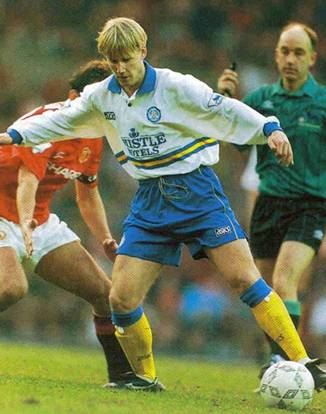 <![endif]> <![if !vml]>
<![endif]> <![if !vml]>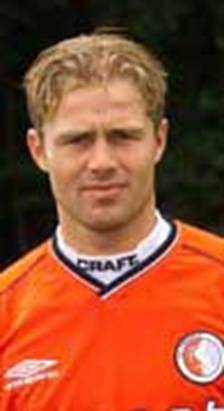 <![endif]> <![if !vml]>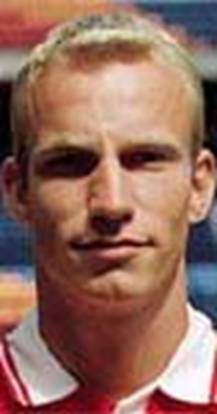 <![endif]>
  Kevin Sharp came on as a substitute                            Ronaldo, Tom Van Der Leegte and Paul Hoekstra were new faces for PSV