<![if !vml]>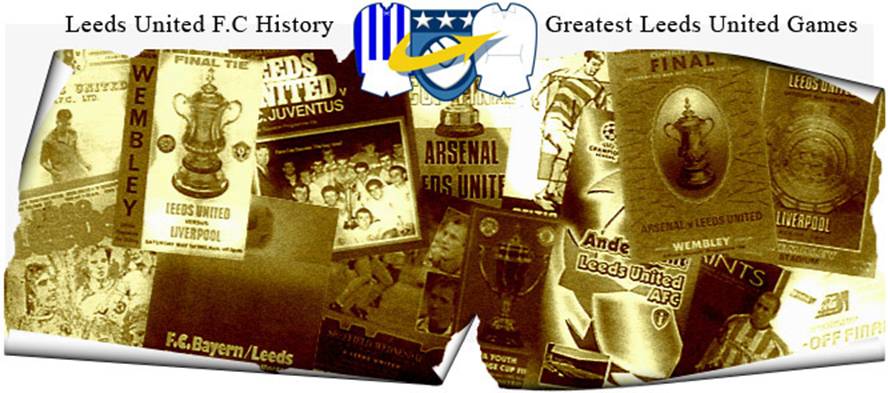 <![endif]>
Date: Wednesday, 31st March 1965.
Venue: City Ground, Nottingham.
Competition: FA Cup Semi-Final Replay.
Score: Leeds United 1 Manchester United 0
Scorers: Leeds United: Bremner. Manchester United: Nil.
Attendance: 46,300 (Receipts £19,550).
Teams:
<![if !vml]>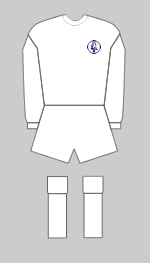 <![endif]>†<![if !vml]>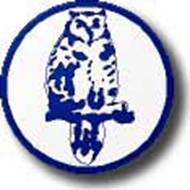 <![endif]>
Leeds United: Sprake; Reaney, Bell; Bremner, Charlton, Hunter; Giles, Storrie, Peacock, Collins, Cooper.
<![if !vml]>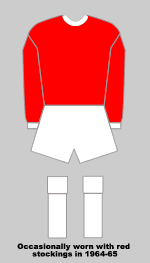 <![endif]><![if !vml]>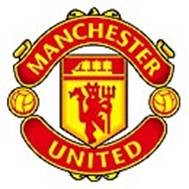 <![endif]>
Manchester United: P.Dunne; Brennan, T.Dunne; Crerand, Foulkes Stiles; Connelly, Charlton, Herd, Law, Best.
Referee: R.H. Windle (Chesterfield).
Surprisingly after such a gruelling match in the Hillsborough game the only change to either team was Terry Cooper coming in on the Leeds left-wing for Albert Johanneson, who had come in for rough treatment in the Saturday game. After the bog of a pitch at Sheffield there was a pleasant surprise when the Nottingham pitch was firm and holding and better suited to playing good football.
Again, in the replay, it was a closely fought encounter which ensued, but unlike the first game it was well handled by the much-maligned Dick Windle, and once more Leedsí tight defence conquered the explosive power of the Manchester attack to again keep them goalless. This time tempers were held in check and United detailed Terry Cooper to man-mark Paddy Crerand, who had played well in bossing the midfield at Hillsborough. With Crerand nullified United were able to dictate terms in midfield and Collins was his usual superb self. Sprake was forced into two saves early on by David Herd and Bobby Charlton but he was equal to the task and the Leeds defence, while tested, always seemed to be in control.
However in the first half Manchester enjoyed the bulk of possession but were denied by the brilliance of Jack Charlton and Norman Hunter, with Paul Reaney and Willie Bell covering superbly to counter the ever-dangerous threat posed by the Manchester wingers, John Connelly and George Best. There was a period of intense pressure from Manchester but Leeds weathered the storm with Sprake saving a Best header and then denying Law from point-blank range, while Herd blasted into the side-netting when he greedily ignored the better-placed and unmarked Best. The whole United team played their part in getting through the sticky patches of Manchester pressure and defended from the front. They gradually got control of the midfield as Storrie started spending more time out wide right while Bremner pushed up the middle. With Reaney and Bell overlapping to good effect United started to get more attacking opportunities.
The Manchester keeper, Pat Dunne, was forced to tip over three shots as United mounted more pressure and gained several consecutive corners. Nobby Stiles fouled Billy Bremner near halfway and this led to United finally clinching the game. With only two minutes of ordinary time still remaining, and the crowd tensing themselves for more nerve-tingling extra-time, it took a Johnny Giles precision free-kick and a Billy Bremner back-header to finally break the deadlock after the much sustained Leeds pressure.
†
In the dressing rooms after the game there were some family celebrations and tears. Johnny Giles had laid on the winner for Leeds and yet he had to sympathise with his brother-in-law Nobby Stiles in his disappointment in the Manchester dressing-room, while Bobby Charlton sat next to Nobby sad at his teamís loss but happy that his brother Jack had been picked to play for England alongside him against Scotland at Hampden Park.
So it was the United of Leeds that triumphed over the United of Manchester on this occasion as they won the right to feature in the Wembley showpiece for the first time, but Manchester had their quick revenge by winning at Elland Road 1-0 in a windswept game which proved to be crucial in the final run-in for the First Division title as as Manchester pipped Leeds for the coveted crown on goal average..
<![if !vml]>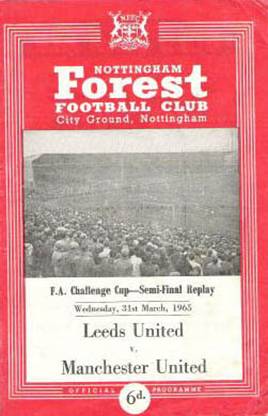 <![endif]>† <![if !vml]>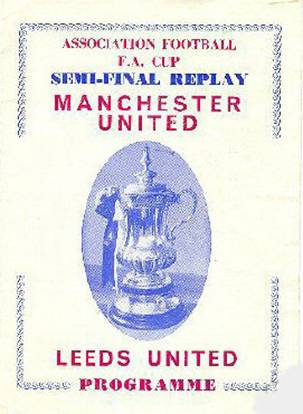 <![endif]>
Match Action:
<![if !vml]>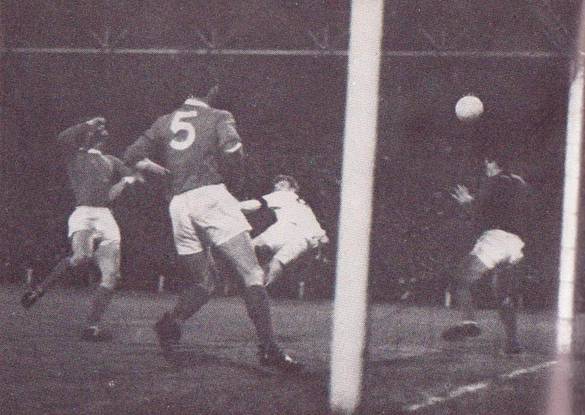 <![endif]>†<![if !vml]>
<![endif]>
Bremner back-heads the winner
<![if !vml]>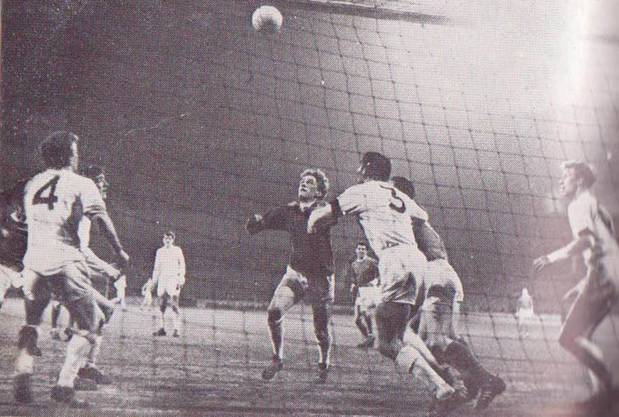 <![endif]>† <![if !vml]>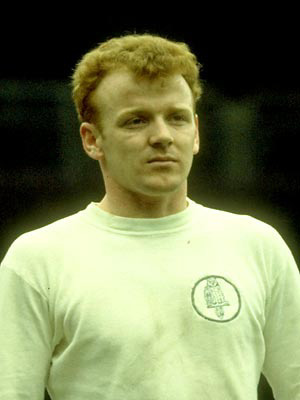 <![endif]>
United defend in depth as Sprake tips the ball to safety††††††††††††††††††††††††††††††††††††††††††††††††††††††††††††††††††† Match-winner Billy Bremner