<![if !vml]>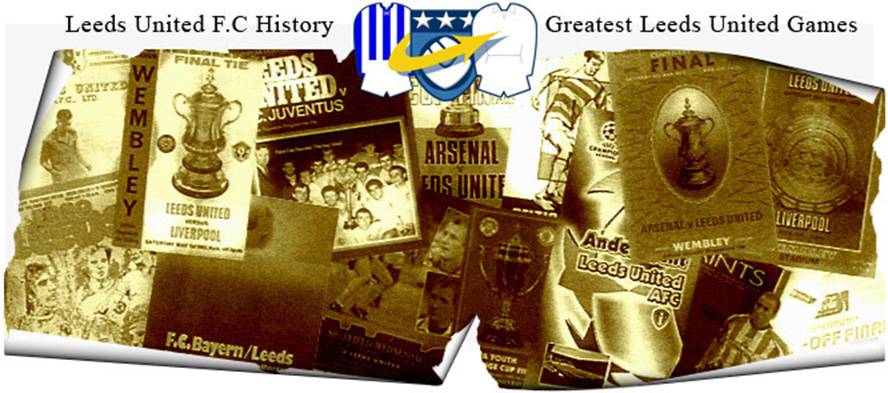 <![endif]>
Date: Thursday, 30th September 1999.
Venue: Elland Road, Leeds.
Competition: UEFA Cup, First Round, Second Leg.
Score: Leeds United 1 Partizan Belgrade 0.
Scorers: Leeds United: Huckerby. Partizan Belgrade: Nil.
Attendance: 39,806.
Teams:
†<![if !vml]>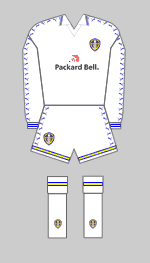 <![endif]><![if !vml]>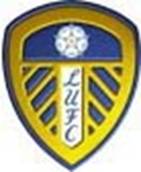 <![endif]>
Leeds United: Martyn; Kelly, Woodgate, Radebe, Harte; Batty, Hopkin (Bakke), Bowyer, Kewell (Jones); Huckerby, Bridges (Smith). Unused Subs: Haaland, Mills, Hay, Robinson.††††††††††††††††††††††††††††
<![if !vml]>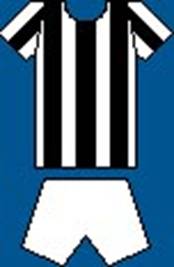 <![endif]><![if !vml]>

<![endif]>
Partizan Belgrade: Damjanac; Savic, Sabo, Gerasimovski, Stanojevic; Trobok, Ivic (Stojakovic), Tomic, Obradovic (Baljak); Pekovic, Stojisavlevik. Unused Subs: Ilic, Duljaj, Arnaut, Vucovic, Miskovic.
Referee: Fritz Stuchlik (Austria).
Darren Huckerby emerged from the shadows to score the goal that won the Second Leg 1-0 and the final aggregate 4-1 to send United into the Second Round of the UEFA Cup. The jet-heeled £4 million striker, signed from Coventry City just after the start of the season, had not been able to force his way into a regular spot in Unitedís starting side but staked his claim in this match with a well taken winner, after he had been put through by good work from Harry Kewell, whose form was gaining him many admirers on the continent.
United moved easily through to the Second Round of the UEFA Cup and they broke a twenty-six year old record by achieving their sixth successive victory in all competitions. However, never in that season had there been a match involving United that was so devoid of action as Partizan failed to make a game of it and as the teams went to the dressing rooms for the half-time break the game was as good as over. Partizan were just as disappointing at Elland Road as they had been in Heerenveen, yet over the two legs Leeds failed to reflect their overall superiority on the score-sheet. There was a spark of life on the half hour when Ian Harte whipped over a left-wing cross and Lee Bowyer at the far post headed down but then saw it bounce over the bar.
David Hopkin, who had just returned after a leg injury, should have scored in the next attack but spooned the ball over the bar from three yards after a header by Jonathan Woodgate from an Ian Harte corner had set him up. Partizan replied with a Dorde Tomic shot that just cleared the bar but United were soon back on the attack† with a beautifully judged David Batty pass sending Lee Bowyer clear. He unselfishly played the ball to Harry Kewell who was better placed and looked certain to score, but the keeper hurled himself and saved spectacularly at the expense of a corner.
David Batty was again the provider as David Hopkin brought another fine save from Nikola Damjanac as half-time approached and it seemed as if it would not be Unitedís night. Within ten minutes of the re-start, though, Darren Huckerby scored the goal that put the tie beyond any lingering doubts. A deft flick by Harry Kewell found the recently signed player in full flight and he gleefully rounded the keeper before stroking the ball home despite a desperate attempt by Marjan Gerasimovski to keep it out. Partizan coach Miodrag Jesic was full of praise for Leeds conceding that they had been the better team in both legs, but he bemoaned the fact that they had never had a home leg and that they had six players missing for the second leg.
<![if !vml]>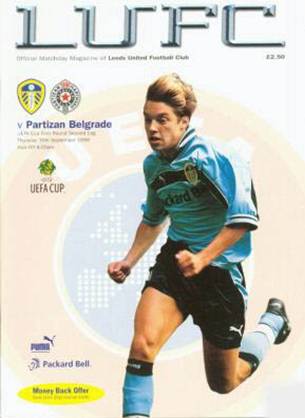 <![endif]>
Match Action:
| | |
| --- | --- |
| Darren Huckerby about to score for United | Darren Huckerby scores the Leeds goal |
<![if !vml]>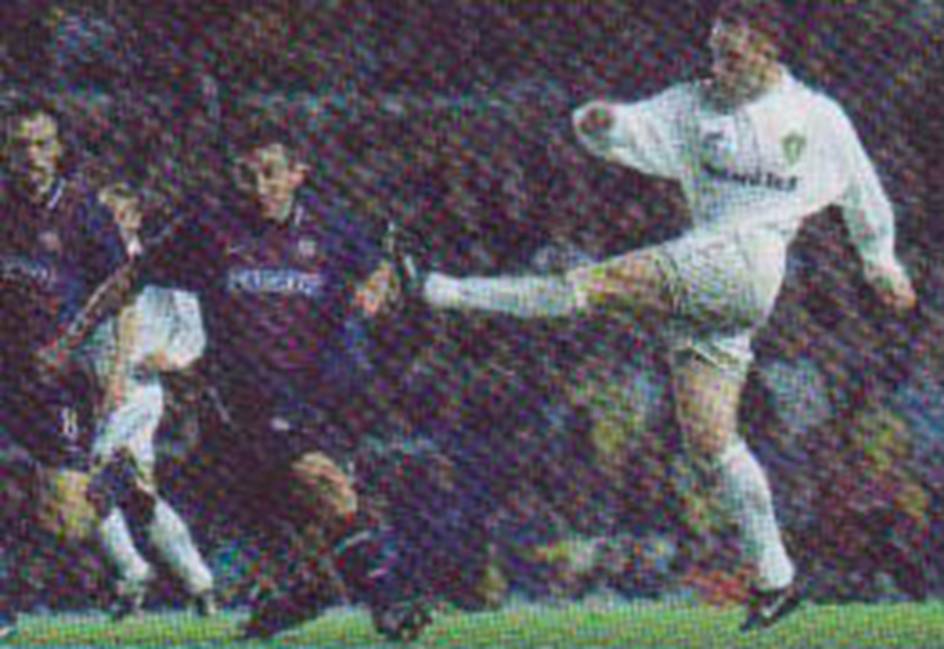 <![endif]>
David Hopkin gets in a shot on goal
<![if !vml]>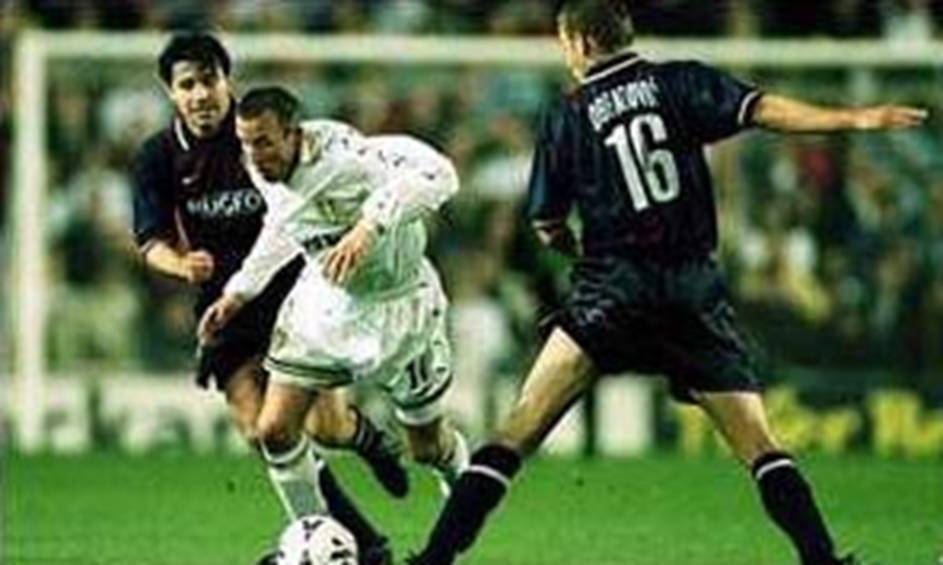 <![endif]>†
Lee Bowyer takes on Goran Obradovic and another Partizan defender
<![if !vml]>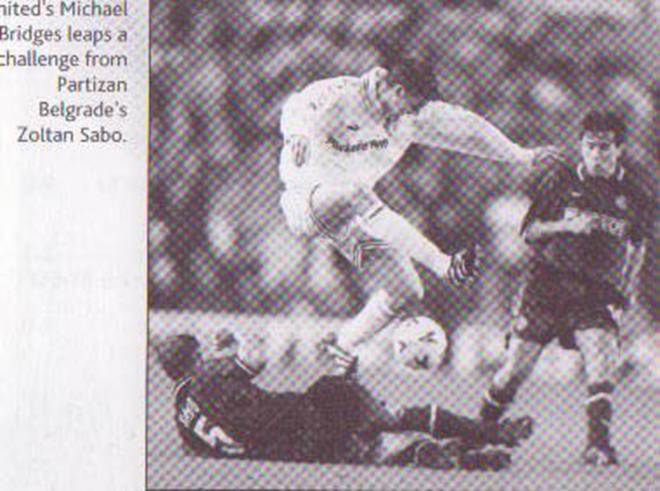 <![endif]>†<![if !vml]>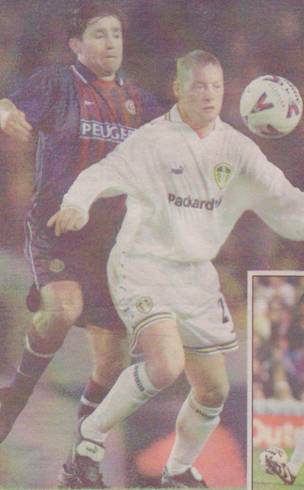 <![endif]>
†††††††††††††††††††††††††††††††††††††††††††††††††††††††††††††††††††††††††††††††††††††††††††††††††††††††††††††††††††††††††††††††††††††††††††††††††††††††††††††††††††††† David Batty shone in midfield
<![if !vml]>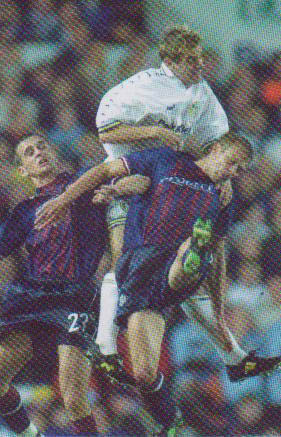 <![endif]>†† <![if !vml]>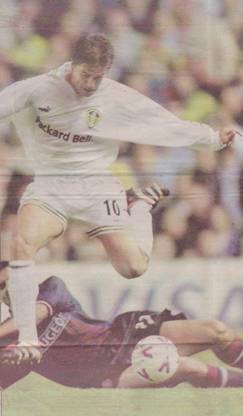 <![endif]>††<![if !vml]>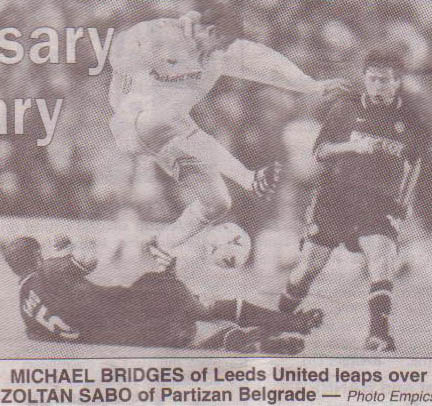 <![endif]>
Jonathan Woodgate wins a header††††††††††††† Harry Kewell leaps a defender†††††††††††††††††††††††
<![if !vml]>
<![endif]>† <![if !vml]>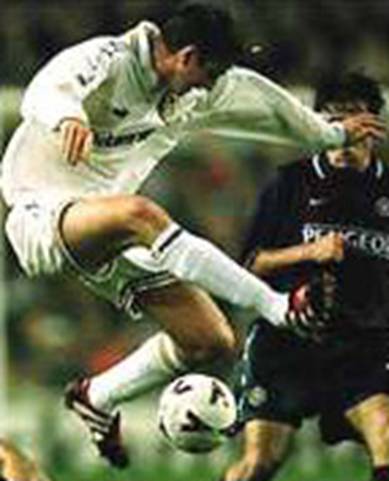 <![endif]>
Michael Bridges holds off a Partizan defender††††††††††††††††††††††††††††††††††††††††††††††††††††††††††††††††††††† Michael Bridges on the attack
Players:
| | | |
| --- | --- | --- |
| Darren Huckerby scored the Leeds goal. | Harry Kewellís deft flick set up Unitedís goal | Ian Harte and Lee Bowyer combined for the midfielder to head close. |
†
<![if !vml]>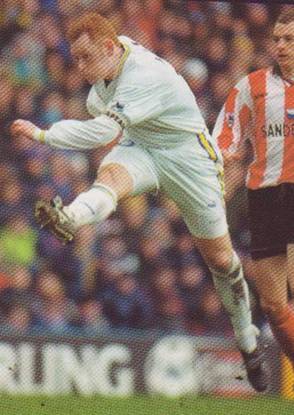 <![endif]>†††††† <![if !vml]>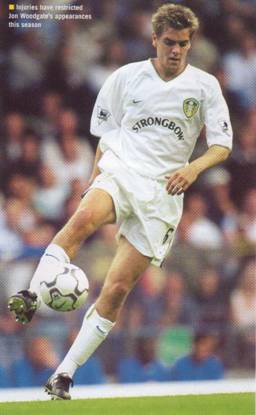 <![endif]>††††††††<![if !vml]>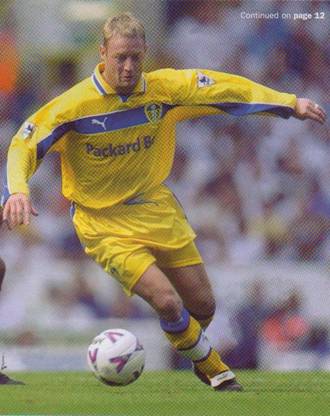 <![endif]>
David Hopkin brought out fine saves†††††††††††† †††††††Jonathan Woodgate set up a chance††††††††††††††††† David Batty was Unitedís main provider†††††
by the keeper††††††††††††††††††††††††††††††††††††††††††††††††††††††††† for David Hopkin
<![if !vml]>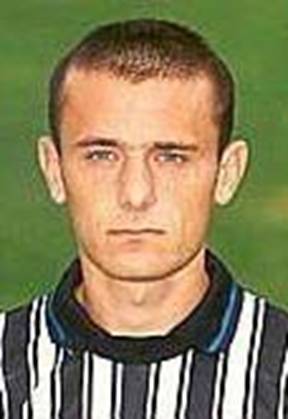 <![endif]>††† <![if !vml]>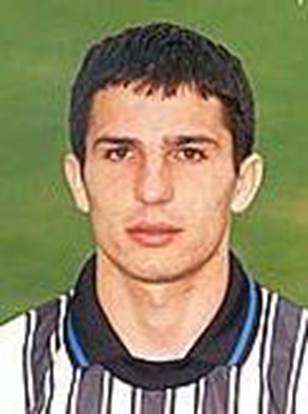 <![endif]>
††††††††† Srdjan Baljak and Nenod Stojakovic came on as a substitutes
<![if !vml]>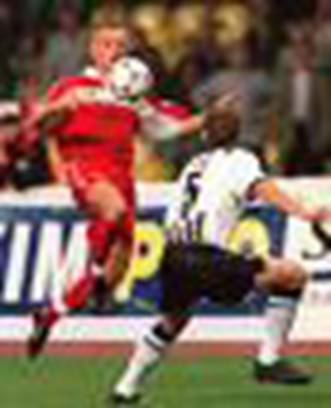 <![endif]>†<![if !vml]>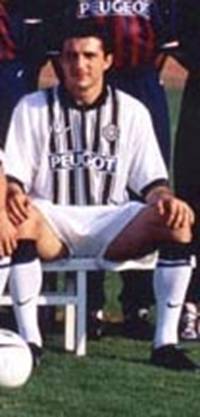 <![endif]>†<![if !vml]>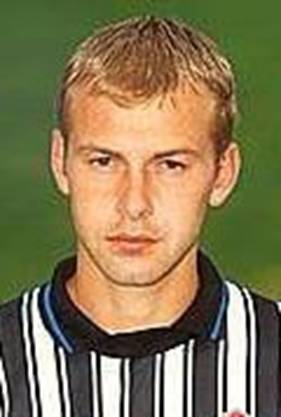 <![endif]>†
Zoltan Sabo, Marko Stojisavlejevic and Goran Obradovic were new players in the second leg