<![if !vml]>
<![endif]>
Date: Wednesday, 30th September 1992.
Venue: Elland Road, Leeds.
Competition: European Cup First Round Second Leg.
Score: Leeds United 4 VfB Stuttgart 1
Scorers: Leeds United: Speed, McAllister (pen), Cantona, Chapman. VfB Stuttgart: Buck.
Attendance: 31,460.
Teams:
<![if !vml]>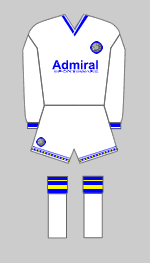 <![endif]><![if !vml]>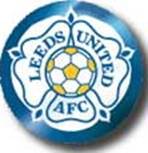 <![endif]>
Leeds United: Lukic; Sellars, Dorigo; Batty, Fairclough, Whyte; Strachan, Cantona, Chapman, McAllister, Speed. Subs not used: Shutt, Hodge, Newsome, Day, Rocastle.
<![if !vml]>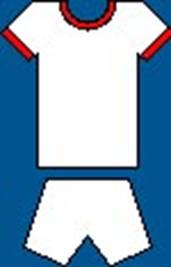 <![endif]>†<![if !vml]>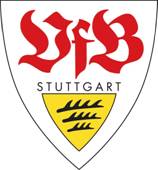 <![endif]>
VfB Stuttgart: †Immel; Schafer, Frontzeck; Dubajic, Strunz, Buchwald; Buck, Sverrisson, Walter (Knup), Gaudino (Simanic), Kogel. Not used: Golke, Trautner, Strehmel.
Referee: Kim Milton Neilsen (Denmark).
European Cup football returned to Elland Road for the first time since 1975 and in quite extra-ordinary fashion, too, as United came close to pulling off one of the greatest comebacks in the competitionís illustrious history. Leeds trailed 3-0 from the first leg in Stuttgart and hardly anyone gave them a prayer of overturning the deficit against the German champions. UEFA had told United to cut their capacity by six thousand for security reasons, but only just over twenty thousand turned up at Elland Road for the live telecast game. The task facing United was enormous. They would have to become the first British side in the competitionís thirty-seven year history to overturn a three goal deficit if they were to progress to the Second Round. Despite the lack of numbers inside the stadium United produced a memorable comeback in one of the famous old groundís great European nights.
United were really pumped up for action and a glance at the team sheet showed manager Howard Wilkinsonís intentions with attacking midfielder Scott Sellars playing nominally at right back. When Gary Speed volleyed home left-footed from close range after eighteen minutes, the impossible seemed possible, as Wilkinsonís attacking line-up flooded forward in waves and came close to a second goal several times. United were committed to all out attack and as they threw caution to the wind Stuttgart struck a hammer blow after thirty-four minutes when Andreas Buck cut in from the right to fire in their equalizer in a rare raid down the right. It meant that United would have to score five times if they were to topple their German visitors. Within four minutes, though, Unitedís faint hopes were lifted by a Gary McAllister penalty. And when Eric Cantona rattled the ball home from close range after sixty-six minutes, the great escape was on again.
The 20,457 crowd sounded more like fifty thousand as Leeds stormed forward and the roof nearly blew off Elland Road when Lee Chapmanís close range header made it 4-1 on the night and 4-4 overall with ten minutes remaining. There was no let up as Leeds piled on the pressure, knowing that another goal would put them through. Panic-striken, Stuttgart brought on Adrian Knup and Jovo Simanic for striker Fritz Walter and mid-field man Maurizio Gaudino to shore up their wilting defence. The Germans just held out, but Leeds won enormous praise for their courageous display which was laced with lashings of skill and determination.
The following day it transpired that Stuttgart had broken UEFA rules by using Swiss international Adrian Knup, which meant that they had fielded too many foreign players during the game. The match was declared void, and Leeds awarded a 3-0 victory and the teams were ordered to play-off in Barcelona for the right to meet Scottish champions Glasgow Rangers.
Nine days after that extraordinary night at Elland Road, United triumphed 2-1 in a near-deserted Nou Camp Stadium with substitute Carl Shutt, on the eve of his thirty-first birthday, netting the winner near the end.
An alternative view:
For excitement, passion, drama and sheer edge-of-the-seat entertainment, it is difficult to think of many games that would be on a par with United's thrill-a-minute second leg victory over VfB Stuttgart in the European Cup First Round tie on September 30th 1992.
United had been swamped 3-0 in the first leg against the German champions and were not really fancied to pull that margin around in the return leg at Elland Road. European nights at Elland Road have always been pretty special as far as I am concerned and this particular game saw United end up 4-1 winners. An incredible victory on the night left the aggregate scores at 4-4 with Stuttgart going through on the away goals rule. As far as progressing in Europe's premier club competition was concerned it was, sadly, a case of so near yet so far, or so we thought.
It wasn't until the following day that events began to emerge of Stuttgart breaching tournament rules by using four 'foreign' players, rather than the three allowed. Stuttgart's blunder came to light when fans of an opposing German club saw the game live on German TV and spotted the error. UEFA awarded the game to United 3-0 which left the clubs level on aggregate at 3-3 and decreed that a play-off game should take place in Barcelona.
So the tremendous efforts of the United players in the second leg at Elland Road had brought them reward after all. "You can talk all you like about Italian and Spanish football," Gordon Strachan said, "but there is no better spectacle than a British team, going at it as we did against Stuttgart." Most United players were too choked to say much immediately after the game but manager Howard Wilkinson said most of them would wake up feeling that their stomach was eight feet deep and that they had a pain somewhere near the bottom of it.
United's intentions were quickly signalled by Gary McAllister, who surged forward with pace and power and let fly with three fierce shots, two of which zipped wide, the other being saved by the keeper. The break-through came in the seventeenth minute when Gary Speed ghosted through to volley a left-foot shot in from near the six-yard line after Eric Cantona and Gordon Strachan had set up the chance.
Andreas Buck's equaliser on the night, after 34 minutes, might well have knocked the stiffing out of most sides, faced with the task United had, but Wilko's men took the blow and hit back four minutes later with a penalty from Gary McAllister. When United went 3-1 up in the sixty-sixth minute, Gordon Strachan was again the provider, as his lofted pass was fought for by the outstanding Eric Cantona and the ball went in as defender Gunther Schafer thrust out a leg in a late challenge on the Frenchman.
United went 4-1 up when Lee Chapman got in on the scoring act and there were then ten minutes left for United to get the goal that would have settled the tie. But, try as they might, they couldn't get it and the game ended with a 4-4 aggregate and Stuttgart having the valuable away goal. Stuttgart team boss Christoph Daum said at the end: "We weren't the better side, but we were the luckier." At least that was the case until the events unfolded the following day. United won the play off 2-1 with goals from Strachan and Shutt.
<![if !vml]>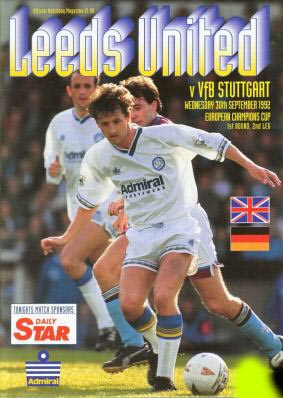 <![endif]>
Match Action:
<![if !vml]>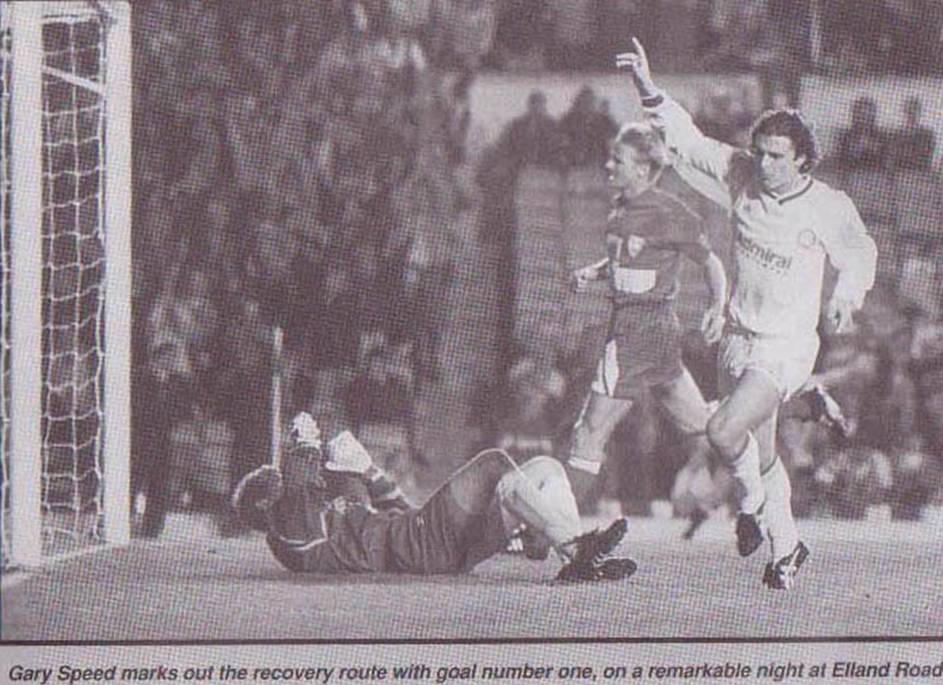 <![endif]>†
†††††††††††††††††††††††††††††††††††††††††††††††††††††††††††††††††††††††††††††††††††††††††††††††††††††††††††††††††††††††††
<![if !vml]>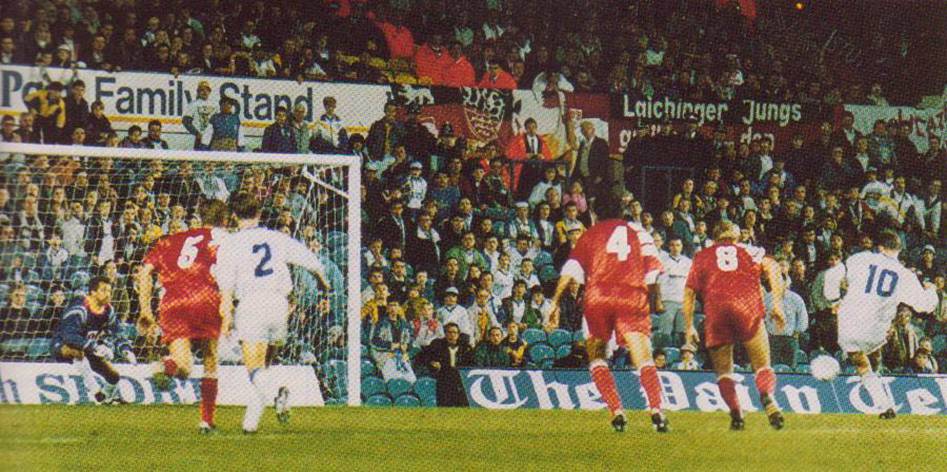 <![endif]>†
Gary McAllister gets Unitedís second from the spot
<![if !vml]>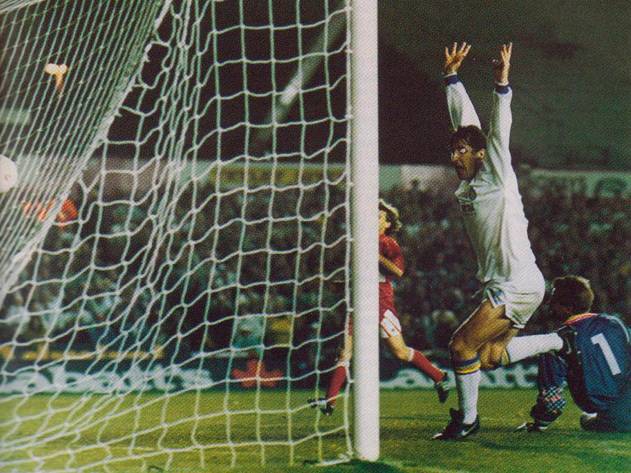 <![endif]>†††† <![if !vml]>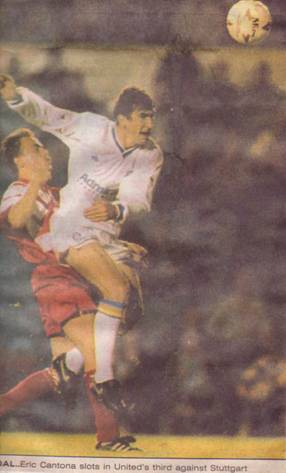 <![endif]>
†Eric Cantona follows in his goal
Players:
<![if !vml]>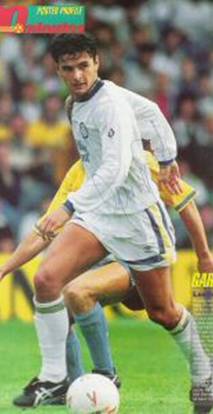 <![endif]>†<![if !vml]>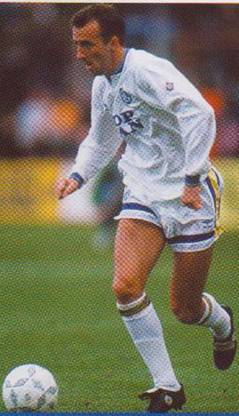 <![endif]>†<![if !vml]>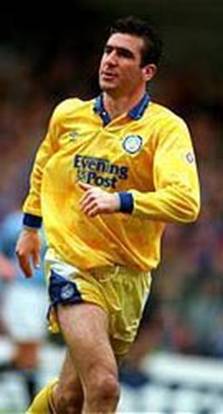 <![endif]>†<![if !vml]>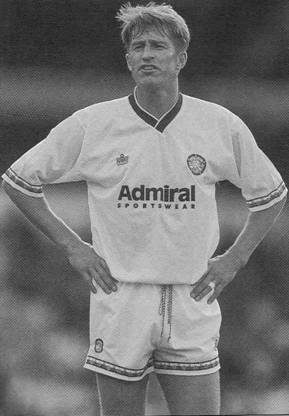 <![endif]>
†††††††††††††††††††††††††††† The Leeds goals were scored by Gary Speed, Gary McAllister (penalty), Eric Cantona and Lee Chapman
<![if !vml]>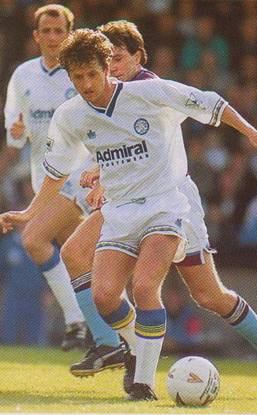 <![endif]>†<![if !vml]>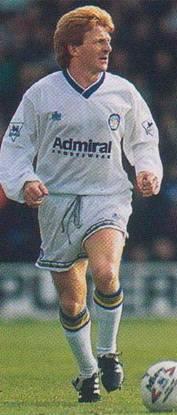 <![endif]>†<![if !vml]>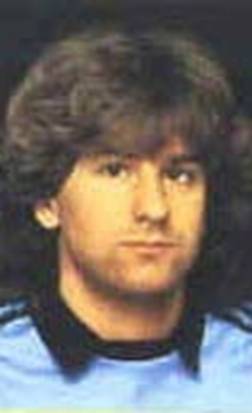 <![endif]>†<![if !vml]>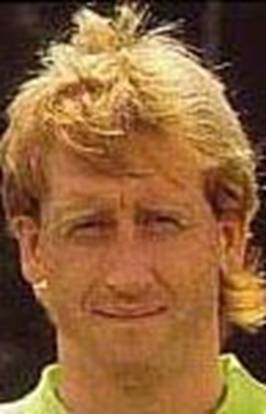 <![endif]>
Despite wearing the #2 shirt Scott†††††††† Gordon Strachan was†††††††††† Eike Immel was in goal and his deputy Eberhard Trautner
Sellars played attacking midfield††††††††††† the goal-provider†††††††††††††††† remained on the bench
†
<![if !vml]>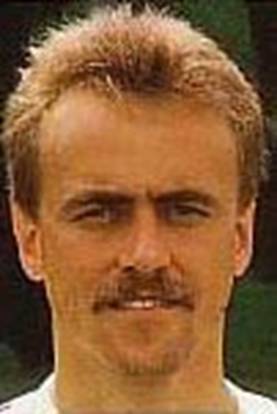 <![endif]>† <![if !vml]>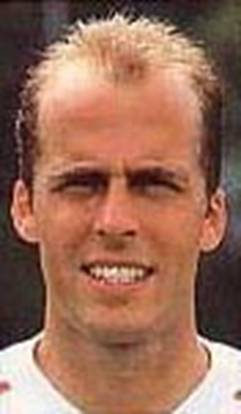 <![endif]>†††††††††††<![if !vml]>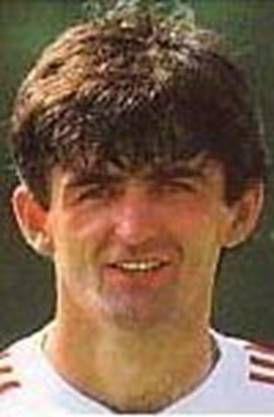 <![endif]>†
Guenther Schaefer and Michael Frontzeck were the full backs††††††††††††††††††††††††††††††††††††††† Yugoslavian Slobadan Dubajic
<![if !vml]>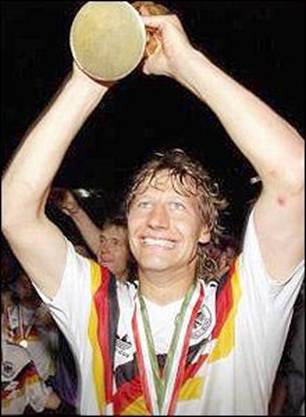 <![endif]>††††††† <![if !vml]>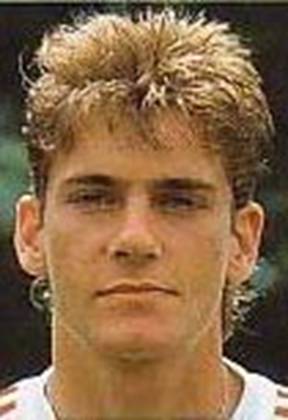 <![endif]>††<![if !vml]>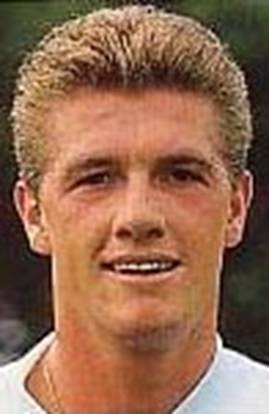 <![endif]>†
and Guido Buchwald were the centre- backs††††††††††† VfB Stuttgart employed a five-man midfield of Andreas Buck, Thomas Strunz,
<![if !vml]>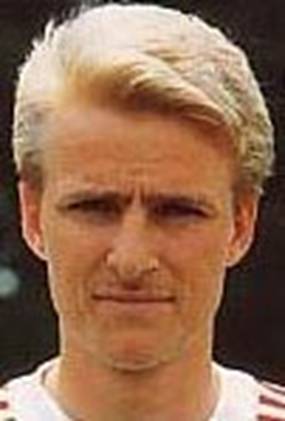 <![endif]>† <![if !vml]>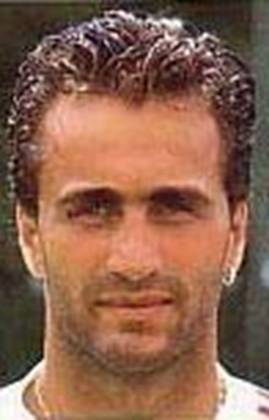 <![endif]>††<![if !vml]>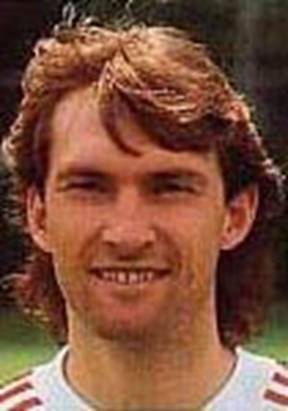 <![endif]>
Icelander EyjŲlfur Sverrisson, Maurizio Gaudino and Ludwig Koegl
<![if !vml]>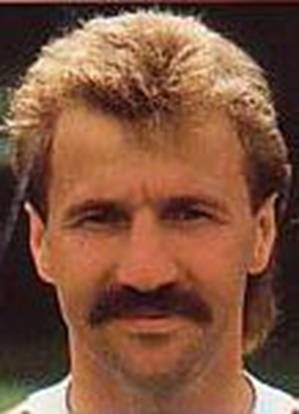 <![endif]>†<![if !vml]>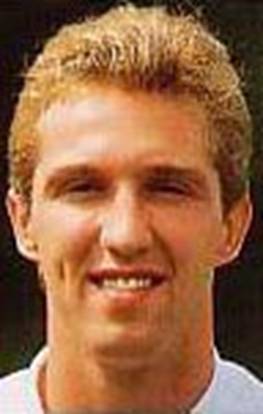 <![endif]>†<![if !vml]>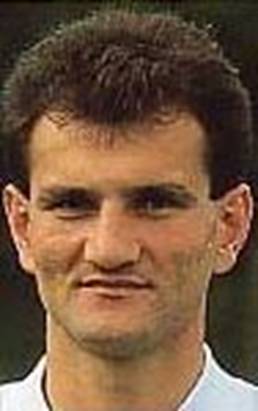 <![endif]>
Fritz Walter started as the lone striker but Swiss striker Adrian Knup replaced him and Yugoslav defender Jovica Simanic†††††
replaced midfielder Maurizio Gaudino
<![if !vml]>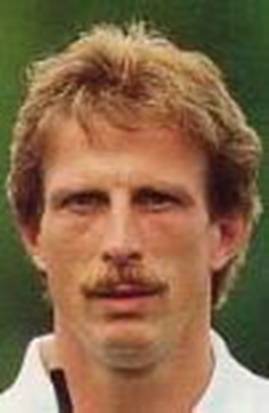 <![endif]>† <![if !vml]>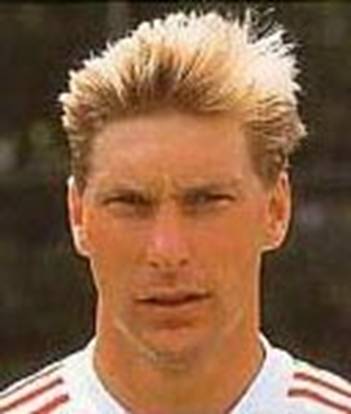 <![endif]>†<![if !vml]>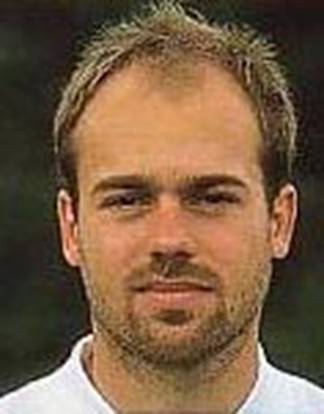 <![endif]>†
Coach Christoph Daum made the mistake of playing too many foreign players. German defender Alexander Strehmel and midfielder
Andre Golk were not used