<![if !vml]>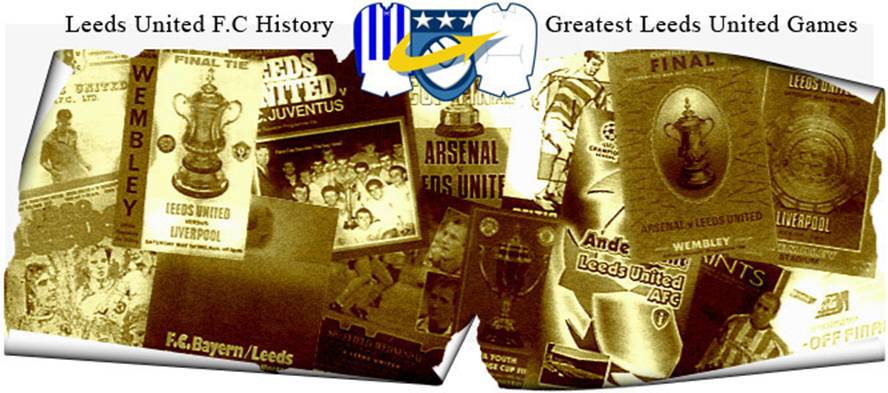 <![endif]>
Date: Saturday, 30th January 1988.
Venue: The Hawthorns, West Bromwich.
Competition: Second Division.
Score: West Bromwich Albion 1 Leeds United 4
Scorers: West Bromwich Albion: Dickinson. Leeds United: Sheridan, Williams, Pearson, Davison.
Attendance: 9,008.†††††††††††††††††††††††††††††††††††††††††††††††††††††††††††††††††††††††††††††††††††††††††††††††††††††††
Teams:
<![if !vml]>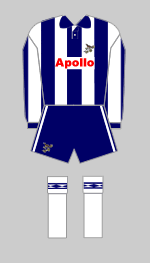 <![endif]>†<![if !vml]>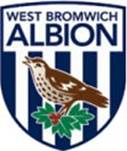 <![endif]>
West Bromwich Albion: Hucker; Hopkins, Cowdrill; Talbot, North, Palmer; Robson, Goodman, Gray, Kelly (Dickinson), Morley.
<![if !vml]>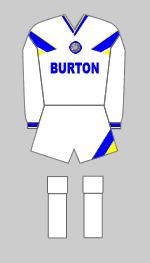 <![endif]><![if !vml]>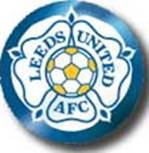 <![endif]>
Leeds United: Day, Aspin, Adams, Williams, Ashurst, Haddock, De Mange, Sheridan, Pearson, Davison, Rennie (Taylor).
Referee: Mr T. Ward (London).
The January blues were blown away in some style when four-star Leeds launched into a rare goal frenzy away from Elland Road. Comprehensive away wins were few and far between for Leeds United during their last stay outside of the top-flight, but there were exceptions to the rule.
<![if !supportLineBreakNewLine]>
<![endif]>
The promotion season saw a four-goal second half mauling of Oxford, after the hosts had scored twice in the opening period, and Leeds once rattled three past Walsall without reply at their old Fellows Park home. Wimbledon were also beaten 3-0 in December 1985 when United fans were banned from attending, but such were the struggles of that time that even three-goal successes on the road were occasions to be savoured. So, when Leeds hammered West Brom 4-1 at The Hawthorns in 1988 they achieved a rare landmark.
<![if !supportLineBreakNewLine]>
<![endif]>
Amazingly, the four-goal triumph, a low-key affair played out in front of a crowd of less than 10,000, still stands as United's best away result outside of the top-flight since Southampton were beaten by the same score-line back in October 1963! It's doubtful that many of the 2,500 travelling United fans realised the significance of the West Brom victory and the majority were simply stunned to see their heroes sweep aside their hosts in such convincing fashion.
<![if !supportLineBreakNewLine]>
<![endif]>
Billy Bremner's side had gone into the clash boosted by a run of six straight wins either side of Christmas, but back-to-back derby defeats at the hands of Hull City and Barnsley had brought back a touch of reality, and the trip to the West Midlands held little appeal. The Baggies were struggling at the wrong end of the Division, but Leeds had only won two away games all season themselves and, despite a stunning Boxing Day success at Manchester City, United fans had come to expect little when they ventured out of the LS postcode area. Billy Bremner's side had suffered a 3-0 hiding at the hands of the Baggies the previous season and hadn't won at The Hawthorns for eight years.
Was it a sure-fire recipe for a dour, drab contest?† It certainly seemed that way. But, as ever, nothing is ever straightforward with Leeds, and Bremner's charges proceeded to blow the Baggies away. Bobby Davison was instrumental in United's success, scoring one and making two, as Leeds ripped Albion apart. Davison teed up John Sheridan for the opener after great work by John Pearson and the striker was again involved when Ken de Mange flicked on his cross for former Aston Villa defender Gary Williams to net only his second career goal.
<![if !supportLineBreakNewLine]>
<![endif]>
The third came early in the second half when John Pearson held off the challenge of former Leeds defender Martin Dickinson, and Bobby Davison added a fourth following a superb ball from John Sheridan. United could have made it five, but Sheridan missed from the penalty spot, and the last word went to the hosts who had Martin Dickinson to thank when he forced the ball home from close range. The final whistle was greeted with a stunned reaction from the United fans, who could barely believe what they had witnessed.
Alternate Reports (Courtesy Mark Ledgard)
First: Leeds kept their promotion bid alive with an emphatic win over struggling West Brom. Bremnerís men showed them no mercy and painfully underlined their inferiority complex in a comfortable four-goal romp. Six men were booked in this fiery encounter which did not hot up until midway through the first half when Leeds rocked Albion with two goals in a sizzling fifteen minute spell. Bobby Davison found himself a good position in the Albion penalty area in the twenty-first minute before laying the ball back to John Sheridan, who thumped home low and hard through a forest of defenders. Fourteen minutes later Leeds had a two-goal advantage. The outstanding Davison was involved again, crossing to Ken De Mange who neatly headed the ball down for midfield man Gary Williams to collect only his second goal for Leeds. The third goal was inevitable and came in the fifty-third minute thanks to a defensive blunder from Albion substitute Martin Dickinson, which John Pearson coolly exploited. Leeds could have gone further ahead in the seventy-fifth minute, when they were awarded a penalty. But Peter Hucker splendidly saved to deny John Sheridan his second goal. Bobby Davison made amends six minutes later, when he blasted in the fourth. Dickinson made up for his earlier mistakes and collected a consolation goal.
Second: A promising Albion opening came to nothing as Leeds took firm first-half control with goals from John Sheridan and former Aston Villa star Gary Williams. West Bromís new signing, Brian Talbot fashioned a number of bright early moves which caused the visitors one or two early problems. But it was John Sheridan who got the all-important first goal in the twenty-second minute and sixteen minutes later, Albionís back-four was again found wanting, as Gary Williams side-footed the ball home from close range. Brian Talbot had a second minute chance to show his skills following a careless pass by John Sheridan. The former Arsenal and Ipswich midfield man ran fully fifty yards before being pulled down by the Leeds player, but the free-kick came to nothing. The game had opened in lively fashion and after nine minutes Bobby Davison had a half-chance for Leeds following a free-kick by John Sheridan. But he failed to control the ball the first time and was crowded out by the defence. After a promising Albion opening, it was somewhat cruel when Leeds went in front after twenty-two minutes. A long throw from the left found Davison, who shrugged off the challenge of Carlton Palmer before teeing up the ball for John Sheridan, who shot home expertly from eighteen yards. Tony Kelly and Don Goodman combined well down the left to cause Leeds problems in the thirty-second minute. Goodmanís dangerous cross was cut out at the expense of a corner but Tony Morley wasted that position by lofting the flag-kick harmlessly into Mervyn Dayís arms. Albionís trouble deepened as Leeds went further in front in the thirty-fifth minute. Not for the first time, the visitors found space behind the Albion back line and when Davison crossed Ken De Mange knocked on a low header for the incoming former Villa favourite Gary Williams to score with ease. A late thirty-ninth minute challenge by Carlton Palmer on Bobby Davison caused a fray down by the Managerís dug-out. Predictably Tony Kelly was one of the first to join in and he was followed by a whole ruck of players from either side with the training staff doing their best to separate the warring factions. The incident provoked a caution for Palmer.
Albion made a half-time substitution with Martin Dickinson coming on for Tony Kelly, the home side now playing with three central defenders and Robert Hopkins and Barry Cowdrill encouraged to go forward on the wings. Ken De Mange was booked within twenty-five seconds of the restart for what appeared a pretty harmless foul on Robert Hopkins. The Albion substitute almost made a nightmare start, coming within inches of putting through his own goal in the forty-eighth minute. Dickinson was put in difficulty by a swerving cross from Micky Adams but Peter Hucker saved him any embarrassment by making a fine low save. Dickinson was again involved in the fifty-first minute, bringing down Peter Haddock in a dangerous position on the edge of the Albion penalty area. But from Micky Adamís free-kick Jack Ashurst headed wide. Martin Dickinsonís misery was completed when a third bad error in eight minutes gave Leeds a third goal in the fifty-third minute. The hapless centre-back hopelessly giving the ball straight to John Pearson, who calmly beat the keeper from twelve yards. Two minutes later, Albion were again in terrible disarray as MIcky Adams again found acres of room down the left. On this occasion however Stacey North just managed to get his boot onto Adamsí looping cross to prevent another certain Leeds goal. The Leeds fans started bating the home crowd with cries of ďAtkinson outĒ. The Albion supporters responded with ďLucas must goĒ. Peter Hucker saved a seventy-fourth minute penalty from John Sheridan. In the eighty-fourth minute Bobby Davison hit a fourth for Leeds and Martin Dickinson pulled one back.
<![if !vml]>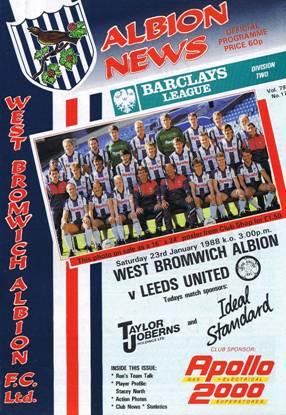 <![endif]>†<![if !vml]>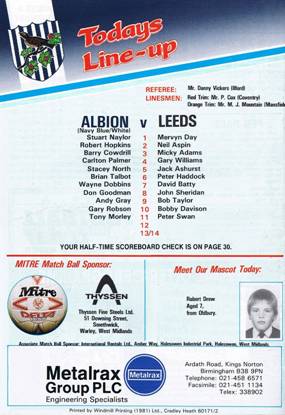 <![endif]>†<![if !vml]>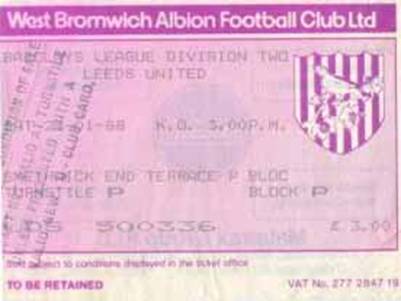 <![endif]>
Match Action: (Courtesy Mark Ledgard)
<![if !vml]>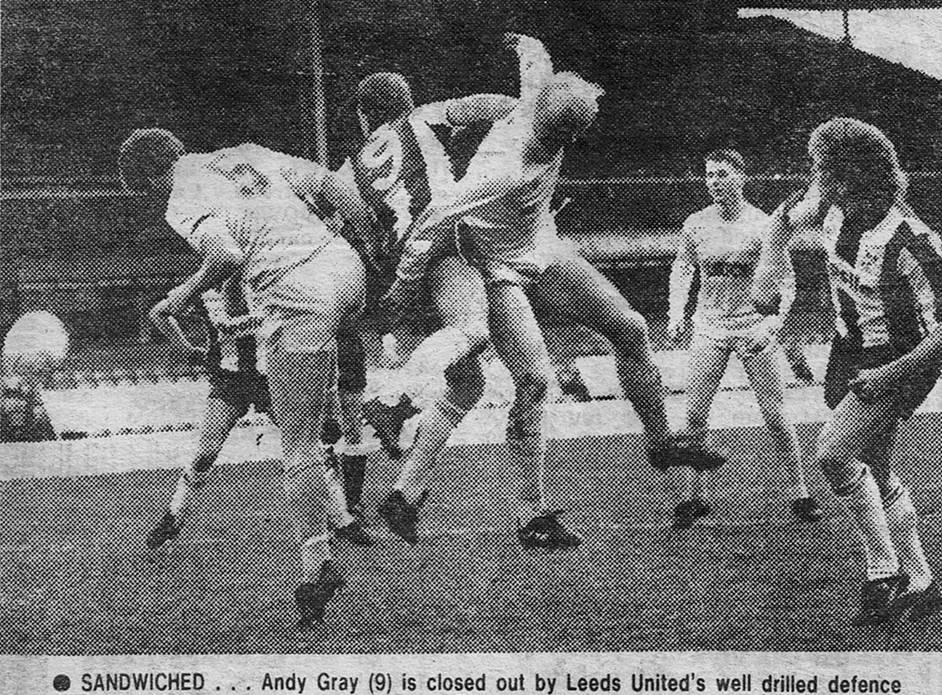 <![endif]>
<![if !vml]>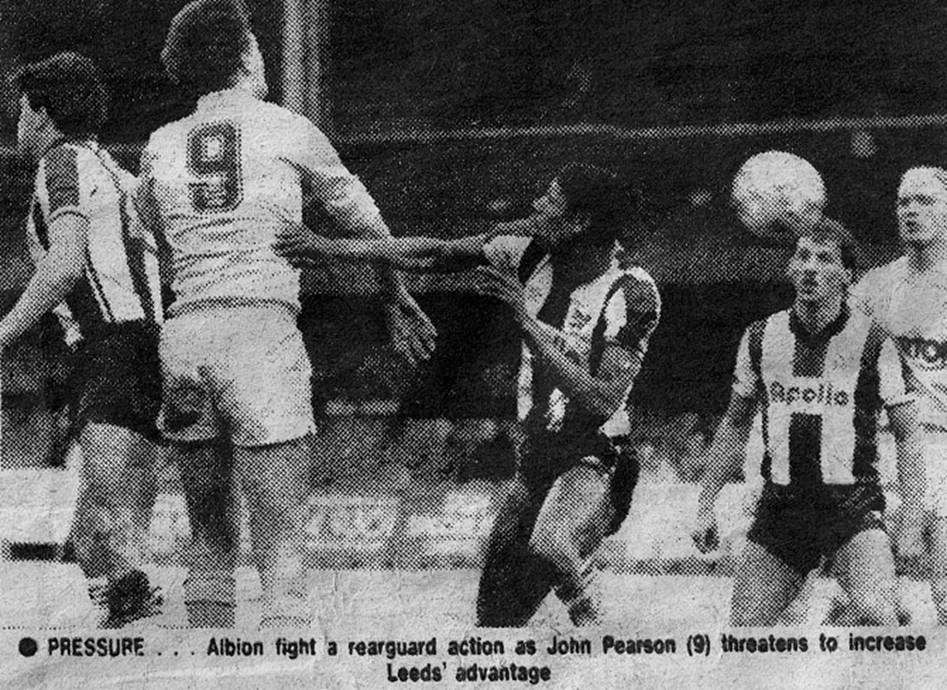 <![endif]>
<![if !vml]>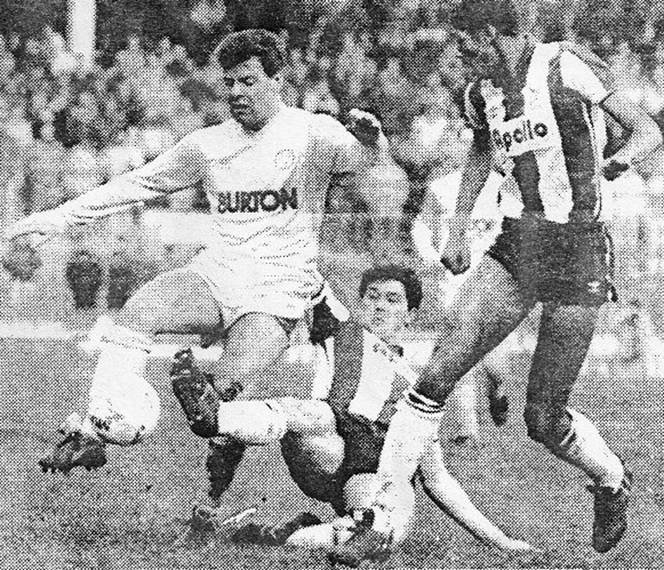 <![endif]>†<![if !vml]>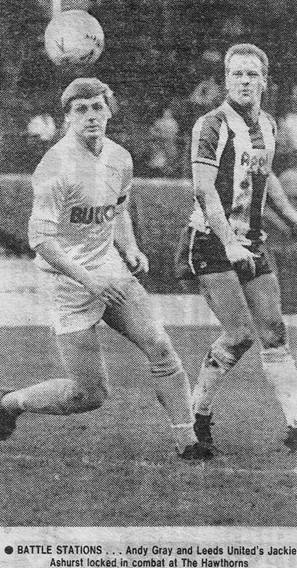 <![endif]>
Ken De Mange rides a tackle from Tony Kelly as Carlton Palmer moves in.
Teams:
<![if !vml]>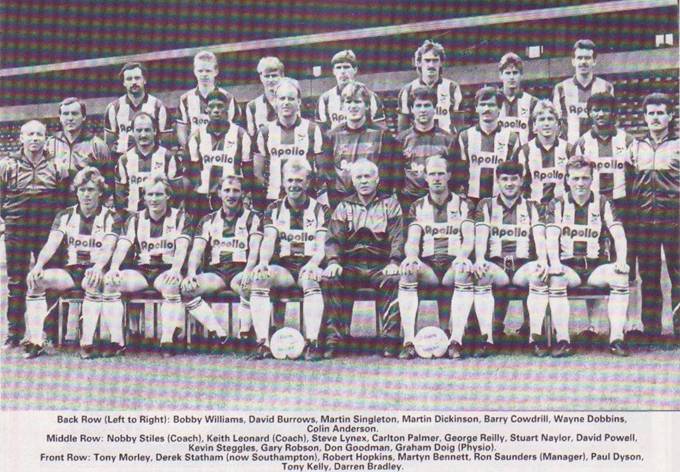 <![endif]>
<![if !vml]>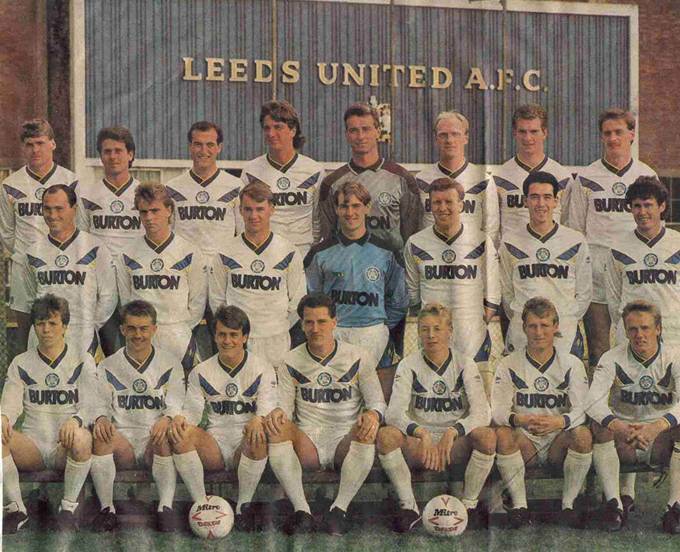 <![endif]>
Leeds United 1987-88:
Back Row: Jack Ashurst, Nigel Thompson, David Rennie, John Pearson, Mervyn Day, Neil Aspin,
Peter Swan, Peter Haddock.
Middle Row: Bobby McDonald, John Buckley, John Sheridan, Ronnie Sinclair, Brendan Ormsby,
Bob Taylor, Gary Williams.
Front Row: John Stiles, Glynn Snodin, Micky Adams, Mark Aizlewood, David Batty, Russell Doig,
Keith Edwards.
Players:
<![if !vml]>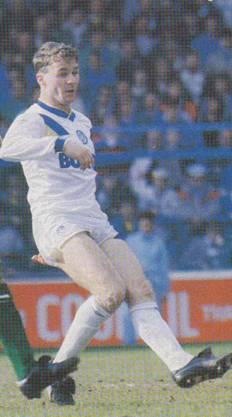 <![endif]>†<![if !vml]>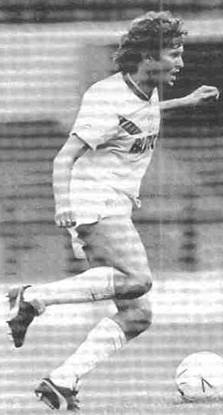 <![endif]>†<![if !vml]>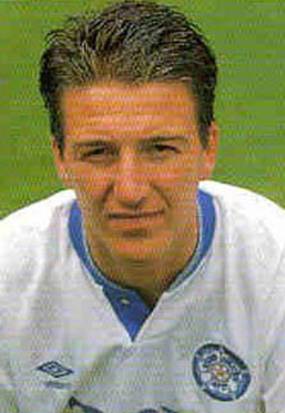 <![endif]>†<![if !vml]>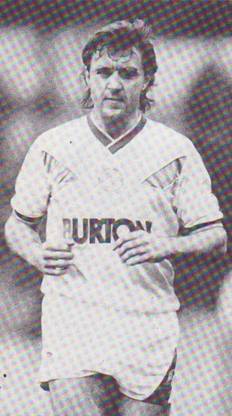 <![endif]>
†††††††††††††††††††††††††††††††††††††††††† The Leeds goals came from John Sheridan, Gary Williams, John Pearson and Bobby Davison
<![if !vml]>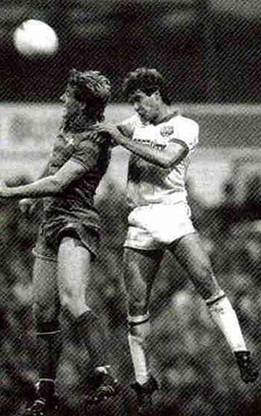 <![endif]>††††††††††††††† <![if !vml]>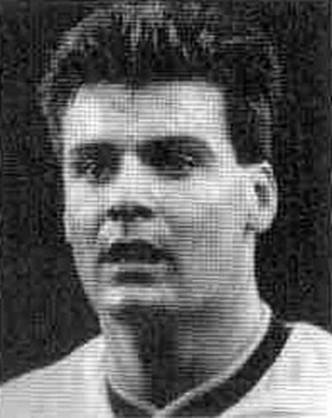 <![endif]>†††††††<![if !vml]>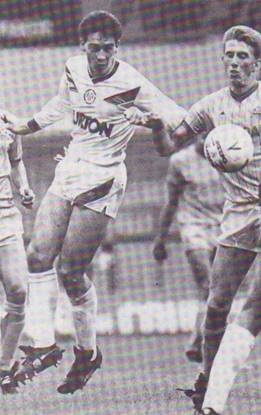 <![endif]>
Leeds-born Martin Dickinson scored against†††††† Ken De Mangeís flick created the third goal†††††††††† ††††Bob Taylor came on as substitute
his old team
<![if !vml]>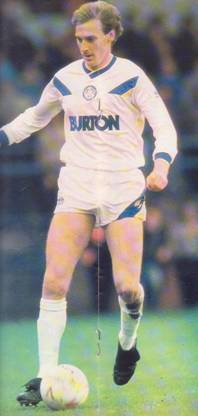 <![endif]>†<![if !vml]>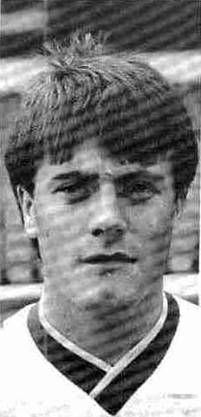 <![endif]>†<![if !vml]>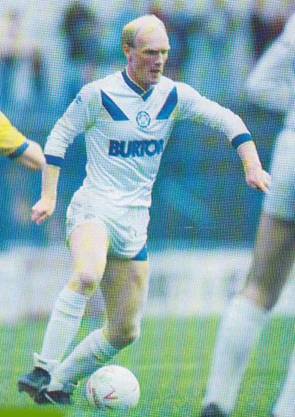 <![endif]>† <![if !vml]>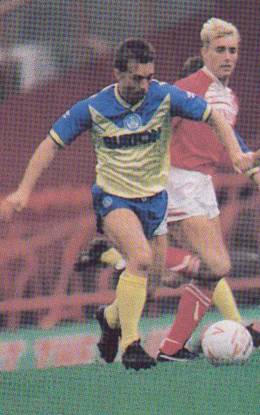 <![endif]>
Peter Haddock, Micky Adams and Neil Aspin were strong in defence†††††††††††††††††††††††††††††††††††††††††††††††††††††††††††††† Glynn Snodin was missing††††††††
<![if !vml]>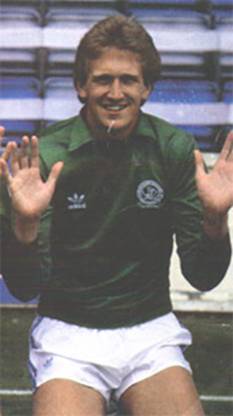 <![endif]>††††††††† <![if !vml]>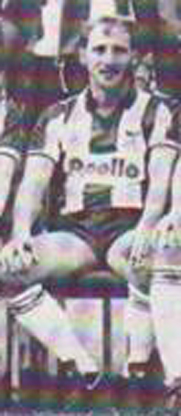 <![endif]>††††<![if !vml]>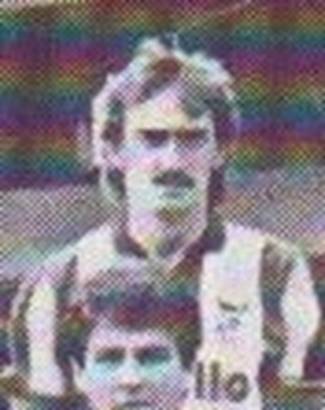 <![endif]>†
Peter Hucker was between the posts††††† Robert Hopkins and Barry Cowdrill were the full-back pairing
††††††††††††††
<![if !vml]>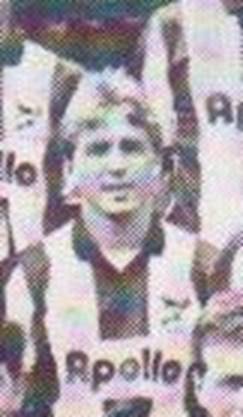 <![endif]>†<![if !vml]>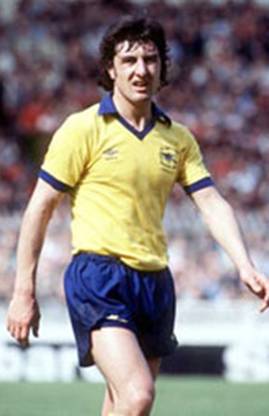 <![endif]>†<![if !vml]>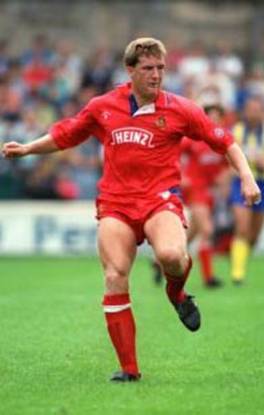 <![endif]>†<![if !vml]>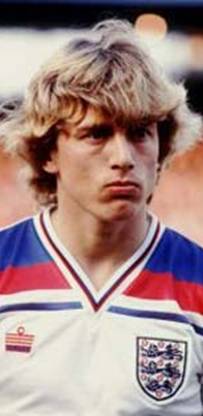 <![endif]>
Gary Robson, Brian Talbot, Tony Kelly and Tony Morley started in midfield
<![if !vml]>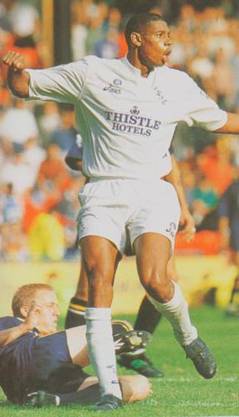 <![endif]>†<![if !vml]>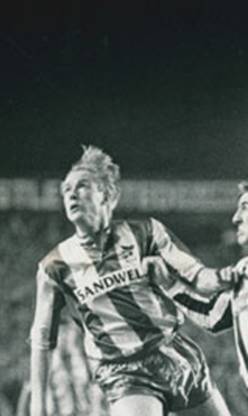 <![endif]>† †<![if !vml]>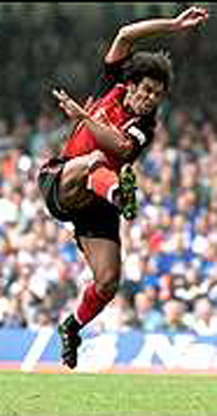 <![endif]>†<![if !vml]>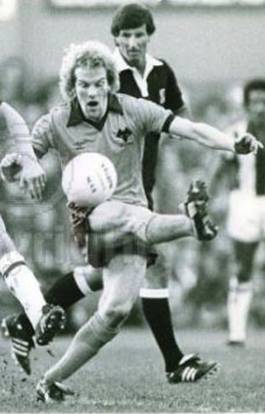 <![endif]>
Future Leeds Player Carlton Palmer was in the central defence with Stacey North. Leeds born Don Goodman and Andy Gray were the strikers