<![if !vml]>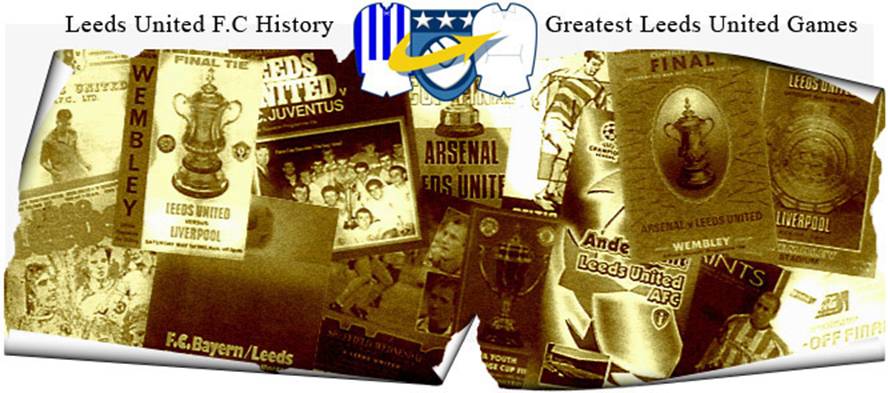 <![endif]>
Date: Saturday, 29th September 1984.
Venue: Elland Road, Leeds.
Competition: Second Division.
Score: Leeds United 6 Oldham Athletic 0.
Scorers: Leeds United: Wright, Ritchie (3, 1 pen), Sheridan, Linighan. Oldham Athletic:  Nil.
Attendance: 14,290.
Teams:
<![if !vml]>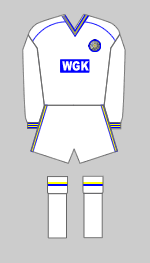 <![endif]> <![if !vml]>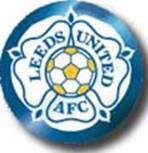 <![endif]>
Leeds United: Harvey; Irwin, F.Gray; Sellars, Linighan, Dickinson; Wright, Sheridan, Ritchie, Lorimer, Gavin.
<![if !vml]>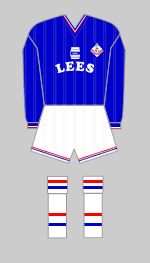 <![endif]><![if !vml]>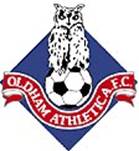 <![endif]>
Oldham Athletic: Goram; Henry, Donachie; Buchan, Clements, Hoolickin; Ward, Palmer, Quinn, Parker, Barlow.
Referee: Mr K.W. Baker (Rugby).
Matches involving Leeds United and Oldham Athletic, and with cup-ties and play-off matches included there have been quite a number of them over the years, have usually been close and keenly fought affairs. However, there was an exception to the rule in September 1984 when Oldham came to Elland Road and suffered a 6-0 mauling in a Second Division game that marked the twenty-second anniversary of Peter Lorimer's debut for United. The hard-shooting Scot, who made his debut for United as a fifteen-year-old in September 1962, was in the second spell with the Elland Road club but, even at thirty-seven years of age, he managed to turn in an impressive display to help United, who had several teenagers and a twenty-year-old in their side, to their high scoring success against Oldham.
He could not celebrate his for hundred and seventieth League outing for United by putting his name on the scoresheet but he played a part in two of his side's goals. His right wing chip enabled eighteen-year-old Tommy Wright to open the scoring in the third minute and though it took United until the hour mark to increase their lead it was from Lorimer's through pass that Andy Ritchie hit a firm shot past Andy Goram.
Ten minutes later Ritchie's determination, after taking up a short pass from John Sheridan, enabled him to swerve a fine shot in from near the penalty spot and after Sheridan had headed home from eight yards in the seventy-third minute, Ritchie completed his hat-trick from the penalty spot seven minutes from the end.
United's joy, and Oldham's misery, was complete in the eighty-sixth minute when the twenty-year-old Mark Gavin, making his first full appearance of the season and preferred to £930,000 winger Peter Barnes, crossed from the right for central defender Andy Linighan to race through and crash a powerful header into the net.
Alternate Report from YEP (Courtesy Mark Ledgard)
On days when the great Leeds United got among the goals, it was one of the sights of the match to see Jack Charlton racing upfield to join in the goal-scoring spree. In this game when Leeds destroyed Oldham Athletic, the rout was rounded off by the big defender's latest successor, the six feet-four inch Andy Linighan. His first goal for Leeds since his £25,000 move from Hartlepool United the previous May was the icing on the cake at what turned into a twenty-second anniversary of Peter Lorimer's League debut. "He's been busting to get his first goal for us," said the Leeds Manager, Eddie Gray, well satisfied by the match by match improvement of the twenty-two-year-old defender from the North-East. "It may seem odd to go on about our defence, after a day when we have scored six, but their part in the win was so pleasing," said Gray, "I was delighted by the way the boys at the back never gave anything away." He was also thrilled for Andy Ritchie who collected his first hat-trick for Leeds in his first full home League game since ankle damage had side-lined him the previous season. Only one thing was missing to make Leeds' day complete, a goal for Peter Lorimer to round off a memorable performance by the Scot on a memorable day. Lorimer would have loved to have scored in the eighty-third minute, and he could have, too. But Leeds' chief penalty-taker sportingly threw the ball to Andy Ritchie, when the referee had pointed to the spot after Roger Palmer had brought down Scott Sellars. Ritchie stepped forward and hit his first senior game penalty high into the net to complete his hat-trick. "You have to understand other people's feelings at a time like that," said Lorimer. "In his position a few years ago I would have desperately wanted that third goal, and anyway, I think that little gestures like that help team spirit so much," said Leeds' record goal-scorer. "It was very gracious of him." said Andy Ritchie, whose goals followed six for the reserves the previous week and a midweek Cup goal at Gillingham to emphasise his comeback.
Ironically the last time Leeds had hit six in a League game, Lorimer was a hat-trick hero himself. That was in a 6-1 victory over Arsenal in May 1973. He also collected one of his seven other hat-tricks for Leeds the last time they recorded a bigger aggregate win than in this game, in a 7-0 trouncing of Southampton on 4th March 1972. The thirty-seven-year-old not only played in great style in this game, but finished the match in style, too, walking off with a consoling arm around Oldham's former Manchester United defender Martin Buchan, one of Lorimer's team-mates in his days in the Scotland side. "You are always sad for a team, when they get beaten like that, but they were never good enough on the day," said Lorimer. "I know Martin well and when I went over to him he smiled 'it was just as well we played with a sweeper'." Buchan operated in that role and though Lorimer open the way for a fourth-minute breakthrough for Leeds, it looked for almost an hour that Buchan's know-how would hold things that way.
The game had lost it's way and was heading nowhere when Lorimer stepped in again in the fifty-ninth minute to set off a run of five goals in twenty-seven minutes, who also hit six in the Cup games against Hartlepool United in January 1979 and Stromsgodset (Norway) in October 1973, could then do no wrong, completely repairing the dent in their season caused by defeats in their previous three League games.
Goal No.1 came in the fourth minute. A right wing chip from Lorimer and Wright turned it into the net to score his seventh goal of the season.
Goal No.2 arrived in the fifty-ninth minute. A through ball from Lorimer was firmly hit home from fourteen yards by Andy Ritchie.
Goal No.3 came after sixty-nine minutes. A short pass from John Sheridan, which Ritchie fought well for, to beat his man and swerve in a fine shot from near the penalty spot.
Goal No.4 came in the seventy-third minute. Tony Henry's headed back-pass brought a great save from Andy Goram, only for Mark Gavin to knock the loose ball to John Sheridan, who hit home an eight-yard shot for his first goal since breaking his leg the previous October.
Goal No.5 came in the eighty-third minute. Andy Ritchie completed his hat-trick with a penalty.
Goal No. 6 arrived after eighty-six minutes. Mark Gavin finished off an inventive display with the left-wing cross which enabled Andy Linighan to head powerfully into the net from sixteen yards.
After that, Oldham's best moment came with a twenty-five-yard drive from Derrick Parker, but David Harvey, even in the ninetieth minute, was in no mood to hand over a consolation prize, leaping high to turn the ball to safety with a save which nudged Leeds into fourth place in the table on goal difference and left Oldham goalless for the sixth successive time at Elland Road.
<![if !vml]>
<![endif]>
Match Action:
<![if !vml]>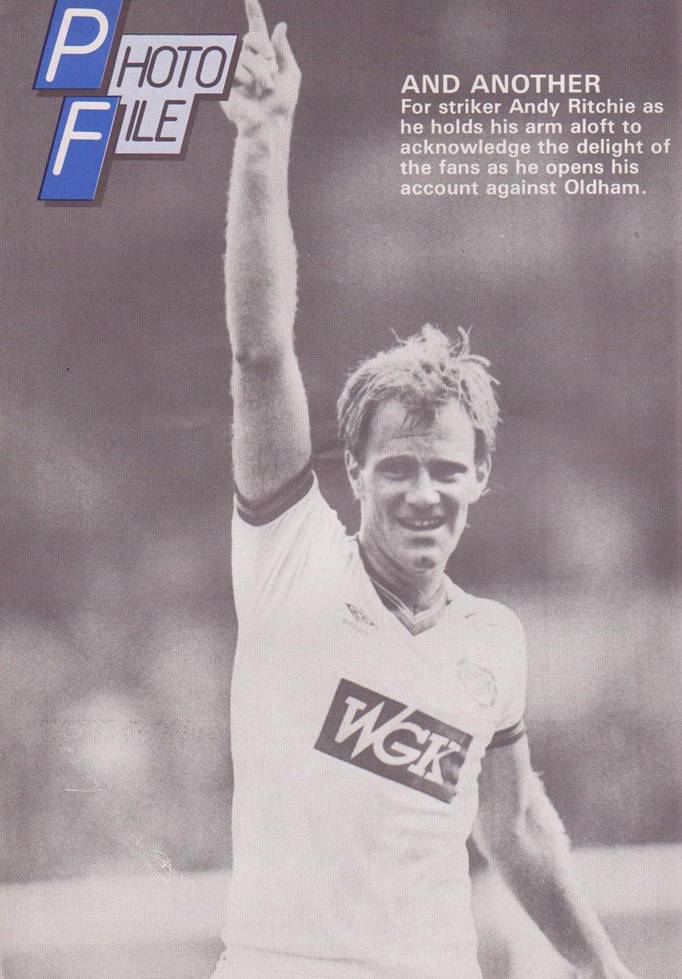 <![endif]>
(Action photos below Courtesy Mark Ledgard)
<![if !vml]>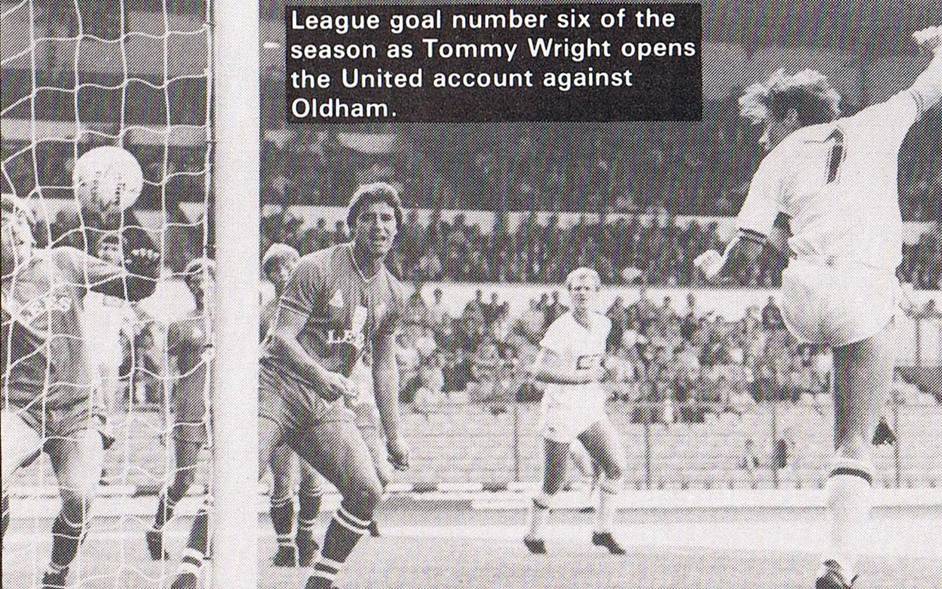 <![endif]>
<![if !vml]>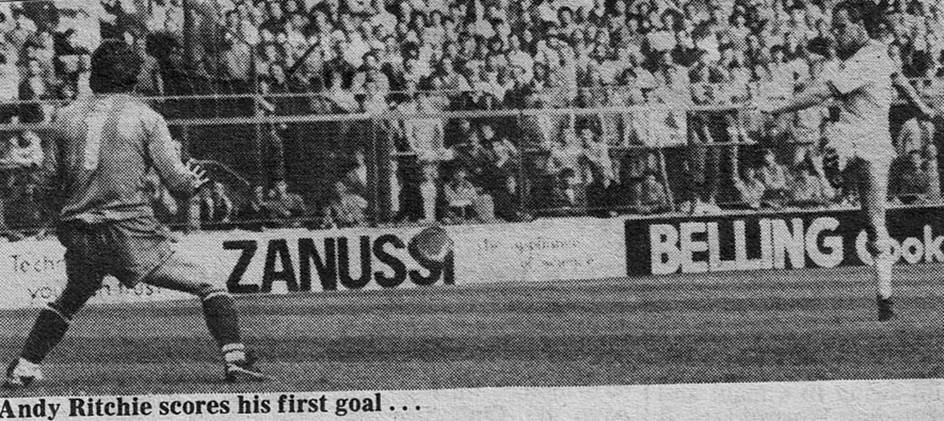 <![endif]>
<![if !vml]>

<![endif]>
<![if !vml]>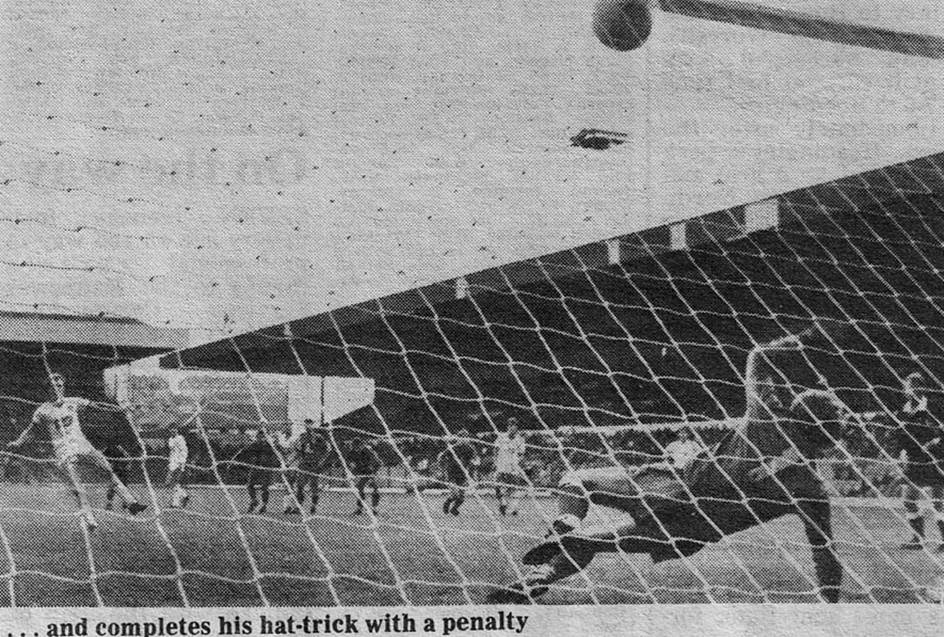 <![endif]>
<![if !vml]>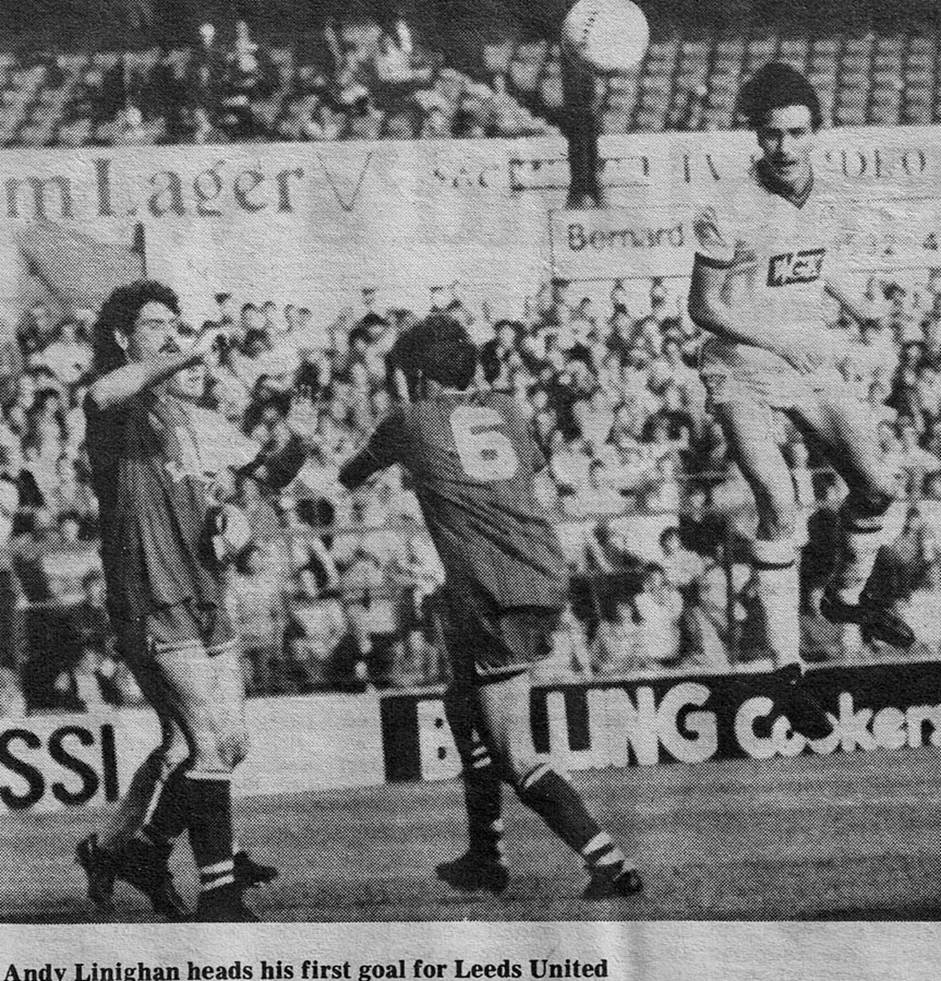 <![endif]>
<![if !vml]>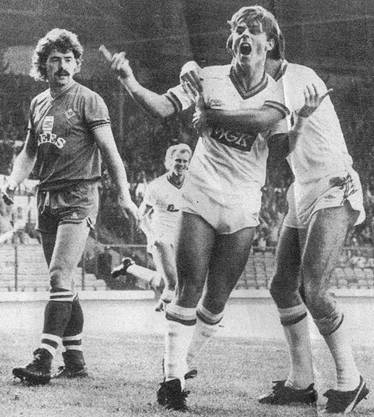 <![endif]> <![if !vml]>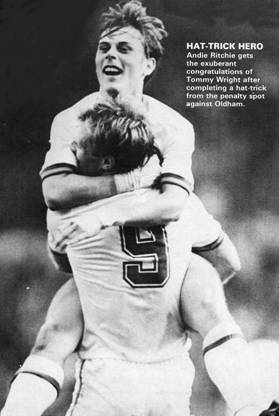 <![endif]>    <![if !vml]>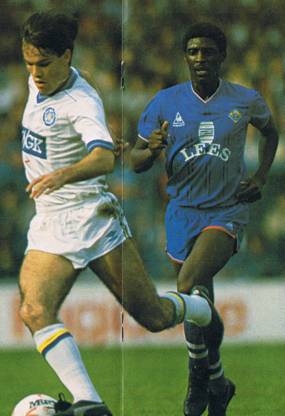 <![endif]>
Tommy Wright celebrates opening the scoring, then congratulates Any Ritchie on his hat-trick Mark Gavin leaves Roger Palmer trailing
Teams:
<![if !vml]>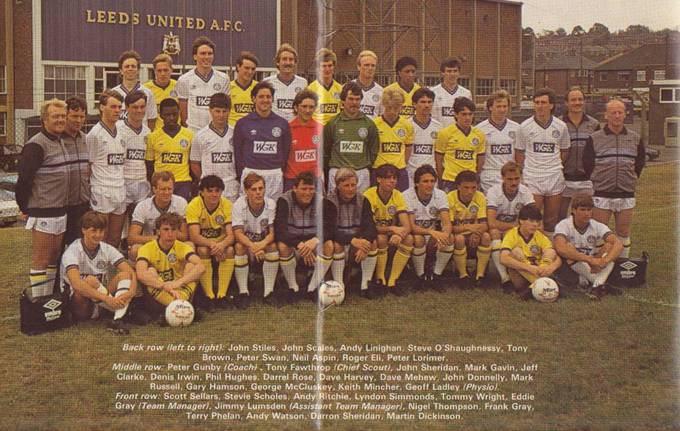 <![endif]>
<![if !vml]>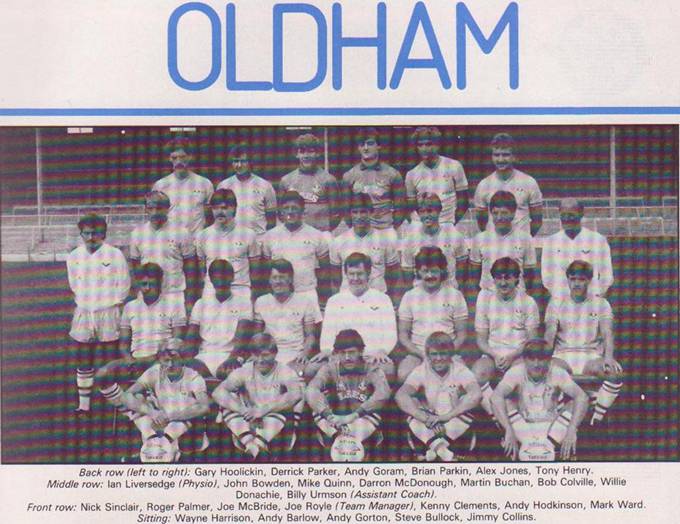 <![endif]>
Players:
<![if !vml]>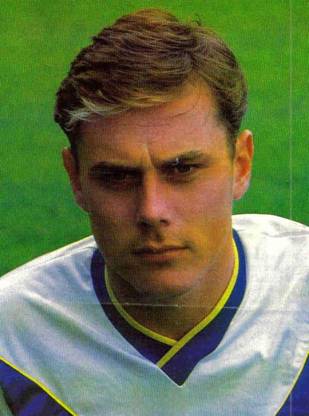 <![endif]>   <![if !vml]>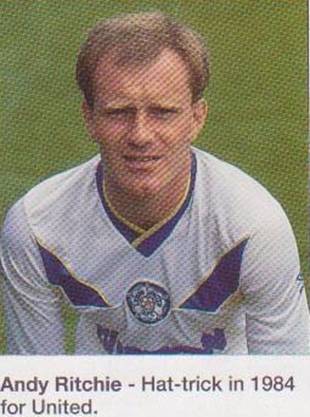 <![endif]>   <![if !vml]>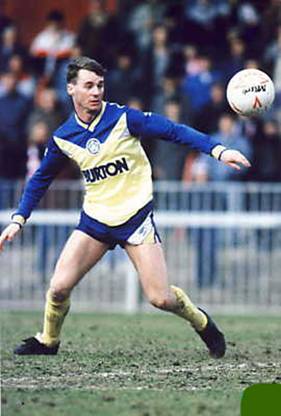 <![endif]>    
                  The Leeds goals were shared by Tommy Wright, Andy Ritchie (3), John Sheridan
<![if !vml]>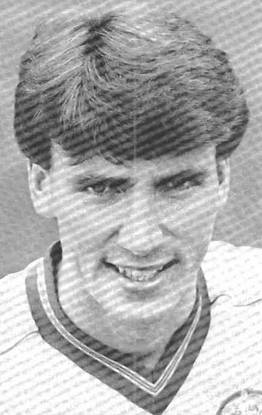 <![endif]>                 <![if !vml]>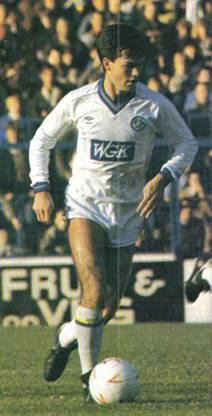 <![endif]> <![if !vml]>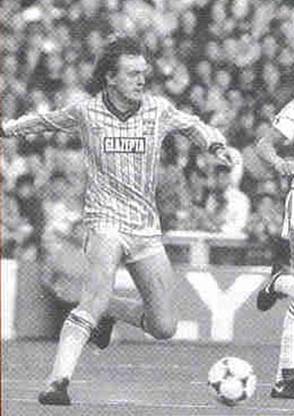 <![endif]> 
and Andy Linighan                                                   Mark Gavin was preferred to Peter Barnes on the left-wing
<![if !vml]>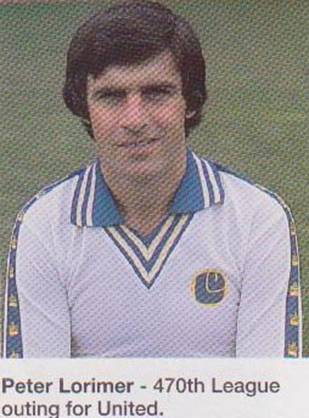 <![endif]>      <![if !vml]>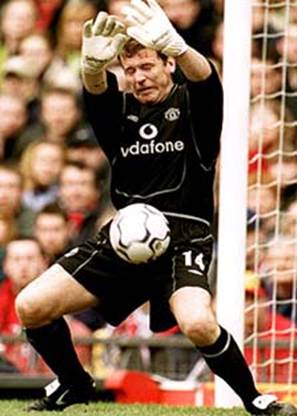 <![endif]>              <![if !vml]>

<![endif]>
There was a cheer for Peter Lorimer                      Andy Goram did not have a happy day                     Martin Buchan was sweeper
when he came on.
<![if !vml]>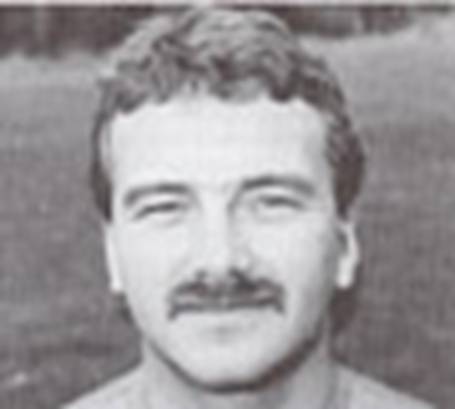 <![endif]> <![if !vml]>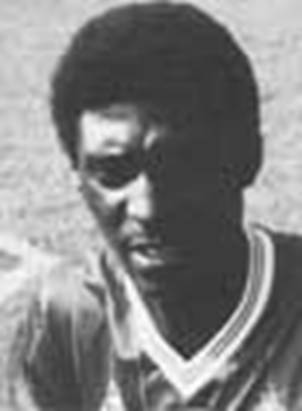 <![endif]>
Tony Henry's headed back-pass put Goram in trouble                          Roger Palmer conceded the penalty