<![if !vml]>
<![endif]>
Date: Saturday 29th January 1983.
Venue: Highbury, London.
Competition: FA Cup Fourth Round.
Score: Arsenal 1 Leeds United 1
Scorers: Arsenal: Sunderland. Leeds United: Nicholas (og).
Attendance: 33,930 (Receipts £82,856).
Teams:
<![if !vml]>
<![endif]><![if !vml]>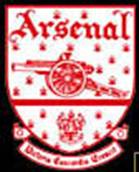 <![endif]>
Arsenal: Jennings; Hollins, Sansom; Robson, O'Leary, Nicholas; Talbot, Sunderland, Petrovic, Woodcock, Rix.
<![if !vml]>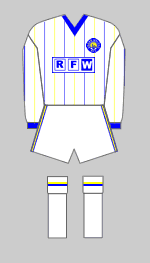 <![endif]><![if !vml]>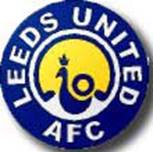 <![endif]>
Leeds United: Lukic; Aspin, E. Gray; Thomas, Hart, Dickinson; Hamson (Hird), Connor, Butterworth, F. Gray, Graham.
Referee: Mr. A.Seville (Birmingham). (Replaced after 48 mins by Mr M.J. Taylor (Deal, Kent)).
United had a plumb draw as a reward for their win at home to Preston North End in the FA Cup Third Round in January 1983 when they were drawn against Arsenal at Highbury in the next round. After their relegation from the top flight at the end of the previous season, United were missing the income of being in Division One and this tie gave United an early return to the big time, if only a brief one, and a boost to their second flight income.
United's Cup record was nothing to write home about, and their win against Preston had been their sixty-ninth in the competition and their draw at Highbury meant that United had featured in thirty-six draws and lowered their flag on no less than fifty-four occasions. At that point, of the ninety-two teams in the league, they had played all but Burnley, Grimsby Town, Watford, Fulham, Barnsley, Brighton and Southend United.
Strangely, the two teams seemed to make a habit of doing well on their opponents ground, Leeds having lost only once in their eight most recent visits to Highbury while the Gunners remained unbeaten in their previous five visits to Elland Road. The sequence was to continue unchanged for the next two games. Against the mighty Arsenal, United acquitted themselves well and managed to come away from Highbury with a 1-1 draw, after being given little chance of upsetting the classy Gunners. It was the first time that United had met First Division opposition since being relegated and the match was seen as a yardstick for the progress Eddie Gray's boys had made.
They put up a magnificent defensive display with Paul Hart marshalling a back-four in which teenagers Neil Aspin and Martin Dickinson excelled, whilst John Lukic was in top form between the posts. A rare lapse in concentration cost United a famous victory, conceding a goal only seconds after they had taken a shock lead. United took the lead, thanks to an own goal from Peter Nicholas in the sixty-first minute. Terry Connor set off in pursuit of Eddie Gray's long punt upfield. As he closed in on Peter Nicholas, the Arsenal man attempted to lob the ball back to Pat Jennings in goal, but succeeded only in stroking it between his goalkeeper and his right-hand post from thirty yards.
But Arsenal hit back straight from the kick-off, winning a corner on the left which David O'Leary flicked on for Alan Sunderland to thump in at the far post. Although United's joy had been short-lived, they were full value for their draw and the promise of a sizeable replay crowd at Elland Road.
There were a couple of other bonuses for United with Gary Hamson, playing his first game of the season following a cartilage operation and a trouble-free afternoon from their fans. The spotlight was on United's followers after crowd trouble at several matches during the season, the latest being at Derby the previous week. Scors of extra police were drafted in to tackle the potential troublemakers, but the day passed of without incident. 
Manager Eddie Gray was pleased with his team's fine all-round performance and singled out youngsters Neil Aspin and Martin Dickinson, who were tremendous in defence in their first experience of top flight opposition on their own intimidating ground. Aspin had had a single game at home to Ipswich Town in the previous season. Paul Hart too had had a magnificent game at the centre of the defence marshalling them to perfection. While Gary Hamson, who had featured in just two reserve games all season following cartilage trouble, also did a good job and could be well satisfied with his performance on his comeback match. All the players appreciated the support from the fans that had made the long and expensive trip to London and given their vocal support.
Other Reports (Courtesy of Mark Ledgard)
The sun came out at Highbury for Leeds to end a week of worry and apprehension after the previous week's trouble at Derby. A battling hard-working performance earned a money-spinning replay at Elland Road for the following Wednesday. And the bonus for Leeds was a trouble-free afternoon on the terraces where their supporters were on their best behaviour.
Ninety minutes of hard work kept the First Division side in check to earn Leeds a second bite of the cherry. But it took an amazing own goal by Welsh International Peter Nicholas to open up the match in the second half. Player-Manager Eddie Gray cleared the Arsenal attack with a massive volley downfield. Centre forward Terry Connor chased the wind-carried ball as he put Nicholas under pressure. As the Welshman attempted to clear he succeeded only in smashing a twenty-five yard drive in off the left hand post. It was a goal out of nothing, just the stroke of good fortune that Leeds had been searching for. But their joy was cut short within a minute. Straighr from the kick-off Arsenal surged up the field to win a corner. Graham Rix curved his kick to the near post, David O'Leary back-headed across goal and Sunderland on the far post hooked in the equaliser.
I am sorry to report that the minute of excitement was the only occasion of note in a match that was generally as colourless as a winter evening. The first half was littered with misplaced passes, Leeds concentrated on closing things down and Arsenal lacked control or inspiration to open them up. Only one clear chance came Leeds' way, when Eddie Gray found Terry Connor in space in the area only for Pat Jennings to smother his shot. Arsenal did all the huffing and puffing but never looked like blowing down the Leeds house, which was built around the commanding frame of Centre-half Paul Hart, well supported by Neil Aspin and Martin Dickinson. I thought that at one time the only real incidence of interest was going to be the muscle injury which caused referee Allan Seville to be replaced by his linesman! But Nicholas' blunder and Arsenal's quick reply got the fans on their toes and the last twenty-five minutes was more like a Cup-tie. John Lukic saved Leeds twice by diving at the feet of Graham Rix and Alan Sunderland. Most of the pressure was Arsenal's but Leeds held out for a deserved second chance.
And
Leeds' abrasive defence stifled any Arsenal originality to earned a deserved if unexpected replay. An own goal in the sixty-first minute by Peter Nicholas, who beat Pat Jennings with an acute 'shot', was smartly neutralised a minute later by Alan Sunderland But Arsenal never created the clear chances to justify any sentiment that they were unlucky to have to go to Leeds for a replay. The Leeds defence guarded the Arsenal attack as carefully as the police kept watch on the visiting fans. A heavy concentration of men in the appropriate places usually stifled any danger in both cases. For all Arsenal's energy there were few shots. And the police were forced to escort away only a handful of joyous Leeds fans. Arsenal's Manager Terry Neill recognised and hoped that Arsenal may be beginning another FA Cup marathon. He said, "We're used to digging in for replays. If Leeds think that is the end of Arsenal, they are in for a surprise." Neill agreed there was 'not much decent football' in the match and Arsenal's midfield lacked craft and poise. Leeds' patched up defence, Gary Hamson substituting for injured Scottish International Kenny Burns and seventeen-year-old Neil Aspin at full-back, played with determination to crowd and confuse Arsenal. Peter Nicholas, Graham Rix and Alan Sunderland all first half efforts blocked. Then Kenny Sansom shot over the bar and Vladimir Petrovic sent a header wide. Leeds' only significant first half effort came when Eddie Gray swapped passes with his brother Frank and then released Terry Connor with a swift through ball. But Pat Jennings anticipated the danger and sprinted out of the goal to smother the ball. Three minutes after half time referee Alan Seville limped off with a strained calf. A linesman took over. Leeds went ahead when Eddie Gray's long ball was chasesd by Peter Nicholas, with Terry Connor challenging at his heels. Nicholas's back pass left Pat Jennings with no hope of stopping it. A minute later Graham Rix's corner was nodded-on by David O'Learyfor Alan Sunderland to sweep home.
And
In a match riddled with errors, it took the ultimate soccer mistake of an own goal to rescue the FA Cup Fourth Round tie from utter mediocrity at Highbury. Peter Nicholas' own goal was as spectacular as it was unexpected, and it evoked an immediate response from Arsenal, who equalised within a minute. But the previous hour's play had been of such low quality that the only thing of note was the calf injury which forced referee Seville to retire just after half-time and linesman Taylor to take over. Leeds, the Second Division club so under pressure because of the behaviour of its fans, deserved their replay at Elland Road on the ensuing Wednesday and happily their supporters generally behaved themselves too. With the resolute Paul Hart blending with the youth of Neil Aspin and Martin Dickinson in defence, Leeds gave an excellent performance in the context of underdogs playing away against First Division opponents. One of their counter-attacks brought Nicholas' agony, when under pressure from Connor, chasing Eddie Gray's long downfield ball, he gave Leeds their unexpected lead. Alan Sunderland immediately equalised after David O'Leary headed-on Graham Rix's excellent corner. John Lukic, Leeds' goalkeeper had few other moments of danger and dealt imperiously with the high crosses that Arsenal persisted with. Vladimir Petrovic rarely showed the brilliant touches that can turn the best defences and the recalled Brian Talbot, as committed as the Yugoslav appeared diffident, worked hard to little purpose in trying to prove that he had been unfairly dropped in the first place.
And finally from the YEP
A blink or two and you would have missed the goals as Leeds United went about earning themselves a money-spinning FA Cup Replay with Arsenal on the ensuing Wednesday. Leeds opened the scoring with the best shot of the match after sixty-one minutes and ten seconds. With five seconds left of the sixty-first minute, Arsenal equalised from a corner. But you could not encapsulate the Fourth Round tie into forty-five seconds, it was ninety minutes of endeavour, especially by Leeds but in particular by Paul Hart, Martin Dickinson, Neil Aspin and John Lukic. It was a day for the Leeds defence to savour. Paul Hart probably came out of it with a sore head, and the three youngsters sore limbs, but they did their jobs expertly in a match typical of the days when the two clubs were leading the way in the early seventies.
Arsenal provided all the pressure, and Leeds took it more or less within their stride. "It was just like pushing a cork into a bottle, the harder we pushed the tighter it got," said Arsenal Manager, Terry Neill. "You have give Leeds a lot of credit, they worked especially hard just as we knew they would," he said. Paul Hart relished being back in the big time and made it his day. He won everything in the air, while the speed of Martin Dickinson and the persistence of Neil Aspin countered the threat from the fast raidinf Alan Sunderland and Tony Woodcock almost perfectly. Brave saves by John Lukic when his defenders had not got blocking bodies in the path of shots kept real chances down to a minimum. Of Arsenal's eighteen attempts on the Leeds goal there was only one reasonable opening apart from their goal. It fell to their most creative player Vladimir Petrovic, but he headed wide. In fact Leeds blocked out so much light out of the game that there was little to discuss except the referee until the goals.
Alan Seville (Birmingham) had retired from the action injured, to be replaced by his linesman. "It's a calf strain," said Terry Neill in mock Managerial solemnity afterwards. "He'll be out for a fortnight and definitely misses the replay. Can't understand it, he felt fine yesterday, no problem at all." The Leeds breakthrough was a strange affair too. It was one of only two occasions when Pat Jennings was called upon for any serious involvement. Just before the break he spread himself to block Terry Connor's attempt to run in Eddie Gray's through pass. But he had no chance of stopping the effort from Peter Nicholas in the sixty-first minute. Terry Connor, eager to celebrate his one hundredth appearance, was enthusiastically chasing a huge downfield punt from Eddie Gray with Nicholas, when the Arsenal midfield player tried to hit it to safety. He was thirty yards from his goalkeeper and so the attempted back-pass had to have some power. But it turned out to be a magnificent shot spearing low, hard into the corner of the net inside Jennings's right hand upright. Arsenal forced a corner straight from the restart and when David O'Leary managed a near post back-header, the ball fell perfectly for Alan Sunderland to volley in at the far post. Leeds replaced the tired Gary Hamson with Kevin Hird soon afterwards, the midfield man having done well enough in his first match of the season after cartilage trouble. But the comeback player who made the biggest imprint was Martin Dickinson. He had been out for five games with a series of knocks but looked as though he had never been away and a bone-shaking tackle on Tony Woodcock in the twelfth minute only confirmed that.
<![if !vml]>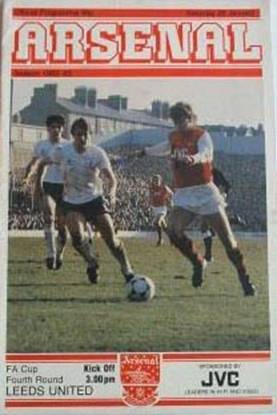 <![endif]>
Match Action:
<![if !vml]>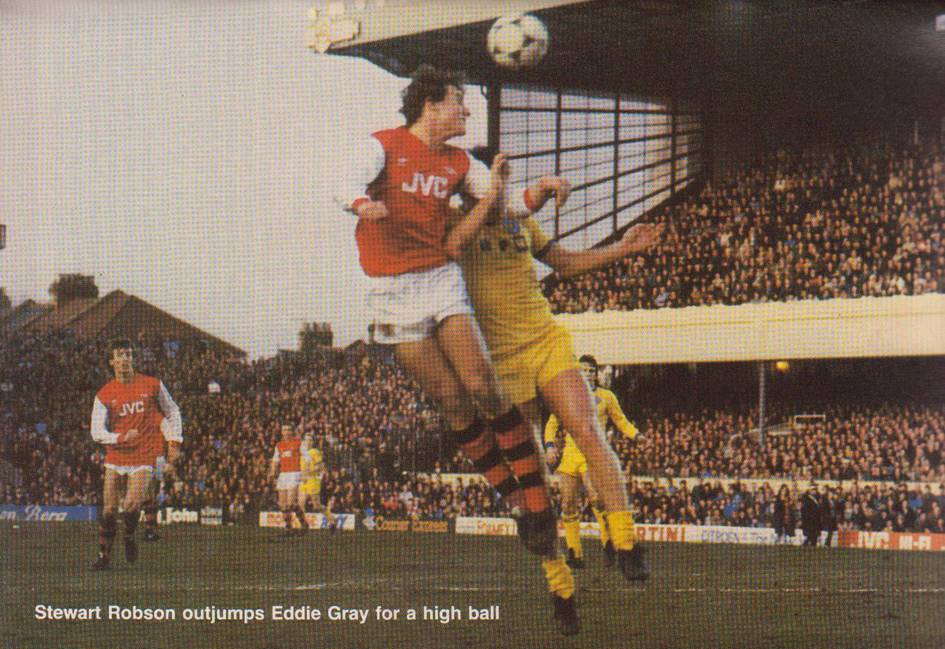 <![endif]>
(Match Action below Courtesy Mark Ledgard)
<![if !vml]>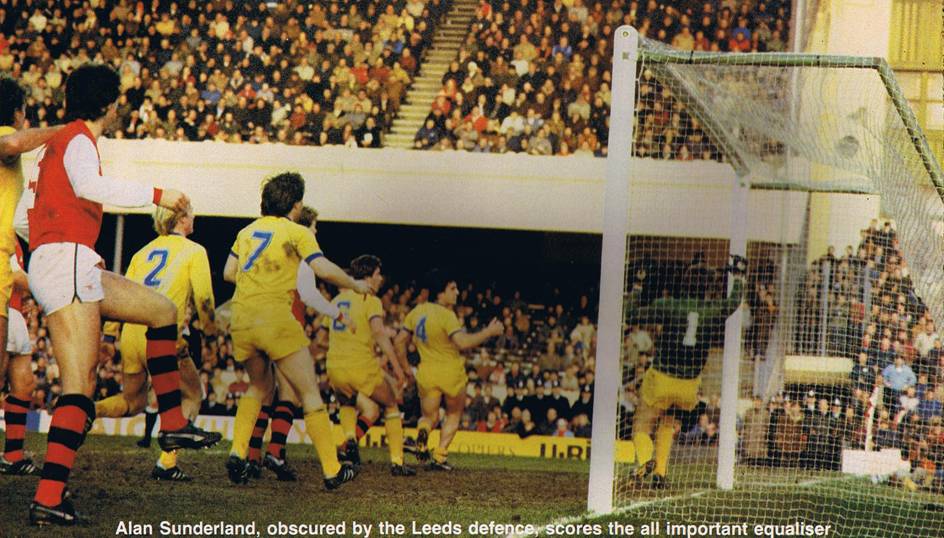 <![endif]>
<![if !vml]>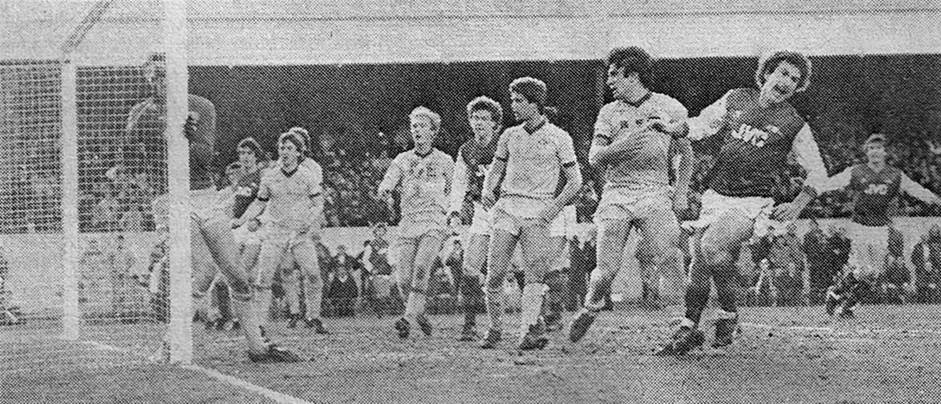 <![endif]>
Alan Sunderland turns away in delight after scoring the Arsenal equaliser as the United defence look stunned
<![if !vml]>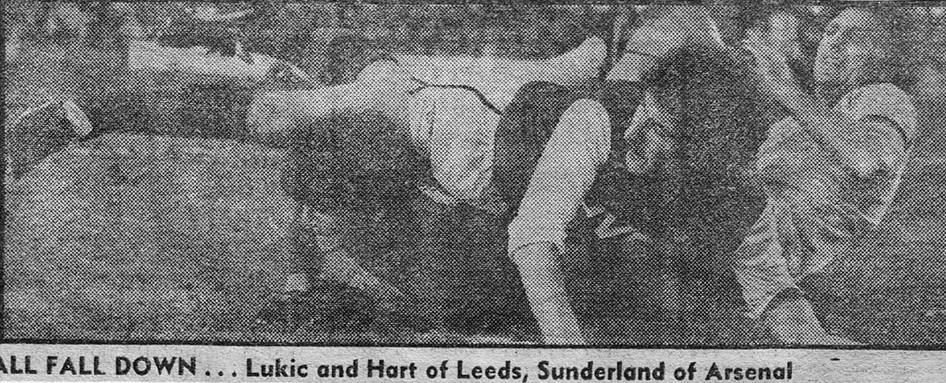 <![endif]>
<![if !vml]>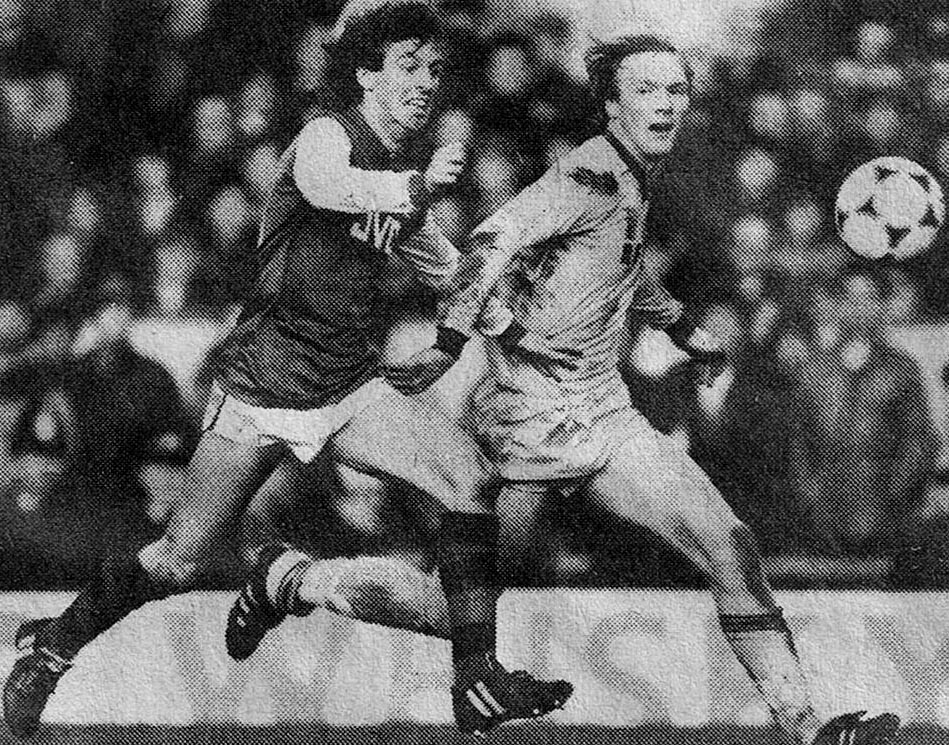 <![endif]> 
Neil Aspin in a tussle with Graham Rix
<![if !vml]>
<![endif]>
<![if !vml]>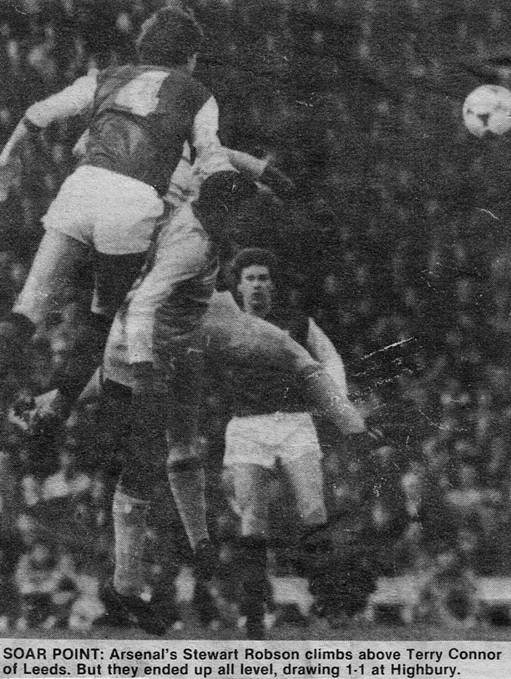 <![endif]>
Players:
<![if !vml]>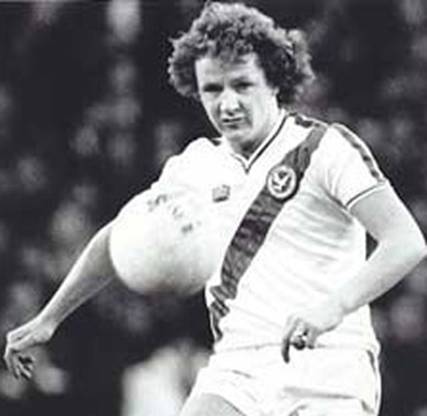 <![endif]>     <![if !vml]>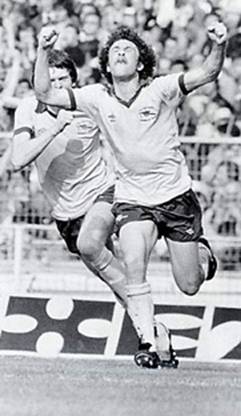 <![endif]>  
Peter Nicholas scored an own goal and Alan Sunderland got Arsenal's goal                    
<![if !vml]>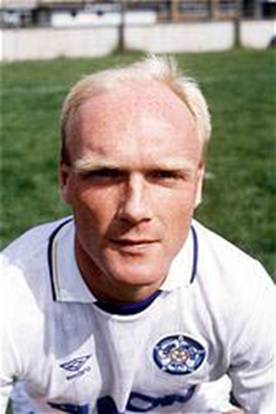 <![endif]>   <![if !vml]>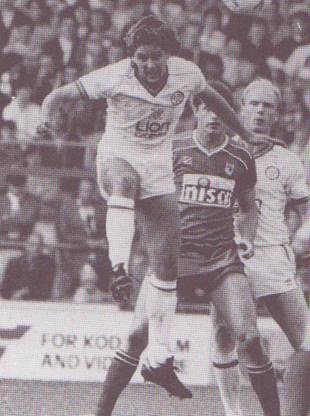 <![endif]>   <![if !vml]>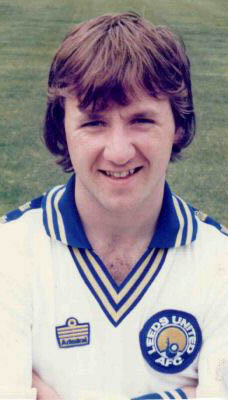 <![endif]>
         Neil Aspin and Martin Dickinson played well in defence and Gary Hamson did well after a long lay-off
<![if !vml]>
<![endif]> <![if !vml]>
<![endif]>
Paul Hart was magnificent.                      Eddie Gray was pleased with his team's performance.