<![if !vml]>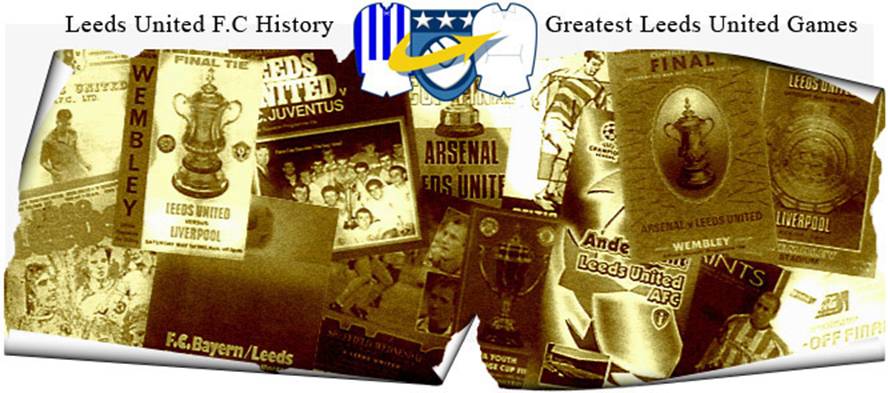 <![endif]>
Date: Friday, 28th May 1971.
Venue: Stadio Comunale, Turin.
Competition: Inter-Cities Fairs Cup Final First Leg.
Score: Juventus 2 Leeds United 2
Scorers: Juventus: Bettega, Capello. Leeds United: Madeley, Bates.
Attendance: 45,000.
Teams:
<![if !vml]>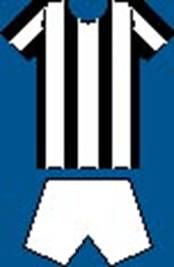 <![endif]><![if !vml]>

<![endif]>
Juventus: Piloni; Spinosi, Marchetti; Furino, Morini, Salvadore; Haller, Causio, Anastasi (Novellini), Capello, Bettega.
<![if !vml]>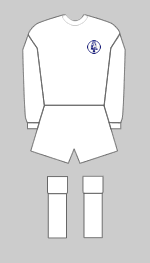 <![endif]><![if !vml]>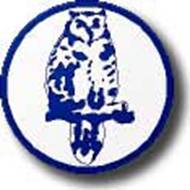 <![endif]>
Leeds United: Sprake; Reaney, Cooper; Bremner, Charlton, Hunter; Lorimer, Clarke, Jones (Bates), Giles, Madeley.
Referee: Laurens Van Ravens (Holland).
Torrential rain washed out the first attempt to play the first leg of the 1971 Inter-Cities Fair Cup Final in Turin on Wednesday, 26th May 1971. Referee Lauren Van Ravens had little option but to abandon the game after fifty-three minutes as huge pools of water made play impossible. Juventus were the beneficiaries of this money wise as they had sold 46,501 tickets, making it a one hundred and fifty million lire bonanza for them. The receipts were £100,000 and sadly for the fans it was not refundable as, in Italy, if the game had reached the halfway mark no money is refunded.
For Leeds United, Don Revie was understandably disappointed, as when you are more than holding your own and with more than half the game gone, especially if the game is on foreign soil, you donít want to have to start again. Billy Bremner commented that the pitch at Ninian Park for Scotlandís recent fixture with Wales had been in a worse state.† Incidents had been few and far between although both sides had hit the woodwork, Franco Causio thumping the ball against a post and Johnny Giles hitting the bar with a twenty-five yard drive. Unfortunately, United also lost the services of Eddie Gray who suffered a recurrence of a dislocated a shoulder which he had sustained while plating for Scotland against Wales a fortnight earlier. He had to leave the pitch after twenty minutes and was replaced by Terry Yorath, but more significantly he would no be available for the two games of the Final.
The rain in Turin was so bad that Juventus, who were running fourth in Serie A, agreed that if the game scheduled for Friday, just two days later, was washed out, then both games would be played in Leeds. Fortunately for the Italians, there was no need for their generous concession and the weather improved anf the game was duly played on the scheduled day.
Juventus was bristling with International performers and many outstanding players. Helmut Haller, the seasoned German World Cup player, lined up amongst the Italian internationals Luciano Spinosi, Roberto Bettega, Pietro Anastasi, Francesco Morini, Franco Causio, Sandro Salvadore, Giuseppe Farino and Fabio Capella, who later became a very successful coach. As always Juventus provided the backbone for the Italian national team and United were under no illusions as to the battle ahead. Don Revie decided not to find room in his line-up for Eddie Grayís replacement, Terry Yorath, choosing to opt for the experienced Paul Reaney at right back with Paul Madeley moving to left midfield for the mercurial Scotsman.
Three days later battle commenced in the Stadio Comunale with Juventus, the club which had once lured John Charles away from Leeds, the favourites with the bookmakers. The Italians looked a good bet early on when their multi-million lire forward line swept into action with a swift breakaway move from their own half. West German international Helmut Haller won possession from Terry Cooper, who had been attacking down the left flank for the umpteenth time in the match, and the ball was moved on by Pietro Anastasi and Franco Causio for Roberto Bettega to finish clinically, to give Juventus a 1-0 lead after twenty-seven minutes. Leeds could make nothing of this swift counter punch, and Juventus had the ball in the Leeds net so quickly that it was all over before the United defenders could get to grips with the situation.
Terry Cooper was causing Juventus massive problems with his left wing sorties and Jack Charlton was also giving them problems with his upfield activities. United responded with a lengthy spell of pressure and twice Jack Charlton went close. He climbed well to a Peter Lorimer cross but Massimo Polini saved his header at the second attempt. Then, after a Johnny Giles free-kick, he managed to get in a volley that whistled just wide. It showed that United were not content to just contain their Italian opponents and there was always the danger that a Leeds thrust would strike home.
There were one or two incidents, as the players were locked in a tight tussle, and Allan Clarke received a booking when he fouled Francesco Morini, but there were no ill-tempers or feuding among the players as United showed the crowd that they could turn on the fluent football just as well as Juventus, but half time came with Juventus still holding the single goal advantage.
United had kept pegging away at their task of wiping out the Juventus single goal lead and their efforts paid off with an equalizer three minutes after the break. Peter Lorimer found Paul Madeley, the Leeds lynch-pin simply strode forward in his own inimitable fashion through the Juventus midfield and with the Italians allowing him the space and time for him to take a sighting on goal and hammer in a twenty-five yard shot. It did brush defender Sandro Salvadore before entering the net, and there was nothing Massimo Piloni could do about it. It was Unitedís first goal in Italy, but within twelve minutes they were behind again to a superb twenty yard shot from Fabio Capello, and once again United were facing an uphill battle.
An unlikely hero emerged from Unitedís ranks to snatch a second equalizer. Substitute Mick Bates, one of the talented reserves on the fringe of a first-team place, was thrown into the action after an injury to Mick Jones after seventy-three minutes, lining up in midfield with Billy Bremner pushed forward into the striking role. Four minutes later, Terry Cooper overlapped on the left and his cross was miss-punched by Massimo Piloni to the feet of Bates, who calmly beat defender Gianpietro Marchetti and drove the ball into the roof of the net from close range for a priceless second goal. That was the end of the scoring, but Leeds never looked like surrendering another goal. On the contrary, the balance of power switched to Leeds with Johnny Giles masterminding several dangerous counter attacks and could have snatched a winner. They could even claim that they were unlucky not to have won the game, for the United players were all convinced that Luciano Spinosa had handled in the area, but referee Van Ravens saw otherwise. It was a fair result and even the Juventus coach conceded neither team deserved to lose, but with two away goals in the bag it was United who justifiably returned home in high spirits..
<![if !vml]>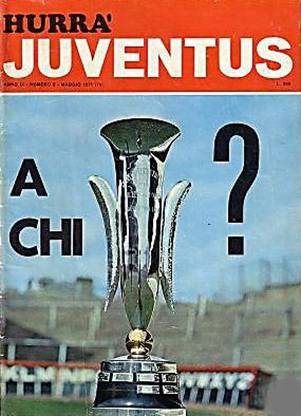 <![endif]>†<![if !vml]>
<![endif]>
Match Action:
<![if !vml]>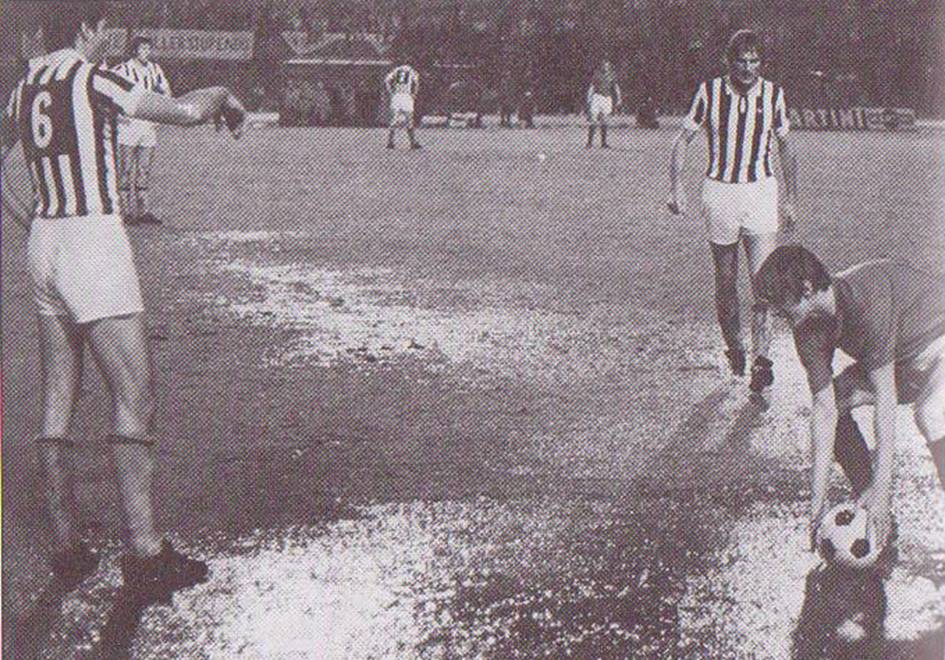 <![endif]>†
Allan Clarke retrieves the ball from the ídeep endí in the abandoned first leg game.
<![if !vml]>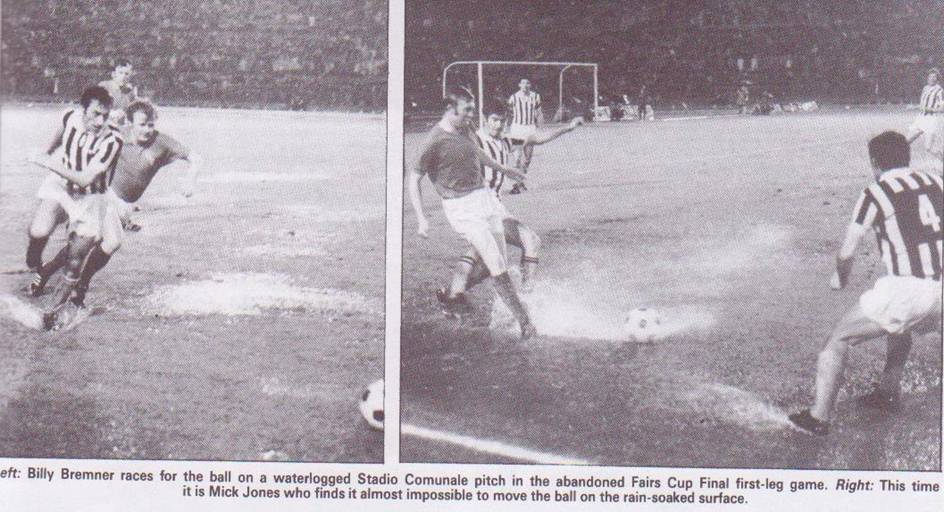 <![endif]>
| | |
| --- | --- |
| Mick Jones on the rain-soaked pitch | Johnny Giles and Fabio Capello tussle in the waterlogged conditions |
<![if !vml]>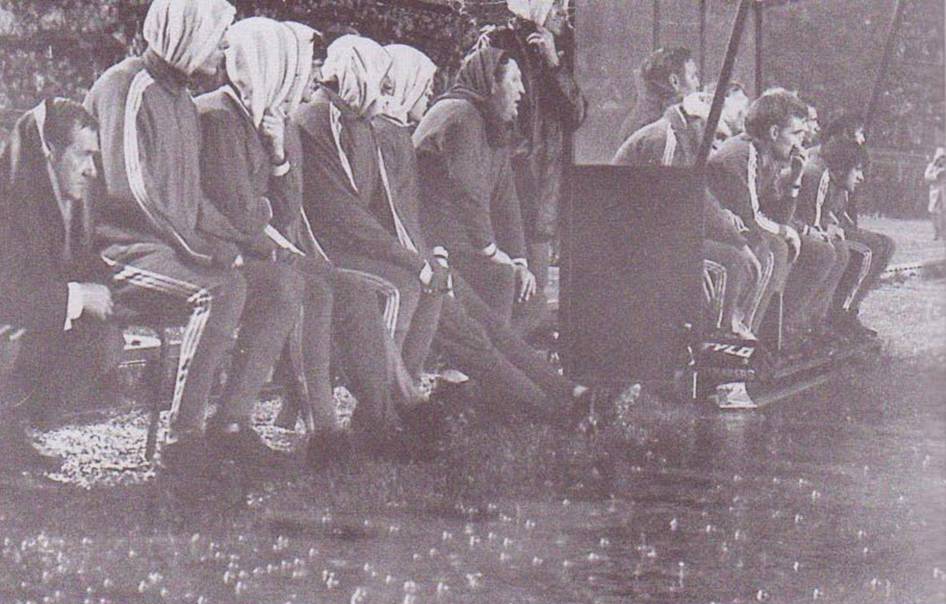 <![endif]>
The rain fell heavily in the abandoned 1st Leg and the bench did not get much cover
<![if !vml]>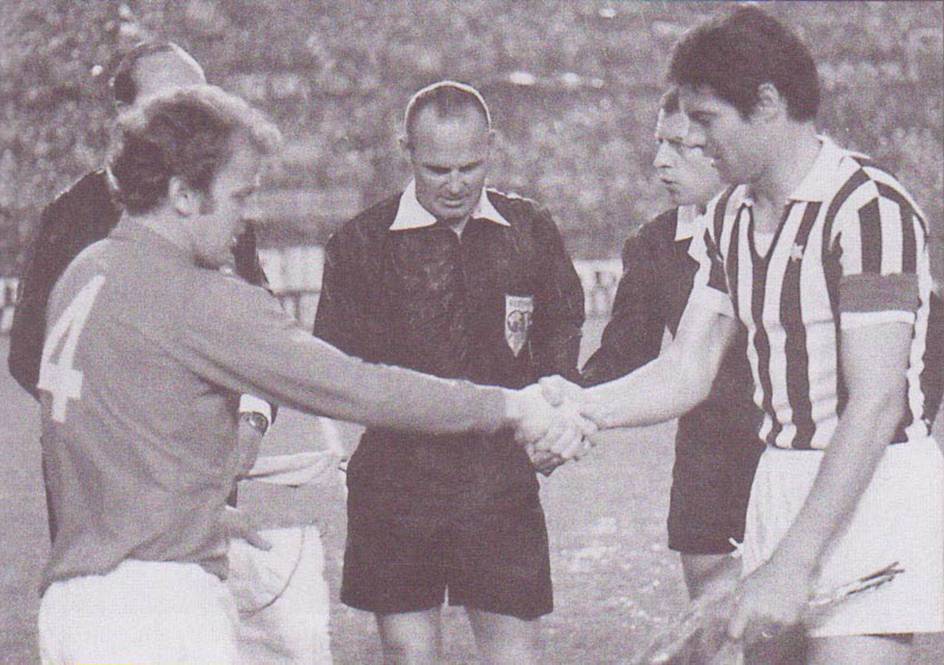 Billy Bremner and Fabio Capello, the two captains, shake hands before the kick-off
<![if !vml]>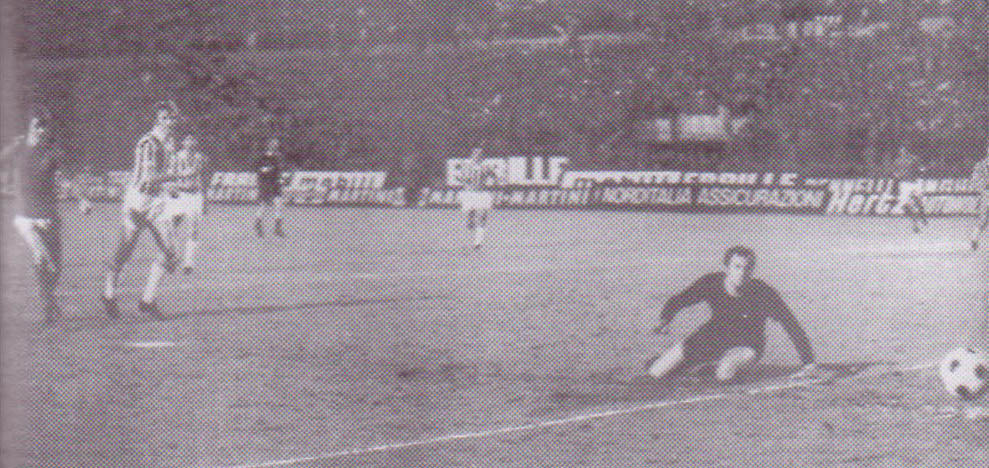 Allan Clarke follows up as Paul Madeley scores the first equaliser
<![if !vml]>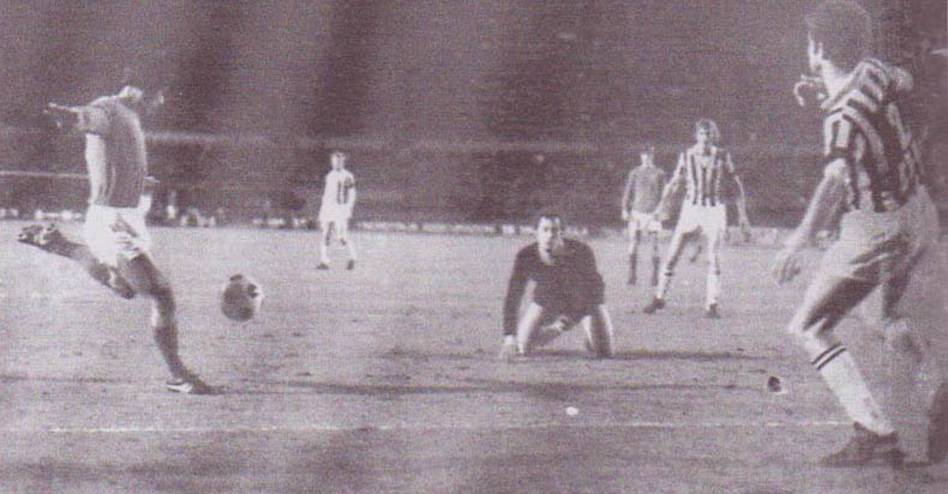 Mick Bates scores the Leeds second equalising goal
<![if !vml]>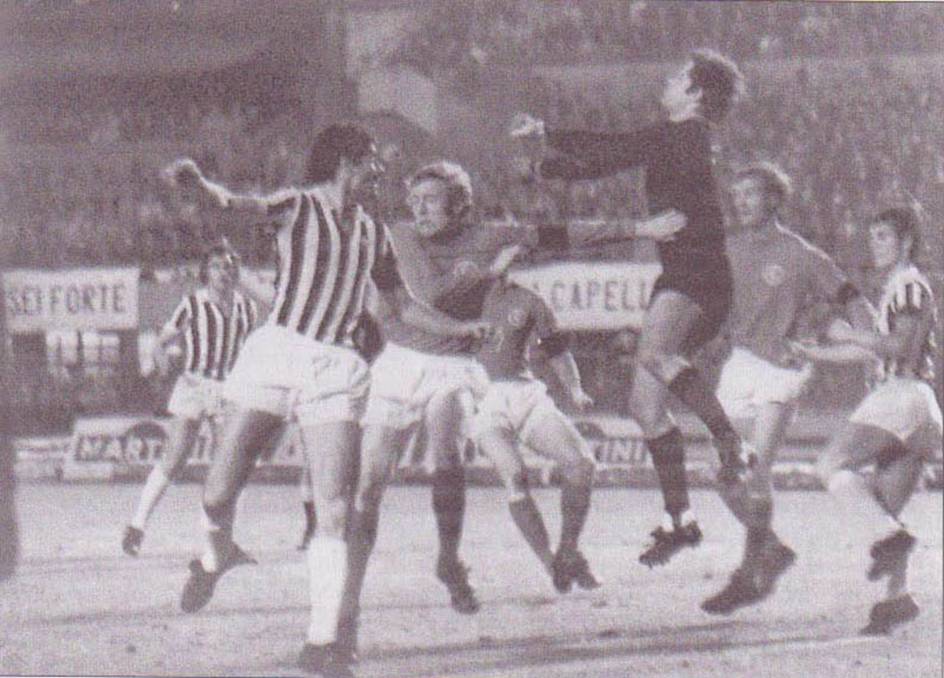 <![endif]>
Mick Jones is crowded out by the Juventusdefence
Players:
| | | |
| --- | --- | --- |
| Fabio Capello, Luciano, Spinosa and Fausto Landini | Luciano Spinosa | Sandro Salvadore |
| | |
| --- | --- |
| Gianpietro Marchetti | Giuseppe Furino |
| | |
| --- | --- |
| Francesco Morini | Helmut Haller |
| | |
| --- | --- |
| Franco Causio | Roberto Bettega |
| | |
| --- | --- |
| Pietro Anastasi | Fabio Capello |
| | |
| --- | --- |
| Eddie Gray missed the game having dislocated his shoulder in the abandoned first match | Mick Bates came on as substitute and scored |