<![if !vml]>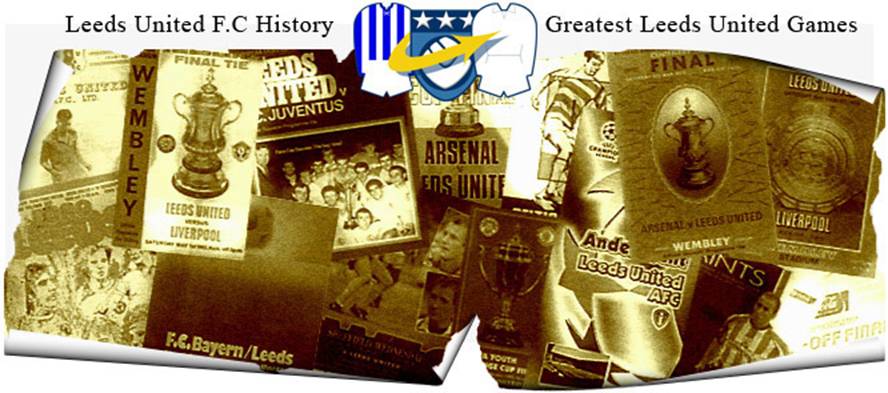 <![endif]>
Date: Thursday, 28th February 2002.
Venue: Elland Road, Leeds.
Competition: UEFA Cup, Fourth Round, Second Leg.
Score: Leeds United 0 PSV Eindhoven 1.
Scorers: Leeds United: Nil. PSV Eindhoven: Vennegor of Hesselink.
Attendance: 39,755.
Teams:
<![if !vml]>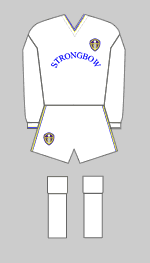 <![endif]><![if !vml]>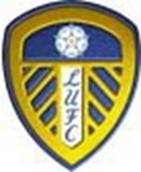 <![endif]>
Leeds United: Martyn; Mills, Ferdinand, Matteo, Harte; Kelly, Bowyer, Bakke, Kewell; Smith, Viduka. Unused Subs: Keane, McPhail, Wilcox, Duberry, Batty, Burns, Robinson.
<![if !vml]>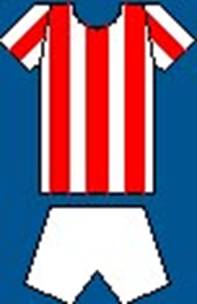 <![endif]><![if !vml]>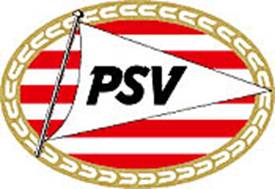 <![endif]>
PSV Eindhoven: Lodewijks; Bogelund, Ooijer, Hofland, Bouma; Rommedahl, Van Bommel, Vogel, Lucius; Kezman, Vennegor of Hesselink (De Jong). Unused Subs: Faber, Ramzi, Gakhokidze, Addo, Nikiforov, Coutinho.
Referee: Antonio.Jesus Lopez Nieto (Spain).
All the hard work United had done in Holland was undone by a man sporting one of the craziest names in football. Jan Vennegor of Hesselink netted a dramatic last-minute winnerti give PSV Eindhoven a 1-0 victory which stunned Elland Road. Just as extra-time was beckoning, Theo Lucius found himself in space in the United penalty area. His shot looped off Nigel Martyn and on to the bar, but before the United defence could get itís bearings Hesselink dived in bravely to set up an all-Dutch UEFA Cup Quarter Final. The result left Leeds without a win in nine games and without a goal in five of their last six matches.
United were again goal-less at home to PSV Eindhoven, even though they held the upper hand for most of the game but the visitors capitalised on their inability to score, particularly in the first leg, by scoring the winner with almost the last kick of the game. And it was they who went on to meet fellow countrymen Feyenoord in the last eight, as they gave the knockĖout blow to Glasgow Rangers and there was no British team left, let alone a Battle of Britain.
If Leeds United were a prize fighter in a boxing bout then the referee would surely have stepped in by now. Yet another massive body blow last night left David O'Leary's battered and bruised Whites swaying helplessly on the ropes looking in vain for something to turn their torrid campaign around. With their dreams of silverware glory for the season shattered by punch after brutal punch, it seemed that only a late bid for Champions League qualification could save the season from total catastrophe. In true Leeds style they had once again failed in the cruelest manner possible. But it was essential they should pull themselves up to ensure they could at least end the term with European football assured for next time around.
A last-minute bundled header from Jan Vennegoor of Hesselink was typical of a season which had already handed so many vicious twists and turns United's way. Whether on the field or off it, they had endured a torrid campaign in so many ways. Even David O'Leary's mother had taken to lighting candles in her home-town church, pleading with God to shine some good fortune her son's way. On the night's showing it could be suggested that she should light a few more.
Leeds had enough chances to have killed off a PSV side which, as in Holland the previous week, had seemed out of sorts and out of form for large periods of the game.
Indeed Leeds could and should have gone into this second leg with a goal or three in the bag after shunning a host of chances in Eindhoven. The fact that they failed to find the finishing touch in either leg was the sole reason they would not be entering a quarter-final tie with Feyenord. Almost everything else about United's performances was spot on. They defended well again on the night, with Rio Ferdinand and Dominic Matteo outstanding, and the midfield and forwards linked well to push the visitors onto the back foot for almost the entire first half.
David O'Leary had pushed Lee Bowyer into a central midfield role in the absence of the injured Olivier Dacourt, leaving the more defensively-minded David Batty on the bench and playing Gary Kelly on the right for added width. The United boss knew his team needed to score if they were going to go through - and they should have done in a rampant opening forty-five minutes. Eirik Bakke fired a second-minute volley just past the post and shot over the bar minutes later. Lee Bowyer then fed a delightful reverse pass into the feet of Mark Viduka only for PSV keeper Patrick Lodewijks to make a great save at the Aussie's feet. Even the United fans, so subdued in recent home matches, were cheering their side on as they sensed a return to the atmospheric celebration nights of the previous year's Champions League run. But, as the chances came and went, the niggling seeds of doubt started to grow.
United had started off like a house on fire and brimming with confidence as both Mark Viduka and Eirik Bakke tested Patric Lodewijks in the early stages. Harry Kewell had a storming first half but will look back on possibly his best forty-five minutes of the season with anguish as he wasted the best chance of all. After seeing one effort curl just around the post he found himself with an open goal at his mercy following great work from Mark Viduka, however, Harry Kewell snapped at the chance, blazing it into the disbelieving Kop. Lee Bowyer saw a shot fly wide after more good work from Mark Viduka, while Harry Kewell again went close when heading over from a deep Gary Kelly cross as United continued to misfire. All PSV could muster was a header from Andre Ooijer, which fell just wide of Nigel Martyn's goal, and a low strike from Theo Lucius which also missed the target. Those efforts were hugely against the run of play, however, as Patrik Lodewijks made two more great saves before the break, first diving at the feet of Alan Smith and then arching back to tip a fierce Eirik Bakke strike over the bar.
Even at the start of the second half United created chances, Dominic Matteo hooking an Ian Harte corner into the arms of Patrik Lodewijks and the keeper then diving across to palm away a Bowyer header. But then it seemed, not for the first time this season that United ran out of steam and PSV stepped up a gear as Marc Van Bommel took charge of the midfield and PSV started to take control of the tie. Suddenly the Dutch had the space to cause problems. The closing down from United was non-existent and PSV took full advantage. Nigel Martyn pulled off his first save of the match on the hour as a wonderful move instigated by Marc Van Bommel ended with Mateja Kezman firing across goal and the Leeds keeper having to palm it away low to his right. Some desperate defending was also required as Rio Ferdinand made a stunning block to deny the bizarrely-named Jan Vennegor of Hesselink a clear shooting opportunity. The big striker with the equally big name was causing problems and should have scored in the seventy-fifth minute when he managed to get past Dominic Matteo but slid his shot wide, and when Marc Van Bommel rounded Nigel Martyn it required another wonderful challenge from Rio Ferdinand to deny the Dutch international.
It was tense stuff but when Ian Harte made a brilliant late tackle on Theo Lucius as he threatened to break through, it seemed as though United had weathered the storm and could at least regroup before extra-time. However, as has been the way of things at Elland Road in the rest of the season they were hit with a cruel killer blow. With only sixty-one seconds remaining on the clock Theo Lucius got in behind the Leeds defence, his looping shot from just inside the penalty box bounced limply back off the crossbar and Jan Vennegor of Hesselink was fastest to react, diving in to bundle the ball over the line from all of two yards. Was it Cruel? Without a doubt, but it was now more important than ever that nobody at Elland Road started throwing in the towel just then. With United slipping down the League table and out of both domestic cups they had a real fight on their hands to qualify for European competition once again.
<![if !vml]>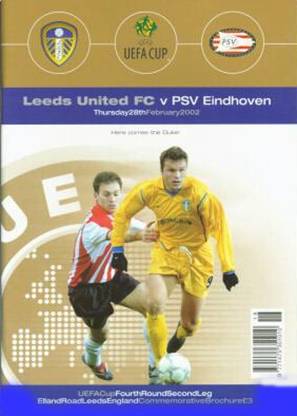 <![endif]>†<![if !vml]>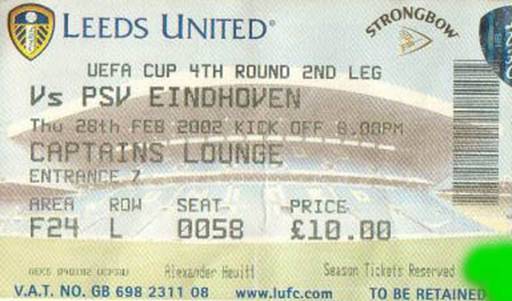 <![endif]>
Match Action:
<![if !vml]>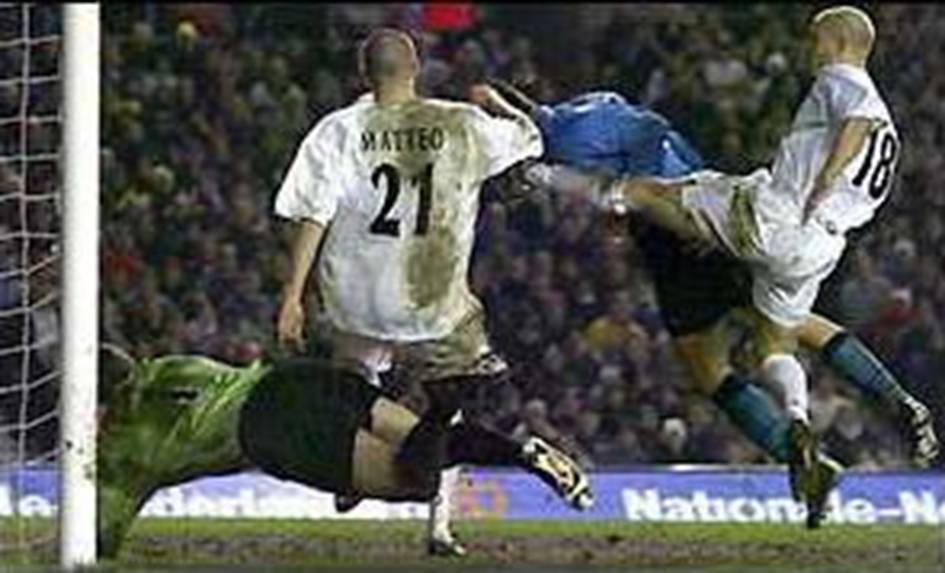 <![endif]>†
Jan Vennegor of Hesselink dives to head the winner despite the efforts of Danny Mills, Dominic Matteo and Nigel Martyn
<![if !vml]>
<![endif]>†
PSV celebrate while Dominic Matteo and Danny Mills despair
†††††††††††††††††††††††††††††††††††††††††††††††††††††††††††† †
<![if !vml]>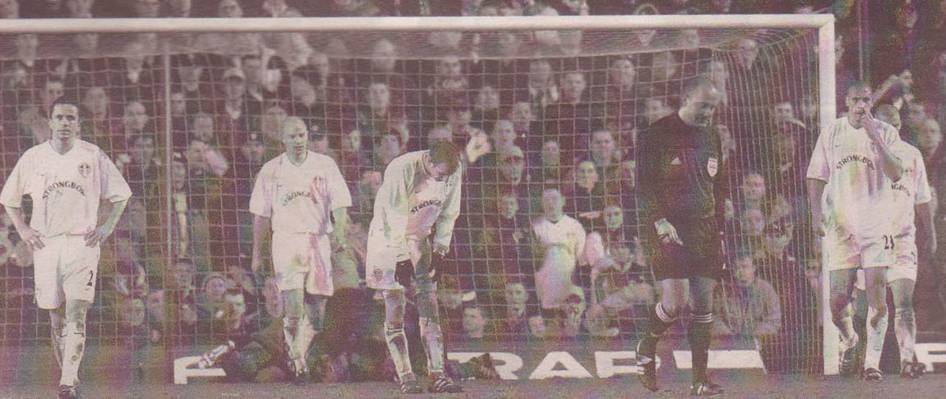 <![endif]>
Gary Kelly, Danny Mills, Lee Bowyer, Rio Ferdinand, Dominic Matteo and even the referee are despondent
<![if !vml]>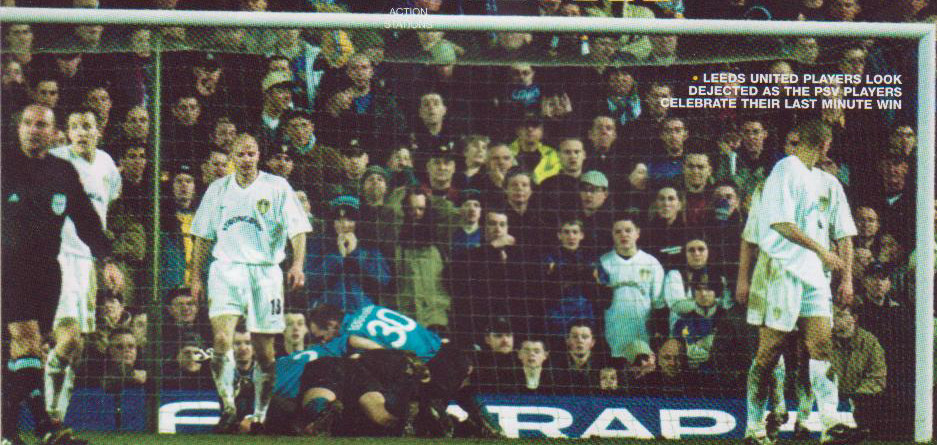 <![endif]>
<![if !vml]>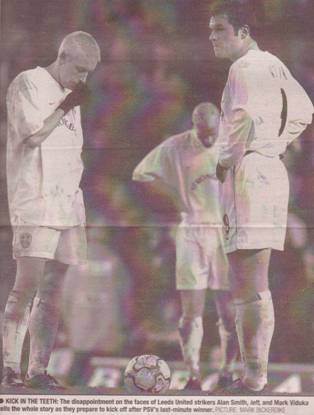 <![endif]>†<![if !vml]>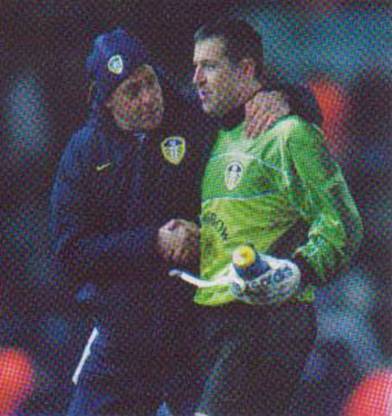 <![endif]>††††† <![if !vml]>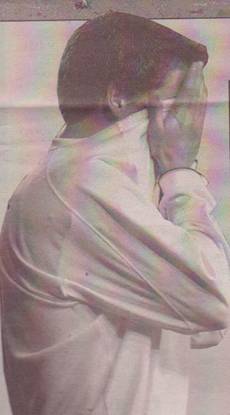 <![endif]>
†††††††††††††††††††††††††††††††††††††††††††††††††††††††††††††††††††† †††††††††††Ground staff console Nigel Martyn at the end of the game†††† ††Harry Kewell covers his face
†††††††††††††††††††††††††††††††††††††††††††††††††††††††††††††††††††††††††††††††††††††††††††††††††††††††††††††††††††††††††††††††††††††††††††††††††††††††††††††††††† †††††††††††††††††††††after a miss
<![if !vml]>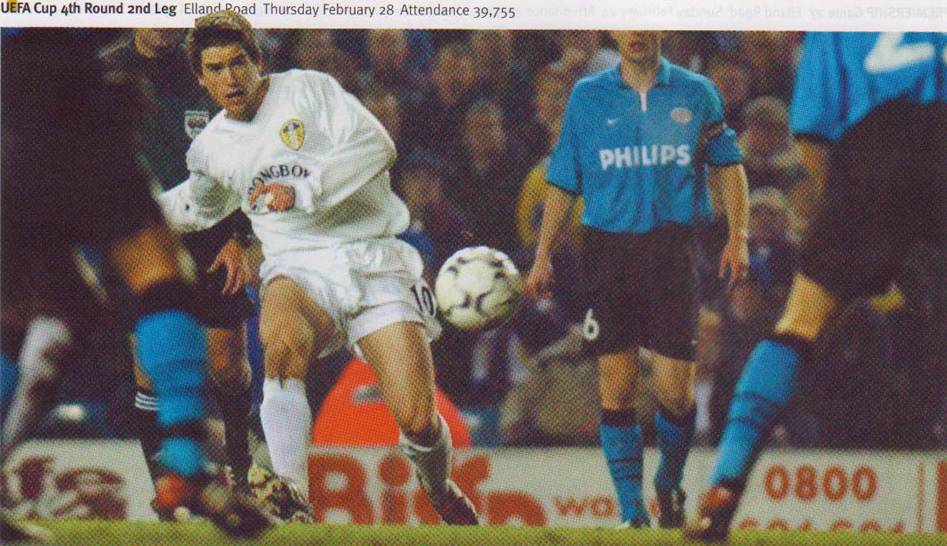 <![endif]>†
Harry Kewell gets in a shot despite being surrounded by PSV defenders†
<![if !vml]>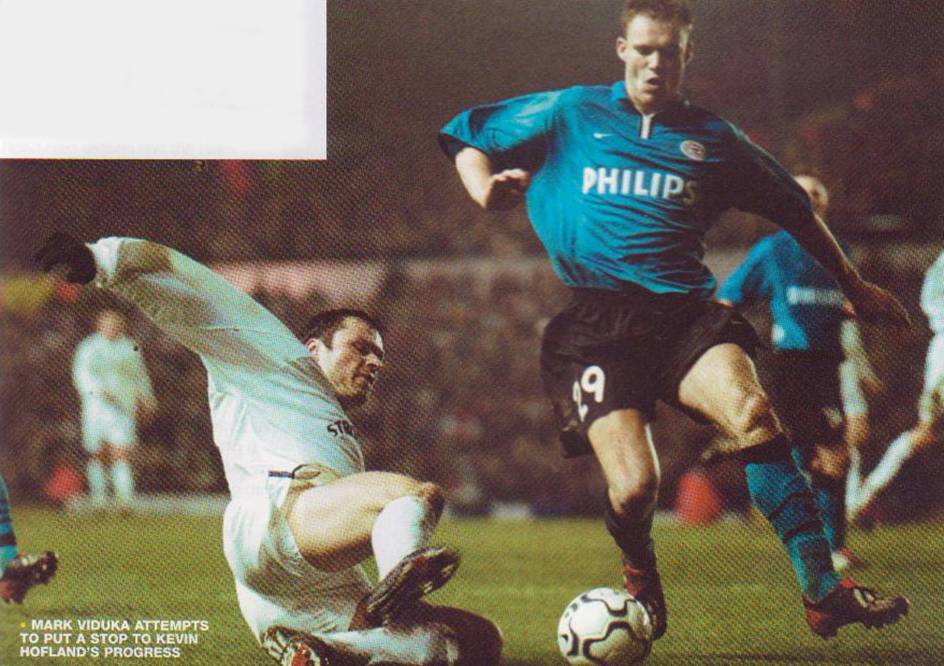 <![endif]>
<![if !vml]>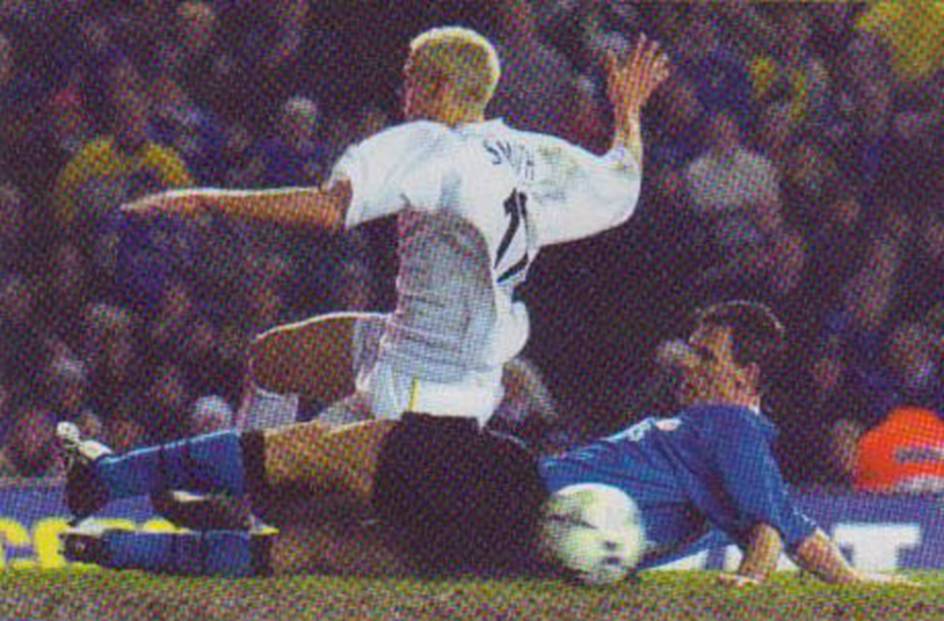 <![endif]>†
Alan Smith is dispossessed by Jan Vennegor of Hesselink
<![if !vml]>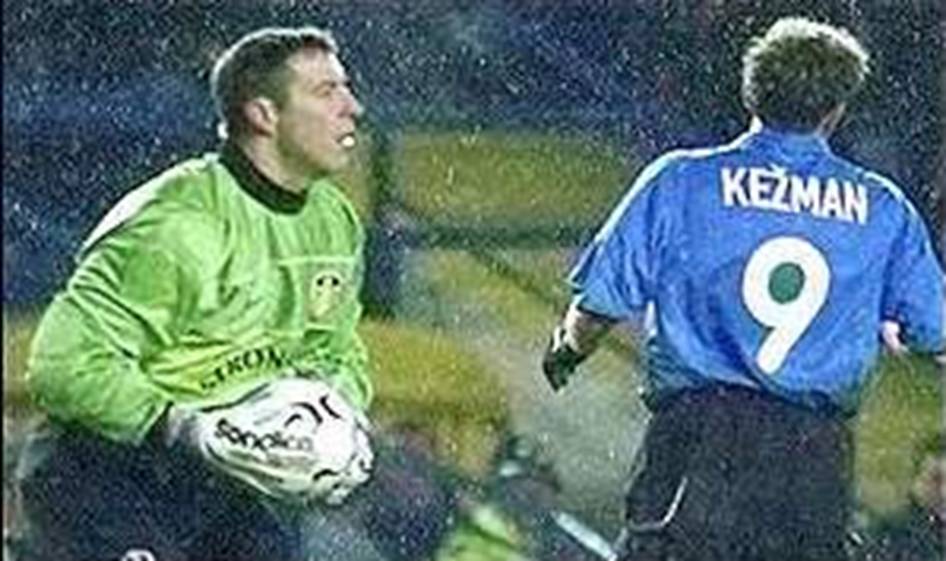 <![endif]>
Nigel Martyn saves from Mateja Kezman
<![if !vml]>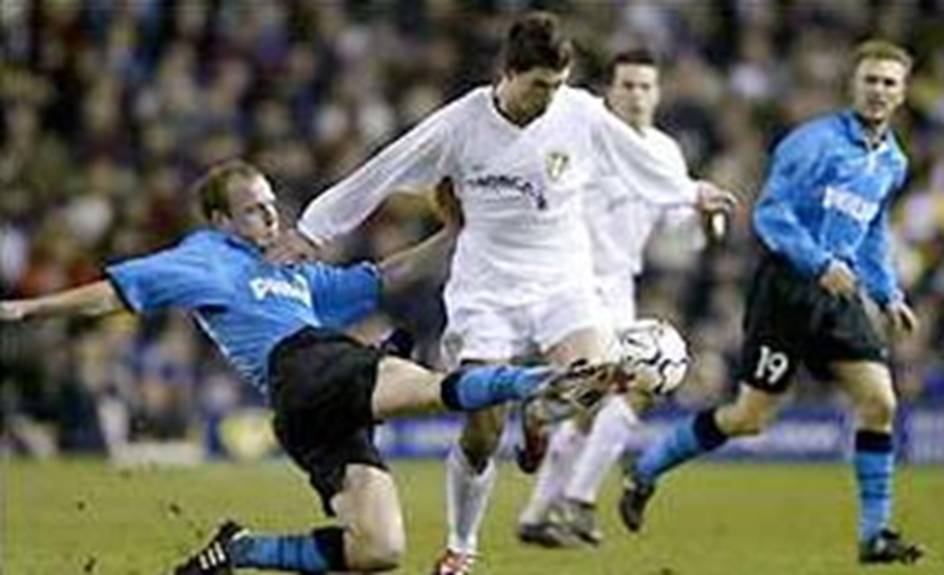 <![endif]>
Harry Kewell tussles with Kevin Bogeland as Dennis Rommedahl and Ian Harte look on
<![if !vml]>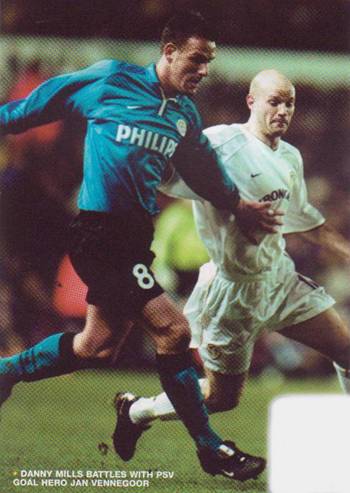 <![endif]>†<![if !vml]>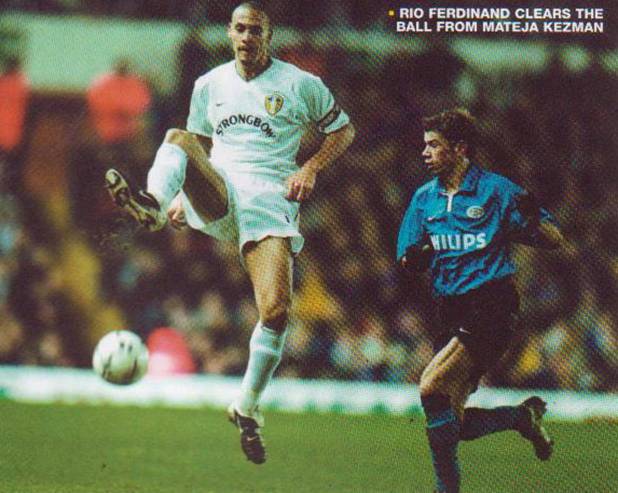 <![endif]>
<![if !vml]>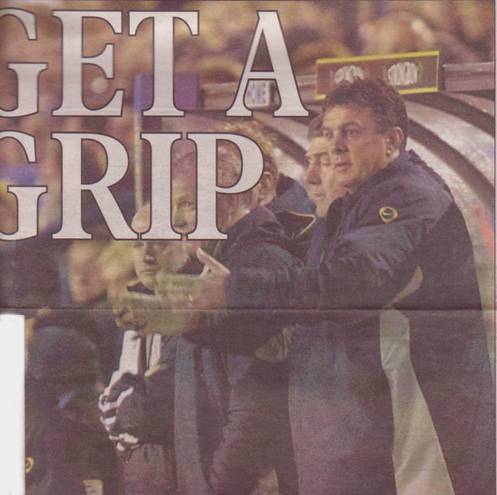 <![endif]>††<![if !vml]>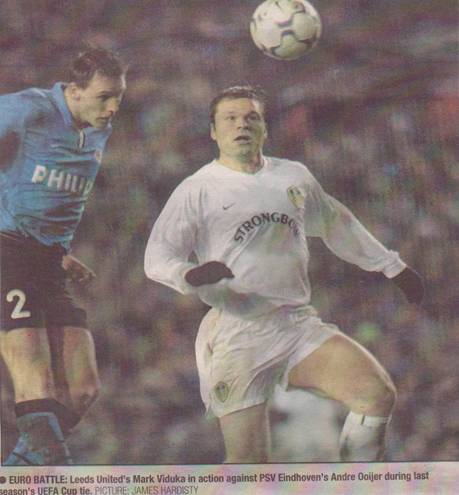 <![endif]>
<![if !vml]>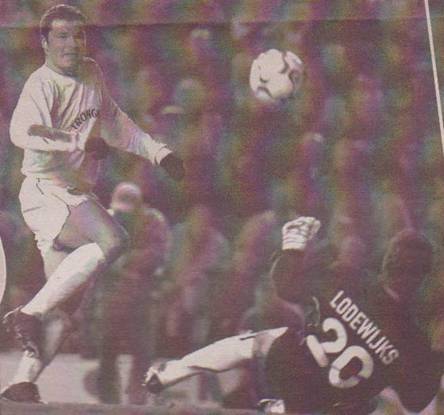 <![endif]>†††††† <![if !vml]>
<![endif]>†
Mark Viduka beats the keeper but is wide††††††††††††††††††††††††††††††††††††††† ††††††††Mark Viduka gets in a left foot shot despite the attention of Kevin
††††††††††††††††††††††††††††††††††††††††††††††††††††††††† ††††††††††††††††††††††††††††††††††††††††††††††††††††††††††††Hofland and Johann Vogel
<![if !vml]>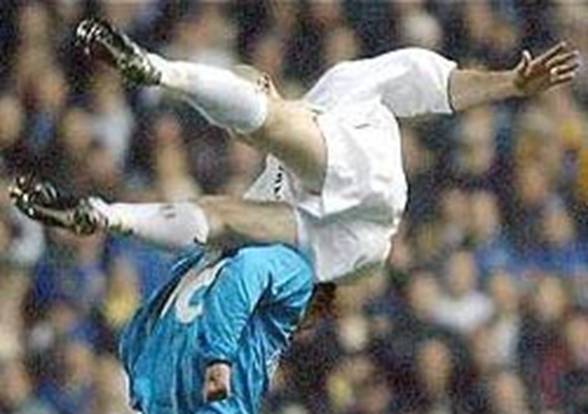 <![endif]>†<![if !vml]>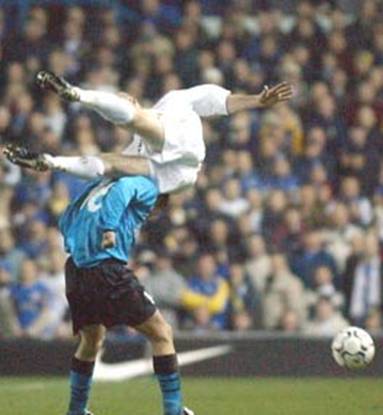 <![endif]>
Danny Mills in aerial combat with Theo Lucius
<![if !vml]>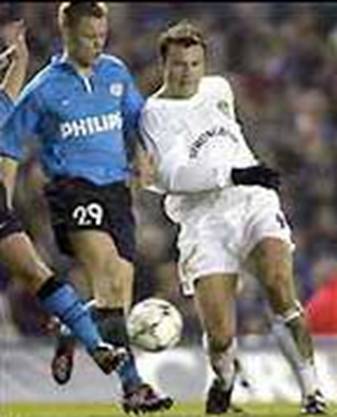 <![endif]>† <![if !vml]>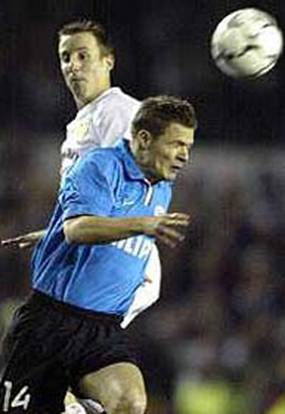 <![endif]>†††††††††††††<![if !vml]>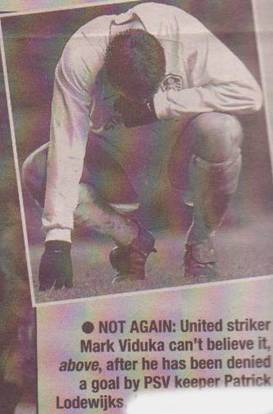 <![endif]>
Mark Viduka gets in a left foot shot despite††††††† ††††††Johann Vogel beats Lee Bowyer to a header
the attention of Kevin Hofland
<![if !vml]>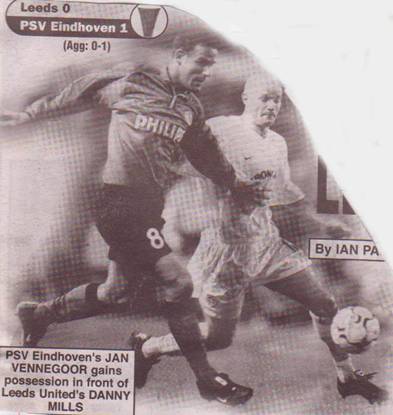 <![endif]>†† †††††††††<![if !vml]>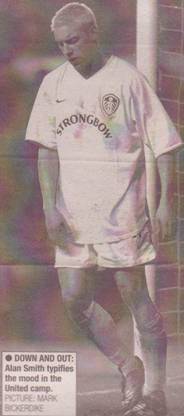 <![endif]>†††††††††††††<![if !vml]>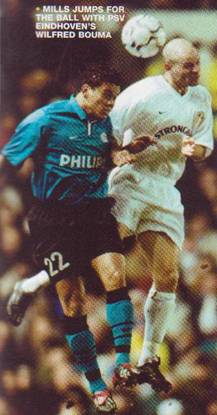 <![endif]>
Players:
<![if !vml]>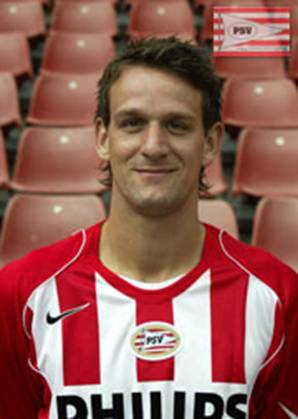 <![endif]>†<![if !vml]>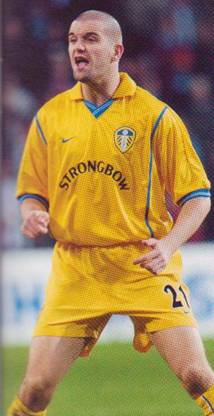 <![endif]>†<![if !vml]>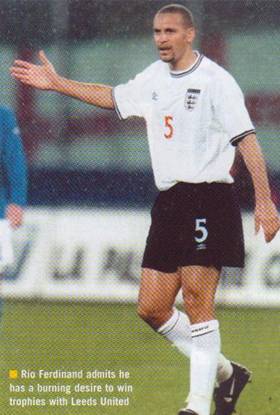 <![endif]>†<![if !vml]>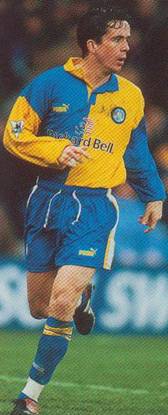 <![endif]>
Jan Vennegor of Hesselink got the only goal†††††††† Dominic Matteo and Rio Ferdinand were outstanding†††††††††††††††† †††††††††††††Gary Kelly was wide††††††††††
††††††††††††††††††††††††††††††††††††††††††††††††††††††††††††††††††† ††††††††††††††††††††††††††††††††††††††††††††††††††††††††††††††††††††††††††††††††††††††††††††††††††††††††††††††††††††††††††††††††††††††on the right of midfield
<![if !vml]>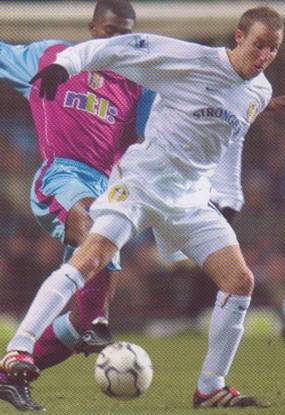 <![endif]>†<![if !vml]>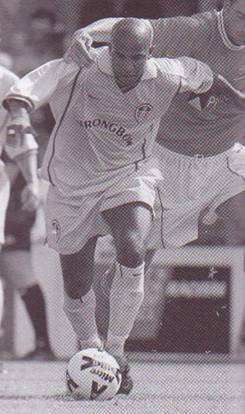 <![endif]>††††††† <![if !vml]>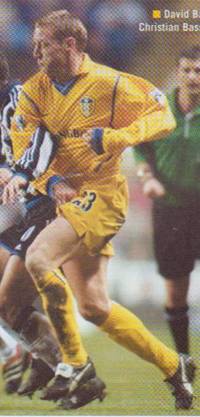 <![endif]>†††††<![if !vml]>
<![endif]>
Lee Bowyer was pushed into central midfield in the absence of Olivier Dacourt†††† ††††††David Batty was on †††††††††††††††††††††††Eirik Bakke was twice
††††††††††††††††††††††††††††††††††††††††††††††††††††††††††††††††††††††††††††††††††††††††††††††††††††††††††††††††††††††††††††† ††††††††††††††††the bench†††††††††††††††††††††††††††††††† †††††††close early on
<![if !vml]>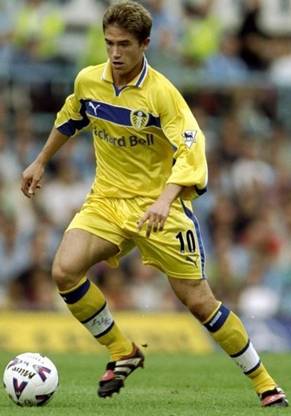 <![endif]>††† <![if !vml]>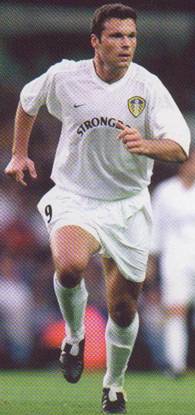 <![endif]>††††<![if !vml]>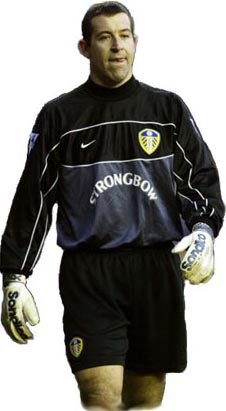 <![endif]>†††††<![if !vml]>

<![endif]>
Harry Kewell had a storming first half†††††††† †††††Mark Viduka created chances†† Nigel Martyn saved on the hour†† †††††Ian Harte supplied crosses
but missed good chances
<![if !vml]>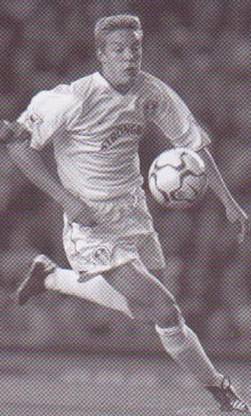 <![endif]>†††† <![if !vml]>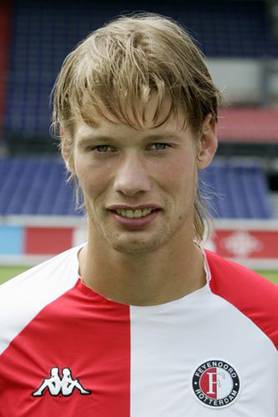 <![endif]>
†††† Alan Smith was a striker††††††††††††††† ††††††Theo Lucius came into the PSV midfield††††††
††