<![if !vml]>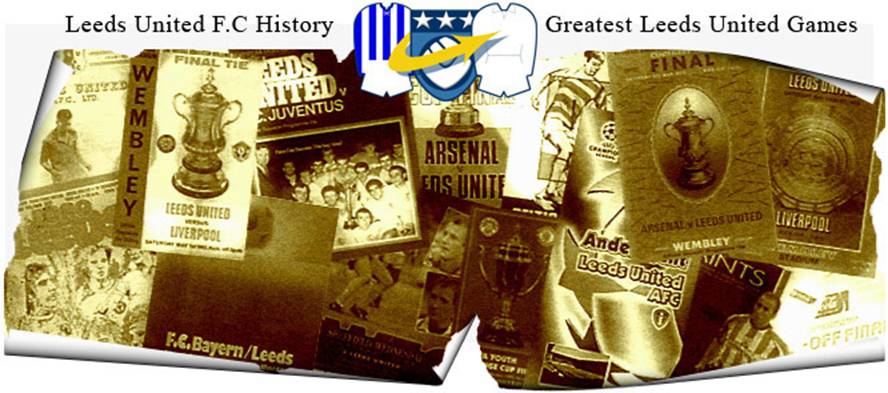 <![endif]>
Date: Saturday, 27th October 1990.
Venue: Villa Park, Birmingham.
Competition: First Division.
Score: Aston Villa 0 Leeds United 0.
Scorers: Aston Villa Nil, Leeds United Nil.
Attendance: 24,219.
Teams:
<![if !vml]>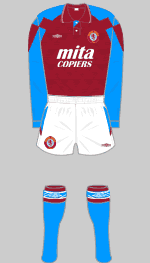 <![endif]><![if !vml]>
<![endif]>
Aston Villa: Spink; Price, Nielson, Mountfield, Comyn, Gray; Platt, Birch, Cowans; Daley, Cascarino. Unused subs: Blake, Olney
<![if !vml]>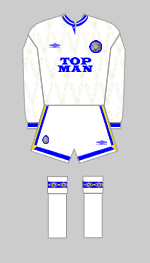 <![endif]><![if !vml]>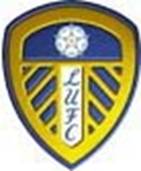 <![endif]>
Leeds United: Lukic; Sterland, Kamara; Batty, Fairclough, Whyte; Strachan, Pearson, Chapman, McAllister, Speed. Unused Subs: Varadi, Snodin.
Referee: Mr R.S.Lewis (Great Bookham, Surrey).
As requested by Milton Carter who had this to say:
"What about the Villa away game, in our first season back at the top, in 1990/91?! It might have been 0-0, but it really was a memorable game. Villa were on the back of beating Milan in the UEFA Cup and had Tony Daley playing for them, who was on fire. It was a big test for us and not least for Chris Kamara playing I think his only "top class" game for us. He marked and tackled Daley completely out of the game.
It was a coming of age for Wilko and the team. We got stronger as the game went on and I think for the first time the country took notice of us. I was in the Holte End incognito and heard the Villa fans talking about what a good team we had and the great support behind the goal and down the side. I can't remember the detail but can still visualise Strach in the last minutes falling over himself with fatigue after missing a chance that would have won us the game. I'm sure you can find more details about it on the net but in terms of greatest LUFC games I reckon it was one of them."
Cheers Milt, I nearly saw the game arriving in Zurich when it was being played! Fortunately, later in the following week, I was able to conclude business a day early, just giving me enough time to hop over to Leeds and see the lads hammer Nottingham Forest 3-1 on the following Saturday, and catching the Plane back to Australia by the skin of my teeth. So I do have a bit of memorabilia as the Aston Villa game was featured in the programme of the Forest game!
Chris Kamara was featured and, as Milton said, he had his best game for LUFC:
Kamara Aim: The man who derailed the Daley express is hoping that his performance against Aston Villa will put him on the right track as regards a regular place in Leeds United's first team.
Chris Kamara made his first full appearance in the First Division in the game at Villa Park. Seventeen years after starting out as a professional with Portsmouth. And what made his shackling of Tony Daley even more impressive was that he had never before occupied the left back berth, at any level of the game.
Kamara, who claimed that clinching promotion at Bournemouth the previous season was the highlight of his career to date, added that the game against Villa was one of the best days of his football life. "I have been a bits and pieces player this season and it was nice to have a lead role. Now I have to convince the manager I am worth my place in the team. I would like to think my performance in that the game has done my chances no harm. I did not know I was playing until at the training session and I had some sympathy for Glyn Snodin, who I thought was one of our best players in the previous game against QPR. But you have to grab your own chance when it comes along. I had seen how well Tony Daley had done against Inter Milan and how quick he was. But I was not really worried about that. I went out to give my best and see and show what I could do. Daley wandered about the pitch a lot, but he never went through me at all."
Kamara, who had scored against the Villa Reserves three days previously, added "There is a lot more ability in the First Division and if you went through the Villa side there was not really a weakness. But our lads were equally impressive and I have not seen a better player in the First Division than Gordon Strachan. It was my first full senior game since Bournemouth, but I did not feel tired and fitness is one of my strengths."
Kamara also achieved something that had been uncommon to occupants of the Leeds No.3 shirt in those times; he got through 90 minutes without being injured! Mike Whitlow, Glyn Snodin, Jim Beglin and Peter Haddock had all been afflicted by the curse at various times. "It has become something of a jinx position, but I hadn't really thought about it at the time" said Kamara who would be thirty-three on Christmas Day.
Manager Wilkinson was full of praise for Kamara's performance. "He has got a terrific engine and pace despite his age. His age meant he had the experience and knowledge to handle the situation and the boy he was marking was hardly a threat."
There was nothing wrong either about David Batty's form, as his brilliant marking display on Villa's David Platt demonstrated. He said "Everything David Platt has touched has turned to gold in recent months and that is why I was satisfied to block him out, especially in the second half when he pushed up from midfield. I saw the Milan game and he can cause lots of problems but it has never bothered me playing individuals. I take each game as it comes and at the end of the day it's just me against him."
Captain Gordon Strachan was also waxing lyrical in his column. "The performance against Aston Villa gave us immense satisfaction. It was our best to date in the First Division and Villa could not have complained if we had gone home with the three points."
"We had watched Villa's impressive performance three days earlier against Inter Milan in the UEFA Cup and that made us more wary of outstanding individuals like David Platt, Tony Daley and Gordon Cowans. I thought we blocked them out but we did not just sit in there and defend, but played all the beautiful attacking football. It was a great day for Chris Kamara, who had been champing at the bit to get into the side and he did an excellent job on Daley. Chris might be thirty-two but he is very fit for his age. David Batty also did a splendid job on David Platt and showed him what man-to-man marking is all about. If Platt does eventually venture abroad he will have to expect that, but he is still young and I am sure he will be able to cope with that. People were saying the Milan match took its toll on Villa but I have experienced playing European matches on a Wednesday night. I tended to find that if you got a good result you were still on a high for Saturday and could still run and perform so I did not see our game being too much hassle for Villa."
<![if !vml]>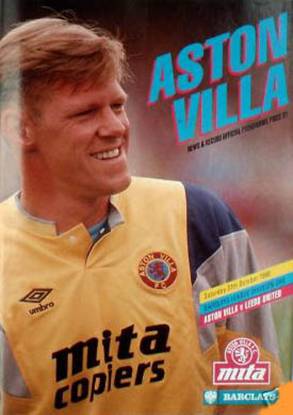 <![endif]>  <![if !vml]>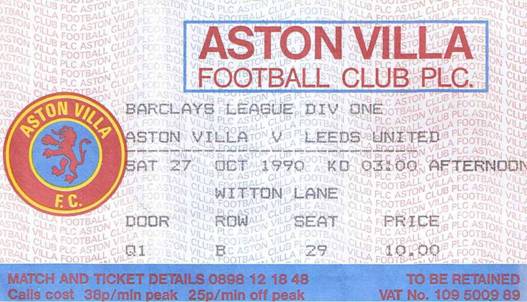 <![endif]> (Ticket courtesy of Mark Ledgard)
Match Reports: Courtesy of Mark Ledgard)
<![if !vml]>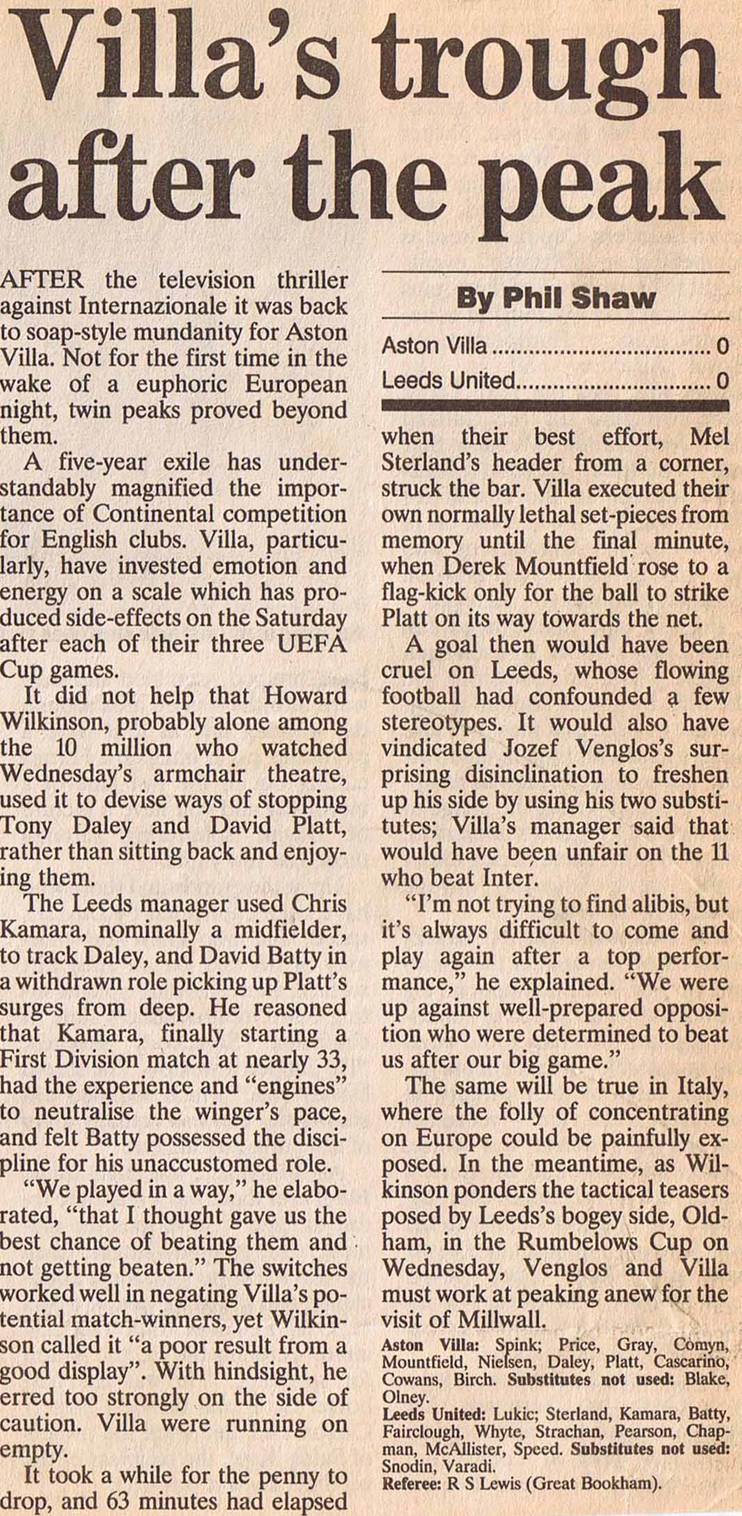 <![endif]>
<![if !vml]>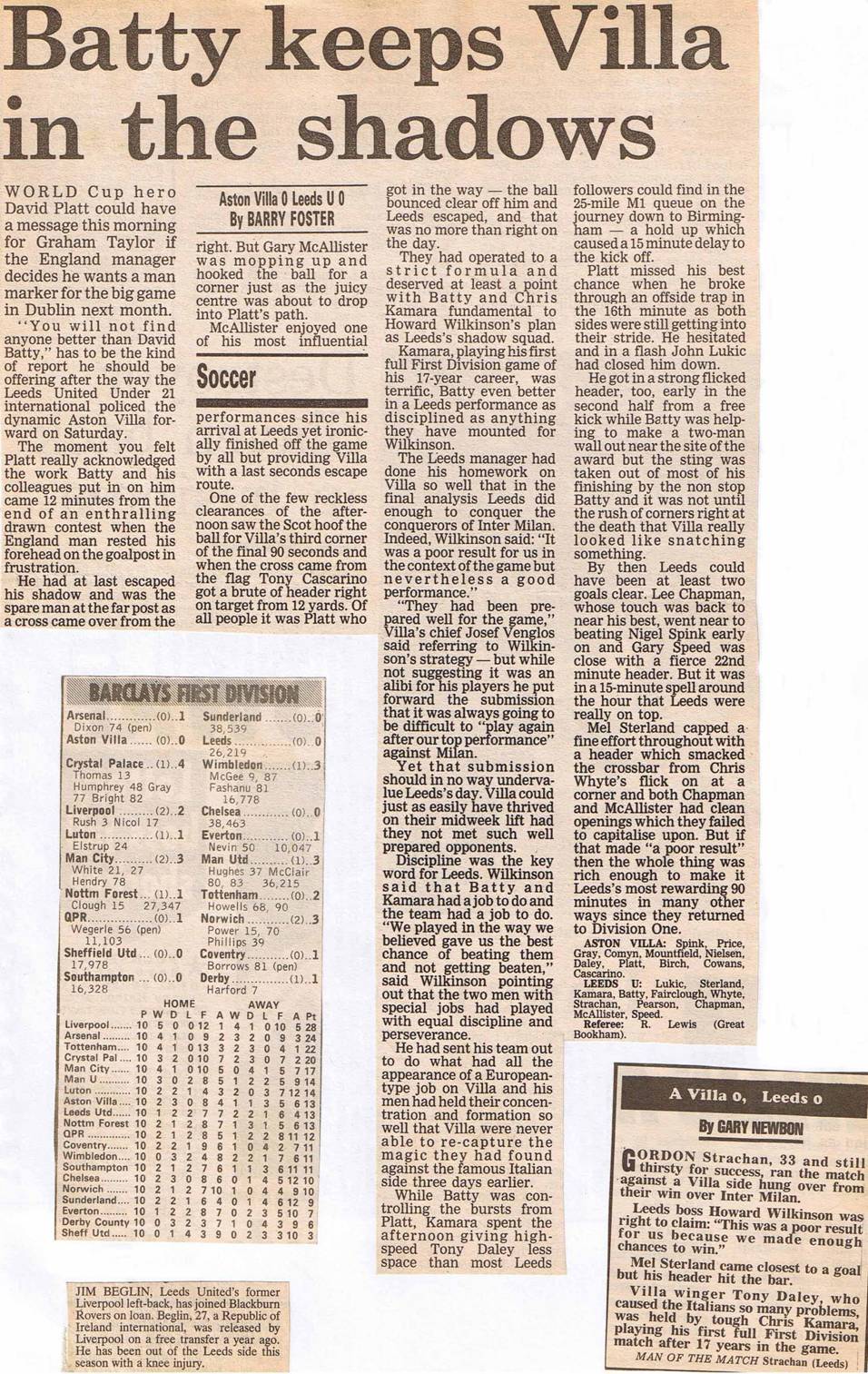 <![endif]>
<![if !vml]>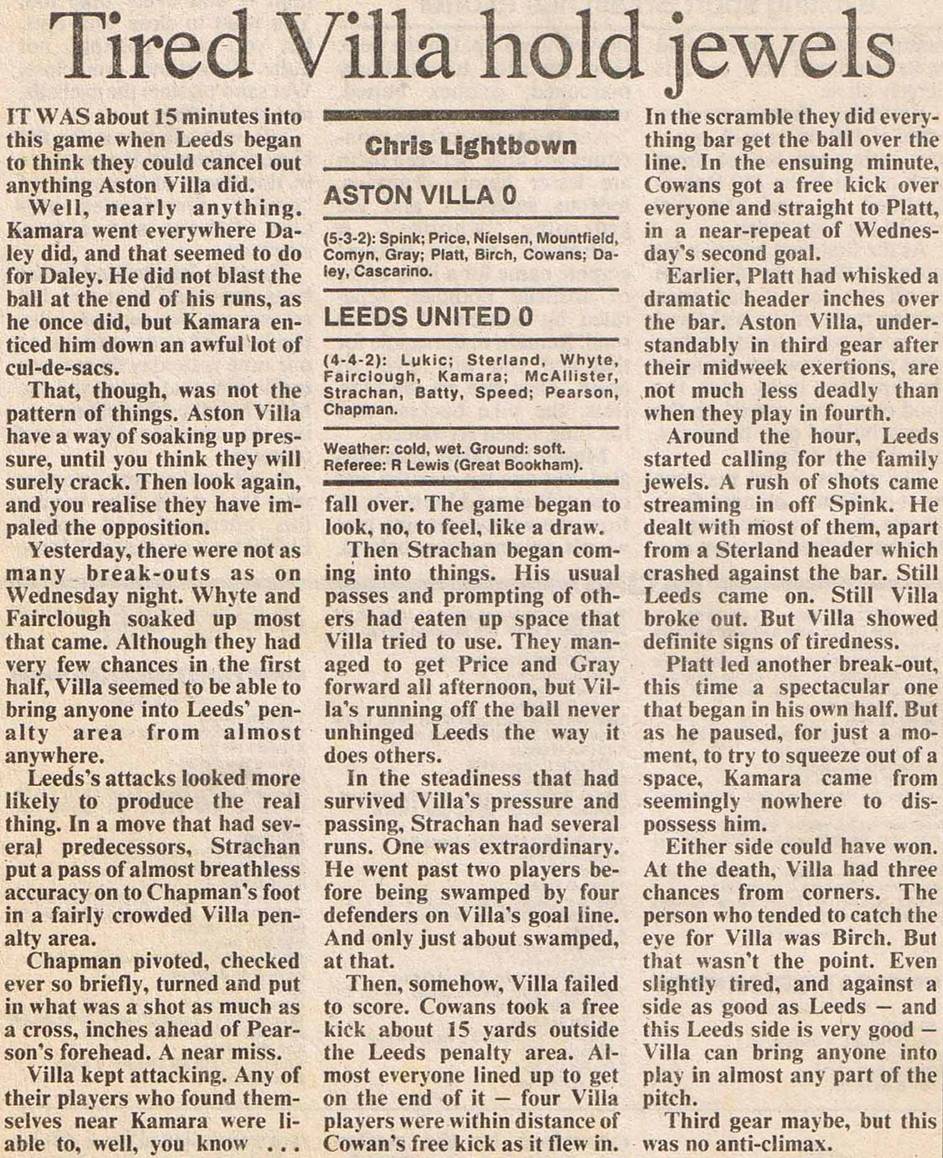 <![endif]>
Match Action:
<![if !vml]>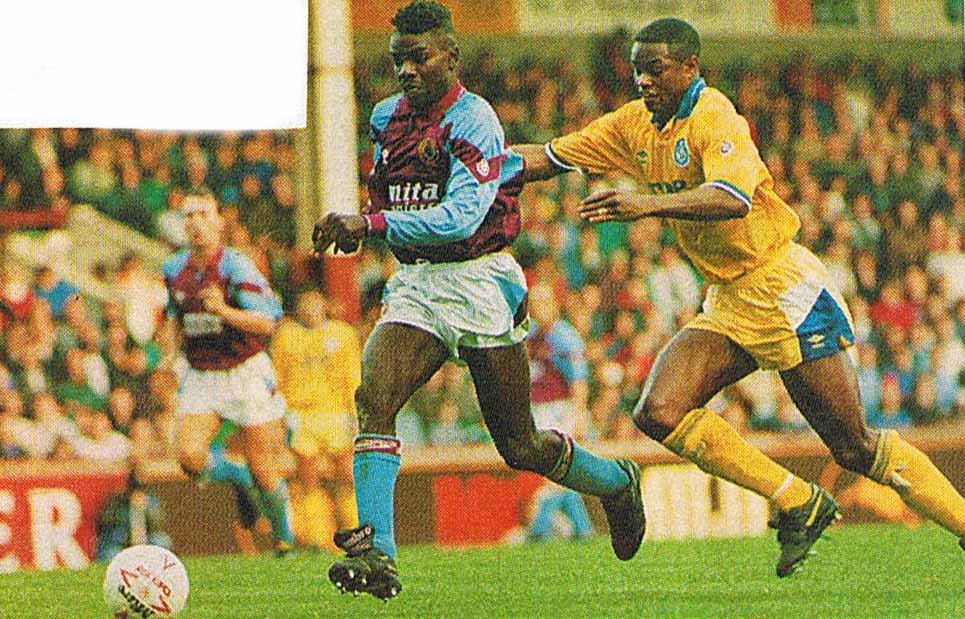 <![endif]>
Chris Fairclough is about to end Tony Daley's progress (Photo courtesy of Mark Ledgard)
<![if !vml]>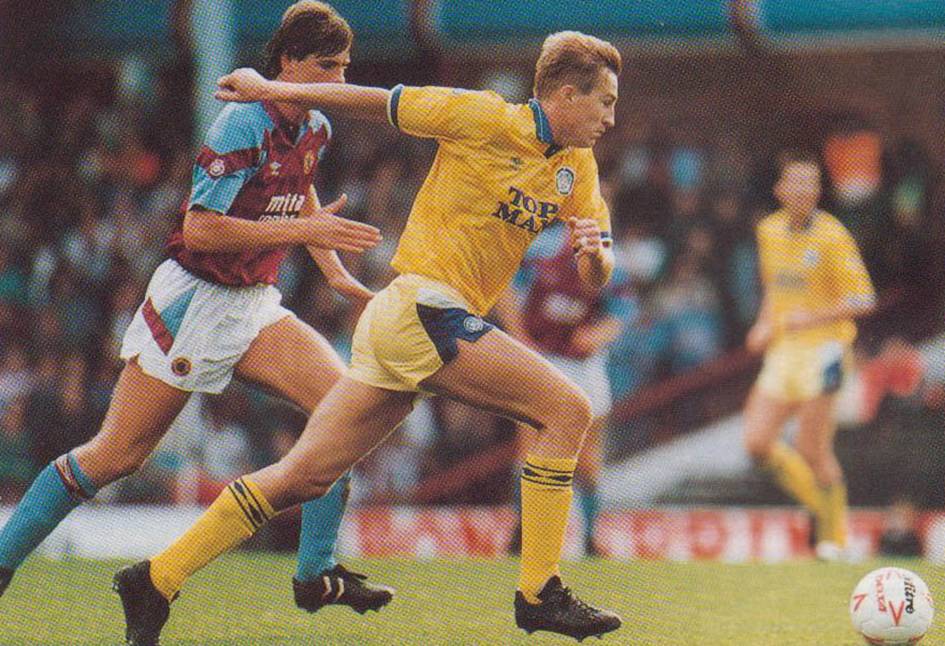 <![endif]> 
Lee Chapman bursts through the Villa defence
<![if !vml]>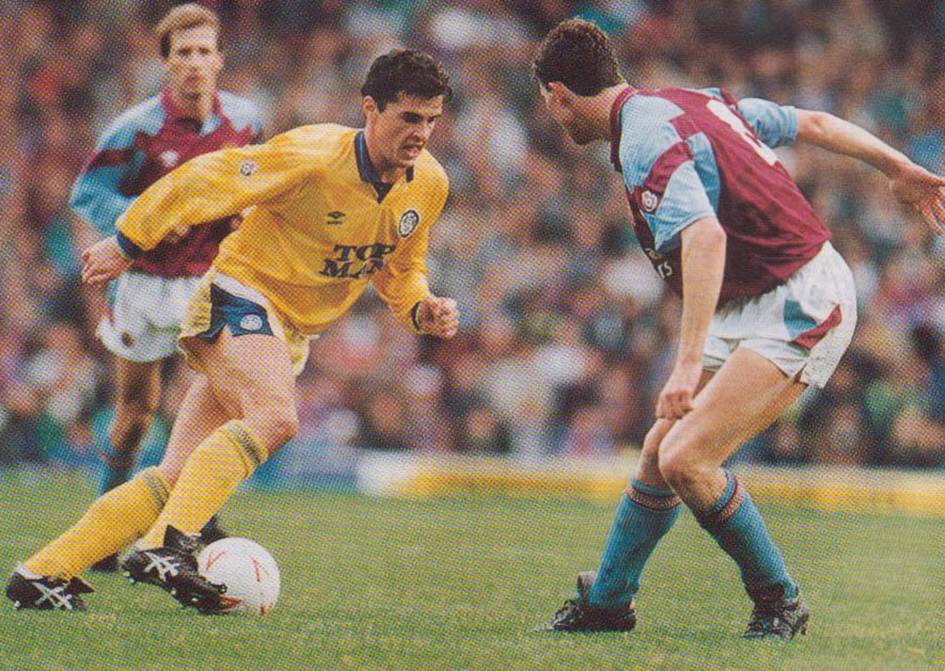 <![endif]>
Gary Speed takes on the Villa defence
<![if !vml]>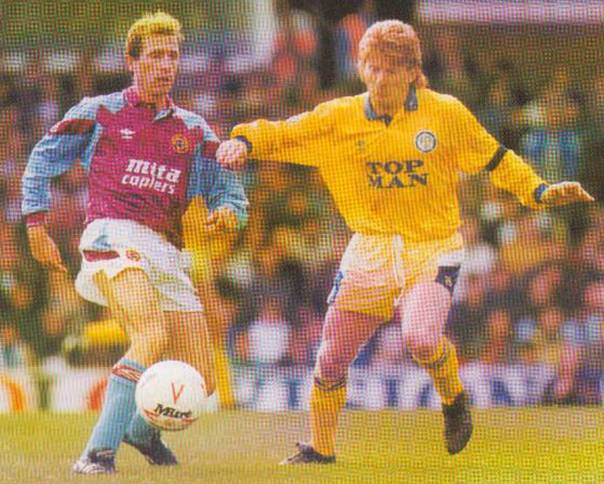 <![endif]> <![if !vml]>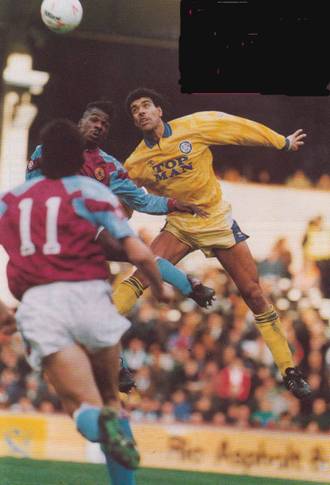 <![endif]>
Battle of the Gordons, as Strachan closes in on Cowans                                                  Chris Kamara jumps to outhead Tony Daley
Players:
<![if !vml]>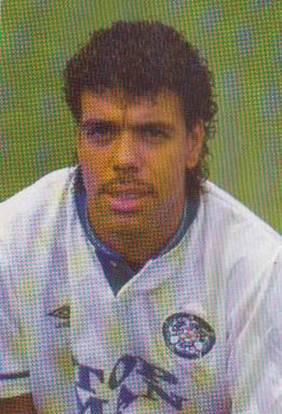 <![endif]> <![if !vml]>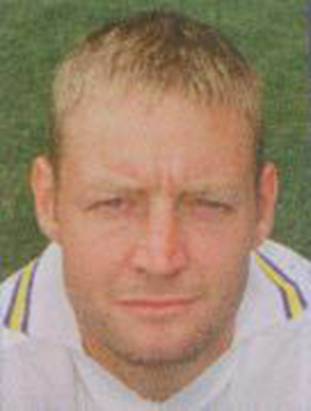 <![endif]> <![if !vml]>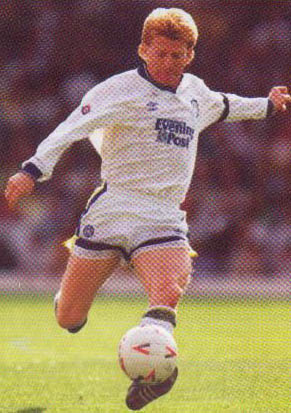 <![endif]>
Chris Kamara and David Batty were United's stand-out performers, with Captain Gordon Strachan his usual effervescent self.
<![if !vml]>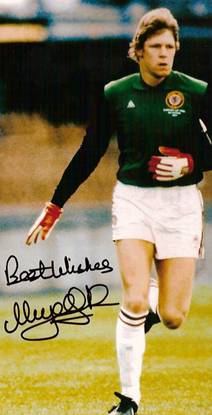 <![endif]>   <![if !vml]>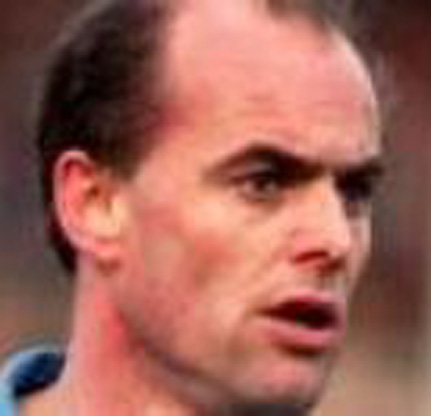 <![endif]> <![if !vml]>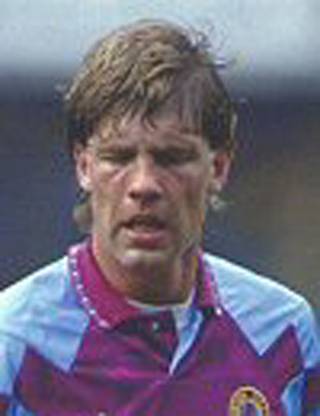 <![endif]> 
Nigel Spink was Villa's keeper     Chris Price, Kent Nielsen,
<![if !vml]>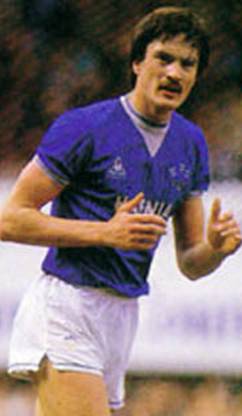 <![endif]> <![if !vml]>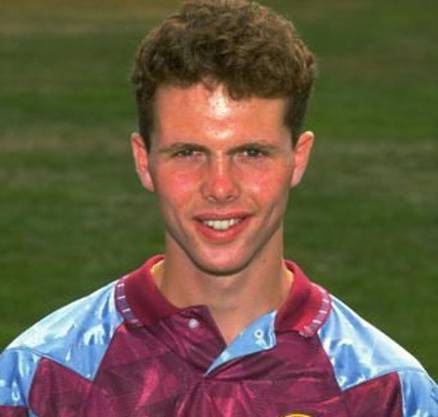 <![endif]> <![if !vml]>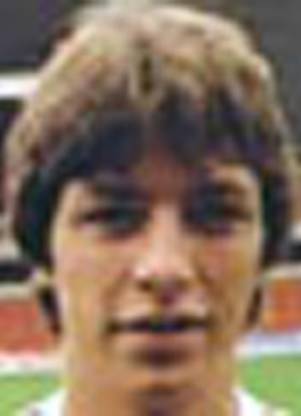 <![endif]>
Derek Mountfield, Andy Comyn and Stuart Gray formed the Villa defence
<![if !vml]>
<![endif]> <![if !vml]>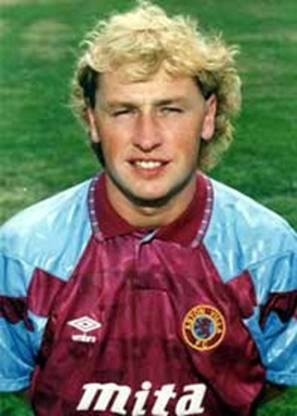 <![endif]> <![if !vml]>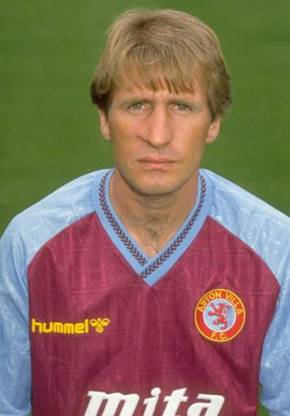 <![endif]> 
David Platt, Paul Birch and Gordon Cowans formed an impressive Villa midfield
<![if !vml]>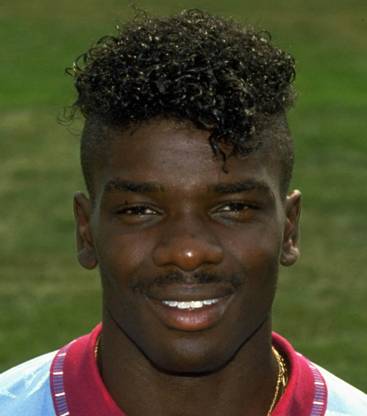 <![endif]> <![if !vml]>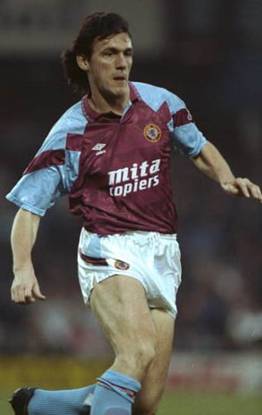 <![endif]> <![if !vml]>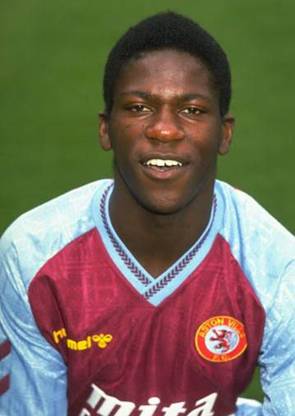 <![endif]>
Tony Daley and Tony Cascarino were the strikers                                                                            Mark Blake was an unused substitute
<![if !vml]>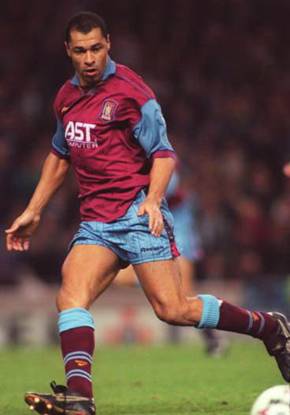 <![endif]>         <![if !vml]>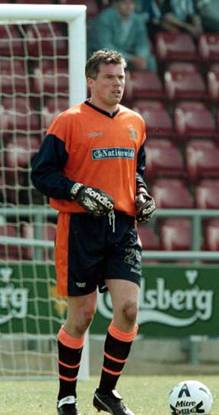 <![endif]> <![if !vml]>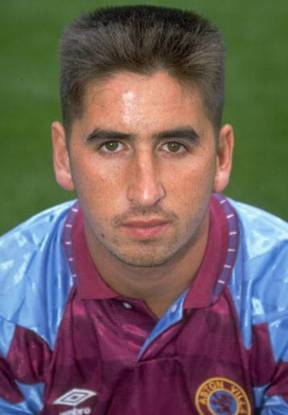 <![endif]>
Paul McGrath was rested                                  Lee Butler was the reserve keeper and Nigel Callaghan was used sparingly in midfield
<![if !vml]>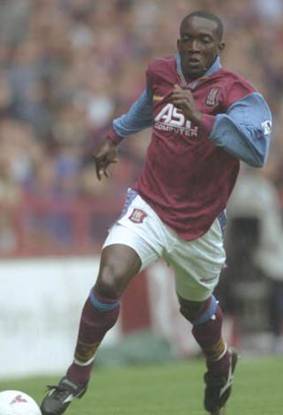 <![endif]>  <![if !vml]>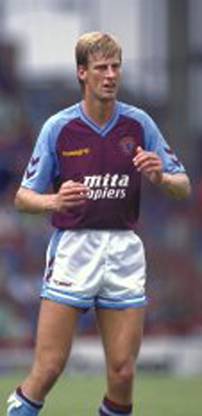 <![endif]>  <![if !vml]>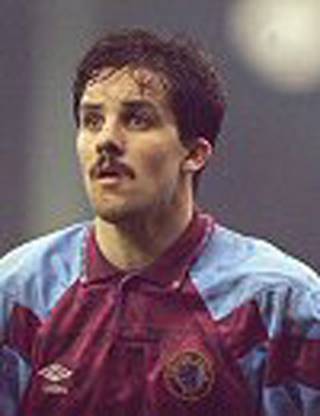 <![endif]>
An emerging Dwight Yorke was vying for a striking role with Ian Ormondroyd and Gary Penrice