<![if !vml]>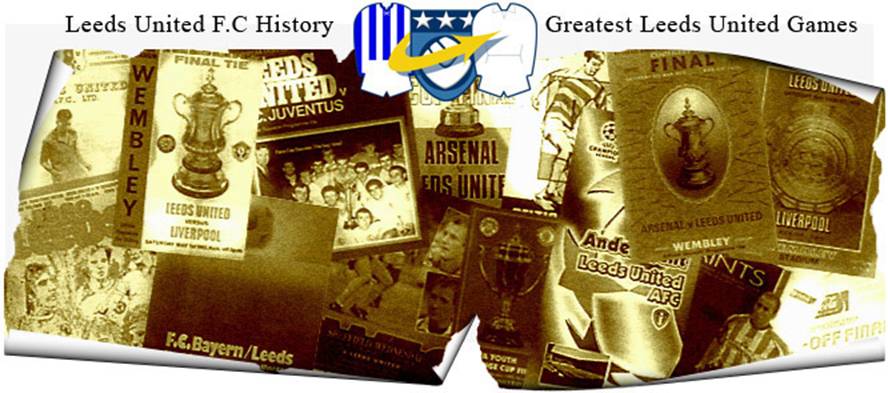 <![endif]>
Date: Saturday, 26th October 2002.
Venue: Riverside Stadium, Middlesbrough.
Competition: English Premier League.
Score: Middlesbrough 2 Leeds United 2.
Scorers: Middlesbrough: Job, Southgate. Leeds United: Viduka (pen), Bowyer.
Attendance: 34,723.
Teams:
<![if !vml]>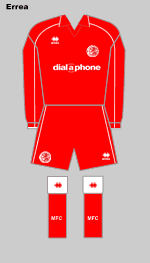 <![endif]><![if !vml]>

<![endif]>
Middlesbrough: Schwarzer; Parnaby, Ehiogu, Southgate, Quedrue; Geremi, Boateng, Job, Greening; Boksic (Nemeth), Maccarone. Unused Subs: Whelan, Marinelli, Cooper, Crossley.
<![if !vml]>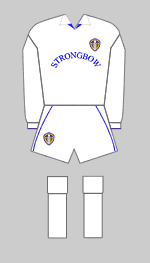 <![endif]><![if !vml]>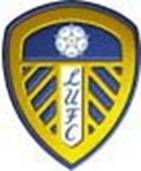 <![endif]>
Leeds United: Robinson; Mills, Woodgate, Radebe, Lucic; Bowyer, Barmby, McPhail (Bakke); Smith, Viduka (Bridges), Kewell. Unused Subs: Kelly, Dacourt, Martyn.
Referee: Mr R. Styles (Waterlooville, Hampshire).
The fates again conspired against Leeds United to deny Terry Venables' side a precious victory at Middlesbrough. The poor handling of the game by referee Rob Styles and the disgraceful sending off of Alan Smith ultimately cost United what would have been a valuable three points. Whether Leeds deserved to win is debatable, this was the proverbial game of two halves, but United were 2-1 up and close to a memorable win when Alan Smith was dismissed. Lee Bowyer's fifty-sixth minute strike to put United 2-1 up saw Terry Venables' side embark on an impressive spell that saw them take control of the contest for the first time and they were well placed for the win. United enjoyed a twenty-minute period of domination which ultimately fell apart when Alan Smith, who was harshly judged to have fouled Gareth Southgate, saw his second yellow card of the day.
 
Even Gareth Southgate pleaded Smith's innocence after what was a clear case of two players attempting to get a foot to a loose ball, but referee Rob Styles was quick to the draw with his card waving. Sadly, the statistics will show that Alan Smith collected the eighth red card of his career at the Riverside and those that should know better were once again analysing his temperament. His first booking was also covered in confusion when, only seconds after kicking the ball away at a throw in, he sent Joseph-Desire Job crashing to the ground in an attempted tackle. But the referee claimed he was booked for the earlier incident. But he was faultless for the second yellow and the youngster's reputation was clearly going before him. Certain referees were clearly relishing the prospect of adding to his list of shame.
<![if !supportLineBreakNewLine]>
<![endif]>
Alan Smith wasn't on his own in seeing red either with Boro's Franck Queudrue also collecting two bookings, the second for a sprawling challenge on Lee Bowyer in the final minute. Styles' poor handling of what was a robust clash finally culminated in a mass brawl on the final whistle after Boro's George Boateng was accused of spitting at Jonathan Woodgate and Nick Barmby. The usually restrained Lucas Radebe was so incensed about the incident that he had to be pulled away from Boateng and the melee continued down the tunnel and outside the dressing rooms.
<![if !supportLineBreakNewLine]>
<![endif]>
It was sad that such an entertaining clash would be remembered for the unsavoury scenes because there was some tremendous football on show in what was a really pulsating encounter. Much of the enterprising football was played by the hosts and some of the cross-field balls from Franck Queudrue, Gareth Southgate and Geremi were a joy to watch. Steve McClaren was developing a cultured side at Boro and they would surely be a threat to most sides that year with their quick-fire passing and switching of play. But Leeds, who were battered in the opening period, deserve plenty of credit for sticking to their task and after taking the lead for a second time they would have held on had it not been for the red card.
<![if !supportLineBreakNewLine]>
<![endif]>
The draw was no less than Boro deserved, though, because they had shown more enterprise throughout and had dominated in terms of possession. Terry Venables opted to change things around again with a three-man midfield with Alan Smith and Harry Kewell dropping back when Boro were on the attack. Mark Viduka earned a recall while Venables also opted to experiment with Teddy Lucic in place of the unfortunate Ian Harte, who wasn't even on the bench. It was somewhat ironic then that Teddy Lucic was forced into learning, like his predecessor, that defending on the United left can be an exposed occupation and he had a tremendous game. Alongside Teddy Lucic, Lucas Radebe and Jonathan Woodgate, with an England-class performance, were also top class while the United midfield worked hard on defensive duties during a backs-against-the-wall display in the first half.
<![if !supportLineBreakNewLine]>
<![endif]>
United never got to grips with the rampaging Boro side in the opening forty-five minutes and Mark Viduka's fourth goal of the season, after just eleven minutes, was the only time they escaped the onslaught. Boro had started like a house on fire, but when Mark Viduka was scythed down by Ugo Ehiogu on United's first break, the big Aussie duly converting the spot-kick. The goal was against the run of play and it was no surprise when Boro equalised, courtesy of Joseph-Desire Job in the twenty-fifth minute, after a sweeping move involving the outstanding Geremi. Boro continued to take charge of proceedings and should have really gone in at half-time with another goal after Joseph-Desire Job, George Boateng and Massimo Maccerone all fluffed good opportunities.
<![if !supportLineBreakNewLine]>
<![endif]>
But Terry Venables fine-tuned his Leeds charges at the break and United looked a different outfit. They broke quickly and restored their advantage when, in the fifty-sixth minute, Lee Bowyer followed up a Harry Kewell snapshot. Mark Viduka also played a key role in the goal and his importance in United's overall performance could not be underestimated. The goal gave Leeds added belief and Harry Kewell and Mark Viduka were unlucky not to further United's advantage and put the victory beyond doubt.
<![if !supportLineBreakNewLine]>
<![endif]>
But Leeds were unable to add to their tally and, after Alan Smith was dismissed, the home side summoned up one last blast of energy as they went in search of an equaliser. That sucker punch came on eighty-four minutes when the United defence failed to deal with a scuffed corner and Gareth Southgate was on hand to poke the ball home from inside the six yard box. The late goal extended United's winless run to six games and both sides left the Riverside contemplating the thought of two points dropped rather than one gained. To add to United's woes, wins for Everton and Southampton on the same day saw Leeds slip into the bottom half of the Premiership for the first time in almost two years.
<![if !vml]>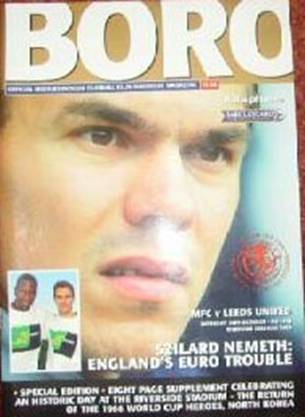 <![endif]> <![if !vml]>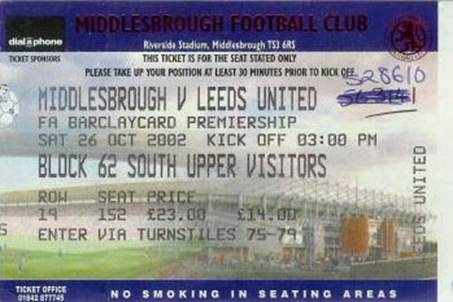 <![endif]>
Match Action:
<![if !vml]>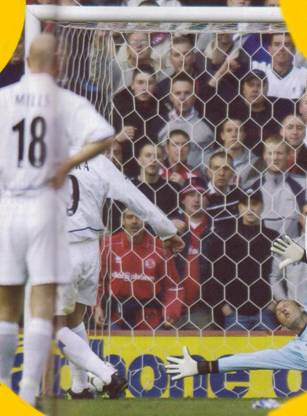 <![endif]> <![if !vml]>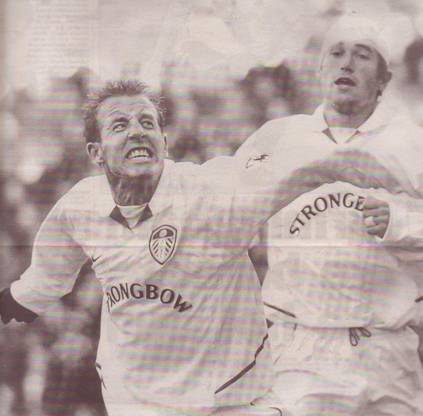 <![endif]> <![if !vml]>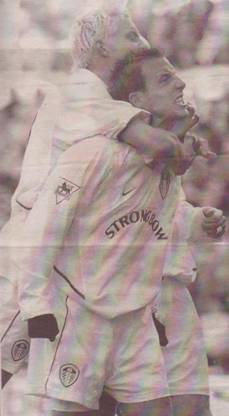 <![endif]>
        Mark Viduka slots in the penalty               Lee Bowyer celebrates his goal pursued by Harry Kewell             Alan Smith congratulates
                                                                                                                                                                                          Lee Bowyer 
<![if !vml]>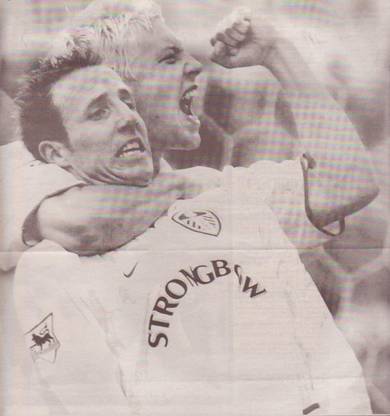 <![endif]> <![if !vml]>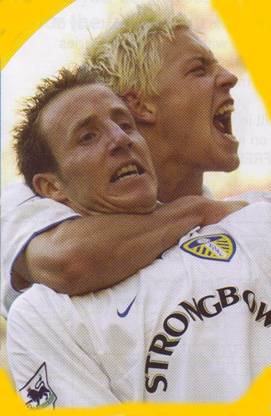 <![endif]>  <![if !vml]>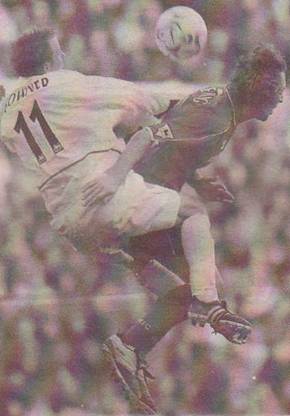 <![endif]>
Alan Smith enforces Lee Bowyer's salute to the fans                                                                 Lee Bowyer in an aerial tussle with Jonathan Greening
<![if !vml]>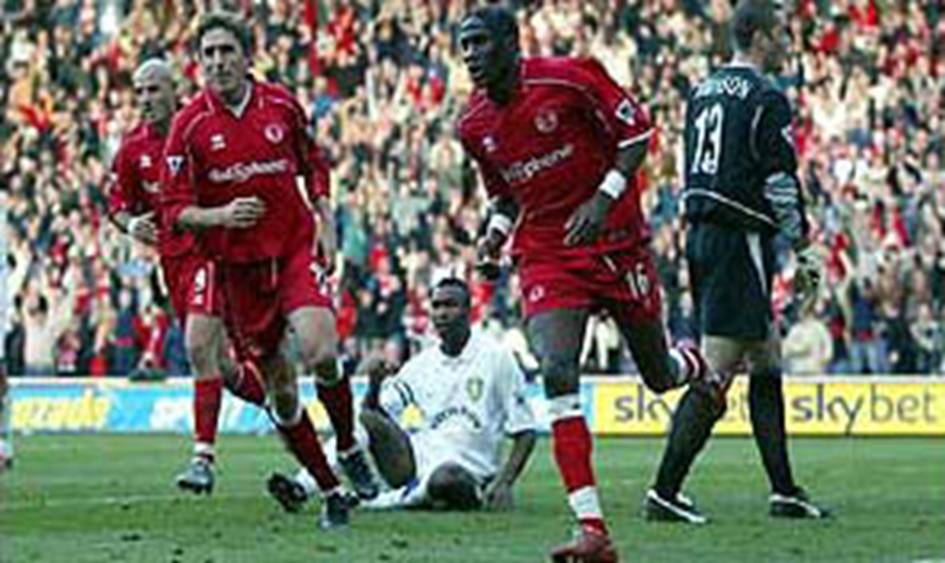 <![endif]> 
Joseph-Desire Job gets Boro's first equalizer
<![if !vml]>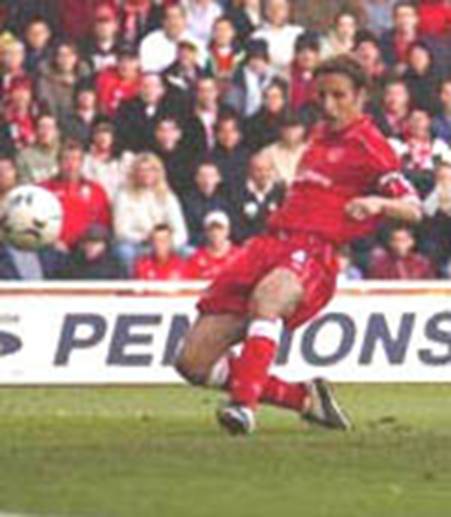 <![endif]> <![if !vml]>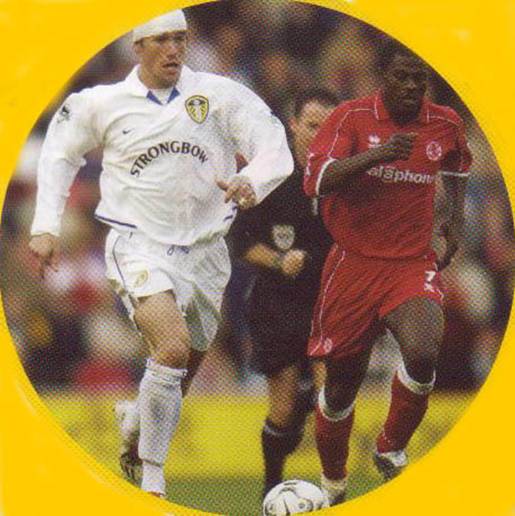 <![endif]>
Gareth Southgate slides in the second equaliser                                   Head bandaged Harry Kewell accelerates past George Boateng
<![if !vml]>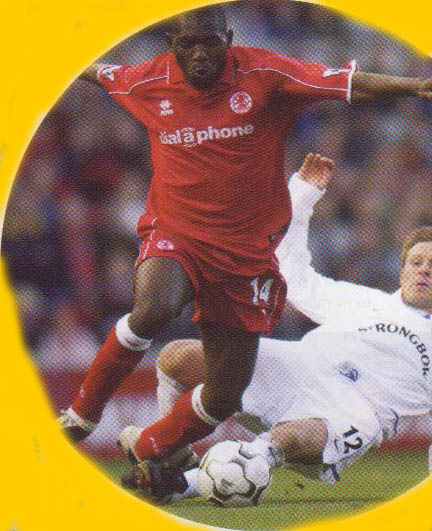 <![endif]>       <![if !vml]>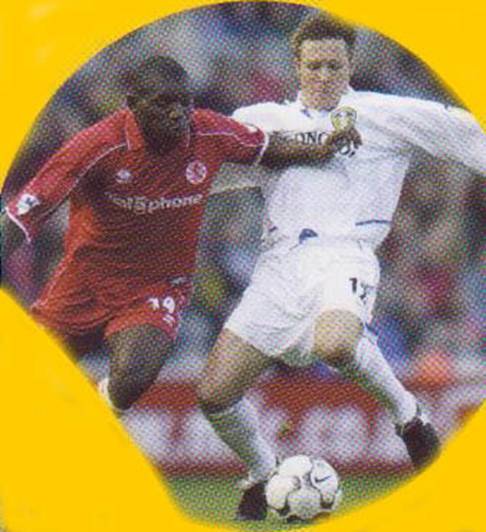 <![endif]>
 Nick Barmby had a great tussle with Geremi, seen here making a couple of timely tackles
<![if !vml]>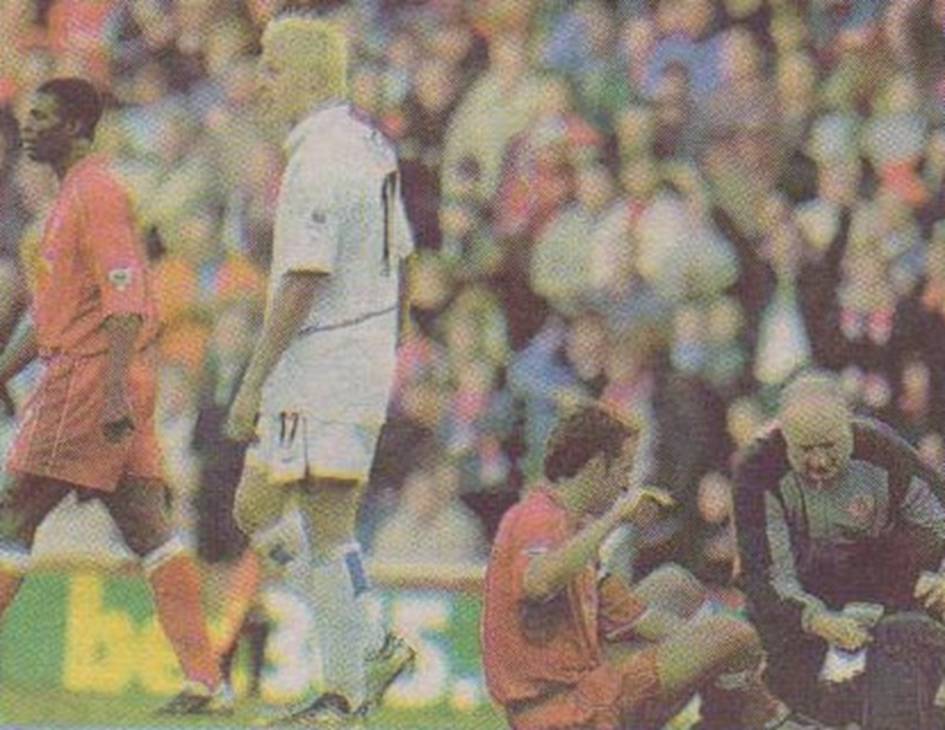 <![endif]> 
Gareth Southgate receives attention
<![if !vml]>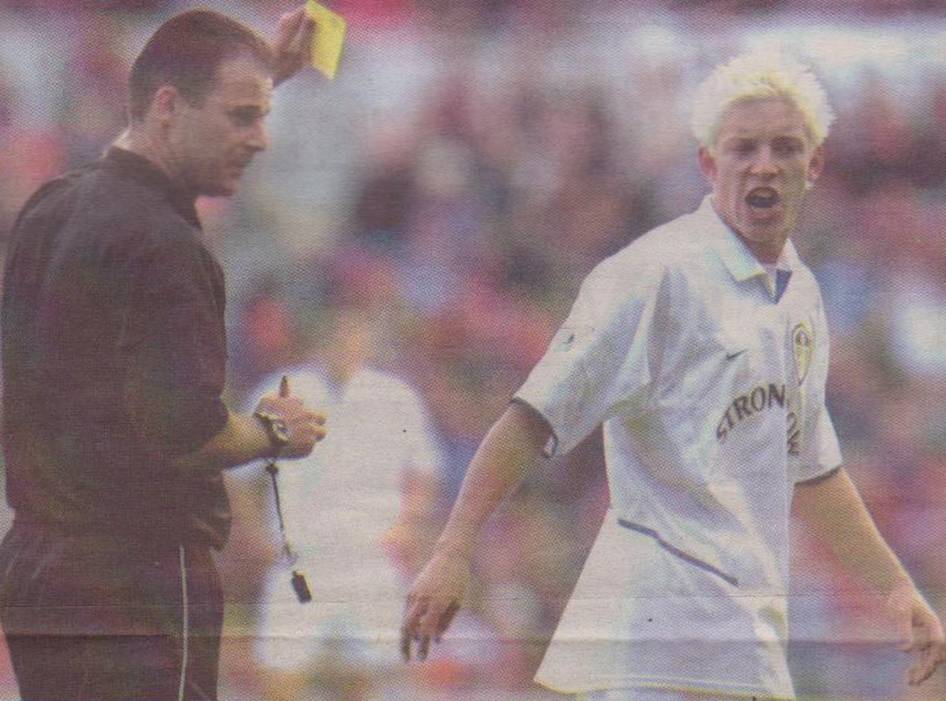 <![endif]>
while Alan Smith looks towards the referee and gets his second yellow card and a sending off
<![if !vml]>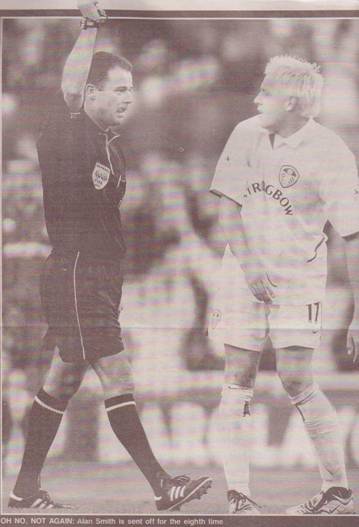 <![endif]>        <![if !vml]>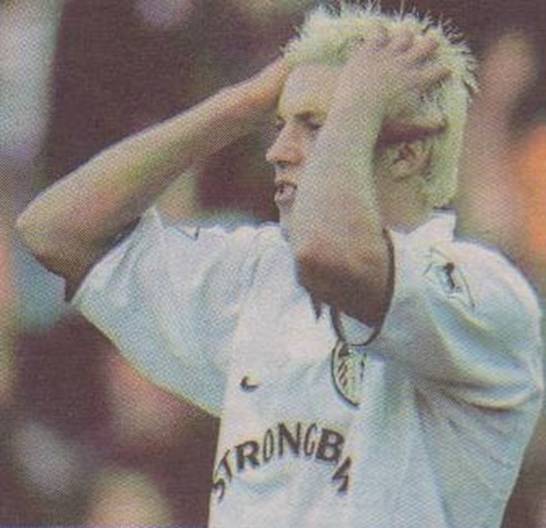 <![endif]>
Alan Smith looks surprised at his sending off and holds his head in disbelief
<![if !vml]>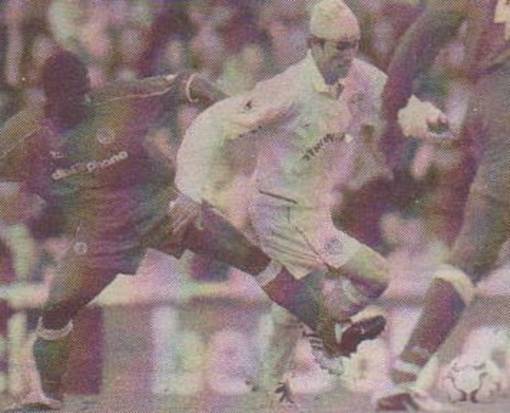 <![endif]> <![if !vml]>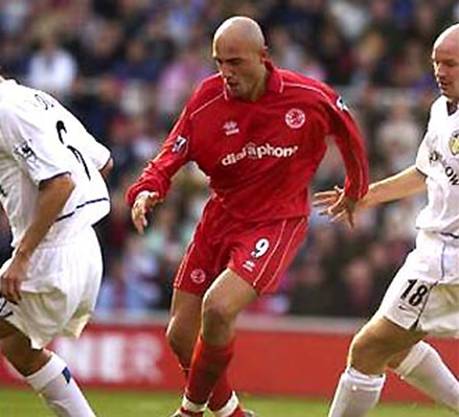 <![endif]>
Harry Kewell goes past George Boateng but is brought down                            Massimo Maccarone tries to get between Jonathan Woodgate
                                                                                                                                 and Danny Mills
<![if !vml]>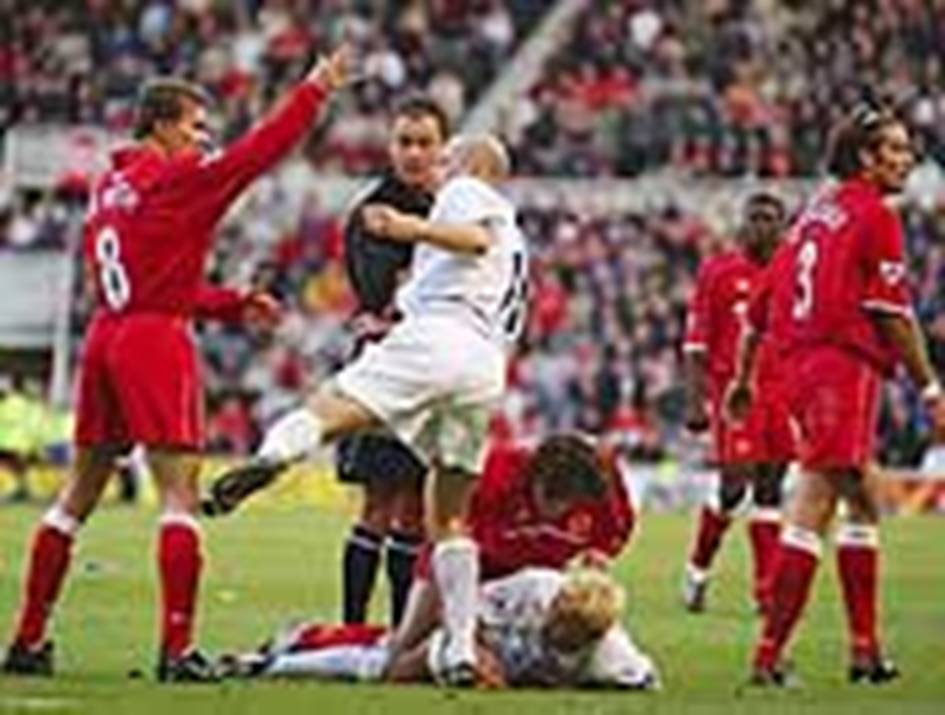 <![endif]> 
Game flashpoint as Danny Mills starts a melee
<![if !vml]>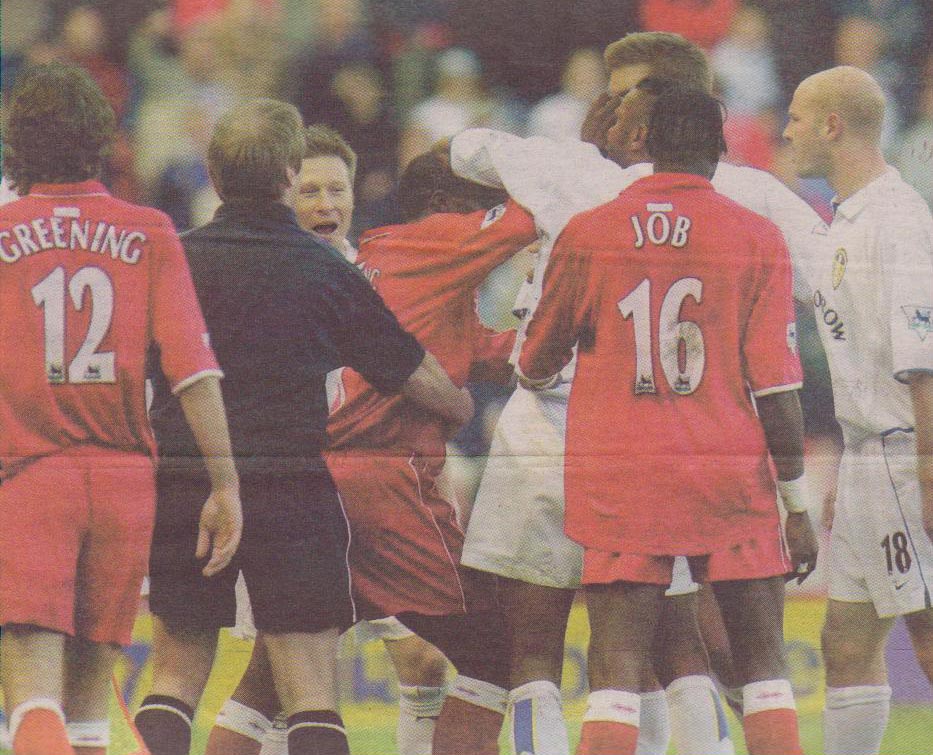 <![endif]>
George Boateng is restrained by Lucas Radebe after spitting at Nick Barmby
Players:
<![if !vml]>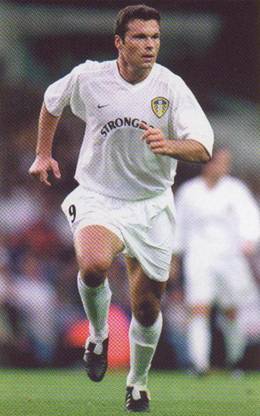 <![endif]> <![if !vml]>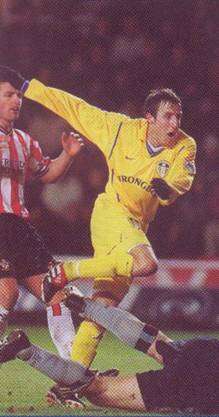 <![endif]>    <![if !vml]>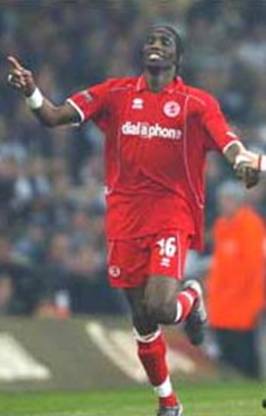 <![endif]> <![if !vml]>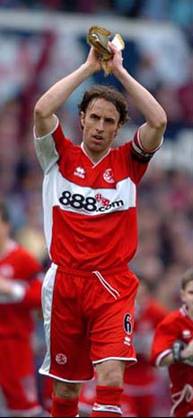 <![endif]> 
Mark Viduka (Penalty) and Lee Bowyer scored for United                             Joseph-Desire Job and Gareth Southgate were the Boro goalscorers
<![if !vml]>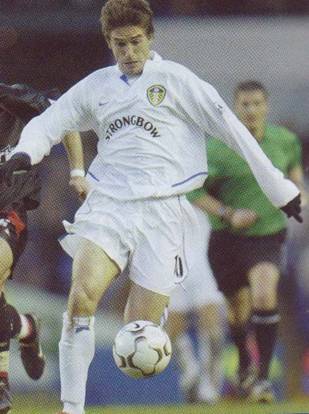 <![endif]>          <![if !vml]>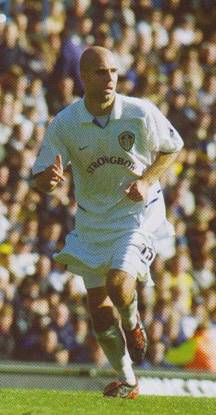 <![endif]> <![if !vml]>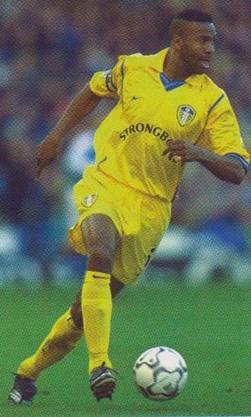 <![endif]> <![if !vml]>

<![endif]> 
Harry Kewell's shot resulted in the first goal             Teddy Lucic, Lucas Radebe and Jonathan Woodgate were a strong backline            
<![if !vml]>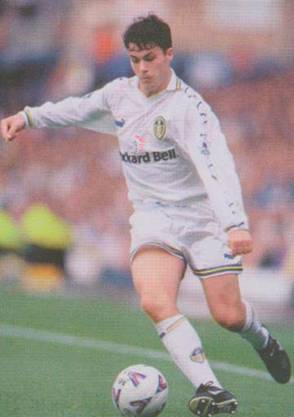 <![endif]>   <![if !vml]>
<![endif]>   <![if !vml]>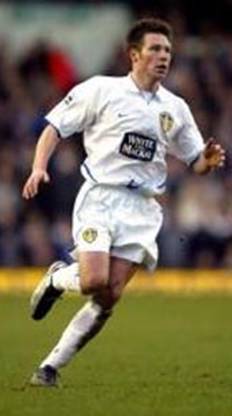 <![endif]>     <![if !vml]>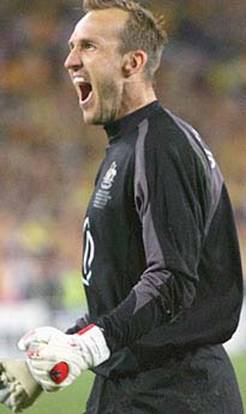 <![endif]>  
Ian Harte was not even on the bench                Alan Smith sent off          Nick Barmby was spat at                     Mark Schwarzer was in goal
<![if !vml]>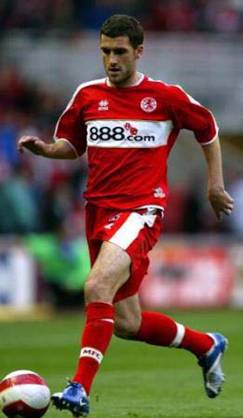 <![endif]> <![if !vml]>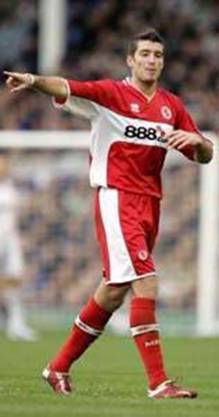 <![endif]>   <![if !vml]>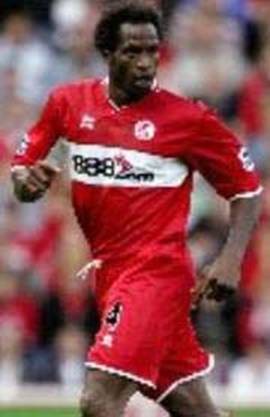 <![endif]> <![if !vml]>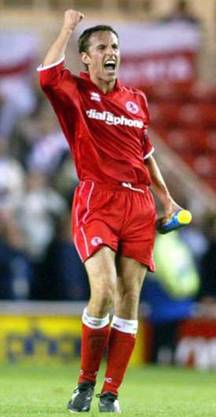 <![endif]>
Stuart Parnaby and Franck Queudrue were the Boro full-backs                Future United loanee, Ugo Ehiogu, and Gareth Southgate were the
                                                                                                                        central defenders
<![if !vml]>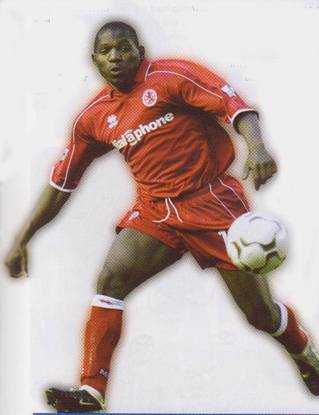 <![endif]> <![if !vml]>
<![endif]> <![if !vml]>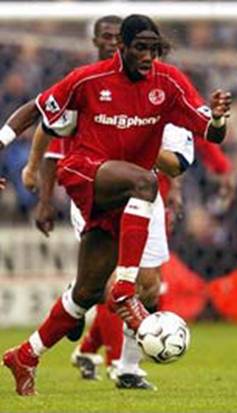 <![endif]> <![if !vml]>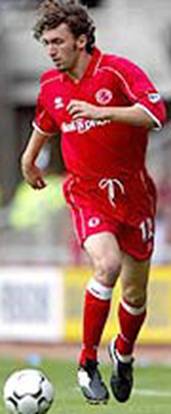 <![endif]>  
                         Geremi, George Boateng, Joseph-Desire Job and Jonathan Greening were in the Middlesbrough midfield
<![if !vml]>
<![endif]> <![if !vml]>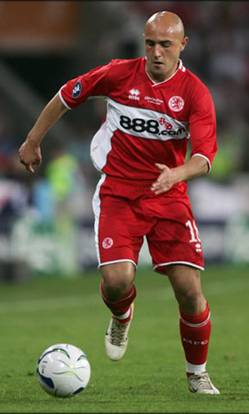 <![endif]>   <![if !vml]>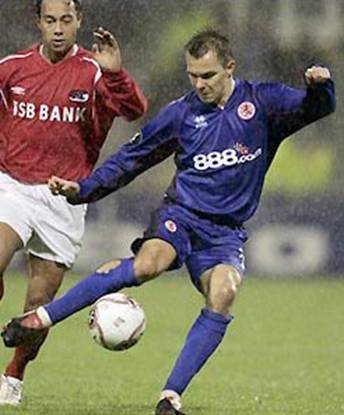 <![endif]>
                    Alen Boksic and Massimo Maccorone were the starting Boro strikers                       Szilard Nemeth came on as a substitute
<![if !vml]>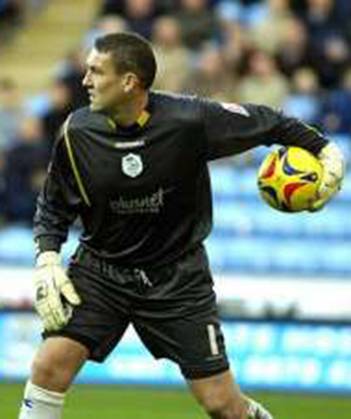 <![endif]> <![if !vml]>
<![endif]> <![if !vml]>
<![endif]>
                           Middlesbrough's unused substitutes were Mark Crossley, Colin Cooper, Carlos Marinelli
<![if !vml]>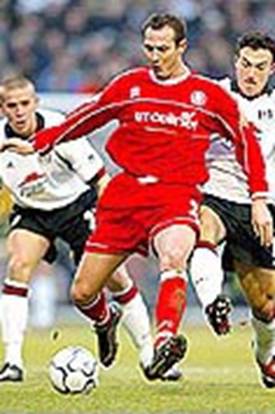 <![endif]> <![if !vml]>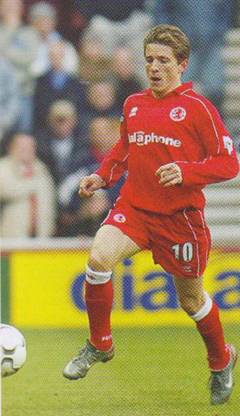 <![endif]>
and ex-Leeds star Noel Whelan                  Juninho was not available