<![if !vml]>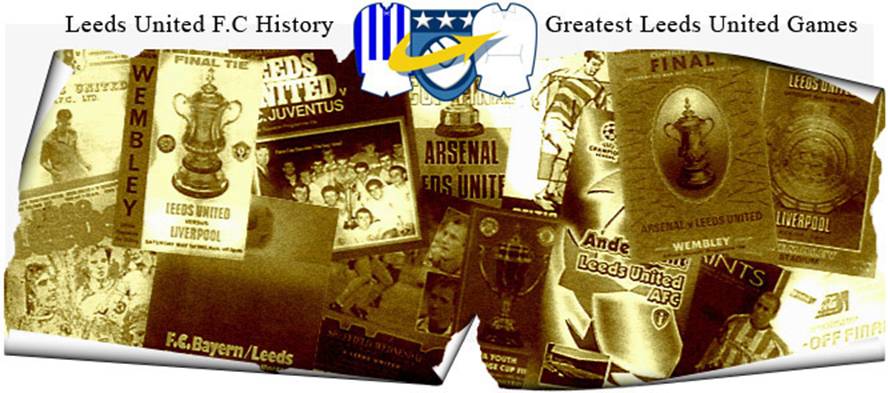 <![endif]>
Date: Wednesday 26th August 1981.
Venue: Algeceiras, Spain.
Competition: Friendly, La Linea Pre-season Tournament.
Score: Real Madrid 3 Leeds United 0
Scorers: Real Madrid: Isidro, Santillano, Cunningham. Leeds United: Nil.
Attendance: Unknown.
Teams:
<![if !vml]>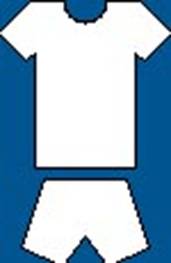 <![endif]><![if !vml]>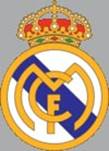 <![endif]>
Real Madrid: Miguel Angel; Jose, Cortes; Stilike, Benito, Del Bosque; Isidro, Camacho, Santillano, Nabajas, Cunningham.
<![if !vml]>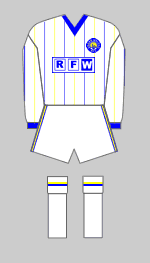 <![endif]><![if !vml]>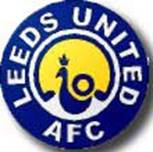 <![endif]>
Leeds United: Lukic; Hird, F. Gray; Flynn, Hart, Cherry; Harris, Connor, Parlane, E. Gray, Graham.
Referee: Unknown.
Way back in the early sixties, when Leeds United were a struggling side, Don Revie put Real Madrid on a pedestal as the team he wanted his side to emulate. Not surprisingly, perhaps, it caused widespread amusement and some ridicule, but Revie stuck to his guns and underlined his determination by discarding the blue and old gold coloured shirts United wore in those days and replaced them with the all white strip worn by Real Madrid.
The Spanish giants had unquestionably been Europe's team of the 1950's and 1960's winning the European Cup in 1956, 1957, 1958, 1959 and 1960 in addition to appearing in two other European Cup Finals in 1962 and 1964. A truly amazing record as Revie admitted. "They're the best and that is what we want to be," he said. Although Revie's side went on to become one of the most feared teams in European football, sadly for him, his dream of having his side play against Real Madrid was never realized. Despite competing year after year in European football and playing more than ninety matches, United were never drawn against Real Madrid in competitive football.
Sometime after Revie's memorable reign at Elland Road had come to an end, United did come up against Real. That was in a four team prestigious La Linea pre-season tournament in Spain, in August 1981, and what a bizarre occasion it turned out to be. In the Algeceiras based tournament first stage United had been paired with local side Sporting Gijon, while Real Madrid, who were widely expected to win the tournament, tackled a talented Yugoslavian club, Partizan Belgrade.
Maurice Lindley, who had been Don Revie's assistant manager, was still at Elland Road and was in charge of the party in Spain along with Coach Barry Murphy, because Allan Clarke and his assistant Martin Wilkinson had stayed behind to oversee the signing of Peter Barnes. Not surprisingly Lindley was keen to see United meet Real. "It was no secret we used Real Madrid as a model club and as an example to follow during the sixties and it would be disappointing if we did not meet them in this tournament We switched to their all white strip to copy the Real Madrid club because it was a symbol of success in the European footballing arena. It would be tremendous if we could meet in the final of this tournament," he said.
Lindley got his wish after United had beaten Gijon 3-2 with two goals from Derek Parlane and one from Brian Flynn, while Real had disposed of Partizan. United could not wear their all white strip because Real Madrid had it written into their contract that they could wear their famous strip in all games. As the all yellow of United's second strip was not sufficiently distinctive on television against the white of Real, the organizers were relieved when United agreed to play in the black and white stripes of Sporting Gijon.
Unfortunately the long awaited 'dream' game turned into something of a nightmare when United were beaten 3-0 and had two players sent off in controversial circumstances by the Spanish referee. Scottish internationals Arthur Graham and Derek Parlane were both sent off amid scenes more suited to a Whitehall farce than the final of a European tournament. Barely had half an hour had elapsed, when Graham clashed once more with the Real defender Stilike. This was after the Real defender had just made Graham the subject of a hard tackle. Out came the red card for Graham when a caution for both players might have been a fairer decision. Graham, of course, should have walked immediately but feeling unfairly treated he was reluctant to leave the field. It was there that the farce really began.
The game was held up for seven minutes while tournament officials and interpreters talked with the referee and United's management team. It was difficult to understand why the referee took time out to walk to the touchline and give a television interview. It was conveyed to the Leeds bench by an official that Graham must leave the field but that Leeds could bring on another player in his place! Argentinean international Alex Sabella ran on to take his place but naturally this prompted protests from Real Madrid especially from the Real Madrid players and the referee then changed his mind and told United that they coul not, after all, send on another player.
United were already two goals down, Isidro and Santillano having scored. Feelings were running high at half-time and when the players returned to the field, the referee delayed the game and called for an interpreter to pass on another message to the United bench. The referee had complained that the players were laughing at him and if this did not stop he would take the teams off the field. United fought on but the night was further soured for them when Laurie Cunningham got the third and final goal and Derek Parlane became the second United player to be sent off, apparently because he was one of the players who were laughing at the referee.
So what should have been a night of excitement and enjoyment turned into one that was laughingly remembered for all the wrong reasons, which was sad because United had waited eighteen years to meet Real.
Players:
<![if !vml]>
<![endif]>     <![if !vml]>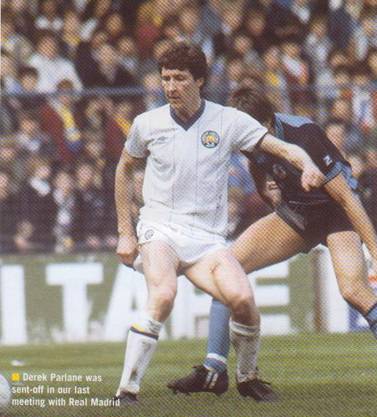 <![endif]>       <![if !vml]>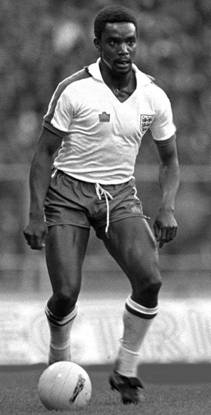 <![endif]>
 Arthur Graham and Derek Parlane both got their marching orders                                               Laurie Cunningham scored for Real