<![if !vml]>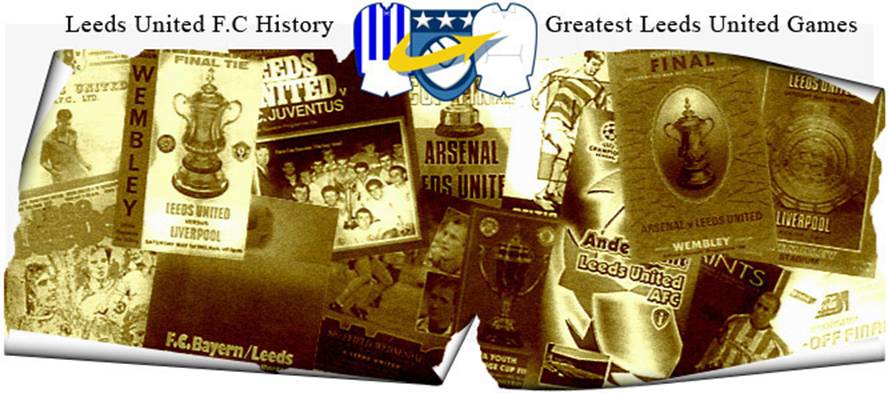 <![endif]>
Date: Saturday, 26th March 1983.
Venue: Elland Road, Leeds.
Competition: Second Division.
Score: Leeds United 2 Crystal Palace 1
Scorers: Leeds United: Ritchie, F. Gray (pen). Crystal Palace: Murphy (pen).
Attendance: 13,973.
Teams:
<![if !vml]>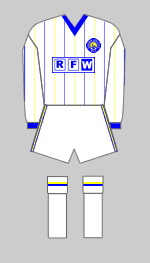 <![endif]> <![if !vml]>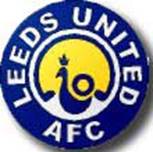 <![endif]>
Leeds United: Harvey; Thomas, F. Gray; Sheridan, Hart, Dickinson; Hird, Butterworth, Ritchie, Donnelly, Graham.
<![if !vml]>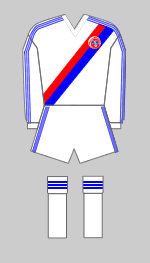 <![endif]><![if !vml]>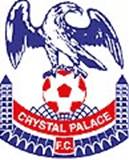 <![endif]>
Crystal Palace: Fry; Locke, Murphy; Nebbeling, Cannon, Gilbert; Brown, Hughton, Jones, Giles, Hilaire. Unused Sub: Langley.
Referee: D.Shaw (Sandbach)
Andy Ritchie, signed from Brighton in an exchange deal that took Terry Connor to the south coast, made his Leeds United debut, and marked it by scoring a goal, in a 2-1 victory over Crystal Palace in March 1983. Manager Eddie Gray would take satisfaction from his newest signing finding the target, but saw two other features to encourage his recent actions. John Donnelly, signed from Dumbarton, and David Harvey upgraded when John Lukic asked for a move, also having made crucial contributions to the win.
Victory, however, was not achieved until the very last kick of a nerve-jangling game, after which Palace made a quick-fire get-away with manager Alan Mullery not bothering to talk to the press. Presumably he could not have trusted himself to pass judgement on a penalty awarded to United, ironically, but rightly, in the minutes added on because Palace had, as one commentator put it, honed time-wasting to a fine, frustrating art. He did, however, mutter something about time-wasting, doubtless a reference to the referee's decision to add time on after the scoreboard clock had stopped at ninety minutes.
United had fallen behind to a twenty-fifth minute spot-kick by Palace full-back Jerry Murphy, after referee Don Shaw awarded a penalty for a handling offence by Kevin Hird and it was not until the fifty-ninth minute that United really sparked into line. John Donnelly, bought at a knock-down price of £10,000, split the Palace defence wide open with a pass that found Andy Ritchie, who promptly hit home the equaliser. David Harvey was next to shine for United, bringing off a magnificent save to deny Jerry Murphy, when Palace were awarded a second penalty, this time for a handling offence by Paul Hart.
The thirty-five-year-old keeper had dived to his left in a vain attempt to stop Jerry Murphy's earlier spot-kick, but when Murphy again chose to shoot to the keeper's left in the seventy-ninth minute, Harvey's full-length dive brought off a vital save. Harvey, making his first appearance at Elland Road in three and a half years, brought off another fine save soon afterwards when Gary Locke tried his luck with a shot.
None stuck to their tasks more so than John Donnelly and it was he who, in the last few seconds, took the ball into the Palace penalty area, where he was tripped by Jim Cannon. Palace protested at the penalty award but it made no difference and Frank Gray remained cool and calm in a tension filled situation to hit the winner with what proved to be the last kick of the game.
Alternative Report from YEP (Courtesy of Mark Ledgard)
Crystal Palace were the fastest team in the West Riding, but only after they had paid a poetic sort of price for attempting to bore their way out of relegation danger. Palace left Elland Road in an angry cloud of dust, a matter of minutes after losing to the last kick of a match which was not so much run of the mill as walk of the mill. Their usually voluble Manager Alan Mullery presumably could not trust himself to pass judgement on a penalty awarded, ironically but rightly, in the long minutes added on because Palace honed time-wasting to a fine frustrating art. Palace would call that professionalism. It looked more like purgatory. Leeds were little better, a side so mechanical and predictable in an abysmal first half that their Manager Eddie Gray must surely reconsider his intension to take early retirement. Their victory was a triumph for durability, for the experience of the admirable David Harvey and the courage of a referee prepared to award a last minute penalty as dispassionately as he had in the twenty-fifth and seventy-nine minutes when they might have mattered less. But Leeds despite a mathematical chance of promotion and despite a crescendo which left their supporters slightly delirious and somewhat dazed had only the result to reflect on with any satisfaction.
John Donnelly was easily their best player and accusingly, a yard quicker in thought and execution than any of his team-mates. The new signing Andy Ritchie scored an opportunist goal and created chances which insist that he has the instinct that Leeds need. John Sheridan worked hard to create order from threatening chaos without putting too many feet wrong. The rest were mere journeymen inflicting pressure on themselves and frustration on their supporters. Vulnerable enough to make Palace's Jerry Murphy look a very good player and in truth he only did the simple things well. Only! Fortunately for Leeds David Harvey made up his mind and made the difference. He was beaten by Jerry Murphy's penalty after Kevin Hird flung up an involuntary arm to handle in the twenty-fifth minute. But he went the same way, far to his left, to save a seventy-ninth minute penalty when Paul Hart handled and Jerry Murphy tried to kill Leeds off. "I should have saved the first but I slipped as I took off and that shortened my dive just enough to matter," said Harvey. "When he took the second I wanted to go to the right but I thought I would look a right idiot, if he put the ball in the same place."
Harvey's save, a poignant home-coming after three and a half years, gave Leeds the lift they desperately needed and the last ten minutes was pure commitment, a little hell rather more notion than they had shown all afternoon. Frank Gray crowned it coolly when he drove in Leeds' penalty after Jim Cannon had tripped John Donnelly in desperation. Not surprisingly Leeds' equalising goal was fashioned exclusively by John Donnelly and Andy Ritchie. "It was a great run by John and a great ball. All I had to do was put it in," said Andy Ritchie, which was disarmingly modest and made no account of the fact that Leeds suddenly found two men who could think further than the ball at their feet. John Donnelly speared the ball into Andy Ritchie's path as he ran parallel with the penalty area and Ritchie drilled it in as David Fry tried to advance and spread himself. "We had some luck with us and if that holds out we could still be promoted," insisted Ritchie. "After all we have six matches left at home, and if we win them we must be in with a chance." Mathematically, yes, but Leeds in this match were so uninspired for so long, that promotion itself might be a delayed embarrassment.
<![if !vml]>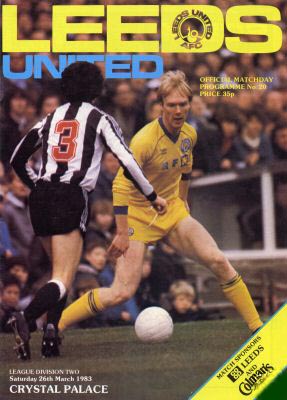 <![endif]>
Match Action:
<![if !vml]>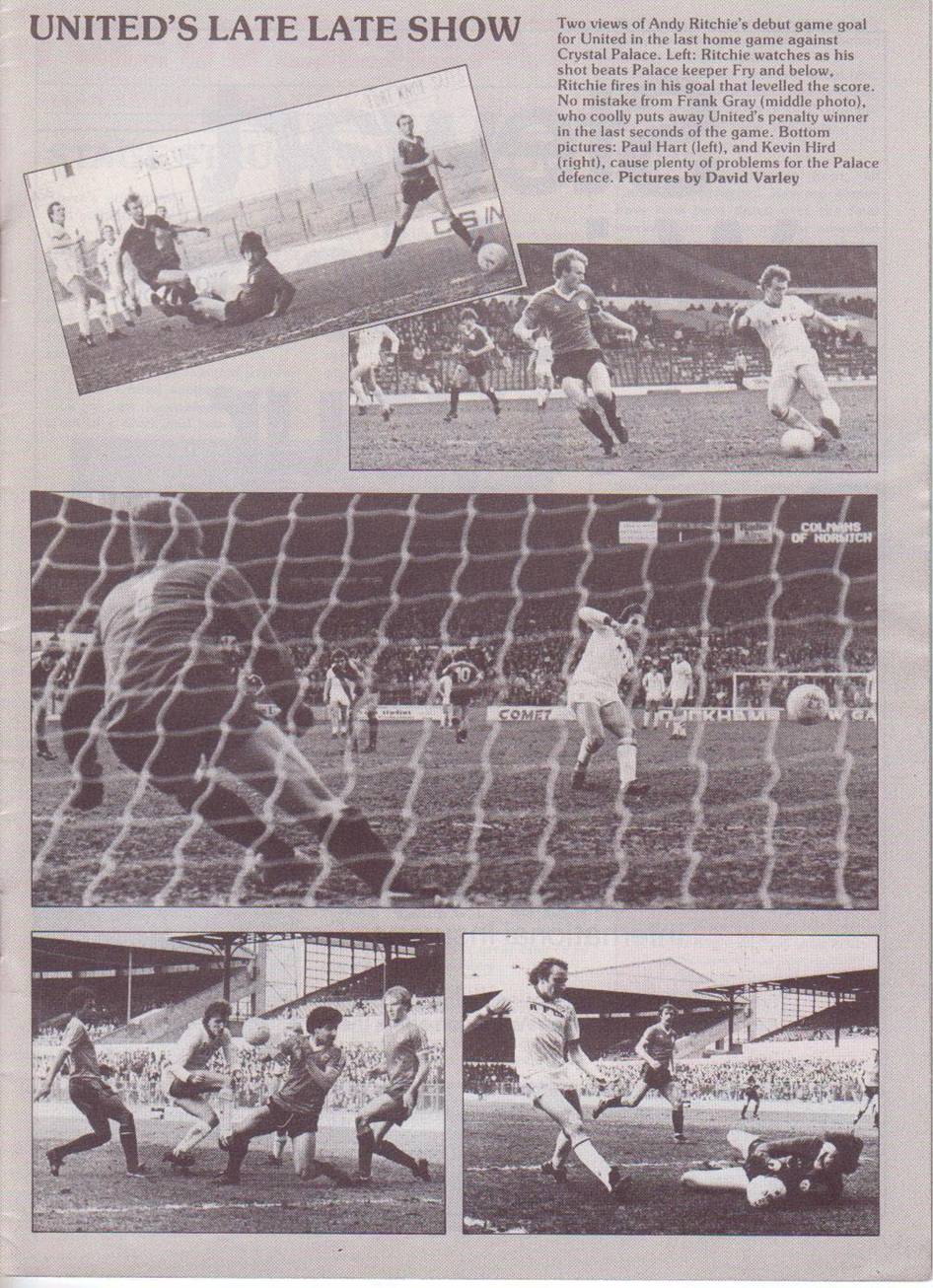 <![endif]>
<![if !vml]>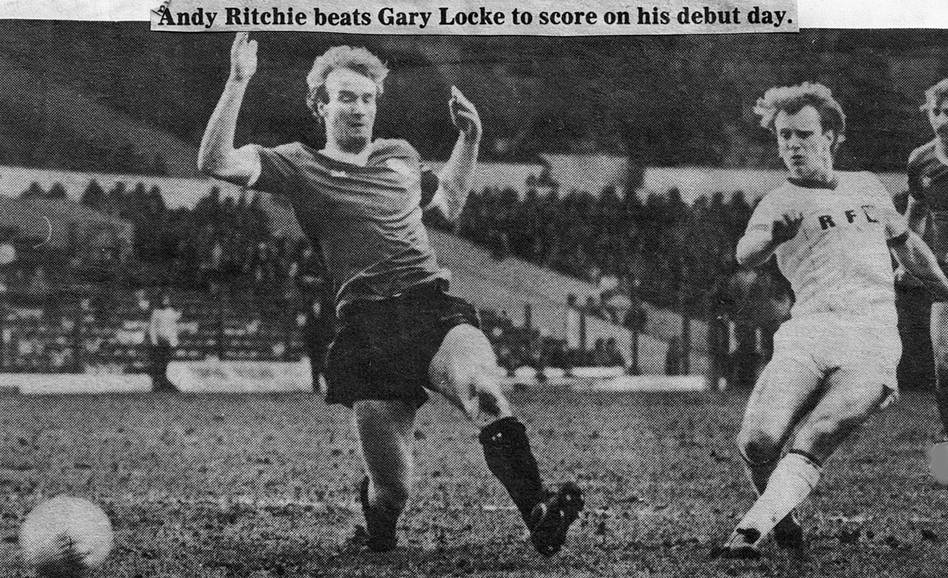 <![endif]>
<![if !vml]>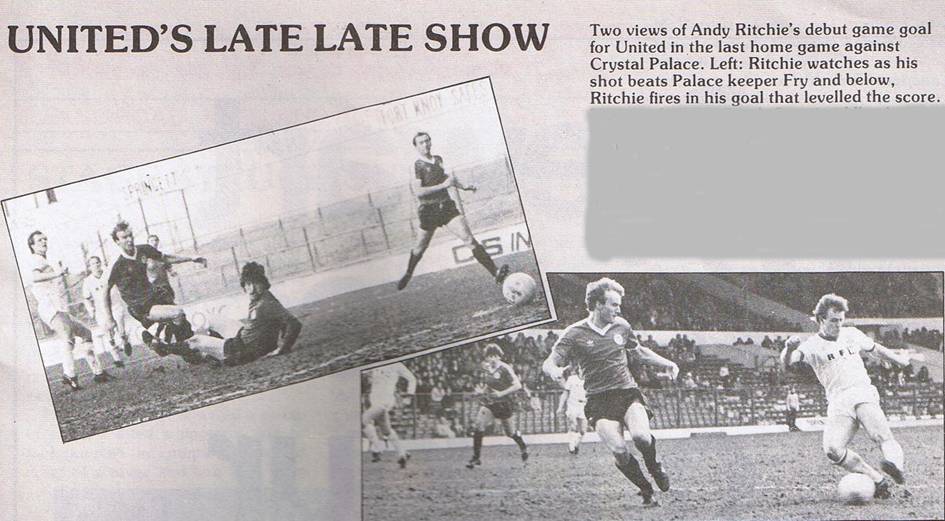 <![endif]>
<![if !vml]>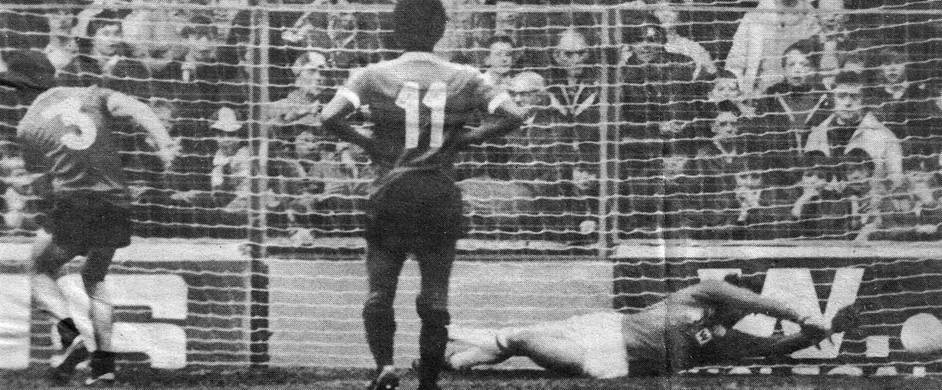 <![endif]>
David Harvey makes a magnificent save from Jerry Murphy's penalty to keep Unite on level terms
<![if !vml]>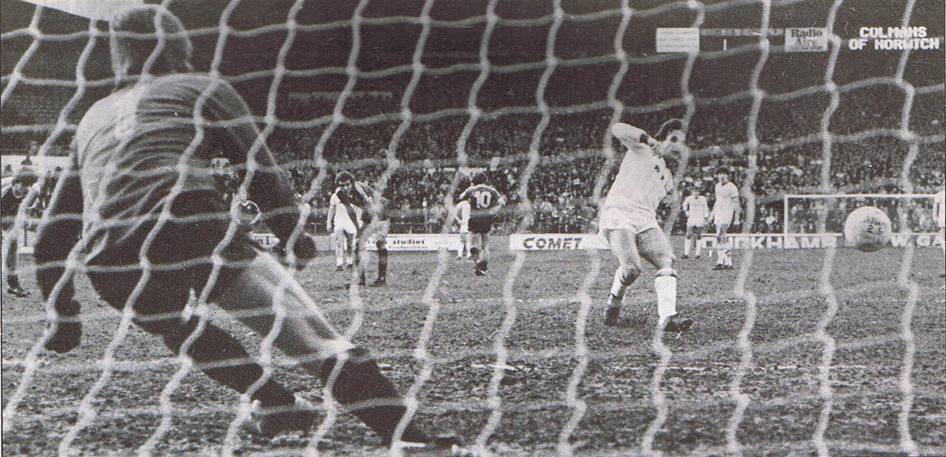 <![endif]>
Frank Gray remained cool and slotted United's last gasp winner from the penalty spot with the final kick of the game
<![if !vml]>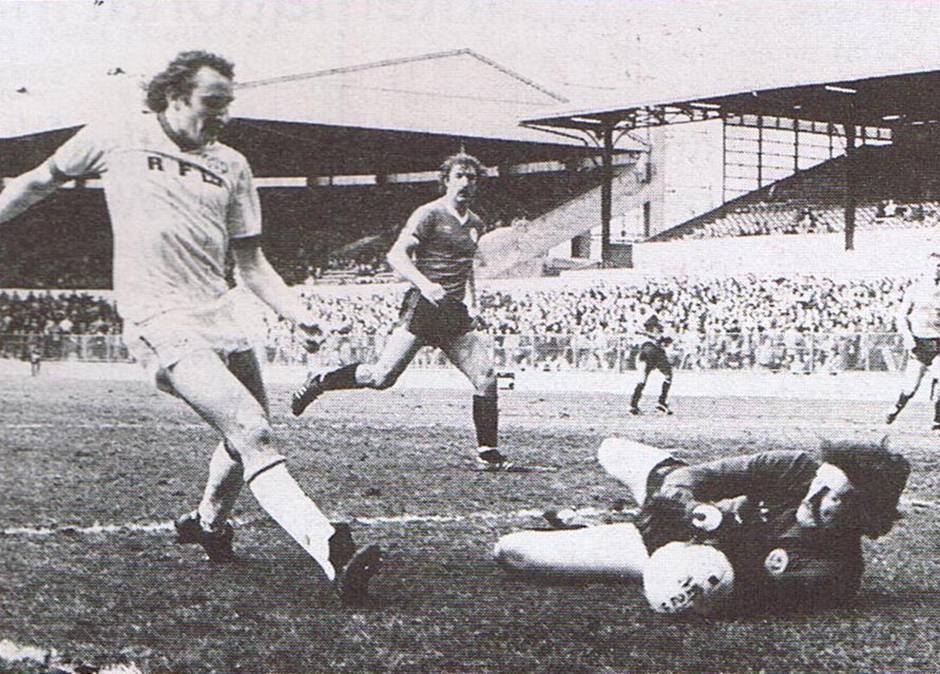 <![endif]>
Kevin Hird is thwarted by the Crystal Palace goalkeeper David Fry's brave save
<![if !vml]>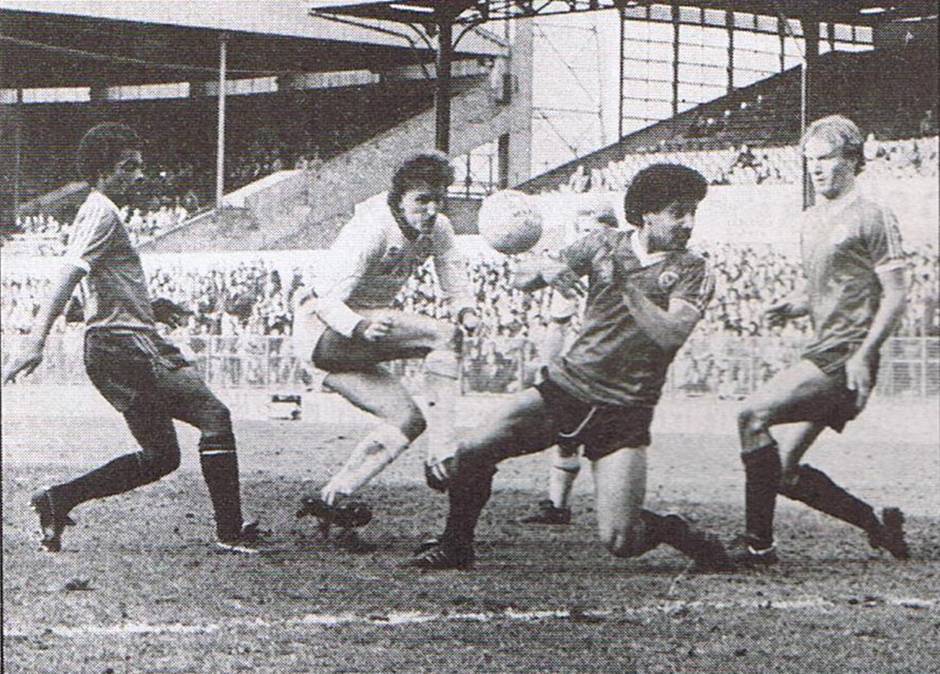 <![endif]>
Vince Hilaire (left was just one of several Crystal Palace defenders who combined to try and stop Paul Hart getting in his effort on goal
(the above six Action shots are courtesy of Mark Ledgard)
Teams:
<![if !vml]>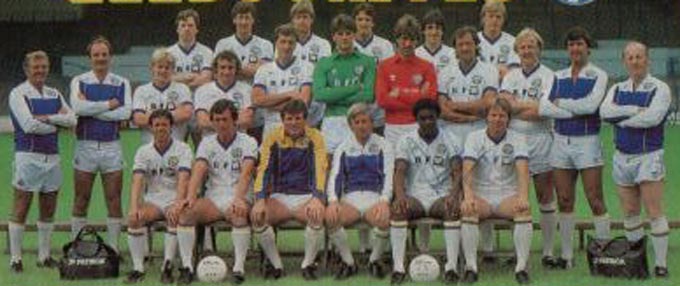 <![endif]>
Leeds United 1982-83:
Back Row: Gary Hamson, Martin Dickinson, Neil Aspin, Frank Gray, Gwyn Thomas, Peter Barnes.
Middle Row: Peter Gunby (Coach), Keith Mincher (Coach), Aidan Butterworth, Kevin Hird,
Paul Hart, John Lukic, David Seaman, Frank Worthington, Kenny Burns, Barry Murphy (Coach),
Geoff Ladley (Physio).
Front Row: Brian Flynn, Trevor Cherry, Eddie Gray (Player-Manager),
Jimmy Lumsden (Assistant Manager), Terry Connor, Arthur Graham.
<![if !vml]>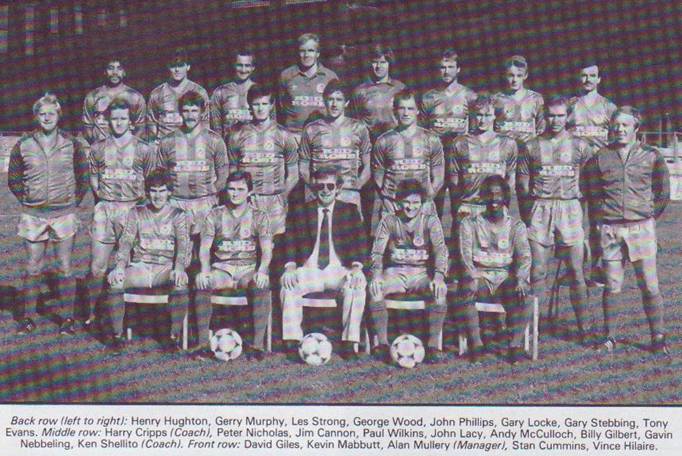 <![endif]>
Players:
<![if !vml]>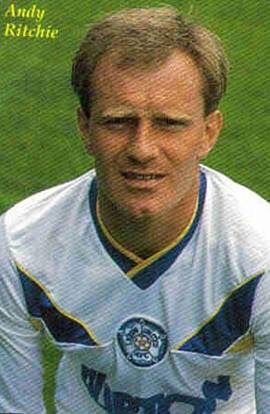 <![endif]>  <![if !vml]>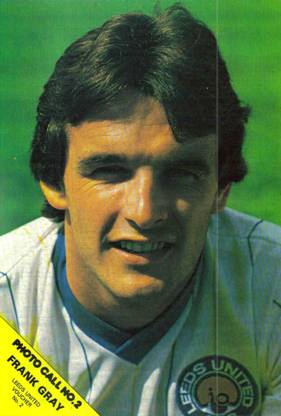 <![endif]>  <![if !vml]>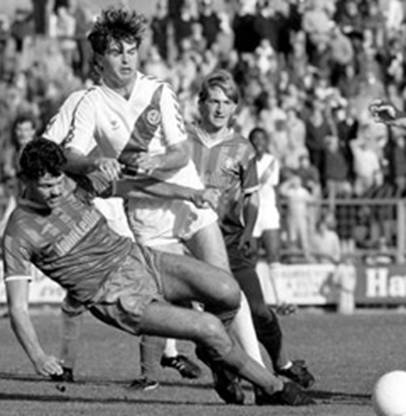 <![endif]> 
Andy Ritchie and Frank Gray with a penalty scored for Leeds                                        Crystal Palace scored with a penalty from Jerry Murphy
<![if !vml]>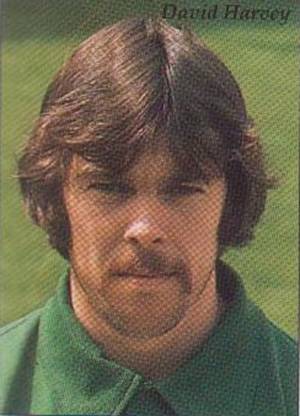 <![endif]>   <![if !vml]>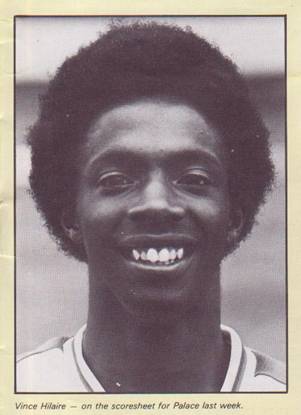 <![endif]>   <![if !vml]>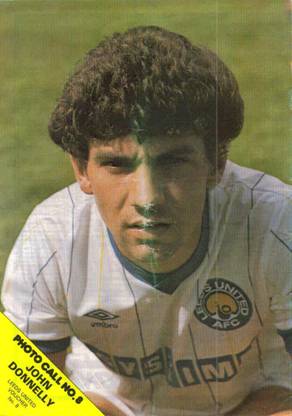 <![endif]>
David Harvey saved the second penalty            Vince Hilaire later played for Leeds                   John Donnelly played well for Leeds
<![if !vml]>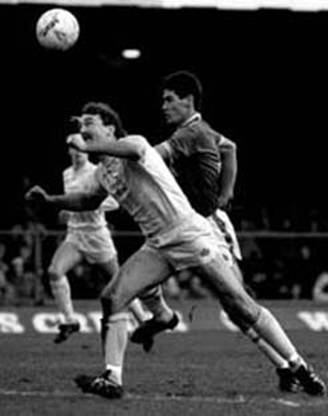 <![endif]>   <![if !vml]>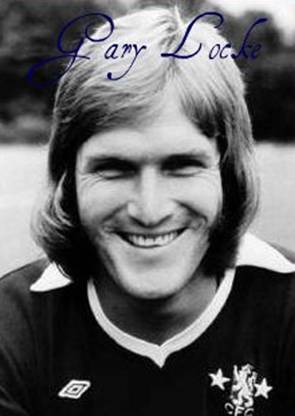 <![endif]>        <![if !vml]>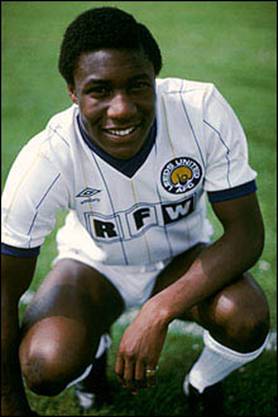 <![endif]>
Jim Cannon conceded the penalty                             Gary Locke was denied by David Harvey              Terry Connor was exchanged for Andy Ritchie