<![if !vml]>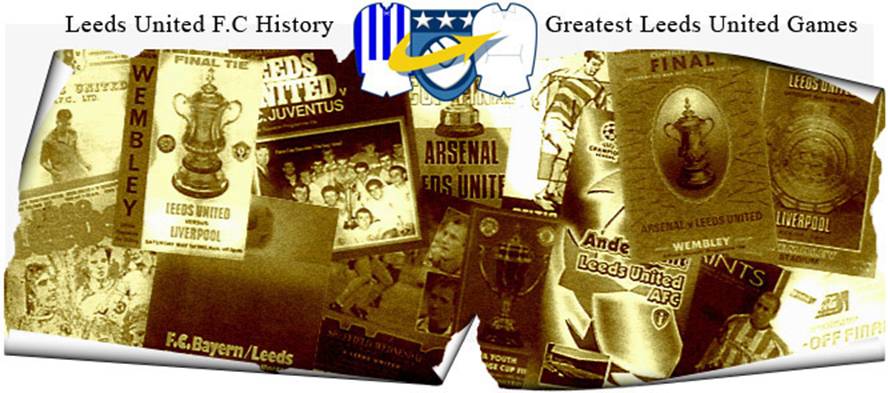 <![endif]>
Date: Saturday, 25th August 1973.
Venue: Elland Road, Leeds.
Competition: First Division.
Score: Leeds United 3 Everton 1
Scorers: Leeds United: Bremner, Giles, Jones. Everton: Harper.
Attendance: 39,325.
Teams:
<![if !vml]>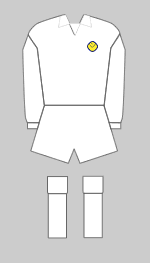 <![endif]><![if !vml]>

<![endif]>
Leeds United: Harvey; Reaney, Madeley; Bremner, McQueen, Hunter; Lorimer, Clarke, Jones, Giles, E. Gray.
<![if !vml]>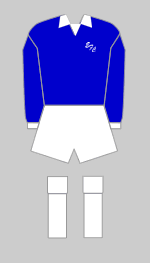 <![endif]><![if !vml]>
<![endif]>
Everton: Lawson; McLaughlan, Darracott; Lyons, Kenyon, Kendall; Harvey, Harper, Royle, Buckley, Connelly.
Referee: J.K. Taylor (Wolverhampton).
After the disappointments of the previous season, when people started saying that Leeds were on the downwards slope after the double humiliations of failure to Sunderland in the FA Cup and then the loss to the twelve man AC Milan in the Cup-winners Cup final, Don Revie famously said that they should go through the season undefeated and this was the first of those games.
Fourteen seasons of lion-hearted endeavour had done nothing to dampen the enthusiasm for the game of Leeds and Scotland Captain Billy Bremner. The dynamic little midfield man was as lively and competitive as ever when United kicked off the new season in August 1973 by hammering out a warning to the doubters with a convincing 3-1 victory over Everton at Elland Road. Bremner's thirst for success, his spirit and not least his tremendous ability on the field, were well to the fore as he exploded into his Testimonial season with the game's best goal after only three minutes.
The red-haired Scot weaved his way past several defenders on the edge of the penalty area, partially fell to a tackle but recovered swiftly to accept the ball back from Allan Clarke and fire the ball home. Everton's former Huddersfield Town keeper, David Lawson, had no chance as the ball sped to his right and inside the post. "The goal helped to settle us down and it upset Everton," a delighted Bremner said.
His goal, however, posed the question as to why Bremner should have been so far forward so early in the game. The answer was that manager Don Revie's plans for the new season were designed to add more goals to his side's tally. "We worked on a few things in training and we decided our middlemen should support the front-men more if possible. That was what I was doing and it paid off," Bremner added.
His goal put United in the driving seat but, though they dominated the first–half, that goal was all they had to show for their efforts in the first forty-five minutes. Everton failed to match the more stylish approach of their opponents although they never lacked enthusiasm and contributed a lot to an entertaining and sportingly fought match.
United had to wait until the hour mark before they increased their lead, when Johnny Giles thundered in a twenty-five yarder which bulged the back of the net before Lawson could move a muscle. Five minutes later Mick Jones, who was looking a much sharper player, flicked the ball past one defender before slotting it home to open up a three goal lead.
Everton gained some consolation thirteen minutes from the end when Joe Harper, another former Huddersfield Town player, scored with a twenty-two yard shot. Eddie Gray, who had missed all the pre-season games with a thigh injury, made a promising return for United and all in all it was a satisfactory start for United who looked capable of chasing hard after honours again, and it was so far so good for Don Revie's dream.
<![if !vml]>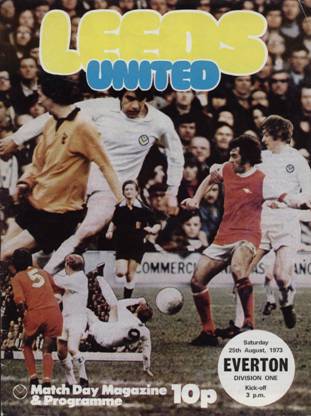 <![endif]>
Match Action:
<![if !vml]>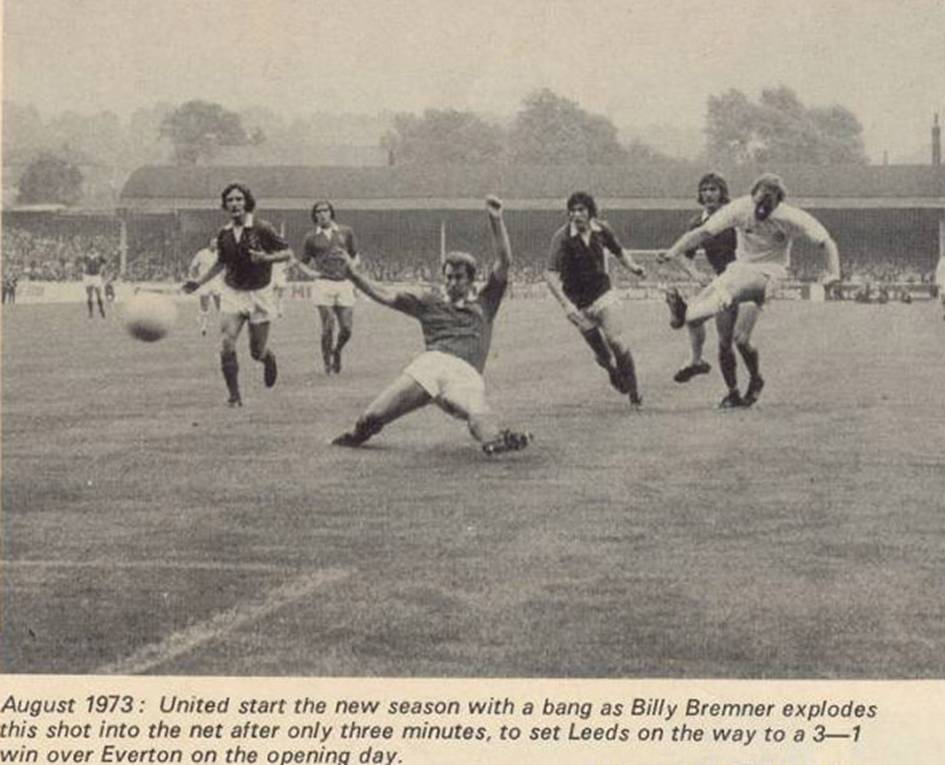 <![endif]>
<![if !vml]>
<![endif]>
<![if !vml]>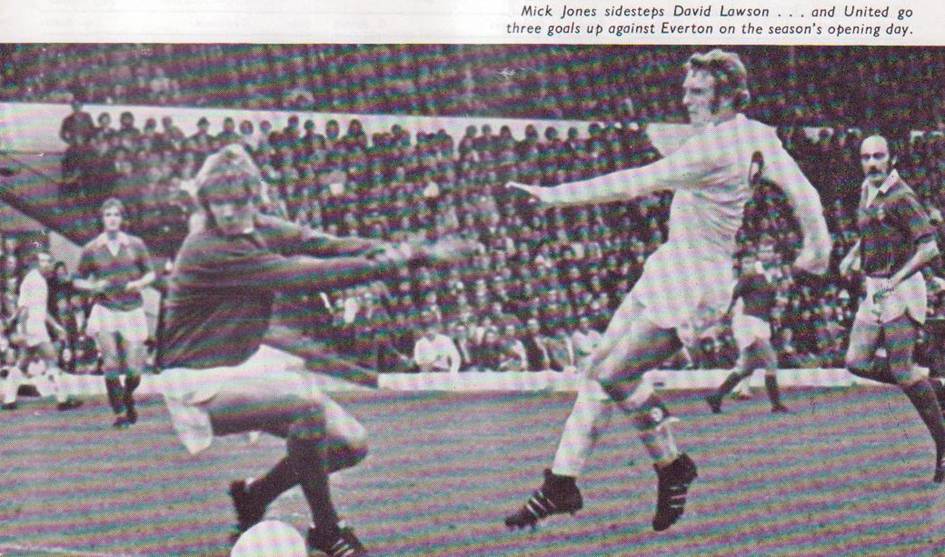 <![endif]>
<![if !vml]>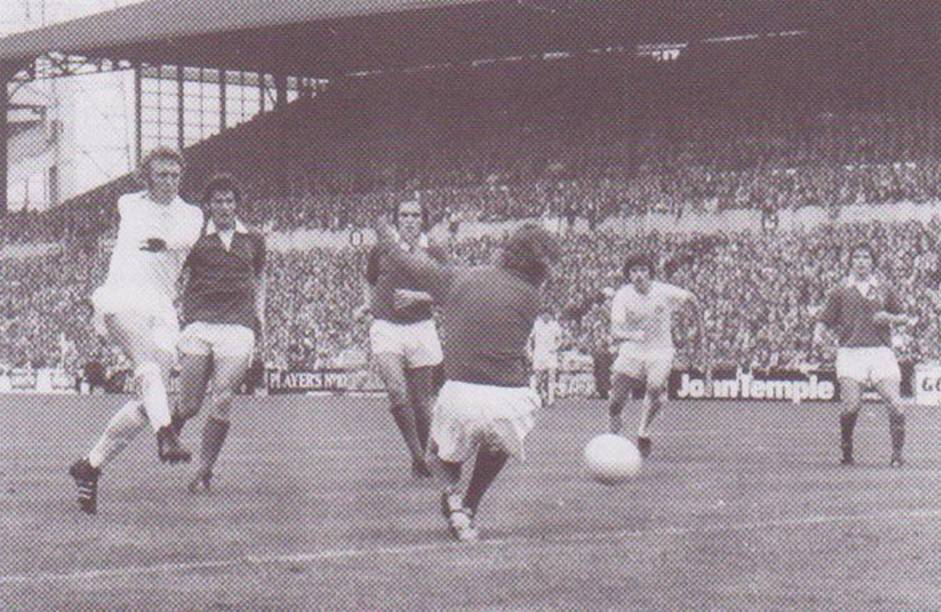 <![endif]>
Mick Jones opens his account for the season with United's third goal.
Teams:
<![if !vml]>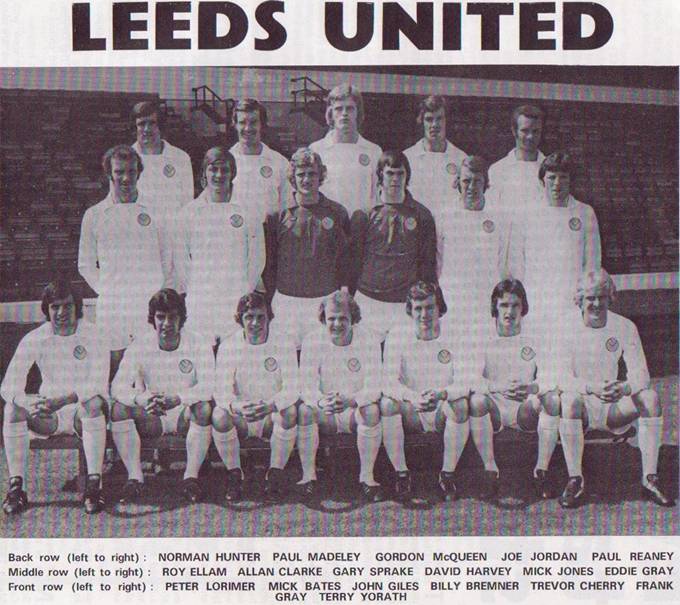 <![endif]>
<![if !vml]>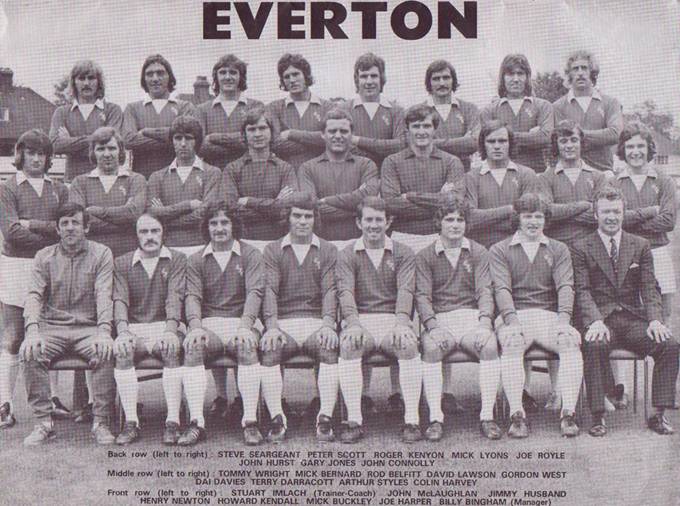 <![endif]>
Players:
<![if !vml]>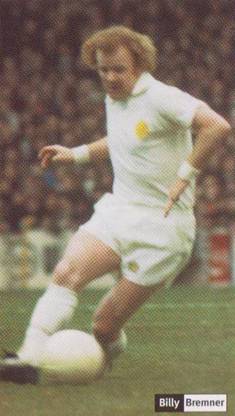 <![endif]> <![if !vml]>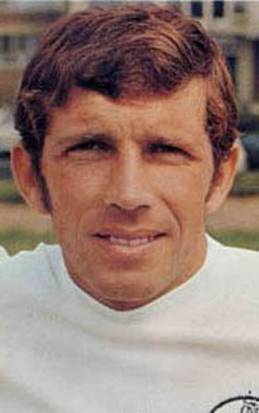 <![endif]> <![if !vml]>
<![endif]>
Billy Bremner, Johnny Giles and Mick Jones scored the Leeds goals
<![if !vml]>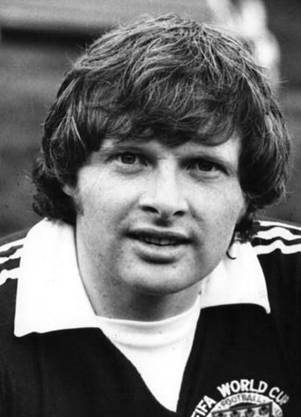 <![endif]>     <![if !vml]>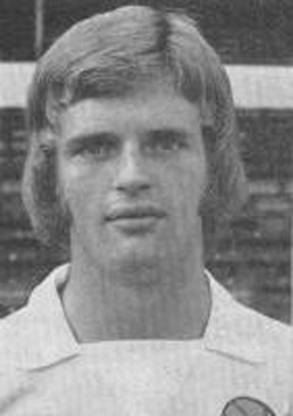 <![endif]>   <![if !vml]>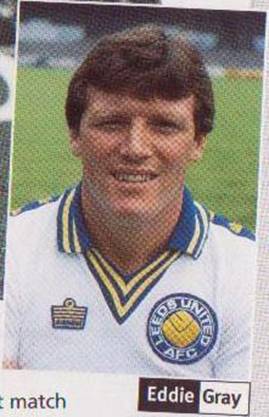 <![endif]>  
Joe Harper replied for Everton                        Gordon McQueen was trying to                    Eddie Gray made a return after a long                                              
                                                                        establish himself in the first team.              absence due to injury
<![if !vml]>
<![endif]> 
David Lawson was in the Everton goal                                                                                                  
<![if !vml]>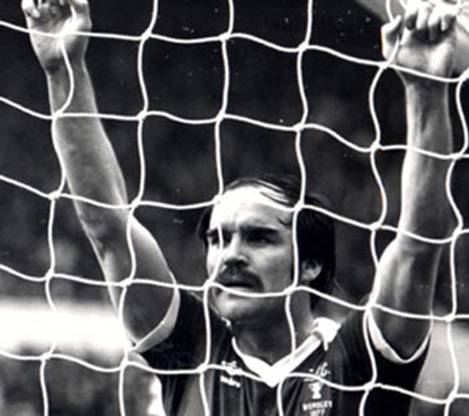 <![endif]> <![if !vml]>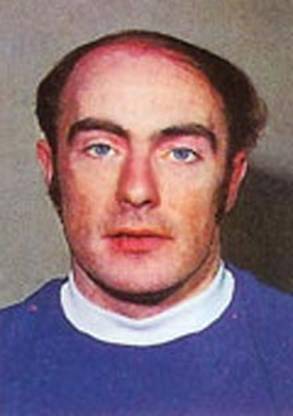 <![endif]>
Terry Darracott was partnered by John McLaughlin at full-back
<![if !vml]>
<![endif]> <![if !vml]>

<![endif]> <![if !vml]>
<![endif]> <![if !vml]>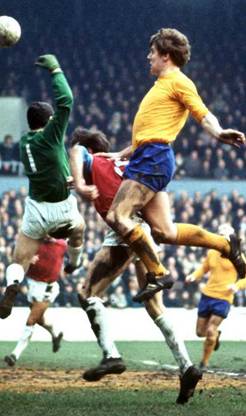 <![endif]> 
Roger Kenyon was in central defence with Mike Lyons       Joe Harper and Joe Royle were the strikers                                             
<![if !vml]>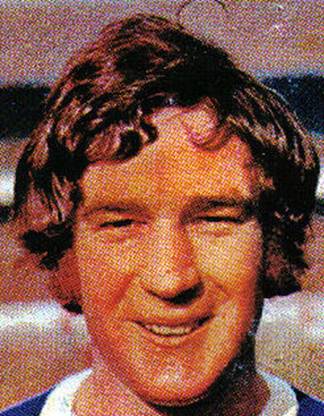 <![endif]> <![if !vml]>
<![endif]> <![if !vml]>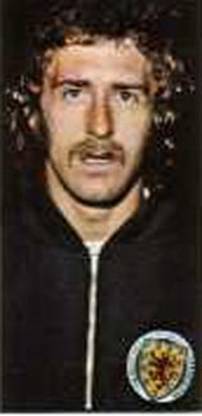 <![endif]> <![if !vml]>

<![endif]>
                                      The Everton midfield was Colin Harvey, Howard Kendall, John Connelly and Mick Buckley