<![if !vml]>
<![endif]>
Date: Sunday, 25th February 1996.
Venue: Elland Road, Leeds.
Competition: League Cup Semi-Final, Second Leg.
Score: Leeds United 3 Birmingham City 0
Scorers: Leeds United: Masinga, Yeboah, Deane. Birmingham City: Nil.
Attendance: 35,435.
Teams:
<![if !vml]>
<![endif]><![if !vml]>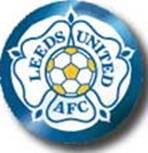 <![endif]>
Leeds United: Lukic; Kelly, Dorigo (Radebe); Palmer, Beesley, Wetherall; Masinga (Brolin), Wallace, Yeboah, McAllister, Deane. Unused Sub: Beeney.
<![if !vml]>
<![endif]><![if !vml]>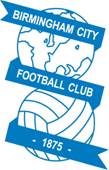 <![endif]>†
Birmingham City: Griemink; Poole, Edwards, Johnson, Whyte (Hunt), Forsyth (Donowa); Richardson, Sheridan, Frain; Claridge, Francis (Bowen).
Referee: Mr L.R. Dilkes (Mossley).
Howard Wilkinsonís men came into the Second Leg of the League Cup Semi-Final with a 2-1 advantage from the First Leg at Birmingham Cityís St Andrewsí. Firat Division Birmingham, managed by the larger-than-life Barry Fry, were given little chance of causing an upset but Leeds did not have it all their own way and were held goalless in the first half, but in the end United proved to be too strong and powerful for their lesser gifted opponents and ultimately strode to Wembley with ease.
A powerful and telling effort from Tony Yeboah was the highlight as United qualified for their first major Cup Final in twenty-three years, though he and his teammates were made to fight hard by a battling Blues side. With a one goal advantage from the first leg, United were in the driving seat but it was not until the fifty-fourth minute that they were able to increase their advantage, Phil Masinga being on hand to score. Two minutes later a great overhead kick from Tony Yeboah increased Unitedís lead and Brian Deane put the icing on the cake with a far post header and a trip to Wembley for the players, the club and their Cup success starved fans.
Howard Wilkinson had raised a few eyebrows when he picked Phil Masinga ahead of Tomas Brolin in the starting line up, but the pencil-thin striker, who had only made four other starts in the 1995-96 season justified his faith by scoring the all important first goal to establish a 3-1 lead on aggregate, but the likeable South African would have to admit that Tony Yeboah was rightly given the ĎMan-of-the-Matchí award for his outstanding goals in both legs of the Semi-Final. It was the Ghanaian who had been the main force behind the United victory with telling performances in both legs. In addition to scoring Unitedís opening goal in the first leg, he had also played a part in forcing Chris Whyte to concede an own goal and had finished the job off in style with a classic strike in the Second Leg
The managerís decision to go with Phil Masinga was because he wanted to attack Birmingham from the start rather than sit back and defend their lead from the first leg, and the plan worked to perfection and the game could have been as good as over in the first ten minutes when United might easily have scored on three occasions. Brian Deane, also restored to the side, provided a dangerous cross which just eluded Tony Yeboah and which Phil Masinga pushed wide. The Leeds-born striker also went close himself in a goalmouth scramble following a Masinga header, who a few minutes later had another shot blocked after good work from Yeboah.
After the United opening salvo they still needed a goal to ease any anxiety, but it was Birmingham who came more into the game and might have equalised on aggregate in the thirty-seventh minute when former United defender Chris Whyte, playing at left-back, went past Paul Beesley to hit a low cross that just eluded Kevin Francis and Richard Forsyth in front of goal. United could have also paid the price for their earlier misses when three minutes into the second half Ian Richardson found himself with a great scoring chance six yards out at the far post, but John Lukic, who had been outstanding since being restored to the first team three games before, brought off a great save and pushed the ball round the post.
It was a costly miss for Birmingham as four minutes later Philomen Masinga struck. A deflected shot from Tony Yeboah dropped into the path of Gary McAllister. The Birmingham keeper did well to block the skipperís shot but could not hold it and Masinga was on hand to put the ball in the net. The Ghanaian predator made it 2-0 and 4-1 on aggregate a couple of minutes later with a blinding overhead kick to register his seventeenth goal of the season and Unitedís passport to Wembley was all but stamped.
Gary Kelly brought down John Sheridan to concede a penalty almost on the hour to give the Blues a glimmer of hope, but Steve Claridgeís spot kick struck the foot of a post to make it fourteen misses from the last twenty-three penalties awarded to the visitors. The manager answered the chants for Tomas Brolin by giving him a six minute run, and in that time Brian Deane rang down the curtain on a successful semi-final by heading in McAllisterís cross four minutes from the end.
<![if !vml]>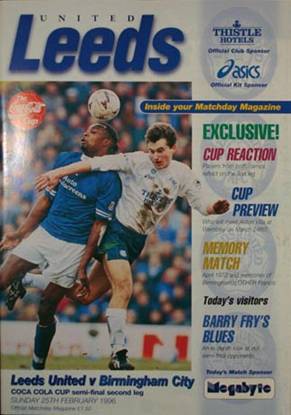 <![endif]>
Match Action:
<![if !vml]>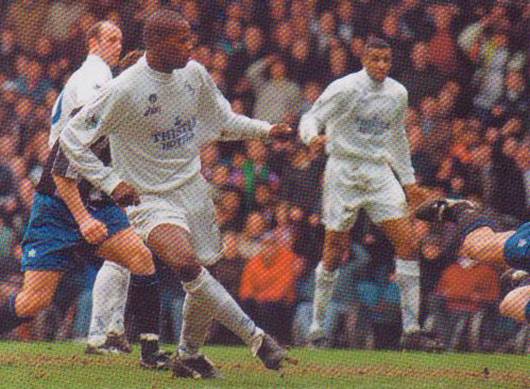 <![endif]>†† <![if !vml]>
<![endif]>
Philomen Masinga side-foots Unitedís opening goal watched by Gary McAllister and Brian Deane, then leads the celebrations with Deane†
<![if !vml]>
<![endif]>†<![if !vml]>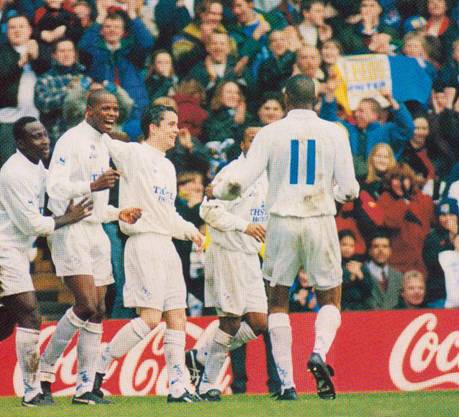 <![endif]>†<![if !vml]>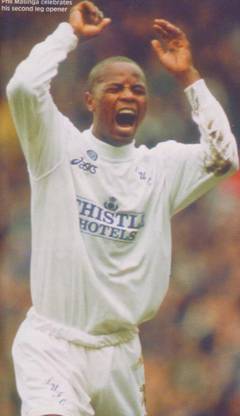 <![endif]>
Philomen Masinga and his team-mates celebrate his scoring the first goal
<![if !vml]>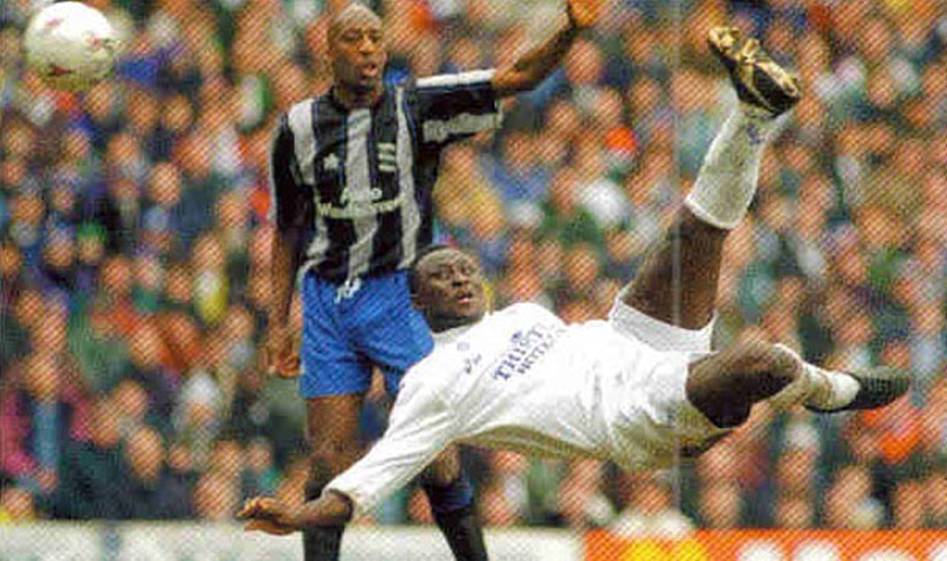 <![endif]>
<![if !vml]>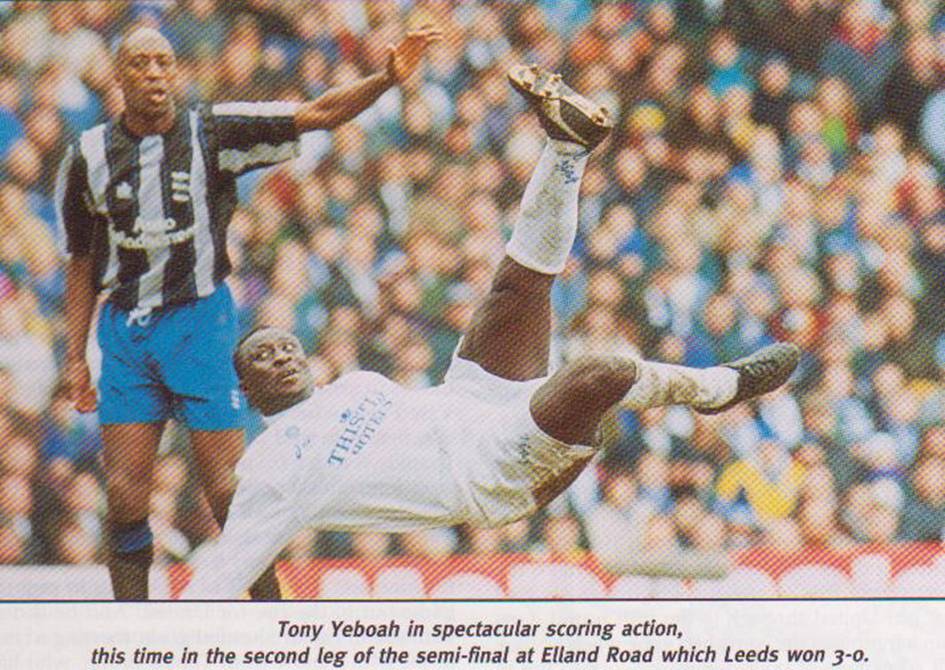 <![endif]>
<![if !vml]>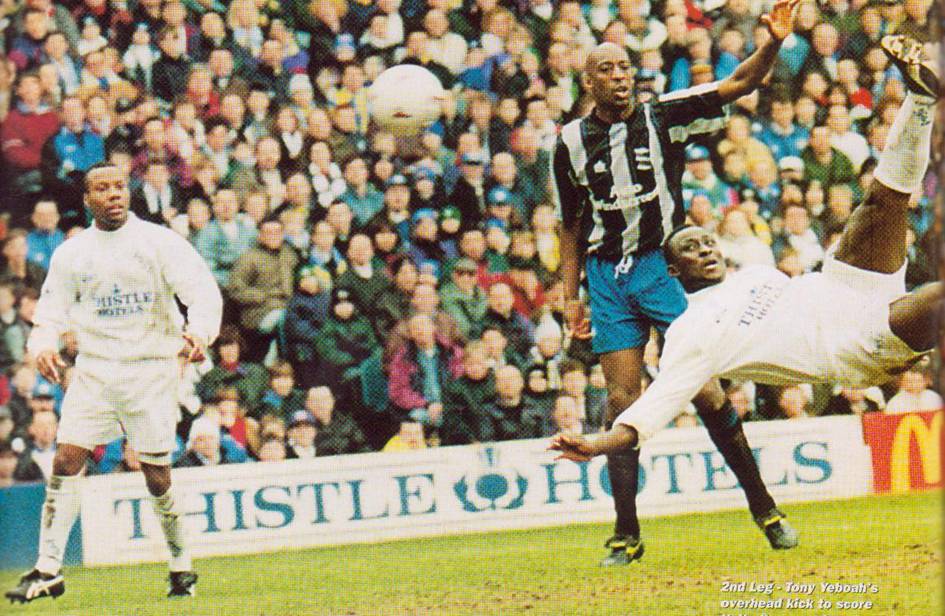 <![endif]>†
<![if !vml]>
<![endif]>††††† <![if !vml]>
<![endif]>
<![if !vml]>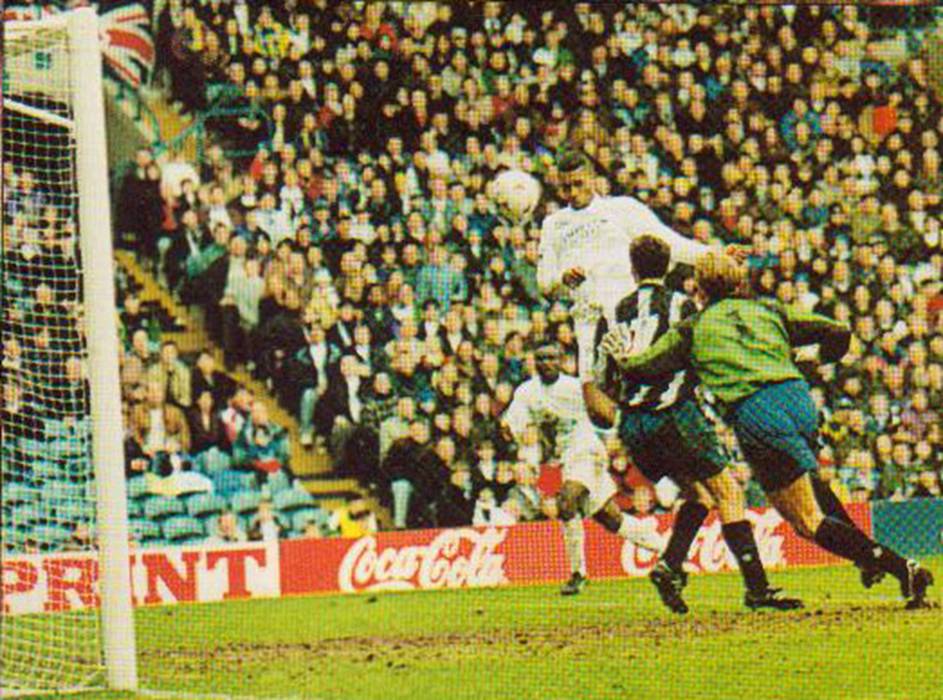 <![endif]>†
Brian Deane climbs high to head the third goal
<![if !vml]>
<![endif]>
<![if !vml]>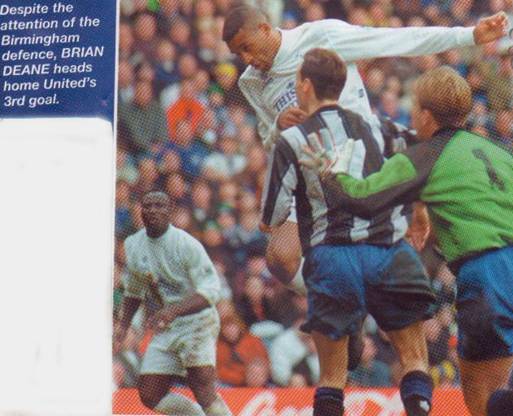 <![endif]>†<![if !vml]>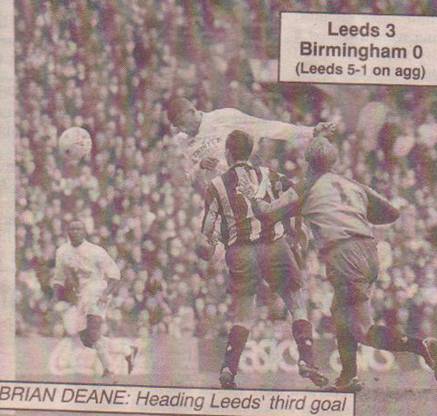 <![endif]>
<![if !vml]>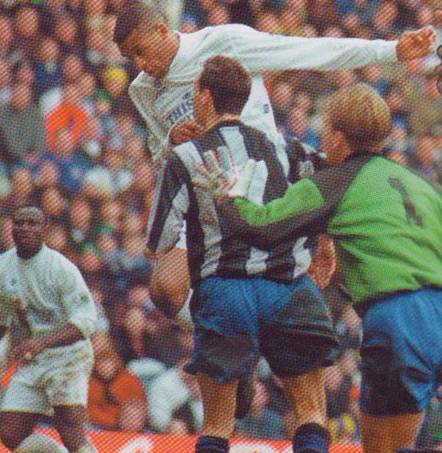 <![endif]>† <![if !vml]>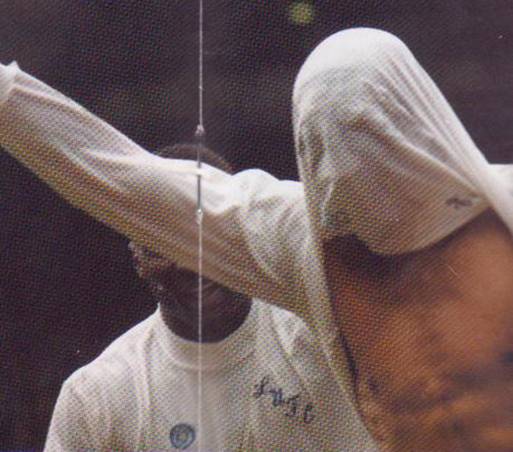 <![endif]>
Brian Deane soars high to head Unitedís third goal and then celebrates by covering his head
<![if !vml]>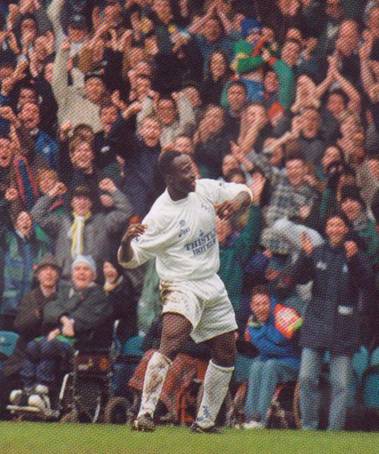 <![endif]>††††††† <![if !vml]>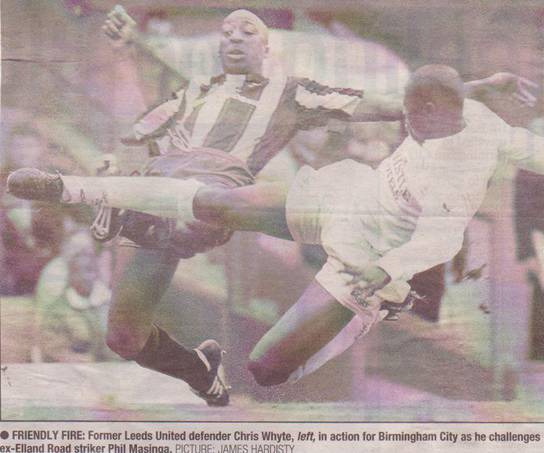 <![endif]>††
Tony Yeboah celebrates
<![if !vml]>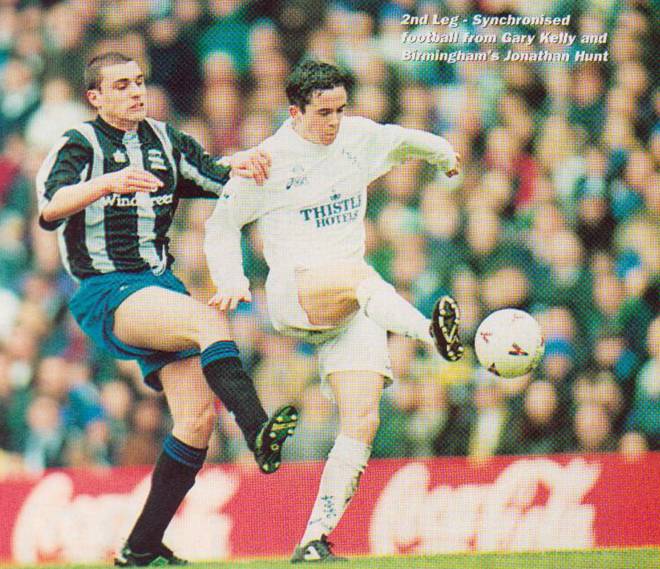 <![endif]>† <![if !vml]>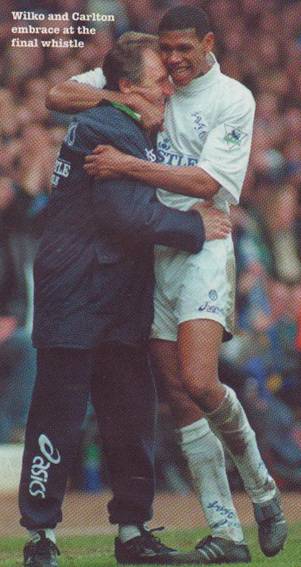 <![endif]>†
<![if !vml]>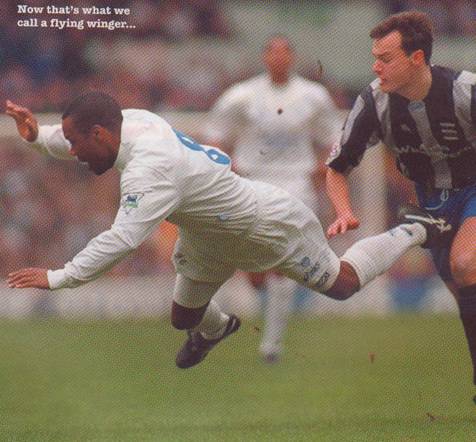 <![endif]>†<![if !vml]>
<![endif]>
†
<![if !vml]>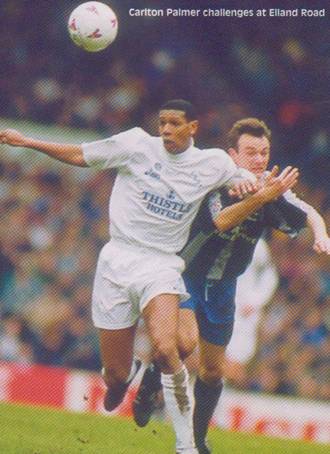 <![endif]>
Players:
<![if !vml]>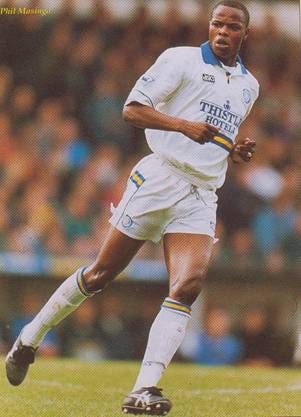 <![endif]>†<![if !vml]>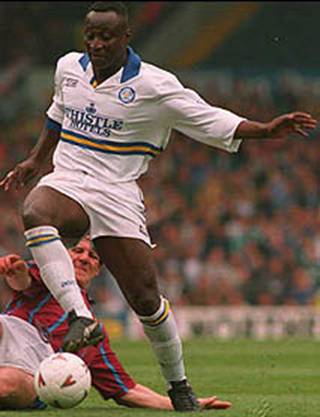 <![endif]>†<![if !vml]>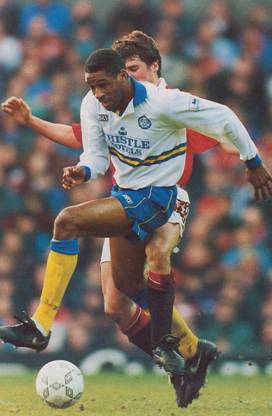 <![endif]>
Philomen Masinga, Tony Yeboah and Brian Deane scored the Leeds Goals
<![if !vml]>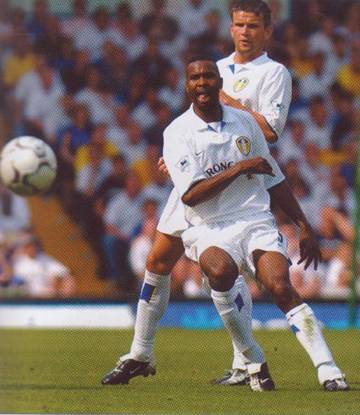 <![endif]>†<![if !vml]>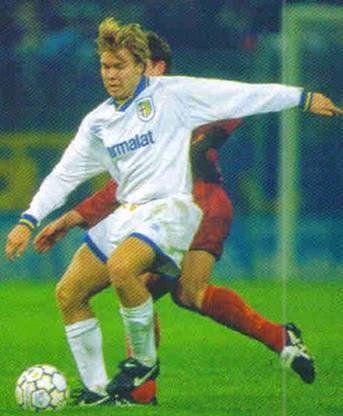 <![endif]>
Lucas Radebe and Tomas Brolin came on as substitutes
<![if !vml]>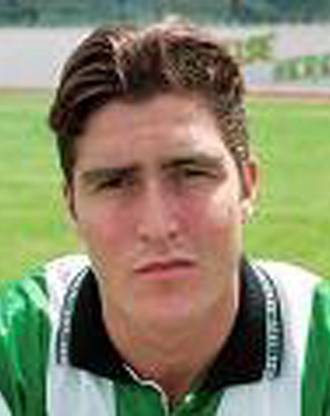 <![endif]>†<![if !vml]>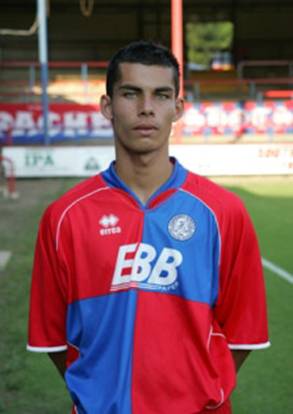 <![endif]>†<![if !vml]>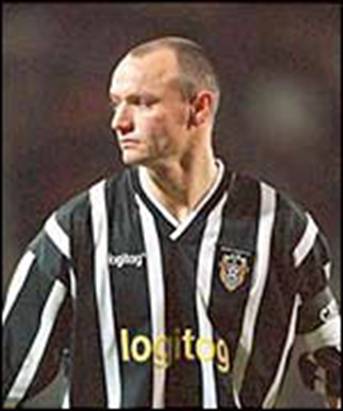 <![endif]>
Gary Poole, Andy Edwards and Ian Richardson were new faces in the Birmingham line-up