<![if !vml]>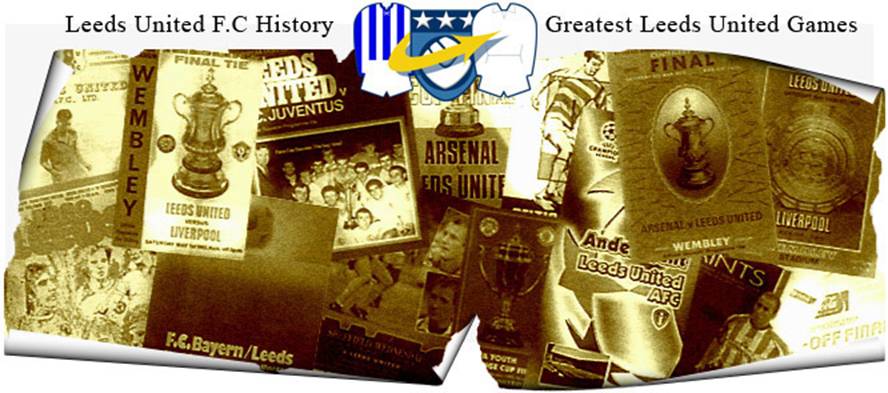 <![endif]>
Date: Saturday 24th October 1981.
Venue: Elland Road, Leeds.
Competition: First Division.
Score: Leeds United 1 Sunderland 0
Scorers: Leeds United: E. Gray. Sunderland: Nil.
Attendance: 25,220.
Teams:
<![if !vml]>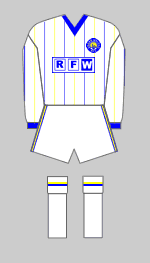 <![endif]> <![if !vml]>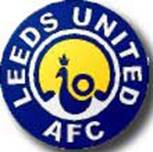 <![endif]>
Leeds United: Lukic; Cherry, F. Gray; Hird, Hart, Burns; E. Gray, Graham, Connor, Hamson, Barnes.
<![if !vml]>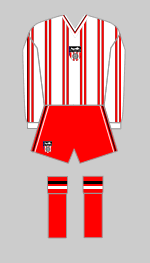 <![endif]><![if !vml]>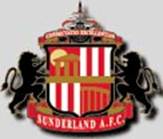 <![endif]>
Sunderland: Siddall; Venison, Pickering; Buckley (West), Bowyer, Clarke; Elliott, Chisholm, McCoist, Rowell, Cummins.
Referee: G. Napthine (Loughborough).
Barry Venison is perhaps best known for his role as a television pundit, but back in October 1981, when he was striving to make the grade in professional football as a seventeen-year-old, he was making only his third first team appearance for Sunderland against Leeds United at Elland Road.
The First Division game also saw a nineteen-year-old Ally McCoist, later to become a television personality also in his own right through his efforts on 'Question of Sport', making one of his early appearances for the Roker Park side. His £350,000 record transfer from Scottish League club St Johnstone, where he had been knocking in the goals with refreshing regularity, had taken place a few weeks earlier but he arrived at Elland Road still searching for his first goal for Sunderland after six outings.
He wasn't to get it at United's expense as Allan Clarke's men, who had won only two of their opening eleven League games, overcame bottom-of-the-table Sunderland when Eddie Gray scored the only goal of the game in front of a crowd of 25,220.
Sunderland had experienced great difficulty in scoring that season, hence the signing of Ally McCoist, and they went into the game against United not having scored a goal in their previous six matches. The transfer of Steve Whitworth to Bolton for £25,000 and the unavailability of Joe Hinnigan prompted Sunderland boss Alan Durban to include midfielders Barry Venison and former Nottingham Forest player Ian Bowyer, as full backs against United.
Barry Venison will probably recall his outing against United, if only for the painful effect of a hard challenge on him by United skipper Kenny Burns, which left the teenager on the ground and in need of treatment for a knee injury. The tackle incensed the Sunderland manager who could not control his feelings and ran along the touchline shouting and gesticulating at the United captain. Coach Mick Docherty joined in and remonstrated with United fans in the West Stand at whom he appeared to squirt water from the sponge he was carrying away after treating Venison, who recovered from the challenge and played on.
The tackle remained a talking point but United manager Allan Clarke said he would not be taking action against Burns, who was booked for the challenge. "Whatever happened on Saturday is over and done with as far as I am concerned." Clarke said later. He did point out that he had a strict code of discipline at Elland Road and that he did not have to justify his actions to anyone. His deputy manager, Martin Wilkinson, however, said that he did not think Burns would have been booked for the tackle if Sunderland officials had not reacted in the way they did.
The goal that brought United their win ended a goal famine for Eddie Gray. The thirty-three-year-old Scot's eightieth minute winner brought United their second success in a row, following their 3-1 win at West Bromwich Albion and lifted them out of the bottom three in the First Division for the first time in nine league games.
On a personal note it brought a welcome end to a lengthy barren spell for Eddie Gray, who had not scored for nearly two years. His previous strike was back in November 1979 when he put his name on the score-sheet after just twenty-eight seconds of a home league game against Bristol City, that United eventually lost 3-1. Since that game Gray had made a further seventy-eight appearances , many of them, it should be pointed out, as a left back, "I don't get many goals these days," he said after the victory over Sunderland, "so I am claiming this one." There had been a doubt as to who should be credited with the goal against Sunderland as Gray's firmly struck left foot shot sent the ball into the Sunderland net off Burns. He explained that the ball had struck his back before crossing the line but agreed that Gray should take the credit.
There was no disguising Gray's joy or the relief as a whole when the deadlock was broken. United were not having the most successful of seasons and they badly needed the win they got at Sunderland's expense. "Our 3-1 win at West Brom in the previous game did a lot of good for our confidence," said the United manager. "There is nothing like a win and a few goals to lift players and we were determined to keep the improvement going against Sunderland." He added. United's hopes of being able to build on their two match winning sequence were dashed when they lost 3-0 at Ipswich in the League Cup and then went down 2-1 at Nottingham Forest in a league game. They rallied to beat Notts County 1-0 at Elland Road before losing 4-0 at Southampton.
Alternate Report (Courtesy Mark Ledgard)
This was Leeds United's best performance of the season and that's official! The satisfaction of the three precious points apart, not many of the 25,250 crowd, the second best of the season at Elland Road, would agree with Leeds Manager Allan Clarke's assessment of a game memorable only for the wrong reasons. "I really enjoyed watching the way we sprayed the ball about in the first half," he said. "Apart from a sloppy twenty-minutes in the second half our discipline and concentration were such that we deserved a break. Had it come earlier I think we would have scored two or three." Certainly there were encouraging features for Leeds, yet Sunderland created more chances. John Lukic had to be at his best to thwart Barry Venison and Nick Pickering, while near the end of each half Ally McCoist squandered the games easiest two chances. In addition, only professional fouls just outside the penalty area by Frank Gray and Trevor Cherry stopped Ally McCoist and Stan Cummins as the broke clear on goal. Trevor Cherry was booked but remarkably Frank Gray was not even spoken to, and the fact that these incidents were almost forgotten in view of the rumpus involving Kenny Burns did not make them any more acceptable.
The Leeds attack only got on top in the final twenty minutes, for earlier the only dangerous moments had been Kenny Burns' first half header blocked on the line by Gordon Chisholm. Yet if Leeds deserved to win it was because when the vital chance came in the eighty-first minute it was clinically taken by Eddie Gray to reward an excellent afternoon's work. After Kenny Burns had failed to get his head to Kevin Hird's raking cross, the ball fell to Gray on the edge of the area. There was one narrow gap in a crowded goalmouth and Gray's shot unerringly found it. Although Eddie Gray faded in the second half, his used of the ball in attack and defence earlier were of the highest order, and his brother Frank was not far behind. Gary Hamson continued his improvement with a forceful performance and a willingness to shoot, while Kenny Burns again emphasised that his aggressive approach, if channelled correctly, can be a real asset. In a defence which at times still showed alarming gaps Trevor Cherry always impressed and a weaving run in which he beat four men in the Sunderland penalty area was one of the game's highlights. The enigma once again was the International winger Peter Barnes, who was tackled in possession at least seven times in the first half by a seventeen year-old apprentice full-back Barry Venison. Barnes enjoyed a magnificent service which he squandered with irritating regularity and his inability to beat a man was most frustrating. "Peter frightens the opposition to death," said Clarke. "Two or three players are on him as soon as he gets the ball. That is a compliment to his ability. The only time he was on a one-to-one situation, he took the defender to the cleaners." Again the fans may not wholeheartedly agree with assessment. But at the end of the day, they and he can look at a First Division table with four more teams below Leeds than was the case only nine days previous.
<![if !vml]>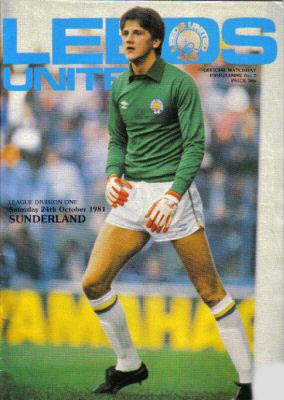 <![endif]> <![if !vml]>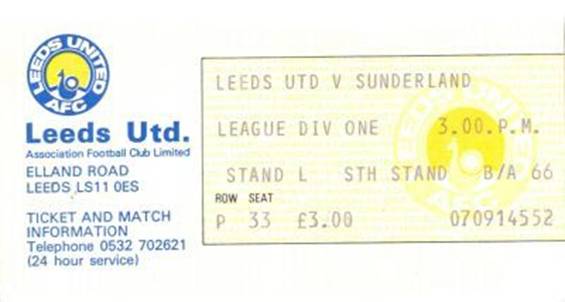 <![endif]>
Match Action: (Courtesy Mark Ledgard)
<![if !vml]>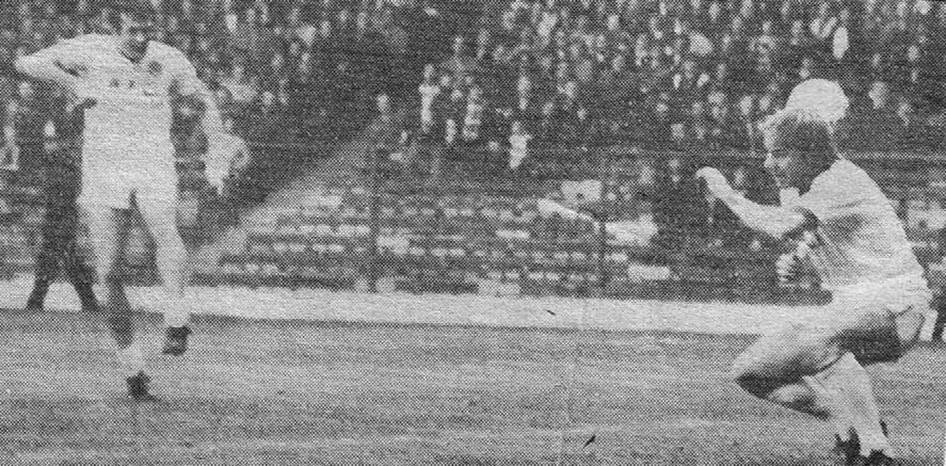 <![endif]>
Arthur Graham ducks as Eddie Gray shoots the winner
<![if !vml]>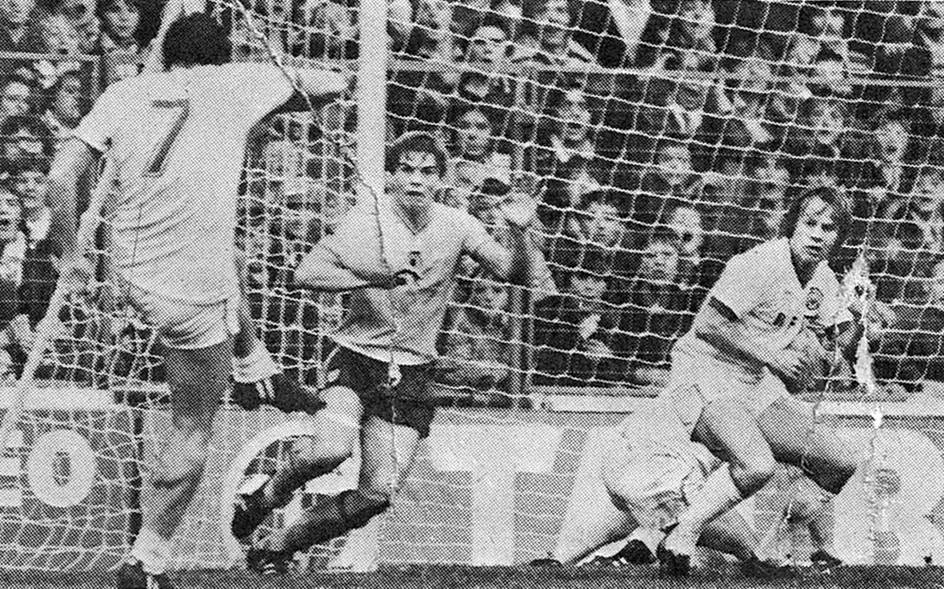 <![endif]>
Eddie Gray scores the winner
<![if !vml]>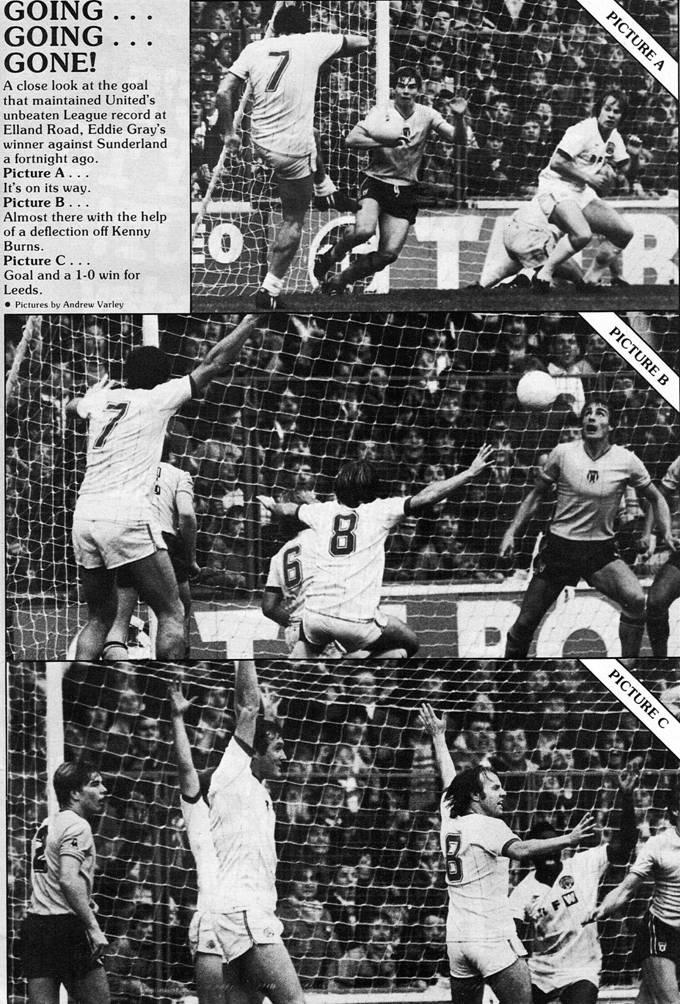 <![endif]>
Eddie Gray's goal in slow motion!
<![if !vml]>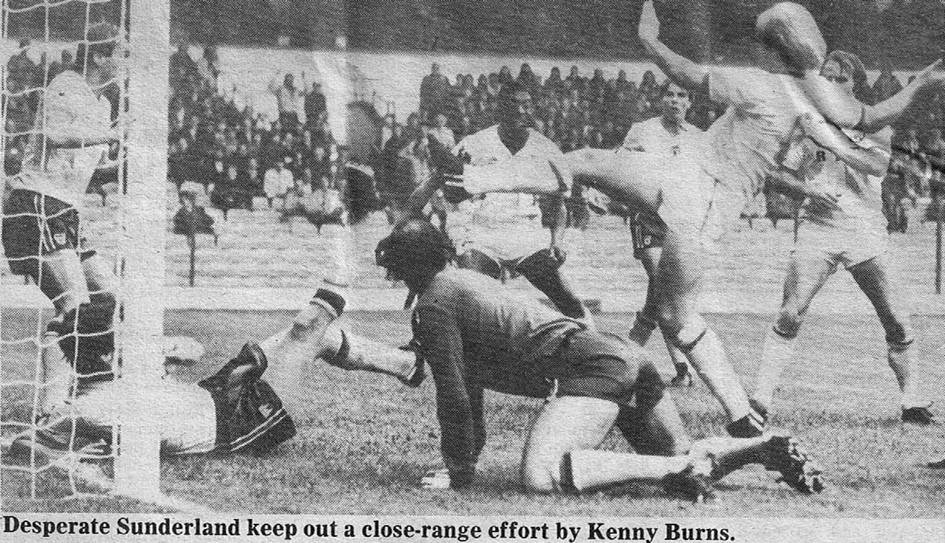 <![endif]>
<![if !vml]>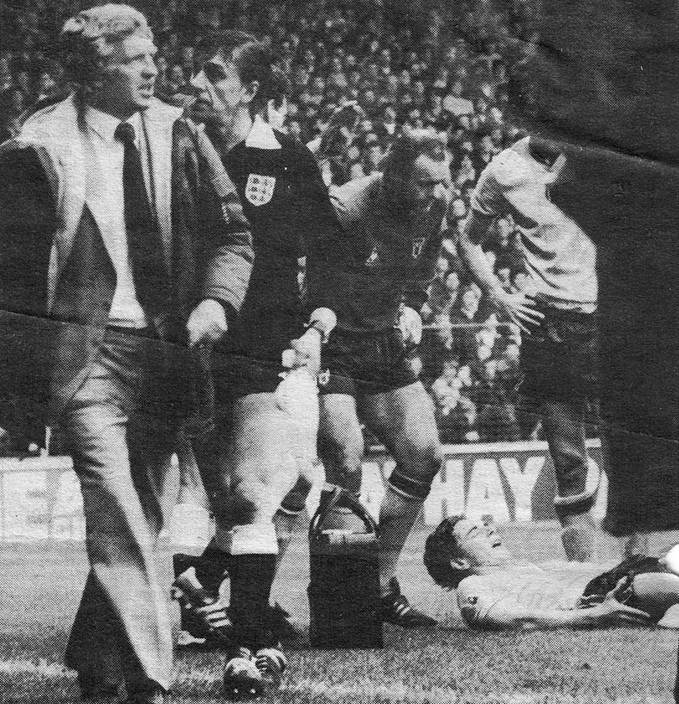 <![endif]>
Alan Durban is ushered away by linesman Haworth as Barry Venison lies prostrate
<![if !vml]>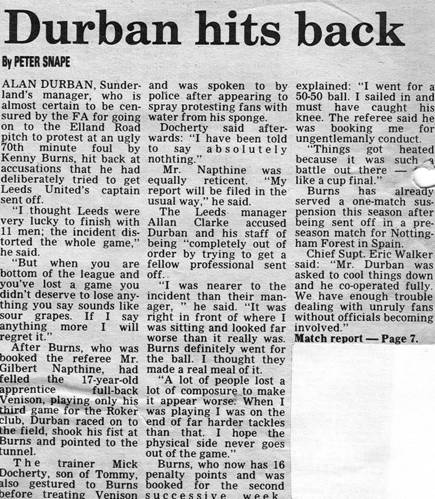 <![endif]>
Alan Durban was not impressed by Kenny Burns!
Players:
<![if !vml]>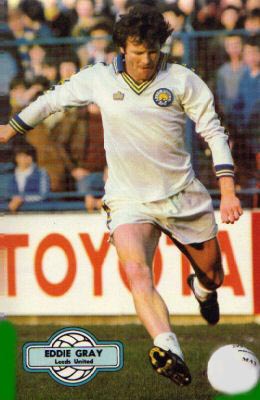 <![endif]>   <![if !vml]>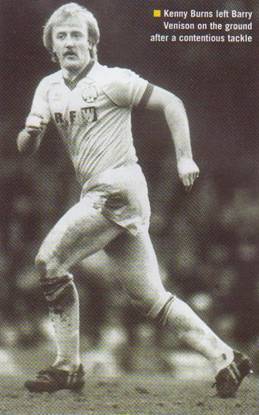 <![endif]> <![if !vml]>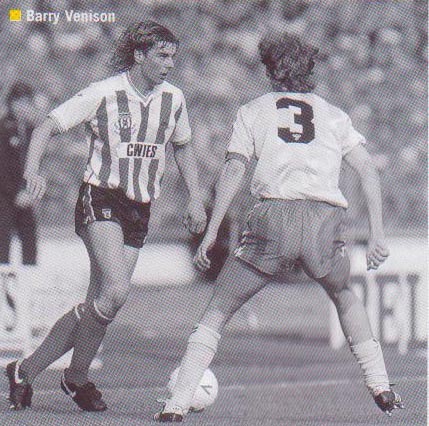 <![endif]> 
Eddie Gray scored the only goal                 Kenny Burns clattered Barry Venison who later became more famous as a football 'pundit'
of the game
<![if !vml]>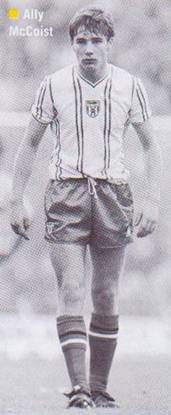 <![endif]>     <![if !vml]>

<![endif]>           <![if !vml]>
<![endif]>       
Ally McCoist was bought     Steve Whitworth had      Ian Bowyer had to play
to score goals but was          been transferred             full-back with Venison
more famous for his efforts
in 'A Question of Sport'