<![if !vml]>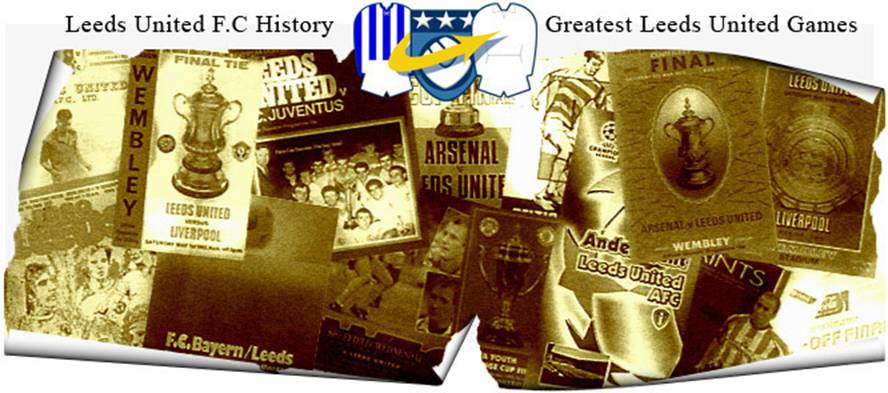 <![endif]>
Date: Wednesday, 24th October 1979.
Venue: Stadional Central, Craiova, Romania.
Competition: UEFA Cup, Second Round, First Leg.
Score: Universitatea Craiova 2 Leeds United 0.
Scorers: Universitatea Craiova: Balaci, Irimescu. Leeds United: Nil.
Attendance: 40,000.
Teams:
<![if !vml]>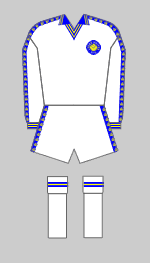 <![endif]><![if !vml]>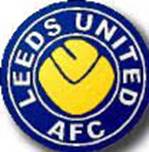 <![endif]>
Leeds United: Lukic; Hird, Stevenson; Flynn, Hart, Madeley; Harris (Hamson), Cherry, Hankin, Curtis, E. Gray.
<![if !vml]>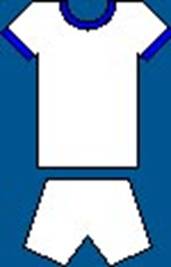 <![endif]><![if !vml]>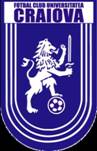 <![endif]>
Universitatea Craiova: Boldici; Negrila, Tilihoi; Ungureanu, Stefanescu, Geolgau (Donose); Crisan, Balaci, Camataru, Beldeanu, Cartu (Irimescu), 
Referee: Mr Gianfranco Menegali (Italy).
United had to visit Universitatea Craiova of Romania in the First Leg, Round Two clash in the UEFA Cup. Universitatea were to win the Romanian League Championship in that season of 1979-80 and they were not the pushover that Valletta had been. The usual team line up for Craiova which lifted the Romanian League trophy was: Goalkeepers: Boldici (Lung). Defenders: Negrila, Tilihoi; Stefanescu, Ungureanu, (Purima, Ciupitu). Midfield: Balaci, Beldeanu, Donose, Irimescu. Forwards: Camataru, Cartu, (Geolgau, Crisan). United were soon behind as Illie Balaci opened the scoring for the home team after just twelve minutes and while United managed to keep them goalless for the next hour and twelve minutes the Romanians were clearly the better team and it was no surprise when Mircea Irimescu doubled their lead six minutes before the final whistle to leave United with an uphill task in the return leg at Elland Road.
The students of Craiova University got the result they expected at the Central Stadium, but not without cost and Leeds were not out of contention by any means in this Second Round UEFA Cup tie. Leeds withstood pressure which in football terms was often as intense as the earthquake which had hit the Western Romanian City two years previous, but it was not until seven minutes from the end that they conceded the goal, which left them with a big target for the second leg at Elland Road, but three minutes from the end the home side took what could be a crucial blow for that second leg when they lost their strong central defender NicolaeTilihoi who was sent off for a foul on Brian Flynn. If the University were to be forced into a defensive battle such as United had been forced into then his absence could be decisive.
The University showed with some fierce attacking play that not only did they pose a threat to United's advancement in this tournament but also to England's progress in the World Cup as they were due to play Romania and the University side contained six players who had been included in the National team for their most recent game and two players in particular had given United plenty to worry about. Their winger Zoltan Crisan had been dangerous throughout with his runs on the right wing and it was from his work and the midfield promptings of Illie Balaci that the students produced most of their incisive raids. The match also so four players cautioned. Nicolae Tilihoi together with Zoltan Cristan took first-half bookings while Ray Hankin and Brian Flynn both found their way into the referee's notebook. But generally Leeds came out of the battle with credit having conceded goals early and late, but in between had held their own commendably.
Craiova opened in great style winning eight corners in the first twelve minutes and it was from the eighth that they swept into the lead. John Lukic, the eighteen-year-old Reserve goalkeeper, who was making only his fourth first team appearance, failed with an attempted clearance at the corner of the six-yard area and Illie Balaci rushed in to fiercely head the ball into the net. Aurel Beldeanu had missed an open goal four minutes earlier when Paul Hart miss-kicked to allow the midfield player in at the far post. However, Hart went on to redeem himself with a towering performance and one tackle in particular in the sixteenth minute which stopped Aurel Beldeanu was particularly important.
Leeds did not get near the students' goal until the twentieth minute when Ray Hankin managed to beat the Craiova's offside trap, a ploy they used often enough to suggest they may be vulnerable in this area in the return leg, but Alan Curtis saw his shot from sixteen yards well held by the goalkeeper Gabriel Boldici. Just before the half hour Zoltan Cristan weaved his way through on the right passing Byron Stevenson and Eddie Gray only to be baulked in the penalty area by Ray Hankin, and the students were awarded a penalty. Aurel Beldeanu took it, but scooped the ball high over the bar. Leeds came more into it approaching the hour managing to get their wingers into the action, but with eighteen minutes left they seemed to settle for the one goal deficit and took off Carl Harris in favour of Gary Hamson. The plan seemed to be working well for Leeds and they were holding on until the eighty-third minute when Illie Balaci struck again. The Romanian International produced a thirty-five yard pass of perfect precision to find the tall central striker Rodion Camataru well placed on the edge of the penalty area. He flicked the ball on and Mircea Irimescu came charging in and hit the ball with full power. The Romanians celebrated but within four minutes they had Nicolae Talihoi sent off and that could have been worth a goal to Leeds in the return leg.
Jimmy Adamson, the Leeds Manager said after the game, "I would have been happier with 1-0, but we cannot complain. In the second half we played a lot better and contained Craiova. They did not look as dangerous. Midfield and Forwards are the best part of their team, the defence is the weakest. I saw enough to hope that we can do it back in Leeds."
An Alternate Report (Courtesy of Mark Ledgard)
Leeds flew back from Romania flew back facing an uphill battle to stay in the UEFA Cup after a dramatic final seven minutes. While Leeds were looking for an equalizing goal that would have counted double under the away goals rules, they made their Elland Road task in the Second Round UEFA Cup tie twice as difficult. Paul Madeley, one of their heroes until then, met with disaster in a sudden breakaway by the Romanians. His man escaped him and set up a chance for the substitute Mircea Irimescu, who smashed an unstoppable shot into the top corner of the Leeds net. It could have been worse for Leeds as Craiova missed a first half penalty. With only three minutes left Romanian International central defender Nicolae Talihoi was sent off and was automatically banned from the second leg. Nicolae Tilihoi came in with a crushing late tackle on Brian Flynn and, as he had already been booked by Italian referee Franco Menegali, he received a red card.
Early on Leeds had to defend so much that they must have felt that the ground was still affected by the earthquake tremors which had struck Craiova two years before. But John Lukic, the eighteen year old deputy keeper made them wait. He used every inch of his six foot for inch frame to make a brilliant save from a fierce header. Leeds went behind in the thirteenth minute from a superb header from Ille Balaci. Paul Madeley used all his European knowledge and skipper Trevor Cherry his England experience as Craiova stepped up the pressure, but a trip by Ray Hankin, back helping the defence, gave away the thirtieth minute penalty, which Aurel Beldeanu fired yards over. Craiova had two players booked before half-time and Ray Hankin was shown the yellow card for his challenge on the home keeper. Early in the second half Leeds began to examine their opponent's defence. Brian Flynn was booked late in the game for time wasting.
<![if !vml]>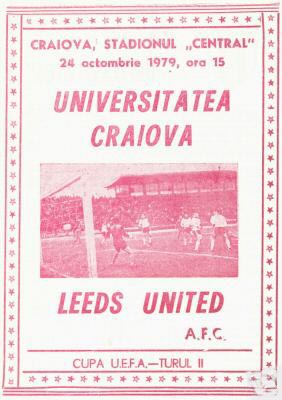 <![endif]>
Teams:
<![if !vml]>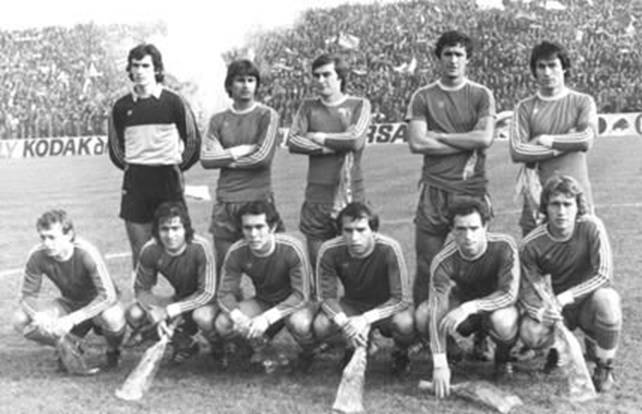 <![endif]>
Universitatea Craiova 1979-80:
<![if !vml]>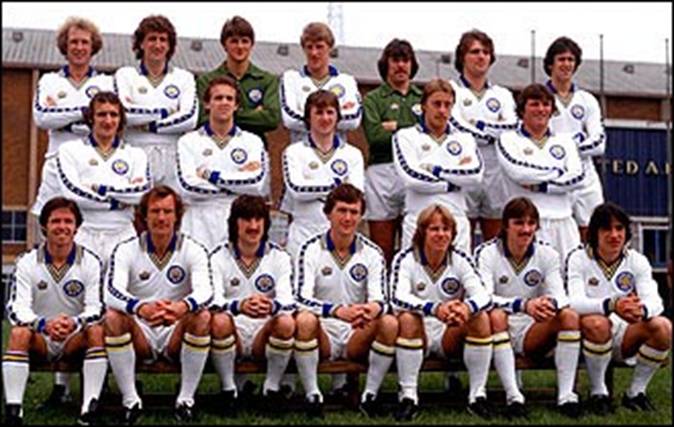 <![endif]>
Leeds United 1979-80:
Back Row: Keith Parkinson, Paul Hart, John Lukic, Neil Firm, David Harvey, Ray Hankin,
Byron Stevenson.
Middle Row: Kevin Hird, Alan Curtis, Gary Hamson, John Hawley, Eddie Gray.
Front Row: Brian Flynn, Paul Madeley, Peter Hampton, Trevor Cherry, Arthur Graham,
Carl Harris, Gwyn Thomas.