<![if !vml]>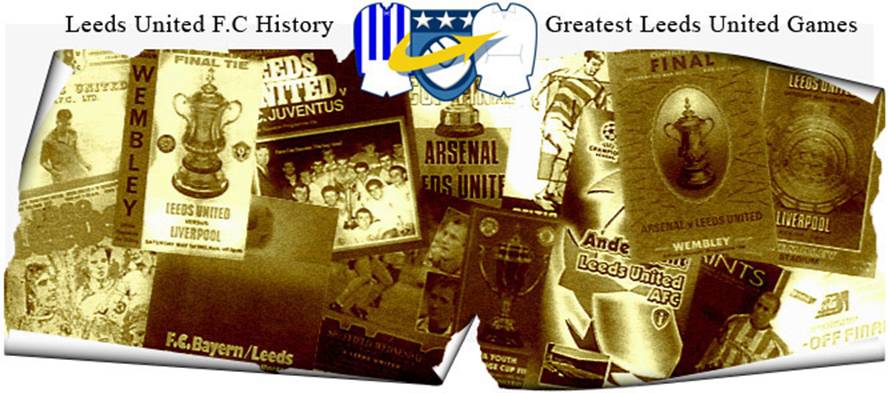 <![endif]>
Date: Wednesday, 24th April 1997.
Venue: Elland Road, Leeds.
Competition: FA Youth Cup Final, First Leg.
Score: Leeds United 2 Crystal Palace 1.
Scorers: Leeds United: Boyle, Jones. Crystal Palace: Harris.
Attendance: 6,649.
Teams:
<![if !vml]>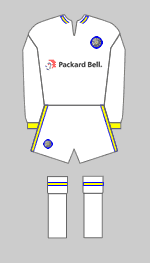 <![endif]><![if !vml]>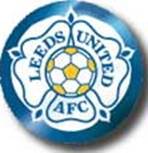 <![endif]>
Leeds United: Robinson; Maybury, Woodgate, Lynch, Kewell; Dixon, Jones, McPhail, Knarvik; Boyle, Matthews.
<![if !vml]>
<![endif]><![if !vml]>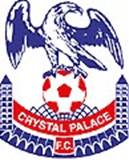 <![endif]>
Crystal Palace: Ormshaw; Hibburt, Woozley, Mullins, Carlisle; Kennedy, Stevens, Graham, Martin; Morrison (Harris), Folan.
Referee: Mr G. Barber (Warwick).
Leeds Unitedís youngsters can expect another rough ride, in the true sense of the word, when they bid to clinch an FA Youth Cup final win in the second leg at Selhurst Park. The Elland Road lads displayed all the guile and inventiveness against a Crystal Palace side that had aggression and occasional ruggedness as their chief assets.
Unitedís attacking skills earned them a two goal lead by the twenty-first minute and it was richly deserved. The crowd loved every moment of it. However, United will take only a slender lead with them to Selhurst Park after their lead was cut back in the sixty-sixth minute when goalkeeper Paul Robinson spilled Palaceís first shot on goal, from David Stevens, and substitute Richard Harris tapped in from close range.
Only four minutes of the game had gone when Unitedís youngsters, regarded by many as the best crop the Elland Road club have had since Don Revieís youth team of the 1960ís, took the lead. Australian international left back Harry Kewell sped off on a forty-yard run and weaved his way round several defenders before slipping the ball through to Wesley Boyle who took it in his stride and hit a fierce left foot shot on the run past Palace goalkeeper Gareth Ormshaw.
United continued to show rich promise, pinning Palace back, and they increased their lead in the twenty-first minute when Matthew Jones got up well to beat the challenge of Hayden Mullins from Stephen McPhailís left wing cross. Some of the gloss was taken off the victory when Stephen McPhail was sent off in the seventy-fifth minute for two yellow cards. Palace had man-marked the Irishman all the match and he had come in for some stern treatment from Richard Kennedy. It was as a result of a hard tackle in the first half that he received his first card, for retaliating to the challenge. Outclassed Palace had three players booked in a ten minute spell in the second half, two of them for fouls on McPhail, but when the United youngster fouled Stevens fifteen minutes from the end referee Graham Barber booked him again and sent him off. The foul count however was weighted heavily against the South East London side, who committed twenty-four compared to eleven by United. Paul Robinson may have been at fault for the Palace goal but he atoned for his error by making a tremendous save in the dying seconds when he palmed a close range header from Mullins over the bar.
<![if !vml]>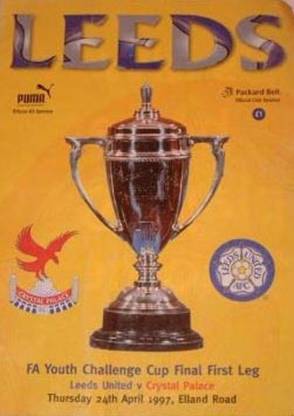 <![endif]>
Match Action:
<![if !vml]>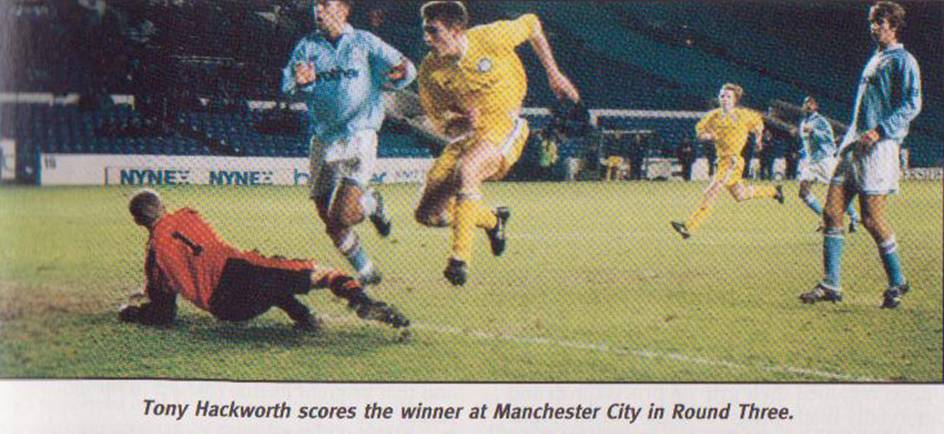 <![endif]>
<![if !vml]>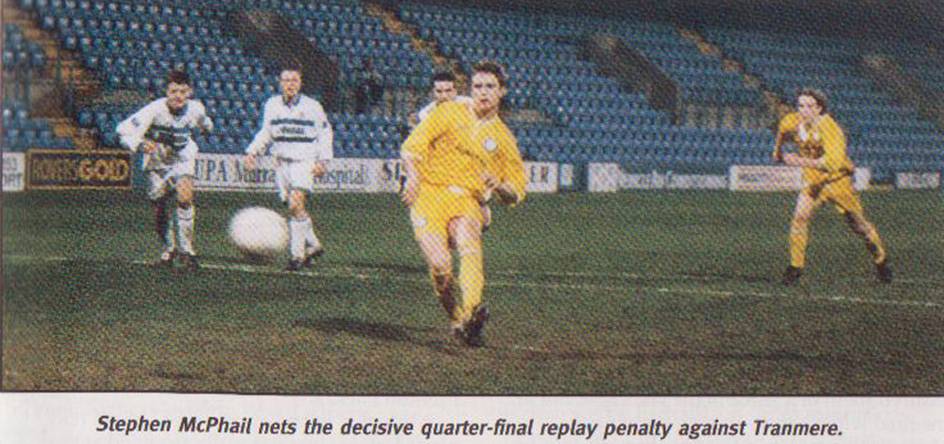 <![endif]>
<![if !vml]>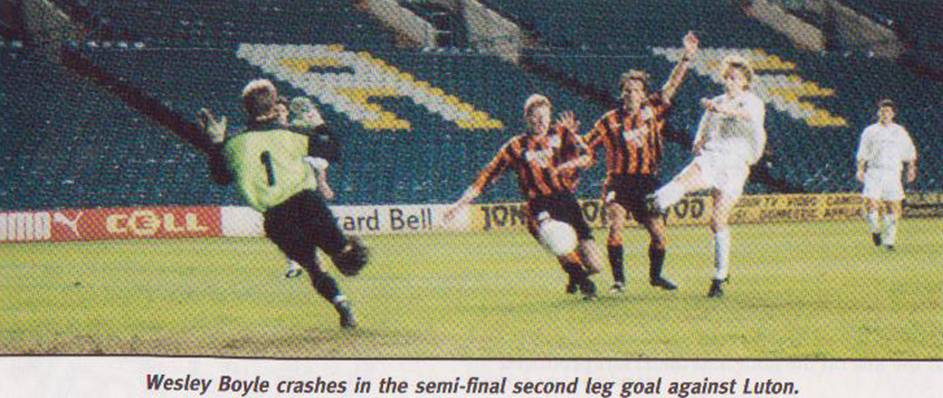 <![endif]>
<![if !vml]>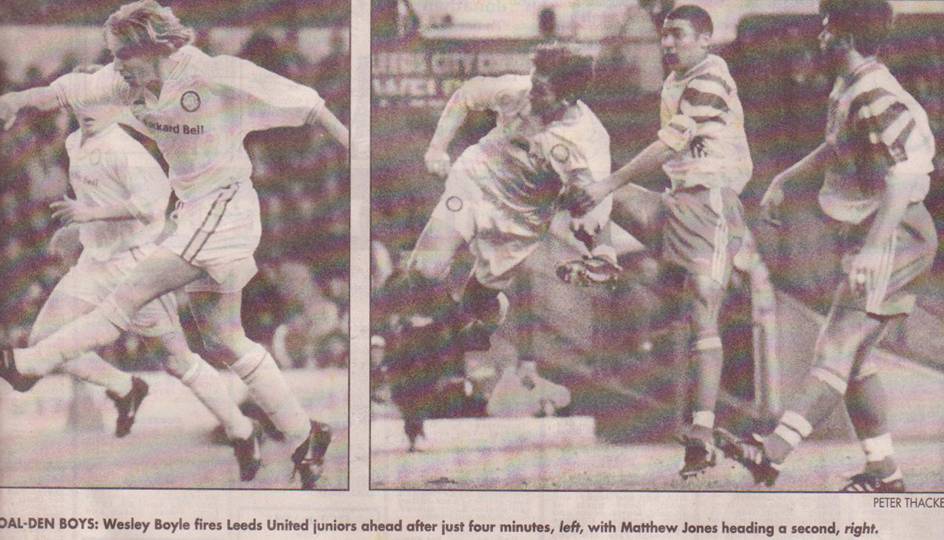 <![endif]>†
<![if !vml]>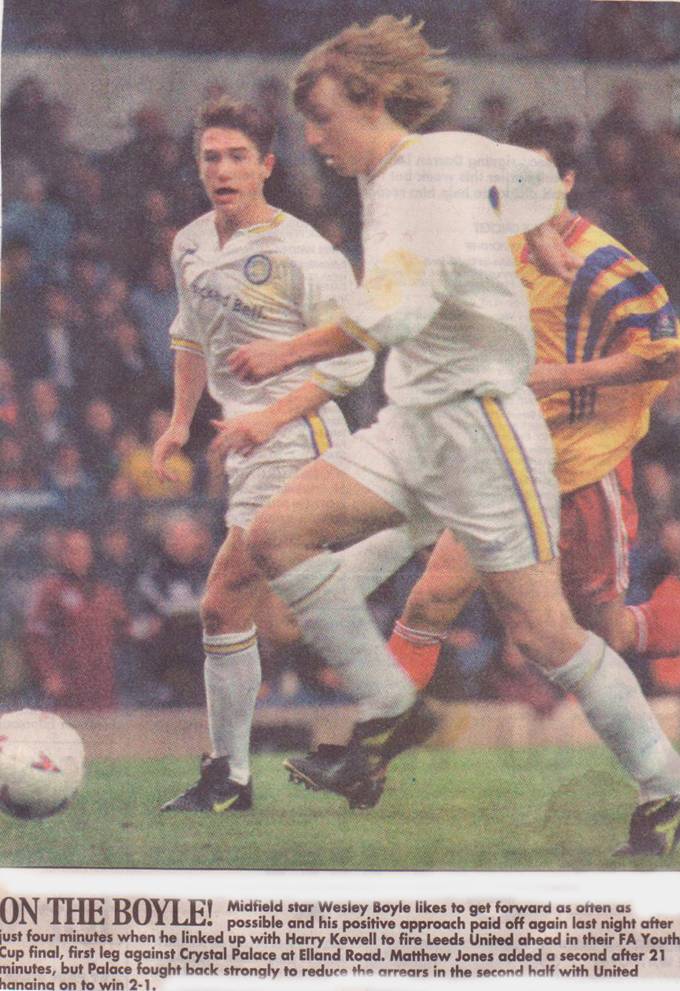 <![endif]>
<![if !vml]>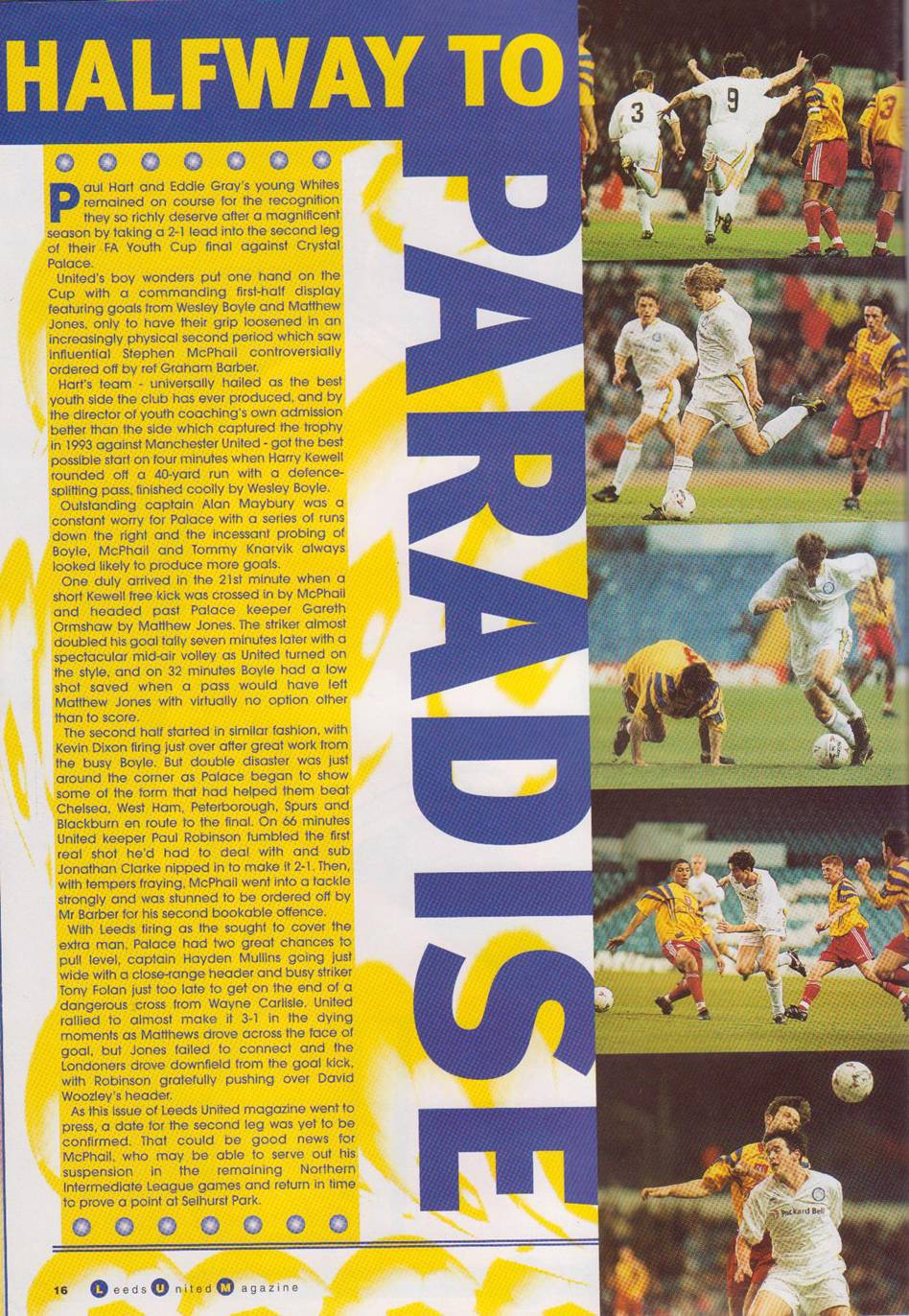 <![endif]>
Players:
<![if !vml]>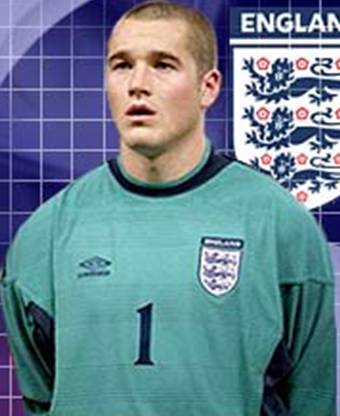 <![endif]>††††††† <![if !vml]>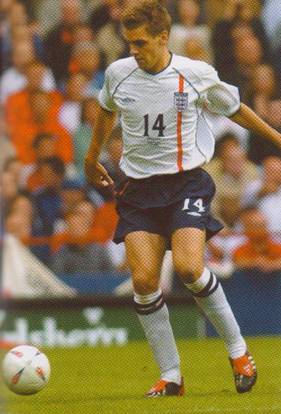 <![endif]>†††††††††
The Leeds United team was a rich harvest of future international players: England Internationals, Paul Robinson and Jonathan Woodgate,
<![if !vml]>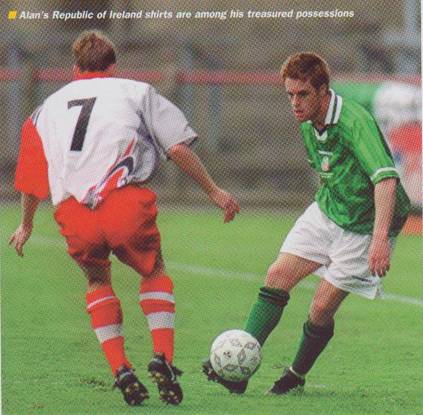 <![endif]>††† ††<![if !vml]>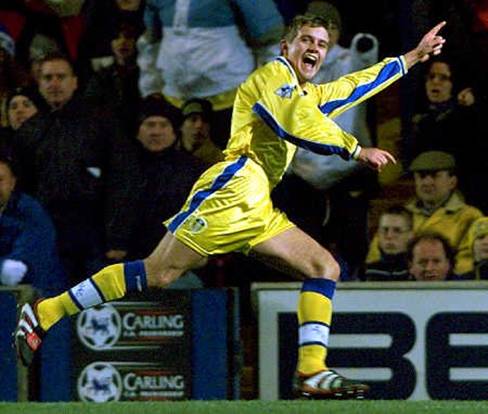 <![endif]>
Irish Internationals, Alan Maybury and Stephen McPhail
<![if !vml]>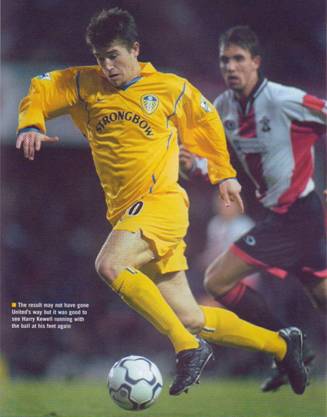 <![endif]>††† ††<![if !vml]>
<![endif]>††††
Australian International Harry Kewell and Welsh International Matthew Jones, all played at full international level††††††††††††††††††††††
<![if !vml]>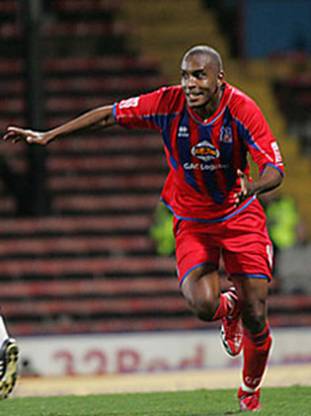 <![endif]>†††††† <![if !vml]>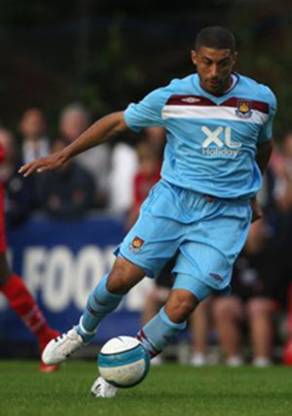 <![endif]>†††
Clinton Morrison and Hayden Mullins were the only Palace players to achieve any success at Football League level