<![if !vml]>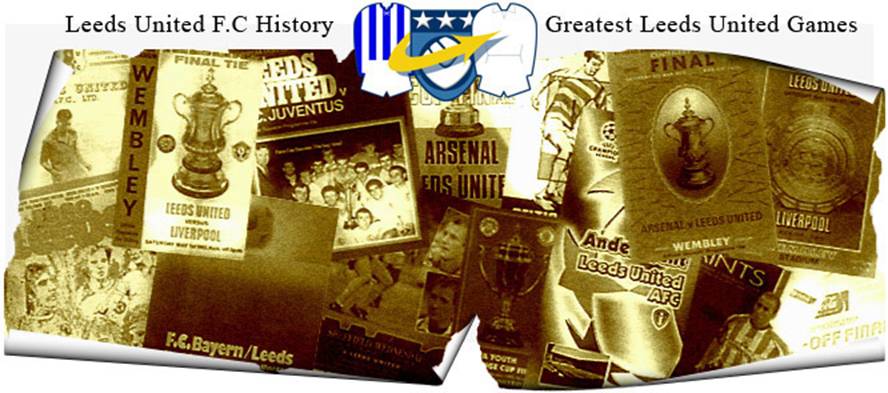 <![endif]>
Date: Wednesday, 23rd August 2000.
Venue: Olympia Stadion, Munich, Germany.
Competition: ECL, 3rd Qualifying Round, Second Leg.
Score: TSV 1860 Munich 0 Leeds United 1.
Scorers: TSV 1860 Munich: Nil. Leeds United: Smith.
Attendance: 56,000.
Teams:
<![if !vml]>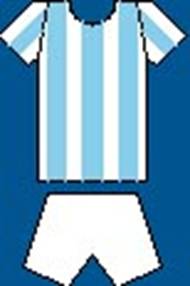 <![endif]> <![if !vml]>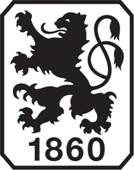 <![endif]>
TSV 1860 Munich: Hoffmann; Kurz, Borimirov (Beierle), Cerny, Passlack (Winkler); Stranzl, Bierofka (Tyce), Agostino, Mykland, Hassler; Max. Unused Subs: Greilich, Reidl, Pfuderer, Jentsch.
<![if !vml]>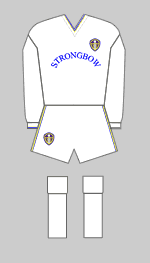 <![endif]><![if !vml]>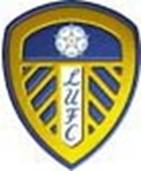 <![endif]>
Leeds United: Martyn; Mills, Duberry, Woodgate, Harte; Kelly, Bowyer, Radebe, Jones (Evans); Smith, Viduka. Unused Subs: Bridges, Huckerby, McMaster, Molenaar, Hackworth, Robinson.                            
Referee: Claus Bo Larsen (Denmark).
Peter Ridsdale announced a new and improved six year contract had been negotiated with David O'Leary to compliment the recently signed improved contracts of players Nigel Martyn, Gary Kelly, Ian Harte and Stephen McPhail. David O'Leary's management skills needed to rival those of a conjuror as Harry Kewell, Jason Wilcox, Michael Bridges, Stephen McPhail and Matthew Jones were all injured, as well as the long-term David Batty, and Eirik Bakke and Olivier Dacourt were suspended! Of the usual midfield only the effervescent Lee Bowyer was available. He solved his conundrum by playing Matt Jones, although unfit, and using Full-Back Danny Mills and Michael Duberry, and pushing Gary Kelly and Lucas Radebe into midfield. To his credit Matthew Jones stayed on for seventy-five minutes before giving way to Gareth Evans and Michael Bridges, Darren Huckerby, Robert Molenaar, Jamie McMaster, Tony Hackworth and Paul Robinson all kept the bench warm for the entire game. Some brilliant work from Mark Viduka and Alan Smith resulted in the latter getting the only goal of the game and Nigel Martyn was rightly named man of the match, as United opened the door to untold riches and a minimum £10 million for games with FC Barcelona, AC Milan and Besiktas in the in Group H. The so-called "Group of Death" for obvious reasons!
United, in their all yellow Strongbow strip, made light of their injury and suspension woes as they chased, harried, cajoled and battled their way to a famous victory against all the odds to set their ECL season alight as once more they showed their mastery over German teams in European conflict as TSV 1860 Munich joined the list of SC Leipzig, Hannover 96, Dynamo Dresden, Carl Zeiss Jena and VfB Stuttgart. In fact no German team other than Bayern Munich, who survived the 1975 Final, had remained unconquered.
A huge 56,000 crowd was on hand to witness the two finely balanced teams fight for the right to join Europe's elite. As expected Munich pressed in the early stages and Daniel Borimirov won a free-kick on the right, Lucas Radebe conceded a corner cutting out Thomas Hassler's cross and Stephan Passlack just failed to connect from close in. Then Daniel Bierofka was narrowly wide and Nigel Martyn had to be alert to Paul Agostino's header from a Harald Cerny cross. But Leeds counter attacked and Lee Bowyer just failed to connect at the far post and Ian Harte's cross was just too high for Mark Viduka. Harald Cerny exploited the space on the right to pull the ball back for Daniel Borimirov, whose shot was saved by Nigel Martyn.
Alan Smith went crashing in the area under a challenge from Martin Stranzl but the referee ignored the United claims for a penalty and then Mark Viduka was through on goal only for Michael Hoffmann to spread himself to save. In the twenty-third minute a free-kick, from Thomas Hassler, ricocheted off the wall to safety. Then Alan Smith almost wriggled through from a Mark Viduka pass but was well marshalled by Stephan Passlack and then Michael Hoffmann cleaned up a long range Ian Harte free-kick without too much difficulty. Matthew Jones was next to try his luck but pulled the ball wide and then Mark Viduka was too high with his effort after being played in by Lucas Radebe.
Nigel Martyn was frustrating the Munich attackers at every turn and next he dived full length to his left to keep out a goal-bound shot from Paul Agostino, before Thomas Hassler hit the post with the last of the first half action. However in the first action of the second half United picked up a priceless goal to put them 3-1 up on aggregate. Alan Smith and Mark Viduka converged on the Munich defence in tandem and after being put in by the burly Australian, local hero Alan Smith rounded the keeper before slotting a left-foot shot into the far corner. Munich were stung into action and Nigel Martyn was again in the thick of the action as he kept out a stinging shot from Daniel Borimirov but then he had Danny Mills to thank for keeping his goal intact as he stopped a goal-bound effort on the line just as Paul Agostino was starting his goal celebrations. A Thomas Hassler snapshot was then well held by Nigel Martyn, who was now sporting a well-greased head which had been injured in a goalmouth melee, and once again he produced a top class save to keep out Paul Agostino and finally when Thomas Hassler's last ditch free-kick did beat the Leeds keeper, Jonathan Woodgate popped up on the line to head clear for United to keep a clean sheet and advance to the lucrative ECL Group matches against elite opposition.
Courtesy of Mark Lovell of http://www.bundesligalounge.com/archives/1644, his view of the match as an observer.
<![if !vml]>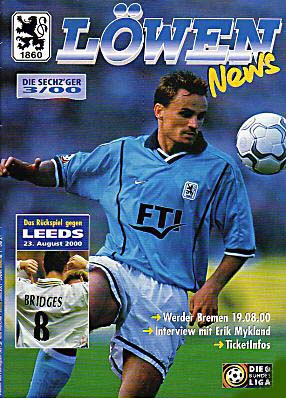 <![endif]>
Match Action:
<![if !vml]>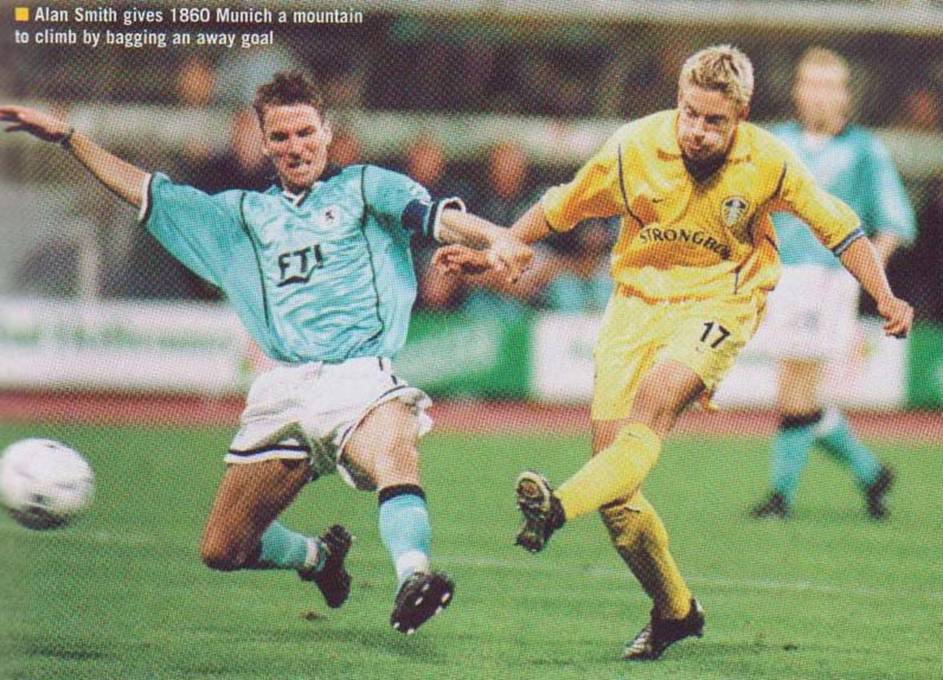 <![endif]> 
Alan Smith scored the Leeds goal
<![if !vml]>
<![endif]>
<![if !vml]>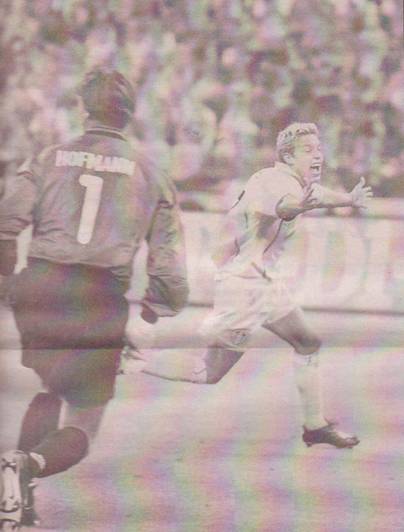 <![endif]> <![if !vml]>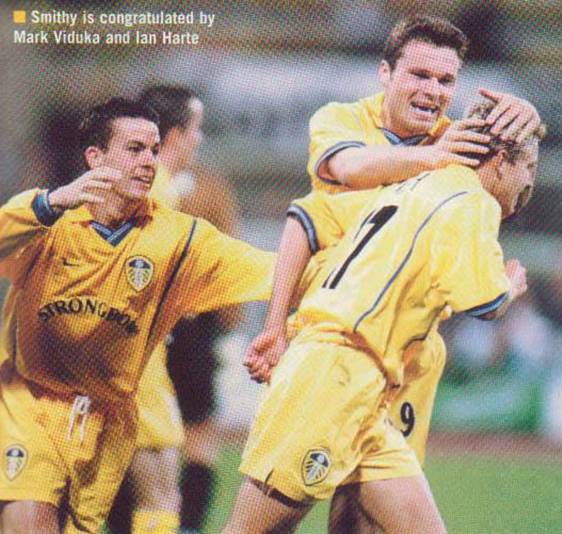 Alan Smith celebrates his goal
<![if !vml]>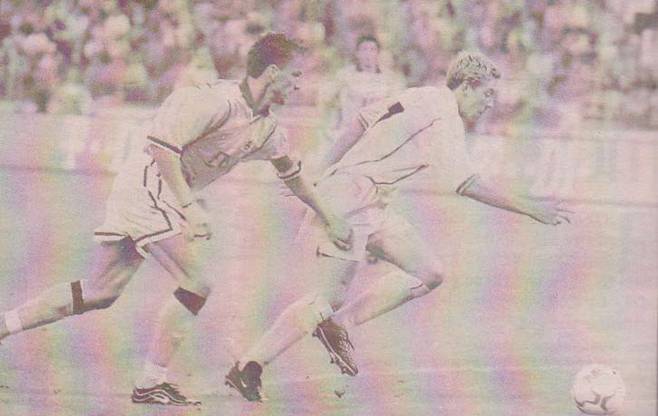 <![endif]>       <![if !vml]>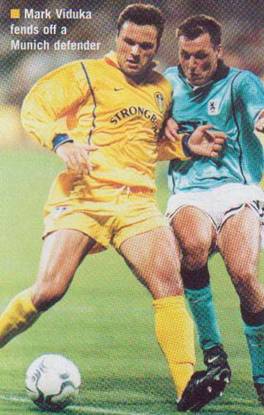 <![endif]> 
Alan Smith was a livewire
<![if !vml]>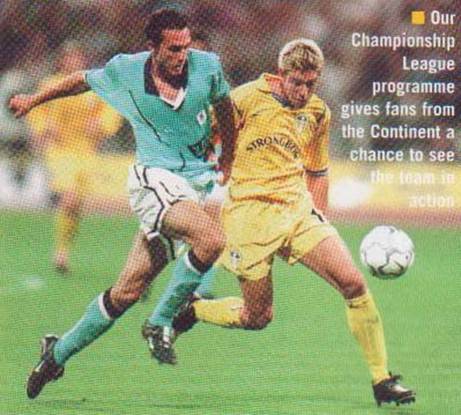 <![endif]> <![if !vml]>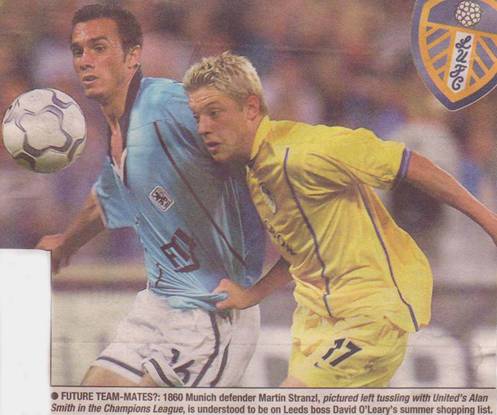 <![endif]>
<![if !vml]>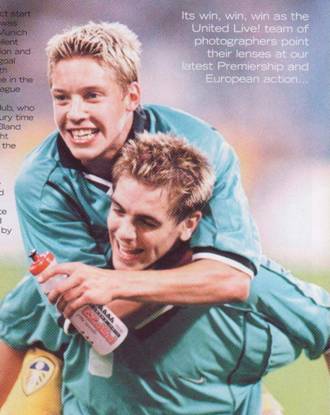 <![endif]>     <![if !vml]>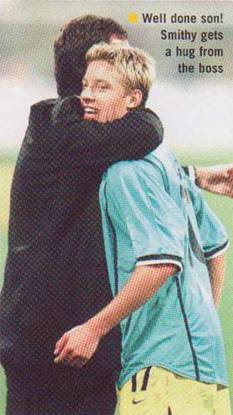 <![endif]>            <![if !vml]>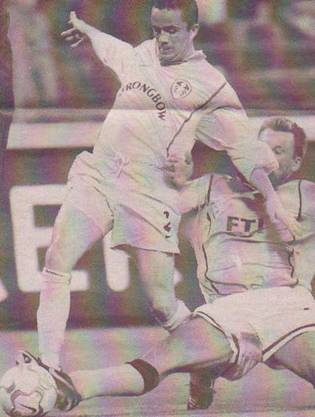 <![endif]>
Alan Smith celebrates victory with Jonathan Woodgate and David O'Leary                                  Gary Kelly rides a tackle
<![if !vml]>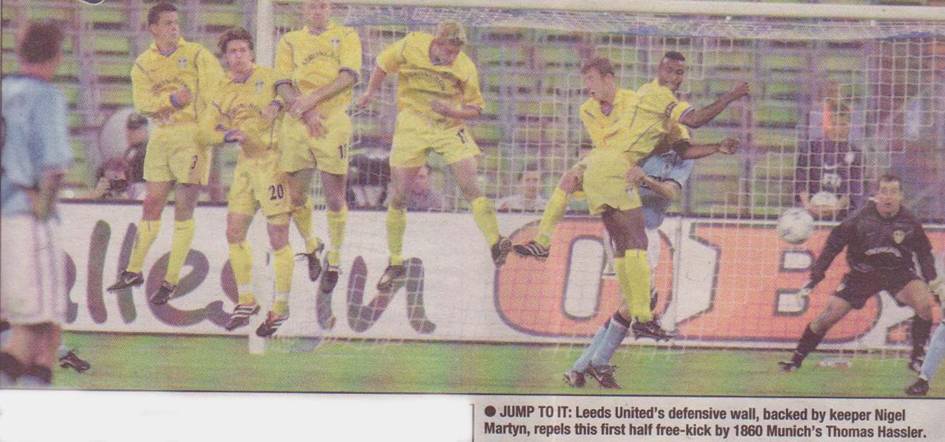 <![endif]> 
<![if !vml]>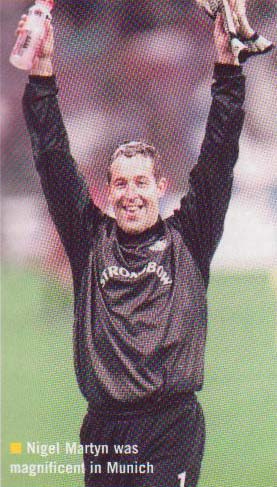 <![endif]>     <![if !vml]>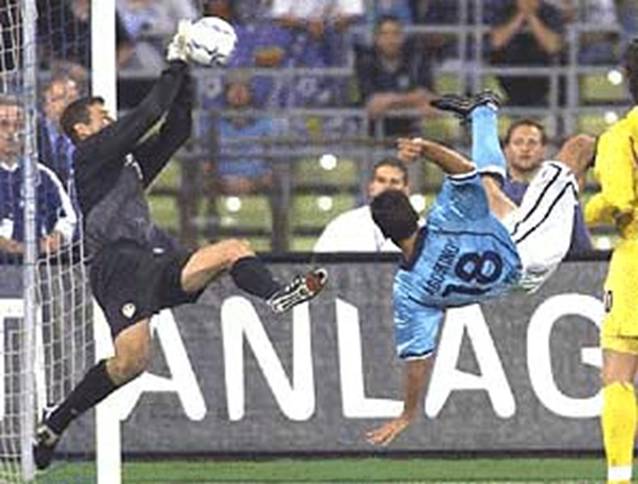 <![endif]> 
Nigel Martyn was magnificent in the Leeds goal  
<![if !vml]>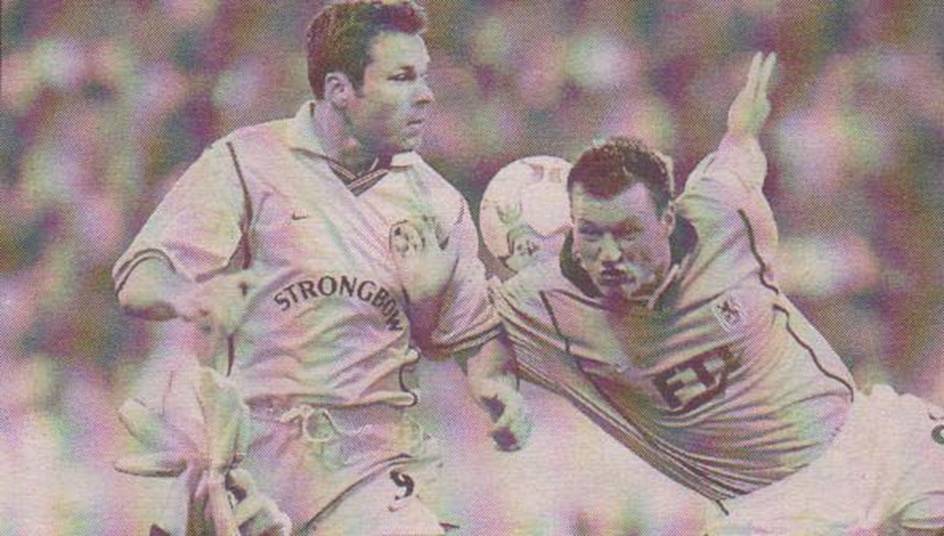 <![endif]>      
| | |
| --- | --- |
| Mark Viduka again caused Munich all kind of problems | Jonathan Woodgate beats Paul Agostino to a header |
Players:
<![if !vml]>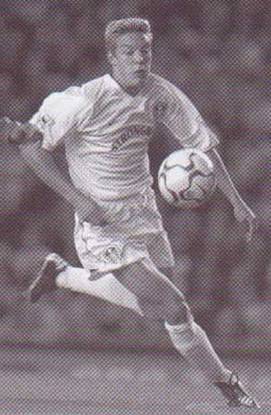 <![endif]>    <![if !vml]>
<![endif]>     <![if !vml]>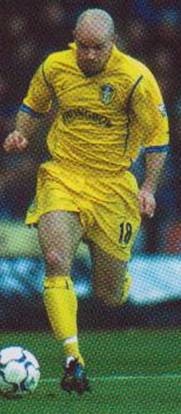 <![endif]> <![if !vml]>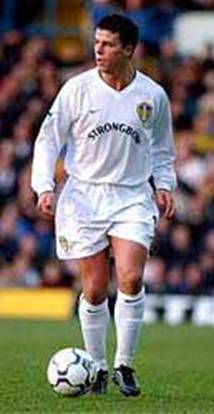 <![endif]>
Alan Smith scored the only goal                   Nigel Martyn was magnificent                      Danny Mills partnered Ian Harte at full-back
of the game
<![if !vml]>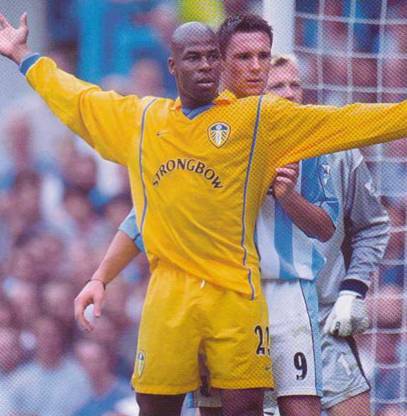 <![endif]> <![if !vml]>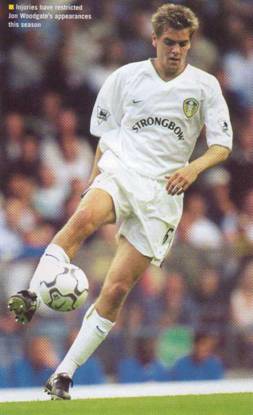 <![endif]> <![if !vml]>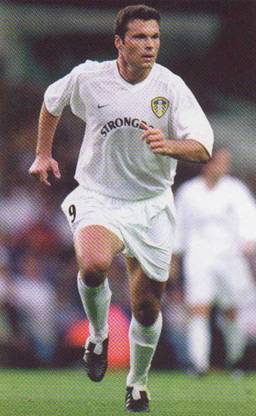 <![endif]>
Michael Duberry was called in to partner Jonathan Woodgate in central defence                                  While Mark Viduka led the line
                                                                                                                                                                        with Alan Smith
<![if !vml]>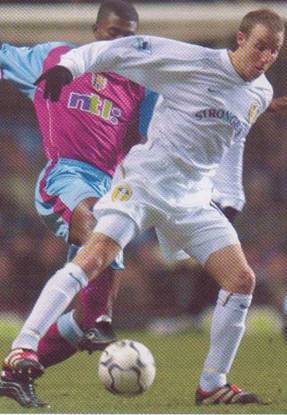 <![endif]> <![if !vml]>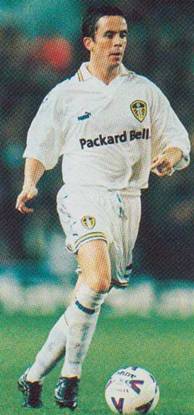 <![endif]> <![if !vml]>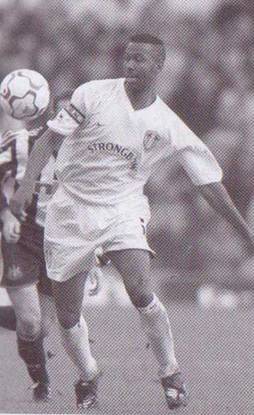 <![endif]> <![if !vml]>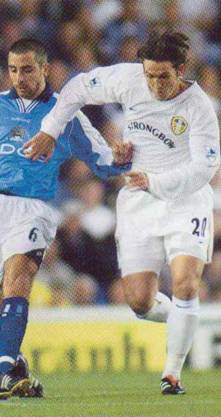 <![endif]> 
Lee Bowyer was joined by Gary Kelly, Lucas Radebe and an injured Matthew Jones in a makeshift midfield
<![if !vml]>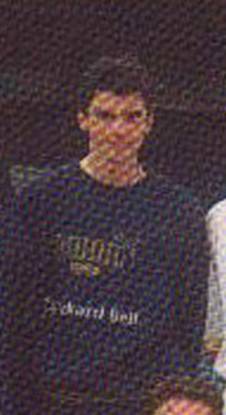 <![endif]> <![if !vml]>
<![endif]> <![if !vml]>
<![endif]> <![if !vml]>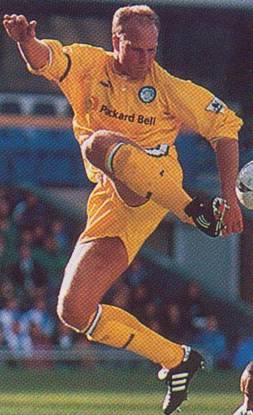 <![endif]>
Gareth Evans came on as                 While Michael Bridges, Darren Huckerby and Robert Molenaar remained unused on the bench
substitute for Matthew Jones
<![if !vml]>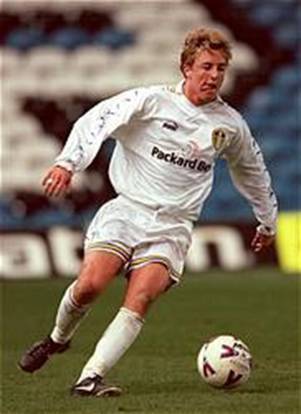 <![endif]>   <![if !vml]>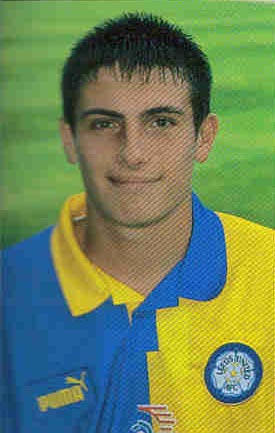 <![endif]>   <![if !vml]>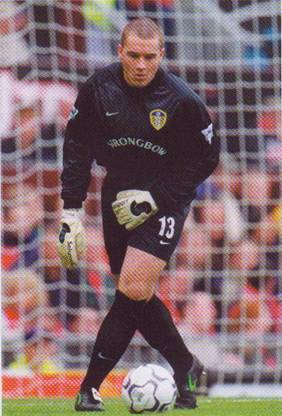 <![endif]>
along with youngsters Jamie McMaster, Tony Hackworth and goalkeeper Paul Robinson
<![if !vml]>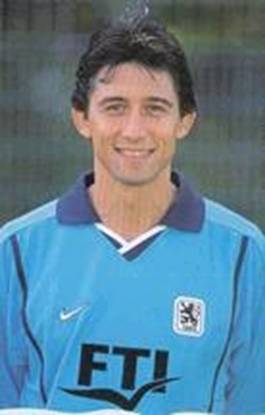 <![endif]>           <![if !vml]>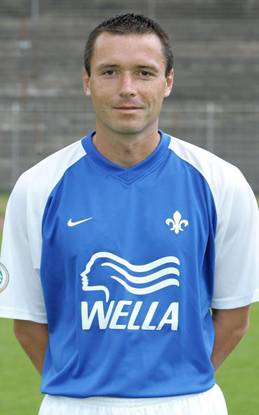 <![endif]> <![if !vml]>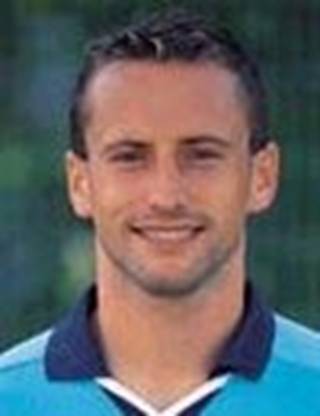 <![endif]>
Daniel Borimirov came in for Ned Zelic            Markus Beierle and Roman Tyce were used as substitutes