<![if !vml]>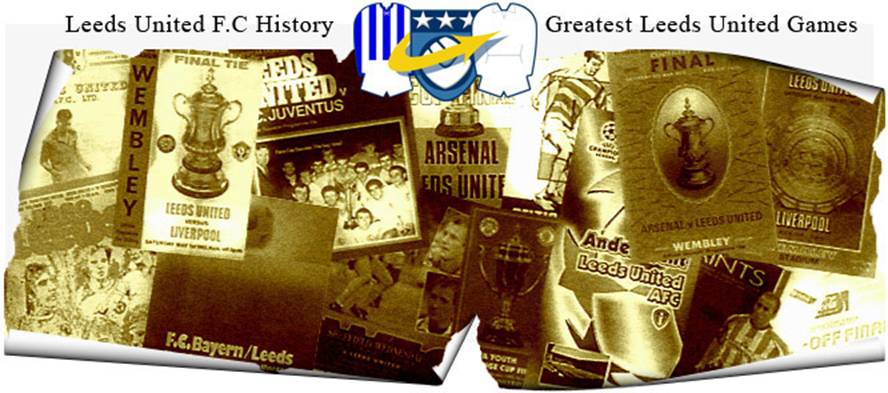 <![endif]>
Date: Saturday 23rd August 1980.
Venue: Carrow Road, Norwich.
Competition: First Division.
Score: Norwich City 2 Leeds United 3.
Scorers: Norwich City: Fashanu, Woods. Leeds United: Hart, Graham, Connor.
Attendance: 17.680.
Teams:
<![if !vml]>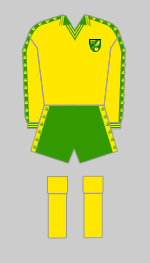 <![endif]> <![if !vml]>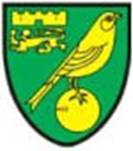 <![endif]>
Norwich City: Hansbury; McDowell (Barham), Downs; Mendham, Bond, Powell; Woods, Fashanu, Royle, Paddon, Goble.
<![if !vml]>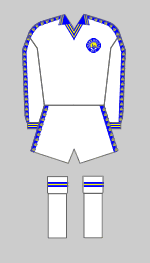 <![endif]><![if !vml]>
<![endif]>
Leeds United: Lukic; Cherry, Greenhoff; Flynn, Hart, Madeley; Chandler, Hamson (Thomas), Connor, Sabella, Graham.
Referee: Mr. R. Toseland (Market Harborough).
Jimmy Adamson would have feared for his future when Leeds United's supporters unveiled a banner reading 'Adamson out' at Carrow Road after only two games of the Division One season. United's boss was almost two years into his job at Elland Road, but an opening-day defeat to Aston Villa and a 3-0 rout at Middlesbrough had turned the tide of opinion against him. Adamson's calm demeanour rarely betrayed his emotions, but even he could not avoid punching the air after Terry Connor's goal claimed victory over Norwich City. By the final whistle, United's supporters were chanting 'United are back'. The relationship was doomed to failure, however, and Adamson eventually left Elland Road at the start of October following a grim run of form, but Carrow Road provided him with one final moment of cheer.
<![if !supportLineBreakNewLine]>
<![endif]>
Norwich were a mediocre side and were relegated from Division One on the final day of the season, a day which saw Brighton rescue themselves at City's expense with a home victory over Leeds. Adamson handed Paul Madeley his first start of the season at Carrow Road, and the disorganised defence that had struggled badly against Villa and Middlesbrough appeared to swell with confidence. Two late goals gave Norwich the chance of salvaging a result, but United controlled much of the game and never looked like leaving Norfolk with anything other than a creditable victory.
<![if !supportLineBreakNewLine]>
<![endif]>
Leeds took the lead in the sixth minute when a rebound from Trevor Cherry's free-kick saw Paul Hart smash an easy finish into the net, and, inspired by Argentinean playmaker Alex Sabella, the visitors prevented Norwich from settling in midfield. City's defence quickly tightened up, though, and Leeds were forced to wait until the fifty-fifth minute for their second goal when Connor laid on an opportunity for Arthur Graham. The two-goal advantage seemed enough to ensure United's win but their backline was unexpectedly breached with twenty minutes left by a striker's finish from Justin Fashanu. The Canaries forward, the late brother of former Wimbledon midfielder John, rose unmarked to head home a right-wing cross, and the goal threatened to spoil Leeds' otherwise flawless afternoon.
<![if !supportLineBreakNewLine]>
<![endif]>
Adamson's players, however, refused to sit on their lead, and the Elland Road boss was forced into a public reaction when Connor grabbed a third goal with six minutes remaining. Sabella created the chance with a brilliant piece of skill, taking four defenders out of the game with a mazy run and cross, and even a quick reply from Clive Woods could not unsettle Leeds. The result bought Adamson time but seven days later his side was beaten at Leicester, and a subsequent 3-0 defeat to Stoke left his position in grave doubt. Three games later, United took drastic action and handed the manager's job to Leeds legend Allan Clarke.
Alternative Reports (Courtesy of Mark Ledgard)
Barry Foster reported:
Jimmy Adamson went to Norwich City with one international injury and he dropped four others to come up with a side that which had balance and commitment and was good enough to deserve the win that gave United their first away victory since the previous January. It represented a breakthrough for a Manager and team under fire.
Even though Leeds had to scramble through the final twenty minutes, their right to both points could hardly be contested on the strength of a performance that was sharper and firmer than seemed possible after the recent maulings by Aston Villa and Middlesbrough. Much of it had to do with confidence, but after those two opening displays they needed the right lift in the self-belief department and Arthur Graham provided the perfect springboard in the vital opening exchanges. Paul Madeley's return to the back four gave the defence a calm and solid look, making it a surprise when goals were scored against them rather than the expected occurrence in the opening games. The midfield was busy and inventive while Terry Connor, before the game was not too old, was matching Arthur Graham at the spearhead.
For seventy minutes Leeds, with the help of early goals in both halves, ruled the game. They had Jeff Chandler throwing everything he had into his roaming role, Paul Hart shrugging off an eyebrow injury which needed a couple of stitches to find his commanding touch again and John Lukic benefiting from the sure approach of the men in front.
Norwich were caught on the hop first by the speed of Paul Hart. He followed up Trevor Cherry's well struck twenty-five yard sixth minute shot after Brian Flynn's short free-kick to loop the ball home from an angle after Barnsley-born Roger Hansbury had managed only to parry Trevor Cherry's shot. As Leeds pushed forward spurred on by Paul Hart's breakthrough Gary Hamson was checked in the Norwich penalty area but Leeds received no more than an indirect free-kick. Yet when Trevor Cherry performed a similar foul further up the field on Steve Goble he received his second booking of the week. The incidents, however, could not upset Leeds' concentration and when Terry Connor turned Brian Greenhoff's aggressive lob forward down the right, into a cutting low cross, there was Arthur Graham to shunt the ball home from close in. The fifty-fifth minute fairly reflected the difference between the two sides, a difference which continued to widen and should have been finalised when Alex Sabella beat Tony Powell in the centre circle, to leave himself with a lone charge on the Norwich goal in the sixty-ninth minute. Kevin Bond managed to get across to him but the Argentinian left the Norwich captain with a wiggle of the hips, only to see Roger Hansbury make a fine close-in stop. "I was disappointed it did not go in," said Sabella, "but pleased I was able to do something about it later."
From the brink of a three goal lead, however, Leeds found themselves immediately at 2-1, Norwich switching straight downfield to outnumber the Leeds defenders for the only time in the match, Justin Fashanu hitting home a right wing cross. "With the crowd behind them, and their tails up, suddenly we were in a battle," said Jimmy Adamson, But then there was Sabella. He was settling down to the First Division game better by the minute, enjoying showing his skills on the short-cropped grass, a lesson the Elland Road's groundsman might heed. There were six minutes left and Leeds needed the breathing space of another goal when Brian Greenhoff took a throw-in deep on the right. Sabella beat one man with his turn as he collected the ball, another on his run to the goal-line, yet another as he cut in and a fourth with his low short cross. "I knew I had cut four of them out of the game and then looked for a Leeds player," he said. The player was the sure footed Terry Connor, the knock in a formality. Alex Sabella had arrived. However, Norwich had not had enough. They swept straight downfield again and won a corner then with the help of Kevin Bond's flick on at the near post, Clive Woods headed a firm goal.
"I've nothing but praise for the attitude of our players," said Adamson. "Madeley played like he did ten years ago. Sabella's run provided the match-winner with the kind of magic you don't get from English players, but Graham was my man-of-the-match, he was tremendous. For us the season starts here, we are hoping that we can now go from strength to strength."
And Bill Mallinson commented:
Leeds boss Jimmy Adamson's shake-up brought the desired result in a five-goal thriller. The Manager overlooked five of his Internationals. The experienced Paul Madeley was back and brought a steadying influence to a previously shaky Leeds defence. It was Madeley's defensive partner Paul Hart who got United off to a confidence-boosting start with a goal after only six minutes. Norwich goalkeeper Roger Hansbury could only parry a fierce low shot from Trevor Cherry and Hart, following up, turned the ball home. Arthur Graham increased the lead when he finished off a smart piece of right wing work by Terry Connor. Leeds' Argentinian midfield man Alex Sabella enjoyed his best match so far, but spoiled a good chance late on. A run from deep inside his own half ended with his shot rebounding from the advancing Roger Hansbury. Sabella made amends with a scintillating piece of work in which he beat three Norwich defenders to lay on the opportunity for Terry Connor to turn the ball home from close range. Norwich had opened their account in the seventieth minute when Justin Fashanu, under close challenge from Brian Greenhoff, forced the ball home from close range. Their second came from Clive Woods, who headed home a Steve Goble cross five minutes from the end.
<![if !vml]>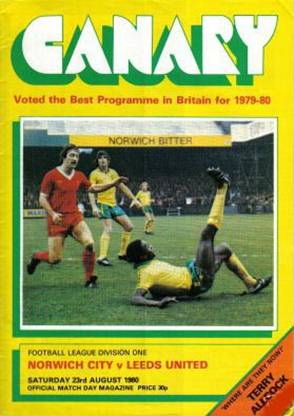 <![endif]>
Match Action:
<![if !vml]>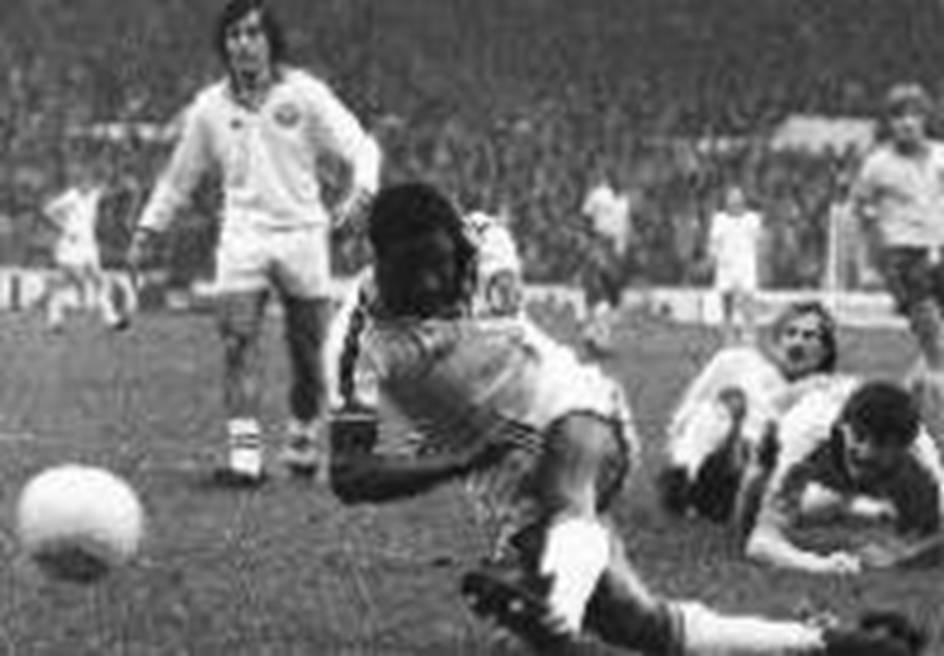 <![endif]>
Terry Connor gets United's third goal
<![if !vml]>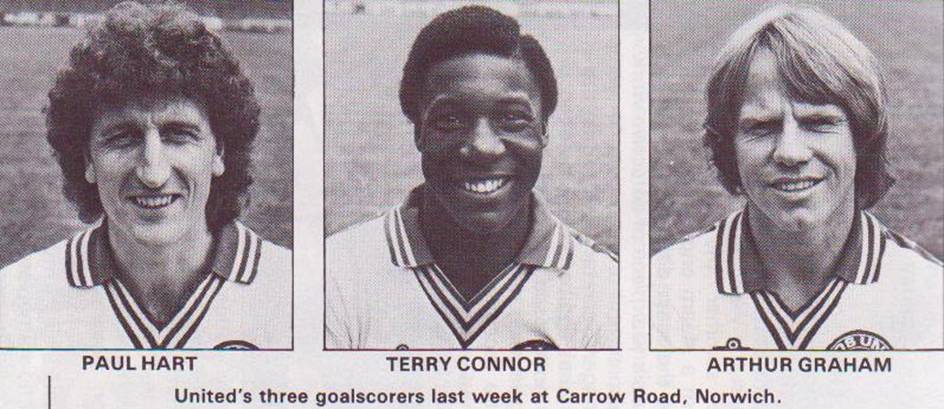 <![endif]>
(Three photos below Courtesy of Mark Ledgard)
<![if !vml]>
<![endif]>
<![if !vml]>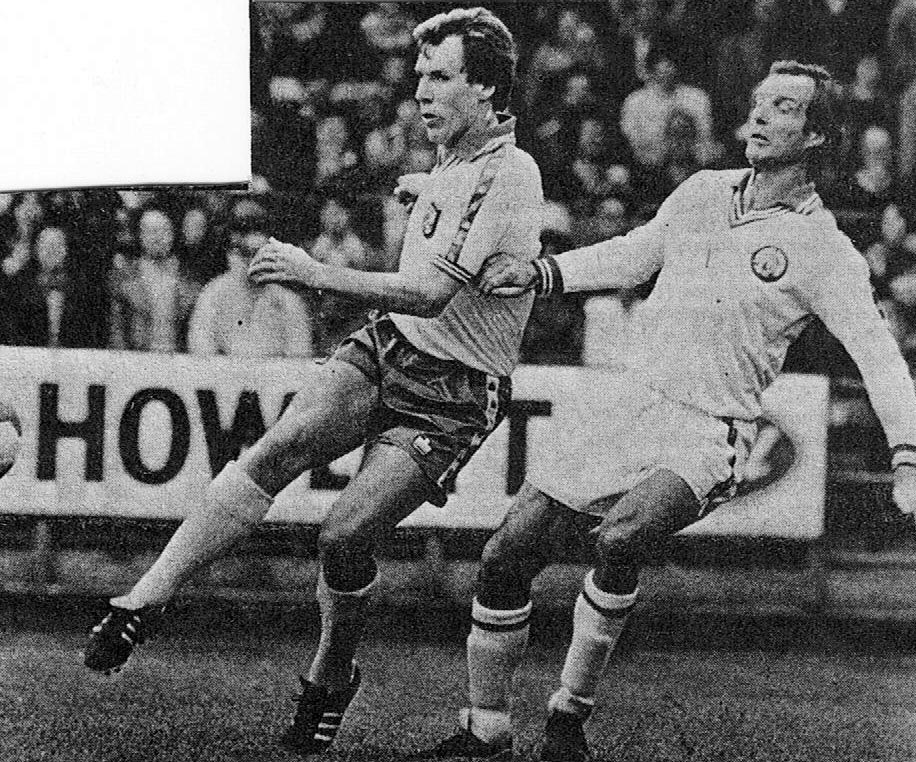 <![endif]>
Paul Madeley shadows Joe Royle
<![if !vml]>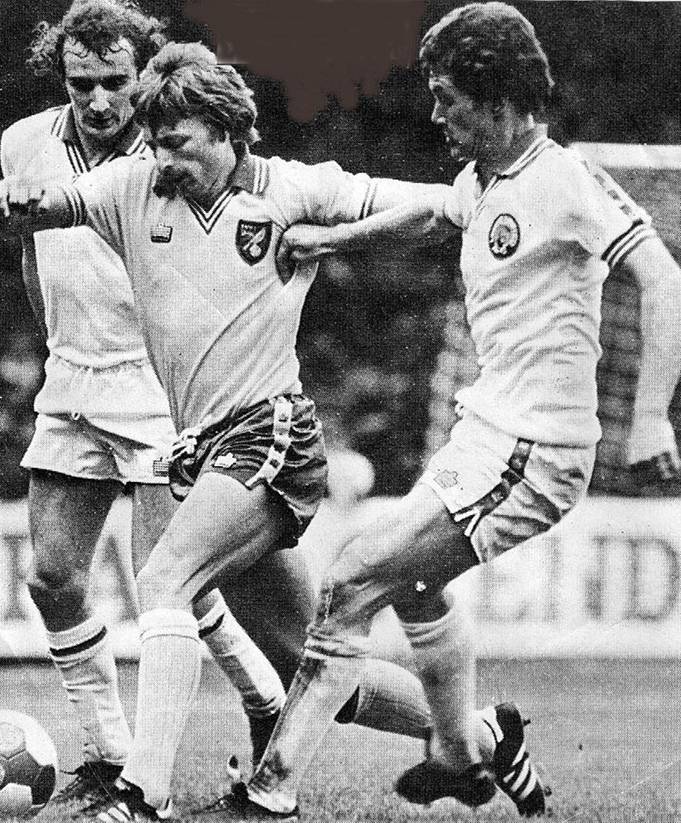 <![endif]>
Graham Paddon tries to squeeze past Kevin Hird and Trevor Cherry
Teams:
<![if !vml]>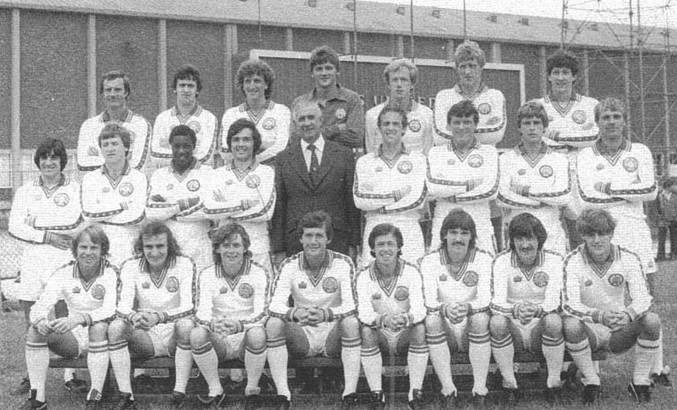 <![endif]>
Leeds United 1980-81: Adamson's Team
Back Row: Paul Madeley, Byron Stevenson, Paul Hart, John Lukic, Tony Arins, Neil Firm,
Derek Parlane.
Middle Row: Gwyn Thomas, Gary Hamson, Terry Connor, Alex Sabella, Jimmy Adamson
(Manager), Alan Curtis, Eddie Gray, Martin Dickinson, Wayne Entwhistle.
Front Row: Arthur Graham, Kevin Hird, Jeff Chandler, Trevor Cherry, Brian Flynn,
Carl Harris, Peter Hampton, Marshall Burke.
Players:
<![if !vml]>
<![endif]>      <![if !vml]>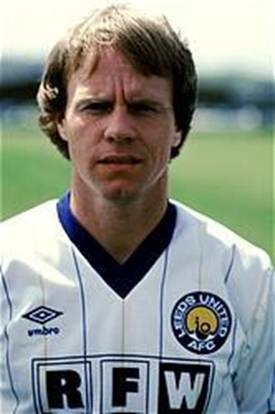 <![endif]>      <![if !vml]>
<![endif]> 
Paul Hart, Arthur Graham and Terry Connor scored the three Leeds goals                                        
<![if !vml]>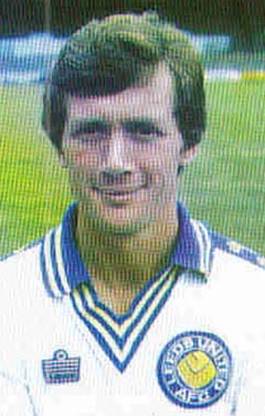 <![endif]>          <![if !vml]>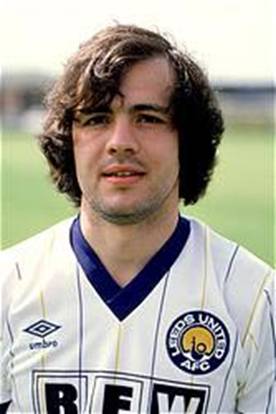 <![endif]>      <![if !vml]>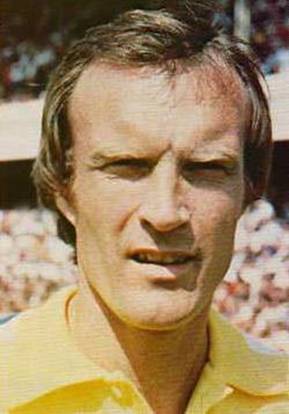 <![endif]>   
Trevor Cherry's free-kick led to first goal      Alex Sabella was inspirational                           Paul Madeley played his first game of the season
<![if !vml]>
<![endif]> <![if !vml]>
<![endif]>  <![if !vml]>
<![endif]>  <![if !vml]>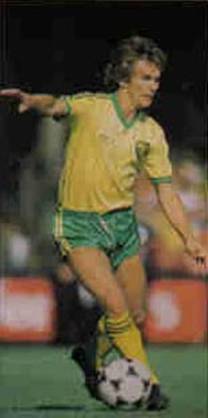 <![endif]>  
Justin Fashanu and Clive Woods got the Norwich goals                       Roger Hansbury was in goal               Mark Barham was the substitute
<![if !vml]>

<![endif]> <![if !vml]>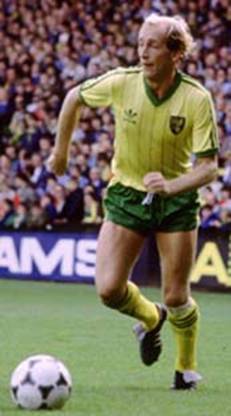 <![endif]>   <![if !vml]>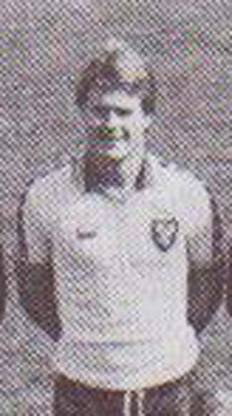 <![endif]> <![if !vml]>
<![endif]> <![if !vml]>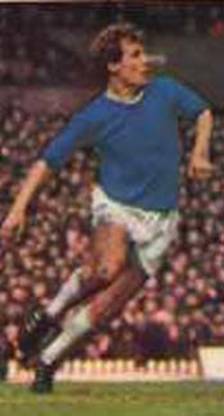 <![endif]>
John McDowell and Greg Downs were at full-back. Kevin Bond and Tony Powell were in central defence.              Strikers were Joe Royle and
                                                                                                                                                                                             Justin Fashanu
<![if !vml]>
<![endif]> <![if !vml]>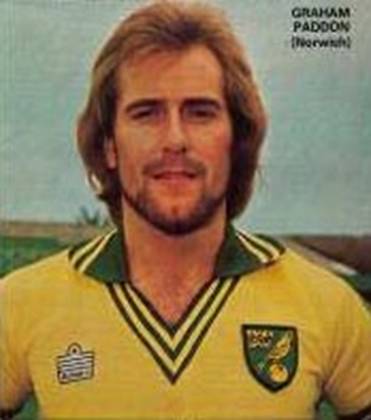 <![endif]> <![if !vml]>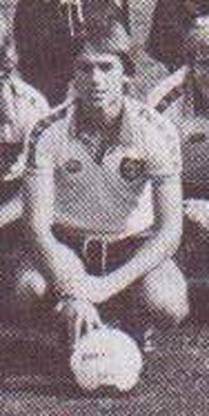 <![endif]>
Peter Mendham, Graham Paddon and Steve Goble were in midfield with Clive Woods