<![if !vml]>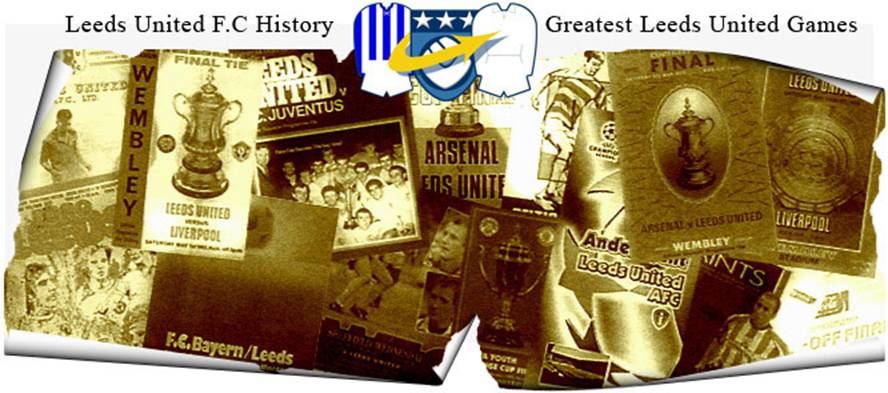 <![endif]>
Date: Saturday, 23rd May 1987.
Venue: Selhurst Park, Croyden, London.
Competition: Second Division Playoff Final First Leg.
Score: Charlton Athletic 1 Leeds United 0.
Scorers: Charlton Athletic: Melrose. Leeds United: Nil.
Attendance: 16,680.                                                                                                       
Teams:
<![if !vml]>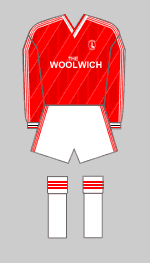 <![endif]><![if !vml]>
<![endif]>
Charlton Athletic: Bolder; Humphrey, Reid; Peake, Thompson, Miller; Gritt, Stuart (Milne), Melrose, Walsh, Crooks.
<![if !vml]>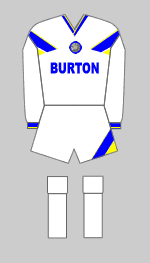 <![endif]><![if !vml]>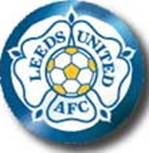 <![endif]>
Leeds United: Day; Aspin, McDonald; Aizlewood, Ashurst, Ormsby; Edwards, Sheridan, Pearson (Ritchie), Baird, Adams.
Referee: Mr. R. Milford (Bristol).
The play-off Final against Charlton Athletic was also a two-legged affair as had been the Semi-Finals. The meeting of the two sides was of great significance for both. The first match, played at Charlton's adopted Selhurst Park home, was the first leg of the first play-off Final which Leeds went on to lose in a replay at Birmingham City, one of the most disappointing nights in the club's history. Leeds, of the Second Division, narrowly lost the first leg 1-0 to an eighty-eighth-minute header from First Division Charlton's Jim Melrose after dominating for large parts of the contest.
<![if !supportLineBreakNewLine]>
<![endif]>
Leeds manager Billy Bremner was happy with his team's first leg display and refused to criticise his players. "They were a bit down after the game but they soon seemed to get over it," said Bremner. "If we had conceded a goal in the second minute of the game and then held Charlton to a 1-0 score-line it would have been hailed as a fine performance."

Leeds played a containing game and they looked like leaving London with a creditable 0-0 draw until the much-travelled Melrose escaped his marker to head in Colin Walsh's left wing free-kick. It was ironic that Keith Edwards, the striker whose late goals in each leg of the play-off semi-final against Oldham had earned United victory, was the man to concede the free-kick from which Charlton scored their all-important winner.

Leeds' Mark Aizlewood, playing against his former club, turned in a tenacious display and was booked for one tackle on Mark Stuart on the stroke of half-time, while United's other former Charlton man, striker John Pearson, battled all the way and suffered some harsh treatment in the process. The match was a good example of the combative nature of the game back in the 1980s, with Edwards finishing the game with a black eye and Charlton substitute Ralph Milne suffering a depressed fracture of the cheekbone after a tackle from Micky Adams.
Alternate Reports: (Courtesy Mark Ledgard)
Summary: Charlton fans raised their glasses on the night to sparkling Scot Jim Melrose. For jolly Jim had jettisoned his holiday in Spain for this play-off, and sent Leeds packibg with a killer goal three minutes from the end. The Melrose family were sizzling in Marbella as Jim soared through the drizzle to head home Colin Walsh's free-kick. Charlton would take that goal to a sell-out Elland Road the following evening with Boss Lennie Lawrence saying, "I'm quietly confident." Lennie's lions needed victory to keep their First Division status and he promised, "I'll go over and shake Billy Bremner's hand if they score twice against us." But there was worry, too, for Lawrence when a check-up revealed that half-time substitute Ralph Milne had a fractured cheek bone and would miss the return. Mervyn Day, ex-West Han United, Leyton Orient and Aston Villa goalkeeper pulled off some outstanding saves to keep out Melrose and the stylish Walsh. Former Charlton defender Mark Aizlewood and ex-Spurs man Paul Miller were booked in a tough scrap. But Melrose settled the first leg by out-jumping the Leeds defence at the far post to steer home Colin Walsh's pin-point cross. Lawrence was happy that there were no serious injuries apart from the Milne damage. "What we need is energy at this stage of the season," he said. But Lawrence also praised Leeds. "It is inevitable that they will get into the First Division next season if they don't do the business against us in the second leg," he said. The play-offs were there to stay. The Football League had decided the crowd-pulling experiment to decide season's ups and downs would carry on when the First Division had been reduced to twenty clubs in 1988. A League official said, "After that the play-offs will involve places in the Second, Third and Fourth Divisions, but not the first, which will revert to automatic three up and three down."
And from the YEP: Progress towards the realization of Leeds United's dream of a place back in Division One insists that there will be no early leavers from a tension-charged, packed all-ticket Elland Road in the second leg. In Each of the previous three ties leading towards the play-off final ninety minute showdown, the vital goals had arrived in the final two minutes and it will be a tight, close finish as Charlton fight to hang on to their First Division status. But although Charlton grabbed the initiative woth their eighty-eighth minute goal at Selhurst Park in the first leg, they did not show enough to make most of the 16,680 crowd believe that they could stop Leeds in front of a passionate home crowd. Charlton spent eighty-five per cent of the first leg of the final probing for goals but they lacked the fire expected of a side trying to make home advantage tell. Leeds dictated the pace of the game and but for one late lapse of concentration there would have been praise for their soaking up pressure as well as the side their manager Billy Bremner used to captain. It was still a mighty defensive display.
Leeds played Mark Aizlewood as a sweeper in front of their rearguard and their other former Charlton player, John Pearson, used his height to help smother all the dead-ball situations. With Mervyn Day making two crucial stops, all the defenders came out of the contest with credit, particularly Bobby McDonald, whose experience shone through. He was also an effective raider on Leeds' few attacking excursions. Played in drizzle, the match never hit any heights. Leeds kept it at a low key and well in check but it was surprising since they elected to use Keith Edwards from the start, that they were not more adventurous. A fourteen yard volley from Edwards and a header from Jack Ashurst, both of which flew over the target in the first half, were the only threats to Charlton's goal. But Charlton could not create much more. Jim Melrose did escape his markers in the tenth minute and with Mervyn Day not cutting out the left-wing cross he should have scored from six yards. But the striker aimed the ball too close to Day, who held the effort comfortably. Twice in the second half Day saved Leeds with masterly saves at his right-hand upright, from Melrose's fourteen yard drive, which Day could not have seen until late, and from Colin Walsh from a similar distance. Walsh was at the centre of most good things that Charlton produced and when Edward's conceded a free-kick out on Leeds' right, the midfield player knocked over another cross into the six yard box. Again Melrose was unchecked, but this time he hit the target.
<![if !vml]>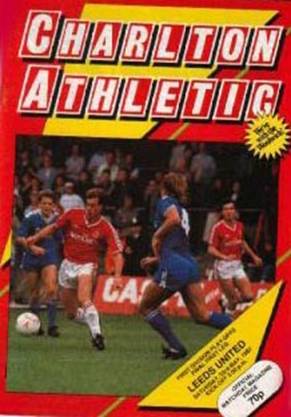 <![endif]>
Match Action:
<![if !vml]>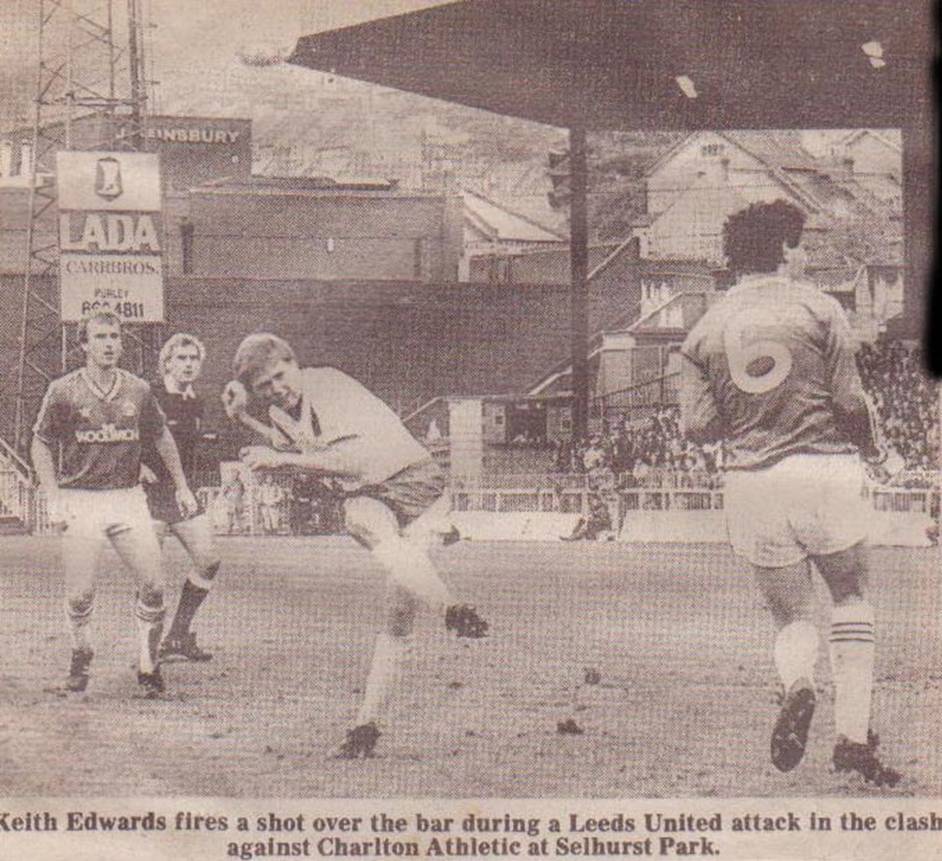 <![endif]> 
(Five Match Action photos below Courtesy Mark Ledgard)
<![if !vml]>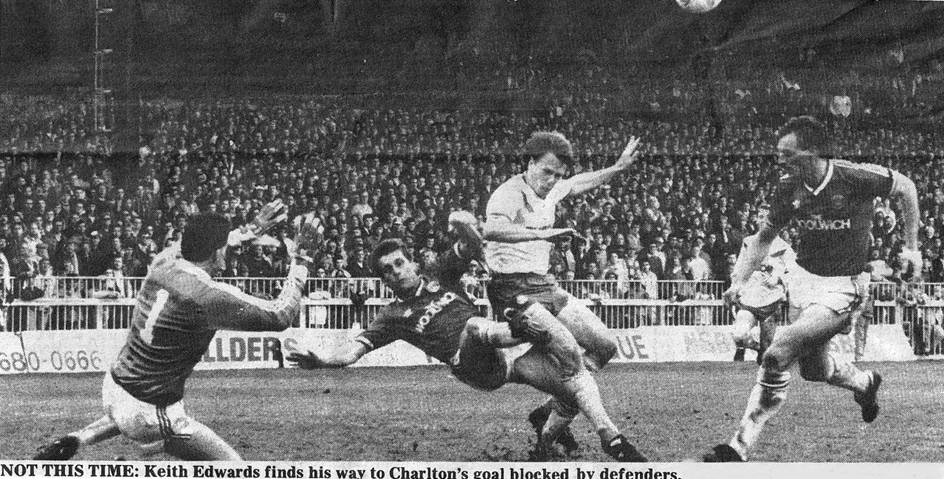 <![endif]>
<![if !vml]>
<![endif]>
<![if !vml]>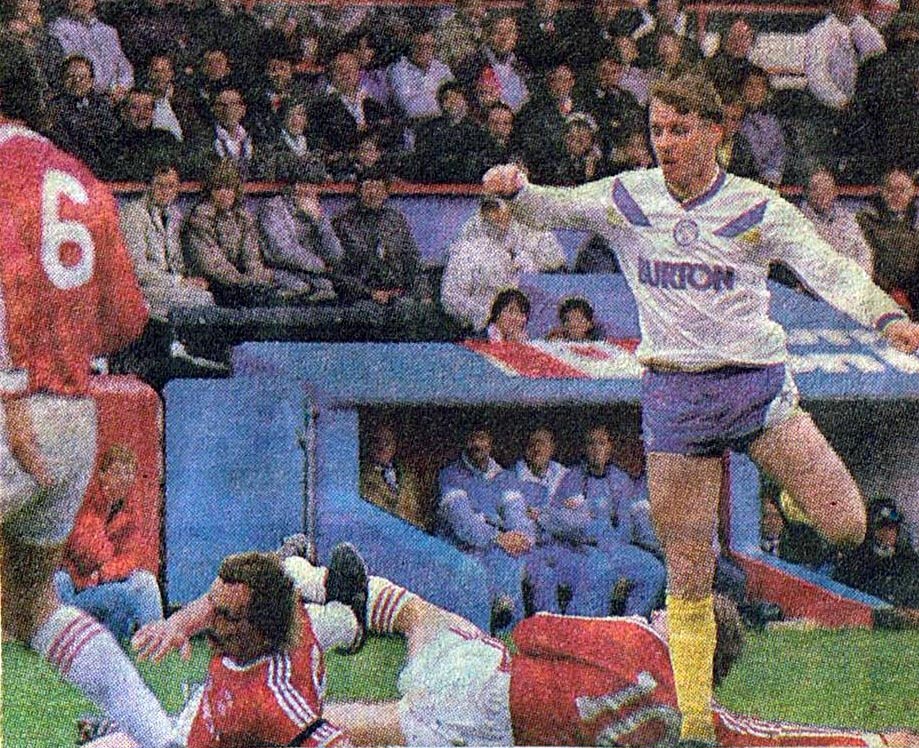 <![endif]>
John Sheridan leaves the Charlton defence all at sea.
<![if !vml]>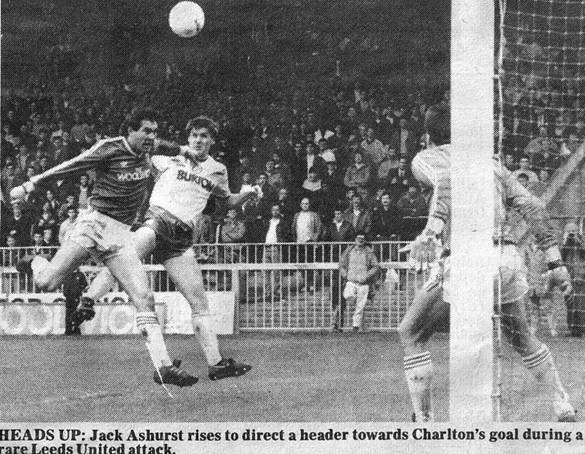 <![endif]>     <![if !vml]>
<![endif]>
Teams:
<![if !vml]>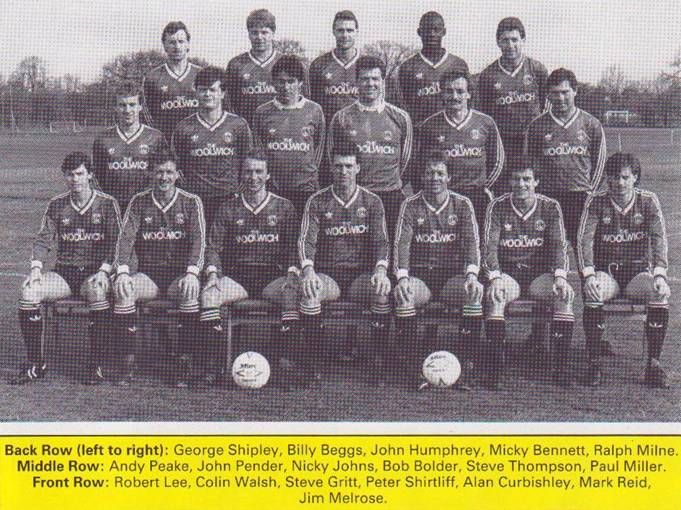 <![endif]>
<![if !vml]>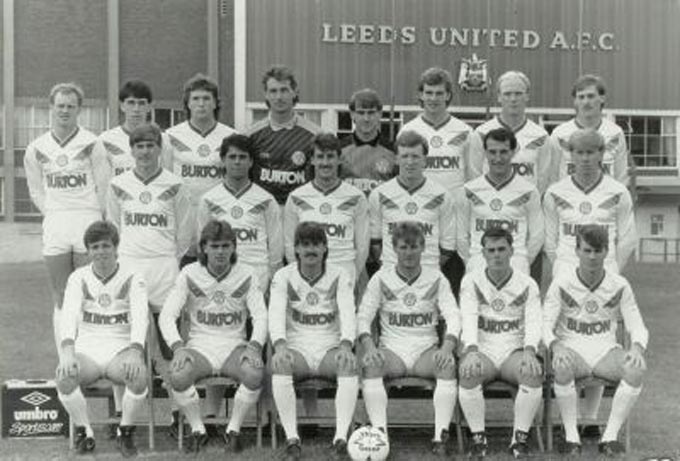 <![endif]>
Leeds United 1986-87:
Back Row: Andy Ritchie, Bob Taylor, Ronnie Robinson, Mervyn Day, Ronnie Sinclair,
Peter Swan, Neil Aspin, Peter Haddock.
Middle Row: Jack Ashurst, Nigel Thompson, Brian Caswell, Brendan Ormsby, David Rennie,
Ian Baird.
Front Row: John Stiles, John Buckley, Ian Snodin, Russell Doig, Tommy Wright, John Sheridan.
Players:
<![if !vml]>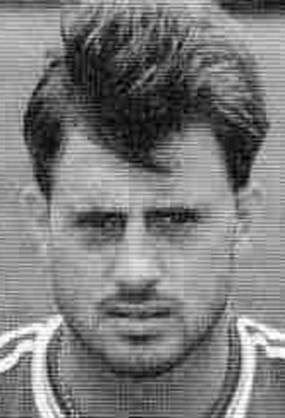 <![endif]>           <![if !vml]>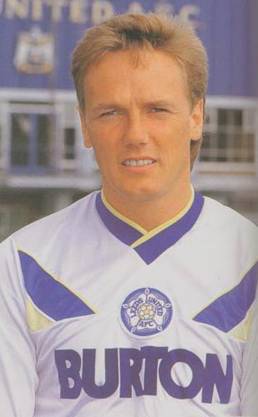 <![endif]>       <![if !vml]>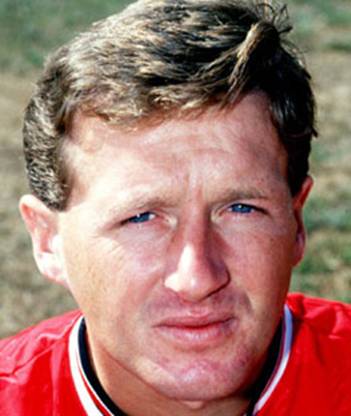 <![endif]>
Jim Melrose, who later played for Leeds,             Keith Edwards conceded the free-kick         Colin Walsh delivered the left wing
scored the only goal of the game for Charlton       that led to the goal                                         cross from the free-kick
<![if !vml]>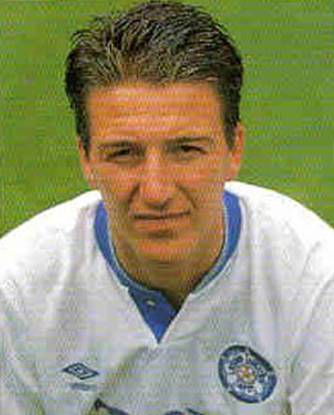 <![endif]>                               <![if !vml]>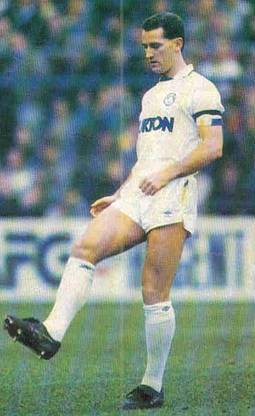 <![endif]>  <![if !vml]>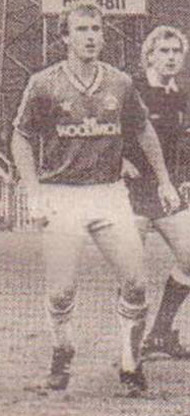 <![endif]>  
United's ex-Charlton player, John Pearson was given a buffeting        United's other ex-Charlton player Mark Aizlewood fouled Mark Stuart              
<![if !vml]>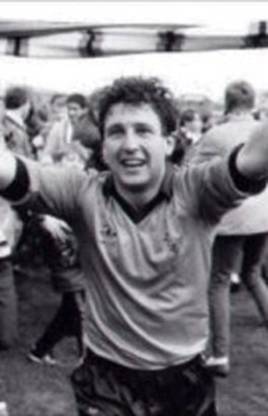 <![endif]> <![if !vml]>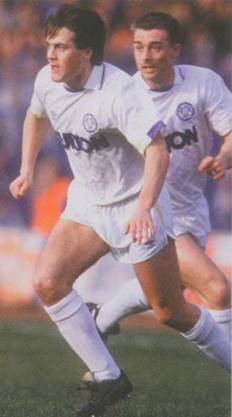 <![endif]> 
Ralph Milne had a fractured cheekbone after a tackle by Micky Adams