<![if !vml]>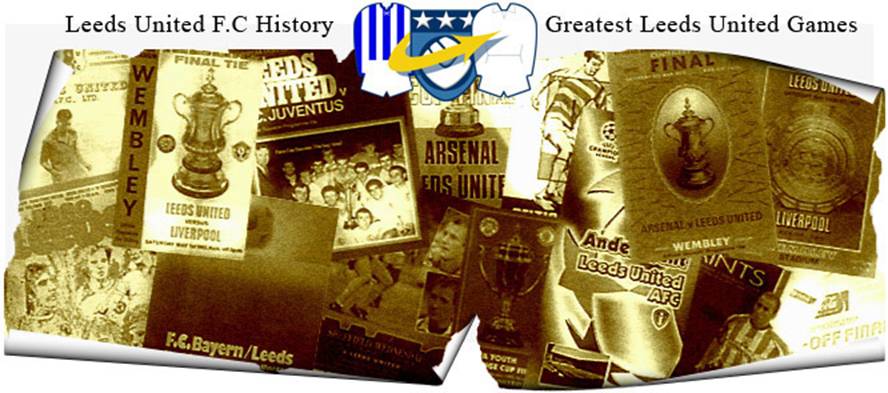 <![endif]>
Date: Wednesday, 23rd April 1975.
Venue: Nou Camp Stadium, Barcelona, Catalonia, Spain.
Competition: European Cup Semi-Final Second Leg.
Score: Barcelona 1 Leeds United 1.
Scorers: Barcelona: Clares. Leeds United: Lorimer.
Attendance: 110,000.
Teams:
 <![if !vml]>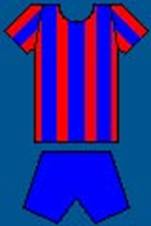 <![endif]> <![if !vml]>

<![endif]>
Barcelona: Sadurni; Murinho, Gallego; Bianqueti, De La Cruz, Neeskens; Rexach, Heredia, Cruyff, Asensi (Rife), Clares.
<![if !vml]>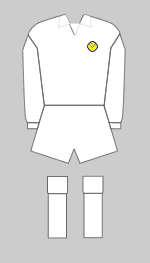 <![endif]><![if !vml]>

<![endif]>
Leeds United: Stewart; Cherry, F.Gray; Bremner, McQueen, Hunter; Lorimer, Clarke, Jordan, Yorath, Madeley.
Referee: Erich Linemayer (Austria).
After a night of unremitting tension and drama in the immense Nou Camp Stadium, United reached the European Cup Final. Once again Joe Jordan's head unlocked Barcelona's defensive door, flicking on David Stewart's lengthy clearance to Peter Lorimer, who despatched a trademark right-foot shot past Salvador Sadurni. It was Peter Lorimer's thirtieth goal in Europe, a British record, but few were more precious.
In the second leg of their European Cup Semi-Final encounter with Barcelona, United silenced the 110,000 crowd as Peter Lorimer's early goal gave United much-needed breathing space, as it achieved two things. It increased United's overall lead but it also gave United a precious away goal. Barcelona had still not given up the ghost and the Catalonians pushed forward at every opportunity to try to pull back their deficit and for the remainder of the match United hung on desperately to their two goal overall cushion. Barcelona needed to score thee times to prevent Leeds from becoming only the second English side to reach the European Cup Final after Manchester United seven years earlier.
Barcelona had started at break-neck speed with a Juan Carlos Heredia header flashing just wide but Lorimer's thunderous strike had knocked the wind out of the Catalan team's sails and United defended with admiral poise for the rest of the first half with Frank Gray, at left back, giving Carlos Rexach little room to manoeuvre while Gordon McQueen repelled all Barca's high balls into the box.
Bur United's authority vanished at the start of the second half as Barcelona introduced Joaquim Rife and pushed talented sweeper Mario Marinho further forward. As well as tactical changes, Barcelona added much more aggression to their game and Joe Jordan required four stitches in a cheek after clashing with a defender. Dutch ace Johan Neeskens made some big hits in midfield and Francisco Gallego was cautioned for a nasty foul on Billy Bremner as United felt the onslaught.
The fanatical 110,000 crowd sensed United were wilting as Cruyff and Co seized control of the midfield, but time was running out for the home team. All United had to do was keep a cool head and see out the last half hour or so. However, the pressure was mounting on United by the minute and their splendid defence finally cracked. The inevitable equaliser on the night came, after sixty-nine minutes, when Manuel Clares headed in Francisco Gallego's free-kick from the right. Minutes later United's chances of survival took a turn for the worse when Gordon McQueen was justifiably sent off for a stupid rush of blood. McQueen allowed his temper to get the better of him and when scorer Manuel Clares pulled the tall Scots shirt as they tangled for possession the Leeds defender retaliated and struck the Barcelona forward. It meant that he automatically missed the Final and left United with ten men for the last twenty minutes against a rampant Barcelona going flat out for an equaliser or better.
The home fans pumped more voltage into the electric night air as chants of "Barca,Barca" boomed out of the cavernous Nou Camp and United's survival odds instantly lengthened but on a night of heroes one man emerged from their ranks to defy the rampant Barcelona attack, Goalkeeper David Stewart, who was simply unbeatable in the final stages. Trevor Cherry, the former Huddersfield Town defender, had taken over Paul Madeley's assignment in the home leg by man-marking Johan Cruyff and had done a remarkably effective job in keeping Cruyff's influence on the game down to a minimum. And he continued to do so, while the rest of the United side pulled together to offset Gordon McQueen's absence and prevent Barcelona entering the Final. But it was David Stewart who superbly kept out a Juan Carlos Heredia header before he somehow saved one-handed a deflected Johan Cruyff shot. Seconds remained when Johan Neeskens headed the ball down to Johan Cruyff close to goal, but before he could get in a shot David Stewart had bravely smothered the ball at his feet. It was the final act on possibly the greatest night in United's history.
In the end they hung on for a 1-1 draw and a 3-2 aggregate win thanks to some brilliant defending and superb David Stewart saves which enabled United to reach their first European Cup Final and a chance to lift the most coveted of all the European Trophies. Manager Jimmy Armfield said, "This must be the high spot of my football life and I include in that some great experiences as a player."
<![if !vml]>
<![endif]>
Match Action:
<![if !vml]>
<![endif]>
Peter Lorimer scores for Leeds
<![if !vml]>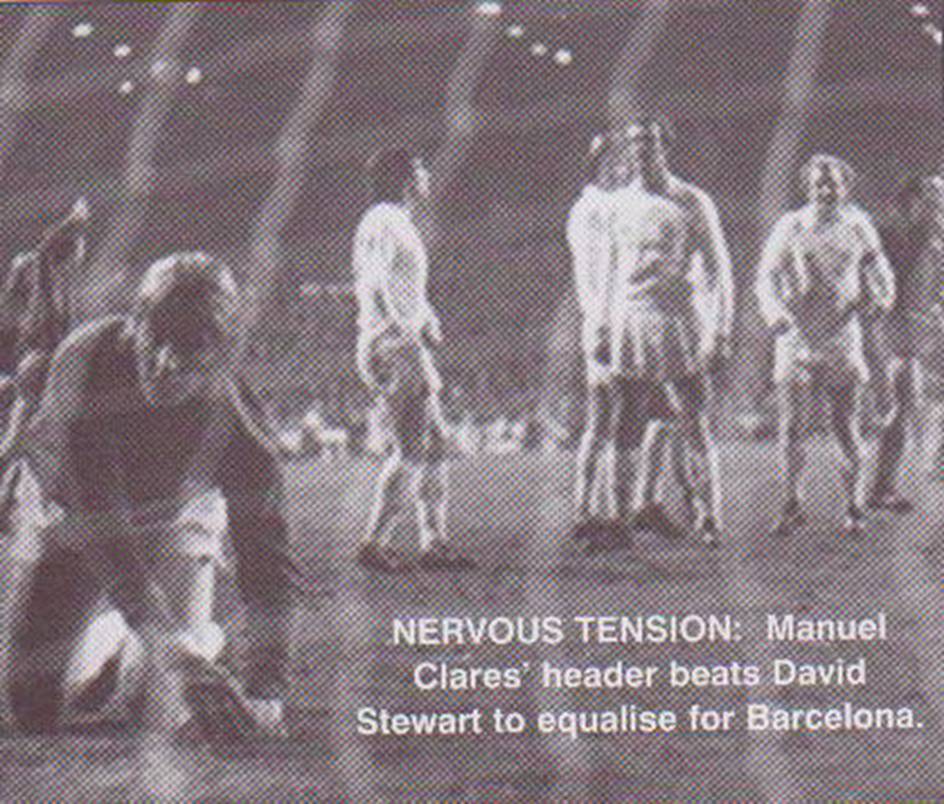 <![endif]>
<![if !vml]>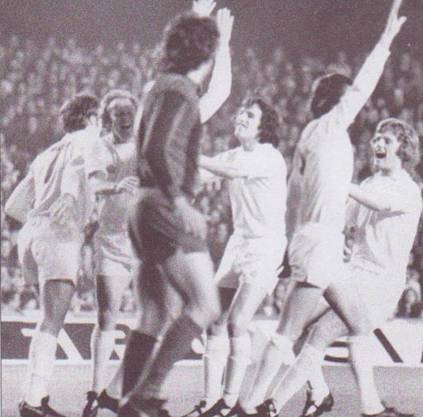 <![endif]> <![if !vml]>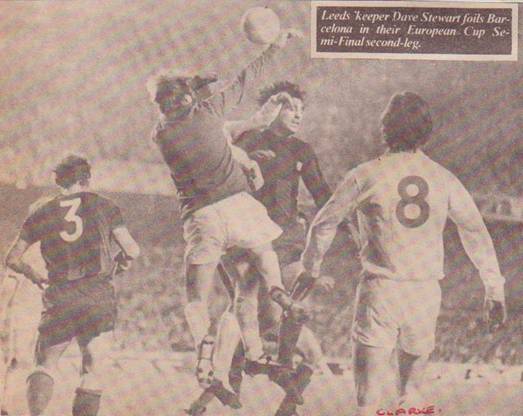 <![endif]>
United celebrate Peter Lorimers's goal                                           David Stewart wins the ball in the air watched by Allan Clarke
<![if !vml]>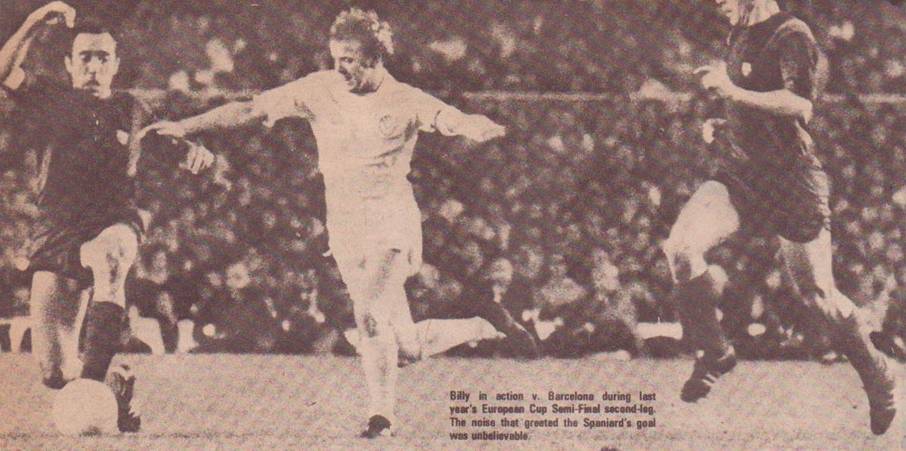 <![endif]> 
<![if !vml]>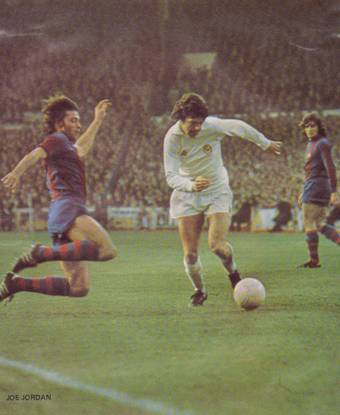 <![endif]> <![if !vml]>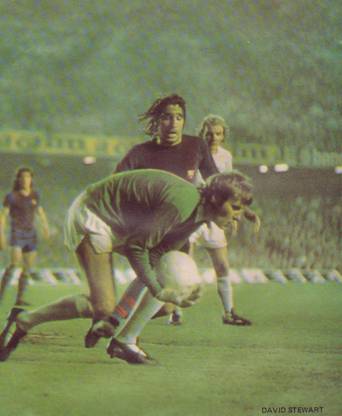 <![endif]> <![if !vml]>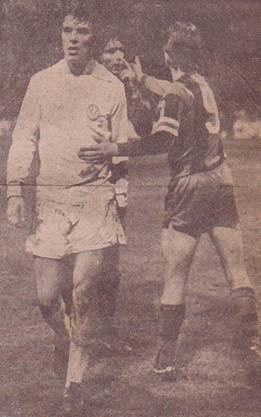 <![endif]>
Joe Jordan                                                                    David Stewart made several good saves                    Johann Cruyff congratulates Joe Jordan
<![if !vml]>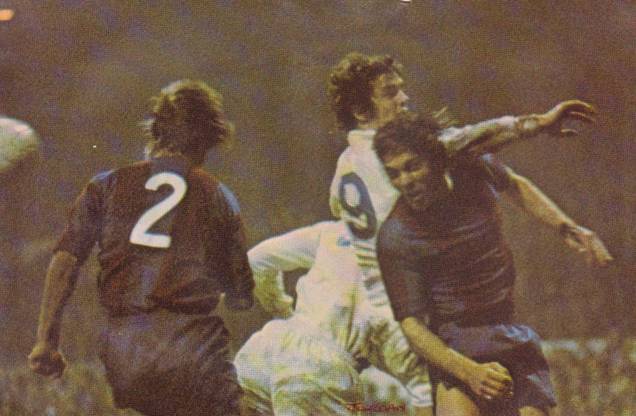 <![endif]> <![if !vml]>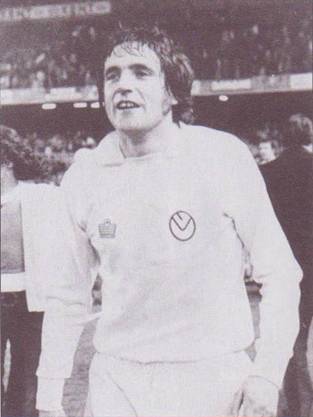 <![endif]>
Joe Jordan finds it hard going                                                                                                               Norman Hunter at the Nou Camp
<![if !vml]>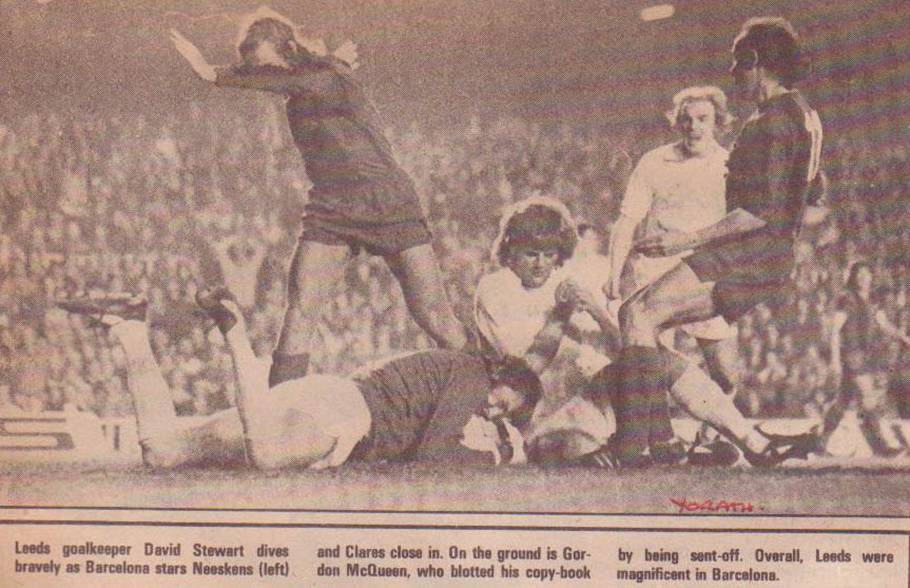 <![endif]> 
<![if !vml]>
<![endif]>
Billy Bremner clears on the line from Johann Cruyff
<![if !vml]>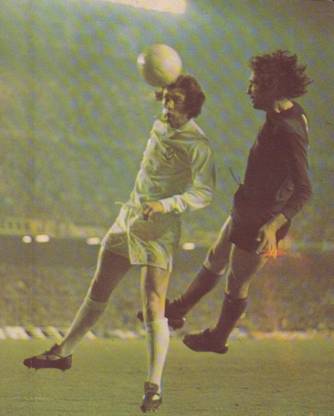 <![endif]> <![if !vml]>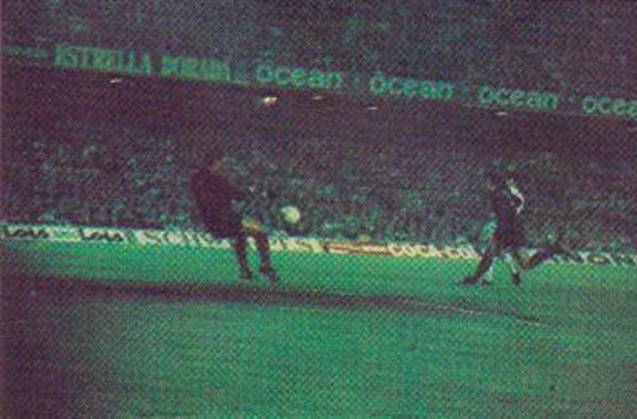 <![endif]>
Trevor Cherry beats Herredia in the air                    Peter Lorimer scores the Leeds goal at Barcelona
<![if !vml]>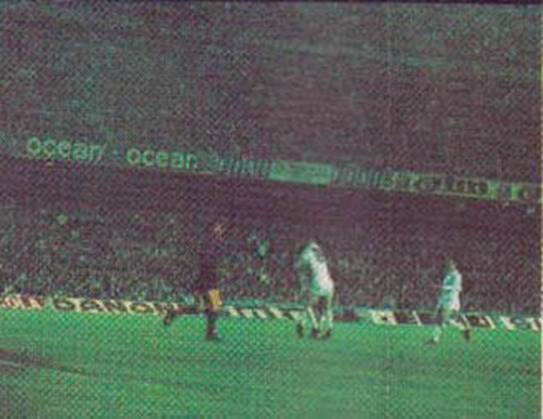 <![endif]> <![if !vml]>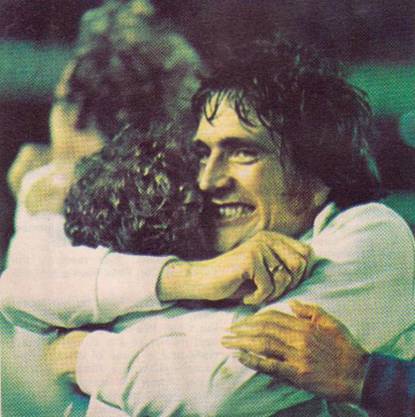 <![endif]> 
United players congratulate Peter Lorimer                                                                   Norman Hunter hugs Billy Bremner at the final whistle
<![if !vml]>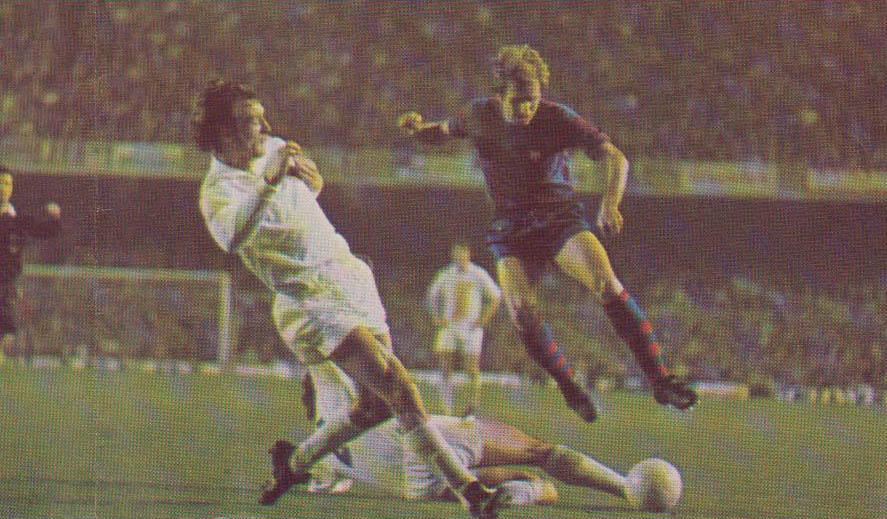 <![endif]>
Paul Madeley wins a tackle to stop a Barcelona attack
<![if !vml]>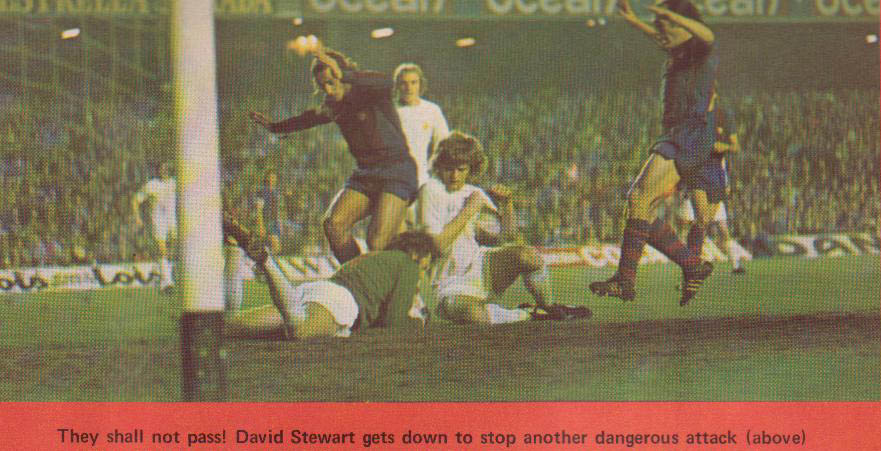 <![endif]>
<![if !vml]>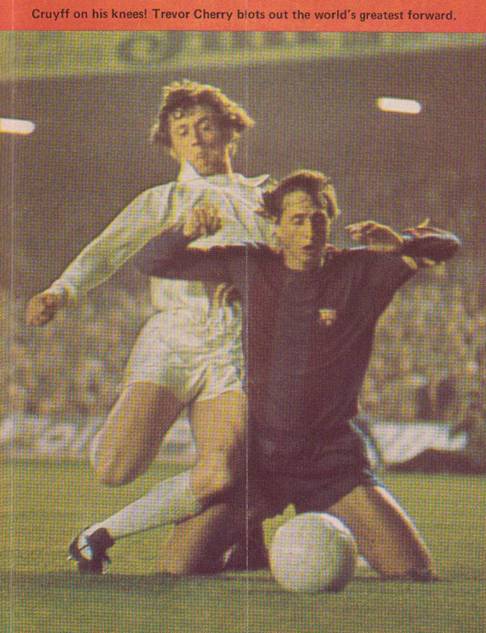 <![endif]>  <![if !vml]>
<![endif]> 
<![if !vml]>
<![endif]>   <![if !vml]>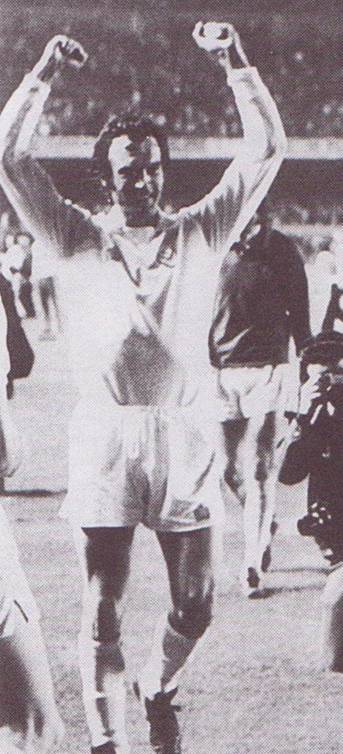 <![endif]>
Billy Bremner and Allan Clarke celebrate             Paul Madeley celebrates at the end of the game
Teams:
<![if !vml]>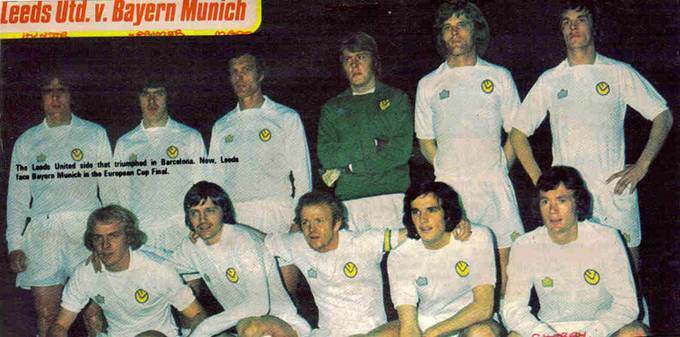 <![endif]>
The Leeds team pose before the match:
Back Row: Norman Hunter, Peter Lorimer, Paul Madeley, David Stewart, Gordon McQueen, Joe Jordan.
Front Row: Terry Yorath, Allan Clarke, Billy Bremner, Frank Gray, Trevor Cherry,
Players:
<![if !vml]>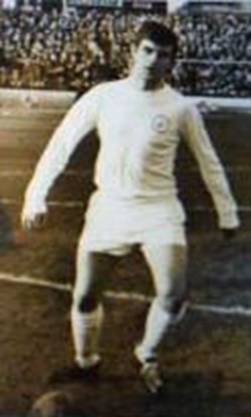 <![endif]>        <![if !vml]>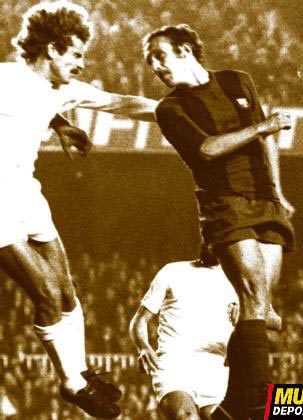 <![endif]>
Peter Lorimer got the important goal          Manuel Clares scored for Barcelona
<![if !vml]>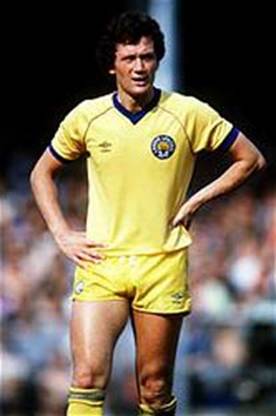 <![endif]> <![if !vml]>
<![endif]>       <![if !vml]>
<![endif]>              
Trevor Cherry man-marked Johan Cruyff instead of Paul Madeley                                Gordon McQueen was sent off