<![if !vml]>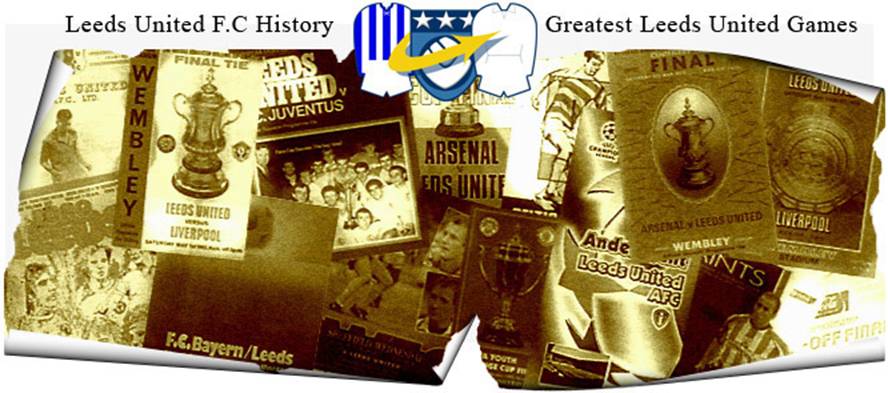 <![endif]>
Date: Saturday, 22nd August 1970.
Venue: Elland Road, Leeds.
Competition: First Division.
Score: Leeds United 3 Everton 2.
Scorers: Leeds United: Giles, Bremner (2). Everton: Brown, Husband.
Attendance: 46,718.
Teams:
<![if !vml]>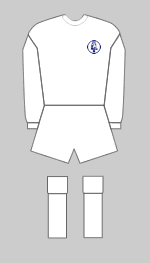 <![endif]>†<![if !vml]>
<![endif]>
Leeds United: Sprake; Madeley, Cooper; Bremner, Charlton, Hunter; Lorimer, Clarke, Jones, Giles, E. Gray.
<![if !vml]>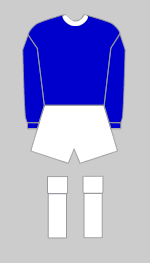 <![endif]>†<![if !vml]>

<![endif]>†
Everton: West; Wright, K. Newton; Kendall, Labone, Brown; Husband, Ball, Royle, Hurst, Morrisey.
Referee: Mr J. Finney (Hereford).
Leeds had made a tremendous start to the season having twice won on their travels, with difficult fixtures at Old Trafford and White Hart Lane, and they were full of confidence for their first home match of the season with reigning champions Everton and were unchanged for the third successive game.
Everton manager Harry Catterick had proclaimed his faith in playing open attacking football and, as it had taken his team to the championship in the previous season, he did not propose to abandon such enterprising tactics. So it came as no surprise when Everton came out to make a game of it and both teams made it clear they were going for goals and would use all the skills and artistry of their talented players to do so.
It was Everton that struck first, after half an hour, and the goal came via an indirect free-kick that Leeds had conceded inside their penalty box. Sandy Brown was standing virtually unmarked, when Alan Ball took the kick, and from twelve or so yards the Scot gave the unsighted Gary Sprake no chance of saving the shot. Evertonís lead lasted only five minutes and, when Brian Labone misplaced a pass, Mick Jones pounced on it and fed Johnny Giles and the Irishman gleefully put the ball out of Gordon Westís reach for the equaliser.
Leeds, heartened by the quick equaliser, really went at the Everton defence and their back-four took a grilling as they sought to stem the United attacks. However, in spite of all the pressure that Leeds exerted, Everton not only survived but broke away to regain the lead on the stroke of half-time. Howard Kendall took the ball from midfield and gave Jimmy Husband the chance to get in a header from his precise cross, and Everton went into the break with their tails up.
There was no change in the score until fifteen minutes into the second half when Keith Newton miscued a headed clearance straight to the feet of Billy Bremner and in one swift movement the little Scot had the ball under control to shoot past the helpless Gordon West. So once again it was level-pegging and the fight was on for the winner. Cooper flashed down the left wing on one of his many forays, but his final shot was inches wide. In reply Alan Ball rapped in a fierce shot but his own man, Jimmy Husband, got in the shotís goal-bound flight and it cannoned to safety.
With barely ten minutes remaining Peter Lorimer tried his luck, but his shot was miscued and off target but by good fortune the ball fell to Billy Bremner. Although he was quickly closed down by the Everton defenders, he managed to swivel and let fly with a shot that Gordon West could not stop. It was the end of the scoring, United had triumphed 3-2 and it was six points out of six and United were leaving their challengers in their wake.
<![if !vml]>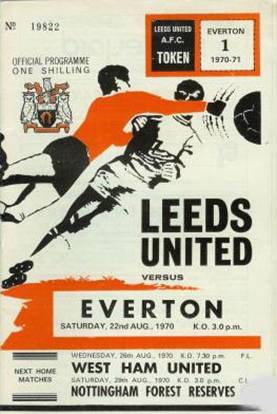 <![endif]>
Teams:
<![if !vml]>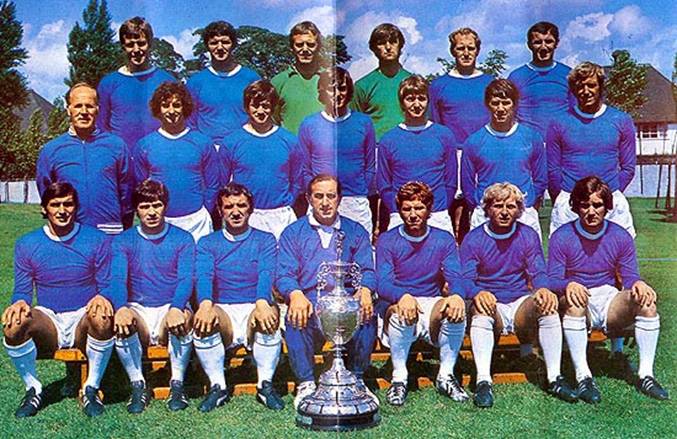 <![endif]>
Everton 1970-71 with Football League Trophy won in 1969-70:
Back Row: Joe Royle, Brian Labone, Gordon West, Andy Rankin, Sandy Brown, Terry Darracott.
Middle Row: Wilf Dixon (Trainer), Colin Harvey , Tommy Wright, Roger Kenyon, David Johnson ,
Howard Kendall, Keith Newton.
Front Row: John Hurst, Tommy Jackson, Johnny Morrisey, Harry Catterick (Manager),
Alan Ball, Alan Whittle, Jimmy Husband.
<![if !vml]>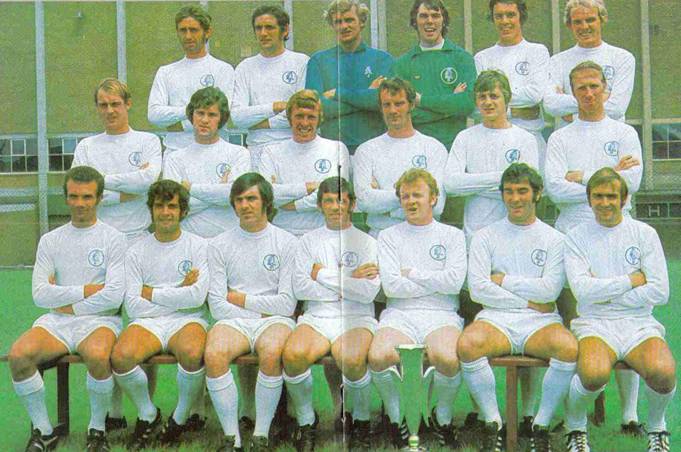 <![endif]>
LeedsUnited 1970-71:
Back Row: Rod Belfitt, Norman Hunter, Gary Sprake, David Harvey, Joe Jordan, Terry Yorath.
Middle Row: John Faulkner, Chris Galvin, Mick Jones, Paul Madeley, Alan Clarke, Jack Charlton.
Front Row: Paul Reaney, Mick Bates, Peter Lorimer, Johnny Giles, Billy Bremner, Nigel Davey,
Terry Cooper.
Players:
<![if !vml]>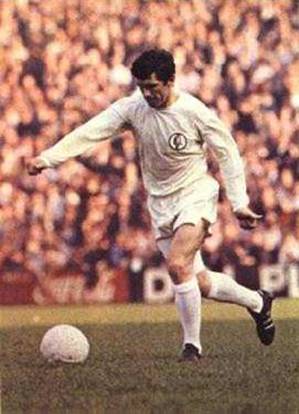 <![endif]>†<![if !vml]>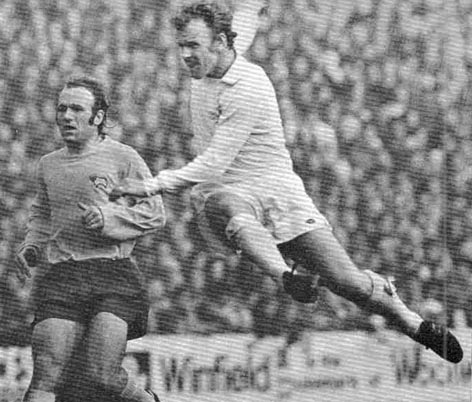 <![endif]>
Johnny Giles and Billy Bremner (2) scored for Leeds.
<![if !vml]>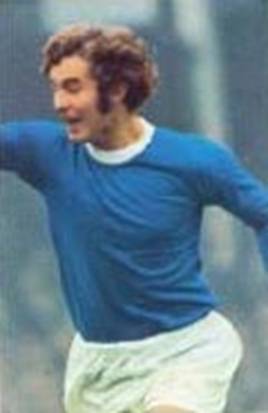 <![endif]>†<![if !vml]>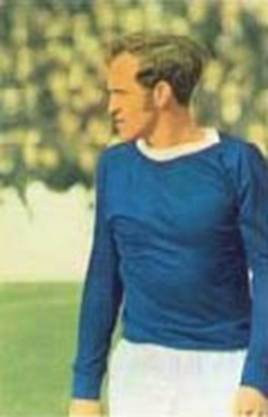 <![endif]>
Jimmy Husband and Sandy Brown scored for Everton