<![if !vml]>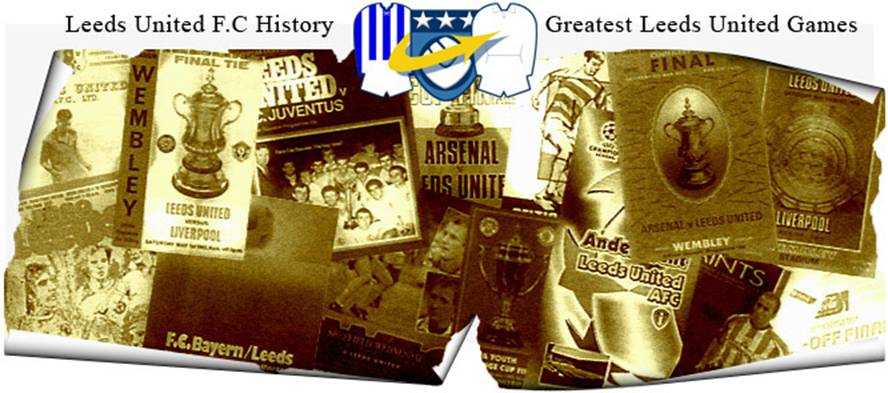 <![endif]>
Date: Wednesday, 22nd March 1967.
Venue: Stadio Comunale, Bologna Italy.
Competition: Inter-Cities Fairs Cup, Fourth Round, First Leg.
Score: Bologna 1 Leeds United 0.
Scorers: Bologna: Nielsen. Leeds United: Nil.
Attendance: 20,000.
Teams:
<![if !vml]>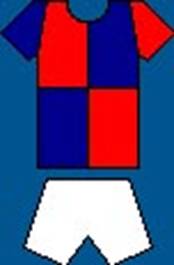 <![endif]> <![if !vml]>

<![endif]>
Bologna: Vasassori; Roversi, Ardizzon; Tumbarus, Janich, Fogli; Turra, Bulgarelli, Nielson, Haller, Pascutti.
<![if !vml]>
<![endif]> <![if !vml]>
<![endif]> 
Leeds United: Sprake; Reaney, Bell; Bremner, Charlton, Hunter; Lorimer, Belfitt, Madeley, Giles, Cooper.
Referee: Gerhard Schulenburg (West Germany).
United had a hectic build up for the game, having survived an epic three game FA Cup Fifth Round encounter with Sunderland which took place on the eleventh, fifteenth and Twentieth of March and sandwiched in between on the eighteenth there had been a home league encounter with Manchester City. United had stayed overnight in Hull, after finally winning their FA Cup tie at the third attempt, and set off for Bologna at 5.30 the next morning. A charter flights from Brough to Luton and a nine hundred mile flight to Forli was followed by a forty mile road journey to Bologna. The weary troops then had lunch and went to bed in preparation for the game.
Bologna were a strong side having won the Italian League in 1963-64 and could usually be found on the fringes of the championship contenders. In their ranks they had some fine players with Helmut Haller, the German World Cup Star and Danish International Harald Nielsen being the most famous, but there were also Italian internationals Giacomo Bulgarelli, Ezio Pascutti, Francesco Janich, Romano Fogli, Marino Parani and Paride Tumbarus. United had the versatile Paul Madeley nominally up front with Rod Belfitt with Jimmy Greenhoff rested.
United had gone from a very taxing FA Cup tie to the pressure cooker atmosphere of an away fixture with a top Italian club who were favourites to progress to the Semi-Finals of Europe's second most prestigious, and hardest-to-win Cup. The European Cup at that time was only for the champions of each country, with realistically only a few clubs likely to win it. The European Cup Winners Cup was for the Cup winners of each country and usually contained clubs who may not have figured highly in their respective leagues, whereas the Inter-Cities Fairs featured three clubs from each country who had finished in the top few positions of their respective leagues and the other teams still in the quarter finals were Eintracht Frankfurt, Burnley (Who had qualified by being third in the league, with the same points as United), Juventus, Dinamo Zagreb, Leipzig and Kilmarnock (Scottish Champions in 1965).
There were problems staging the fixture due to United's on-going FA Cup-tie with Sunderland which was finally settled after two replays. United asked for a postponement of the Fairs Cup-tie, but Bologna who were already out of the Italian Cup and out of contention for the Italian League had any the Fairs Cup as an avenue for European qualification and so rejected the idea. Confident that games under the FA took precedent over those in Europe they suggested 5th April 1967 as a fair date for the meeting. This was rejected by Bologna who wanted a free week between their games with Inter-Milan on 9th April 1967 and Juventus on 16th April 1967. The Fairs Cup Committee decided in favour of the Italians. There was talk of United fielding a Reserve team in the Italian leg and hoping that they could overcome any deficit in the home leg when they could field a full team. Pending the outcome of the Sunderland game at Boothferry Park, Don Revie had penciled in Derek Edmunds, Bobby Sibbald, Ian Kerray, James Craggs, Jimmy Lumsden, Paul Mundell, Nigel Davey, Maurice Parkin, Dennis Hawkins, Willie Waddell, Prgram, David Walls, Steve Briggs and Alan Peacock who was recovering from a leg injury. But in the end United played three games in five days against Sunderland on the Monday, Bologna on the Wednesday and Blackpool on Good Friday.
Despite all the things which conspired against them, United could hold their heads high and the 1-0 defeat, in the circumstances, was a fine achievement. Billy Bremner and Johnny Giles both gave world-class performances in midfield and Goalkeeper Gary Sprake was again in top form and it was sad that the defence had to concede a goal in the sixty-third minute as they had defended valiantly against a team sprinkled with world class players and so many internationals. Bologna were the dominant team constantly pressing and a free-kick from Romano Folgi was headed by Jack Charlton but unfortunately it hit Norman Hunter's back and ricocheted goal-wards and in the ensuing melee Harald Nielsen managed to score. United hit back with wave upon wave of attacks but the Bologna defence with Francesco Janich at its heart held firm. Helmut Haller hit the bar with virtually the last kick of the game, which would have possibly put the game beyond United had ir found its mark. Bologna Coach Luis Carniglia was full of praise for the United team but maintained his side would win at Elland Road, While Don Revie commented "Considering the hard Cup-tie with Sunderland, the travel and lack of sleep, I thought the players did magnificently."
Teams:
<![if !vml]>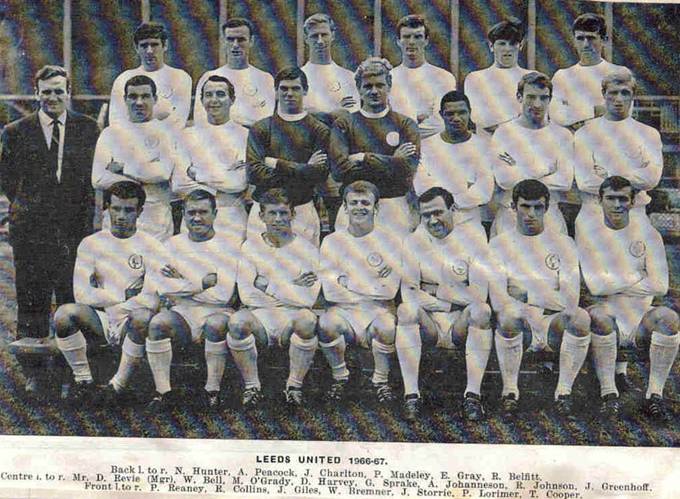 <![endif]>
<![if !vml]>
<![endif]>
<![if !vml]>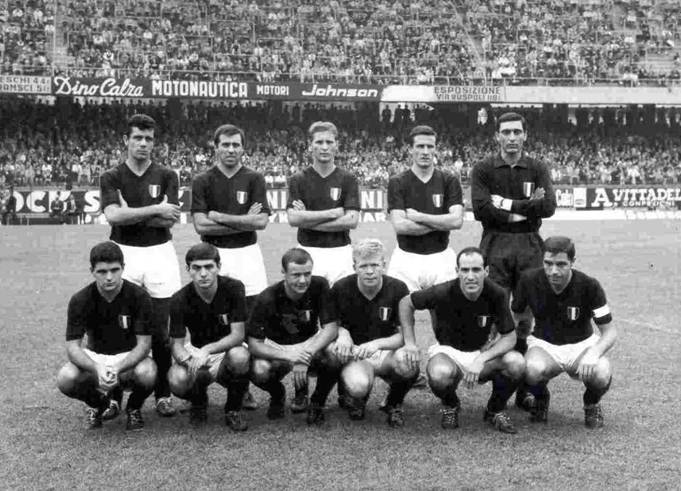 <![endif]>
Bologna 1966-67:
Back Row: Janich, Tumbarus, Furlanis, Fogli, Vavasorri.
Front Row: Parani, Bulgarelli, Nielson, Haller, Pascutti, Ardizzon.
Bologna's Foreign Internationals:
<![if !vml]>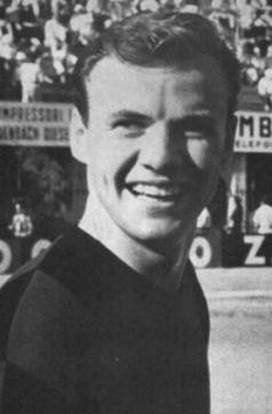 <![endif]> <![if !vml]>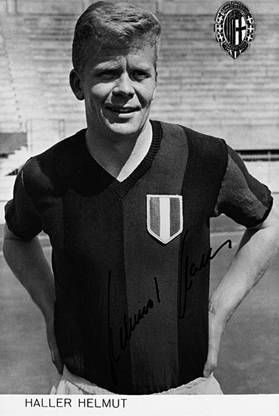 <![endif]>
Danish International Harald Nielson         German International Helmut Haller
Bologna's Italian Internationals:
<![if !vml]>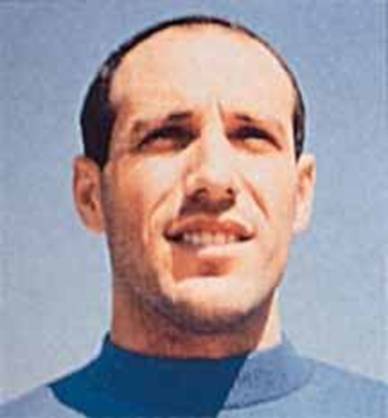 <![endif]> <![if !vml]>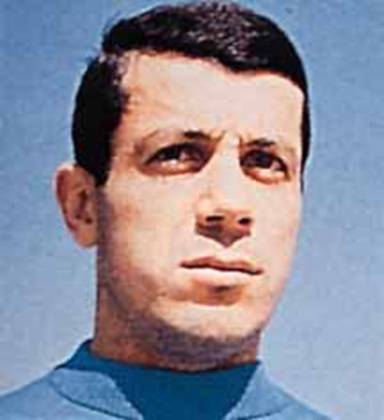 <![endif]> 
Ezio Pascutti                                                                             Francesco Janich
<![if !vml]>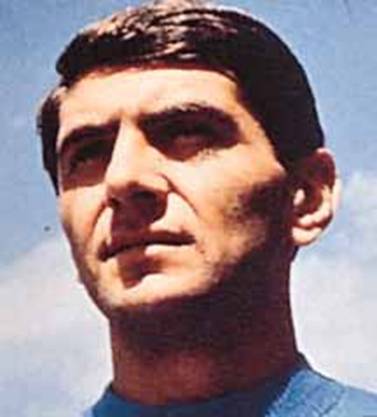 <![endif]> <![if !vml]>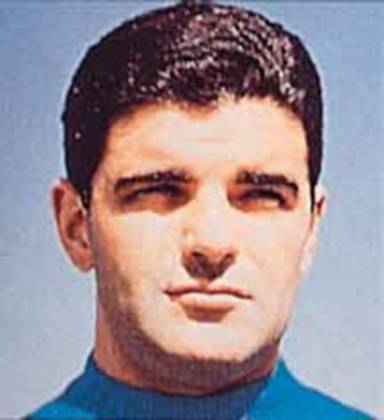 <![endif]>
Giacomo Bulgarelli                                                                Marino Parani
<![if !vml]>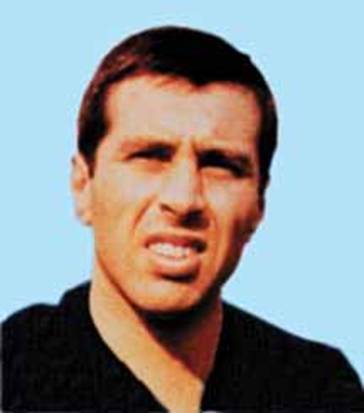 <![endif]> <![if !vml]>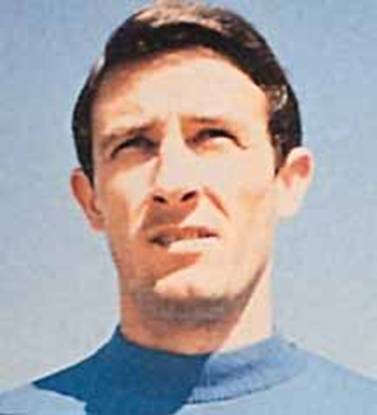 <![endif]>
Paride Tumbarus                                                                Romano Fogli