<![if !vml]>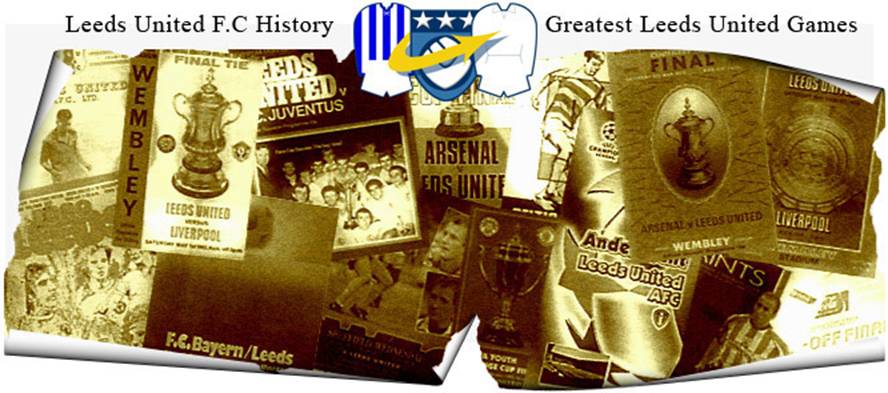 <![endif]>
Date: Sunday, 21st December 1986.
Venue: Victoria Ground, Stoke-on-Trent.
Competition: Second Division.
Score: Stoke City 7 Leeds United 2.
Scorers: Stoke City: Morgan (3), Saunders, Dixon, Kelly, Ford. Leeds United: Baird, Sheridan (pen).
Attendance: 12,358.
Teams:
<![if !vml]>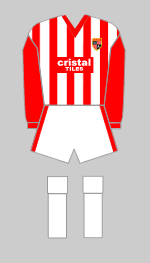 <![endif]><![if !vml]>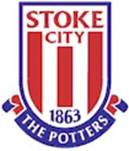 <![endif]>
Stoke City: Fox; Dixon, Parkin; Talbot, Bould, Berry; Ford, Kelly (Bertschin), Morgan, Saunders, Heath.
<![if !vml]>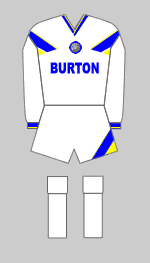 <![endif]><![if !vml]>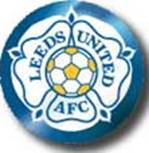 <![endif]>
Leeds United: Day, Aspin, Robinson (Ritchie); Thompson, Ashurst, Swan; Doig, Sheridan, Baird, Edwards, Rennie.
Referee: Mr. I.S. Hemley
Stoke City's Victoria Ground was an unlikely graveyard for Leeds United. It was the venue for United's heaviest ever league defeat, an 8-1 rout on August 27, 1934, and their trips to Staffordshire have had a habit of throwing up unexpected and painful results. The opening weeks of the 1985-86 second division term saw Leeds crushed 6-2 at Stoke, and when manager Billy Bremner led the Elland Road club back to the Victoria Ground shortly before Christmas the following season, he may have planned to exact a measure of revenge.
<![if !supportLineBreakNewLine]>
<![endif]>
United were in the middle of a promotion challenge which ultimately ended in failure, and their mediocre form away from home would prove to be their Achilles heel by the end of the season. Leeds lost ten times on the road, and no defeat was more galling for Bremner than their 7-2 hammering at the hands of Stoke.
<![if !supportLineBreakNewLine]>
<![endif]>
The performance was written off as "miserably inadequate, spineless and embarrassing" by the Yorkshire Evening Post, an assessment which would have prompted few arguments from Bremner or his players. With Brendan Ormsby, Ian Snodin and John Stiles missing Leeds were second best from the moment Stoke took the lead through Nicky Morgan in the sixth minute, and the visitors appeared utterly dejected by the time Morgan completed his hat-trick and City's scoring exploits with nineteen minutes to go. The striker began City's impressive victory when John Sheridan's misplaced pass allowed him to drive home an angled shot following a quick attack involving Brian Talbot and George Berry.
<![if !supportLineBreakNewLine]>
<![endif]>
When Mervyn Day fumbled a shot from Phil Heath moments later, Carl Saunders ran in to finish off an easy chance and Stoke began to sense a famous victory in the making. Their lead was increased to 3-0 on twenty-two minutes through an overhead kick from Lee Dixon, a £40,000 signing from Bury during the summer of 1986, and a future star of George Graham's Arsenal. Only two brilliant saves from Day prevented City from reaching the half-hour mark with five goals to their name. But Day was left helpless as Morgan claimed his second despite a strong hint of offside, and a well-placed free-kick from Tony Kelly buried Leeds beneath a 5-0 deficit at the break.
<![if !supportLineBreakNewLine]>
<![endif]>
"This is something I've never experienced in my long career in the game," said Stoke boss Mick Mills, and doubtless Bremner felt the same. United's boss had the chance to rally his players at half-time, and their order was temporarily restored as Ian Baird found the net six minutes after the restart. Stoke, however, continued to press and United's revival was brief. Tony Ford fired home a sixth goal for the home side on the hour, and Morgan was in the perfect position to round off his treble ten minutes later.
<![if !supportLineBreakNewLine]>
<![endif]>
John Sheridan replied from the penalty spot after Lee Dixon was penalised for handball, but his finish was academic by the time it flew into the net, and United's players were happy to make a rapid escape when referee Ian Hemsley ended their humiliation with the final whistle.
Bremner said, "I was ashamed that a team of mine could be so lacking in enthusiasm, commitment and effort. Frankly it was humiliating and there was just no excuse for it." Bremner called a players meeting to have a heart to heart with them in a bid to learn from the horror of that heavy defeat. After such a reverse there was only one way for United to go, and that was up. To their credit they got their act together and finish fourth and qualified for the play-offs as well as reaching the FA Cup semi-final.
Alternate Reports (Courtesy Mark Ledgard)
Brief summary: Suspension-hit Leeds were over-run by Stoke's demolition team, featuring a hat-trick by new signing Nicky Morgan. Morgan, bought from Portsmouth for £40,000 two weeks previous, struck in the fifth, thirty-fourth and seventy-first minutes. The game was over by half-time, when Stoke were already five-nil ahead. Leeds, obviously missing the suspended midfield duo of Ian Snodin and John Stiles, plus defender Brendan Ormsby, could do nothing to stop them. The glut began after five minutes when Morgan fired home from George Berry's flick, and seven minutes later Carl Sanders slotted home. Lee Dixon scored with a spectacular twenty-first minute overhead kick, Nicky Morgan added his second and then Kelly hit home a free kick a minute before the break. Bewildered Leeds, thrashed 6-2 at the Victoria Ground the previous season, at least made a better fight of the second half, scoring through Ian Baird after fifty minutes and John Sheridan's seventy-second minute penalty. But Stoke's appetite for goals was not satisfied until Tony Ford nipped in for number six and Nicky Morgan completed his hat-trick.
And secondly: The defensive frailties of Leeds United were cruelly exposed on the same ground where they had suffered a 6-2 defeat fifteen months previous. Billy Bremner's shell-shocked side were 5-0 down at half-time, victims of their own uncertainty and a razor sharp Stoke City side pledged to attack. The final score showed that Leeds salvaged some pride with their second-half display but unless they could produce a ring of steel to place round a suspect defence, promotion could be forgotten about for another year. Even the absence of three key players, Ian Snodin, Brendan Ormsby and John Stiles, did not fully explain the lack of understanding which ran through the side.
The catalogue of errors began after six minutes when Stoke, who set off like an express train and never eased up, caused palpitations in the Leeds defence with a wave of attacks, ended when Nicky Morgan drilled the ball home unmarked from ten yards. After twelve minutes Leeds were still gasping for air and it was 2-0. Mervyn Day failed to hold Tony Ford's shot and Carl Saunders was first to the loose ball, firing into an empty net. Five minutes later came another goal. A Stoke free kick from twenty-five yards was blocked by Ian Baird, but the ball took a deflection and spun back into the Leeds area, where Lee Dixon showed superb instinct for a full-back with a spectacular overhead kick which flew over Mervyn Day and just inside the post. Nicky Morgan continued the rout after thirty-four minutes, finishing off a beautiful move involving Lee Dixon and Carl Saunders, although there was a suspicion of off-side. A minute before the interval and the misery for Leeds was complete, but again there was a whiff of controversy as Peter Swan headed the ball down in his own area, it bounced up and struck Nigel Thompson on the hand. The referee ordered a free kick just outside the area. Handball seemed a harsh decision, but if an offence was committed it was certainly a penalty. Mervyn Day lined up the defensive wall but Tony Kelly was able to find a gap inside the left hand post and Leeds were 5-0 down and out.
Leeds had nothing but pride to play for in the second half but they hit back through Ian Baird five minutes after the break as he latched onto a defence-splitting pass by Russell Doig. Andy Ritchie came on for Ronnie Robinson, who had been having a dreadful time against Carl Heath, Tony Ford and Nicky Morgan, but any chances of a Leeds revival were dashed when Tony Ford made it 6-1 in the sixty-third minute. Again one pass was enough to split the Leeds defence wide open, Carl Saunders was the provider and Tony Ford's finishing was clinical. Leeds conceded a free-kick, Tony Kelly floated the ball in and Nicky Morgan completed his personal day of triumph by notching a hat-trick with twenty minutes left. This brought genuine fears that Leeds could be on the end of a double-figures thrashing, but they managed to hold out and John Sheridan pulled another goal back five minutes from time after Lee Dixon was harshly judged to have handled inside the Stoke area. By this time Leeds were grateful for anything that came their way. They could only hope that it was a freak result, one for the record books rather than an accurate form guide.
<![if !vml]>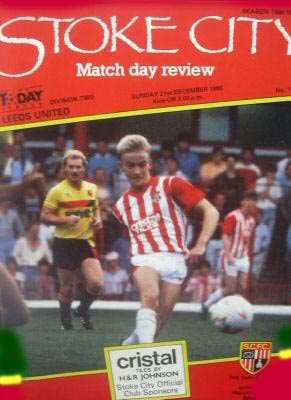 <![endif]>  <![if !vml]>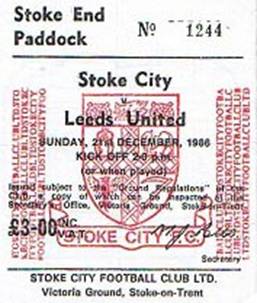 <![endif]>(Ticket Courtesy Mark Ledgard)
Match Action:
<![if !vml]>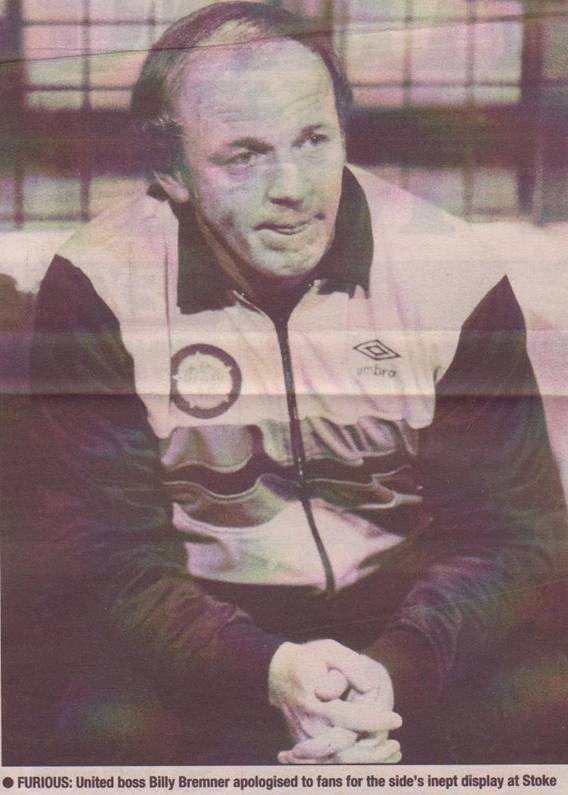 <![endif]>
 <![if !vml]>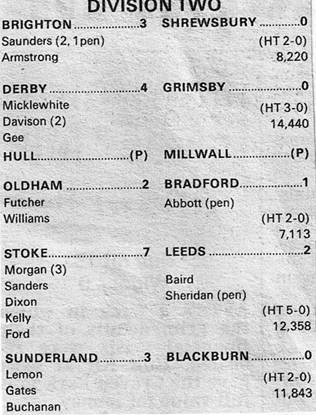 <![endif]> <![if !vml]>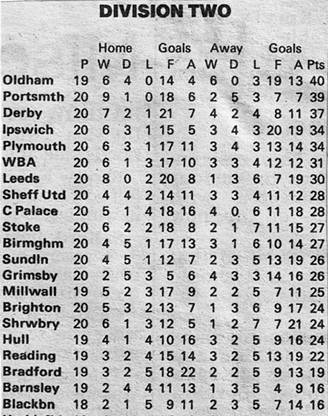 <![endif]> <![if !vml]>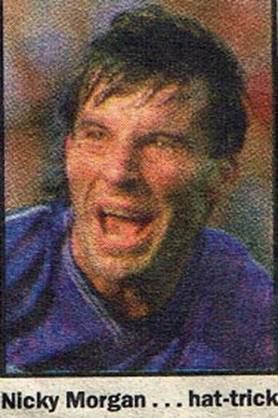 <![endif]>
(Thee items Courtesy Mark Ledgard)
Teams:
<![if !vml]>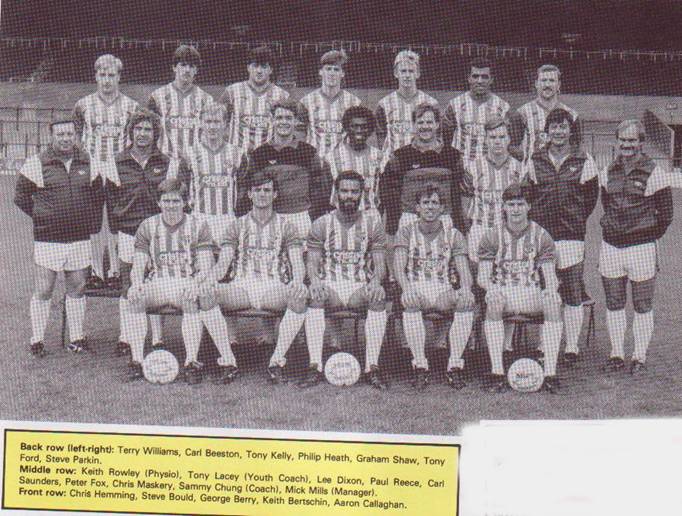 <![endif]>
<![if !vml]>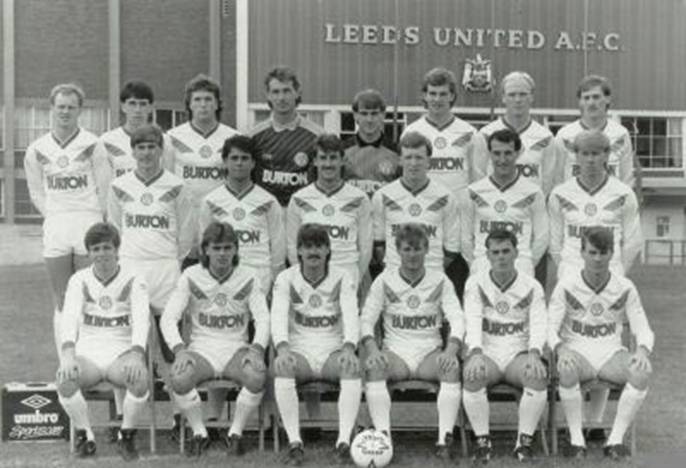 <![endif]>
Leeds United 1986-87:
Back Row: Andy Ritchie, Bob Taylor, Ronnie Robinson, Mervyn Day, Ronnie Sinclair, Peter Swan,
Neil Aspin, Peter Haddock.
Middle Row: Jack Ashurst, Nigel Thompson, Brian Caswell, Brendan Ormsby, David Rennie,
Ian Baird.
Front Row: John Stiles, John Buckley, Ian Snodin, Russell Doig, Tommy Wright, John Sheridan.
Players:
<![if !vml]>

<![endif]> <![if !vml]>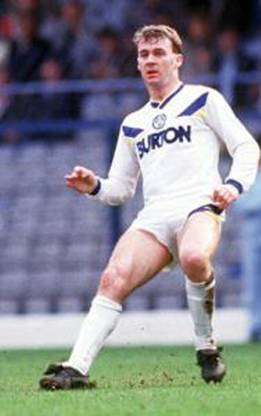 <![endif]> <![if !vml]>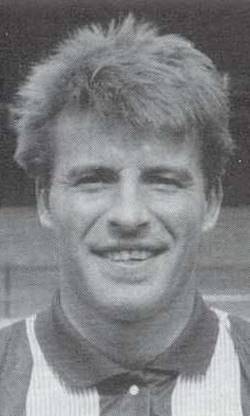 <![endif]> <![if !vml]>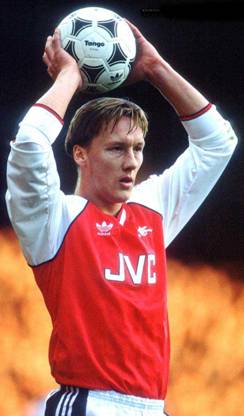 <![endif]>
Ian Baird and a penalty by John Sheridan were the Leeds scorers                       Nicky Morgan (3), Lee Dixon,   
<![if !vml]>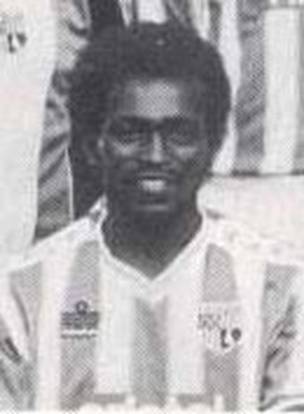 <![endif]>  <![if !vml]>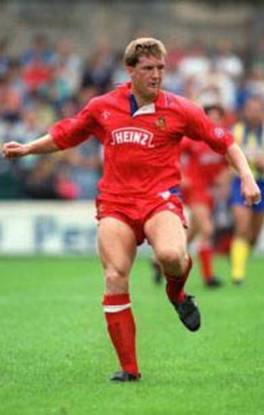 <![endif]> <![if !vml]>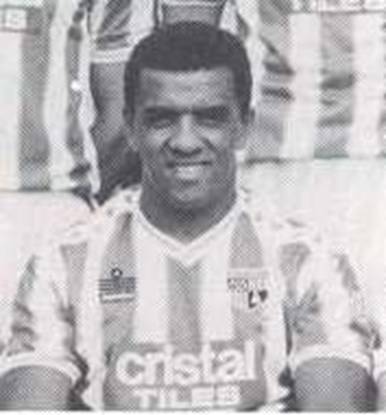 <![endif]>
                                                    Carl Saunders, Tony Kelly and Tony Ford shared the Stoke City goals
<![if !vml]>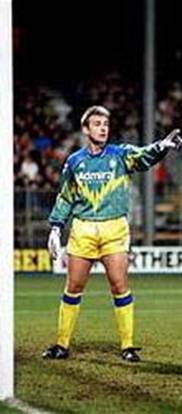 <![endif]> <![if !vml]>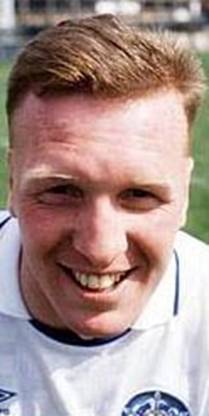 <![endif]> <![if !vml]>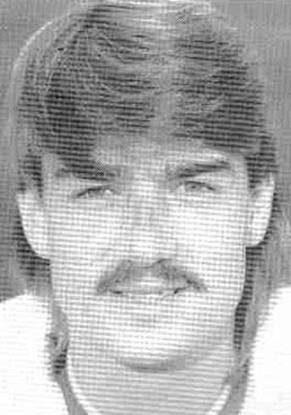 <![endif]> <![if !vml]>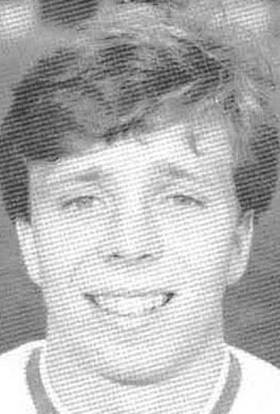 <![endif]>
Mervyn Day saved some                                 Brendan Ormsby, Ian Snodin and John Stiles were all missing
<![if !vml]>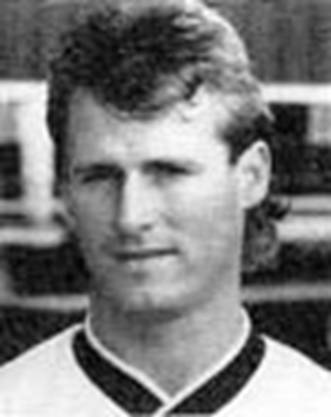 <![endif]>     <![if !vml]>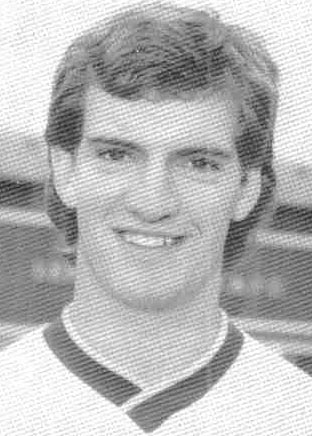 <![endif]> <![if !vml]>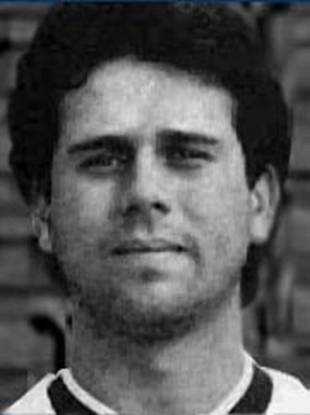 <![endif]> 
 Russell Doig supplied the pass for Ian Baird's goal     Peter Swan and Nigel Thompson were unfortunate leading up to Stoke's fifth goal
<![if !vml]>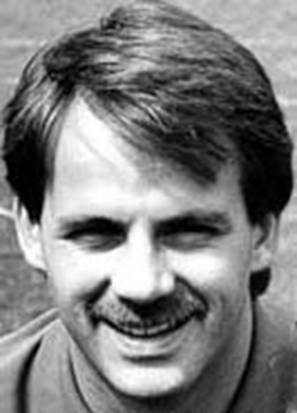 <![endif]>  <![if !vml]>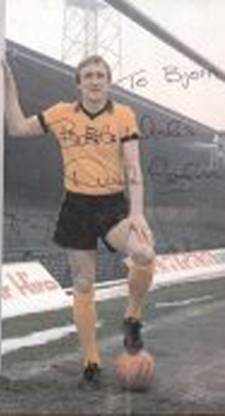 <![endif]>  <![if !vml]>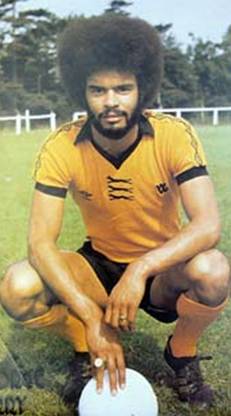 <![endif]> <![if !vml]>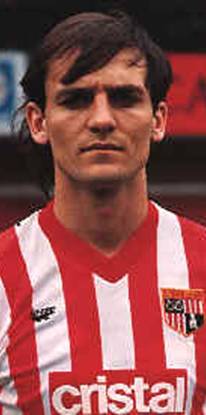 <![endif]>
Peter Fox was in goal                                         Derek Parkin was at left-back        George Berry and Steve Bould were the centre-back pairing
<![if !vml]>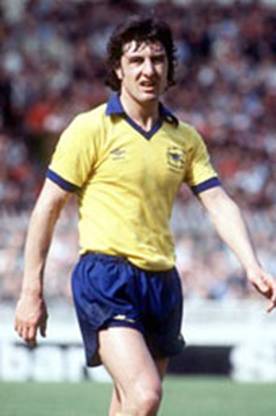 <![endif]>          <![if !vml]>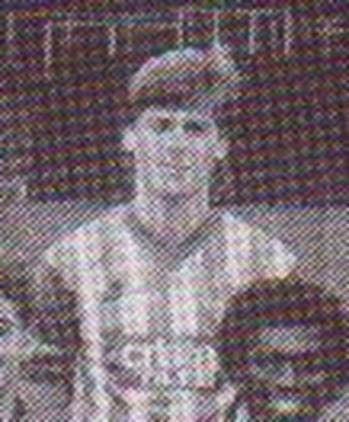 <![endif]>     <![if !vml]>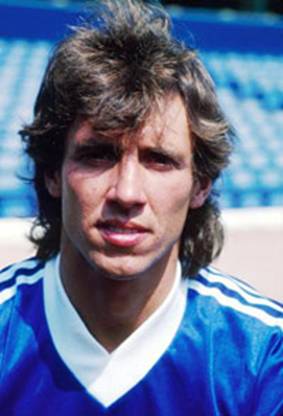 <![endif]>
Brian Talbot was right-half                                   Carl Heath was on the left-wing                                        Keith Bertschin came on as substitute