<![if !vml]>
<![endif]>
Date: Saturday, 21st November 1987.
Venue: Elland Road, Leeds.
Competition: Second Division.
Score: Leeds United 4 Swindon Town 2
Scorers: Leeds United: Rennie, Davison, Taylor, Haddock. Swindon Town: Barnes (2).
Attendance: 15,457.
Teams:
<![if !vml]>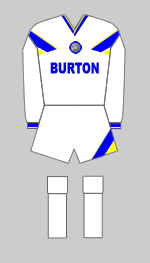 <![endif]><![if !vml]>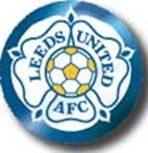 <![endif]>
Leeds United: Day; G. Williams (Stiles), Adams; De Mange, Ashurst, Haddock; Batty, Rennie, Taylor, Davison, G. Snodin.
<![if !vml]>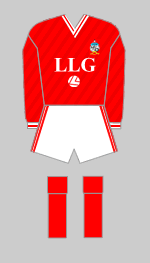 <![endif]><![if !vml]>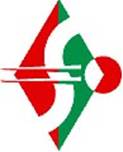 <![endif]>
Swindon Town: Flowers; Hockaday, King (Henry); Coyne, Gittens, Calderwood; Bamber, Bernard, Quinn, O'Regan, Barnes.
Referee: Mr G. Aplin (Kendal).
Bobby Davison went straight into action with Leeds United not even having the chance to train with his new team-mates following a £350,000 transfer from Derby County. However, he was confident he would settle in without difficulty and, as Swindon Town found out to their cost, he did just that. He marked his debut for United with a goal in a 4-2 Second Division success at Elland Road on 21st November 1987.
United had just lost valuable ground in the promotion hunt and the pressure was on the twenty-eight-year-old Davison to deliver the goods from the word go. "The pressure does not bother me. I have always scored my fair share of goals and I would hope to make a quick impact either by scoring goals or making them for someone else," he said before his debut game.
As things turned out Davison had to share centre stage with David Batty, who made a big impression on his league debut. The eighteen-year-old former Leeds City schoolboy player brought youthful exuberance, aggression, some pace and no little skill to the side as he marked his league debut with a high degree of distinction.
After a defeat at Millwall Billy Bremner's side badly needed to beat Swindon and they got off to a good start when a Gary Williams corner was flicked on by Jack Ashurst to Bob Taylor, whose shot was turned in by David Rennie. In the twenty-fifth minute, and from another corner, Bobby Davison got into position to lash in his debut day goal for Leeds. Ten minutes later United went three goals up when Taylor scored with a rising shot at the far post from Glynn Snodin's centre.
United had the game by the scruff of the neck but, as in some of their other recent matches, they allowed the supremacy to be snatched from them and Swindon midfield man Bobby Barnes scored in the fortieth and seventy-seventh minutes. For a while United looked insecure and with the score-line at 3-2 there were rumblings amongst the crowd of 15,457 and it took a piece of ice-cool brilliance from Peter Haddock to settle the issue. The former Newcastle United player was given a tremendous ovation when he slotted in his first senior goal. After exchanging passes with a collegue he raced on, checked his stride and then dummied two defenders before stylishly beating Swindon goalkeeper Tim Flowers with just six minutes of the match remaining.
Alternative Report: (Courtesy Mark Ledgard)
From the YEP: Homecoming for Bobby Davison turned out to be just what the doctor ordered. Leeds United's new £350,000, an influenza victim for most of the week, returned to Yorkshire football with a display that lifted the ailing promotion hopes of his new club. Davison, who completed his move from Derby County the following Monday, started life as a goal-scorer with Huddersfield Town and Halifax Town, and on his comeback to the county it took him just one hundred seconds to make his first impression on Leeds as they turned on a performance which, in parts, was as commanding as anything they had produced under Billy Bremner's guidance. The twenty-eight-year-old forward finished a tire man though. "I had not trained since Monday apart from a short run out with the Leeds coach on Friday because I had been in bed with influenza so I was feeling tired in the last twenty minutes, especially when they got their second goal," he said. Swindon and Bobby Barnes' second goal came with thirteen minutes left and threatened to undermine a scintillating opening from Leeds during which they had swept into a three goal lead. At 3-2 there were rumblings among the 15,457 crowd about a repeat of the match against Bournemouth a month previous when Leeds had all but lost a three goal lead. But Peter Haddock came up with the perfect answer. He claimed his first goal since arriving from Newcastle United over a year previous with the kind of cool execution that Davison would have been proud of. "There is a lot of experience here. We just have to keep our heads down, keep making the chances and I am sure we will do well," said Davison.
Davison set up the shooting chance which brought Leeds' first corner inside two minutes and from the corner Leeds swept ahead after Bob Taylor's fierce shot was helped on into the net from close in by David Rennie, in under two minutes, Leeds' fastest goal of the season. From about the same spot five yards out twenty-three minutes later, Davison lashed in his debut goal, this time with David Rennie as the supplier after a corner. The two goals sandwiched a series of exciting shots from the nineteen-year-old debutant David Batty, whose commitment and running from midfield brought back memories of a young Billy Bremner, as he helped to bring a balance to the Leeds side not often seen in that campaign. Then when Bob Taylor highlighted his fine show with a first time volley for the third goal in the thirty-fifth minute, it seemed as if there was no way back for Swindon. But the side that arrived from the Third Division at the beginning of the season showed they were resilient and after pulling back one goal with a far post ten yard prod from Bobby Barnes just before the break, they gave Leeds a tormenting time until they got their second after seventy-seven minutes. During Swindon's dominance Leeds had Mervyn Day to thank for keeping the sides apart on two occasions in particular. First he stopped Jimmy Quinn's attempt to keep ahead of the Second Division scoring pack with a full length dive though badly unsighted. Then he smothered Peter Coyne's charge on goal after a slip by David Rennie. He nearly stopped Swindon's second goal, too, but after two efforts had been blocked Day was unprotected as Bobby Barnes swept the ball in from close range. Peter Haddock's response was to swap passes with John Stiles before calmly drifting past two defenders to shoot in from ten yards.
<![if !vml]>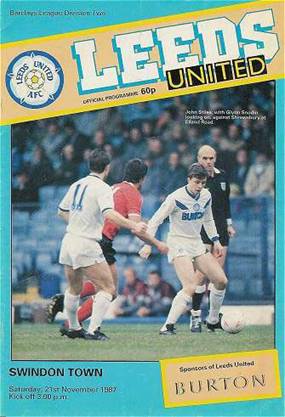 <![endif]>
Match Action: (Courtesy Mark Ledgard)
<![if !vml]>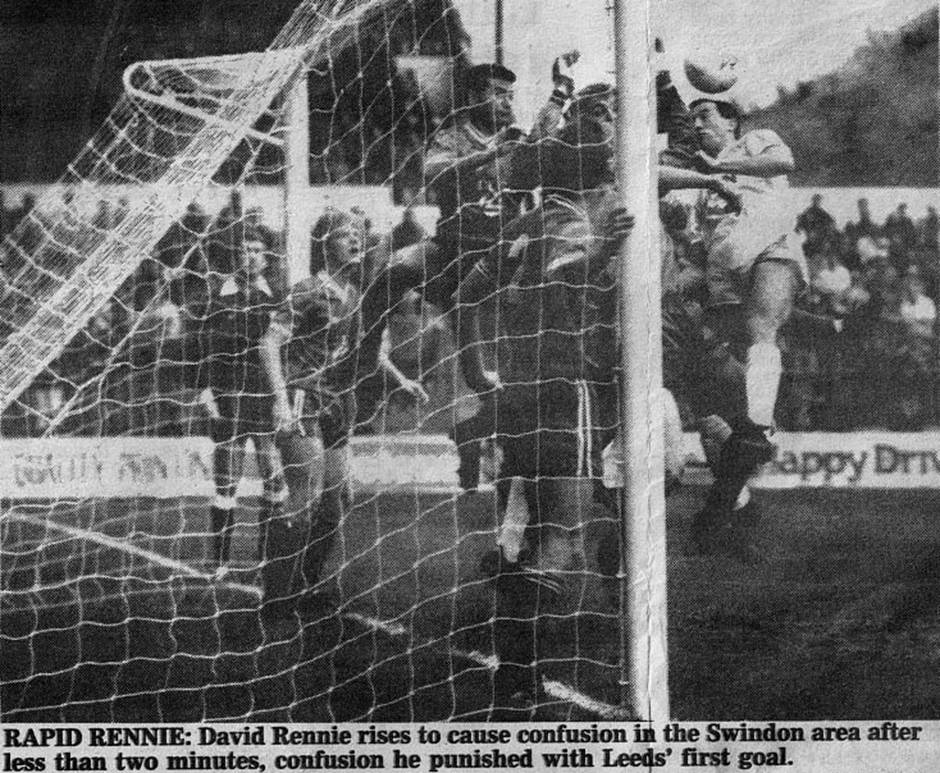 <![endif]>
<![if !vml]>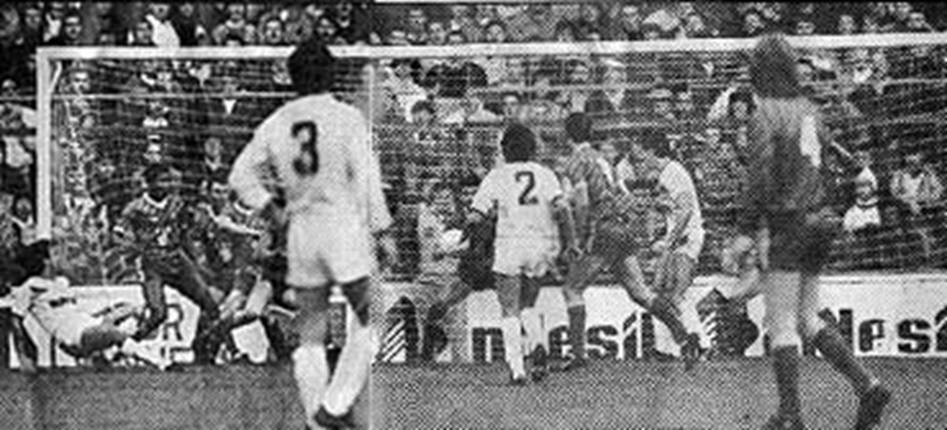 <![endif]>
Bobby Davison scores United's second goal and his first for the club on debut.
<![if !vml]>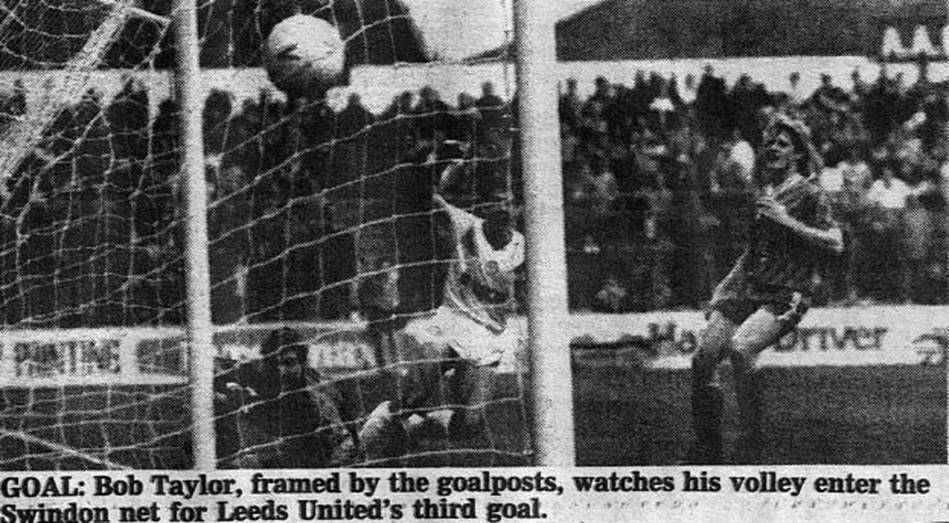 <![endif]>
<![if !vml]>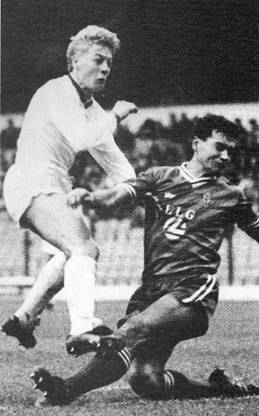 <![endif]> <![if !vml]>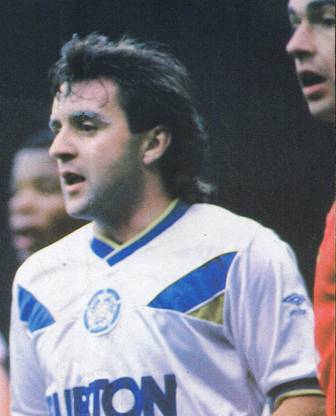 <![endif]> <![if !vml]>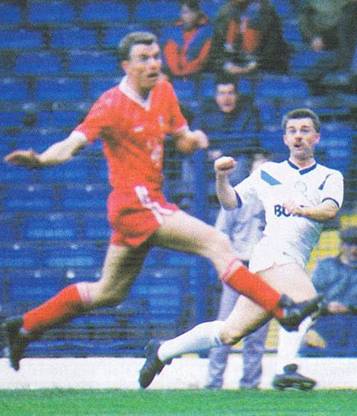 <![endif]>
Debut boys David Batty and Bobby Davison in the action                                                        Glynn Snodin gets in a telling cross
<![if !vml]>

<![endif]>
Teams:
<![if !vml]>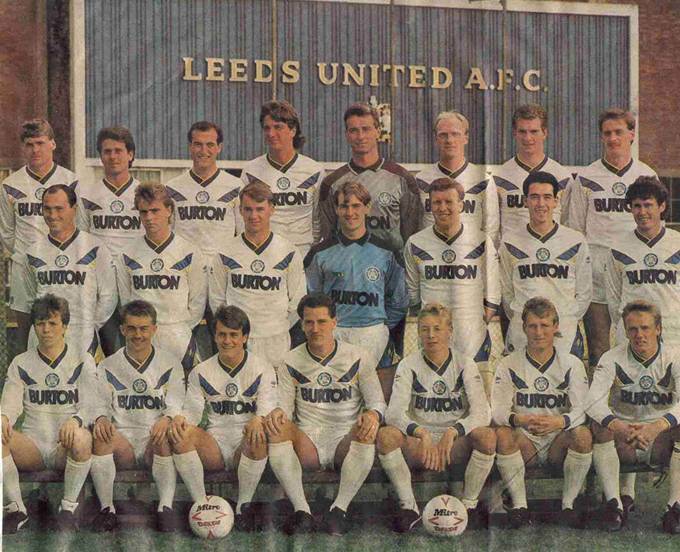 <![endif]>
Leeds United 1987-88:
Back Row: Jack Ashurst, Nigel Thompson, David Rennie, John Pearson, Mervyn Day, Neil Aspin,
Peter Swan, Peter Haddock.
Middle Row: Bobby McDonald, John Buckley, John Sheridan, Ronnie Sinclair, Brendan Ormsby,
Bob Taylor, Gary Williams.
Front Row: John Stiles, Glynn Snodin, Mickey Adams, Mark Aizlewood, David Batty,
Russell Doig, Keith Edwards.
<![if !vml]>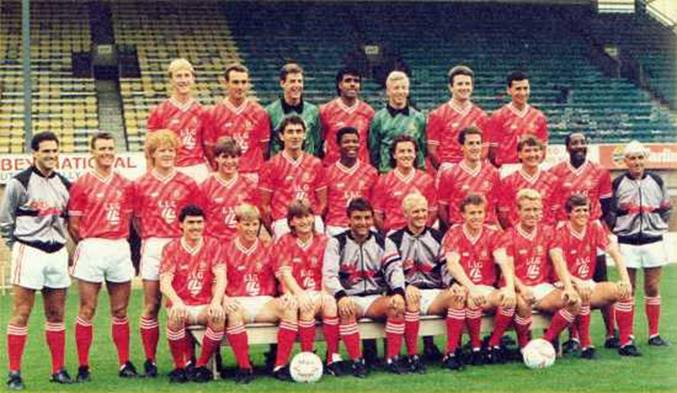 <![endif]>
Swindon Town 1987-88:
Back Row: Tim Parkin, Jimmy Quinn, Fraser Digby, Chris Kamara, Nicky Hammond,
Charlie Henry, Colin Calderwood.
Middle Row: Rowland (Coach), David Hockaday, Phil King, Merriman, Dave Bamber,
Jon Gittens, John Kelly, Steve White, Steve Foley, Chris Ramsey, Morris (Physio).
Front Row: Alan McLoughlin, Bryan Wade, Peter Coyne, Lou Macari (Manager),
John Trollope (Assistant Manager), Steve Berry, Leigh Barnard, Mark Jones.
Players:
<![if !vml]>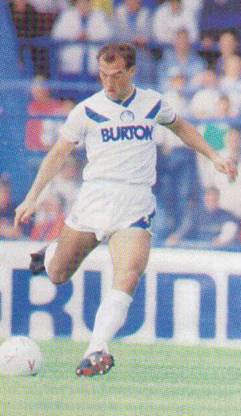 <![endif]> <![if !vml]>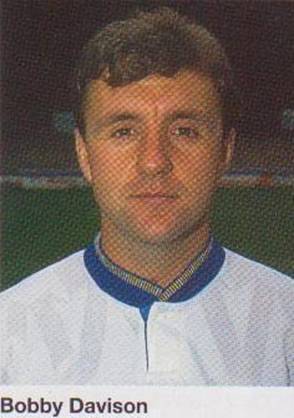 <![endif]> <![if !vml]>
<![endif]> 
                                  The Leeds goals were scored by David Rennie, Bobby Davison, Bob Taylor
<![if !vml]>
<![endif]> <![if !vml]>
<![endif]>   <![if !vml]>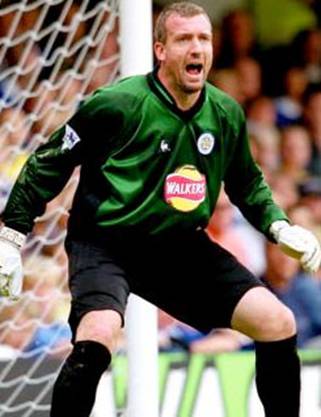 <![endif]>
and Peter Haddock                                            Bobby Barnes scored both goals for Swindon   Tim Flowers later became an England goalkeeper
<![if !vml]>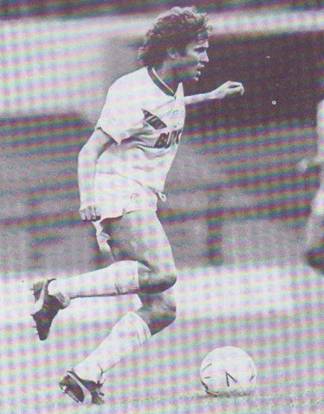 <![endif]>                 <![if !vml]>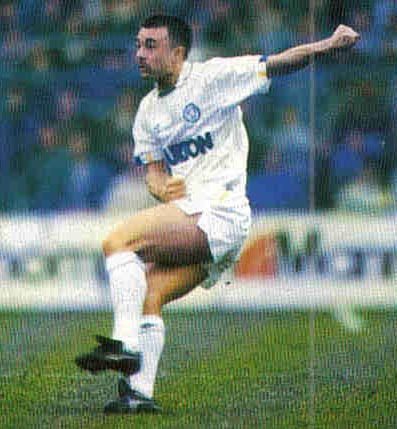 <![endif]>    
 Gary Williams' corner led to the first goal                            Glynn Snodin's cross brought the Leeds third goal                                      
<![if !vml]>
<![endif]>  <![if !vml]>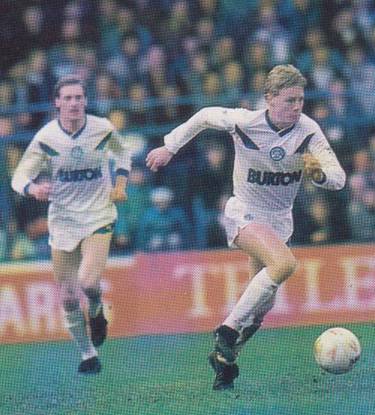 <![endif]>
        Micky Adams was now at left-back                                       David Batty made an excellent debut for Leeds