<![if !vml]>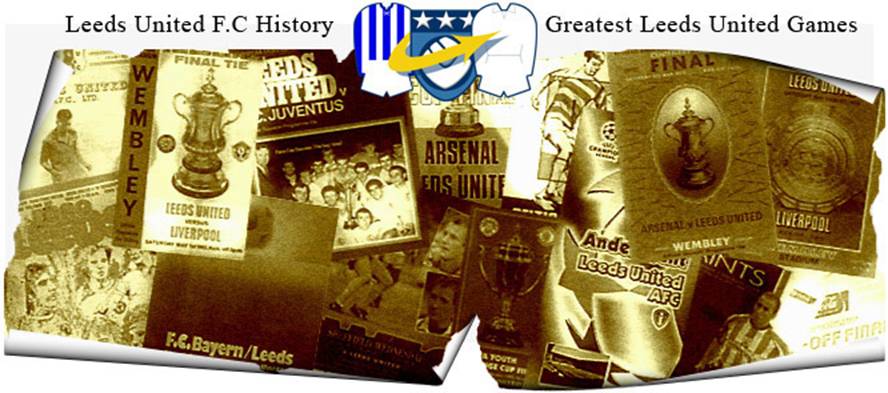 <![endif]>
Date: Tuesday, 21st August 2001.
Venue: Highbury, North London.
Competition: English Premier League.
Score: Arsenal 1 Leeds United 2
Scorers: Arsenal: Wiltord. Leeds United: Harte, Viduka.
Attendance: 38,062.
Teams:
<![if !vml]>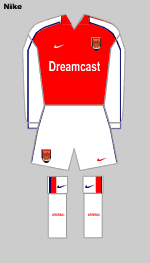 <![endif]><![if !vml]>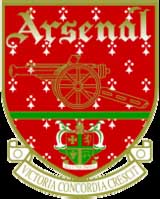 <![endif]>
Arsenal: Seaman; Lauren, Campbell, Adams, Cole; Pires, Vieira, Ljungberg (Jeffers), Parlour (Bergkamp); Wiltord (Van Bronckhorst), Henry. Unused Subs: Grimandi, Wright.
<![if !vml]>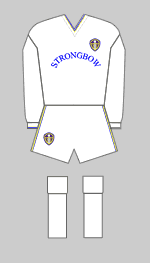 <![endif]><![if !vml]>
<![endif]>
Leeds United: Martyn; Mills, Ferdinand, Matteo, Harte; Bowyer, Bakke (Kelly), Dacourt, Kewell (Woodgate); Smith (Batty), Viduka. Unused Subs: Keane, Milosevic
Referee: Mr J. Winter (Stockton-on-Tees).
Gutsy Leeds proved once again that they can mix it with the very best as they completed an astonishing against-all-the-odds victory at Arsenal. Goals from Ian Harte and Mark Viduka came either side of a Sylvain Wiltord header to give United a glorious 2-1 win over the Gunners, but that barely tells the story of a dramatic night in North London which saw United reduced to nine men.
Play at lung-bursting pace throughout, it was the type of high-octane encounter that we have come to expect between two teams who, put simply, donít like to lose. The warning signs had been there for all to see with a staggering forty-one bookings and two red cards in their previous six matches. Referee Jeff Winter ensured that record continued in this game as he produced his own version of the good, the bad and the totally ridiculous to take eleven cautions and dismissed both Lee Bowyer and Danny Mills. His fistful of cards threatened to give Arsenal the victory in the first of the seasonís clashes of the title contenders.
However, United were made of strong stuff in those days and if it was to be Leeds that would go on to pick up the Premiership title in May then it was games like this one that would have won it for them. The ability to win games when you are not playing well is a vital ingredient in any championship bid and to do that you need spirit, guts and a lot of hard work, three values that this Leeds United side had in abundance.
United certainly were not at their flowing best on this night and at times seemed to be clinging on by their finger nails. But cling on they did, for what was a truly memorable over the team that Leeds loved to hate. Boss OíLeary had kept faith with the side that finished the previous game with Southampton. So, Alan Smith started in place of Robbie Keane and Eirik Bakke replaced David Batty. However, they struggled to make an early impact.
As in the previous game it was goalkeeper Nigel Martyn who saved the day early on, palming a fierce drive from Wiltord away to his left to keep the scores level, but the tone of the game was set in the seventh minute when referee Jeff Winter made the first of four United bookings in an eleven minute spell. Eirik Bakke was the first to see yellow for a foul on Ray Parlour. Olivier Dacourt followed him three minutes later for a late challenge on Patrick Vieira and Lee Bowyer made it the third midfielder in the book, after thirteen minutes, when he caught Lauren with a trailing leg. Danny Mills completed the quartet when he clattered into Freddie Ljungberg.
Leeds certainly looked shaken up as Arsenal poured forward and could have been a goal down if it was not for more brilliance from keeper Nigel Martyn. He needed to be at his best as he arched back to tip a Tony Adams header over the bar in the twenty-first minute and then he got down well to hold a long-range effort from Sylvain Wiltord, after an exquisite flick from Thierry Henry had created an opening. His best save of the half, however, came in the twenty-seventh minute as he clawed another Wiltord effort around the post when Henry had once again mesmerised the United defence.
Chances missed, it was now Unitedís turn to make their presence felt and they struck a killer blow against the run of play with the cheekiest of goals you are likely to see in a season. Mills broke into the Arsenal half and was pulled down by Pires on the edge of the box, right in Ian Harte territory. The United full-back, who had scored at Highbury the previous season, was quick to see the home defence in turmoil and he curled a quick free-kick around the wall and low into David Seamanís bottom right-hand corner. Arsenal players and fans were livid that referee Jeff Winter allowed the effort to stand but the travelling army of Yorkshire fans roared their delight. The lead, however, lasted just five minutes as the goal the home side had been threatening all game finally arrived.
Ashley Cole broke menacingly down the left and before any Leeds man could cover him a low, pacy cross had been delivered onto the head of the diving Sylvain Wiltord and the ball was nestling in the back of Nigel Martynís net. United did end the half strongly with Mark Viduka firing an effort over from a difficult angle and then a wicked Ian Harte free-kick found the big Aussie free at the far post but his header flew wide.
The hero of the previous game against Southampton, Alan Smith, had turned the game when he had come on to the field. He had the same effect in this game as he hobbled off injured. OíLeary ignored the temptation to throw on another striker and instead packed his midfield with David Batty coming into the centre and Lee Bowyer pushing along the right wing to counter the forward runs of Ashley Cole.
The move worked like a dream as Arsenalís midfielders, who had run the game in the first half, had little space to attack and United took the upper hand for the first time in the match. They took full advantage too as Mark Viduka produced a stunning goal to give them the lead in the fifty-second minute. Picking up a ball from Harry Kewell he cut inside and rounded Tony Adams before striking a low right-foot effort past David Seamanís right hand from eighteen yards.
With the Gunners set for an onslaught the game then turned silly with referee Jeff Winter the chief instigator. Thierry Henry was booked for a foul on Danny Mills, Ashley Cole was cautioned for a foul on Lee Bowyer, Robert Pires for a challenge on Danny Mills and Mark Viduka was given a yellow when he tripped Robert Pires. There hardly seemed any time for football with so many cards being flashed about, but it was the red ones which almost put paid to Unitedís hopes of taking home three points.
Lee Bowyer was the first to see red with just over ten minutes remaining when he picked up a second yellow for a soft foul on Ashley Cole. Danny Mills followed soon after. He kicked the ball against the injured Ashley Cole who was on the floor. The United defender protested that he was trying to earn a throw-in by deflecting the ball off the Arsenal defender, but Mr Winter classed it as unsporting behaviour and sent him off.
The Gunnerís barrage continued but the Leeds United rearguard action held firm. Mark Viduka epitomised the spirit in the side by throwing himself at Robert Pires as the Frenchman attempted to shoot in the dying seconds. Rio Ferdinand and Dominic Matteo were simply superb as the home side threw everything forward and with David Battyís assuring guidance in the middle of the park OíLeary brought on Gary Kelly and Jonathan Woodgate near the death just to see the boys in blue home for a very memorable victory, in more ways than one.
<![if !vml]>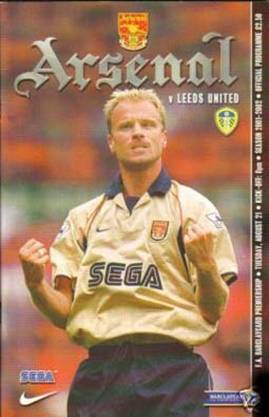 <![endif]>
Match Action:
<![if !vml]>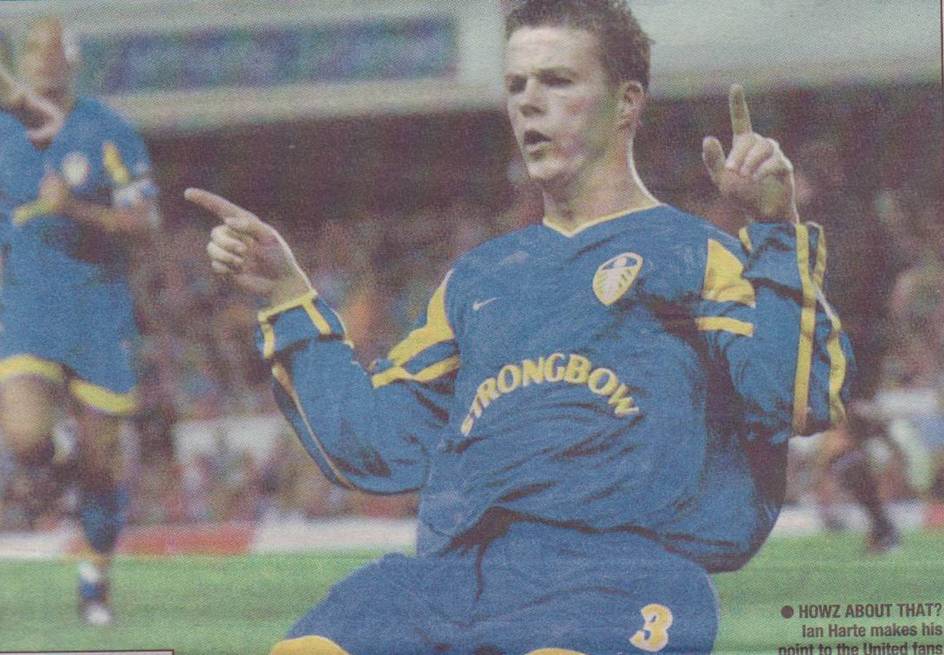 <![endif]>†††††††
Ian Harte celebrates the opening goal†††††††††††††††††††††††††††††††††††††††††††††††††††††††††††††††††††††††††††††††††
<![if !vml]>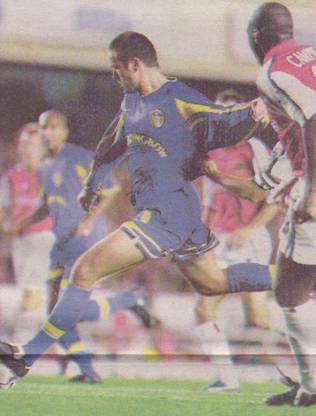 <![endif]>†† <![if !vml]>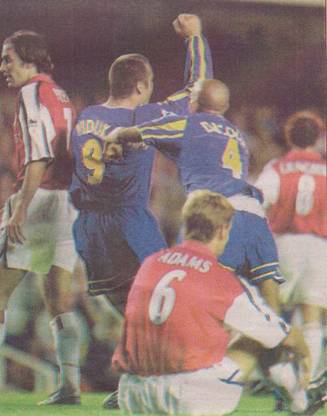 <![endif]>†††<![if !vml]>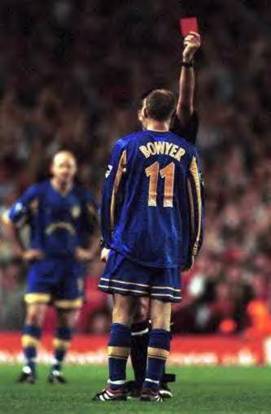 <![endif]>†
Mark Viduka scores the second††††††††††††††††††††††† †††††Mark Viduka celebrates the winner††††††††††††††††††† ††††††Lee Bowyer is shown the red card
<![if !vml]>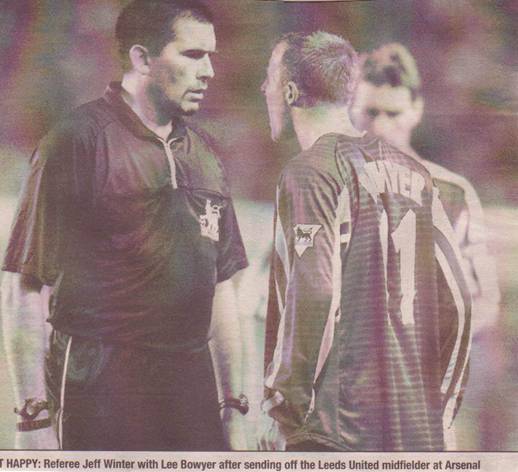 <![endif]>††† <![if !vml]>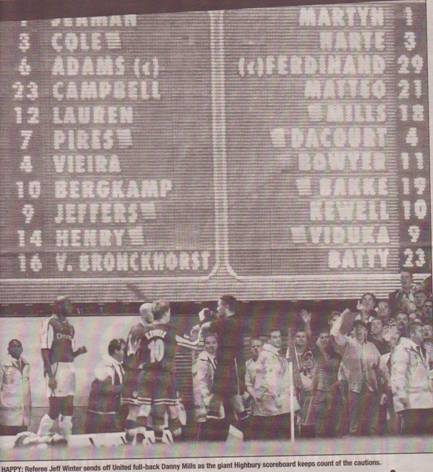 <![endif]>
<![if !vml]>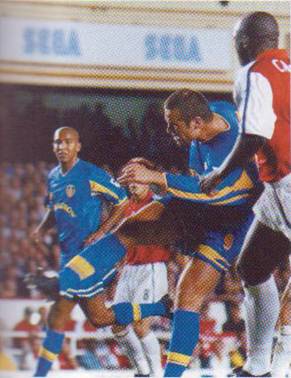 <![endif]>†<![if !vml]>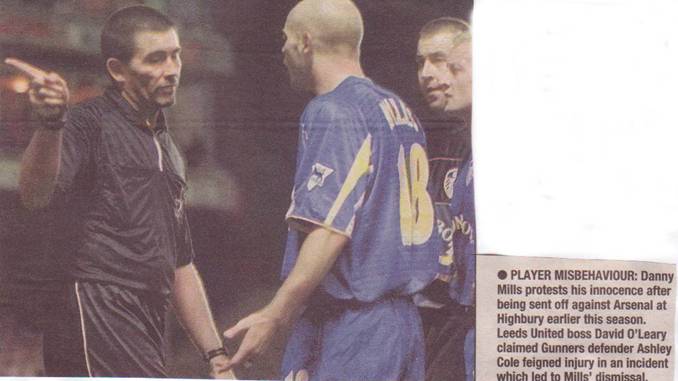 <![endif]>
Mark Viduka fires in the shot that
brought the second goal
<![if !vml]>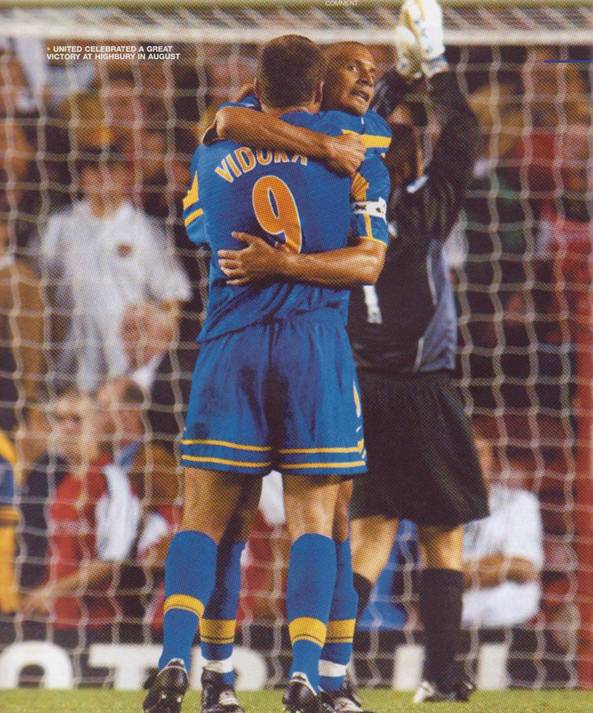 <![endif]>†<![if !vml]>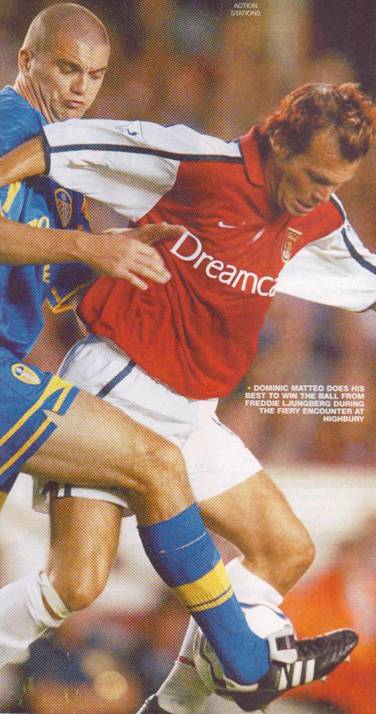 <![endif]>
<![if !vml]>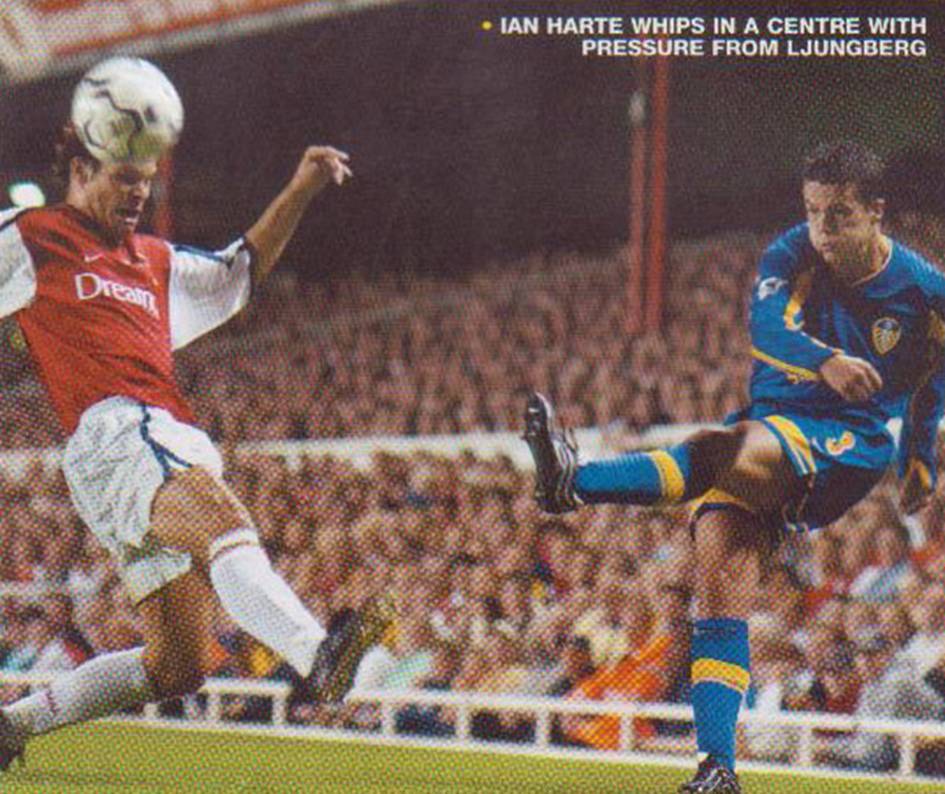 <![endif]>†
<![if !vml]>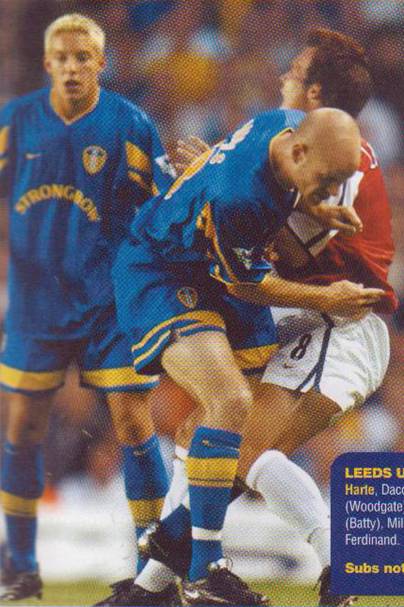 <![endif]>†<![if !vml]>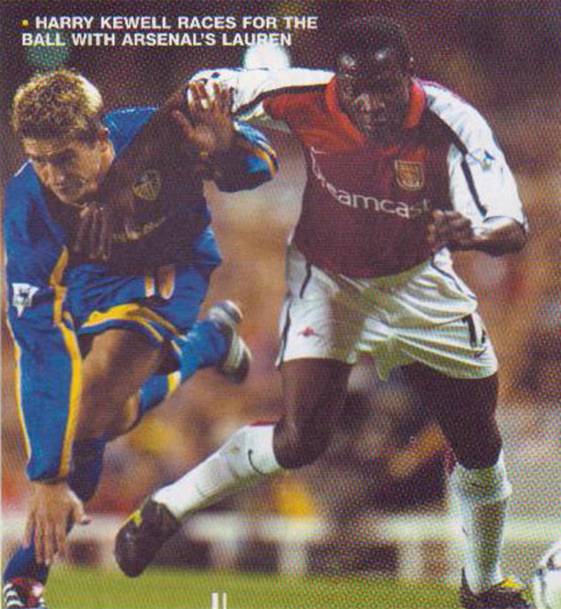 <![endif]>
Danny Mills collides with Freddie Ljungberg
Players:
<![if !vml]>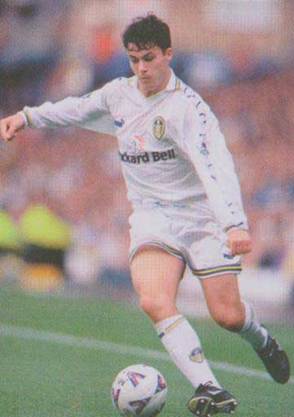 <![endif]>†<![if !vml]>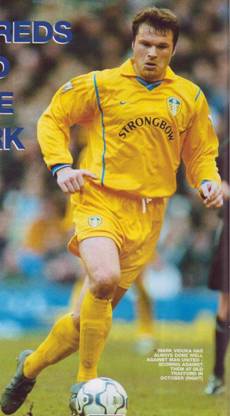 <![endif]>††††††††† <![if !vml]>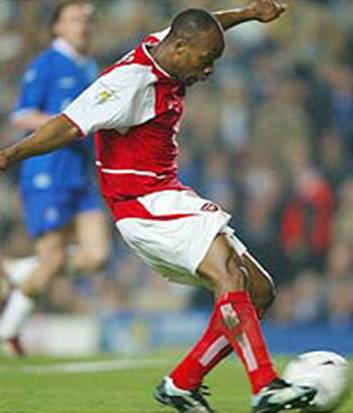 <![endif]>
Ian Harte and Mark Viduka scored the goals for Leeds†††††††††††††††††††††††††††††††††††††††††† †††††††††Sylvain Wiltord replied for Arsenal
<![if !vml]>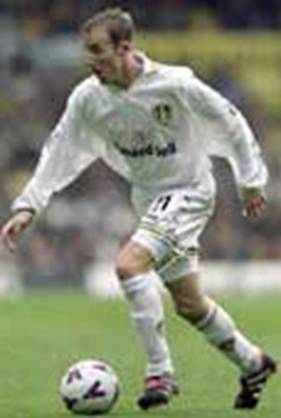 <![endif]>†<![if !vml]>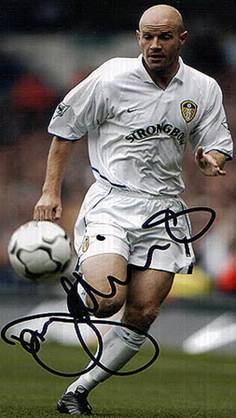 <![endif]>†††††††††† <![if !vml]>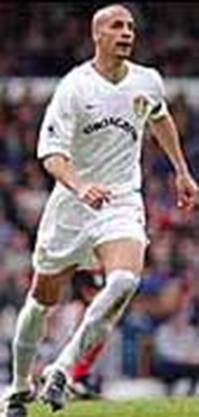 <![endif]>†<![if !vml]>
<![endif]>
Lee Bowyer and Danny Mills were both red carded†††††††† ††††††††††††††††††††††††††††††††††††††††††††††††Rio Ferdinand and Dominic Matteo were superb
<![if !vml]>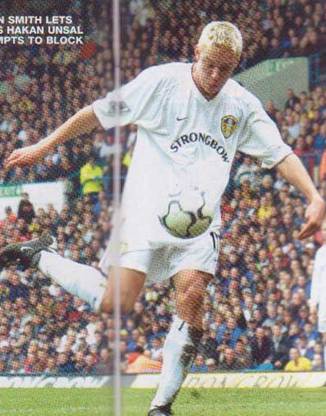 <![endif]>†<![if !vml]>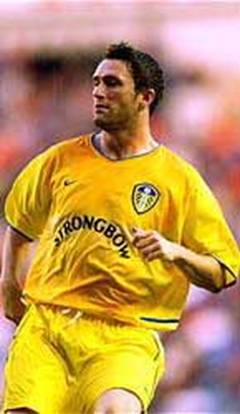 <![endif]>†<![if !vml]>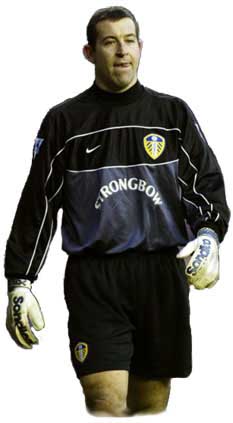 <![endif]>†<![if !vml]>

<![endif]>
††††††††††††††††††††††††††††††††††††††† Alan Smith replaced Robbie Keane††††††††††††††††††††††††††††††††††† ††††††††††Nigel Martyn was in top form††† †††††Olivier Dacourt was
†††††††††††††††††††††††††††††††††††††††††††††††††††††††††††††††††††††††††††††††††††††††††††††††††††††††††††††††††††††††††††††††††††††††††††††††††††††††††††††††††††††††††††††††††† ††††††††††††††††††††††††booked early
<![if !vml]>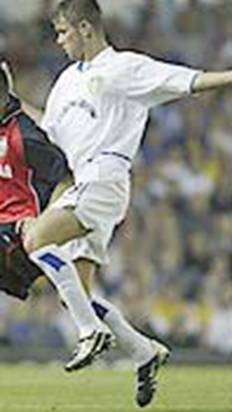 <![endif]>†<![if !vml]>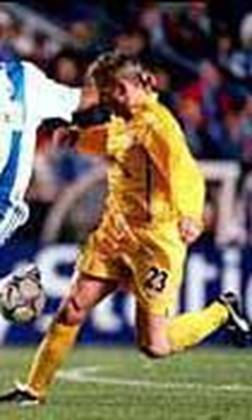 <![endif]>† <![if !vml]>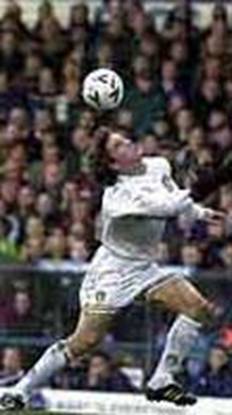 <![endif]>†††<![if !vml]>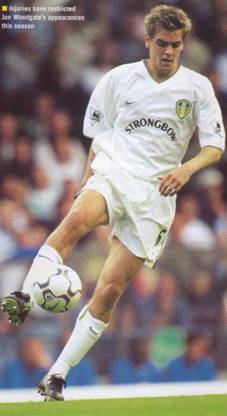 <![endif]>
††††††††††††† Eirik Bakke came in for David Batty††† ††††††††††††††††††††††††††††††††††††††††††††††Harry Kewell started the move††††††† †Jonathan Woodgate was a
†††††††††††††††††††††††††††††††††††††††††††††††††††††††††††††††††††††††††††††††††††††††††††††††††††††††††††††††† ††††††††††††for Mark Vidukaís goal†††††††††††††††††† †††late substitute
<![if !vml]>
<![endif]>†††† <![if !vml]>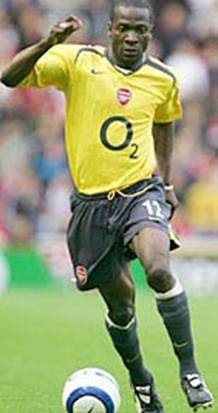 <![endif]>†<![if !vml]>
<![endif]>
Ex-Leeds reserve keeper David Seaman††††† ††Lauren and Ashley Cole were the Arsenal full-backs
was in the Arsenal goal
<![if !vml]>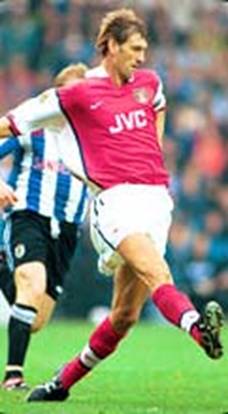 <![endif]>†<![if !vml]>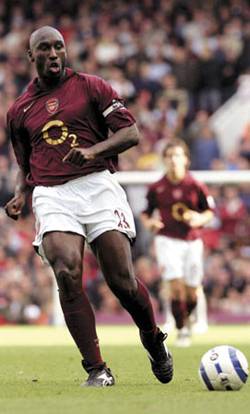 <![endif]>†††† <![if !vml]>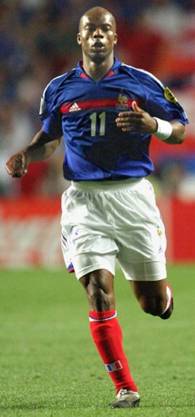 <![endif]>†<![if !vml]>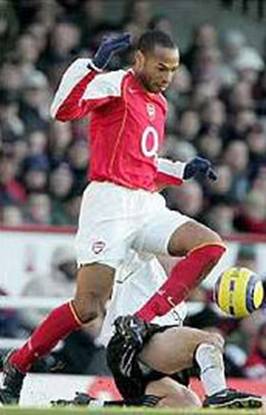 <![endif]>
Tony Adams and Sol Campbell were Arsenalís central defence††††††††††††††† †††††††Sylvain Wiltord and Thierry Henry were the strikers
<![if !vml]>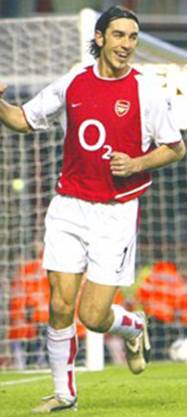 <![endif]>† <![if !vml]>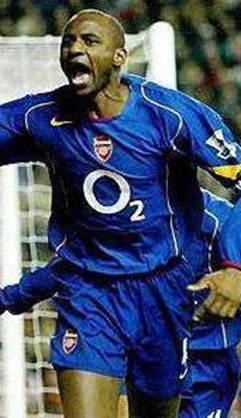 <![endif]>††<![if !vml]>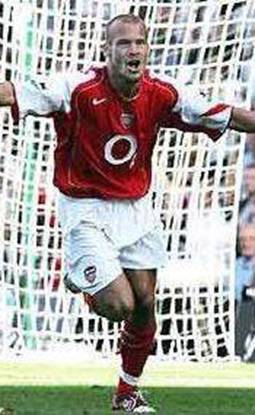 <![endif]>††<![if !vml]>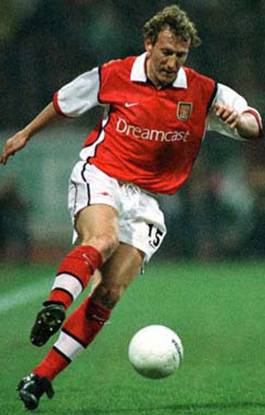 <![endif]>
†††††††††††††† Robert Pires, Patrick Veiera, Freddie Ljungberg and Ray Parlour formed the Arsenal starting midfield
<![if !vml]>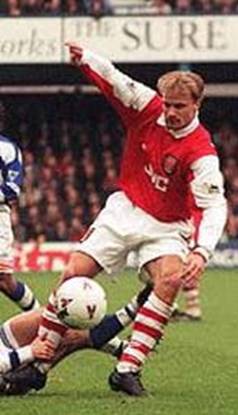 <![endif]>††† <![if !vml]>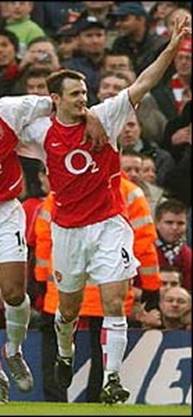 <![endif]>††††<![if !vml]>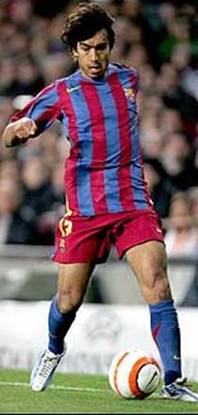 <![endif]>
†Dennis Bergkamp, Francis Jeffers and Giovanni Van Bronkhurst were used as substitutes